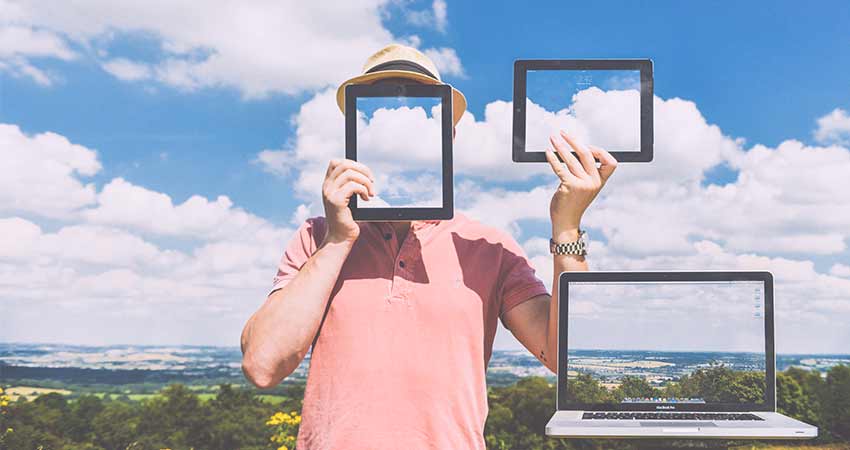 In this era of technology, it is hard to imagine living without the existence of technology. Most of the people opine that technology has transformed their world by making their life simpler and easier than ever. In the recent past, the invention of new technologies has paved way for a flurry of hassle free tasks from transportation to communication and even to entertainment. Cloud storage is indeed one great innovation that has brought significant changes to our lives. It has completely changed the way we use technology. The multifaceted advantages of cloud storage account for yet another of these modern day inventions.
Recent transformations in our life
Mobile phones, e-mails, and the Internet are just a few examples of innovation in technology when it comes to improvements in communication. Gone are the days when people were only competent to send letters via mails that are now termed as "snail mails" to send messages to their kith and kin far away from the home. Thanks to the internet, we can now easily connect with our friends and families using the Internet and cell phone services.
Moreover, the airplanes, light-railway-trains, and cars are some major inventions in transportation made by technology. Such modern transport enables us to travel quickly and comfortably to our destinations across the globe. Talking about the sources of entertainment, they were confined to poor quality theaters and radios only, till long. Now, people can watch movie not only in theaters but also in their homes with HD picture quality and listen to their favorite songs to mobile phones and iPods. To conclude, with the passing of years, technology has become better and better.
What is Cloud storage?
Cloud storage is a service where data is slightly managed, maintained and backed up over the cloud (in simple language, the Internet). It enables the users to save files online in order to access them from any location through internet. Storing files on the cloud makes way for a plethora of benefits for both professional and home users. As per a survey report by Gartner, the market public cloud services is expected to exceed $244 billion by 2017. This clearly states the scope of this field in terms of business as well as career growth.
The 9 great benefits of cloud storage
1) Ease of use to go mobile – All cloud storage services have desktop folders for PCs and Mac's. This cloud storage feature facilitates users to drag and drop files between the local storage and cloud storage. Moreover, you also don't need to sync the data to and fro, the cloud providers do it automatically.
2) Access your data on the go – You can easily access the stored files anywhere through internet connection. Whether you are onboard or in a meeting, the ease to access your valuable data at the right time could bring laurels to your business. This new technology does the same and hence contributes to the various cloud storage benefits.
3) Synchronization makes it available 24/7 – Synching holds great value in cloud storage computation. It allows users to sync all their valuable files on the cloud, which you can access from all internet-connected devices. Be it desktop or any other gadget, you will love to have the same data available everywhere.
4) Sharing made easy – Another one great advantages of cloud storage include Sharing. It allows users to share precious memories or work files with family, friends and your teammates. It only requires a click to share folders and hundreds of different file formats with anyone.
5) Collaboration on clicks – Cloud storage helps businesses to collaborate in a more convenient way. Now you don't need to occupy a room to discuss on presentations or reports. Online cloud storage employs the excellent collaboration feature to help you work on a single file with your team. It keeps all the versions and edits, so all your teammate can add their valuable part in it.
6) Data is always protected & secured – Cloud storage comes with an additional layer of protection that keeps your data protected from any mishaps. This great advantage of cloud storage is a big concern for businesses and individuals as data is always a valuable thing we own. Your data on the cloud is secured from any unauthorized access, and you have the control to share it with people you trust.
7) No limitation on space – There is a limit to everything, but not Cloud. Online cloud storage offers unlimited storage to meet even large data storage requirements. Whether you have multimedia, graphics, big data files, or other formats of documents – cloud practically hosts everything. For businesses, this is a great feature as they no longer need to keep multiple copies of the files, and all data is uploaded to the cloud, which is accessible at any point, from anyone.
8) Satisfying recovery in case of data loss – It is highly recommended that organizations have an urgent situation backup plan prepared when it comes to emergency. Most of the companies utilize the cloud storage as backup plan by offering a second copy of crucial files. One can store such files at the remote locations and easily access it through the Internet connection. This is a welcome improvement over the traditional storage methods over PCs, USB drives, or compact disks, etc. that may face the risk of getting corrupted due to virus or device destruction.
9) Soft on your pocket – Organizations and businesses can lessen the annual operating cost with the use of cloud storage. It just costs about 3 cents per gigabyte to store data internally. Users can witness additional savings as it doesn't need internal power to store information remotely. Some service providers even offer free trial subscriptions to help you store your data.
Apart from the above, there are many other advantages of cloud storage which we will discuss later in detail. However, these were the prime benefits of cloud storage that a business or home user can fully capitalize.
Disadvantages of cloud storage
Besides so many benefits of cloud storage, this advanced technology does accompany some demerits as well:
1) Smart Usability feature is sometimes complicated: Be cautious when utilizing drag/drop to move an archive into the cloud storage folder. It will for all time move your archive from its original position to the cloud storage location. Perform a copy paste rather than drag/drop if you need to hold the record's original location notwithstanding moving a copy onto cloud storage folder.
2) User may face bandwidth glitches at times: Various cloud storage services have appropriate bandwidth recompense. If an association surpasses the given recompense, the extra charges could be huge. But, a few suppliers permit boundless bandwidth. The organizations ought to consider this factor when taking a gander at a cloud storage supplier.
3) Lack of internet deprives you of the data access: If you are not connected to the Internet, you have no access to your information either. The condition may go even severe if you are stuck up in a far flung area and couldn't access your data due to thwarted internet connectivity, even in the case of grave urgency, hence depriving you of the cloud storage benefits.
4) Concerns related to information security: Users often are concerned about the protection and safety of critical information stored remotely. The likelihood of private information coexisting with different associations makes a few organizations uneasy. But if you choose a service provider that offers private key encryption, this turns into a great advantage of cloud storage.
5) Download the cloud client on your device: If you need to manipulate your records locally through various gadgets, you'll have to download the services on all gadgets. Since the entire technology is based on connectivity, it is a must to synchronize your data on devices you use.
Most reliable storage options available with us
In the modern day technology smitten world, you can make the most of the benefits of cloud storage provided you choose the most feasible options available for your storage requirements. Some prominent options that enable you to leverage numerous advantages of cloud storage include OneDrive, Dropbox, Google Drive and Box.
If you are ready to store your images, files and more in the cloud the assistance of these cloud providers would be feasible, and they won't make holes in your pocket either. Here is a quick overview of some prominent service providers in this field that compete to offer you top cloud storage benefits.
JustCloud –
It allows for simple, secure and fast cloud storage
Lets you sync data on multiple computers
It ensures 100% automated service
Livedrive –
Committed to providing a range of benefits of cloud storage, it promises to be more feature rich than its competitors
Provides automatic and safe backups of all your computers online
Offers a staggering 2TB space hence allowing you to avail maximum of cloud storage benefits
Dropbox –
It is the most liked cloud storage world as it is easy to use, reliable and a breeze to install
Your folders and files stored in the cloud, and you can attain them anytime from your PC or Dropbox account
It automatically syncs the file you store online with the one stored on your personal computer and vice versa
OneDrive –
It is a viable storage option exclusively from Microsoft
If you use Windows 8 and 10, you have OneDrive built into your operating system
You can also use it on the internet by simply downloading a desktop application for Mac and previous versions of iOS, Windows Phone, Xbox and OneDrive applications
Google Drive –
Google blends an exclusive set of office tools with cloud storage in Drive together with 15 GB of free storage space
This advantage of cloud storage from Google allows you to use office tools like spreadsheet application, word processor and presentation builder online
It is built in Google's web-based operating systems Chromium; thus, if you have a Chrome book it is a one stop solution
Box –
You can sign up for a free account on it with box to store your files
You get unmatched services and privacy features if you are a paid member
It allows you to share files with colleagues, leave comments, assign tasks and get the notifications when a file transforms
Advantages of cloud storage are many, make the right choice!
With this quick roundup on the top-notch providers of cloud storage services at ReviewsDir, we intend to ease out your task of choosing the most appropriate service. Should you want more assistance or useful information on advantages of cloud storage, we are always there to help you out in zeroing-in the best one.
We would love to have your opinion on the subject too. Please drop a line in our comment section if you think there are more advantages of cloud storage which you are using with your subscription. Happy Syncing!