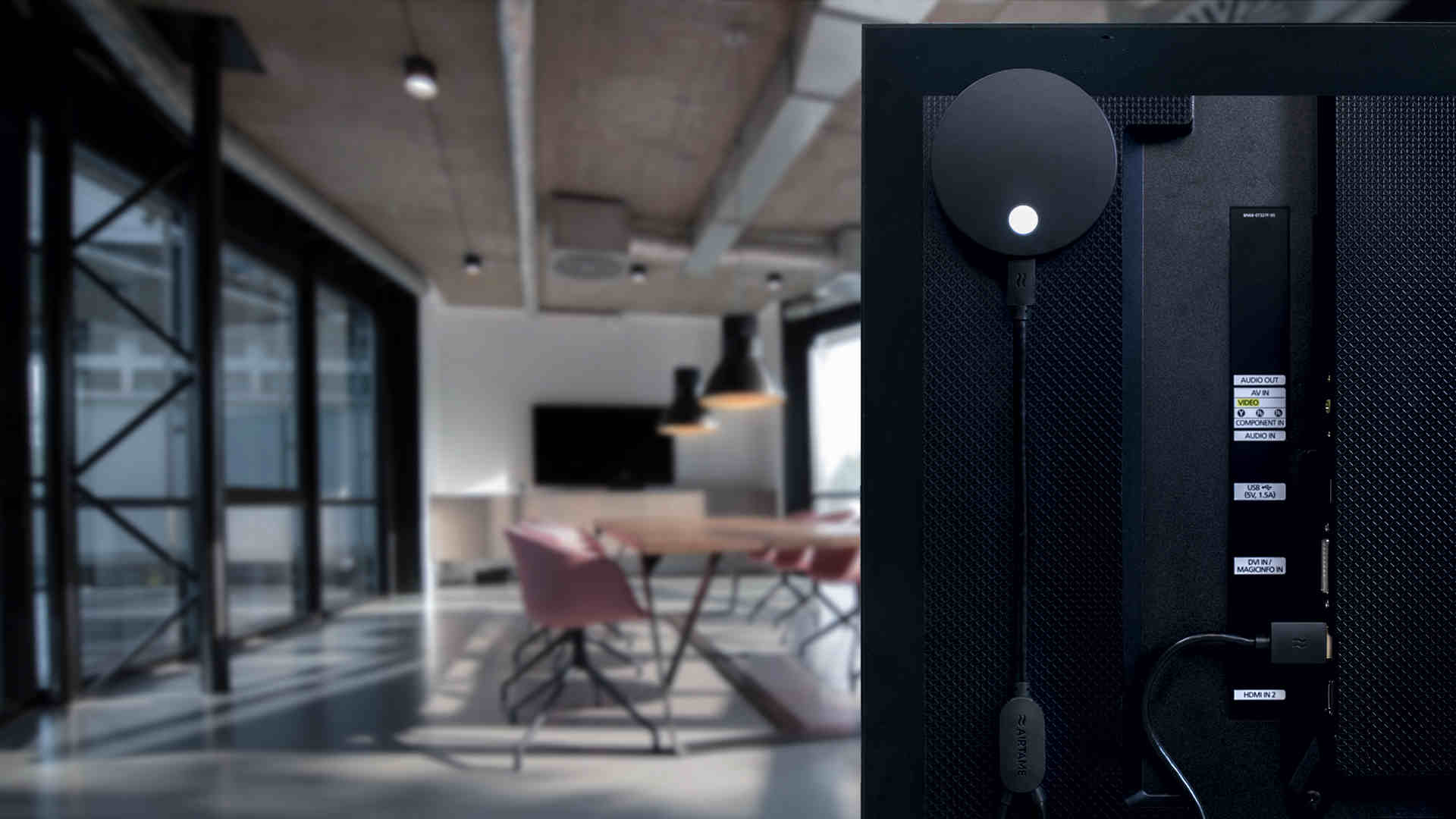 Sending your computer screen to any other display is a daily routine if you're working as a motivational speaker, teacher, or a trainer. There are many options to connect but be careful! Not all the HDMI can be tied to every other ecosystem (Apple, Chrome, or Miracast devices); they are optimized, suiting different devices. No matter which option you choose, make sure that the first few minutes of your meeting will spend in fiddling with cables, apps and projection settings.
Thanks to the Airtame HDMI stick for actually saving our time in this cord-cutting era;  it is a wireless device plugged into the HDMI port of any monitors, televisions, projectors to streams content from any device to the screen. It's one of the best wireless HDMI devices. Airtame stick is different, promises to work with all the operating systems including Windows, Mac, Chromebook, iOS, Ubuntu Linux, and Android, and any screen with an HDMI port. So, whether you're running a business, an education institute, or want to stream videos; the Airtame HDMI stick is for you.
From last 4 years, Danish startup Airtame is ruling the world of wireless HDMI. Now the pioneers are ready to launch a new hardware product, known as Airtame 2; if you're not one of their 100,000 customers, Airtame 2 will win your heart.
Scroll down and get to know what, why, and how, of Airtame 2!
A new product aims to deliver more than a cable-free solution, tapping into the world of app integrations and digital signage. The first generation has already introduced a screen mirroring solution, now Airtame 2 is all about turning blank screens into smart, collaborative displays.
Want to know the difference between Airtame and Airtame 2, here you go;
Difference Between Airtame's First Product and Airtame 2
Talking with Airtame, we come to know that the new Airtame 2 has the following features;
Better Components – Means More Faster: To speed up the firmware, the RAM of Airtame is four times than the earlier version that quickens the software updates to deal with future advancements.
Brand-new WiFi Chip: The new chip is five times faster than its predecessor, providing a faster and more reliable internet connection. The latest chip will offer 2 x wireless range enhancement.
Kensington Lock Input: This will protect the device in semi-public environments like classrooms and waiting areas.
Intuitive LED – The glowing light will tell you current state of the device – updating, standby or in use.
Flexible Setup: Mount the device using the supplied magnetic wall mount; no more drilling into a wall!
Listen to the comments presented in their product release;
"Airtame 2 takes a huge step forward in design and functionality, Where the main objective of our first product was to get rid of cables, Airtame 2 will empower people in professional settings to use screens and projectors to their full potential – and unlock better collaboration. After years of product development and user feedback, we're proud to deliver Airtame 2, which is not only extremely easy to use but will also improve any forward-thinking workspace".
Brian Kyed, CPO and Co-Founder at Airtame
What About The Cost?
Airtame 2 is costing around $399. Recently, Airtame released four Homescreen apps with simple app integrations for better team collaboration and digital signage.
Don't You Know About Airtame? Here You GO!
Being a wireless screen-mirroring solution, Airtame displays content instantly between devices. It's also used as digital signage. Thanks to a record-breaking crowdfunding campaign back in 2014 that raised $1.3M, and gave a fresh start to Airtame. Now, the venture has grown into a company with more than 90 people across the world. Airtame's mission is to help professionals in using their screens better. The company is based in Copenhagen with offices in New York and San Francisco.