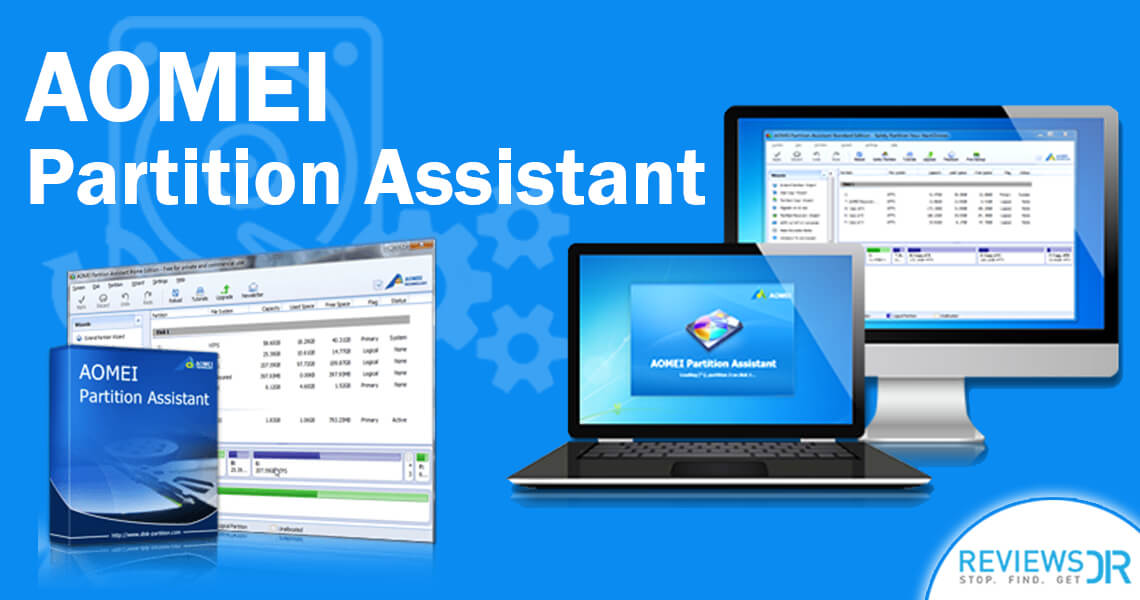 The world is full of data, so does our systems; we always face issues with overloaded data in our PCs and every time we transfer our new project or pictures to the desktop, we have to delete some data from our PC's hard drive. Data management is a tedious job, especially when you've gone down to the more complex partition presenting with multiple formats, maps, and other technical mumbo-jumbo. So rather than create, merge, format, resize, move, or else go for a partitioning software; this avoids data accidents. Considering the importance of partition software, we have decided to give it a shot and review AOMEI partition assistant software which is fine utility in this vertical. After reading this AOMEI Partition Assistant review, you won't be needing any tech jargons to deal with as this will fulfill all your potential needs of data management.
Before we begin with our AOMEI partition assistant review, let's look at the pros and cons of the software.
Pros
Easy to use and user-friendly interface
Supports all the most common partitioning tasks
Boasts step-by-step wizards for task completion
Run before Windows starts
Able to perform multiple changes and then apply them at once
Includes other useful tools
Cons
Can't convert dynamic disks to basic disks
Can't convert primary and logical partitions
Additional features are only in the Pro version
What is AOMEI Partition Assistant?
AOMEI Partition Assistant assists you with partitioning hard drives and resolving related issues, allows you to copy, split, extend, resize, format, delete, and yes, the ability to create a bootable Windows PE OS that runs AOMEI Partition Assistant before Windows starts up. The partition software is friendly with most Windows OS including; XP/Vista/7/8/8.1/10; not bad!
AOMEI Partition Assistant is a robust and user-friendly partition manager designed and created in a way to help you solve all your partition problems and related concerns with your Windows OS. It's rich in features, suitable for both home and commercial and basic and advanced users, enabling you to create, resize, merge, delete, and split partitions among others. What makes this stand out? It's free home and commercial bait.
It also supports exFAT file system; you can create, delete, move, format, and copy exFAT partition. Likewise, the PE bootable media on 64-bit system endorses both Legacy BIOS and UEFI boot modes; no more limitations to resize/move system boot partition across all the Windows' OS.
AOMEI Partition Assistant utilizes sector-level data protection technology; don't worry the technology has tested thoroughly in strict and secure environments, this partition assistant also allows more safe partitioning operations regardless of your disk style (whether MBR or GPT) and disk size (small or larger than 2TB), this partition get you through any and every disk partition problem comes your way.
How about storing data in the cloud? Read our cloud storage review guide and make a copy of all your private data in the cloud.
AOMEI Partition Assistant has options for partition editing, for both basic and dynamic disk management, coupled with a few extra features. Want to know AOMEI Partition Assistant comes jam-packed features in short, here you go;
Resize/move partitions
Merge partitions
Transfer OS to SSD
Copy disk/partitions
Create/Formate/Delete partitions
Split partition
Make Bootable CD Wizard
Integrate to Recovery Wizard
Extend partition wizard
Partition recovery wizard
Windows To Go Creator (New)
SSD Secure Erase Wizard (New)
Support to create Ext2 and Ext3 file system on a USB drive (New)
How well do all of these functions in reality and how easy this software is to use for a casual user? Let's find out.
For your convenience, we have developed a list of all the wizard at the end, do check it out in case, you don't know what every wizard holds.
Is AOMEI Partition Assistant Setup and Interface User-friendly?
Setting up Partition Assistant is as quick and straightforward as with other software. The regular Install Wizard asks you choose the install directory. The Professional version offers two installation files – one for the basic and another for Dynamic Disk Manager Pro, that separates dynamic disk options from the leading software.
All the AOMEI versions are portable programs; simply copy or move installation folders to a flash drive, to use on different PCs.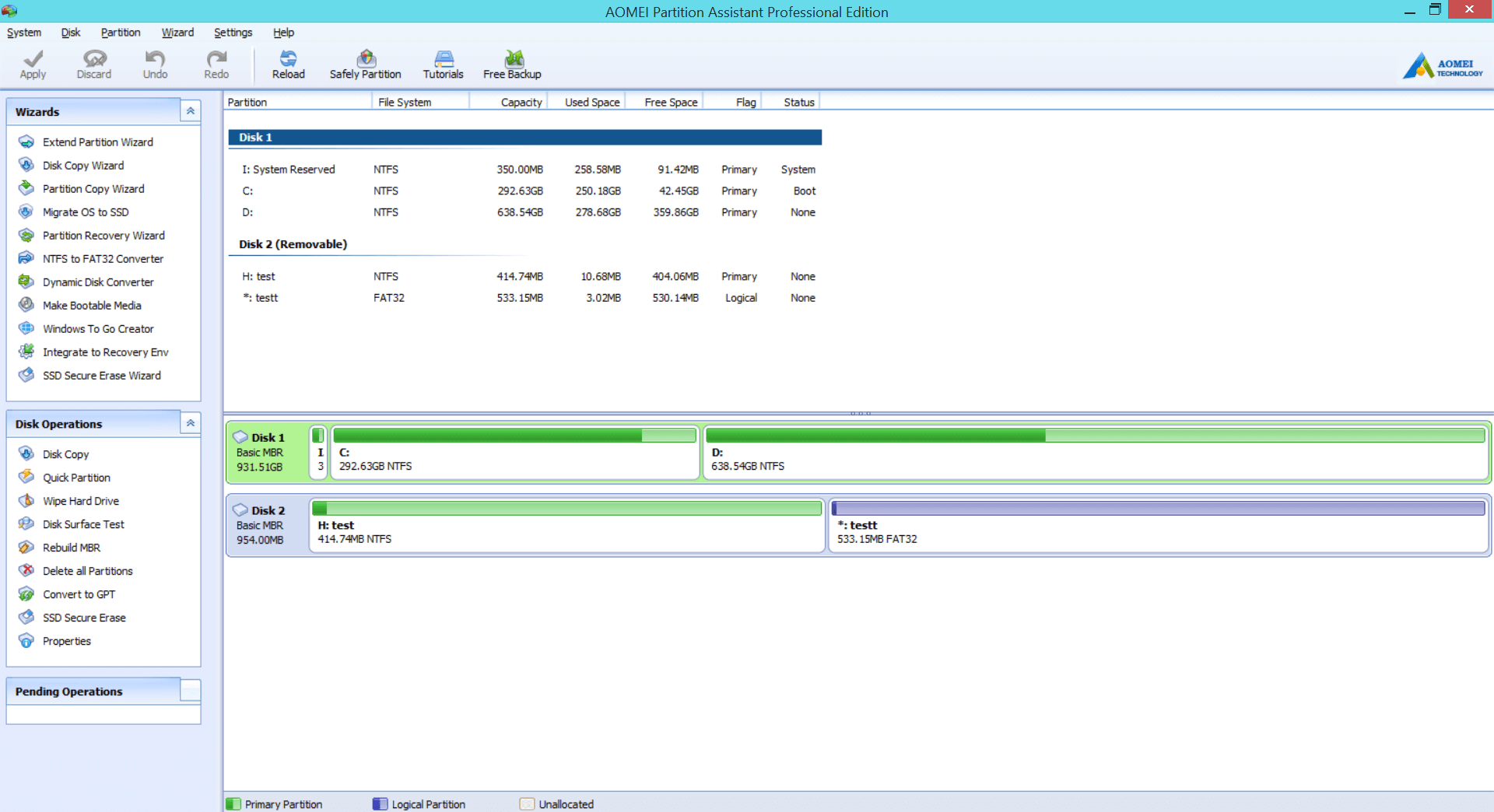 The Standard version and Professional version has the same interface, limiting the freeware to access paid features. As with other AOMEI products, the options menus are orderly and well thought out; makes the long list of actions, easier to navigate and use, same goes for the Help menus featuring in a simple language for a novice to understand. Find the list of options that Partition Assistant offer, at the end.
How AOMEI Partition Assistant Works?
As with similar partitioning software, your chosen actions added to a pending action list before executed, allowing potentially data-erasing actions to be reviewed; maybe you've mis-clicked something and accidentally destroy essential data.
Performance-wise, Partition Assistant handled the actions quite quickly, with merging/splitting actions for a 200GB partition taking within 20 seconds, while formatting takes around two minutes. The software's estimates to be all over the place though, predicting 1.5-2 hours for format, which is odd and more than actually problematic. For this AOMEI Partition Assistant review we tested the Disk Surface of our 1TB drive, it took around 3 hrs; pretty exact estimate.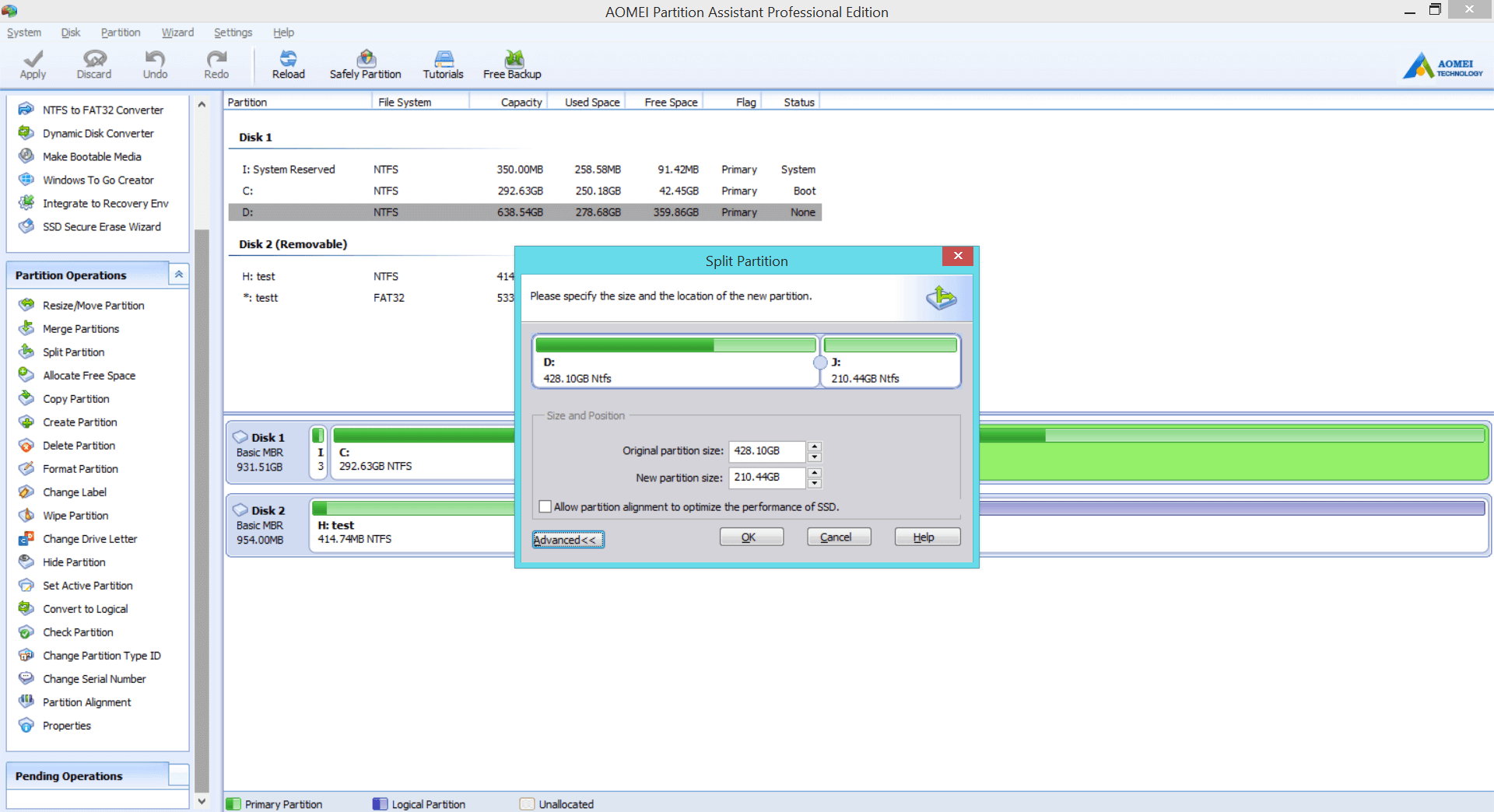 Simplistic actions, like assigning new drive letters, converting partitions from logical to primary and vice versa, all it takes a couple to 20 seconds to execute. Another critique is that multiple actions couldn't be queued; as you attempt to add multiple actions for already changed partitions/disks, the program will demand you to finish initial actions first. Overall, all the necessary options work just fine and can be completed quickly without a hitch.
Also: Check our PC Backup Guide and learn why it is so important to always have your backup in place.
Testing AOMEI Partition Assistant
AOMEI seems complex, but it's 'hand holding' wizards are built in to aid us to perform our disk partitioning operations.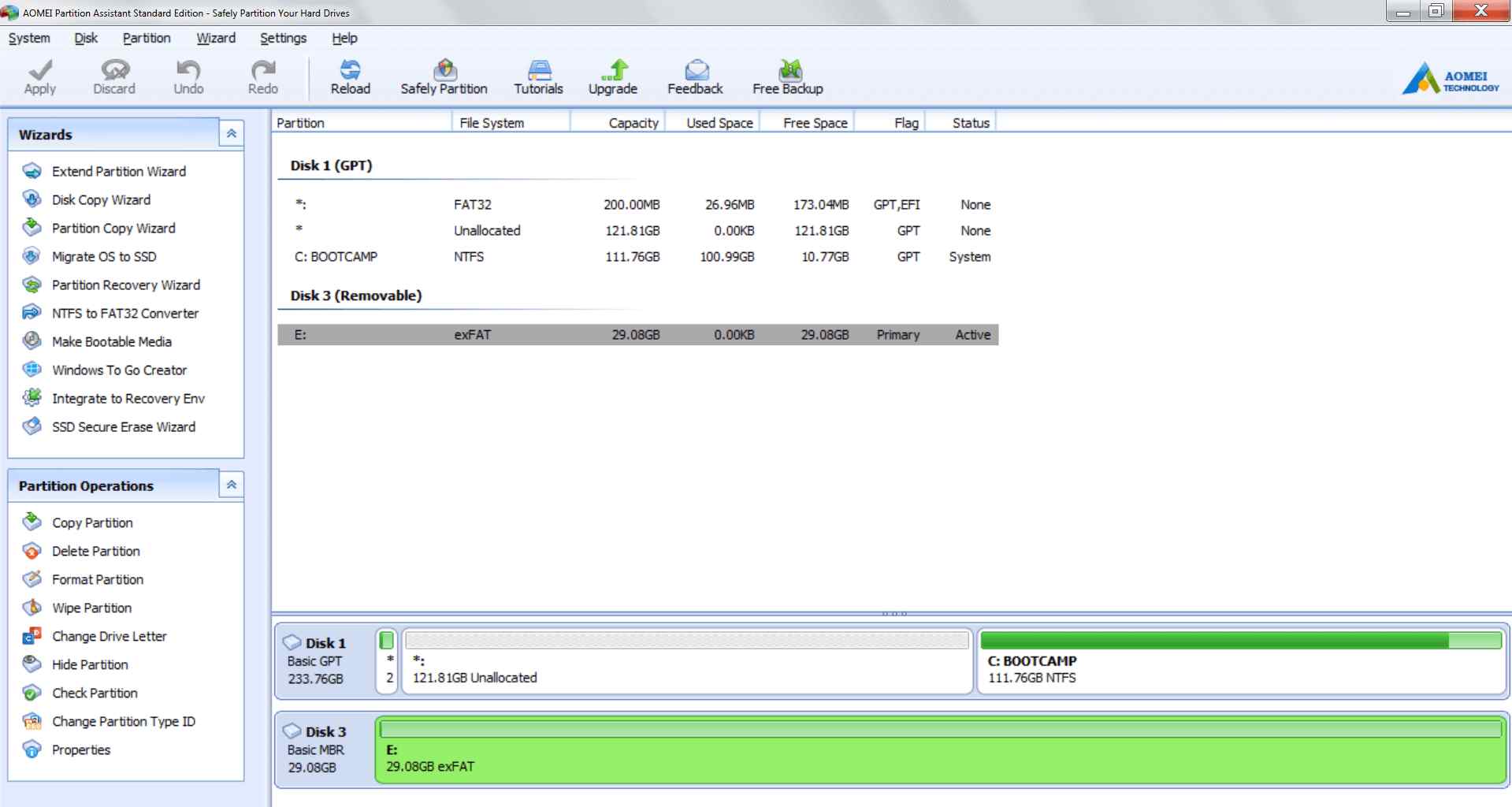 For the AOMEI Partition Assistant review, we played around with our external drive (Disk 3) to test the various operations. Partition Assistant Standard performed all operations within minutes! Here is what happened when we split the partition; the information displayed is amazing, isn't it?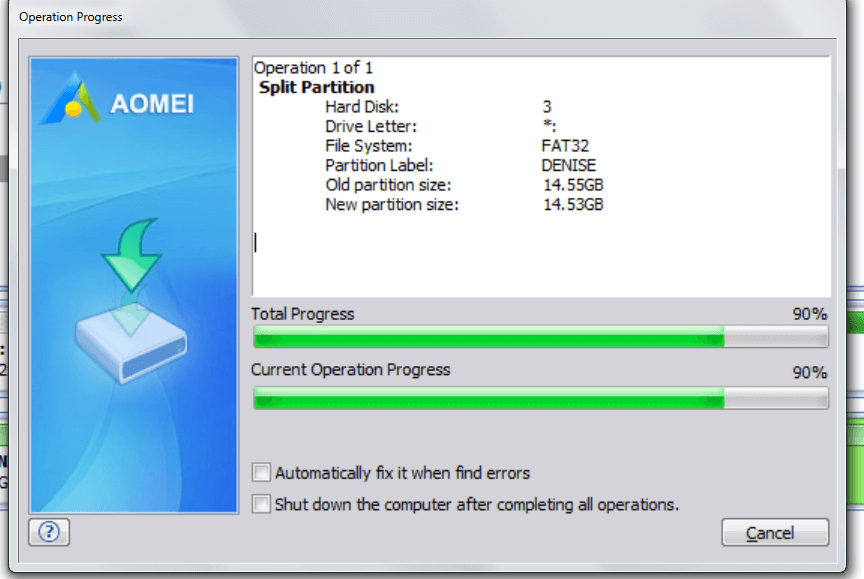 Yay! Our Disk 3 has been split partitioned, formatted, renamed and smaller partitions re-formatted; done smoothly.

All the wizards are idiot-proof and are helpful when carrying out an operation. Take a look when we tested out converting Fat32 to NTFS for an external hard drive.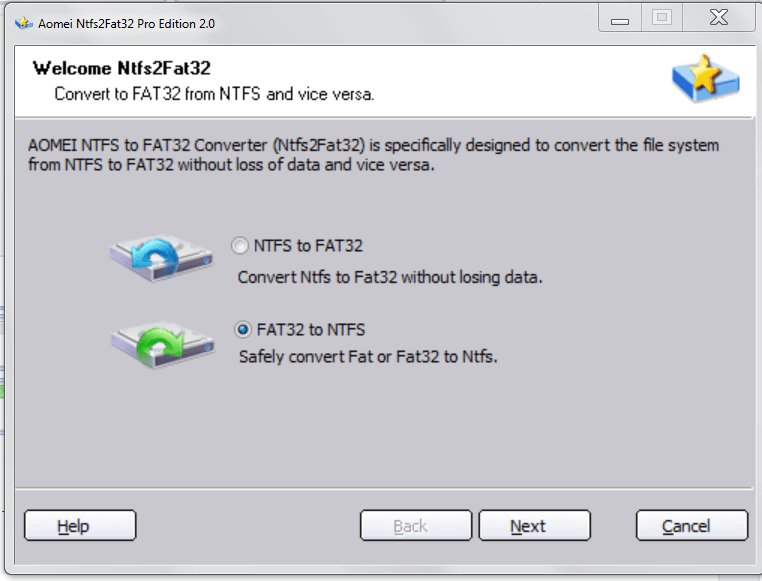 The drives with Fat32 formatting appear on the list ensuring we choose the right one.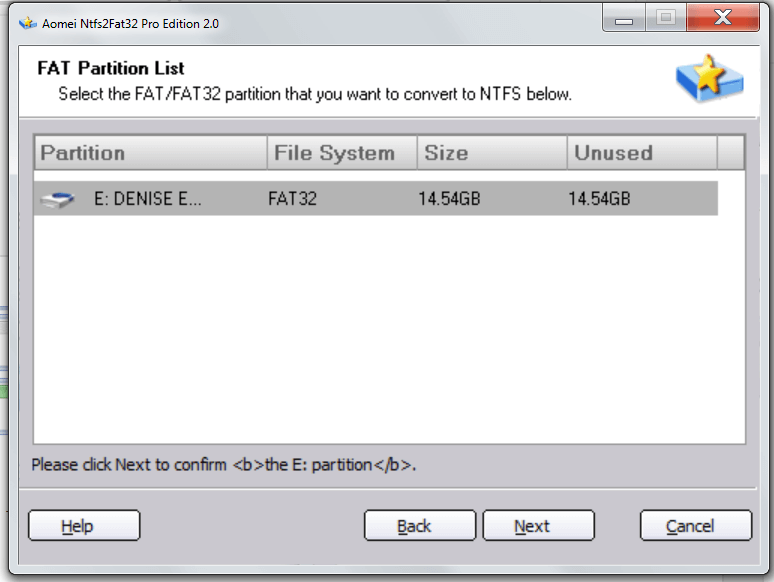 We were welcomed with the Confirm Operation dialog box that re-clarifies our intended action; double-check saves our lives!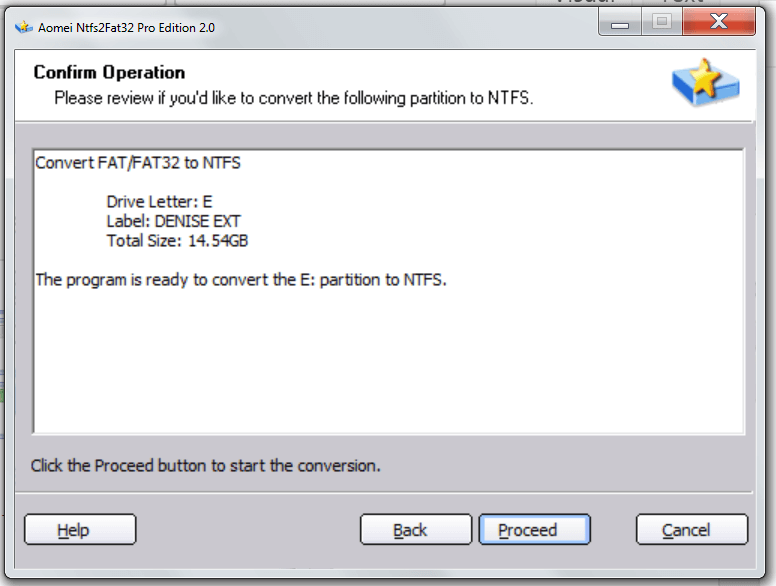 The converter worked well and accomplished the given task in a few minutes.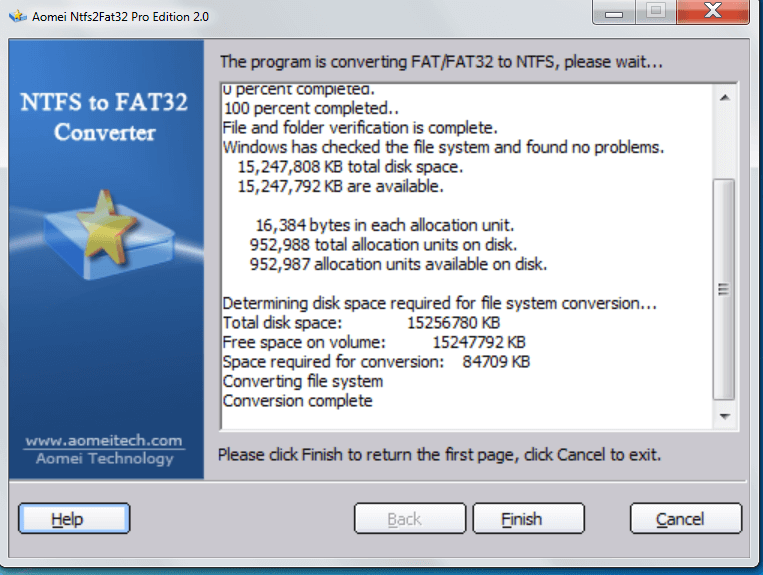 What Are The Different Editions AOMEI Partition Assistant Offers?
Partition Assistant comes in multiple flavors, including; Standard (free), Professional ($49.95), Lite (free), server ($179), Unlimited ($439), and Technician ($699). Let's deal individually closely
The standard AOMEI partition version
has everything you need: partition splitting, resizing, creation, copying, deletion, formatting, property changes, and even secure wiping. Find all the helpful wizards for copying, resizing, converting from NTFS to FAT32 and vice versa, and also migrating to a new hard drive or SSD, in the standard plan.
The Pro AOMEI partition version
tops the ability to change partitions from logical to primary, convert Windows dynamic disks to basic disks, convert disks from MBR to GPT and back again, alter partition IDs and serial numbers, as well as allocate free space from one partition to another; all sounds esoteric? You don't need the pro version. But these undeniably handy features are required in order to manipulate and maintain drives and merge partitions.
AOMEI Partition Assistant Lite
has a set of disk partition management tools enabling you to organize disk space without the data loss, and manage disk partitions to improve server performance. It supports multiple languages including; English, Deutsch, Português, Español, Français, Italiano, Magyar, Polski and 日本語. It's free for personal, and business use, 100% clean with no 3rd party program and can be dragged and dropped graphical user interfaces.
AOMEI Server
designed for small and medium-sized businesses, with not only all features, but also provides a solution to disk-related issues for Windows Server 2003, 2008 (R2), 2011, 2012 (R2), and 2016. The intuitive is easy-to-use, anyone even non-technical users can maximize the performance in minutes without having an expert. The software is innovative following the proven disk partitioning technology, which is easier, faster, and safer.
AOMEI Partition Assistant Unlimited
is primarily designed for larger enterprise environments, providing all-in-one disk partitioning solution and flexible hard disk management. Other than the essential features of AOMEI Partition Assistant, this flavor grants you the right to install on all the belonging computers to your company, regardless of their locations. It allows unlimited usage for one company to remain safe in a data-fetching world, supporting basic disk, dynamic disk, and all RAID levels.
AOMEI Partition Assistant Technician
has designed especially for IT professionals, technicians, system administrators, and consultants to develop a new revenue stream with charged technical service to their clients. It is a valuable yet independent hard disk partition management toolkit for internal use to manage large distributed groups of servers and PCs at multiple locations. Technician Edition with all the features of AOMEI Partition Assistant offers lifetime free upgrades, and one license code can be used by a technician to register the program on servers and PCs of unlimited individuals and companies.
Our AOMEI Partition Assistant review couldn't be completed without our expert's verdict, let's have it.
Our Verdict on AOMEI Partition Assistant
We believe that the AOMEI Partition Assistant is yet proficient and reliable software with easy to use interface and did not run into any issues when testing its various features. We were impressed with the Windows To Go Creator functionality that allowed us to create a bootable Windows 10 on a USB drive. Give this AOMEI Partition Assistant review and enjoy the free home and commercial use!
What AOMEI Partition Assistant Wizards Say?
Extend Partition – takes space from other partitions or unallocated space to increase a different partition size without the data loss
Disk Copy – copy contents of one drive to another
Partition Copy – copy contents of a partition to any unallocated space
Migrate OS to SSD – copy OS from one MBR drive to another MBR SSD or HDD
Windows To Go Creator – create a functioning Windows OS partition from Windows' installation image
Integrate to Recovery Environment – integrate AOMEI software tools into the Windows' emergency recovery environment
SSD Secure Erase – wipe an SSD drive
Partition Recovery – recover deleted partition data
NTFS to FAT Converter – change partition format without data loss
Make Bootable Media – create a new WinPE bootable partition
What AOMEI Basic Disk Options Are?
Disk Copy – more simplistic version
Delete All Partitions – deletes (doesn't wipe) all partitions on a drive
Convert to GPT/MBR – convert an MBR data disk to GPT partition map, or vice versa
SSD Secure Erase – more simplistic version of the wizard (also only Win7)
Wipe Hard Drive – completely destroy all data on a drive
Disk Surface Test – check drive for bad sectors
Rebuild MBR – repair a faulty boot partition
Properties – see info about a drive's model number, sector amount, and others.
What Are The Basic Partition Options Of AOMEI Partition Assistant?
Resize/Move; Merge; Split Partition – change partition size and placement
Copy; Create; Delete; Format; Wipe; Set Active Partition – edit the whole partition
Change Label; Change Drive Letter; Hide Partition – change partition properties.
Check Partition; Properties – see error and other information about the partition
So that's all we got from AOMEI partition assistant review. We found the partition software quite handy and you can give it a try with free version or perhaps can utilize AOMEI partition assistant standard edition which comes with great surprises. Leave your comment below if incase you need any help with the software. We'll be glad to assist you.