Avast Secureline is a security-providing pioneer that offers a series of products for varying security and privacy needs – VPN is one of their niches. Though Avast Secureline VPN is not the most popular VPN among security, still have the advantage of being a brainchild of a company that is well known for its robust online security software. Many of Avast free antivirus users have welcomed this newer addition whole-heartedly; to know whether this newbie can challenge existing counterparts or not, you have to go through this Avast Secureline VPN Review. 
Avast VPN was founded back in 2014, but the company – Avast, has been serving the IT industry since 1988. Have a bite of our Avast Secureline VPN review; detailed yet critically-analyzed version is just a few scrolls away. 
Avast Secureline VPN Overview
| Features | Values |
| --- | --- |
| Does this service implement a no-log policy? | Yes: You can remain anonymous |
| Is it good for torrenting? | Yes, it's great for P2P |
| What Netflix catalog can this provider unblock? | US, UK, FR, DE, AU, CA |
| How many multi-login does this provider offer? | This provider allows up to 5 simultaneous connections |
| Server Locations | 34+ |
| Operating Systems (Apps and Devices) | Android, iOS, Windows, MacOs, Linux, Chrome |
| Refund policy (money-back guarantee) | 30 days |
| VPN protocols | OpenVPN |
| Bandwidth | Unlimited |
| VPN encryption | Most secure VPN encryption: AES 256 bits |
| IP Addresses | This data isn't provided |
| VPN Servers | 33+ |
Is Avast Secureline VPN Worth the Money?
Avast SecureLine VPN Pricing Plans – Unconventional Method
Avast SecureLine VPN will cost you differently than the rest of VPNs – means no more monthly plans instead of offering yearly plans depending on what and how many devices you're planning to use. 
Sounds ridiculous?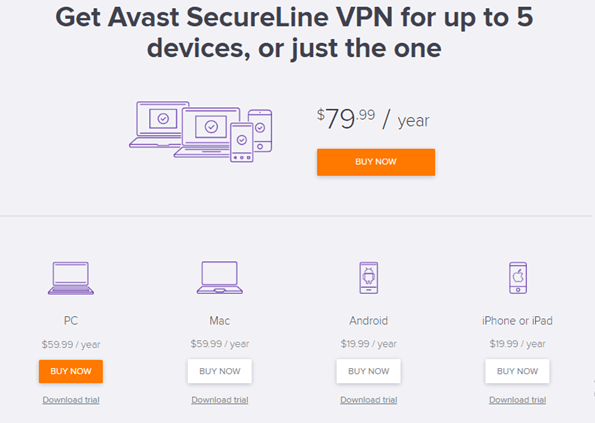 Match your feasibility with your device/s.
The $16 plan gives the best value and to access Avast Secureline on conventional PC; it would cost $59.99 per year. To access Avast VPN on android and iPhone; it would cost you $19.99/year.
If you think the service isn't suitable for you, but still wants to try, avail their 7-day free trial or get a refund in a duration of 30-days, in case you've already subscribed to their paid plan
Don't worry! The free trial won't ask your payment details.
Payment Options
Avast VPN's pricing needs slight adjustments. They offer: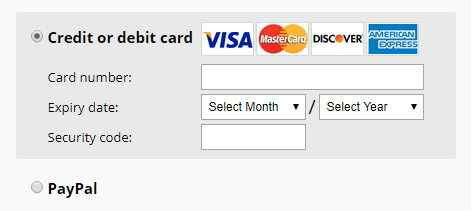 If you're expecting that Avast, being into security for years, will offer Bitcoin, then I am sorry, no surprises here. 
Avast Secureline VPN Servers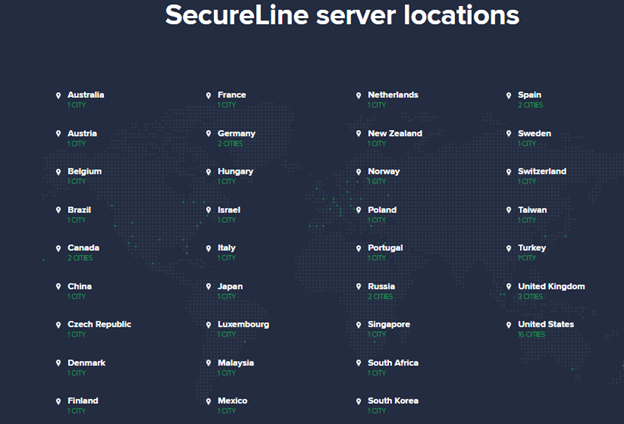 The countries that Avast has servers in are:
United Kingdom (two cities)

United States (16 cities)

Canada (two cities)

Germany (two cities)

Russia (two cities)

Spain (two cities)
As mentioned, this VPN offers far less than the major players in town. It offers 55 servers in 34 countries; it's quite low compared to its competitors with having more than 3000 servers. The only countries that Avast has more than one server location are Canada (two cities), Germany (two cities), Russia (two cities), Spain (two cities), the United Kingdom (two cities), and the United States (16 cities).
Avast Secureline VPN Jurisdiction – Based in the Czech Republic
Avast is a Czech Republic VPN provider which is involved in the Five Eyes surveillance agreement. The country is not directly involved with the alliance but has good terms with all fourteen of them who are allowed to exchange users data within.
Isn't it a great threat?
So far there has been no evidence or reports of Avast Sharing sensitive details to any of their friends or foe, but it's good terms can do such blunders.
Does Avast Secureline VPN keep logs? No, not yet!
Avast Secureline VPN stated in their privacy policy that the service does not keep a record of user data and online activities. But they store connections logs which indicates the time of connection and disconnection on the server, how long you are connected and the bandwidth you have utilized.
Like every other VPN, Avast VPN claims this as the information used for "diagnostic purposes" and to halt the respective abuses. While going through the Avast's privacy policy, you will encounter that they offer links to social media platforms that are counted as third parties.
Your personal data will only be shared with third parties in either case;
"We are required to disclose your personal data to unrelated third parties in limited circumstances:
where necessary to satisfy a legitimate government request or order;

in compliance with a legal requirement by a court of law or in the public interest;

in response to a third-party subpoena, if we believe on the advice of our attorneys that we are required to respond;

where we hire a contractor to perform a service for us, such as product development or market research (but not if doing so would violate the terms of our privacy policy, or laws governing personal data);

if we obtain your permission; or

if necessary to defend ourselves or our users (for example, in a lawsuit)."
Now, it's up to you!
We still recommend this VPN based on the fact that the provider has no history of malpractices. 
Let's see whether Avast VPN offers unlimited torrenting? 
Is Avast Secureline VPN Torrent-friendly
Avast VPN torrenting is allowed with P2P supported servers which are:
Miami, Florida

Seattle, Washington

London, United Kingdom

Paris, France

Prague, Czech Republic

Frankfurt, Germany

Amsterdam, Netherlands

New York City, New York
Although the option of servers are less, but all are actively working! You might find heavy traffic on any of them. 
What about Netflix?
No Netflix Support
The battle between VPN and Netflix goes on with none of the side backing out. Avast VPN is no more Netflix-friendly; it won't let you stream movies and its content on any server. This can change in the future, but right now it's a no-go zone.
Encryption Details
Avast VPN offers:
Avast Secureline brings you two protocols:
These protocols run on military-grade AES 256-bit encryption and the "256" refers to the highest grade encryption protocol. Right now, AES is known to be the 'brute-force proof' by top security individuals and government professionals globally.
Avast Secureline further provides a handy DNS leak protection which makes sure that personal data remains safe and does not leak outside the VPN connection.
No DNS, IP or WebRTC Leaks Were Recorded
We tested a few servers and checked them all through different DNS and IP leaks tests and found that it does not leak any one of them.
Avast Secureline is leak free.

https://browserleaks.com/webrtc (none found)

https://www.perfect-privacy.com/dns-leaktest/ (none found)

https://ipleak.net/ (none found)

https://ipx.ac/run (none found)

https://www.perfect-privacy.com/check-ip/ (none found)

http://dnsleak.com/ (none found)
Have a look!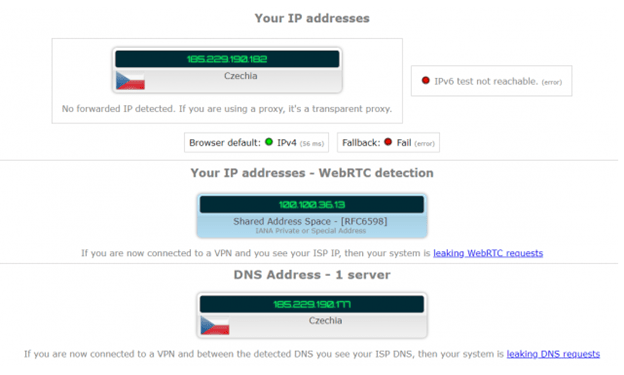 Fast Download Speed
Avast claims a lot of things; faster speeds is one of the rocking stones. To test the claims, we checked random servers. We choose the US and the Netherlands to see how well the Avast servers perform against the competition. Here are the results:
Internet Speed before connecting VPN
98.71 Mbps Download speed

53.00 Mbps Upload Speed

7ms Ping
Speed with Netherland server
Ping: 34 ms

Download: 65.97 Mbps

Upload: 39.44 Mbps
When connected to the US server
Ping: 113 ms

Download: 67.94 Mbps

Upload: 13.67 Mbps
As per the result, the speed of the VPN provider is definitely not among the fastest or slowest. It offers a moderate speed.
User-Friendly Desktop and Mobile App
Avast VPN is unique and straightforward; just one click is required to hide your IP. You can change the location of your country by choosing a different server from the list provided. Also, there is a "Preferences" menu which can be easily customized to suit your Avast experience. This is possible if you set it to customize Avast wireframe automatically.
Avast VPN also offers a mobile app for Android and iOS; stability and performance is sophisticated and easily configured even on a PC or Mac.
We do not recommend the free mobile trial that requires a credit card to start the trial; that trial is not worth it and lags unless you are a paid account holder.
Strong Customer Support
Avast Secureline has a simple ticketing system for all your queries, complemented with a knowledge base articles and a forum where you can ask relevant queries from professionals.
It's too bad that Avast VPN does not offer live chat support which is necessary. We further tried to connect via email but didn't find any contact point. They just have a Twitter account where users can tweet and send direct messages which is still unresponsive.
On the bright side, Avast phone support is available 24/7, we called to see if it was an AI robot receiver rather than an actual human. The call was directed by the automated response to a real human representative of Avast.
We believe this is a good step, as human interaction is valued more than texts or emails. We have tested and experienced multiple VPN providers support, and the majority of those have been a colossal disappointment.
Do we Recommend Avast Secureline VPN – We're Hopeful!
Avast is neither the best nor the worst choice. We do recommend it based on a few benchmarks. Avast provides a reliable solution to all the potential viruses and malware along a VPN service that is easy to use and maneuver around; if stuck, call their customer support anytime.
It doesn't work with Netflix; this is a big catch as big names are working over Netflix. On the contrary, the jurisdiction is also a big question of whether it's safe or not. 
We have tested better performing VPN providers too, and Avast is certainly not in our top list.
But with the features at such a cost, Avast is a good bargain.
Tell us what you think about this Avast Secureline VPN and share your experience Avast Secureline VPN.
Avast Secureline VPN Review
Avast Secureline is a good VPN service, but it fails at offering some of the most important features like unblocking Netflix and more number of servers.
PROS
Military-grade encryption
Zero logging service
Fast speeds
Kill switch, WebRTC available
Torrenting allowed
Easy-to-Use
CONS
Unfortunately, the VPN fails to unblock Netflix USA

It has less number of servers with unconventional pricing plans that are on the pricier side.