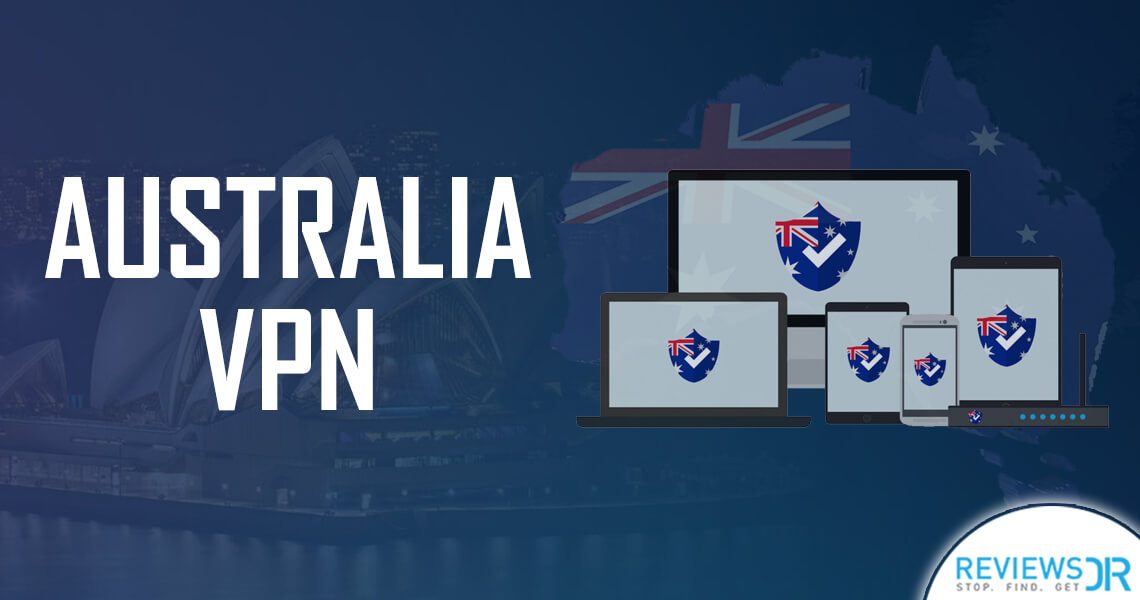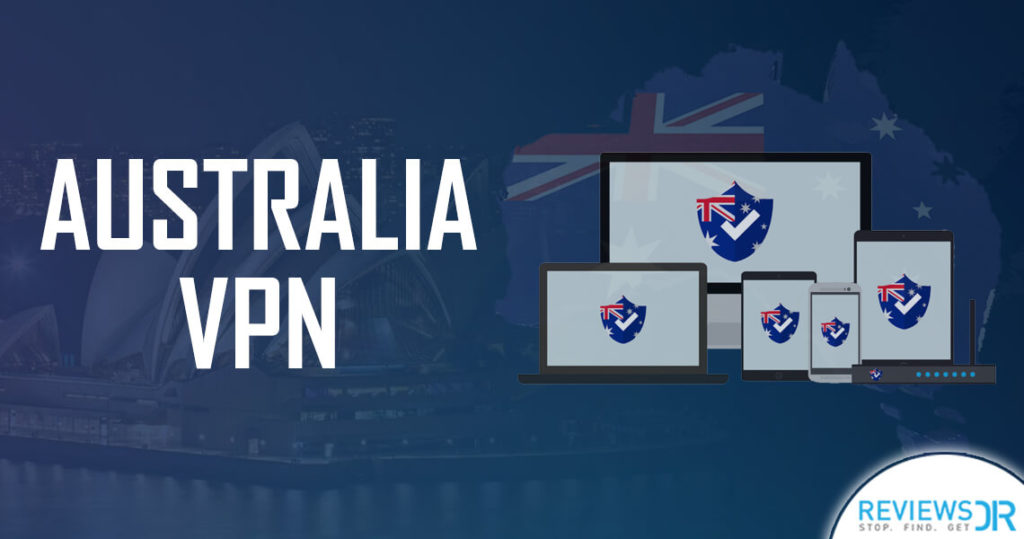 Swimming naked in the daytime at the public beach is acceptable in Australia, but keeping your personal data private online isn't. Yes! You heard it right. Since Australia became a part of Five Eyes surveillance, Aussies! Your online privacy is at stake; your ISPs are bound to keep your browsing activities for two years, and it's possible that you can't access certain websites. Internet freedom is individual's right, imposing censorships does not only restrict freedom but also restrict acquired knowledge; we, ReviewsDir believe that your online presence is yours and nobody has the right to invade your anonymity and privacy. So, how about kicking censorships and protecting anonymity together with a single solution? Subscribe to a VPN Australia and enjoy internet freedom, without the fear of being logged. Continue reading and you'll find out amazing stats concerning your privacy in Australia and how best VPN for Australia is your way to go online.
Reportedly, there were around 13.5 million internet users at the beginning of 2017; which was 4.7% increase from the previous year; more than 87% of Australians access the internet daily, and each spends 10 hours a day on their respective device. Higher the number of users, more the internet vulnerability, so how about being in Australia but remain invisible; from malicious cyber activity that is on the rise in the scale, frequency, sophistication, and severity. Although absolute privacy and anonymity is an illusion, it's not an excuse to get away with your protection and remain vulnerable in the cyber world. Want to take full control of your cyber world? Get your hands on the best VPN Australia and shoulder your privacy in your hands.
What Are the Top-recommended Best VPN for Australia?
Keeping the threats to netizens' privacy and digital life into consideration we, ReviewsDir would like to protect your online presence and broaden back the definition of 'personal information' that was about to restrict, before the law becomes fully functional. Therefore, we have developed a list of best VPN Australia that will ensure airtight data protection, strong encryption, a wide range of servers, reliable online security and NAT firewall against state-imposed data-sharing intelligence program.
Review of Best Australia VPNs – What Makes Them The Best?
A VPN is a service that protects privacy and security with encryption; with an Australian VPN, ISPs and Govt. can't trace your online footprints, you exist nowhere for their logging algorithms. This gives you close to absolute privacy – unlike those that live on your street. That's not all; you can also unblock 123Movies, PirateBay, and other sites that are blocked by the government, even you won't be bothered to access restricted piracy sites. The VPN lets you pretend to be in a different country. Yes, the best VPN for Australia lets you pretend to be in any other state, not in Australia. Restricted in only for Aussies, so as soon you connect to an overseas server, the government censorship disappears. Being invisible in the cyber world would also allow you to stream other geo-restricted content like US TV or Netflix US.
During our assignment to find and recommend best VPN Australia, we have tested over 13 VPN providers. All the shortlisted VPNs were fully tested by our team of VPN experts. We took into consideration; speed, connectivity, stability, protocols and availability on different devices. From the test, we found the following five VPNs the most reliable to use in Australia. Below you will find a brief review of each Australia VPN service that made to our list of top VPNs.
What Are The Best Free VPN Australia To Use?
We love freebies, right? While it is reasonable and even logical to try out a product or service before investing hard-earned dollars, however, free versions come with restrictions and limitations. Many VPNs claim that they offer free VPN for Australia, you never know the given trial is free only, or a marketing strategy gets potential customers on board. We also promote free VPN services let our followers try out a service before paying for it. In the search to find best VPN Australia we tested over six VPN providers and found that only a limited number of VPN providers has servers in Australia. Also, speed is not up to the mark as compared to premium VPNs, so definitely we won't recommend our readers to use any free VPN in Australia. Perhaps, if you'd like to have pre-access to the service, then try out ExpressVPN 30-day free trial and connect to their Australia VPN server for better results.
Is it Legal to Use VPNs in Australia?
VPN subscription reached new heights in Australia in a couple of years. As per CNet report, 16% of Aussies use VPN, and the maximum users are within the age bracket of 18 to 34 age. Before the metadata retention law, only privacy concerns were the most important driving forces behind the increasing rate of VPN subscriptions, now VPN usage is becoming more prevalent among Aussies. VPN is helping Aussies to remain anonymous while accessing contents over the web, including geo-restricted websites.
The current situation once again gives rise to one of the much-debated question: "Is VPN legal in Australia?" Yes, VPN is NOT illegal to use for protecting online anonymity and for geo-restricted content. Presently, there is no law legally prohibits national citizens using VPNs. That shows accessing geo-restricted content is not restricted, thus, Aussies! You don't have to worry about legal penalties for accessing restricted foreign content or for protecting your online privacy with a VPN.
However, the "green light" for VPN usage in Australia is limited to 'content streaming.' The moment you download or copy restricted content using a VPN, you'll be violating the Australian copyright law with the VPN subscription. Such cases might summon legal penalties outright.
Cheapest VPN To Use in Australia?
VPN market is highly competitive; you will find dozens of VPN providers competing to be the best choice for consumers. While features (of a service) is a significant ingredient that influences the customers, the price of a VPN also plays a vital role when it comes to opting for a VPN service. The average price of a VPN ranges between $8 to $11 a month, which is the price of a quality VPN. While some options to offer the service in half a price, but that comes with a limited set of features and cap on bandwidth and speed; the length of duration also matters.
During our assignment of best VPN Australia, we reviewed the pricing of all the shortlisted VPNs and found the below options cheaper if opted for a longer tenure.
As you can see that the price goes down with the extension of the contract. It is a fair deal as you get to enjoy all the powerful features of a VPN while paying as low as $2.75 per month. The good thing about all the above-mentioned cheap VPN Australia is the 30-day money back guarantee. It means that even you are tied up in a 2-year contract, but if you wish to cancel anytime, you can get your money back anytime. Check our review of cheap VPNs and see how our editors have evaluated each of the service provider.
Does The Fastest VPN Australia Help Boost Internet Speed?
No matter, how fast the VPN is, the local infrastructure of internet plays a crucial role in determining the internet speed of a territory. Australia is globally ranked to 55 in terms of internet speed in the monthly ranking by Speedtest Global Index for December 2017, with an average speed of 25.88 Mbps. Talking about Australia's fixed broadband that is below Kazakhstan at one place, with performance falling below the global average; 40.71 Mbps, pushing Australia behind Austria, the Czech Republic, Slovenia, and Russia. In the test, Singapore had the fastest fixed broadband, with average downloads of 161.21 Mbps.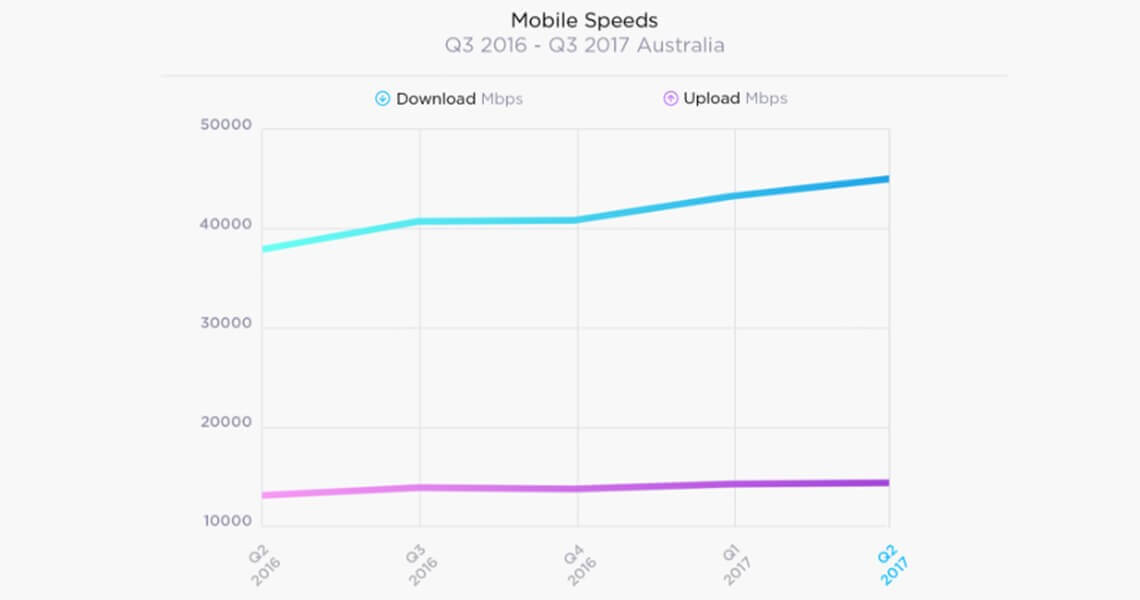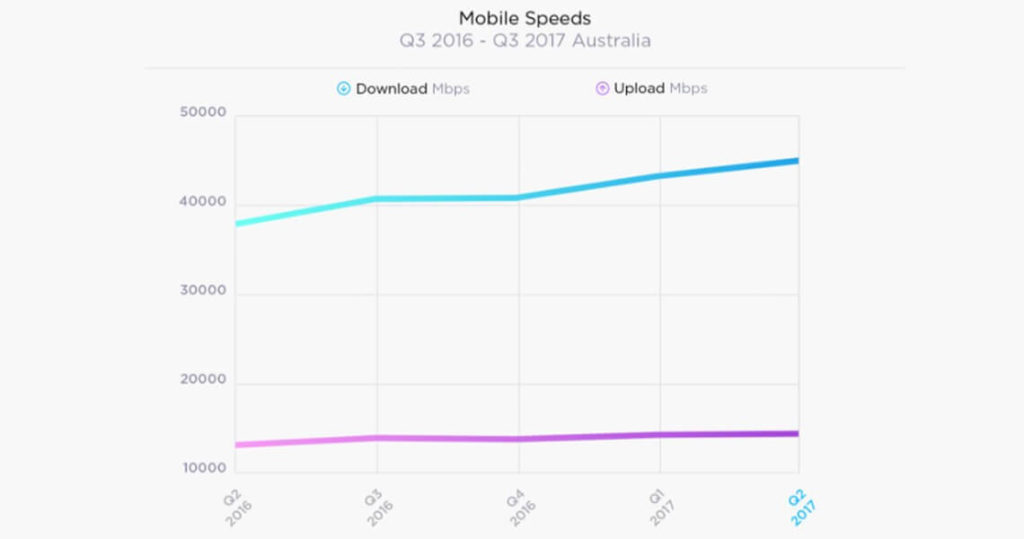 As far as mobile speeds, Australia buck the global with the faster mobile than fixed broadband, with the average download speed of 48.47 Mbps, is the seventh in the world despite falling one place in a month, while dropping two spots in fixed broadband.
The downfall of Australia's ranking is not due to the slower internet but the rapid advances overseas.
VPN does offer faster connections but at the same time reduces network performance, due to the secure encryption protocols the service provider use to protect privacies. Surprisingly, the relation between VPN and the internet is not that simple, as several factors play significant roles. Connecting to VPN means to route internet traffic via a VPN, rather than directly related to the ISP; longer the route, longer the response time. Other factors are;
The number of users using the server – Less the numbers, less crowd on the server.
Performance of the VPN server – Best VPN has better performance
Location of the server – far from the server, slower the VPN connection.
VPN encryption used – secures protocols means slower VPN speed
ISP limitation in placed – ISP has the final control overall speed.
VPN does affect overall network performance and the internet speed; you can overcome most of these factors by choosing a known VPN service like; ExpressVPN, NordVPN, CyberGhost, we have tested and reviewed all the above-mentioned VPNs individually, click to get the speed tests' results. The benefits a VPN offer, a little loss of internet speed doesn't hurt that much.
Say NO To These VPNs In Australia?
An ordinary VPN can be used to hide IP address and connect to the regional-based server, but only a select VPN service/s can get around with censorships that the internet infrastructure of Australia is imposing. A VPN said to be premium only when it offers strong online security coupled with the capability to bypass geo-restrictions; an essential prerequisite for a VPN to attract Aussies.
Almost every VPN provider would promise all these features, but only few would stand by with their claims, not every other VPN pass through the VPN-detection systems placed in Australia. These are the VPNs you should avoid using in Australia;
F-Secure
Le VPN
Kepard VPN
Is Avast A Good VPN To Use in Australia?
Avast, a world-renowned antivirus company that offers virus-protection software and a wide range of other products. Recently, the Czech Republic company started VPN service for free and for a minor charge and kept no logs. Although the country is not a part of Five-Eyes surveillance, but are on good terms with them, that means Australia can quickly ask the Republic to share the users' data without any reservation. The service is boasting 52 servers in 33 countries, but as far as Australia is concerned, you'll find only one Avast server in the city of Melbourne. How come one server serve the 14.2 million internet subscribers in Australia?
So, we recommend you to opt ExpressVPN, instead of that avast VPN Australia, but yes, If your system is infected with malware, then there's no better than Avast, the best antivirus so far.
TV Channels To Watch With VPN Australia
Over the last decade, shows and movies from Australia like; Wentworth, Rake, MasterChef Australia, Offspring, A Place to Call Home, 60 Minutes, Neighbours, Aussie Rules, The Code, and what not, have gained tremendous popularity and commanded global audiences. Whether you're an Australian native or a fan who just discovered Cleverman abroad, you can easily access to your favorite shows using any streaming service or on-demand website, but there's an only roadblock; your location. These TV series are broadcasted on different channels but only in Australia.
However, if you're not in Australia or are planning a trip abroad anytime soon, then you can't watch these shows online unless you're using one of the VPN service Australia. Trying to access Australian channels from abroad, you'll be prompted with this message The answer: Best VPN Australia
Download the top VPN Australia like ExpressVPN and get access to the following channels.
ABC iView
SBS
Netflix
9Now
Plus 7
Foxtel Now
TenPlay
Stan
Freeview
Hayu
Ozflix
DocPlay
In addition to TV shows, you can also stream all favorite Australian sports including NRL, AFL, Soccer, Cricket or any other sports but again geo-restrictions persists. So, stop finding sub-standard ways and unblock the respective streaming channels with ExpressVPN Australia or any other to watch your favorite action from anywhere.
What VPN Australia To Use For Faster Streaming Experience?
Streaming services started as an add-on to DVD and digital download used to boast second-run movies and TV shows. They were the supplements to the programs you watched first on cable then via streaming. Thanks to the speedier internet connections, a sea of expensive streaming devices, and an evolution of mobile video, that allowed services like Netflix and Amazon to prosper their streaming libraries, invest millions in offering original content, and give traditional pay-TV services, a run for their money. These services have grown up in a way that now we can say that this a streaming era; now we are more comfortable in streaming rather than watching on TV adjuncts, these services entirely replaced the cable for cord cutters.
Aussies have long paid a hefty price for a pay TV subscription or waited long to broadcast on free-to-air TV. Not any longer man! A big thanks to Smart TVs and other devices like Chromecast and Apple TV to bring streaming services Netflix, Amazon Prime Video, Stan and others into the living rooms of many Aussies. For your convenience, we have drafted a list of all the popular streaming services that has become a mainstay in Australian homes.
Foxtel Now: As a regular pay TV, Foxtel offers a multi-tiered sub subscription model with specific packages (sport, movies, etc.). The service doesn't deliver the best value but allows broad access to entertainment and favorite HBO content in Australia like; Game of Thrones, Veep, and Silicon Valley. Geo-restrictions would never leave us shocking, Foxtel Now is popular service in Australia, but regionally restricted, so if you're planning to go abroad, don't forget to use VPN Australia to stream Foxtel Now outside Australia. Want to stream HBO Now and Go right from Australia, hide your IP address and be in the US with good VPN Australia.
Stan: A newly Australian owned, next to Netflix yet expensive streaming service with a library loaded with Australian content but not as extensive as Netflix. Now, you can stream your favorite Stan content online outside Australia, using one of the top 10 VPN Australia, without fear of being tracked.
Amazon Prime Video: Despite being for a couple of years, Amazon Prime still feels like the kid on the block that has a popular clique. To survive, Prime Video invest billions of dollars to get big-budget original content The Grand Tour, American Gods and a new adaptation of Lord of the Rings, for their fanfare. Amazon Prime has a smaller library than Netflix and Stan and comparatively expensive. Kick geo-restrictions with the best VPN Australia and watch Amazon Prime from anywhere.
Docplay: A documentary-focused streaming service is covering the broad range of niche content.
HayU: Lost-cost streaming service backed by NBCUniversal with lots of reality TV content. In fact, that's pretty well HayU's entire repertoire, save for a few scripted series. The majority of US shows will stream on the same day as the US. Not streaming abroad? Use a good VPN in Australia.
YouTube Red: Are you the one hate ads on YouTube? Then YouTube Red is for you, pay a monthly subscription and enjoy ads-free content, stream music and watch content offline. Subscribe to any of the best VPN providers in Australia and access original content from anywhere.
ABC iView: ABC iView knows your entertainment needs and knows how to satisfy those needs with their comprehensive catch-up TV service. The best part of iView is the excellent compatibility, but unluckily, the streaming service is geo-restricted, don't worry! With a VPN Australia, you can watch ABC iView live online outside of Australia.
BigPond Movies: Find all the missed content on BigPond movies on your favorite screens anytime anywhere, hold on! This anywhere is restricted to Australia, outside Australia, no chance to stream BigPond Movies. Streaming BigPond Movies outside Australia is only possible with a VPN Australia; otherwise, you'll be directed to an error, refusing you to go further.
Hulu: Affordable heaven on earth for binge-watchers with latest Movies, TV series, originals and what not. If you're in the US or Japan, you would know the importance of Hulu, but if you're not in either region, you would know the actual of being discriminated; as Hulu is geo-restricted. Since nothing is impossible, so get stick to a VPN Australia and kick all the geo-restrictions now.
Which Netflix VPN Australia You Should Switch To?
Netflix is the most popular US-based streaming service that offers a variety of award-winning movies, TV shows, stand-up comedies, documentaries, music and many more on 118 millions of Internet-connected devices. Netflix global subscribers are on the rise, but still half of the subscribers approx. 52 million are located in the US, as Netflix USA is still the most dominant regional market for the provider. The reason for being the top contender is the original programming – 'Orange Is the New Black,' 'Making a Murderer,' and the series 'Fuller House,' surpassing the television giants like HBO, NBC, and Showtime.
The world's most popular service with 1000s of hours of TV, documentaries, film, music and many more, including original film and television content, with a large 4K UHD library. Netflix US library is the most demanding across the globe, so does in Australia, but interestingly, Netflix USA is geographically restricted to the US, then how come Strangers Things, House of Cards and others get so popular among 7.6 million Aussies? Thanks to the Netflix VPN Australia.
Sorry to say, not every VPN that claims to be the best VPN Australia Netflix, are credible enough to trust, use the following Netflix Australia VPN to stream while sitting in Australia;
ExpressVPN
NordVPN and
CyberGhost VPN
We recommend you to opt ExpressVPN Netflix Australia, to stream your favorite content on your home screen.
Best VPN Australia For Torrenting & P2P File Sharing
Torrenting is all about downloading many small bits of files in a given frame of time using different sources – it's crowdsourcing for media content. Though torrenting sound safe as it's come under the camouflage of the World Wide Web, you never know this file-sharing turn into a risky endeavor and end up getting you in trouble. Don't worry! The underlying BitTorrent protocol and the network is not itself illegal, but the bulk content being shared via torrents can violate copyright holders' rights; no matter how popular and decentralized Torrenting is?
Torrenting isn't illegal at all, but the downloading copyrighted material is. It's not always that you get to know the legality of the content immediately, even some falls in a gray area, so you are prone to find yourself unwittingly on the wrong side. Your ISP and copyright trolls monitoring are desperately waiting to take action against illegally torrenting. The response could be a warning letter and throttling (slowing down) of your internet connection to legal action.
So be warned! Take necessary precautions, casual torrents are everywhere and could be in a rude awakening. Don't forget the days of high-profile lawsuits when Hollywood studios sued college students for tens of thousands of dollars: make no mistake guys, copyright holders are still waging war on piracy somewhere behind the scenes.
Act like a mature and conscious torrent, while being protected while torrenting. The best way to hide and protect your online presence is using a torrent VPN, as the best VPN hide real IP and route your web traffic in a secured non-breakable tunnel yet and remain anonymous while torrenting anything you like. Below are the recommended VPNs to use in Australia for downloading files from torrent sites.
Does Australian VPN Help In Gaming?
The old stereotype of online gamers being shut-ins, these days, almost everyone plays online games, no matter how busy they are or whether they realize it or not. Just about every popular mobile titles have a secure online connection, like Hearthstone, PUBG, and League of Legends is impossible without a firm connection to the WWW.
Either your favorite game is multiplayer or requires connectivity, it's obvious to be connected even only for content updates, or also to share scores. Either way, your title is sending information to remote servers; isn't risky? Indeed yet moderate privacy risk is already involved especially if you're using a PC or a gaming console, and if you're playing on your phone, then forget your data plan and get ready to compromise your security.
One more level, just one more raid, then you'll call it a day! You spend hours grinding away at your favorite online games, making the most out of it that's more than just finding the right loot, however. You need to control your privacy and security while breaking through the artificial barriers being placed by content producers. Run a gaming VPN in the background, and muster your gaming skills in your favorite game. A VPN also helps you innumerable ways including;
Play new titles first.
Play while on the go.
Reduce latency and Ping Times
Play multiplayer in any region.
Protect your trade of the tricks with encryption.
Kick-off ISP throttling and DDoS attacks.
And yes, access PSN Exclusives and Xbox Live From Anywhere.
Nothing beats at the end of a long day, firing up Hearthstone, and taking on global opponents, especially if you can do it with a good VPN! Use NordVPN Australia server and boost your connection speed and kick the existence of lags, making VPN, an indispensable addition to your gaming repertoire.
Australia Data Retention Laws & How To Avoid It?
Back in 2017, Australian federal government initiated the data retention scheme to collect the metadata of every local mobile and online communications, for two years, to be scrutinized by the national security bodies. The scheme set back in 2015 but started affecting in 2017; some Aussies believe that major telcos storing the data for years.
Do you know what consists of metadata? No, here you go. Metadata is the background information of a communication including the IP address of a webpage you browse, time and date of your call, session duration, and email addresses, but not an actual recording of the call or website visited. According to the law, metadata to recorded includes;
Subscriber's information like; names, addresses, email addresses, phone numbers, and IP addresses with billing details
The source of communication; usernames, email addresses, phone number, and IP addresses of who receives messages, multimedia communications or emails
The date, time and duration or any details identifying a connection to an internet service
The types of internet services and communications used
The physical location of a communication
As the news erupted, Aussies around the world started the trend of #GetaVPN #stopdataretention and others to protect their valuable data that has and will be shared on the internet.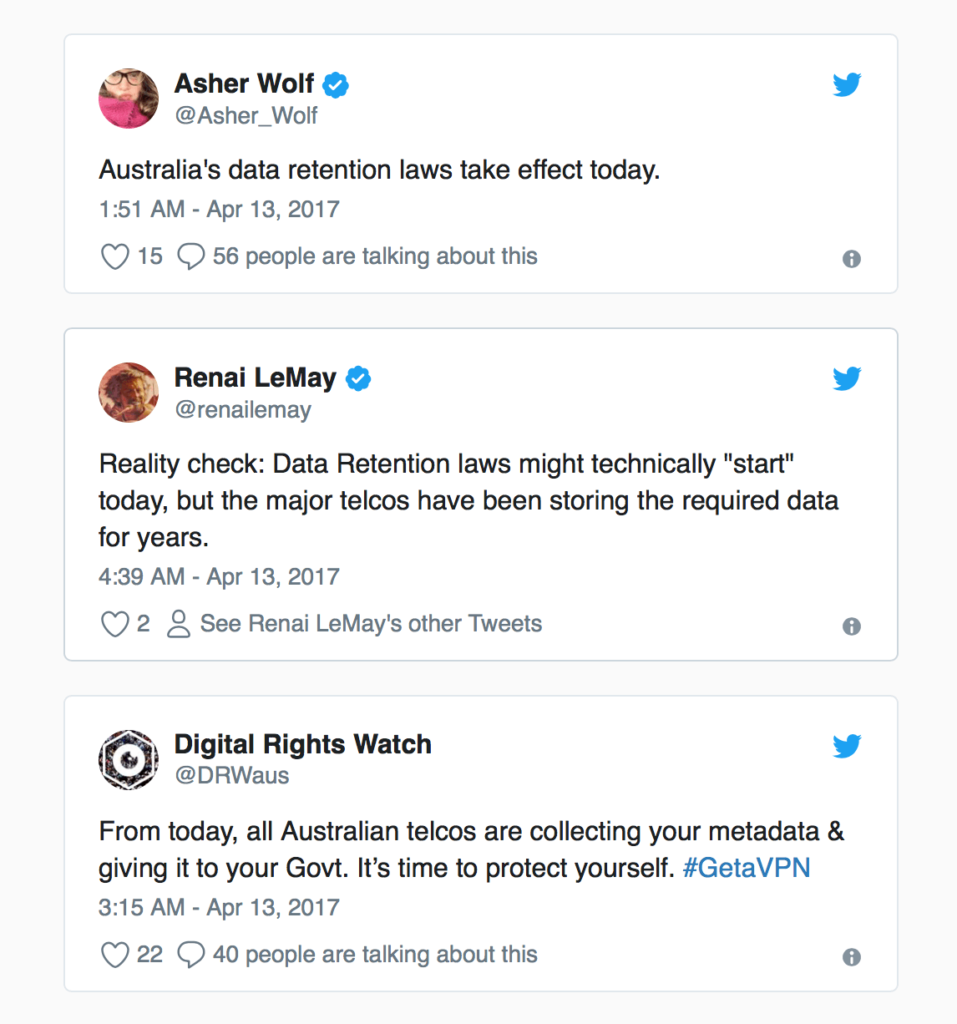 The scheme lasts for two years, would you lend anyone rights to invade your online presence? Apparently no, you don't risk you virtual reality to be scrutinized and commercialized for some bucks.
The best way to protect and hide your online presence is to go with a logless VPN, logless means your data won't be logged when you connected to the internet with VPN protection.
Is it Safe to Use Facebook in Australia?
The number of Facebook profiles are proliferating since the site opened to the public back in 2006. Reportedly, Facebook obsession reached 2.01 billion/month, drafted the remarkable position in the world of social networking. So, how does Australia get away with this obsession; do you know eight out of ten Aussies use social media and 94% of them use Facebook. It's likely that among that 94%, more than half of the data may have logged, archived and possibly repurposed, yes! I am taking you towards the Facebook latest Cambridge Analytica misuse scandal.
Facebook revealed that 87 million Facebook users' information had improperly swiped with Cambridge Analytica and interestingly, Aussies are also on the list. The company confirmed the international split, revealed that more than 300k are Australians.
Whether you're in Australia or anywhere, absolute believing in Facebook seems impossible after the controversy. We don't fear the death out of you and stop using Facebook right away, instead keep your IP address -the easiest to hack- protected using the best VPN service, and post, share anything you want and exercise your online freedom without the fear of being tracked.
Does Australia VPN Protects Privacy to Extreme Level?
Cybersecurity is no longer a technology issue, instead of a matter of everyone having internet access. Cybersecurity is ever-evolving in nature; both sides – the threat creators and the survivors– are continually innovating. Last year, we witnessed the most significant cyber threats in recent history, which affected millions of users and thousands of businesses by everything from the WannaCry attack to Uber data breaches to the Equifax. According to the experts predicts that worldwide, cybersecurity damages will reach $6 trillion annually by 2021.
2017 data breaches cleared one thing that is it our Facebook profile, our healthcare, mailing provider, banking sector or any other sector, that seems reliable, is not secure enough to lend our data blindly. You never know when responding an email, you'll receive a pop-up on your screen, and involuntarily you clicked, and the next moment your system get a hold in the control of the malware. Malware is a collection of viruses that are in the form of worms, Trojan, Ransomware, Bots, and others. Get to know all these to get them controlled or avoid their presence, before invading in your systems.
Again, to kill them or hack the hackers out of your life, use a best Australia VPN and forget being attacked.
Things To Consider Before Buying Australia VPN
The current data retention scheme is turning Australia, insecure and highly vulnerable to cyber attacks and data breaches. It's a high time to secure your valuable data before the legal agencies start selling your data to third parties. As you decided to buy a VPN, a sea of VPN is waiting for you to sink in, there are a large number of VPN providers awaiting Aussies to shoulder their security and privacy. Hold on! Not every other VPN you come across on Google is not worth giving a shot.
To ease your decision-making and saves your precious time, we have listed some factors to consider before risking your hard-earned bucks. Have a look;
Available Servers
Remember that a VPN creates an encrypted tunnel between the users' servers. Thinking about the VPN as 'a server,' the reality is that a VPN must have many servers to handle the web traffic, and allow all the users to connect.
VPN services said to be best when the service provider share the number and the location of their available servers like; NordVPN states that it has more than 4300 across 60 countries. Larger the servers' network, better the bandwidth and faster the speeds when connected to a VPN. The location of the servers also matters, same as you consider the area for your permanent domicile.
A VPN server is better when it has servers in many locations, especially across regions where geoblocking persists; a VPN server in another country is an asset to bypass regional restrictions; this is how accessing US Netflix is possible from anywhere.
Data Caps
The internet is all about transmitting and receiving data; many ISPs have unlimited data, so it's not simple to look at a VPN service. Many VPN like TunnelBear offers two; free and a paid tier. Of those, the only restriction that comes with a free tier is the limited amount of data per month. With the hope that you'll try the service out; if the VPN service is offering a free trial, then it's useful for new users especially, to test drive their services before opting their paid plans. So, get a best free VPN Australia and get your self-protected.
Compatibility
Once you understand the features of a VPN, you generally want to connect all your favorite devices simultaneously with a single account. But almost all the VPN services have a cap on the number of devices (PCs, phones or tablets) to connect with; sometimes your package plan decides the simultaneous connections. NordVPN offers up to 6 devices with a three-day trial, I believe, it's not a bad deal to give it a try.
Additional Support
About every VPN supports Windows and other native clients, including Mac, iOS, and Android devices. Is the world is restricted to these devices? No, the number of internet connected devices is increasing, and we want every new device to be protected. To deal with it, some of the good VPN providers allowing users to connect their services with almost all the available devices like router, gaming consoles, and other streaming devices. Even these days, VPNs are also offering browser extensions, to reduce the hassle of getting the VPN app and other signup details. So while selecting a VPN, make sure to examine the list of devices it connects.
Privacy and Logging Policies
Before moving on, let me share you a secret, despite the promise of complete anonymity, all VPN services do log and keep some of the users' data for a short period, to fulfil their intended reasons; absolute anonymity is a myth. Some of the VPN providers also share the data with the government authorities; to stay away from the desire to become a 'partner in crime' with anyone breaking the law.
Different VPNs follow different policies on what and how long the data they keep; VPN providers do have our signup credentials. Some VPN keeps a log others like ExpressVPN claim to be a zero-log provider; it's worth checking the provider's privacy policy to ascertain the records they maintained.
Pricing and Payment Options
Pricing is the most significant difference you witness between VPN services; some offer free plans, while others are relatively expensive. One point is constant across VPN providers; the discount threshold on the longer-term subscription, try the service and opt a more extended plan to get the considerable savings. Opt a VPN that accepts anonymous payment options like ExpressVPN, NordVPN, and others.
Where is the VPN based?
Do as the Romans do; if a VPN from a country with data retention scheme like Australia or any other Five-eyes surveillance country, then how strong claim the provider hold about the privacy, the provider would log and share the users' data. So, make sure the VPN you're choosing to hide your IP, should be VPN-friendly.
Protocols and Encryption
The most robust protocol as per the security specialists is the OpenVPN and the 2048-bit encryption, that offer military-grade protection and highest anonymity. But yes, don't forget that higher the encryption, slower the speed; so either compromise the speed or remain highly protected. ExpressVPN is the best in terms of security and privacy, so choose the VPN wisely.
Customer Support
No matter how detailed setup guides are available on the website, users only get satisfied with human interaction; asking the query from the staff sounds easier than finding the FAQ to solve the intended query. Presence of live chat is what distinguish the top VPN providers with others, who offer ticketing support. I always attracted to ExpressVPN in this regard, as they provide live chat support without popping up again and again.
Make sure the VPN you're using in Australia must have a live chat or instant-responsive system to get all your privacy and logging concerns to be solved instantly.
Still, don't know why use a VPN? Check this out.
How the VPN Works?
A VPN is a virtual private network that uses a public network and connects remote sites or users. Using a VPN enables businesses to ensure security – no one can intercept the encrypted data.
Without a VPN, this is how your connection looks: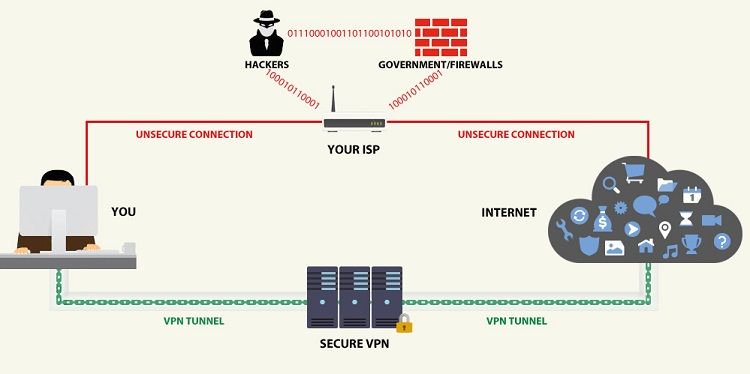 The internet is a collection of servers that store and server websites we request and these servers keep exchanging our data to browse a page; isn't great, but not good for privacy. Going online but with the commercial airline flight; baggage handlers, the ticket agent, security personnel, and the flight attendants, all need bits of data to route you between cities. This is what happens on the web. Think of any website that requires your personal information; your data is being exchanged.
With using a VPN service, your data is encrypted in a secure tunnel with protocols then send to the VPN server and from there to the destination website. The VPN hides your IP (but why? Click here) and assign you an imitated IP (based on the region you are connected with) and links to the web on your behalf; no more security and privacy problems. For the destination site, your VPN is you, means a source of data gets unidentified and anyone trying to break the encryption, would end up with gibberish data.
Only legal and privacy policy of the VPN and it's headquartered region limit the VPN technology.
Australia VPN To Fuel Your Sports Fever
If you love American sports like; NFL, NBA, or MLB, but unable to access in the Australian vicinity, then subscribe any sports VPN in your favorite screens and enjoy unrestricted access. These days, sports is the prime reason people invest in a VPN, use a VPN and pretend to be anywhere in the world and stream any sporting events without losing your comfort zone.
Use ExpressVPN and pretend to be in more than 94 countries, so does their respective sporting events. Other best VPN for your sports craze is;
NordVPN
IPVanish
Tunnelbear VPN
How to Watch Fifa World Cup in Australia?
The 2018 FIFA World Cup is a few weeks away, with games kicking off from June 14. Watch some matches on free-to-air TV (SBS), and if you want all 64 matches, consider an Optus Sports subscription. Optus Sport is the only (legal) option in Australia to catch every single FIFA 2018 shot. Or else spend an inordinate time at the pub.
Get Optus subscription from $80/month to $90/month and enjoy all 64 games with post and pre-shows including interviews.
Isn't expensive? Yes, it's costly, there are some channels in the UK, USA, Canada and elsewhere, that are free to air, so subscribe a best VPN Australia and hide your real IP address with the regional one, and enjoy breakthrough streaming of FIFA World Cup 2018 live online.
Best Australia VPN for Windows, Android, Mac and iOS Users
Use Windows as your OS means you have an array of options using one of the best VPN services or any other software. Virtually every VPN has a dedicated desktop OS topped up with the most features. Selecting a Windows VPN, you should look for all-around performance with a little bit of almost everything – a user-friendly intuitive, P2P support, clearly written yet straightforward privacy policy, and so on. The best VPN that fulfills all the needs of a windows user is the TunenlBear VPN; you will find all the features and policies right on the main screen.
If you're an Android user, you must be needing the VPN every time anytime you connect to the internet. Since Android is open source, the possibility of being tracked and snooped is higher than other OS; so if you're an avid internet user, then you're at a higher risk to get trapped. Anyways, if the client is comfortable with essential features that you need while on the go, like NordVPN, then get your Android device protected from the snoopers.
Whether you're concerned about your Mac data or looking to access blocked sites on your Mac screen, then don't wait anymore and subscribe to ExpressVPN now and enjoy its sleep app with all the features for a VPN seeker. There are other best VPN Australia for your beloved Mac, but ExpressVPN is the well-recommended.
Being an iPhone user, do you feel a bit smug when you read about spyware, ransomware, or other malware hitting Android devices? Well, maybe you could make a good choice. Apple always takes measures to secure iOS from the start, and gets tighten the security paradigms with every update; but only when you protect your device with Touch ID, Face ID, or with a passcode. As you start communicating with other devices and websites, all bets are off. To secure your virtual communications, you need a VPN, the best VPN to protect your iOS is ExpressVPN and NordVPN, others also offer the similar features.
How Can Australia VPN Benefit the Australian Business Community?
Do you know? Reportedly, cyber attacks cost around $84000 to $148000 to small businesses, and among all the data breaches, 61% of breaches hit smaller business because 90% of the small businesses don't use any data protection at all.
Considering the growing threshold of cyber threats in the business world, VPN services are becoming a crucial consideration for any modern business, especially with a flexible and mobile workforce, to maintain high levels of privacy and security. When it comes to precious business data, there's a vital need to keep the company network and respective internet connection secure and private, and also allow to secure remote access facilities.
This is true for small businesses with limited resources to manage security. Fortunately, there are a couple of business VPN services out there like NordVPN, all are a breeze to set up and maintain, and are flexible enough to fit your organization's security needs. It also helps avoid malware attacks and also let you safe and sound in case your competitor tries to invade in your USP.
How Can Australia VPN Help You Get Discounts While Shopping Online?
Want your favorite goggles on Amazon at the lowest possible price? Use a VPN. Since Australia has relatively higher taxes than any other region in the world, this directly shoot up the prices of all the products available online. With the best VPN Australia, hide your AU IP with the low-taxed region IP and get everything you want at the lowest price. Isn't great! If you're an avid shopper, you would love the VPN.
How Secure Are Public Wifi In Australia?
If you're a traveler or just visiting any nearby restaurant or cafe, the first thing you ask is the wifi password; wifi is the next thing we look for after oxygen. Be it anywhere in the world; public WiFis are insecure or better to say an open ground for hackers to test their skills, due to its nature of being open-source. Aussies the data-retention policy is already in the limelight, and your data is already at stake, and you can't afford further intruders invading your privacies.
It's high time to stop trusting public WiFis anymore and get yourself connected with the best VPN, or else keep one of the best portable pocket WiFi routers, in case you're an avid traveller and love to explore places.
Can I Use Proxy over VPN in Australia?
Yes, proxy and VPN share some fundamental phenomena, to provide online security and privacy. A proxy server is like a computer that sits between the internet and your computer. This means you real IP is hidden from the destination website, but the proxy runner gets to know your unencrypted web traffic and your real IP address, so does the VPN. The only difference is the lack of encryption; proxy doesn't encrypt your web traffic, but a VPN does, so VPN is still the best as far as privacy and anonymity concerned.
Conclusion of Best VPN For Australia
Australia is one of the most desirable places in the world to use a VPN, as the Australian government is insanely invasive; continually spying on Aussies. However, the metadata retention policy gave the power to a wide range of governments departments to access the data retained by ISPs, anytime they want, without any warrant. It signifies increased surveillance, posing a severe threat to Aussie's privacy.
The only and the most effective way to protect your online privacy in the current wave of law is to get VPN subscription to prevent all communication details and hide your browsing history from your ISPs. A VPN is the only way left to get back your digital privacy in your hand. We think the Australian government is wrong in retaining your metadata– so we encourage you to protect yourself and your friends and family with a VPN.
However, not all the Australian VPNs can be trusted. There have been reports of some unethical VPN providers sharing users' data for their vested interests. So, be extremely careful while subscribing with a VPN Australia.