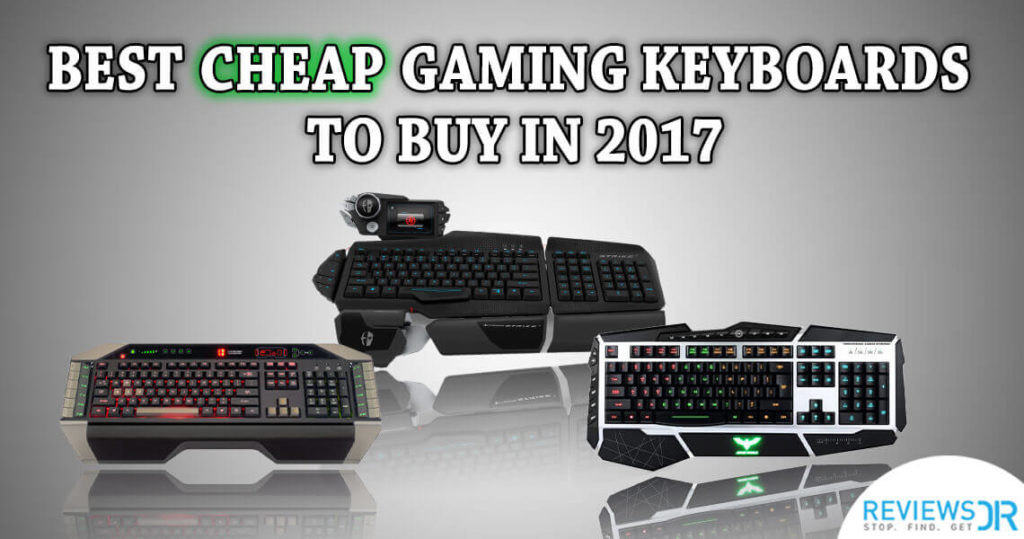 The majority of gamers are well-aware of how much a quality-made keyboard is important. After all, keyboards are the first thing that gets broken due to a lot of pressure that gamers put on them. However, having a good gaming keyboard doesn't mean having to spend a lot of money. There are numerous cheap gaming keyboards that can take your gaming experience a couple of steps further, and we are here to discuss those options.
✎ Read Also: 5 Best Gaming Headsets Under $100 – Crisp Sound, Stellar Quality!
It is also important to be said that by gaming keyboards we mean mechanical keyboards that are not only popular among PC gamers. This type of keyboard comes with an improved tactile response and you'll instantly recognize it by the clicking sound it makes.
Without any further ado, let's see what are the best cheap gaming keyboards.
7 Best Cheap Gaming Keyboard to Buy in 2017 – Our Top Picks
You are probably reading this article because you want to find a quality-made mechanical keyboard without breaking the bank. The good news is that even if your budget is tight, there are still a lot of very interesting options. Below you'll find our top picks for the best cheap gaming keyboards based on our extensive research and testing. Don't worry, we also listened what our fellow gamers have to say and included their feedback into our final decision.
| | |
| --- | --- |
| Model | Price |
| Tomoko Blue Switch LED Keyboard | $54.99 |
| Redragon K552 Kumara Keyboard | $33.99 |
| Azio MGK-1 Backlit Mechanical Keyboard | $66.99 |
| EagleTec KG011 | $43.99 |
| Razer BlackWidow Stealth Keyboard | $74.99 |
| AULA LED Wired Keyboard | $39.95 |
| SADES K10 LED Wired Keyboard | $49.99 |
✎ Read Also: 5 Best Gaming Mouse Under $50 – Both Wireless & Wired
Now, let's take a deeper look at some of the keyboards mentioned in our list. We'll review their specifications, unique features, build quality, and finally – their pros and cons.
1- Tomoko Blue Switch LED Keyboard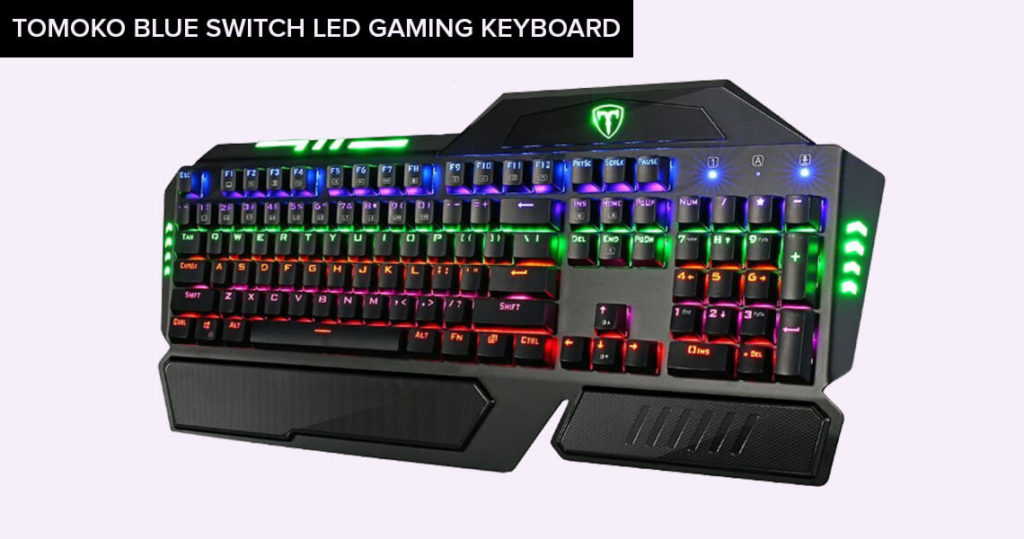 Among cheap gaming keyboards, Tomoko's LED keyboard deserves a special place. This keyboard is the best proof that you can have all the bells and whistles without spending a lot of money. This one is currently priced at $55, which is an amazing deal. Let's take a deeper look.
First of all, you need to know that Tomoko's gaming keyboard comes with 104 keys, so you'll get a full set of keys just like on any high-end mechanical keyboard. These keys come with LED lighting where every single key has its own light. Furthermore, you can customize brightness, light scheme speed, and change between nine different lighting patterns.
Now, let's talk about Blue Gaote switches. This feature makes sure that you hear that clicking sound every time you press a key. Blue Gaote switches are made to imitate the world-famous Cherry brand switches, and they are doing an amazing job. The keys are very responsive and they don't have a lot of resistance when pressed.
Finally, we shouldn't forget to mention that this keyboard comes with the N-Key rollover switching. This means that even if you press several keys at once, your system will register all of them. This truly can be a lifesaver when it comes to gaming. It is easy to see that Tomoko's LED keyboard comes with a lot of interesting features, which is making this keyboard one of the best cheap gaming keyboards out there.

PROS:
The full set of 104 keys
Different lighting patterns and modes
Ergonomic design
Inclusion of the N-Key rollover switching
Water-resistant
CONS:
Keystrokes can be a bit too loud for certain individuals
A bit large in size
Check Tomoko Gaming Keyboard Price Now
2: Redragon K552 Kumara Keyboard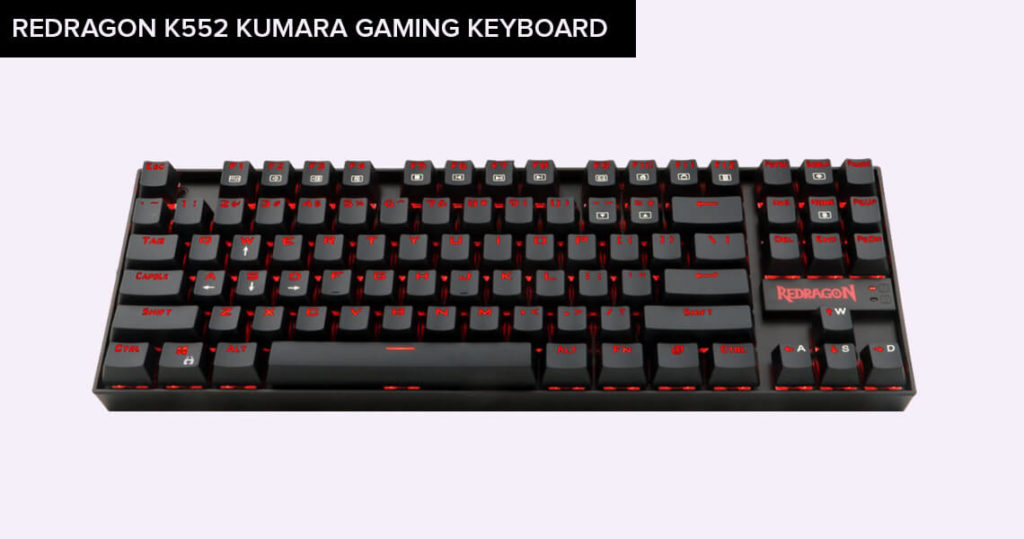 Redragon's Kumara keyboard is one of the best cheap gaming keyboards out there. Priced at $33.99, this one is packed with useful features and it is also quality made. For this amount of money, you'll hardly find a better deal. Let's take a closer look.
Maybe it's hard to imagine that you can find a true mechanical keyboard for around $30, but this keyboard will make you change your mind. This truly is a mechanical keyboard that comes with double-shot-injection molded keycaps. Don't worry, this one also makes that well-known clicking sound when you use its keys. This is due to custom mechanical switches that are very close the widely-famous Cherry Green switches.
On the inside, the Kumara keyboard has a metal construction and its overall build quality seems great. Furthermore, this keyboard brings a very sturdy type of plastics, making us sure that even hardcore gamers will enjoy it for a very long time.
The Kumara keyboard comes with 87 standard keys and 12 multimedia keys. It's not water resistant, but it does bring a splash-proof design.

PROS:
Quality made
Very responsive and comfortable for use
Custom-made mechanical switches
Seems very durable
CONS:
Doesn't have a number pad
Very light – could use some additional weight
Check Redragon K552 Kumara Gaming Keyboard Price Now
3: Azio MGK-1 Backlit Mechanical Gaming Keyboard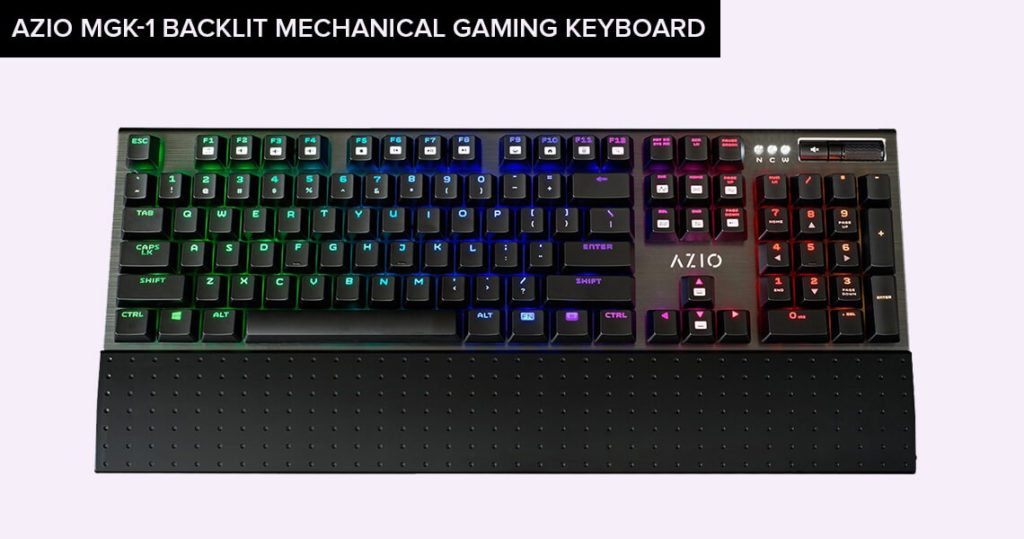 Mechanical gaming keyboards are usually very colorful in their design and they also tend to bring a rainbow-like lighting. Even though there's nothing wrong with that, there are some gamers that find this setup distracting. This is where Azio's MGK-1 keyboard comes into play.
In order to describe this keyboard, we can use two words: elegance and sturdiness. The Azio MGK-1 comes with black aluminum plating that has a really nice finish. This full-sized keyboard comes with the standard and shortcut keys and also features a number pad. All of these keys are backlit by a simple white LED light. As you can expect, you can turn off the lighting or adjust its brightness.
It is also worth mentioning that this keyboard's keys feature Kailh Brown switches that are very close to Chery Brown switches. In case you're not familiar with this type of switches, you should know that these keys are a bit heavier. This means that you'll have to push the key a bit more than usual. For gamers, this is an amazing feature since it prevents accidental presses.
When it comes to other interesting features, we must mention a detachable wrist rest and volume controller. This is not something we often see, especially the dedicated volume controller that is used to adjust the volume and to mute any sounds.
The Azio MGK-1 is priced at $66.99. If you are looking for a very elegant and sturdy mechanical keyboard, you'll find that the MGK-1 is certainly one of the best cheap mechanical gaming keyboards out there.

PROS:
Elegant design
Anodized aluminum backplate
Custom-made key switches
Dedicated volume controller and wrist rest
CONS:
Sometimes you can hear a metal rattle from the wider keys
A bit pricey
Check Azio MGK-1 Gaming Keyboard Price Now
4: EagleTec KG011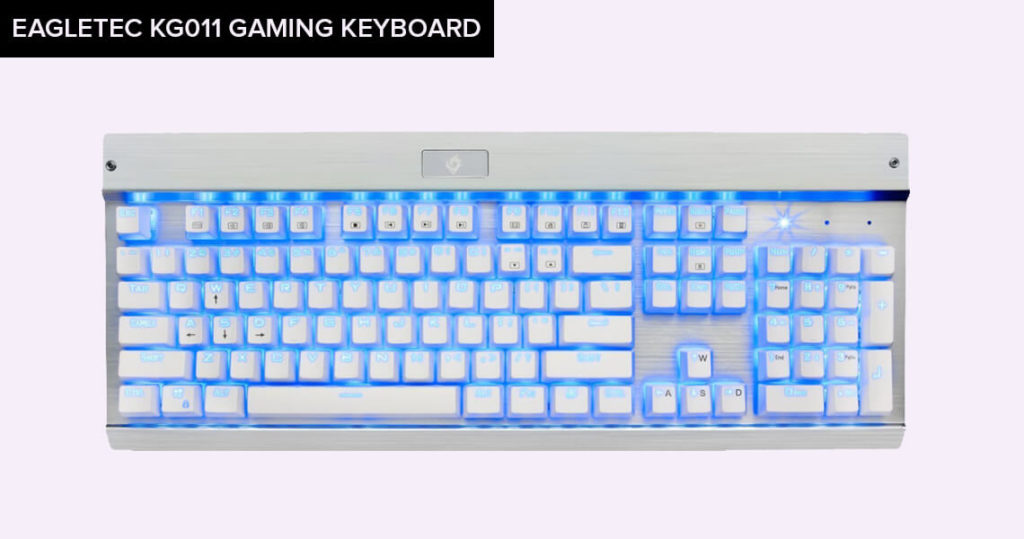 In case you like a bit unusual design, you might be interested in EagleTec's KG011 keyboard. Even though it comes in several design variants, where some of them are more or less colorful, this keyboard definitely stands out. On top of that, it is priced at $43.99 and brings a lot of useful features.
For the purpose of this article, we have tested the white version with blue LED backlight. The first thing we liked is KG011's brushed aluminum backplate. It provides a certain tactile feedback and generally looks really nice. However, we wished to see a bit sturdier material since this keyboard is incredibly light and somewhat easy to flex. In general, mechanical gaming keyboards should come with a certain weight that will keep them grounded and they should be really sturdy.
The EagleTec KG011 is a full-sized keyboard that also brings a numpad. The keys come with transparent symbols so you can take advantage of the blue backlight. You should also know that this keyboard isn't water resistant, but instead, it is splash-proof.
In conclusion, we should also say that the KG011 uses a set of blue switches from Otemu that provide a very tactile mechanism. The keys are also very responsive as well.
If you're looking for a basic but high-performing keyboard, you'll definitely find the EagleTec KG011 to be one of the best cheap gaming keyboards.

PROS:
Full-sized mechanical keyboard with 104 keys
Bright blue backlight
Brushed aluminum
Transparent key symbols
CONS:
Unusual design
Very light
Check EagleTec KG011 Gaming Keyboard Price Now
5- Razer BlackWidow Stealth Keyboard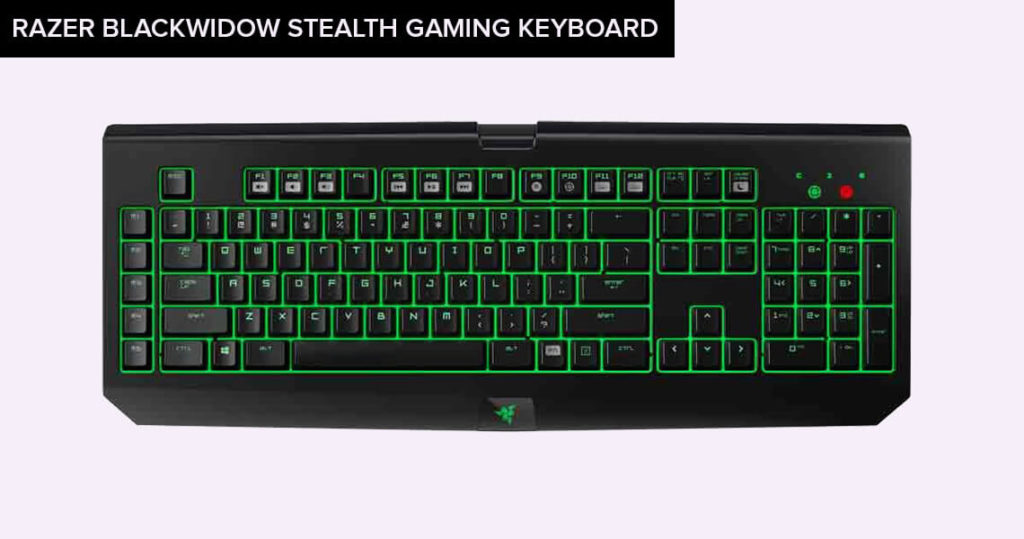 We definitely can't finish our list without one of Razer's keyboard. If you're on a budget, we suggest taking a look at Razer's BlackWidow keyboard that is priced at $74.99.
Razer's keyboards are well-known all around the world as quality made, durable, and high-performing. This is the case with the BlackWidow as well. This keyboard comes with a hefty frame and solid key caps, and it also features a braided detachable USB cable. It is clear that this company cares about how well their products are made and this keyboard is not an exception.
It is also worth knowing that Razer's keyboards come with the company's own proprietary switches. In this case, we are talking about Razer's Green switches that are amazing when it comes to gaming. They have a shallower activation point and this also results in somewhat muffled sounds. Gaming keyboards can be very loud and not everyone likes that. The company took extra effort into optimizing the BlackWidow's design to create quieter keys, even though the sound can still be somewhat loud.
For the price of $74.99, you'll be getting one of the Razer's well-made mechanical keyboards that aren't sacrificing any part of its design or performance. If your budget allows for it, this is certainly one of the best gaming keyboards on the market.

PROS:
Quality made and sturdy
Quieter keystrokes
Razer's own Green switches
Vibrant backlighting
CONS:
Higher price tag
Comes with a very complicated software
Check Razer BlackWidow Stealth Gaming Keyboard Price Now
Should We Buy Cheap Gaming Keyboards – Are They Worth the Money?
Are mechanical keyboards better than the standard ones?
Every gamer knows the numerous benefits of mechanical keyboards. However, not many average PC users are aware of how these keyboards can help them in their everyday tasks. This is why we are here to help you learn all you need to know about this particular keyboard type.
✎ Read Also: Best Graphics Card Under $100 In 2017 – Beasts That Don't Break The Bank
The main difference between mechanical keyboards and common (membrane) keyboards is what's underneath each key. Mechanical keyboards come with physical switches (and there are different types of those) that are pushed as you push a specific key. This actually plays a major role in how fast you can type as well as how accurately you're doing this job. On top of that, they are much more durable than your ordinary keyboard. This is because gaming keyboards are usually tested for up to 50 million key presses, which is a lot as you can tell.
When it comes to gaming, no other type of keyboard matches mechanical keyboards. First of all, they are more precise which can be crucial in action-packed moments. In addition, most of them come with something that's called the N-Key rollover. What this thing does is that it helps the keyboard send a bunch of signals each time you press multiple keys at once, and your PC will recognize all of those signals. Once again, this can be of high importance when you press a bunch of keys during your gaming sessions. Instead of being "confused" and misinterpret that information, mechanical keys will successfully send all those signals which can mean a lot when playing an action-packed game.
Are they worth the money?
Yes, they truly are worth the money. Even if you're a casual gamer, you'll definitely feel the difference. The best thing is that you don't have to spend a lot of money. As you can see from this article, you can find a very durable and high-performing cheap mechanical gaming keyboard for less than $50.
What Different Cheap Gaming Keyboards Are Available – The Best Picks
As we previously said, you can find some amazing mechanical keyboards under $50. However, if you have a bit more money to add to your budget, you can end up with a very sturdy keyboard that brings a couple of additional useful options.
Let's take a look at what different price ranges can offer.
Best Cheap Gaming Keyboards Under $50
In the following list, you'll find the keyboards we previously reviewed, as well as a couple of additional options in case you want to research further.
| | |
| --- | --- |
| Model | Price |
| EagleTec KG011 | $43.99 |
| Redragon K552 LED Mechanical Keyboard | $33.99 |
| AULA LED Mechanical Keyboard | $39.95 |
| SADES Mechanical Wired Keyboard | $49.95 |
Best Cheap Gaming Keyboards Under $100
When it comes to mechanical keyboards, a bit more money can go a long way. If your budget is around $100, you've got a lot of great keyboards at your disposal. Here are our suggestions.
| | |
| --- | --- |
| Model | Price |
| Tomoko Blue Switch LED Keyboard | $54.99 |
| Razer BlackWidow Stealth Keyboard | $74.99 |
| Azio MGK-1 Backlit Mechanical Keyboard | $66.99 |
| HAVIT HV-KB378L RGB Keyboard | $69.49 |
What to Look for When Buying Cheap Gaming Keyboards?
Even though you won't make a mistake if you decide to listen to our advice and buy one of the keyboards we previously mentioned, we'd like to offer a couple of additional tips.
In this segment, we'll discuss what you need to know when buying cheap gaming keyboards. So, here's the list:
The majority of cheap mechanical gaming keyboards are wired, even the expensive ones. This means that they need to be plugged into the USB port. Even though they work out of the box, they might come with a dedicated software where you fine-tune a bunch of different options. On the other hand, wireless keyboards use RF connection or Bluetooth. Even though there aren't any cables cluttering your desk, this means that they need batteries to operate. It's really hard to say which type of connection is better since both wired and wireless keyboards are highly reliable and responsive.
Mechanical gaming keyboards feature different kinds of key switches that are found under every single key. Companies like Razer offer their own proprietary switches, even though you can find quality-made and responsive switches in budget-friendly keyboards as well.
When buying a mechanical keyboard, you shouldn't forget about comfort as well. Gaming keyboards are designed to be used several hours at a time, so you want to make sure that your fingers stay intact. If you really care about comfort, there are numerous interesting options that come with wrist rests.
Since there's a lot of competition today, manufacturers are trying to come up with different kinds of extra features. For example, some keyboards offer macro functions that are programmable keys that perform a certain kind of action. There's also an option that prevents certain keyboards from activating the Windows keys while in-game, preventing a game from being minimized by accident.
All Set To Buy A Cheap Gaming Keyboard That Don't Break The Bank?
We sincerely hope that after reading this article you know more about cheap mechanical gaming keyboards. As you can see, there are lots of interesting options out there, so make sure you do your research. When you find a couple of viable options, make sure to check out what other users are saying and to see their personal experiences.
If you want to add your opinion or if you think we forgot to mention something important, don't hesitate to post a comment. We'd love to hear what you have to say.