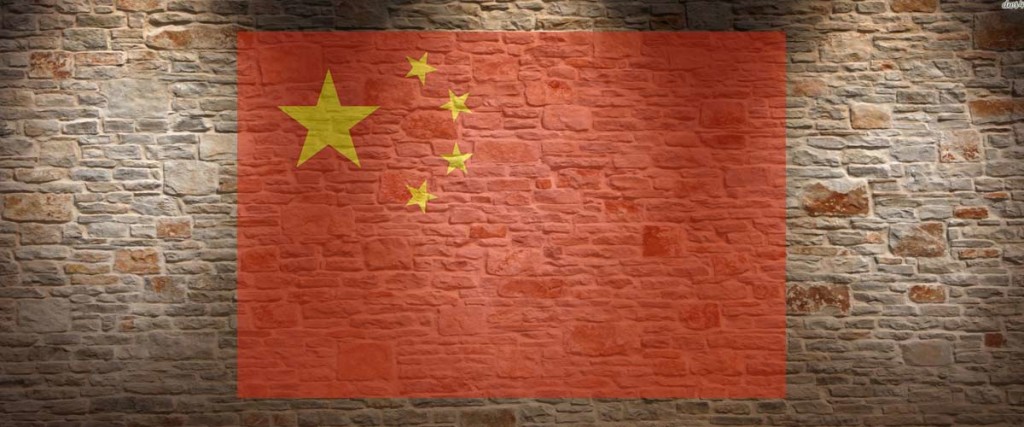 Did you know that over 30,000 websites including Facebook, Google, YouTube and many others are blocked in Mainland China? And the number of blocked websites in China increases every day. With such an intense state censorship deployed by the Great Firewall of China, the use of Internet in China is not as easy as it may appear. People who travel to China or have the urge to visit foreign websites end up getting stuck with geo-restrictions in China and find alternative ways to access the web in one go.
As reported by Internet Live Stats, there are over 1 billion websites active today, and not all of them are accessible from China. We sure do need Free Internet in China, and it's our right to reclaim our freedom. ReviewsDir takes on this task to talk about the growing Internet censorship in China and how VPN is helping hundreds and thousands of people in accessing far-famed websites like Facebook, YouTube, Twitter and Google from China. In this article you will find all the best China VPN recommendations, their top features, and why we rated them as best VPNs for China.
5 Best VPNs for China – 2018 Update
Lots of VPN companies claim to have great support for people in China, but most of those claims can turn out to be false. We have carefully reviewed and tested over 50 China VPN providers and found the below mentioned as the most reliable VPNs to use in China.
What is The Great Firewall of China and why does it exist?
The Great Firewall of China is one of the scariest things to have ever happened to the Internet in centuries. The GFW project is controlled by the Communist Party of China that aims to restrict Internet freedom in the garb of preserving moral and cultural values. It is an attempt by the Chinese Government to curb the use of foreign websites in Mainland China. Many popular websites are blocked by the Great Firewall of China project, and people are under strict surveillance for any attempt they make to access those restricted websites from China.
The Great Firewall of China employs different techniques to censor websites from the use of netizens that include IP blocking, DNS filtering and redirection, URL filtering, Packet filtering and few others. If you want to learn more about how the Great Firewall of China works, then watch this video:
What websites are blocked in China?
There are over 30,000 websites that come under the radar of China's Internet Censorship, thanks to the Great Firewall of China. Among the top names, websites like Google, Facebook, Twitter and YouTube are blocked in China. The reason why you can't access these websites in China is still unknown, and communities are already flooded with such questions, with different answers. Not only the social websites but several other news, online streaming, SaaS websites are also blocked in China. Full list of blocked websites in China can be found here.
Then how to access blocked websites in China?
It's not that Chinese Government is done with the Internet censorship, they keep on building more protocols and techniques to imperil the common Internet users. VPN and Proxy are two methods that were introduced to access all the restricted websites from China. However, there has been a lot of debate on the two methods, and their reliability. We'll discuss later why proxies shouldn't be your choice when searching for the best VPNs for China.
Reasons why people use China VPN?
No one likes to be under the surveillance and restricted from the use of Internet. And that motivates people in China (the most) to turn to VPN. Following are some top reasons why VPN is so popular in China.
1- It lets you access blocked websites: VPN is an effective solution when you want to access geo-restricted websites in China. While famous websites like Facebook, Twitter and YouTube is blocked in China, VPN comes handy with one-click access to all these websites.
2- It protects your identity online: Data identity is issuing threat to Internet users. Every year hundreds and thousands of people become victim of online identity theft. VPN protects your Internet privacy and keeps your identity safe from snoopers.
3- It doesn't let GFW spy your online activity: The Great Firewall of China was established to moderate access to foreign websites and spy on your Internet activities. With VPN, you can go anonymous online, and GFW protocol can't track your activity.
Why Proxy is not an option for people in China?
The main reason why we don't recommend proxies over VPN for China is that they are slow and unstable. Since the battle is between the freedom and the Great Firewall of China, having a stable service is what the netizens need. Another big concern we believe with proxy service is that they are not secured and fully encrypted. So, proxies are slow, full of ads, not reliable and risky.A VPN, however, is an ideal solution for netizens in China. With strong encryption protocols and powerful servers, a VPN is capable of delivering the best performance.
Is the Use of VPN Illegal?
From the government's perspective, yes it is illegal. But if you dig deeper and go into the communities where Tech pundits and users share their views, they declare the use of VPN as legal. We also trust that the use of VPN is legal since it is NOT intended to harm anyone, but to provide access to the websites we love. Restricting the Internet shouldn't be imposed by the government, but giving people right to exercise their freedom is a must-do.Here are some of the discussions we collected from the communities: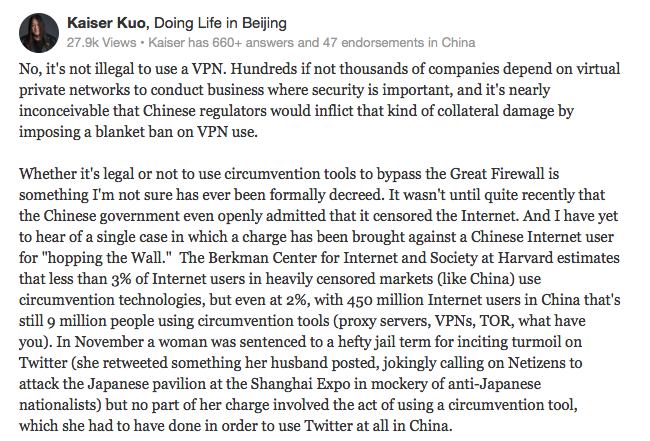 What's the Current Status of VPN in China?
Chinese government continues to tighten their grip on this subject. There will always be some kind of development in the GFW project that would halt the use of VPN, in general. Last year, they added new protocols in their system to crackdown VPNs completely, but to no success. However, you may find a lot of VPNs that fail to work properly in China. There was a thread created on Reddit with the similar discussion. See here.
Advice: Go with the best VPN for China as you can't compromise on quality when the goal is to bypass the Great Firewall of China.
VPN for China Consideration
You may come across with tons of recommendations on the web. Since Internet censorship in China is severe, taking a wise decision is required before you hand over all your information. Following are some key considerations that we kept into account while testing best China VPN providers.
Servers they have: Choosing a VPN for China involves the server they host. It is considered to be a primary decision-making element as the more servers a VPN vendor is offering, chances are less you will face downtime.
Stability & Reliability: Not all VPNs are stable in China due to the crackdown. Therefore, it is vital to see if the host is steady and reliable to use in China. Otherwise, you will end up searching for a different China VPN solution.
Encryption Protocols: This is paramount as Chinese Government continues to crackdown on VPNs, and protocols are the primary methods that circumvent the GFW. At times, the protocols you use might not work, so having a variety of protocols help in bypassing the Great Firewall of China restrictions. Although PPTP is fast compared to any other VPN protocol, for VPN China, we suggest using OpenVPN as it has the capability of handling the GFW moderations.
Speed: No one likes slow and sluggish Internet, even when battling with the GFW. Consider checking the speed test result of a VPN China provider if their servers deliver excellent speed from different locations. A piece of advice here is to choose the closest server to get the best connection.
Device Availability & Connections: Always check if your choice of VPN for China supports all the operating systems and devices you own. In addition, we all have multiple devices, so make sure to choose the VPN China solution that offers multi logins feature.
Money Back Guarantee: Since stability is a concern when you opt VPN for China, so it is advisable to check if the VPN China service provider has any refund policy. It takes few days to test the performance completely, so having money back guarantee would certainly help in saving those hard-earned bucks.
Review of Top China VPN Providers
We have invested hours in testing a variety of VPN China vendors to yield all the important information for you. Since there are various factors to consider while opting for a reliable China VPN solution, it is a must to make a wise decision. For your convenience, we are providing a detailed review of prominent and reliable VPN solutions for China, and why you should sign up for one today.
1- ExpressVPN – Stable & Reliable (Price: $8.32/month – Save 35% Today)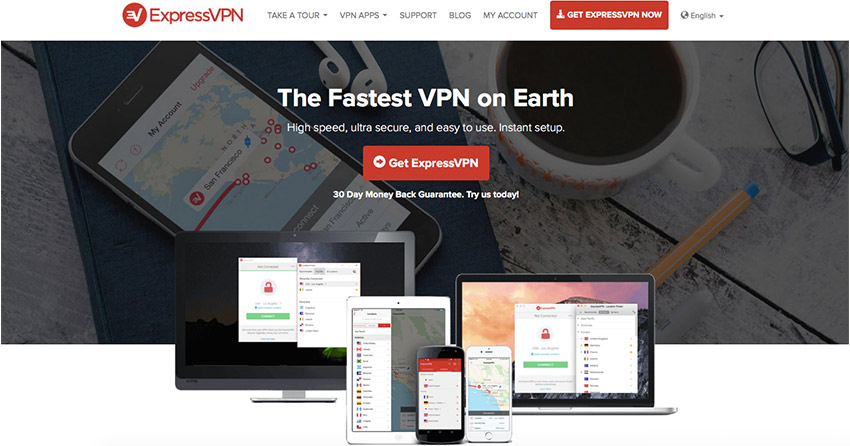 From privacy protection to giving unrestricted access to global content, ExpressVPN has made its name in the VPN industry. Being in the industry for a long time now, they have proved to be one of the best and most reliable VPN solutions available today. ExpressVPN host servers in over 87 countries (including Asia pacific countries like Hong Kong, Singapore, Japan, Malaysia, Thailand and others) in over 136 locations. This wide range of available VPN servers rank ExpressVPN among the list of best VPN for China, as you will have various locations near to your home to give you the best and unhindered experience in China.
Speed is one eminent advantage that gives ExpressVPN an edge over other China VPN competitors. Their servers are engineered and optimized for best possible speeds in China. Generally, if you install a VPN on your device or OS, you face speed issues, but with ExpressVPN, speed is not a concern anymore. If you connect to their Hong Kong VPN server, you ought to get around 6-7 mbps, which is indeed fast! In addition, there is no cap on bandwidth and speed, so you can enjoy flawless VPN China connection without any interruptions.
ExpressVPN is extremely secure and anonymous to use in China. They assembled their VPN technology with an SSL-secured network coupled with 256-bit encryption protocol that strengthens their offerings even further. On top of that, ExpressVPN has deployed stealth servers (located in Hong Kong) that are specially designed to combat Great Firewall of China. The 'Stealth Servers' don't let anyone know if you are connected to a VPN, hence, makes your internet journey completely anonymous in China. Staying anonymous is a prime concern for us all and ExpressVPN have answer to this also. Their Zero-log policy is considered to be as one great factor why ExpressVPn is counted as best VPN for China.
And when you own multiple devices and have friends in China, ExpressVPN offers you 3 simultaneous connections to bypass GFW censorship. They have apps available on Android, iOS, Windows, Mac and Linux. So you have no limitations whatsoever! Another reason why we rank rank them as best China VPN solution is their money-back guarantee offer. Since using VPN in China sometimes is not stable (not with ExpressVPN though), paying back if they are not satisfied is a win-win game. If you are happy with their service, you can get your money back easily. And not to forget their customer service, those guys are great, in general, and for any queries related to VPN China. They are responsive, professional and always be available to help you with anything. Above all the great service they offer, price is a concern, as they are a bit expensive as compare to others. But considering the level of service they offer, we believe that investing in ExpressVPN costs next to nothing.
ExpressVPN is fast, reliable, secure, and above all, an all-round VPN to cater all your privacy and internet censorship needs. We guarantee that you will fall in love with their service for they will give you a thousand reasons.
2- PureVPN
With their pretty impressive list of features, PureVPN has become very popular in the VPN market. Keeping you secure from all online thefts, PureVPN offers its users great experience online. This Hong Kong based VPN provider serves best to its users in China at the amazingly low price range. The most significant feature of PureVPN over other services is their huge number of servers deployed in over 140 countries with 80,000+ IP addresses to ensure full anonymity, which means you won't experience slow speed accessing blocked websites in China. They have servers in Hong Kong, Singapore, and Japan (Asia), which are best and fastest to access geo-restricted content within China.
PureVPN also offers OpenVPN, L2TP/IPSec, PPTP, SSTP and IKEv2 protocols, which let you access restrictive networks within China. They use 256-bit encryption, keeping no logs during data browsing so that it will never violate what you want to keep private. No cap on bandwidth is also one of the striking features of this Chinese VPN service, which let its users download, browse, stream or share whatever and whenever they want. For each subscription, they provide five multi logins at a time, so that you can enjoy secure and fastest connectivity on different devices. Fortunately for you, they have set up 24/7/365 customer support to provide help to solve your VPN problems. Their test results also showed a blazing-fast speed connection where we didn't face any throttling in the connection. Moreover, they offer 7-day money back guarantee so that if you are not satisfied with the service, a refund can be made.
Above all, the Chinese VPN is fulfilling the needs of streaming, browsing and gaming with its versatile features. With all these information at hand, we are confident that with PureVPN, performance is always guaranteed. Considering your privacy is worth than a few dollars, so why not give them a go for yourself!
3- IPVanish VPN for China – (Price: $6.49/month – Save 46% Today)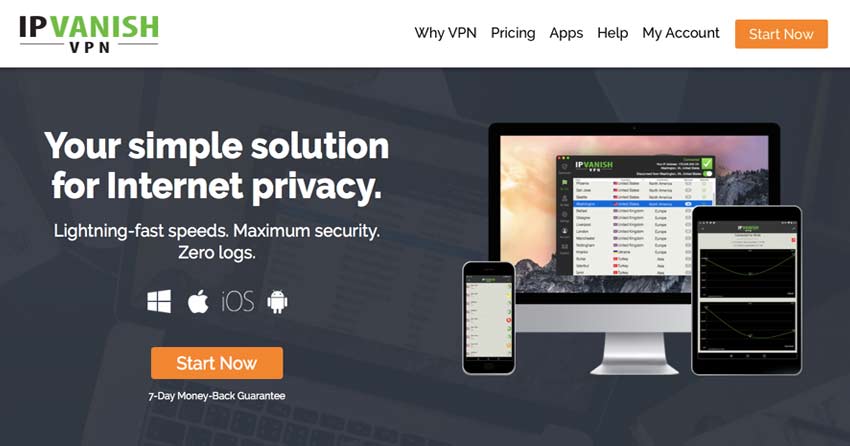 Not any other VPN works like ExpressVPN, but we must say that the test results concluded good feedback for IPVanish. With over 500 servers in 60 locations, IPVanish emphatically qualifies as a reliable VPN solution to use in China. Although their website is not accessible in China, you can still use IPVanish VPN without any problems. IPVanish has its servers located in almost all the continents hence you can switch between different locations with their unlimited server switching option. IPVanish servers are smartly optimized to give you best China VPN performance. You will not face speed issues with IPVanish VPN in China as their test results showed fast connection speed. However, connection speed depends on your server selection, so choose the nearest server to your location. We ran our tests on US Seattle server, and the results were amazing.
IPVanish offers support on all notable operating system and devices, provided it is connected to the Internet. You can enjoy 2 multi logins also with IPVanish subscription to access blocked websites in China. They also provide 7-day money back guarantee in case you are not fully satisfied with the VPN performance.
4- VyprVPN – Another Stealth Server Enabled China VPN option (Price: $6.67/month)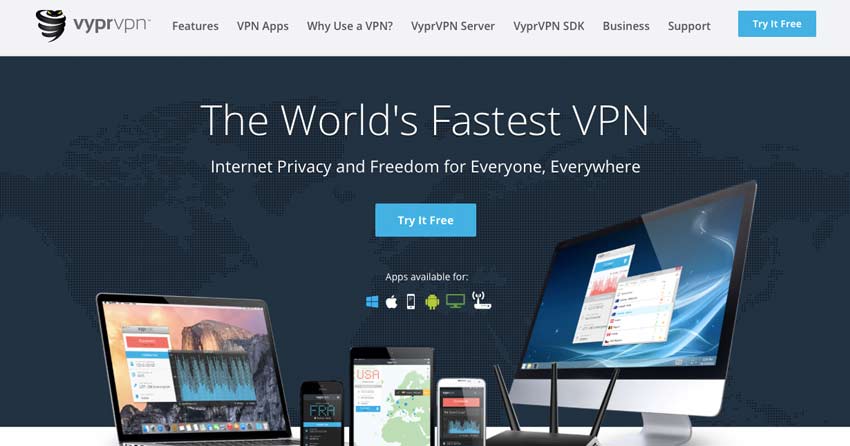 VyprVPN sets itself apart as a reliable VPN solution as they are one among the few solution providers that own their infrastructure. This gives them an edge over competitor as all their servers are being controlled by expert technical team. VyprVPN comes with strong 256-bit SSL encryption that helps users to access restricted websites in China. Their smart stealth technology called 'Chameleon' is an anticensorship tool that anonymizes users activity and lets them access the Internet without any interruptions. During the China VPN test, we tried PPTP protocol, but that didn't work smoothly. So it is advisable to connect to OpenVPN protocol only which is secured and fast equally. The test also showed us a fair connection where we hit up to 4-5 mbps speed.
VyprVPN boasts 50+ global servers that account for over 200,000 IPs. You will also enjoy 3 simultaneous connections with VyprVPN subscription with zero-log policy. It also comes with a 3-day free trial but with limit on your bandwidth (500 MB only).
5- TorGuard – Safe and Secure best VPN for China (Price: $9.99/month)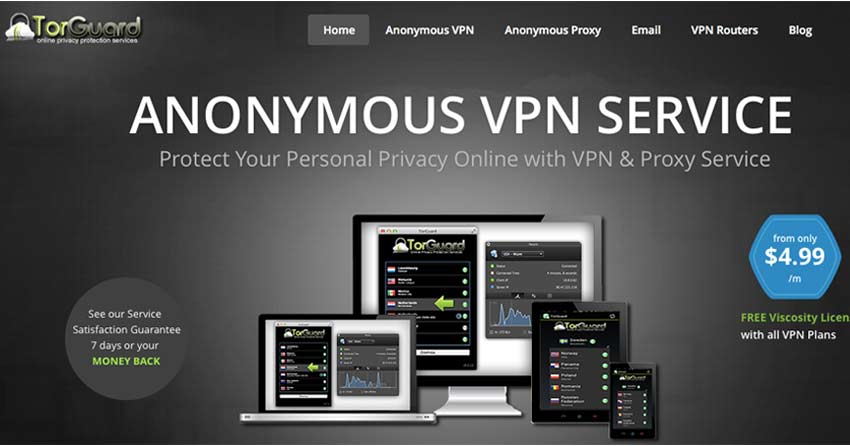 By now we have only reviewed VPNs for China that opens free Internet with the help of OpenVPN protocol. While there are many benefits attached to VPN, there is one downside to OpenVPN is the speed, not low in actual. We tested TorGuard in line with the other VPN China options and found that the Stealth Proxy tools enabled with their service is also an ideal way to access blocked websites in China. TorGuard Stealth Proxy not only lets you access restricted networks, but will also let you remain anonymous from the GFW DPI (deep packet inspection) filter.
TorGuard doesn't put a limit on bandwidth and server switching. You can access their side range of 1600 servers placed in 50 countries. The test depicts a fair speed with their connection and you can use TorGuard on 5 devices at the same time. All major protocols including PPTP, LT2P, SSTP and OpenVPN come with the standard package at $9.00/month. TorGuard application is available on Windows, Mac, Linux, Android and iOS.
Best VPN for China Conclusion
Chinese Government is smart, and they made the Great Firewall of China even smarter. So there is no escape from the continuous threats and attempts to break down the Internet. Though, VPN continues to ease your Internet life, you should always be ready to face a new challenge. We hope our take on best VPN for China has covered all the points, and if you think we have missed anything, please feel free to drop a comment and let us know.