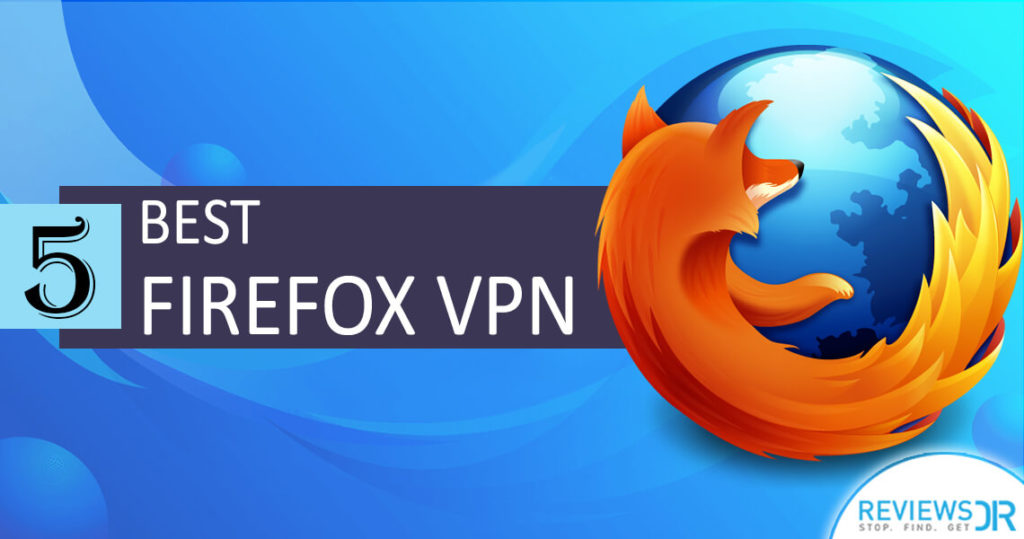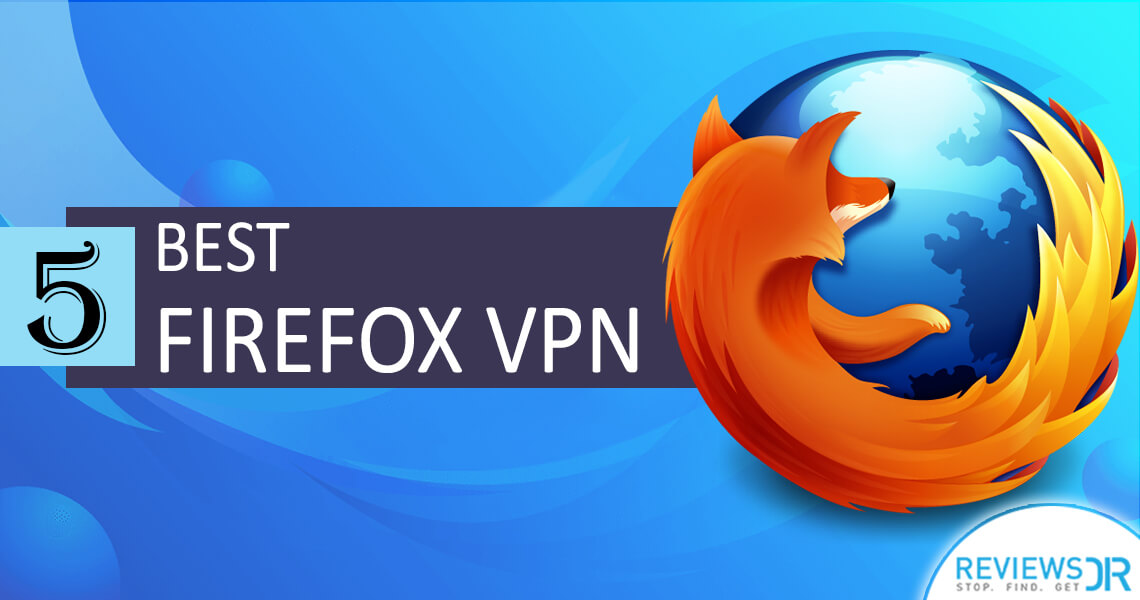 Thanks to the browsers for connecting us with the World Wide Web; the importance of a web browser in the internet surfing would never go out of fashion. After Chrome and Internet Explorer, Mozilla's Firefox is the fourth-most-popular web browser, sharing a 5.02% share of the market. With so much amazing to offer, Firefox has become a profound choice for day-to-day internet user. Although browsing via Firefox is safe, but various risks can put your privacy at risk. Whether you're streaming, gaming, or shopping; get your browsing safe with one of the tailored Firefox VPN extensions. This guide aims to discuss the greatness of Firefox browser, and how power features can be added to the browser by connecting a VPN.
But, does Firefox have a VPN?
The answer is, No! Firefox browser doesn't come with a built-in VPN; however, you can add a layer of protection by adding a VPN extension to it. In search of finding a reliable VPN for Firefox browser, our editors have tested various VPNs available in the market. Our VPN Firefox guide will help you find the best-of-the-best.
5 Best Firefox VPNs To Use in 2018
Too many options may sometime confuse us, right? To ease the process of finding the best VPN for Firefox, we have finalized the list of five best yet tested options that work smoothly on Firefox. Here you go:
A Quick Look at Firefox Browser and How A VPN for Firefox Is a Blessing For Us
Being the free open source software; Firefox's has been in the doldrums for 16 years, launched in 2002, delivering topnotch service to end users. Recently, Mozilla has revamped the browser to give it a fresh look, and the way it's redesigned shows the aim to leapfrog its competitor. Didn't try Mozilla Firefox in a short while? Check it out, you won't regret. If you're a non-techie, you will love high-security rating, reliability, a deep catalog of extensions and user interface customization, don't worry tech geeks! Mozilla has so much to test your skills too.
Firefox comes with efforts like Firefox Quantum and augmenting the virtual reality-focused -Firefox Reality- in a very close second; genuinely improvising  our site-to-site surf. The latest version of Mozilla's browser is offering a cleaner, yet modern UI with a password-free browsing experience. Beside skin-deep changes, there's some impressive engineering going; like Quantum has designed to leverage multi-core processors to process quicker. But there's no guarantee that Mozilla's Firefox is secure in the current wave of sophisticated cyber attacks.
A VPN hides your IP address and replace with a different one of your choice to get around geo-restrictions, protecting copyright laws that prevent us to access the content like movies and TV shows, in certain countries. In countries with strict Internet censorship like China, a Firefox VPN helps us to unblock sites that are banned without compromising the security of our browsing actions. A VPN for Firefox is an encrypted layer of privacy that hide your presence both from hackers and government surveillance.
Looking For The Best VPN For Firefox, Performance Matters the Most!
A big priority is to get around with unwanted censorship on the web and unlock geo-restricted content. And for streaming content, you'll be needing good performance, and yes! A decent server count to clear the quest.
Firefox is already a bit resource-heavy, the VPN extension for Firefox must be light and unobtrusive, and should offer a solid mix of options to suit both basic and tech-savvies. And needless to say, a tight level of privacy and security. Thankfully, there are many options when looking for the best VPN for Firefox. Whatever the browser you're using, you always want a VPN with a strong privacy policy and military-grade encryption topped up with unlimited bandwidth and fastest VPN servers to speed up your browsing experience. Without further ado, scroll down and find the best VPN services for your Firefox browser.
Our Top Recommended Firefox VPNs Are….
There are many Firefox VPN providers, and it's the hard to select the best. Frankly speaking, many providers look promising, but only a handful of them keep live up to their promises of providing superior security and access to blocked websites. Check out our top recommended VPN for Firefox that produced the best results! The below-mentioned service providers come with Firefox VPN addon also, enabling you to quickly connect and disconnect VPN from your browser.
1. ExpressVPN – Our Top Choice For Your Firefox
ExpressVPN is the fastest and the most secure Firefox VPN, with over 2000 servers across 94 countries. Install either the Windows or Mac VPN app, and use the ExpressVPN Firefox VPN extension; don't worry! Set up and configurations are way simpler than your imaginations.
Get this super fast VPN and remain close to a secure server and enjoy fast internet using your favorite server location to hide your IP address for unblocking geo-restricted content. ExpressVPN boasts 256-bit encryption, a kill switch, DNS leak protection, and zero logs policy to make sure that your Firefox is water-tightly secure.
With ExpressVPN Firefox extension, browse anything on the internet. View our detailed ExpressVPN review for more information. Protect your Firefox browser by taking advantage of its 30-day money-back guarantee. ExpressVPN costs $12.95 for a month, $9.99/month for six months or pay just $8.32 and sign up for a years' subscription.
GET EXPRESS VPN FOR YOUR FIREFOX BROWSER TODAY
2. NordVPN – A Feature-rich Firefox VPN
NordVPN is the super-reliable protection of your Firefox with double encryption, a kill switch, DNS leak protection, and zero logs policy. The VPN is highly compatible with all the dominant OS including Windows, Mac,  Linux, iOS, Android, and has an extension for our very own browser; Firefox, for secure browsing across your favorite six devices at once.
NordVPN's Firefox VPN extension is quick yet easy to install and has everything including P2P sharing, HD streaming, and torrenting, to transform your browsing experience; choose one of its six specialized servers from the network of 4400+ servers, and get frighteningly fast speeds.
NordVPN lets you try their services freely upon request for Firefox for seven days. and you have a 30-day money-back guarantee, to claim your hard-earned bucks. The prices are $11.95 per month, $3.29/month for two years, and $5.75/month for a year.
Our detailed NordVPN review will uncover all the hidden tails of service that never let you look elsewhere.
3. PureVPN – Anonymize Your Browsing With This Firefox VPN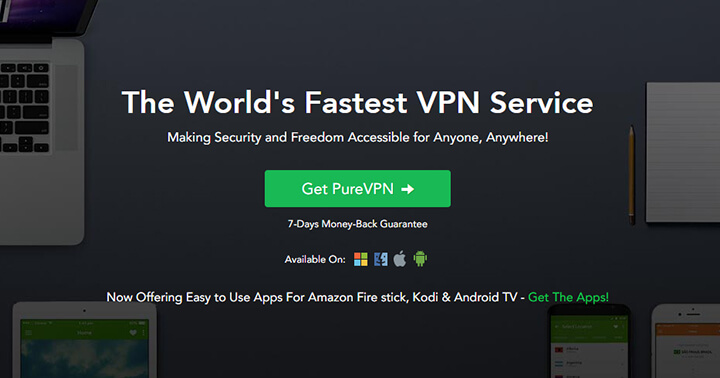 PureVPN offers military-grade encryption that makes it the best VPN for Firefox with its enhanced security to keep your online activity hidden that you do over Firefox browser, from prying eyes. Get this VPN and access all the  750+ servers that are located in more than 140 countries and connect your five different devices suing single signup. This Hong Kong VPN defeats ISP throttling that makes streaming ultra-fast.
It's an excellent choice for netizens in China to get around regional restrictions on all the major streaming services, including Netflix. The service started browser add-on back in March 2017, with amazing features like; WebRTC blocking, ad blocking, anti-malware processes, and tracker blocking. You will also get a kill switch, DNS leak protection, and IP leak prevention.
Pay as low as $3.25/month for two years or as much as $10.95/month to enjoy its power-packed features on your favorite browser, Firefox.
GET PUREVPN TODAY AND DOWNLOAD THE SUPER-FAST FIREFOX VPN ADDON
4. Hotspot Shield VPN – Fastest Firefox VPN For Browsing Fever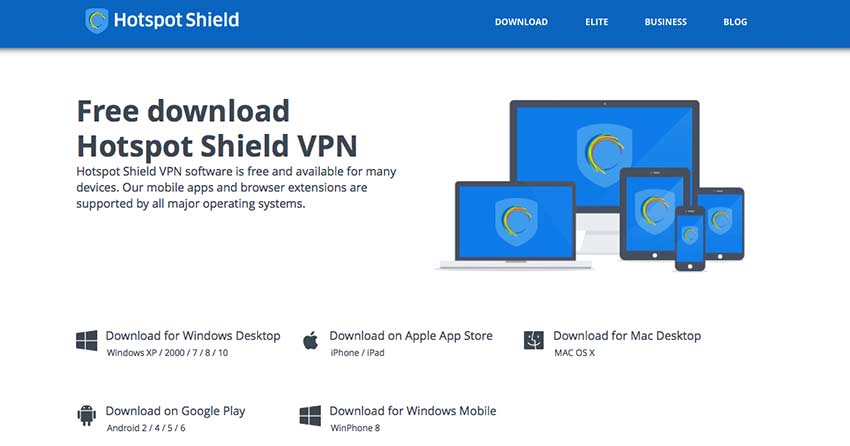 The Hotspot Shield Firefox extension is one of the best VPNs with unlimited bandwidth. The provider's Chrome offering requires a simple click to connect that permits you to connect to servers in 14 countries including the US, the UK, Chile, the Czech Republic, France, Canada, Spain, Sweden, the Netherlands, India, Germany, Turkey, Russia, and Singapore. This Firefox extension is more of a basic that doesn't allow server selection; instead you'll be connected to the random "optimized location."
This Firefox VPN is fast and unblocks plenty of content and uses 256-bit encryption along with the standard 'no logging' claim; the provider won't track your online activities. The service offers a location-limited free version, upgrade to the Elite version to access to all virtual locations with the benefit of cloud-based malware protection, and others. The free trial is limited to 7-day to test the service.
The parent company AnchorFree runs a marketing business and sells the users' data; don't worry! The company does not log personal data including IP address; however, the updated privacy policy still has some grey areas that reflect their questionable invasive practices. Read our detailed Hotspot Shield review and get to know all the offerings before making a purchase. Get Hotspot Shield VPN in just $18.59 or else buy for an extended period to get discounts.
GET HOTSPOT SHIELD FIREFOX VPN ADD AND ENJOY UNINTERRUPTED BROWSING EXPERIENCE
5. Windscribe VPN – A Mozilla Firefox VPN For Unlimited Connections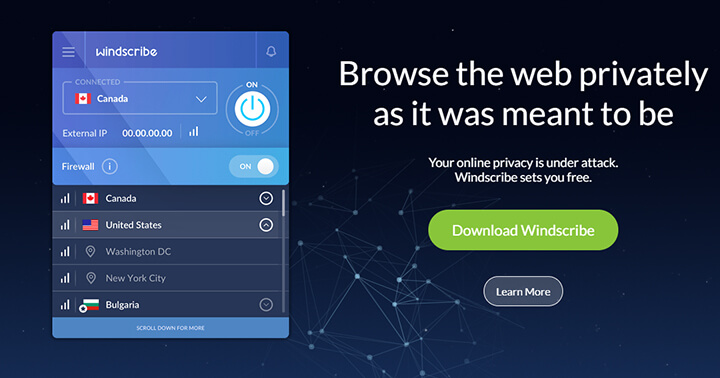 With an unusual approach to a VPN, Windscribe offers you unlimited device connections, with the Firefox extension to serve your diversified browsing needs with its number of some exciting options. The list of those options includes; different connection modes, a secure link generator, block tracking and the ability to disconnect all social media buttons. The extension gets regularly updated to cater your increasing concerns.
Windscribe's privacy policy is clear and favorable – the firm claims to be no-log as far as historical sessions, records of incoming or outgoing IP addresses or individual activities, are concerned. The free plan of this Canada-based is one of the best in the business, allowing you to surf the web using their just 11 servers out of 300+ servers using 10GB data allowance/month with an email address (2GB if not). Or else pay $9/month or just $3.70/month for six  months and enjoy Pro features and unlimited data.
The extension is similar to its counterpart; toggle On or OFF and click 'cruise control' and connect anywhere in the world, keeping your Firefox remain protected from malware and prying eyes that invade your privacies via useless ads. Check our Windscribe VPN review for more details about this amazing VPN service.
DOWNLOAD AND INSTALL WINDSCRIBE FIREFOX VPN EXTENSION AND BROWSE ANONYMOUSLY
How to Get Firefox VPN Extension
Subscribe to the Firefox VPN given in the table
Launch Firefox browser > Click on the menu icon
Select Add-ons option
A new window will appear, click on Extensions
Now type 'your VPN' and hit Enter
Click on  VPN > Then on Add to Firefox and wait
Sign up or sign in with your credentials > Connect to any VPN server, to get started!
Are There Any Free VPN for Firefox?
We always love to answer this question. Although freebies are lovely to keep, but we always emphasize on the risks that come along the way. Earlier in the article, we discussed all the paid options that have free Firefox VPN addon. It means that you don't need to pay extra to get the Firefox addon. A VPN account will work on any device, PC and console, having a dedicated browser addon is a bonus. Below we are listing some free Firefox VPN options that are completely free to use.
Hola VPN Firefox Addon
Browsec VPN Firefox Addon
SetupVPN Firefox Addon
The above-mentioned  Firefox VPN addons are free, however, they are limited in features and you don't get to enjoy premium features.
Kick User Agents With A Firefox VPN
Systems leak your information when connected to the internet, other than your location and visited websites. These data are called "user agents"; the aim is to know who and where you are, without accessing your IP address.
Have you ever noticed that some websites often requests while setting up a connection, with the purpose of providing a better interface on specific versions of browsers, asking the screen resolution and operating system of your computer? Though this information seem fairly innocuous, as it doesn't contain any personal information. However, they can be used to track you via the differentiated version of your browser, that has the combinations of pieces of data and creates a unique identity of your system.
Use a user agent switcher to avoid detection and give false information on each user agent and change the lie continuously. Of the VPNs mentioned, Windscribe has a built-in user agent scrambler or else consider installing a separate user agent switcher, with other top recommended Firefox VPN.
The Wrap-Up
Whether you use a Firefox browser or any other option, a VPN is a must to keep your information hidden from hackers and to get around geo-restrictions that are in-placed in certain countries. Choose the best VPN for Firefox, consulting our recommendations.