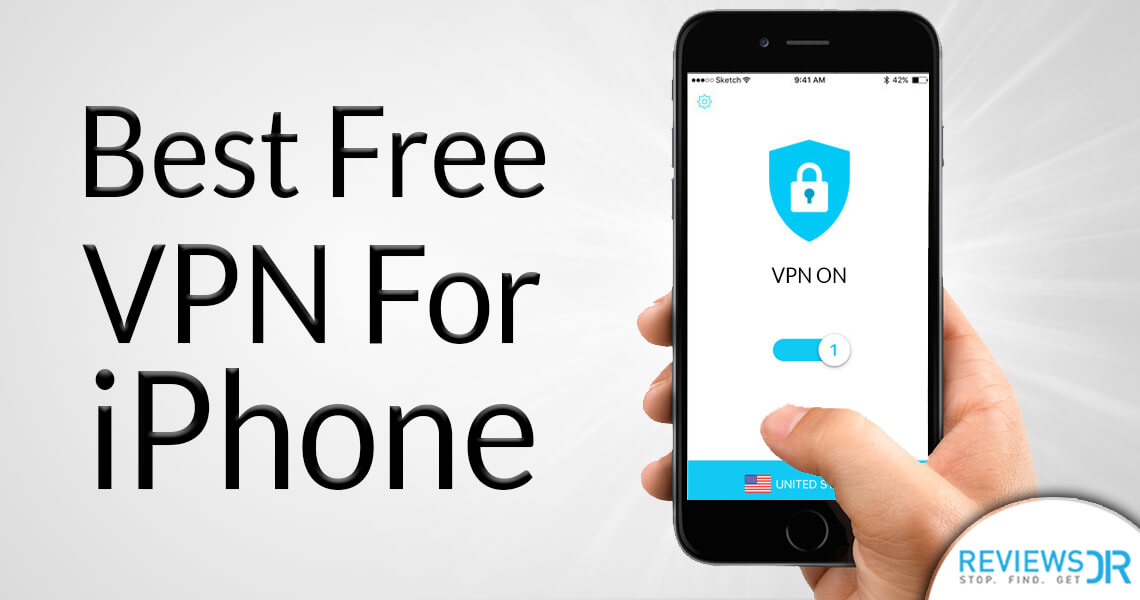 iPhones are being used by millions of people worldwide. If you are an iPhone user, you do realize that after the recent iCloud hack, iOS users are vigilant more than ever. You have a collection of personal photos in the gallery. You have sensitive data on your device which you just can't imagine getting in the hands of someone with wrong intentions. Basically, what we are trying to say is you cannot live without your iPhone and you can't imagine any harm coming its way. Right?

We hate to break it to you, but your personal beloved iPhone is vulnerable to cyber-attacks identity theft. There are more than enough spammers and hackers out there fishing for vulnerable devices. In short, we live in a time where nothing should be taken for granted. You want to protect your iPhone then you need to take some substantial measures for it.
For starters, you can get a best free VPN for iPhone as it serves as a protective layer. There is no point in fussing about best free VPN for iPhone because they are way too many. It feels like everyone is providing free VPN service for iPhone, even the coffee shop in the corner of your street. This many options will leave you exhausted with no final pick. That's where we come in handy. We have shortlisted the best free VPN for iPhone so you don't have to surf the internet for hours.
Top 10 Free iPhone VPN Services to Download & Use in 2017
We have the ultimate list of free iPhone VPN service providers. They all have been selected after passing strict criteria. We take our recommendations very seriously. So VPN providers go through a tough procedure before they can be mentioned on our website. Although we do recommend to choose paid VPNs instead of free ones, however, there is no harm in trying and testing the following free VPNs for your iPhone:
TunnelBear – Best Free VPN For iPhone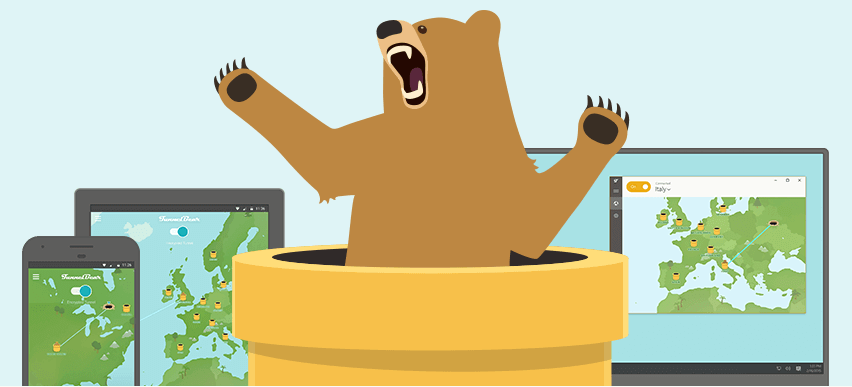 TunnelBear is a good free VPN for iPhone. Whenever you will look for a best free iPhone VPN, you will be given the option to use a limited version because most free iPhone VPN providers have paid versions. TunnelBear is sharp in this regard. It allows you to use all its features but limits the data (only 500 MBs in a month). Unluckily, it doesn't offer free unlimited VPN for iPhone devices. Also, TunnelBear offers simultaneous connections to five devices. In other words, if you are using the free account on more than one device then the data limit will be up in no time. Overall, as a free iPhone VPN, TunnelBear is definitely worth a try. Even ReviewsDir have TunnelBear installed on their iPhone, as we love the bear!
SIGN UP FOR TUNNELBEAR TODAY AND USE FREE VPN ON YOUR IPHONE
Hotspot Shield – 2nd Best Free VPN for iPhone

Hotspot Shield is the another best free VPN for iPhone. One of the problems that we usually face with free VPNs is that they don't support the smartphones. Well, good thing Hotspot Shield can be used on any smartphone. Hotspot Shield has captured the market for free VPN quite dominantly. It performs all the basic functions of a VPN like hiding your IP address, private and secure browsing, malware protection and more. Hotspot has premium packages too but it is popular as a best free VPN for iPhone in the world. You simply need to download it in your phone and start using.
DOWNLOAD HOTSPOT SHEILD FREE VPN ON YOUR IPHONE
Spotflux – The Most Advanced Free iOS VPN

Spotflux is a great free VPN for iPhone. It doesn't have anything out of ordinary. However, it is good at providing the usual functions perfectly. Spotflux claims to be the best free VPN for iPhone as it is compatible with most of the operating systems. Spotflux comes with two paid packages. One is for mobile devices only and another is the premium plan that supports all devices. Spotflux will start protecting you the minute you download and activate it. It will encrypt your traffic. Spotflux will also take a thorough look at ads, cookies, and other tiny details and get rid of suspicious ones. Finally, Spotflux free iOS VPN will make the internet a safe place for you.
DOWNLOAD SPOTFLUX VPN IPHONE FREE VERSION TODAY
Betternet – The Good, Better & Totally Free iPhone VPN Solution

Betternet is one of the finest free iPhone VPN providers out there. Did you know that Betternet has explained in detail how it makes money? The VPN service also has a premium version that ensures better quality and customer satisfaction. As a free iPhone VPN, you just need to download the app in your phone and activate the VPN. It doesn't require your personal information. Betternet has no interest in logging your personal data that's why it doesn't ask for it. Also, it doesn't show ads like other free VPNs for iPhone. Betternet has been able to attract customers from all over the world because of its transparency and quality of service.
GET BETTERNET FREE VPN FOR IPHONE
Cloak VPN – Simple VPN iPhone Free Solution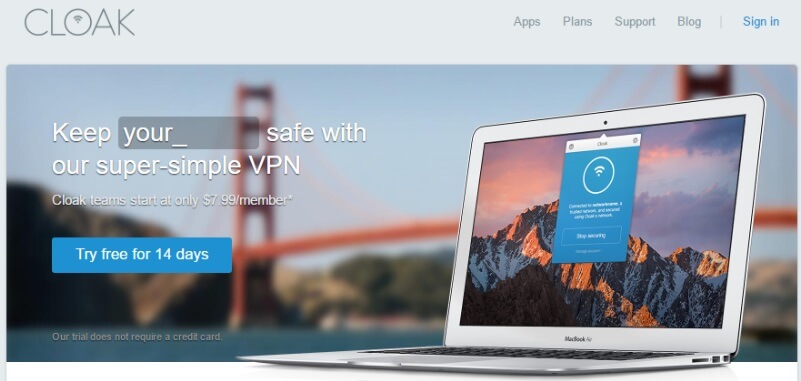 Spoiler alert: Cloak VPN is actually not your typical free iPhone VPN. We have included it for two reasons. One Cloak VPN has a huge 14 days free trial options so it is actually a free VPN iPhone for half a month. Another reason is it its pure dedication to the Apple platform. Yes, Cloak VPN is only available for iOS and Mac. Of course, it is a limitation but since our focus is iOS right now, Cloak VPN must get extra points for this exclusivity. You have put in details like email and password to sign up for Cloak VPN and you are good to go for 14 days.
TRY CLOAK VPN FREE VERSION OF IPHONE TODAY
Zenmate – The Very Famous Free iPhone VPN Available Today

Zenmat for iPhone is a great VPN to install on your devices. Unfortunately, this statement is for the paid version. The free premium trial offered by Zenmate comes with a lot of mystery since there is no substantial detail found about it on the official website. However, we loved the fact that Zenmate actually dares to offer the premium version in the free trial. You get to experience the VPN in all its glory for a limited time. Of course, it is not the best free iPhone VPN but you are seeking free options and it is supposed to be somewhat shady and murky. A lot many people turn to Zenmate due its popularity, and it is indeed a good option to consider when it comes to trying out free VPN iPhone option.
DOWNLOAD ZENMATE FREE IPHONE VPN ON YOUR DEVICES TODAY
VPNBook – The Average VPN iPhone Free Version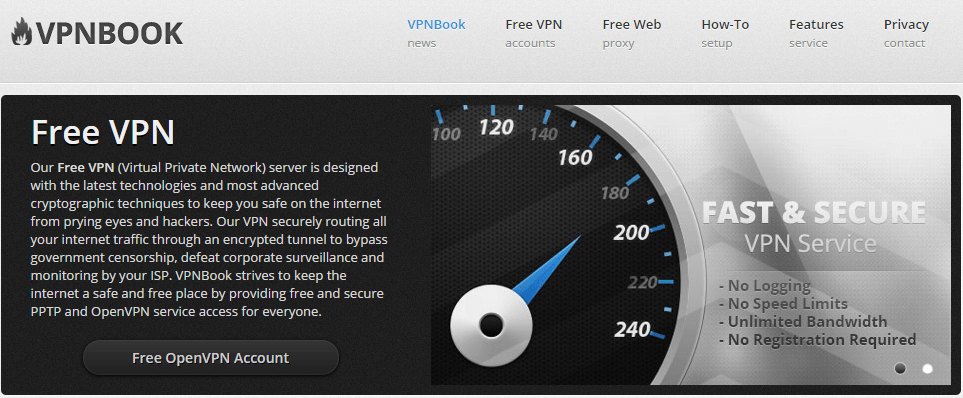 VPNBook might feel a little different to you after reading about all the glorious best free iPhone VPN providers. It is simple, plain and to the point. A brief look at its website will tell you what we are talking about. VPNBook has a paid version but mainly it makes money from ads and donations. It requests all its users to donate money if they liked its services. VPNBook doesn't require you to sign up. It has given usernames and passwords on its website. After downloading the app on iPhone, you can enter the sign in details and start using VPNBook on your phone.
GET VPNBOOK FREE IPHONE VPN TODAY
Windscribe Free iPhone VPN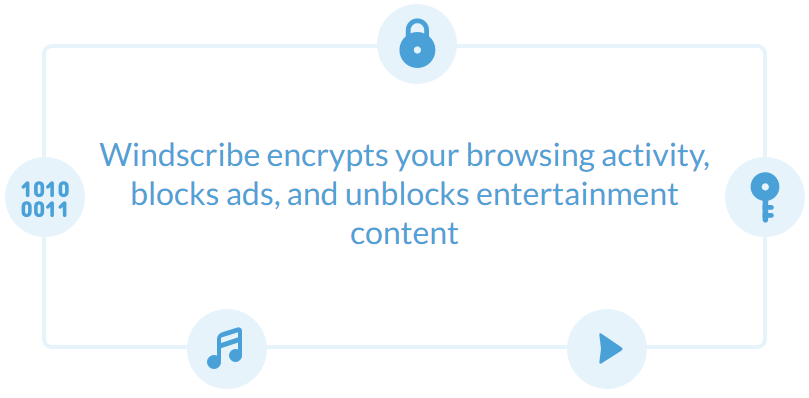 Windscribe is not a hypocrite and dares enough to tell you exactly what you will get in its free version. It is obvious when a VPN has free and paid versions, the free ones will always look a bit pathetic. The key is to focus on the benefits that you will get for free from a VPN of a certain stature. Windscribe free VPN for iPhone can only be used on one device. The data usage limit in 10 GBs a month, which is not bad at all. You have fewer options in terms of locations but eight countries are good enough. Most importantly, it has an ad block feature too.
DOWNLOAD WINDSCRIBE IPHONE VPN FREE VERSION
hide.me – Free Unlimited VPN for iPhone


Hide.me as a full-fledged paid VPN is so much better but its free offerings are a bit unsatisfactory. We really appreciate the honesty that Hide.me free VPN for iPhone has shown by displaying all the features available in the free version. However, that really raises the question whether we want to go for so much limitation in a VPN. To be precise, Hide.me offers only 3 locations, data usage limit, connection on one device and 2 GB data transfer. It doesn't look charming. However, a free VPN for iPhone comes with limited options. Considering the fact you don't have to spend a dime, Hide.me free iPhone VPN is not a bad choice.
GET HIDEME VPN FOR IPHONE TODAY
SurfEasy Free VPN iPhone App

SurfEasy is super compatible. You can use it on Windows, iOS, Opera, Mac, Android, Chrome, and Amazon. This free iPhone VPN just asks for your email id to sign up. You can't be sure with free VPNs because they are trying to trap you to buy the paid version. SurfEasy also uses a good trick to fool you. While going through the official website, you won't be sure whether it offers paid plans or not. It is all disguised and creates an impression that SurfEasy is giving everything away for free. However, once you get on the page to sign up for a free account, SurfEasy slightly forwards the link to paid premium account. SurfEasy free VPN for iPhone is a bit misleading but surely worth a try.
DOWNLOAD SURFEASY FREE IPHONE VPN APP TODAY
Why Free VPN For iPhone Is A Torturous Option?
Although this post is about the free VPN for iPhones and appreciating the efforts of VPN service providers for giving us a world-class protection, we don't feel it right in our hearts to not tell you about some side effects. You do understand when a VPN for iPhone says it is for free, millions of iPhone users from all across the globe will subscribe to its services. And at times, it becomes difficult for free VPN for iPhone providers to manage the overwhelming traffic. That's when things start to get awful and torturous. Following are some of the situations you can face with iPhone VPN free;
1. Internet Speed is not super-fast when you connect iPhone to Free VPN
VPNs are notorious for bringing down the internet speed and free iPhone VPN providers are even more disreputable for ruining the internet speed. We hate to break it to you it is the truth. Once you connect to a free VPN iPhone, stay prepared to suffer lagging and buffering. The pages may take double time to load, the videos might freeze multiple times, and the apps may take more time to refresh. Of course, not all free iPhone VPN providers are the same but speed will be an issue mostly. Unfortunately, there is no such solution to this problem except going for paid VPN service.
2. Unlimited Ads help free iPhone VPN companies to monetize
Like most of the free apps, free VPN for iPhone also survive on the advertisements. The frequency of bombardment of free ads may vary from a VPN to VPN but it is part of the whole free package. It is interesting to note here that most VPNs deal with the information about the display of ads differently. There are some free iPhone VPN providers who declare it quite bluntly that ads will be displayed because that's how they make money. While others won't even talk about it and you will be surprised once you start using their free VPN. Again the ugly truth is free VPN iPhone providers come with unlimited ads and you cannot do anything about it.
3. Limited Compatibility labels it as a NO free unlimited VPN for iPhone
Compatibility of a VPN to function on as many devices and operating systems is crucial for its existence. We found most free iPhone VPNs to be compatible with all mainstream devices and OS, including iPhone. However, there were a few examples that only supported use on desktops/laptops and excluded smartphones altogether. Definitely, those free VPN providers are not part of our list but they do exist. iPhone free VPN providers have this benefit that no one talks about their compatibility limit. That's why it is never considered as a limitation. However, we consider it as a drawback and didn't hesitate to mention it.
4. Free VPN iPhone puts Data Usage Limit
Remember when we talked about how free VPN for iPhone likes to hide the information of ads bombardment, they like to do the same thing with data usage limit. Of course, some good ones dare enough to tell you exactly about the data limit. You must understand that free iPhone VPN services are in the business to make money. Free VPNs for iPhone are not there for charity. Limiting data usage helps free VPNs in two ways. One they can manage the overwhelming traffic and other is they can tempt the customer to buy their paid version. When the data limit is up, the customer will get frustrated and try to get back the VPN ASAP and he might just buy it.
5. Inadequate Simultaneous Connections make free VPNs complicated
We don't know why we said inadequate simultaneous connections because free iPhone VPN providers only provide one connection per account. So if you were looking to find a service that can be used on your iPhone and MacBook, we are sorry to disappoint you. It is frustrating because at the end of the day you are looking for a service that can protect you overall – iPhone, MacBook, Apple TV and other devices included. However, those facilities are part of paid VPNs. Free VPNs for iPhone can handle one device at a time and we don't think it will change any soon.
6. Limited Access to VPN Servers is another blocker
Now, this is the most interesting one. A VPN service provider has two packages – free and paid. It glorifies in bold and big letters about having "x" number of VPN servers in "x" number of countries. Scrolling through all this information gets you excited and you think of locations that you want to connect via the VPN. But in the end, your all plans go in vain as the free iPhone VPN service provider only offers three or five locations. It is so damn annoying. We have been to that place and knows how betrayed you feel when this happens. However, you must understand the free VPNs are limiting in more ways than you can imagine.
5. Recommended iPhone VPN Service Providers – Paid
We have shortlisted following VPN service providers for iPhone. They all are paid services and offer no free trial though you can get generous money back guarantee. Also, they don't have any of the above-mentioned side effects. Here we go;
Rank
Provider
Price
Details

1

ExpressVPN

Recommended

Exclusive 48% Discount

2

HideMyAss

You Save 43%

3

CyberGhost

Save 77% on 18 Months Plan

4

IPVanish

You Will Save 46% On Yearly Plan
Paid Or Free: VPN For iPhone Is Significant
To be honest, we are not a fan of free iPhone VPN providers. The aversion definitely comes from the low quality of service. Of course, slow internet speed, lack of compatibility, limited VPN servers, inadequate simultaneous connections, the bombardment of ads, and data usage limit are too much to handle in a free VPN for iPhone. However, we support the idea of best free VPN than having no VPN at all.
It is ideal if you can afford to pay for your VPN for iPhone. However, your insufficient finances shouldn't stop you from availing the much needed online protection in form of a VPN. The free delight is always available, you simply need to select and start using free VPN for iPhone.