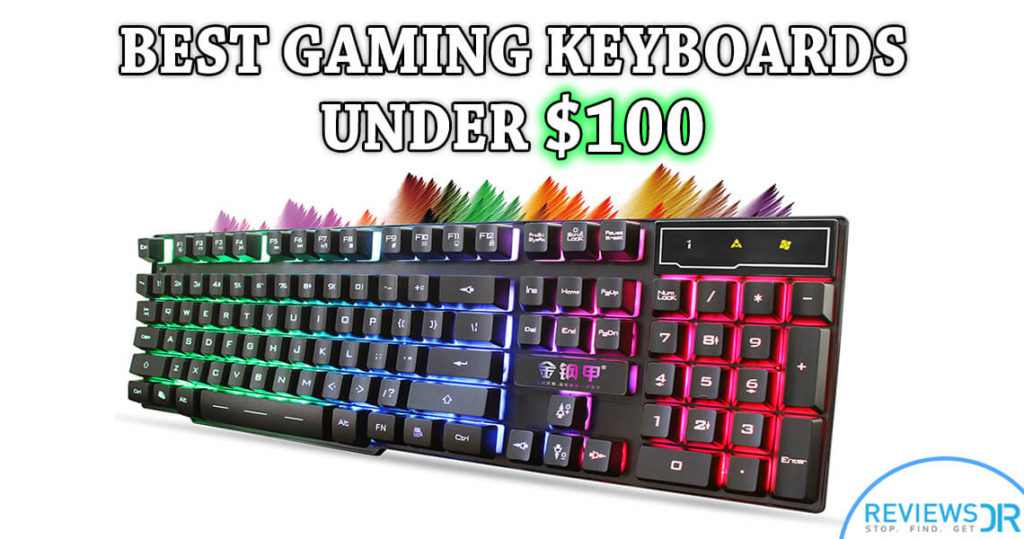 If you are a gamer on a budget and looking for a gaming keyboard under $100 to take your gaming rig up a notch, then this guide is for you, because gaming is one of those hobbies that's very addictive and demands expenditure. Your computer needs to have top notch features and ultra-fast speed in order to give you full-on gaming experience. One such component of the entire gaming unit is the keyboard. Keyboards are your hands on the field. You must enjoy the relationship with the keyboard otherwise gaming would suck.
✎ Read Also: 5 Best Gaming Headsets Under $100 – Crisp Sound, Stellar Quality!
Considering the importance of keyboards in gaming, we have shortlisted the best gaming keyboards under $100. Did we tell you gaming keyboards are super expensive just like any other gaming gadget? The ReviewsDir research team has accomplished two tasks at a time by naming the best gaming keyboards that won't put you in debt.
There is no point in running around the bush now, let's get straight to the business here;
5 Best Gaming Keyboards Under 100 Dollars – Cheap and Solid
The internet is filled with so many lists that readers can't tell the difference between fake and authentic. We would like to emphasize that the gaming keyboards mentioned here are the result of intense testing and research.
Our team actually spent time on various Facebook groups, SubReddits, gaming forums etc. to gather vibes around different gaming keyboards. We also keenly observed online shopping platforms like Amazon for product's ratings and reviews. Ultimately, our team members were pretty psyched as they got to play games in the office using brand new keyboards as part of the research process.
✎ Read Also: 5 Best Cheap Gaming Mouse To Buy In 2017 – Surprisingly Cheap!
After weeks' worth of tireless effort and struggle, ReviewDir considers the following five as the best gaming keyboards under $100;
Corsair K70 RGB Rapidfire
Razer Blackwidow Chroma
SteelSeries Apex M800
Razer DeathStalker Essential
Logitech G910 Orion Spark
Brief Look Into The Best Gaming Keyboards Under $100
Did you think we will leave you without reviewing the products? Of course not, our team had a lot to share about each and every selected gaming keyboard option. However, we have summarized our extensive opinion into brief introductions to the best gaming keyboards under $100. Without further ado, please read following snippets about our selected keyboards;
1- Corsair K70 RGB Rapidfire – Feature-Rich Gaming Keyboard Under $100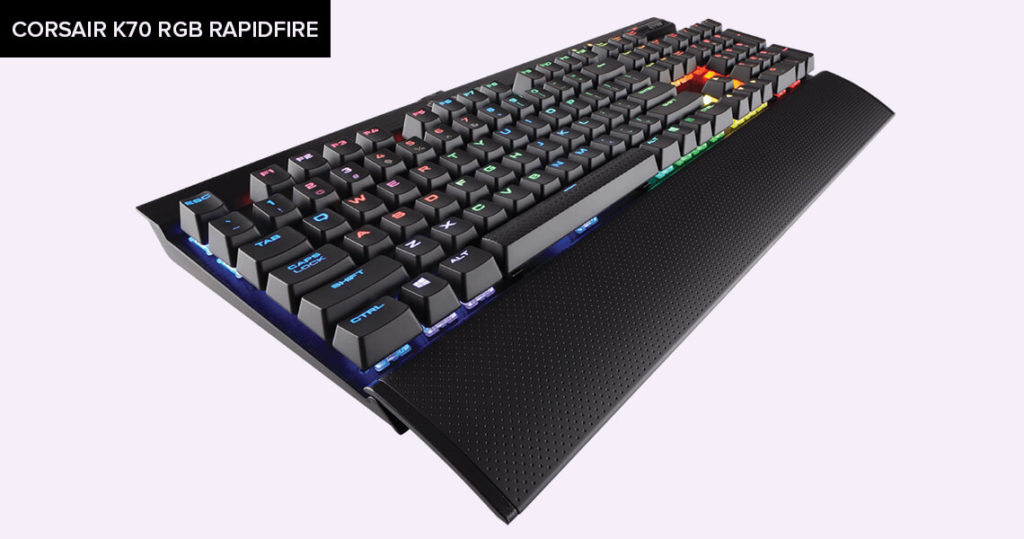 Corsair K70 RGB Rapidfire is what gamers dream made of. Cherry MX Speed switches provide the layout for the entire keyboard. The Cherry MX Speed switches require less force for application than other switches. Corsair Utility Engine Suite allows the user to assign each key any function or individual RGB LEDs (that are present under each key). The keyboard has dedicated media controls and USB port. Overall, we found little to no problem with Corsair K70 RGB but it is still on the expensive side.

PROS:
Classy aluminum frame
Advanced lighting control
Vibrant backlighting
Attractively designed User Interface
CONS:
Not the cheapest
Supports PC only
Check Corsair K70 RGB Rapidfire Gaming Keyboard Price Now
2- Razer Blackwidow Chroma – A Highly Customizable Gaming Keyboard Under 100 Bucks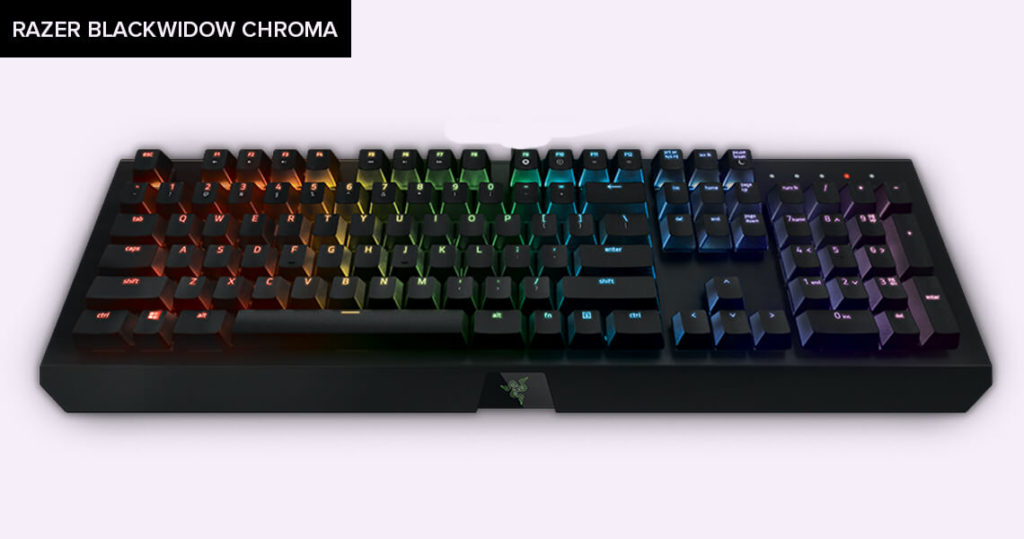 Razer Blackwidow Chroma is a full-fledged keyboard with complete layout and the additional advantage of dedicated macro buttons. It's definitely a rare feature that Corsair K70 doesn't have. Razer Blackwidow lets you customize the entire keyboard along with the LED colors via Razer's Synapse customization software. The switches used in the keyboard will give gamers a sense of satisfaction as they produce a solid sound with every press. The placement of USB port is a bit questionable as it is on right side (which is generally not the case).
All in all, we didn't find much to dislike about Razer Blackwidow Chroma. However, the price is a tad bit on higher side. This keyboard is a direct competitor of Corsair K70 RGB Rapidfire and we couldn't decide which one is better.

PROS:
Customizable RGB
Supports multiple OS
Dedicated macro keys
Attractively designed User Interface
CONS:
A bit expensive
Inconvenient port placement
Check Razer Blackwidow Chroma Gaming Keyboard Price Now
3- SteelSeries Apex M800 – A Gaming Keyboard With Dual Processors Under $100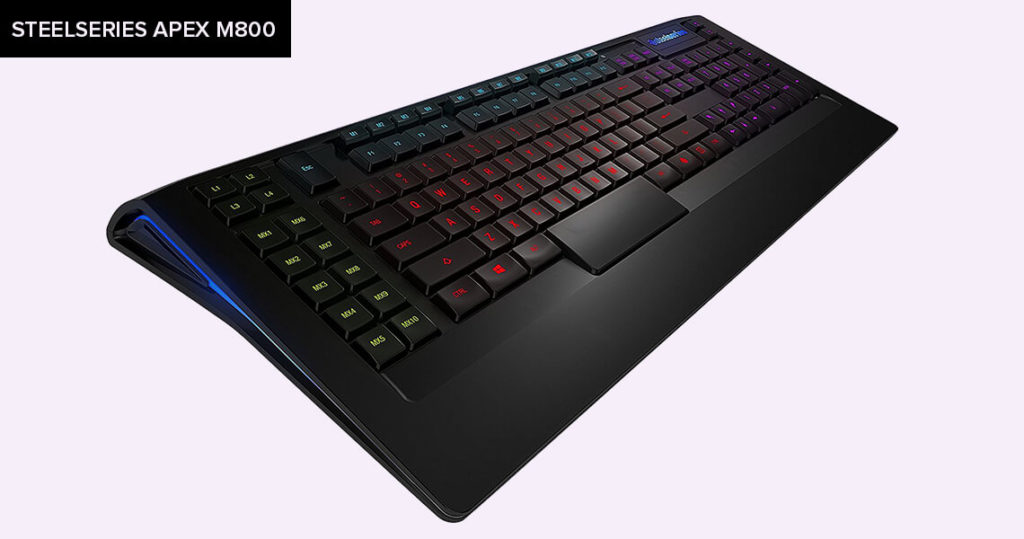 SteelSeries Apex M800 comes with ergonomic design. The keyboard has a dual processor with the special focus on avoiding ghosting problems and registering precise key presses. SteelSeries Apex M800 also allows you to customize the keyboard. You can assign controls as well as the LED lights to the different set of keys. There is a wrist rest also for comfortable gaming.
SteelSeries Apex M800 is a brilliant gaming keyboard with balanced features and options. However, this keyboard cannot be used for dual purposes as you won't find it adequate for your normal use.

PROS:
USB Port
Unlimited LED backlighting options
Dual processor
Attractively designed User Interface
CONS:
More pivoted towards hardcore gamers
A bit large in size
Check SteelSeries Apex M800 Gaming Keyboard Price Now
4- Razer DeathStalker Essential – Gaming Keyboard Under $100 With Almost Ticks All The Boxes
We have been talking about budget keyboards for a while but Razer DeathStalker Essential truly deserves the title of the budget gaming laptop. It is the only gaming keyboard that performs exceptionally well for its value. Of course, you cannot expect the premium features but Razer DeathStalker Essential has enough option to serve you. However, there is no backlighting available. It is a downside as adjusting custom lights help gamers locate the keys easily during an intense gaming session.
Razer DeathStalker Expert and Razer DeathStalker Chroma are the advanced versions of the same keyboard and they have LED lights option but these two aren't as budget friendly.

PROS:
Extremely affordable
Supports Windows and Mac OS
CONS:
LED backlights missing
Lacks advanced features
Check Razer DeathStalker Essential Gaming Keyboard Price Now
5- Logitech G910 Orion Spark – A Gaming Keyboard Quite Close To The Range Of $100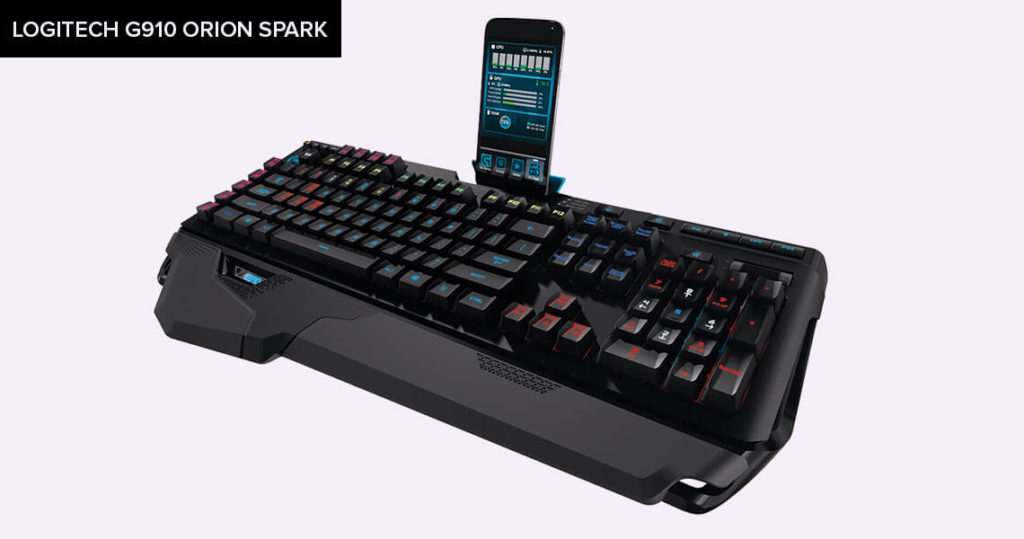 Logitech belongs to the premium breed of gaming keyboards. It has exceptional keys and customized macros. The keyboard is loaded with extra features; some of them are really useful while others are just fillers. Before buying Logitech G910 Orion Spark, you should know one thing i.e. it can be customized completely.
It is not only the best gaming keyboard under $100 but has topped many other gaming keyboards list. You will love everything about Logitech G910 Orion Spark – its design, performance, software, keys and more.

PROS:
Completely customizable
Wrist rest attached with the keyboard
CONS:
Slightly heavy on the pocket
Not recommended for non-gaming use
Logitech G910 Orion Spark Gaming Keyboard Price Now
Tips & Tricks To Help You Pick The Best Wireless Gaming Keyboards Under $100
We have done the homework for you and presented the most desirable gaming keyboards here. However, we totally understand if you wish to start your own mini research and figure out the best gaming keyboard out there. ReveiwsDir is here to help and that's why we are sharing practical tips to find the best wireless gaming keyboards under $100. Let's go;
You are finding a keyboard within affordable rates. It is a legit start point for your research. Simply select the filters according to price and you will get a list of gaming keyboards available in the price range. Good researches involve exclusion as the main tool. So by focusing on price, you are eliminating many unneeded options.
For gaming keyboards, you need strong keys (that can produce satisfying sound), customization options, compatibility, LED backlights, proper key design, and structure. Most gaming keyboards come with these features and they have a certain price tag too. Now if you wish to buy a gaming keyboard with even further advanced option then the tariff will increase and vice versa. It is important that you assess the value of keyboard against its price tag.
When you are tight on budget, it is crucial to recognize brands in your tier. It is good to be brand conscious. We believe that brands work hard to earn a name and offer a level of quality. However, Toyota can never replace Mercedes-Benz. Your budget can buy a certain level of quality and you must be realistic about it. Otherwise, you may become a prey of fake keyboard companies who offer everything in limited cost but they are mostly lying.
Don't Underestimate User Reviews
After spending hours and hours, you will have a short list with two to three names. It is time to test them individually. The best way is to Google them individually and look for user reviews. This step will serve as the nail in the coffin because either you will buy the keyboard or leave it entirely. We will not recommend any single forum or platform for approaching user reviews. In fact, randomly visiting different search results can give you unfiltered insight into your selected gaming keyboards.
Final Word – Is It A Good Move Limiting Your Budget For Gaming Keyboard To $100?
We would like to congratulate you for your passion in gaming. A gaming keyboard is a right step to enhance the joy of leisurely gaming. Although we admit, gaming is an expensive hobby. We don't want your hobby to be the financial burden. That's why our focus has been the best gaming keyboards under $100. The ReviewsDir team has dug out the finest few. However, the buying decision stays at your end.
What's your favorite gaming keyboard? Feel free to give our readers more gaming keyboard options in the section below.