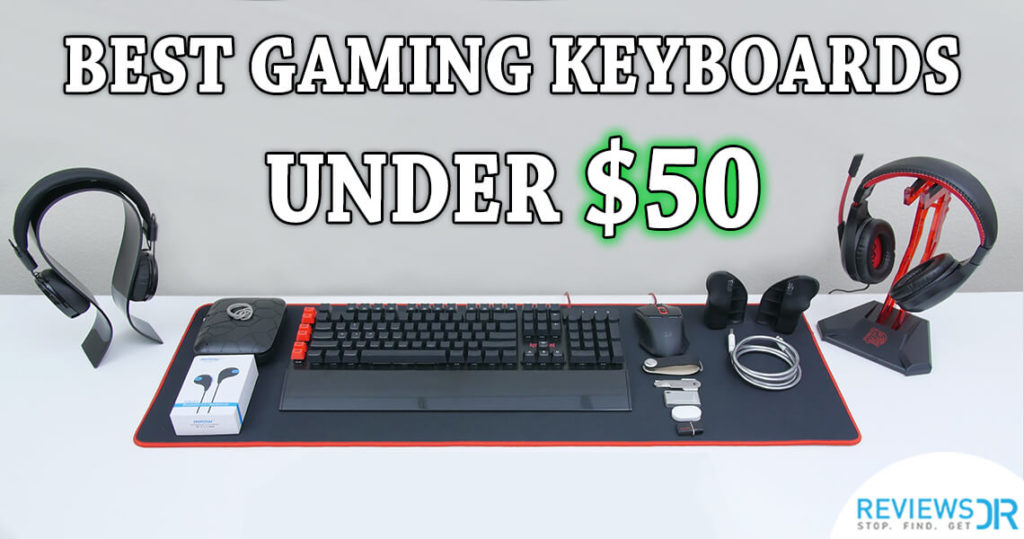 Who said that spending a fortune is necessary in order to have a good gaming keyboard? In fact, this article will prove this statement wrong. While a lot of gamers find it extremely difficult to pick between a slew of keyboards that fit for their gaming needs, we bring you a buyer's guide discussing the 7 best gaming keyboards under $50 that works like a charm.
Naturally, you will choose the best gaming keyboard according to what you need the most, but one thing is for sure, your budget-gaming-keyboard is somewhere in here. And of course, we all want the best product with less investment, right? Fair enough!
Now, just to be clear, don't confuse a poor-quality-gaming-keyboard with a budget option keyboard. You'll surely find a bunch of gaming keyboards that are cheap, but not good in performance. Hence, this would leave your expectations empty with a poor quality output. It is heady to buy a budgeted-gaming keyboard that qualifies for optimum performance. Our reviews are based on keyboards' performance, overall feel, comfort, and durability. These attributes helped us create a diverse list of best gaming keyboards under $50.
Well, let's find that perfect gaming keyboard for you, shall we?
7 Best Gaming Keyboards Under $50 – Keys To Achieve Peace In Gaming!
Here is the list of the best gaming keyboards under $50 in the market right now. Our expert team of pro gamers and professional reviewers has listed these below-mentioned best gaming keyboards after thorough consideration:
Redragon S101 VAJRA Gaming Keyboard
CM Storm Devastator II
BlueFinger LED Backlit Gaming Keyboard
Logitech G105 Gaming Keyboard
Razer Deathstalker Essential
Tomoko MMC023
Redragon K552
In-Depth Review Of The Best Gaming Keyboards Under 50 Dollars:
With an array of keyboards on the market, you have to be an expert in order to get the one that provides a great value for the money. But not to worry as this buyer guide is here to help you make this decision. Here we hand-picked 7 best gaming keyboards under $50/$30 and $20 so that every one of you can find their perfect match in an affordable budget. Now, let's see what make these keyboards worth your attention, your time and your money.
1- Redragon S101 VAJRA Gaming Keyboard – Under $30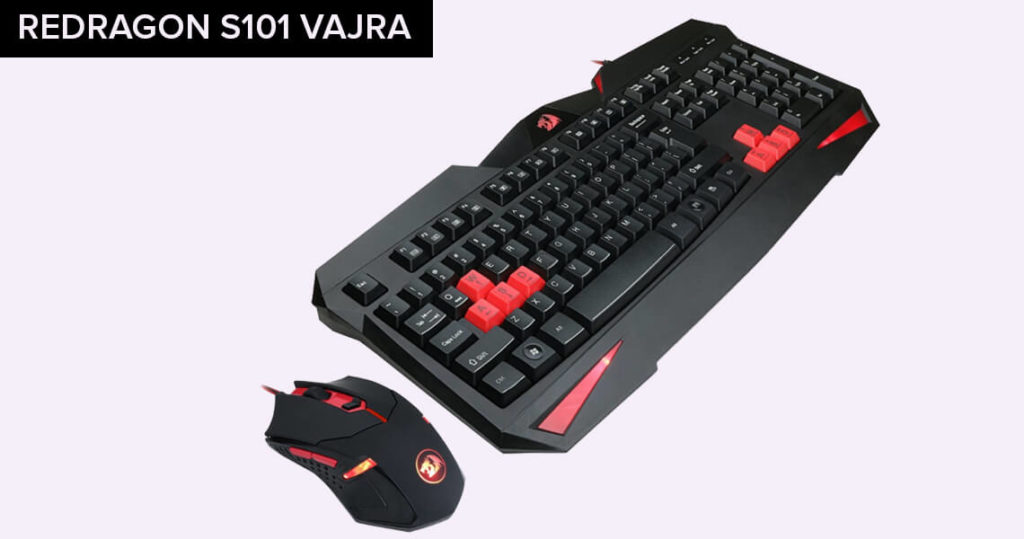 Coming from Redragon, this keyboard is sure to meet all of your expectations. Of course, here we are talking about a membrane gaming keyboard that costs less than $30 so you can't expect it to come with all the bells and whistles.
However, this gaming keyboard does provide a good value for the money as it is durable and easy to use. You will be able to type swiftly and precisely since the keys are very responsive. In addition to that, WIN keys don't have to work all the time, if you don't need them.
What we love about this keyboard is the backlight. It is not like this keyboard will give you a light show, but, LED lighting looks cool and will bring some color to your virtual world. Thanks to good quality ABS construction, the keyboard is durable and will last you for over a year. The keyboard is compatible with Windows 7,8,10 as well as with Vista and XP.
Furthermore, the keyboard comes with an anti-slip textured surface, so you get all the stability you need when playing games. The icing on the cake is the provided mouse. It has 3 DPI settings, and comes with a 5-foot high-speed USB cable, for maximum flexibility.
As for the downside, the angle of the keyboard is a bit awkward, so, it won't give you much comfort.

PROS:
Keys are Super-responsive
LED lighting
Easy to connect
Comes with a good quality mouse
Very affordable
CONS:
Keyboard is just optimum when it comes to comfort
Check Redragon S101 VAJRA Gaming Keyboard Price Now
2- CM Storm Devastator II – Best Gaming Keyboard Under $30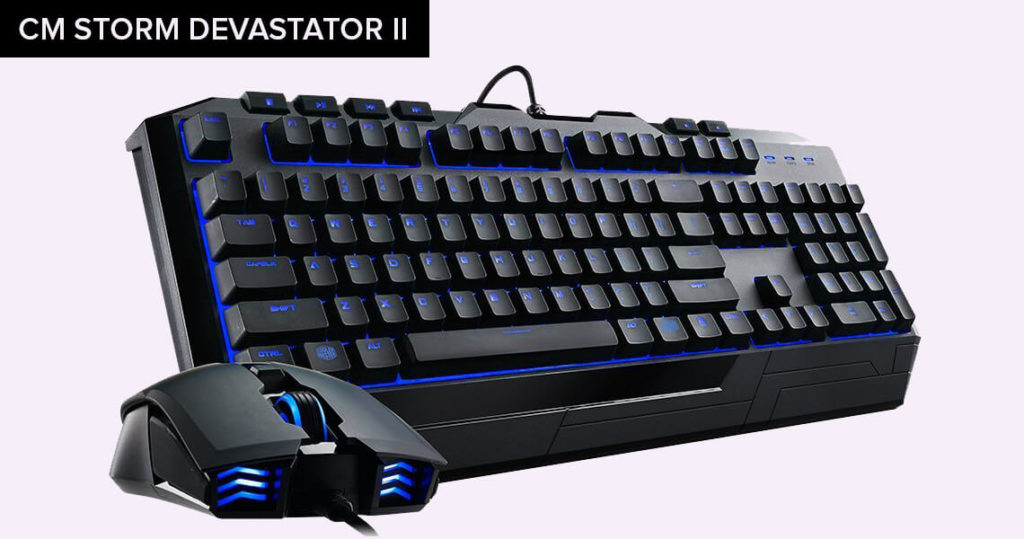 The CM Storm Devastator II is one of the best gaming keyboards under $30, and as such gives a memorable gaming experience. This is a membrane keyboard, but, has responsive and tactile keys so you will type on it faster. Not only you can replace the keys with your own keycaps, but you can also easily and promptly control the volume and music (thanks to multimedia keys). In addition, the keyboard comes with a precise optical mouse, allowing you to control the settings with ease. Three DPI settings ensure that the cursor is as fast as you need it, to win the game.
Also Read: Best Gaming Headsets Under $50
Now, an issue with this keyboard is the backlight. When it is not turned on, you will have a difficulty seeing the key labels. Also, the backlight could have been brighter.

PROS:
Comes in combination with a great quality mouse
Multimedia keys available
Responsive and tactile keys
Have the option to replace the keys
CONS:
The backlight is not that bright
Visibility of key labels isn't much clear
Check CM Storm Devastator II Gaming Keyboard Price Now
3- BlueFinger LED Backlit Gaming Keyboard – Under $30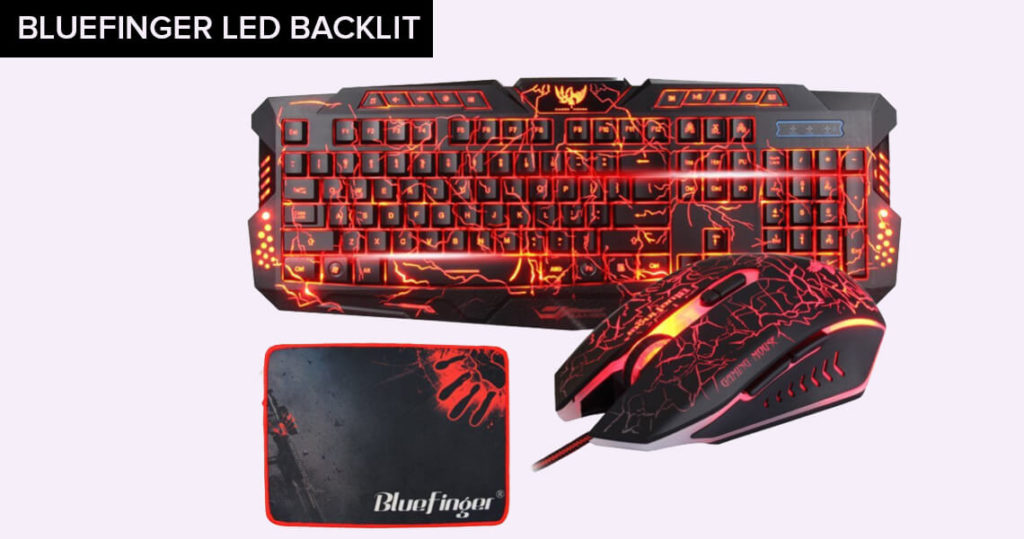 Now, if you're looking to buy a stylish and unique keyboard, this is the thing you need. The BlueFinger LED Backlit Gaming Keyboard is easy on the eyes, due to the crack pattern and three vibrant colors (red, purple, or blue). You can adjust the brightness of the backlight, which is a handy feature, especially if you need to type at night.
The keyboard is made from ABS material, thus will give you comfort and a soft touch. In addition to that, the keyboard is light weight. Though, it will stay in place even during intense playing.
However, a slight concern is that the space key won't respond sometimes, as it has a tendency to get stuck.

PROS:
Super comfy
Soft touch
Adjustable LED Brightness
Cool-looking design
Lightweight
CONS:
The space key sometimes tend to get stuck
Check BlueFinger LED Backlit Gaming Keyboard Price Now
4- Logitech G105 Gaming Keyboard – Under $30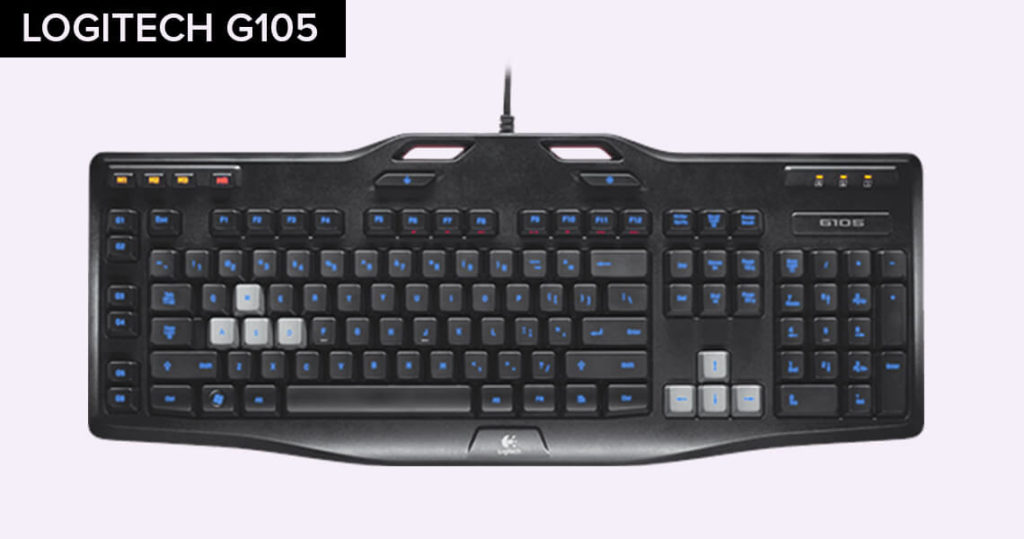 This keyboard doesn't require much effort in order to type, thanks to its design. What also adds up to faster typing are 6 programmable keys and multi-key input. Moreover, a game/desktop switch comes in handy for not interrupting the flow of a game. The keyboard supports Windows 7, 8 and Vista, so you can connect it without any trouble. The unit is durable, making it worth every penny.
As for the downfalls, the backlight is not bright at all, making it hard to see the keys, especially at night.

PROS:
Durable Keyboard with a refined design
Comfortable wrist rest
6 programmable keys
Game/Desktop switch key
CONS:
The backlight LED is not much bright
Check Logitech G105 Gaming Keyboard Price Now
5- Razer Deathstalker Essential – Best Gaming Keyboard Under $40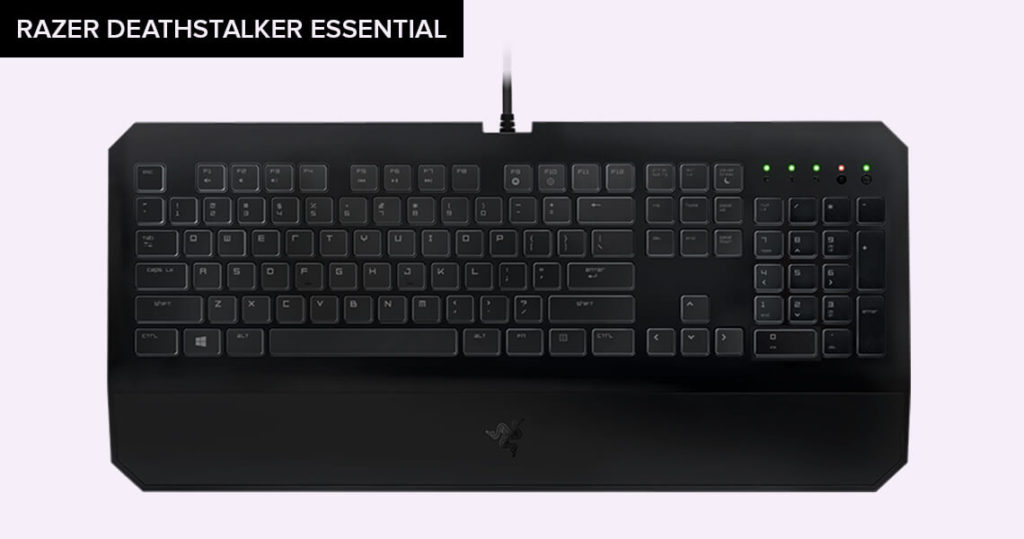 The Razer DeathStalker is among the best gaming keyboards under $50, with good reasons. This is a decent quality membrane keyboard that is a good choice for games that aren't very intense.
The keyboard won't last for too long, thus it's ideal as a temporary keyboard. Its anti-ghosting capability will help you execute commands correctly and on time. You will press the keys easily, but you won't like the enter key, which is somewhat awkwardly positioned. The unit comes with a decent quality mouse, making this combo a good investment. Overall, this unit is as good as you get at the cost less than 50$.

PROS:
An excellent substitute to most of the expensive gaming keyboard
Reasonable price in contrast with the quality
Anti-ghosting capabilities
CONS:
The Enter key isn't well-positioned
Rubber Palm rest isn't that comfy
CheckRazer Deathstalker Essential Gaming Keyboard Price Now
6- Tomoko MMC023 – Gaming Keyboard Under $50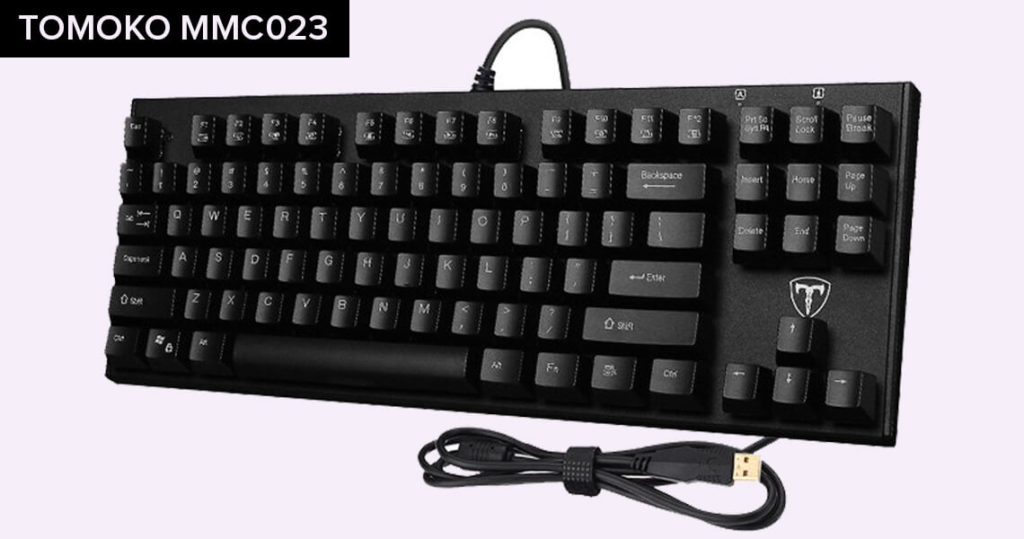 Whether you are a writer or a passionate gamer, this keyboard will impress you with its performance. You will enjoy gaming more than before, thanks to multi-keys that can work at the same time. This promises you speed and accuracy, much needed for gaming. With a metal base and premium ABS material, this keyboard is one of the best mechanical keyboards for those on a budget. Due to an ergonomic design, you can game for hours, without feeling fatigue in your palms.
As for the downside, typing on this keyboard is a bit noisy.

PROS:
Superior quality
Sturdy multi-keys
Great speed and accuracy
Ergonomic design
CONS:
Keystroke noise is a bit loud
7- Redragon K552 – Gaming Keyboard Under $40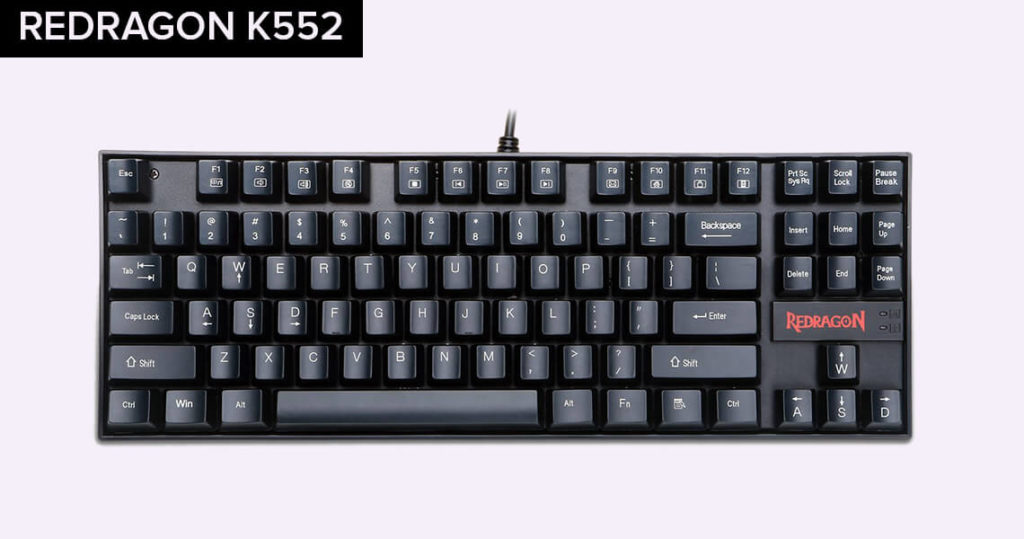 Here we have one more mechanical keyboard that makes easy work of gaming. Red LED lighting is perfectly bright, so the keys are easy to see in the dark. The keyboard is tactile and reactive, even though it makes too much noise, so keep that in mind. With custom mechanical switches, 12 multimedia keys and a water-resistant design, this keyboard is all you could dream of, at this price point. So, don't miss out on this opportunity.
Also Read: What's the Best VPN for Gamers

PROS:
Water-resistant design
Tactile and responsive keys
Super-Comfortable
CONS:
Keystroke noise is pretty evident
What To Look For When Choosing Best Wireless Gaming Keyboards Under $50?
Now, choosing the best gaming keyboard won't be an easy task if you actually don't know what you need. With that being said, we want to share with you a couple of things that will help you with buying a good and budget gaming keyboard.
Which Gaming Keyboard Is Right For You? Types Of Gaming Keyboard You Should Know
Mechanical keyboards – Super-Responsive!
In general, a serious gamer should use a mechanical keyboard. These are designed in such a way that they use switches to deliver typing signal. Meaning, you won't have to put much effort when typing and you can stop the half way down when pressing the key. This allows for much faster and more accurate typing. In addition to that, your arms won't become as tired as when typing on a membrane keyboard, due to the ergonomic design.
Another benefit of mechanical keyboards is customization. They come with backlight and their keys can be easily removed/replaced, so you can adapt the keyboard to your needs.
Moreover, these keyboards are made of superior materials, so they will last longer than their membrane counterparts. However, their construction makes them a bit heavy, which is a good and a bad side at the same time. Meaning, they aren't so easy to transport/carry around with you (like membrane keyboards are) but they won't move around your desk when typing.
Lastly, these keyboards are easy to clean, thanks to removable and interchangeable keys.
So, when choosing a mechanical keyboard, make sure to get the one that feels nice and allows for quick and precise typing, thanks to tactile and quick-to-respond keys. In addition, look for a keyboard that comes with additional gaming keys so as to provide you a better gaming experience. Of course, your keyboard should be water or splash resistant because we know that you will have a cup of coffee at your desk when playing.
Membrane keyboards – Go Discrete!
As for the membrane keyboards, well, they are not so bad. They are a good choice for games where you don't have to type a lot. Since they are made of plastic, these keyboards are a more affordable option. Also, they are easy to transport since they are light weight.
Compared to mechanical keyboards, these allow for a quieter typing experience, making them ideal if you don't want to bother others around you with the typing sound.
However, these keyboards aren't so durable, since they will wear out pretty fast, due to the materials they made from. Another downside is that the keys sometimes aren't very responsive, which means longer typing time because you will have to type the same word again. Finally, a membrane keyboard will last shorter, because you cannot clean it properly. Unlike mechanical keyboards, these don't come with removable keycaps.
When it comes to choosing a membrane keyboard, you also want the one that is a great deal for the money. Even though typing may not be as good as with a mechanical keyboard, you still can find a membrane keyboard with responsive keys. Also, look for a keyboard that has a relatively long lifespan. In addition, look for the keyboard that will have an ergonomic design, so as to provide support to your arms and wrists.
Wireless keyboards – Cut The Cord!
When buying a wireless gaming keyboard, there are a few things to pay attention to. First, you need a stable connection so as not to have delays while playing the game. In addition, look for a good battery life, and a power saving mode, so that you don't have to charge the battery every two days.
Also, make sure to buy a wireless keyboard that allows you to play games in a 30-foot range, for maximum convenience. However, we want to point out that wireless keyboards should be your last option if you are a gamer. They aren't so responsive, and we all know that in the game, every second count.
Gaming Keyboard Reviews – What Are People Talking About It Online?
The catch with buying any type of a keyboard is their description. Meaning, how actually truthful and trustworthy the description that manufacturer gave is. That is why it is always a smart idea to research about a certain product. This includes watching YouTube video (if there is any) where you will see how the product performs/works. But, we think the best way to see the pros and cons of a product is reading reviews.
These insights will tell you all the good and the bad, helping you form a bigger picture of what a product has to offer. Thanks to that, you will be able to decide whether or not you really want to buy that product. Therefore, take some time to do research and, soon, you will know if you are willing to invest in a certain gaming keyboard.
The Final Word – Done With Choosing The Best Gaming Keyboard Under $50?
With all this being said, you should always look for a gaming keyboard that will pay off in the long run. Meaning, you should not spend a lot of money on an average quality keyboard. Instead, you should look for a good quality keyboard that actually comes at a great price, like the ones that we mentioned above.
With a good gaming keyboard, you will play games much better, which means that you will have lots of fun and comfort along the way. Sure, you need to have good gaming skills, but a good gaming keyboard will help you get to the next level much faster. Feel free to leave the comment and share the article with other gamers, and …… Let's play!