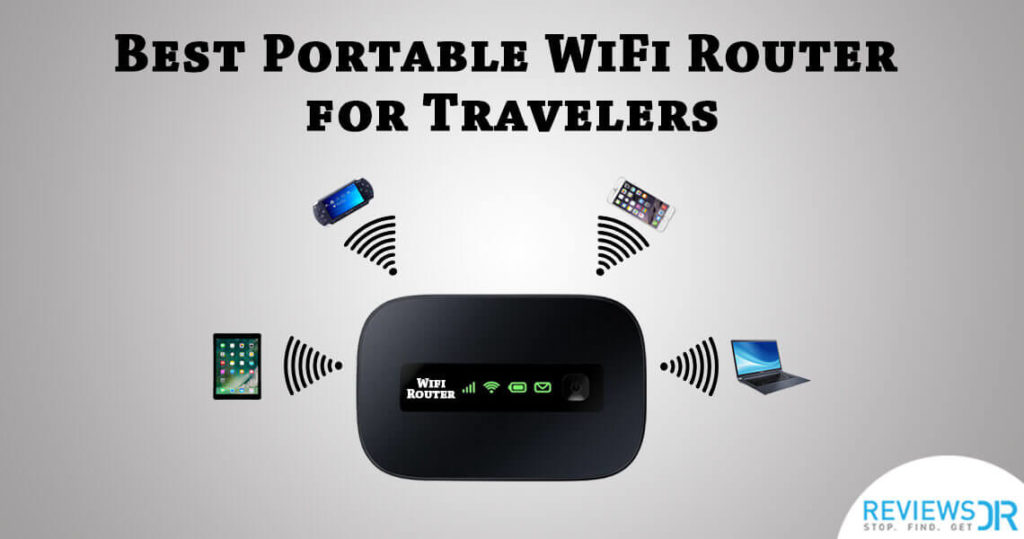 If you are a frequent traveler, you know how integral it is to have a portable WiFi travel router with you among all the gizmos and gadgets that you've already packed. While every device has its own importance, little things like a portable WiFi router can determine the fate of whether you're going to surf the internet vulnerable or securely.
We all want to have a reliable internet connection at all times. You just can't ignore that. However, as many of you have already experienced, it's often hard to find a reliable and secure connection to WiFi. This is where a portable wifi router comes into play.
By making sure that you picked the best travel router, you can freely use the Internet on-the-go without having to worry about spending too much or without having to limit yourself in terms of connectivity.
✎ Read Also: 5 Fastest VPN Services of 2017 That Don't Compromise on Speed!
This guide would help you in choosing a pocket WiFi router that helps you connect to the web using your laptop, smartphone or tablet. We'll help you get the idea of how mini travel WiFi routers are different from one another as well as what to look for when searching for the best pocket wifi router.
So, without further ado, let's jump right in!
7 Best Pocket WiFi Routers for All Types of Travelers
Just like any other kind of tech products, pocket WiFi routers come in different shapes and sizes, and their functionality varies. The bottom line is that you need to know what kind of compromises you want to make – between size, cost, and functionality.
Still, there are numerous great products out there, making it somewhat hard to find the best travel router. This is why we used our experience and knowledge to find the most interesting products out there. You will get to learn more about these products individually, as well as their pros and cons. Here's our list of 7 best pocket WiFi routers:
| | | |
| --- | --- | --- |
| Name  | Features | Price |
| HooToo Wireless Travel Router | Rechargeable Battery | $40 |
| RAVPower FileHub Plus | Media Hub | $40 |
| Medialink Wireless Travel | Basic yet highly functional | $15 |
| TP-LINK N300 | Light and powerful | $25 |
| TRENDnet TEW-817TR | Made for demanding Internet users | $35 |
| GL-MT300A | Increased levels of protection and security | $32 |
| HooToo Trip Mate | All-in-one wireless router | $44 |
Top 7 Portable WiFi Routers – Pros & Cons Discussed
1- HooToo Wireless Travel Router – The Best Portable Wireless Router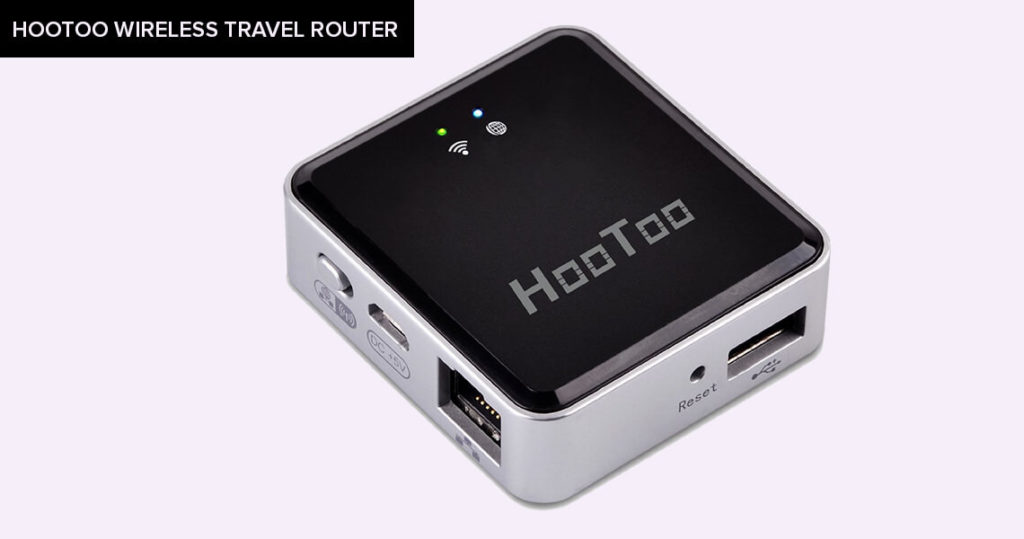 This interestingly designed travel router is called HoToo Wireless Travel Router and this is among one of the most popular rechargeable routers. It works in three modes, so you can use it connect via Ethernet connection, but you can also use it as a bridge or classic router mode. In other words, you probably won't need anything else since this router allows you to create hotspots and connect to the Web using any of your devices, and on top of that, you can split and share your connection with other fellow travelers. This router can be also used to securely and safely transfer all your photos and videos to your computer or smartphone, from where you can post them.
As said before, the HooToo router is rechargeable. Charging is done via USB and it's very straightforward. You can also use it as a powerbank for your smartphone or camera, which is a huge benefit.
The HooToo Wireless Travel Router is priced at around $40, which is an amazing deal.

PROS:
Small and light
Three working modes
Can recharge other devices
Affordable
CONS:
No built-in firewall
Mobile Client Crashes Repeatedly
Get Hootoo Pocket WiFi Router Now
2- RAVPower FileHub Plus – The Ultimate Portable WiFi Router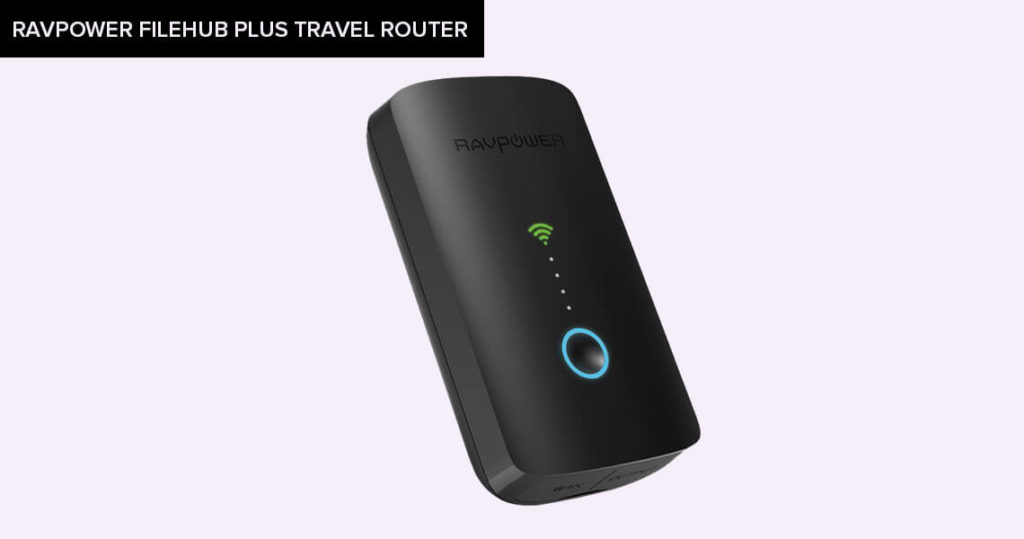 RAVPower's FileHub Plus goes a couple of steps further when it comes to portable WiFi routers. First of all, it is important to be highlighted that this is a powerful wireless router capable of transforming Ethernet connections into wireless ones. It also comes with built-in firewall protection, so you're not fully exposed to other users sharing your connection.
Aside from being a router, this is a media hub – as its name implies. This device is capable of reading SD cards and even external hard drives, so you can save those precious digital memories before you lose them. Finally, the FileHub Plus serves as a powerbank capable of providing up to two full charges for your smartphone.
As can be seen, this is an excellent all-in-one solution that goes beyond being a wireless router. It can be yours for around $40, which is a very good deal.

PROS:
More than just a wireless router
Reads SD cards and hard drives
Serves as an external battery
CONS:
Takes time and effort to fully explore its functions
Doesn't work with all smartphones
Get RAVPower Portable WiFi Router Now
3- Medialink Wireless Travel Router – A Pocket-Friendly Portable WiFi Router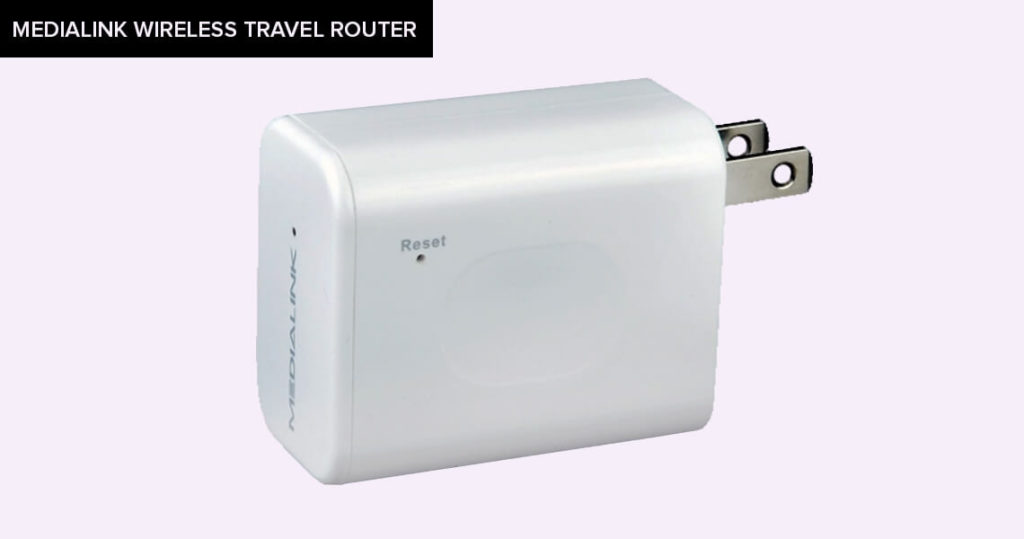 The Medialink Travel Router is one of the best budget-friendly options out there. Priced at only $15, it serves as a reliable router capable of working in three modes. It can create a secure wireless connection from a wired connection and it can help you get a much better signal in case you're struggling with your existing WiFi. So, if you need a basic (but very reliable) wireless router without any extra functions, the Medialink is a very smart purchase.
Finally, it is also worth mentioning that the Medialink doesn't come with a rechargeable battery, which means that it needs a wall outlet to work. This also means that you shouldn't count on recharging your phone's battery on-the-go.

PROS:
Basic yet functional
Quality made
Creates reliable and secure wireless networks
CONS:
Doesn't come with any extras
Barebones
Get Medialink Potable WiFi Device Now
4- TP-Link N300 Wireless Wi-Fi Nano Travel Router – A Light & Speedy Pocket WiFi Router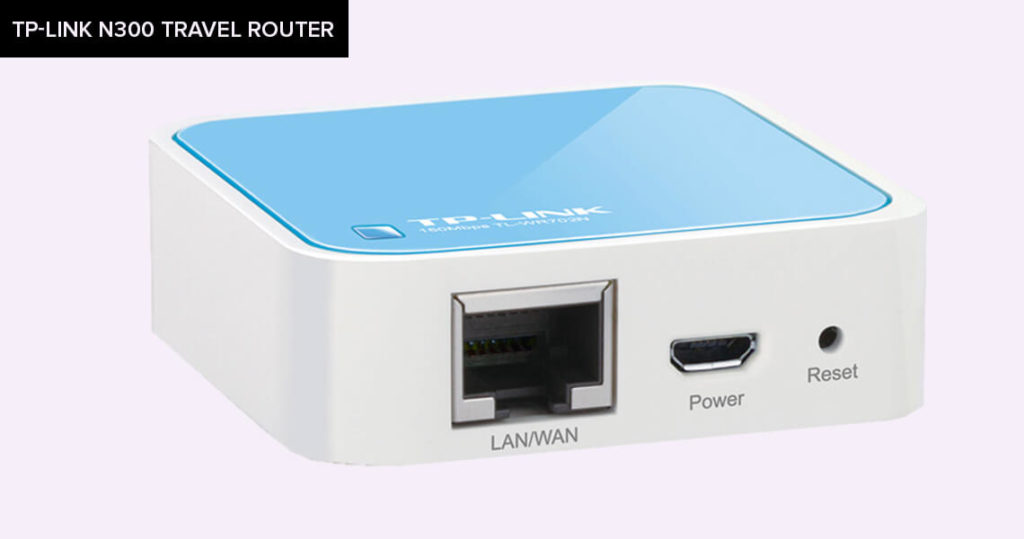 The N300 is one of TP-Link's best-selling wireless routers and there are numerous reasons for this. This is very lightweight portable WiFi router that you can even place in your pocket. It weighs only 7.2 ounces, which makes it a perfect travel companion.
Even though it's one of the lightest wireless routers, it is astonishingly capable. It works as a router that creates secure internet connections but can also serve as a repeater (which means that it improves low-signal networks) and a hotspot (which means that your Internet connection can be shared among fellow travelers).
This router is priced at around $25, which is a very good deal considering that its build quality and the number of different operating modes.

PROS:
Very small and light
Compatible with Google's Chromecast
Supports speeds of up to 300Mbps
Easy installation
CONS:
No rechargeable battery
Barebones
Get TP-Link N300 Pocket WiFi Router Now
5- TRENDnet TEW-817TR – Portable, Compact & A Speed Demon Of A Router For Travelers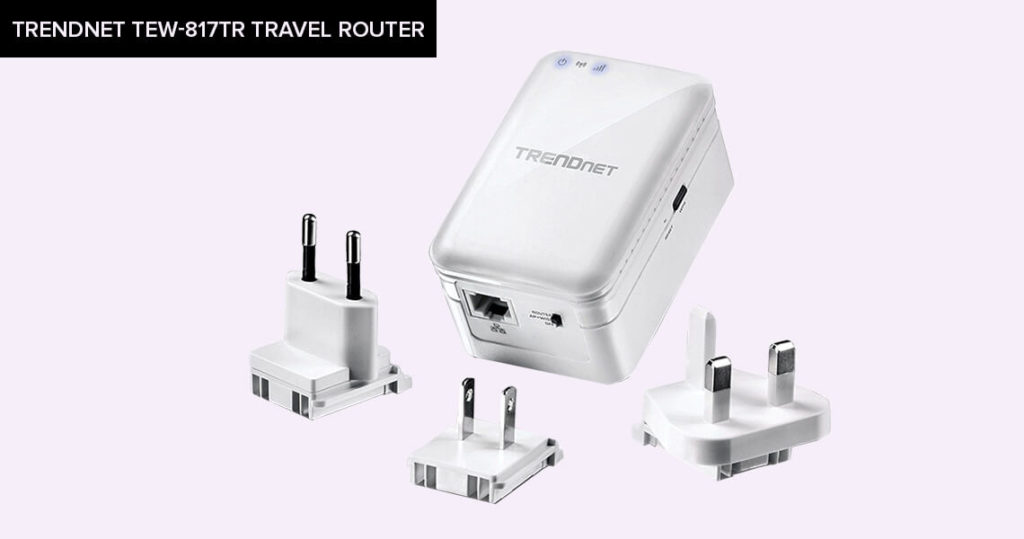 Now let's take a look at one of the most powerful mini-travel WiFi routers on the market and that is TRENDnet's TEW-817TR.
Don't let its complicated model name to fool you since this is one of the most powerful yet one of the simplest pocket WiFi routers. Even if you are a complete newbie, you'll be online in under one minute. This router supports speeds of up to 433Mbps WiFi over 802.11ac, which is the latest WiFi standard. However, it also allows you to stream videos, photos, and other media to other devices like smartphones or tablets.
The TRENDnet is just under one pound heavy, so it's not the lightest router outer there. However, this one is definitely made for those who need advanced functionality and high Internet speeds. It is priced at around $35.

PROS:
Amazing build quality
Effortless installation
High-performing route
CONS:
Not for average Internet users
6- GL-MT300A – The Best Travel Router That Weighs Low On Pocket…Literally!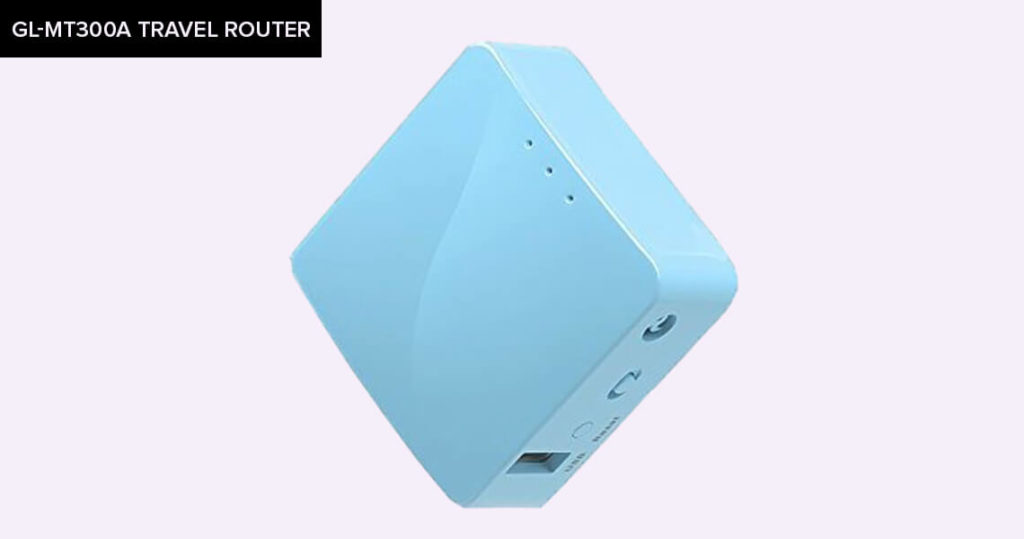 Privacy and security should not be taken lightly. Even though numerous pocket WiFi routers come with some sort of security-oriented features, there are those that take security very seriously. One of those routers is the GL-MT300A.
The MT300A is an easy-to-use wireless router that turns wired Ethernet connections into WiFi access. However, what's unique about this product is that it offers both OpenVPN and Tor clients for increased protection. You can also use other services as well, which can be downloaded and applied via firmware updates. Among other notable features, we mustn't forget 16GB of onboard storage and 128MB of RAM which provides very smooth and problem-free performance.
Priced at around $32, the GL-MT300A is one of the safest wireless routers you can use.

PROS:
Easy setup
16GB of internal storage
Increased security and privacy protection
CONS:
Can't be used as a powerbank
Get GL-MT300 A Pocket WiFi Router Now
7- HooToo TripMate – Huge Battery & Outstanding Performance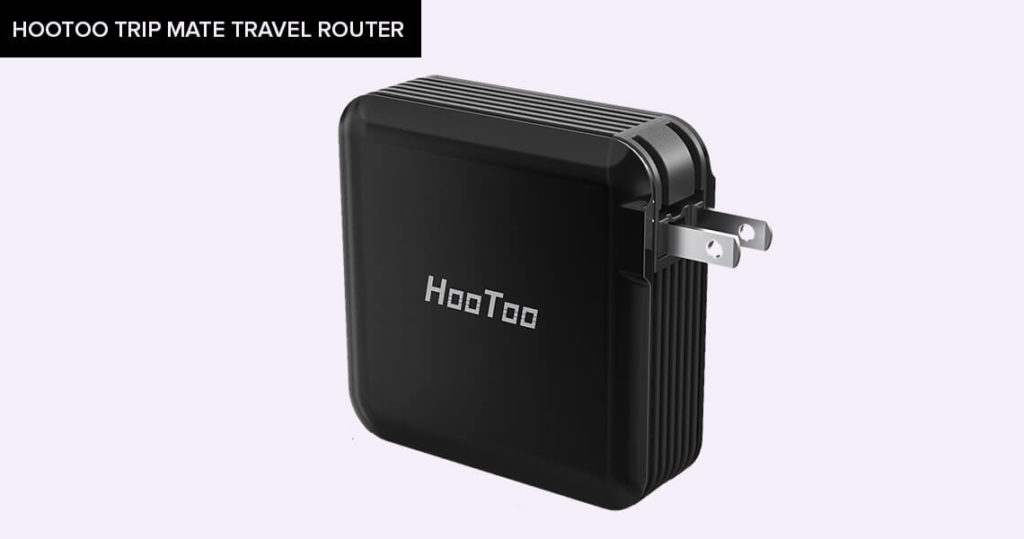 This is the second HooToo's product on our list. This isn't actually surprising since this company is known for quality-made and high-performing portable WiFi routers.
The TripMate is a travel router that can be used as a powerbank even with the most power-hungry smartphones. It packs a battery that can offer two full recharge cycles, perfect for on-the-go. Aside from this, the TripMate works as a reliable wireless router as well. It supports almost every single possible WiFi network, not matter how fast it is. As you can expect, you can also use the TripMate as a USB hub that actually supports up to 4TB external hard drives.
Finally, the TripMate comes with applications for iOS and Android, using which you can control all the settings. The setup process is thus very simple, where even the newbie won't have a hard time setting this device up.
The HooToo TripMate is priced at around $45.

PROS:
Quality made
Effortless installation
Rechargeable battery
Safe and secure WiFi networks
CONS:
Pricier than most wireless routers
Get HooToo TripMate Portable WiFi Router Now
How To Choose The Best Travel WiFi Router? Some Essential Things To Consider:
Now, let's take a look at what you need to know when buying a pocket WiFi router. First, you need to be aware of the four basic WiFi modes and WiFi sources that portable WiFi routers can take advantage of. Then, we'll take a look at what you need to know about WiFi speeds and standards.
When it comes to WiFi modes, there are four basic functions. These are:
WiFi Network: This is the most basic function of every portable wireless router. These products are made to connect to an existing network and turn it into your own private network. When it comes to privacy and security, this means you'll have your own network that is much tougher to break into.
WiFi Extender: Travel routers can also serve as signal amplifiers. In case your hotel's WiFi signal is poor, you can use a travel router to improve it and surf the Web without any issues.
WiFi Bridge: A router that serves as a WiFi bridge connects two or more devices over the same WiFi network. In other words, you can connect your smartphone and your laptop wirelessly and exchange files without having to use cables.
WiFi Adapter: Finally, your travel router can turn a fixed cable (Ethernet) connection into a wireless WiFi signal. Not every hotel offers WiFi, but it can offer a cable connection. So, instead of having to use a cable, plug in your travel router and enjoy the WiFi.
We also talked about WiFi sources. For most travelers, pocket WiFi routers that connect to wireless and wired internet connections will do the job. This means that you'll be using an existing Internet connection. However, there are some travelers that need the Web even when they're outdoors. In that case, make sure that you find a travel router that connects to 3G/4G mobile networks. These routers connect to cellphone networks and turn that signal into the wireless WiFi signal.
When it comes to WiFi speeds and standards concerning portable WiFi routers, there isn't much you should be worried about. The latest standard is called 802.11ac and it means that those travel routers can achieve speeds of up to 1300Mbps. However, not many of us have that kind of speed at our homes (or away, at hotels), so you shouldn't worry about this too much. However, if you're buying an affordable pocket WiFi router, you might want to check out if this standard is supported.
Now that we went through the technical side to buying a travel router, let's take a look at some general advice to keep in mind while buying products online:
Travel routers can vary in size and shape, so you should take a look at their specifications
While looking at specs, make sure to identify supported Internet speeds and standards (as discussed earlier)
It is also worth knowing whether you need a travel router that runs on the power of the battery. In other words, figure out if you're going to use it outdoors a lot
After you settle on a couple of portable wireless routers whose specifics you like, make sure to read reviews
Check out what other buyers are saying as well as what are their personal experiences. It doesn't hurt if you read a couple of detailed professional reviews
Here's How To Get the Most Out of Any Portable WiFi Router
Before we dig any deeper, we want you to understand all you need to know about pocket WiFi routers. Many people are unsure how to use this type of product as well as its possible uses. This is why, before we bring you our in-depth list of best travel routers, we'll take a moment to teach you how to properly utilize a pocket wireless router.
You can often hear that travel routers are enormous time savers. Why is that? Well, that's because they work as soon as you turn them on. We are sure that you experienced the complexity of connecting your devices to the hotel WiFi. In case you have several devices that you want to connect, this can easily take a lot of your time.
So, instead of asking for information and inputting that information in order to connect to the Web, you can just use a pocket WiFi router. You can set it up at your home, and all you have to do is to plug it in once you arrive at your hotel room. All your devices will instantly connect to the Web. So, instead of resolving technical problems, you can quickly connect to the Web, check your email, and begin relaxing. Plus, by using your own WiFi connection, you can use Netflix and Hulu to stream movies instead of using pricey hotel TV offerings.
It is also important to highlight that pocket WiFi routers aren't only made to be used in hotel rooms. In case you invest into a battery-powered router, you can connect to the Web on-the-go, while camping or hiking. So, even though you're outside and on your vacation, your business doesn't have to suffer.
Conclusion – Pocket WiFi Router Secures You Big Time!
We sincerely hope that we helped you pick the best travel router and we hope you'll enjoy your vacation without being limited by a poor and unsecure internet connection. As you can see, pocket WiFi routers are very affordable and they made your life tremendously easier. There's no reason not to buy one, right? In case you feel we left something out, feel free to post a comment.