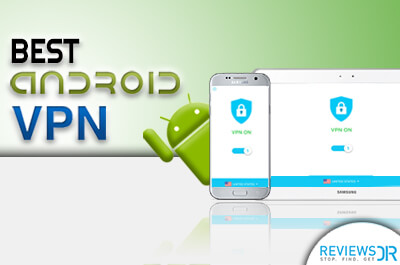 Google's Android operating system is known to be the largest app database ever existed beating iOS App Store by a huge margin. It's no surprise that the big number leads to big dangers. Recently, an Android malware infiltrated the Google Play Store which infected millions of users, combined with more threats; that is why a VPN for Android has become a necessity.
Maybe you want to spoof your location to access Netflix or secure your browsing over a public WiFi network without hindering your online security. It's important to do your homework of the VPN provider you're planning to subscribe, as a VPN is not just a software that you download to edit your videos, it's a matter of your online security and privacy of your Android device, which has all your private pictures, passwords, important docs, contacts and everything that reflects you. Make sure your pick should provide the best security and keep your Android PDA hacker proof.
List of Best VPN for Android
After a careful thought-process, we have made a list of Best VPN for Android that users can avail without compromising your Android security. Check the table and find your best-fit.
Why only these are the Best VPN Apps for Android?
Here is a quick review of all the VPNs we have chosen for your beloved Android piece.
Go through these and get to know why these Android VPNs are the best!
CyberGhost – Secure your Android device with a Cheap VPN
This Android VPN is a good pick because, with a slight change in speed, you can protect your Android from all the bad actors. The biggest plus point is the cost; opt its three-year plan and pay $2.75/month.
Also, it provides the highest grade 256-bit AES encryption along with industry approved standard VPN protocols such as OpenVPN; combine these and make your Android device safe for life.
This Android VPN also offers a Kill switch easily and also protect connection from DNS leak.
Cyberghost VPN is available for both iOS and Android; it has a 4.3 rating where users are satisfied with the fast speed it provides.
NordVPN – Massive List of VPN Servers
This is a reigning VPN in the industry, comes with a one-click connection, providing over 5380 servers in 60 countries inclusive of an adblocker, so your internet connection is ad-free.
While doing a speed test, the best VPN for android scored 74 Mbps download on our 100 Mbps connection which is above average compared to other VPN services. The service offers good encryption protocols that are required to safeguard Android's malicious malware.
That, included with a Double VPN, your internet traffic stays secure as routing traffic through different VPN servers. Double VPN at times slows down your browsing speed due to obvious multiple encryptions, but the price structure is worth it. They offer $3.99 per month for the two-year plan which is acceptable.
The NordVPN Android VPN stands out of the crowd as the NordVPN app rating on the Google Play Store speaks it all.
ExpressVPN – The Number One VPN Provider
Among the best providers, ExpressVPN Android is the leading yet fastest security service that hits 83 Mbps download speed on 100 Mbps connection. ExpressVPN app works well on multiple Android softwares whether its Jelly Bean, KitKat, Marshmello or Oreo.
When the app is launched, the servers by default are suggested with the least amount of user traffic. One click and fast servers will be provided at your disposal so you can quickly make your Android device safe.
The only thing holding back the mighty ExpressVPN is the price it offers. For a full one month plan, it costs around $12.95 per month but paying 15 months upfront would cost $6.67/month. Then again it's totally worth the money and the best VPN tool to secure your Android device.
As far as the user rating is concerned, it has a solid 4.1 rating where users are thrilled to use the simple yet feature filled Android app.
TunnelBear – Best Android App Rated by Users
Living up to its reputation, the Android Google Play Store has rated this app 4.5 which is a good score so far as even the trending ExpressVPN has a lower rating. Combine that with the user-friendly app, and you'll be surprised how sufficient this best VPN app for Android is?
TunnelBear VPN iOS app performs well, but on Android, the performance ratio is extraordinarily fast as it offers 256-bit OpenVPN encryption protocol to secure your browsing traffic. Even with a heavy encryption protocol, the Android app performed 52 Mbps download speed on 100 Mbps connection which is stable enough.
Considering the plans, $9.99 per month is an expensive plan for any Android user to protect their device but $4.99/month for a one year plan is cost-effective.
Private Internet Access – Massive Server List
Private Internet Access is a speedy VPN app that crossed 81% of our 100 Mbps connection while testing it. The logging session examined was the fastest so far among the five Android VPNs we have reviewed making this list of best VPN for Android.
It offers more than 3335 VPN and Proxy servers in 53 locations across 33 countries which is shocking. You will never run out of servers and connections and easily avoid those clustered servers where user traffic is immense. With a two year plan costing below $3.49, this makes it a cheap VPN affordable by many Android users.
The Play Store speaks a lot about people's choices and likes, and it's not hard to see why they like it; Adblock, multiple servers available, fast connection and what not. Private Internet Access is a necessity in a cruel digital world, and if you want to keep your Android device protected, this is the best choice.
Choosing the Best Android VPN app
It all comes down to how you consider in the best VPN? Multiple factors are applied where high speeds, no logging, and encryption need to be considered. Following are the basic essential things that need to be kept in mind at all times when choosing the best Android VPN.
Defined Simultaneous Connections
Jurisdiction
IPv6 Leak Protection (optional)
Encryption Protocols (OpenVPN)
VPN Kill Switch
Multiple Servers
A Clear VPN Logging Policy
Instant Customer Support Chat
One of the most important factors is to see where the VPN is headquartered and how are their surveillance and data retention laws. Few VPNs in these locations are reliable, but it's still appreciated to find some which are outside five eyes, nine eyes, and 14 eyes international surveillance alliance countries.
Lastly, always look at the user reviews from the Google Play Store, so you know what you are in for and what users have to say regarding the Android VPN.