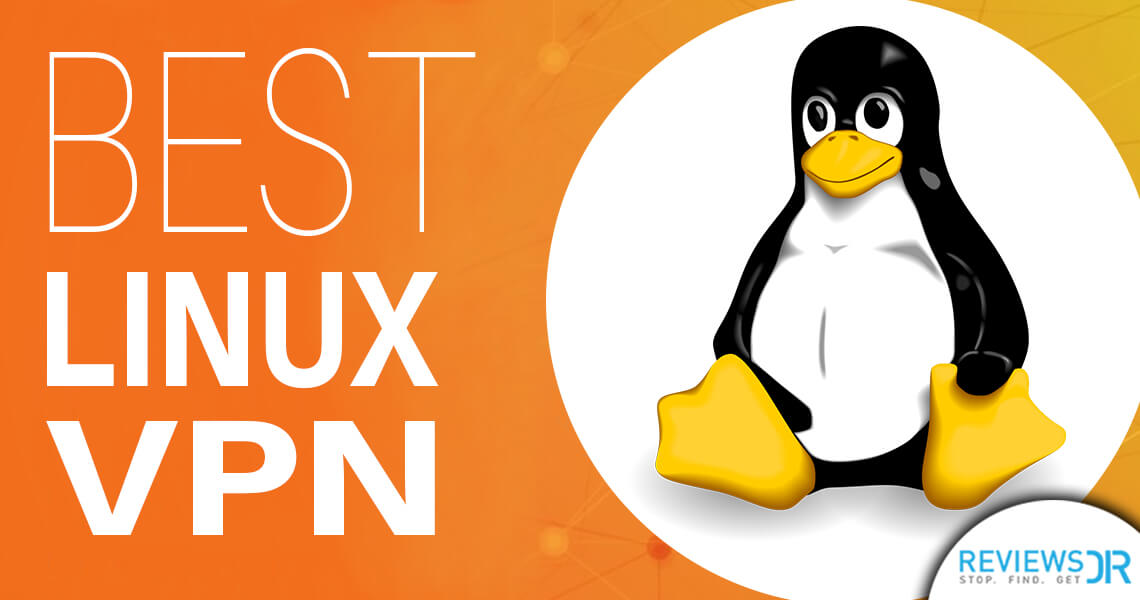 You know it by many names; Ubuntu, Mint, OpenSUSE, Fedora etc. These are all Linux distros. You can call it versions, variants or flavors, but it's famously known as Linux distros.
Linux comprises of only 2-3% of the total operating system share in the world. With this limited user-base, Linux users get a little share when it comes to software, and VPN services for Linux are no exception. Honestly speaking, Linux users are on a 'low priority list' when it comes to software distribution, and that is the core reason why we embarked on this quest for finding the best Linux VPN services for you.
Normally, to connect to a VPN in Linux, there are several options like OpenVPN Linux, OpenConnect, connect to VPN Linux using Network Manager, these are all some common methods to setup VPN on Linux. But why not go for a plug-and-play Linux VPN client which is not a hassle to setup and have many features which will not only make your Linux more secure but give you access to global content online and safety from hackers and data thieves.
Expert Recommended 5 Best VPN For Linux – Digital Armor For The Penguin
So, here are the 5 best VPN which offer a standalone dedicated app for Linux:
1- ExpressVPN – Best VPN For Linux Operating System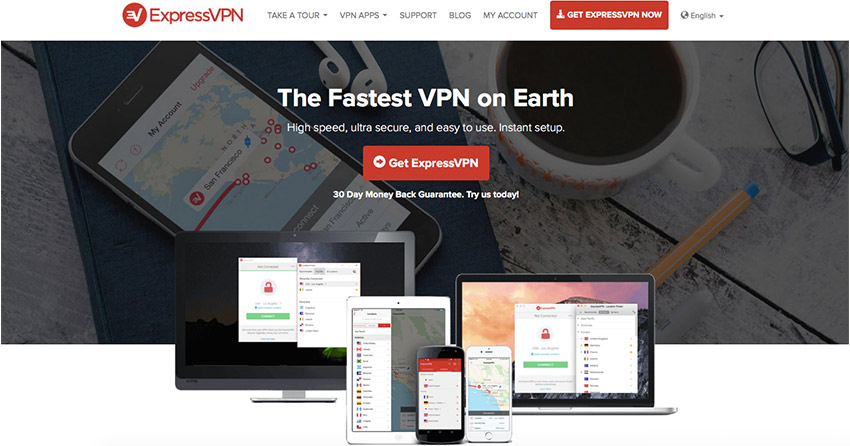 Providing 24/7 live chat assistance to its customers, ExpressVPN never ceases to amaze us with its near-to-perfect VPN service. Where Linux users are catered with less importance when it comes to Linux software distribution, ExpressVPN has gone an extra mile in taking care of this important segment by making a good enough Linux VPN client application. It is terminal command-line only but simple enough to be understood by a Linux user.
Unfortunately, there are no extra features like Internet Kill Switch or DNS protection offered in its VPN for Linux. Well, we have tested it on Linux Mint and Ubuntu and they worked fine. With a 30-days money back guarantee and having servers in 87 different countries, ExpressVPN is no doubt the best VPN Linux out there.
2- Private Internet Access – A Reliable VPN For Your Linux Distros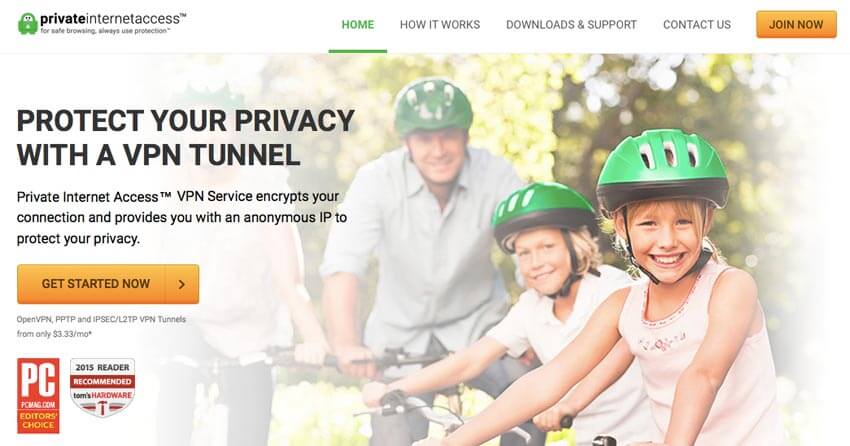 Private Internet Access has surely seen its prime a couple of years back and it used to be the number 1 choice of privacy enthusiasts and VPN fans all over the world. But because of certain technical issues and glitches, that reputation has gone down a little but it still holds a special place in customer's minds.
Setting up PIA VPN for Linux is fairly easy as it provides a script that helps in PIA VPN automating the installation process. Private Internet Access is an affordable Linux VPN service and it provides 256-bit AES encryption, but it can be tweaked as per your choice. PIA works pretty smooth on almost all Linux distros such as Fedora, Debian, OpenSUSE etc.
3- CyberGhost – Set it up Manually On Your Linux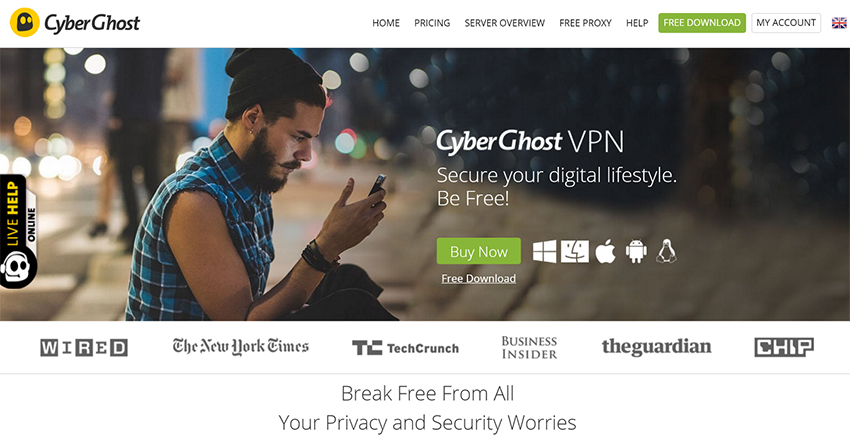 CyberGhost VPN service truly has catered the segment of Linux users with great deal, as it offers both free and paid VPN for Linux in its plans. Not only that, but it also offers a nice looking VPN app for Linux with an easy user-interface.  CyberGhost doesn't keep any logs and provides ultimate security to Linux users.
Be default, CyberGhost VPN for Linux is tweaked on OpenVPN protocol and offers unlimited bandwidth and internet kill switch as extra features. Bear in mind that the free version may only offer limited number of servers or even restriction on P2P file sharing or Torrent Downloading. To avail it's full functionality, it would be better to go for a paid Linux VPN version.
4- IPVanish – Best Online Encryption For Your Linux
IPVanish is another VPN service which has a stellar reputation in VPN industry and, when it comes to choosing VPN for Linux, IPVanish may just be the perfect VPN for Ubuntu version of Linux, due to its high popularity and demand. IPVanish is quiet and affordable VPN service for Linux and offers pretty much everything which you expect from a Tier-1 VPN service provider.
IPVanish offers more than 14,0000 IPs and is spread in more than 60 countries with around 500 servers. This giant can't be ignored when it comes to choosing best VPN service for Linux. Furthermore, it offers 5 simultaneous connection and a 7-day money back guarantee which gives you the privilege to test out their VPN Linux without any fear. It is an ideal Linux VPN service for power users who want to enjoy high bandwidth.
5- VyprVPN – The Largest Pool Of Privately Owned VPN Servers For Linux Users Too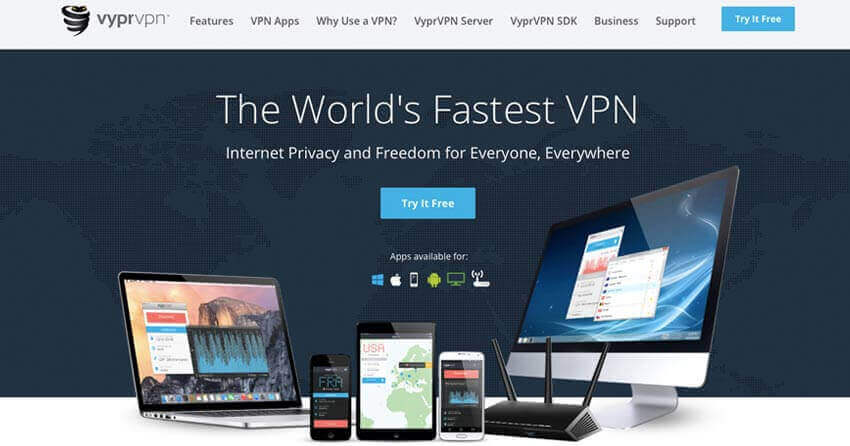 When it comes to Linux VPN, VyprVPN offers a simple and sleek app with not much bells and whistles that you would expect from a VPN giant. They offer a simple guide to setting up VPN for Linux in 12 simple steps which can easily be followed by even a newbie Linux user. If you are having any issues understanding it, the proactive customer services staff of VyprVPN is always available to help you out in this regard.
VyprVPN offers great speed along with greater encryption to its Linux VPN users. The only thing that actually bothered us a little was it's 30-days strict data logging policy which is rolled out keeping in view of any illegal act done by any of its VPN users. But if you are a law-abiding netizen you don't have to fear, you can enjoy this feature-rich, and fluid VPN for Linux without any worries.
VPN For Linux- Distros Decision in Limbo?
With a large of Linux distros available in the market choosing the right Linux version can be a daunting task. Each Linux flavor caters to a different need of Linux user. But a famous version of Linux such as Ubuntu and Linux Mint are by far the most user-friendly and prominent version of Linux out there.  And it's no doubt that they are much secure operating system than Windows.
When first rolled out, Ubuntu infuriated its users with a privacy flaw it had in its OS, but later that flaw was eradicated completely with versions above Ubuntu 16.04 LTS and above. The flaw was that it leaked user's data to a third party (Amazon) for advertising purpose. Well, we are pretty sure that other Linux versions too are well-supported by the above-mentioned VPN services.
As a Linux user you have to swallow this bitter truth that when it comes to enjoying premium software such as VPN For Linux, there is little what even these privacy giants can offer because of the obvious reasons discussed above. Even their premium versions have limited functionality, but no doubt, keeping in view those limitations and the support from the complex operating system itself.
5 Tips For Choosing The Best Vpn Service For Linux
As a Linux user where you already have limited options as far as software choice is concerned, selecting a VPN for Linux which can only be defined as a niche within a niche can get as frustrating as it can be. Therefore we are mentioning some pointers that every soon-to-be Linux VPN user should note down before opting for a premium VPN service for Linux.
Supported Protocols for Linux
Before throwing money on the table, make sure that the VPN service for Linux that you are opting for supports OpenVPN protocol because that's a protocol which is easily supported by Linux.
Going for a free VPN for Linux
It's not always a bad decision to opt for free stuff, but keeping mind that you are a Linux user who already has limited options and are opting for a free VPN which offers limited services in their free version; it's a risky business and frustrating one, so make your choice widely when it comes to free VPN for Linux.
There are a lot of VPN browsers out there which offers support for Linux OS such as TorGuard and Opera. Both of these VPN browsers are compatible with Linux and can be a good option for any Linux user who wants to casually surf the internet.
If you are not looking for anything fancy, you can go for this great piece of VPN software for Linux by OpenVPN Technologies which offers detailed Knowledgebase guide on how to setup VPN on Linux.
Linux VPN Distro Compatibility
Research a little if you are opting for a Linux VPN service other than what we have mentioned. You never know if the VPN provider for Linux you are going for supports your version of Linux or not. A little research can save you from regrets. We would suggest choosing a Linux VPN service that we have already mentioned to be on the safe side.
In a Nutshell- Summing Up VPN for Linux Discussion
So, now you know that as far as making a decision for opting a VPN service for Linux, we have got you covered by mentioning some of the best VPN services for Linux out there. We have also enlightened you with the tips and options you can go within different circumstances. But if you are a Linux user, you already are tech-savvy enough to get around these minor issues.
So, we would like to conclude our discussion for Best VPN for Linux, we hope that we have addressed the problem well, and if you think there are more VPN services which could have been in our list of Best VPN for Linux then feel free to comment it down below.