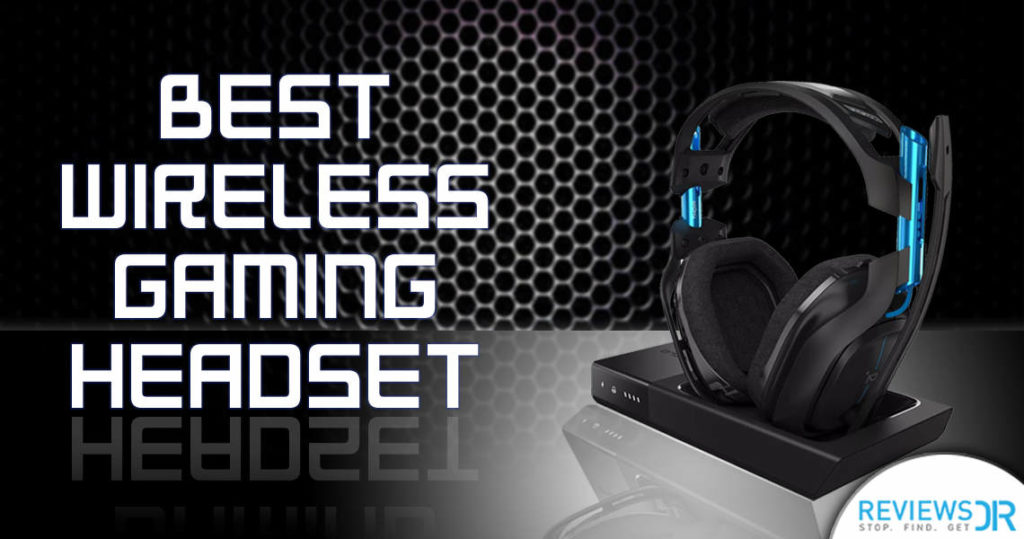 Are you an ardent gamer, who just can't wait surviving on a diet full of latest games? If yes, then you would love to have the best of resolutions on the ultra-wide interface to ensure an absorbing time. Nevertheless, besides a picture perfect vision, sounds just steal the show, in fact, they act as a lifeline of the games, whether you play them on your PC, Mac, PS4, or Xbox, isn't it? Most gamers are complacent with the sounds coming from the speakers, so they don't mind skipping the headsets. However, the aficionados just love to put their eardrums to every sound of the game that sends chilling shivers down the spine while enjoying those thrilling moments.
In the past, we have reviewed variety of wired and wireless gaming headsets in quest to get the best product. It all comes down to the requirements of the game and likeness of the gamer. In our today's article, we are going to review the best wireless gaming headsets without putting a cap on price. Previously, we covered gaming headsets under $100 and gaming headsets under $50 to recommend the best options at a certain budget. Here is a quick review of some of the favorite wireless gaming headsets of 2018 to help you single out the best one.
Best 5 Wireless Gaming Headsets You Should Buy in 2018
If you are passionate about playing games on your PC, PS4, or Xbox one, you better know the role of involved exciting sounds in keeping you glued to your devices. This is where your wireless gaming headset helps you enjoy your leisure to the hilt. Whether you are looking for a headset with powerful bass, such as for shooter games or wish to have simulated surround sound to add realism to your playing experience, etc., a wireless gaming headset is the best to suffice your requirement.
Besides, several branded headsets also offer the feature of noise cancellation, which allow you to cancel the noises around you, hence enabling you to hear only the sound of the game you are romancing with. In fact, your headset is as important as other peripherals that you use for playing games, be it graphic cards, keyboards, mice, or processors. The key here is to invest in the best and cheapest headset, which could abide by your respective gaming requirements.
Here are some important questions that you could ask while buying the best wireless PC gaming headset.
Is your chosen wireless gaming headset is compatible with your gaming?
Is the headset comfortable enough?
Is the quality durable enough?
Does it produce the sound as per your preference?
Do you prefer an open or a closed headset?
Does your wireless headset consist of a microphone?
Do you want a heavy or a comparably lighter headset?
Does it provide ideal frequency response?
The most important; How much does the headset cost?
Based on the outcomes of these queries, here are 5 best wireless gaming headsets that you could choose from:
| Gaming Headset | Sound Configuration & Quality | Compatibility | Frequency Response | Battery | Weight | Price |
| --- | --- | --- | --- | --- | --- | --- |
| Logitech G930 Wireless Gaming Headset | 7.1 surround sound | PC, PS4 | 20Hz-20KHz | 10h | lbs | $164.98 |
| Corsair Gaming Void Wireless RGB Gaming Headset | Dolby 7.1 for PC | PC (stereo) Mac & PS4 | 20Hz – 20KHz | 16h | 0.8lb | $99.99 |
| Razer Thresher Ultimate | Dolby Headphone with 7.1 surround sound | PC | 20Hz – 20KHz | 20h | 3.7 lbs | $249.00 |
| Steelseries H Wireless Gaming Headset | Dolby Headphone virtual surround sound mode | Xbox One, PS4 and PC | 100-10KHz | 16h | 1.86 lbs | $189.99 |
| Astro Gaming A50 Wireless Headset | 7.1 Dolby Headphone Surround Sound | Xbox One, PS4 and PC and Mac | 10Hz – 20KHz | 15h+ | 0.8 lbs | $299.00 |
Review of Top 7 Wireless Gaming Headsets
Above, we have shared our five best Wireless gaming headset picks with you. Now, we will go in detail and review each of the gaming headset we have in the list. Not five, but we will be reviewing seven of the best options that we tried. This would give you enough options to compare and buy. So gear up guys!
1. Logitech G930 Wireless Gaming Headset
Logitech wireless gaming headset g930 with 7.1 surround sound offers comfort and excellent sound quality. It features a standard microphone along with considerable battery life and appreciable wireless range of 12+feet. The Logitech wireless gaming headset g930 allows you to control audio music with the help of G-Keys. It is durable enough to last till a long time.
Specs
7.1 Dolby surround sound
Wireless range exceeding 12 feet
Around 10 hours battery life
Noise cancelling mic
Good bass response
Memory foam headband
3 Customizable hotkeys
PROS:
Easy to program single touch G-Keys
Great 7.1 surround sound
Comfortable to use
Low latency for home theater and gaming
Above par mic performance
CONS:
Room for improvement in wireless mode
Issues related to drops in wireless frequency
Below par noise latency & bulky design
BUY LOGITECH G930 WIRELESS GAMING HEADSET FOR $164.98 ON AMAZON
2. Corsair Gaming Void Wireless RGB Gaming Headset
If you are mulling the best wireless gaming headset available for as cheap as below $150, you may well buy Corsair Gaming Void Wireless RGB Gaming Headset. It is comfortable and sounds cool to your eardrums. You can continue playing it for long, without requiring to remove it from your ears. Ease of use, RGB lighting, and appropriate battery life are among the other features that make this Void wireless Dolby 7.1 RGB gaming headset, a must buy.
Specs
Dynamic multicolor RGB lighting
CUE control software
InfoMic to let you know about your audio status
2.4GHz wireless with freedom up to a range of 40ft
Microfiber/ foam ear pads
PROS:
Great sound
Enticing design
Comfortable to use
Appreciable battery life
Ear cup shape
Good Battery Life
CONS:
Microphone arm is not retractable
Slightly lags behind in 'quality' feel
Lacks in bass effects
BUY CORSAIR VOID WIRELESS GAMING HEADSET FOR $99.99 ON AMAZON
3. Razer Thresher Ultimate – The Perfect Wireless Gaming Headset for Consoles
The Razer Thresher Ultimate from Razer Inc. is in true worlds, an ultimate headset that is beyond competition in the market. The wireless headset offers an imposing audio quality supported amicably by light and stylish design. Though available at a sumptuous cost; appealing look, surround sound and great feel make it a must buy headset.
Specs
Quick control buttons for Mic and volume
Dolby surround
Circumaural Design
50mm Driver Units
Swappable ear cushions
Available with wireless configurations on Xbox, PS4, and PC
PROS:
Comfortable to use
Spatial sound
Extended battery life
Simple setup
Ultimate audio quality for music and game
CONS:
Fragile hinges
No Bluetooth
No Mic monitoring
3.5 mm audio jack missing
Often ear cushions heat up slightly
BUY RAZER THRESHER ULTIMATE WIRELESS GAMING HEADSET FOR $249.99 ON AMAZON
4. SteelSeries H Wireless Gaming Headset
Rechristened as Siberia 800, this popular wireless gaming headset accompanies almost every feature that you would expect. This stylish and user-friendly device is just the right fit for gaming purpose and includes USB controller along with an inbuilt charger. You can use it with any PC or Mac; all you need is just plug-and-play, without any driver. You can also use the Steelseries H wireless gaming headset to connect to your PS4, Xbox One or PC through the Bluetooth receiver box.
Specs
Dolby Headphone virtual surround sound mode
USB hub offering display and volume/menu controls
Wireless audio
Multiple EQ settings
Easy to switch between normal and surround stereo
Retractable microphone for voice chat
Port for Xbox 360 voice chat
3.5 mm headphone jack
PROS:
Good build quality
Easy to use
Easy to reach volume wheel
Good audio performance
Appreciable sound quality for gaming
Multiple features and accessories
CONS:
No Bluetooth
No multi-speaker surround sound
More than average comfort level
A bit expensive
BUY STEELSERIES H GAMING HEADSET FOR $189.99 ON AMAZON
5. Astro Gaming A50 Wireless Headset for Gaming
For ardent headset users who give high importance to sound, Astro A50 promise allows a completely absorbed experience. Offering excellent sound for critical listeners, these headsets from Astro exhibit sturdy built, high durability and voguish designs gelled well with cozy ear cups that you could put on your ear continuously for hours without any hassle.
Specs
Ultra Low-Latency Wireless
7.1 Dolby Headphone Surround Sound
More than 15 hours of Hour Battery Life
Pro Audio Quality – Excellent Finish & Fit
5GHz Wireless Technology
ASTRO AUDIO for absolute sound experience
Compatible with XB1, PS4, PC & Mac
PROS:
Comfortable design
Good on user experience
Best audio reproduction quality
Boom Microphone with noise handling capability
CONS:
Not suitable for outdoor use
Often leaky when at peak volumes
Low at noise isolation
Redundant head-gripping force
Expensive
BUY ASTRO GAMING HEADSET FOR $299.99 ON AMAZON
6. Turtle Beach Stealth 420X+ Wireless Headset
This wireless headset offers high quality audio and a solid sound profile. The included Superhuman Hearing technology boosts the sounds of quiet noises to keep you aware of the things happening around. The mid-budget wireless gaming headset also consists of a high quality microphone that can adjust your voice depending on its position from your mouth. One of the finest wireless gaming headsets, you can use it on Xbox and PC; 15 hours battery makes sure that you enjoy your time to the max.
Specs
Interference-free chat and game audio
Complete wireless connectivity to Xbox One.
Mic monitoring
Chat and game volume control
15 hours battery
USB wireless transmitter to plug into your Xbox
PROS:
Battery can last up to 2-3 days
Best for use on Xbox
Presets to improve bass, voice/chat, bass and high notes
Mic monitoring
Great sound
CONS:
Make things very loud
Not available for PS4
Low on comfort
Redundant head-gripping force
Expensive
BUY TURTLE BEACH STEALTH 420X GAMING HEADSET FOR $279.98 ON AMAZON
7. Hyperx Cloud Flight Wireless Headset for Gaming
You won't mind putting on this wireless PS4 headset for the best part of your day. Yes, the Hyperx Cloud Flight is a comfortable and very lightweight headset that boasts of its 30-hour long battery. Users also prefer it for the accurate and rich sound while playing games. These wireless headsets comprise crisp microphone together with slick and stylish LED ear cup lighting. Available at around $160, this could well be your best buy if you are an ardent PS4 gamer.
Specs
Compatible with PC and PS4
USB-powered Flight
Easy plug and play compatibility with PS4
PROS:
Extremely Lightweight
LED lighting effects
Comfortable
CONS:
2.0 channel audio only
No RGB lights, only red LED lights available
Does not work with Xbox
BUY HYPERX CLOUD FLIGHT WIRELESS GAMING HEADSET FOR $159.99 ON AMAZON
Best Wireless Gaming Headset for PC
If you join the coterie of passionate PC gamers who want an X-factor in their gaming experience, headset is a must have. Yes, hard core PC gamers prefer feeling those sounds from deep within, and wireless headsets from renowned brands do wonders. Whether you are playing Destiny 2, Overwatch, Battlefield 1 or almost any other nerve biting game, opting for the best wireless gaming headset would only add up to your excitement. Features such as Dolby 7.1 sound surround, 20Hz – 20KHz, 5.8 GHz wireless Tech, RGB lighting, spatial sound, are the most sought after ones among the regular gamers. In addition, durability, ergonomics and excellent acoustics are the other necessities that professional gamers want to have in their headsets. Based on the availability of these features here is a list of top 5 best wireless gaming headsets for PC, hope you like it.
Logitech Wireless Gaming Headset G930 With 7.1 Surround Sound
Corsair Gaming Void Wireless RGB Gaming Headset
Steelseries H Wireless Gaming Headset
Astro Gaming A50 Wireless Headset
Turtle Beach Stealth 420X+
Best Wireless Gaming Headset For PS4
The year 2018 is all engrossed with PlayStation 4 Games. We have already witnessed the released of some happening games of the likes of Monster Hunter World, Far Cry 5 and so on. Even more amazing PS 4 games are about to foray in the coming days. No wonder, you would love to have the best of wireless gaming headsets to enjoy your most exhilarating, heart wrenching and exciting PS4 games with the best wireless gaming headset possible. Here is the list to help you choose the befitting one:
Hyperx Cloud Flight
Corsair Gaming Void Wireless RGB Gaming Headset
Astro Gaming A50 Wireless Headset
Razer Thresher Ultimate
Logitech G930 Wireless Gaming Headset
Best Wireless Gaming Headset For Xbox One
Most of the wireless gaming headsets work fine with PS4 as well as XBX1. However, to ensure sheer sound clarity and a booming bass on a wireless connected Xbox one, you need to choose the best headset in the business. Most importantly, it should also accommodate your budget besides producing rich wireless sound. Different brands in the fray offer the unique quality and crystal clear sound while enjoying an unplugged Xbox gaming experience. The 3 prominent ones are:
Razer Thresher Ultimate
Astro Gaming A50 Wireless Headset
Turtle Beach Stealth 420X+
(Only these three headsets from the table and those mentioned in the blog are compatible with Xbox One.)
Testing The Best Wireless Gaming Headsets
Wireless gaming headsets are a treat with the crystal clear sound of the games, music and the movies . Be it a VPN, Antivirus, wireless PC gaming headset or any other technology, we do review from the renowned brands to bring the the best for you. Our testing methodology comprises the following 10 tests:
Game Test: We play games of all the genres including adventure, action, shooting, fighting, etc. A keen observation of the headsets while playing these games helps us to ascertain the ability of the headset to withstand the competitive setting and its capability to adapt to the gaming environment.
Sine Wave: Besides, we run sine wave swoop across the full 20Hz-20KHz frequency response range.
Audio Test: We perform positional audio tests such as DTS Headphone – X test for surround headsets.
YouTube Test: The YouTube compression is a feasible method to test surround sound headsets; thought it restricts the sound quality of the headset.
Range and Latency: To test the range of the best wireless gaming headsets, we simply stroll around in our office campus. As for latency, it all depends on one's perception.
Battery Life: To evaluate the performance of battery life, we listen to the headset at maximum volume, which gives us an estimate of the time the battery takes to drain completely.
Charging Time: We keep track of the charging time of the battery, which is self-explanatory.
Mic Testing: To test the microphone, we do voice recording and listen to the same to evaluate the sound quality.
Overall Performance: To know about the comfort level of and to ascertain the complete performance, performance, we use the e understanding of the headset continuously for around 2-3 days.
Second Opinion: In addition, we make sure to get the second opinion about the headset from other gamers in our staff. This gives us more accurate testing results.
Compatibility Of The Best Wireless Gaming Headsets
While deciding to buy a wireless gaming headset, you must be sure if it is compatible with the equipment you will be using it for. Most of the headsets are ripe for use with PC, Mac, Xbox One, PS4, etc., hence, if you do not give sound a high-five, you can buy any cheap-priced gaming headset available in the market. However, if you are particular about the dazzling sounds of your games and want to hear them through your distinct equipment, you need to do a bit research. For example:
Almost all the wireless gaming headsets from Logitech, Steelseries, Turtle Beach, HyperX and several other brands are compatible with PC and Mac.
Unfortunately, the same does not hold for PS4 and Xbox One. Just to cite few examples, Logitech G930 Wireless Gaming Headset, Corsair Gaming Void Wireless RGB Gaming Headset and Hyperx Cloud Flight are the best wireless gaming headsets for PS4, besides their compatibility with PC and Max.
Headsets like Turtle Beach Stealth 420X+is compatible with Xbox one and not with PS4. As silver lining, wireless gaming headsets like Astro Gaming A50 Wireless Headset is compatible with all the possible devices including Mac, PC, Xbox One, and PS4.
At the same time, Razer Thresher Ultimate is not compatible with Mac.
Hence, the next time you look out to buy a wireless gaming headset, make sure it is compatible with your device.
Conclusion to our Gaming Headsets Review
Enjoying games on PS4, Xbox one, Mac or even on your PC, is a favorite time pass for many. While occasional gamers don't mind playing without sound, frequent and passionate gamers are equally specific about the sound quality to filter through their earpieces and appeal their senses. For all such ardent gamers, the wireless gaming headset for PC, and other equipment need to possess a charismatic touch. Until the headset does not pass their specific requirements, they keep searching for new ones. If you too belong to the same category, probably this review would help you out significantly. So, whenever you go to get a wireless gaming headset, keep your favorites in mind.