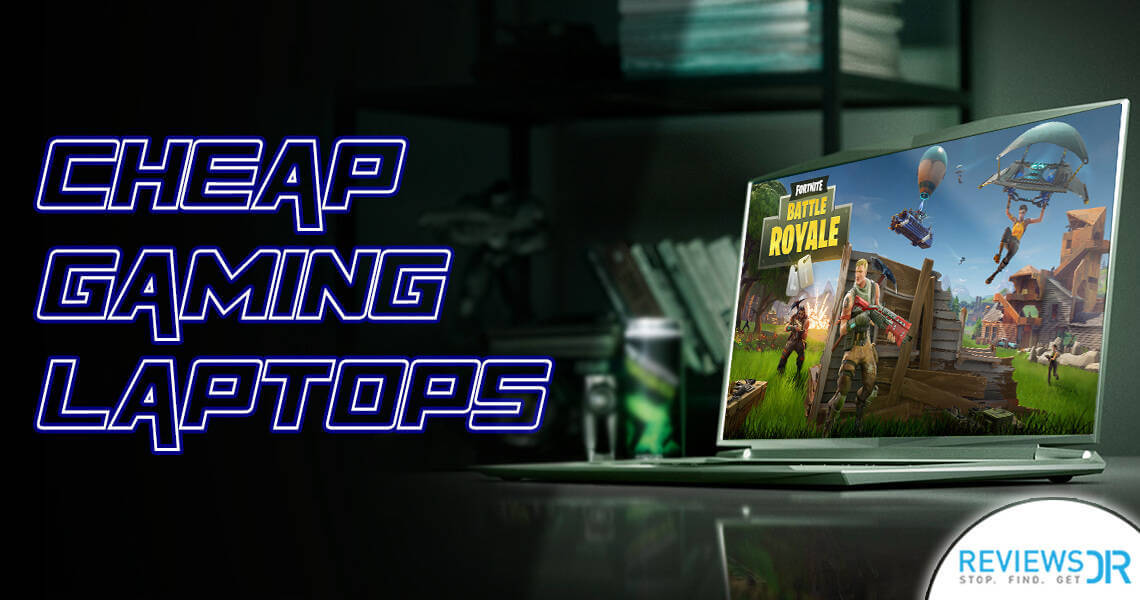 Gaming is an extreme and intense form of art. People who are into it will tell you that it is the best way to mediate – focusing on one thing and forgetting the rest of the world. However, you got to have an incredible gaming machine in order to play (read mediate) properly. The misconception is that gaming laptops are super expensive. Yes, they are but you can find cheap alternatives easily. So is there a cheap gaming laptop that you can buy and still enjoy all the games?
We have discovered an ultimate list of best cheap gaming laptops that can serve the purpose without costing too much. Our team has spent a substantial amount of time on different laptops before finalizing the list. The core criterion for this list was performance. If the laptop is cheap but cannot perform, it is useless and vice versa. So here, this guide aims to provide the cheapest gaming laptops that you can buy at a certain budget. We have kept into consideration different price ranges, from a gaming laptop ranging $1000 or more to best cheap gaming laptop at a price of $300 and lower, we tried to cover all pocket sizes. So let's straight to the action and reveal the affordable laptops for gaming that you can buy in 2018.
5 Best Cheap Gaming Laptops To Buy in 2018
Following is the power list of the cheapest laptops for gaming; each of the laptop listed here is reviewed based on the performance and durability.
1. ASUS FX502VM – The High-Performance Cheap Gaming Laptop For Everyone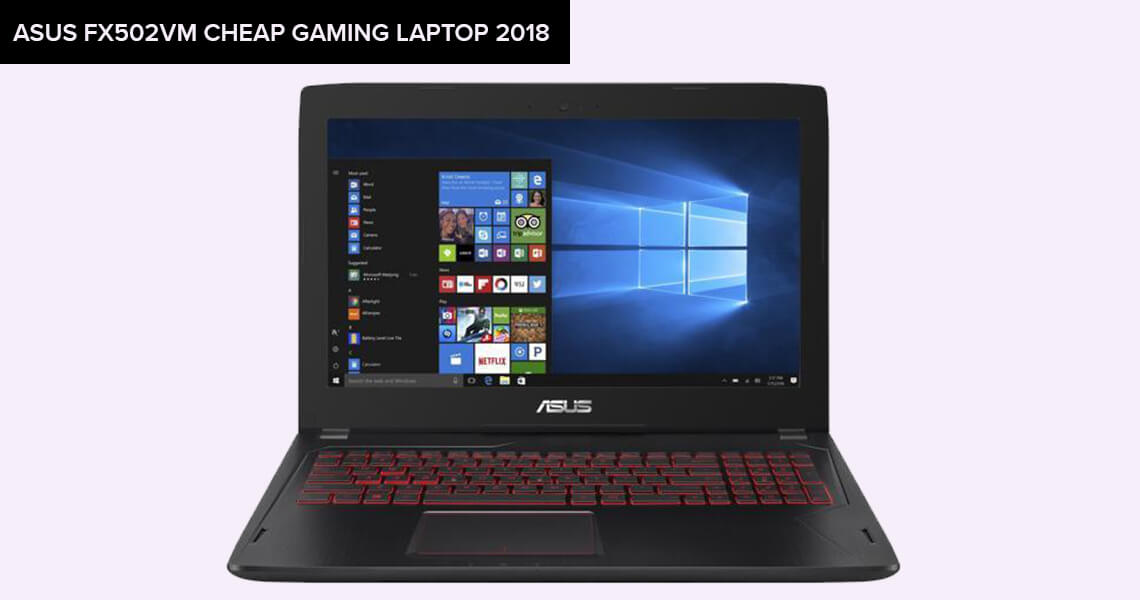 Specifications:
Intel 7th generation Core i7-7700HQ 2.8 GHz processor
1TB HDD
16GB
GTX 1060
15.6-inch 1920×1080 full-HD display
Windows 10
4.5 hours Battery Time
5.6 lbs Weight
802.11 A/C Wireless Compatibility
Buy on Amazon: $1100
ASUS FX502VM isn't the typical cheap gaming laptop. It is a bit pricier for people looking to stay within budget. However, we have our reasons to put this one here. Majorly, we are impressed with an i7 processor and GTX 1060 GPU. These two features make it a solid gaming option.
The 15+ inches screen with 1920×1080 full HD display won't hurt in the package. Although we feel it could have worked better on improving the graphics a little bit.
Verdict: Pricier gaming laptop but worth it.
Razer Blade Stealth – Cheap Gaming Laptop For Mild Gaming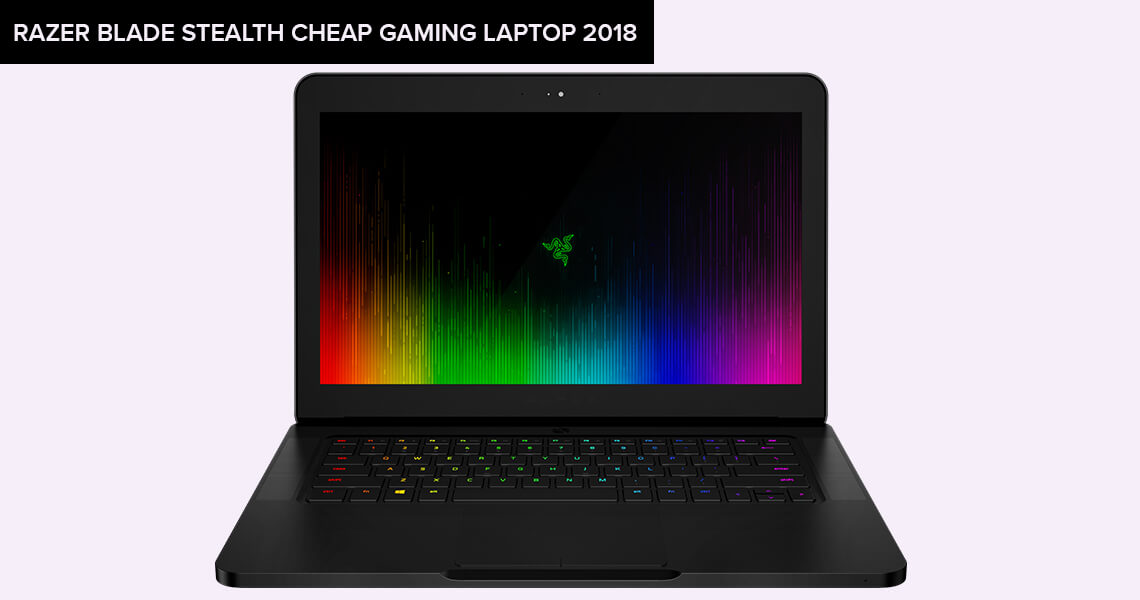 Specifications:
QHD Display (2560×1440) non touchscreen
128GB PCle SSD
7th Gen Intel Core i5-7200U Processor (Dual Core, 3MB Cache, 2.5GHz / 3.1GHz w/ Turbo Boost)
16GB dual-channel onboard memory (LPDDR3-1866MHz)
Thunderbolt 3 (USB-C)
Anti-ghosting keyboard powered by Razer Chroma
Buy on Amazon: $1000
Razer Blade Stealth is not a gaming laptop. Now you may question why we have included it on the list. Basically, the only reason to add this one here is for people who are mildly into gaming. It is a loaded laptop with amazing portability, core i7, quad-HD display, and a gem of a signature Razer Chroma Keyboard.
However, features like Intel HD Graphics 620 and 128 GB SSD make it problematic for gaming. Let's face it, for real gaming, you require much more sophisticated GPU and a bigger storage space.
Verdict: Strictly for mild gaming
Acer Aspire VX 15 – The Coolest Cheapest Gaming Laptop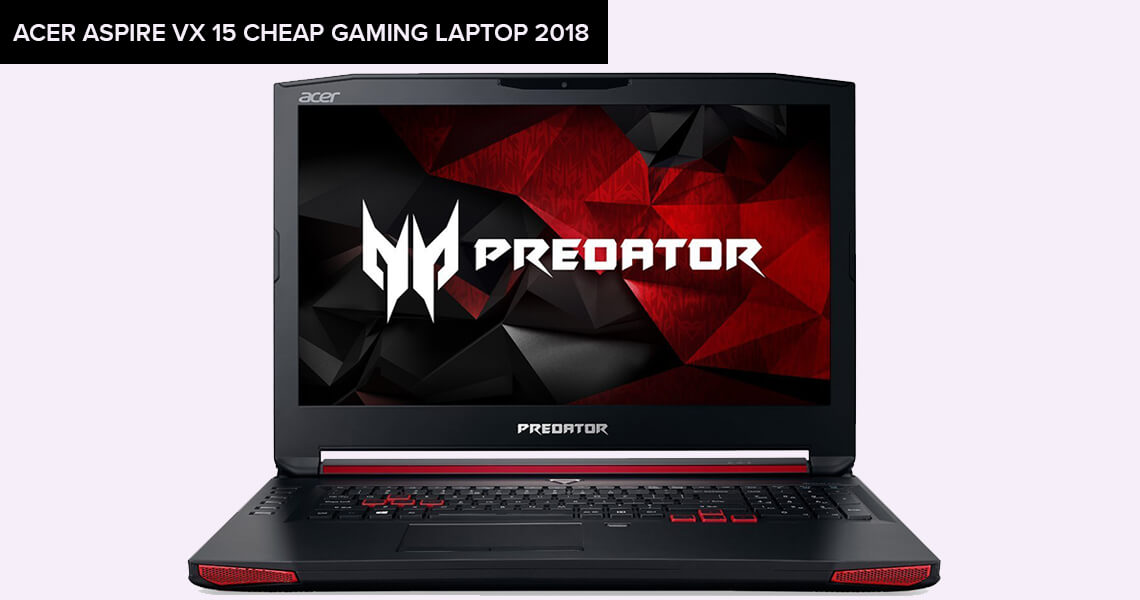 Specifications:
7th Generation Intel Core i5-7300HQ Processor
15.6″ Full HD (1920 x 1080) widescreen LED-backlit IPS Display
NVIDIA GeForce GTX 1050 with 4 GB of dedicated GDDR5 VRAM
8GB DDR4 Memory & 256GB SSD
Dual-Fan Cooling
Acer TrueHarmony and Dolby Audio Premium Sound
Iron-Red backlit keyboard
Buy on Amazon: $899
Acer Aspire VX 15 is the company's effort to embrace the target market looking for cheap computing machines. We have experienced its Predator model and we have been completely blown away by it. Aspire VX 15 is a beautiful blend of performance and affordability. It has gaming specs like core i7, GTX 1050 GPU, 16GB RAM, and a sexy backlit keyboard for more visibility during those intense hours of gaming.
We love it a little bit more because it offers more. Dolby Audio Premium sound is the treat in Aspire VX 15. The crisp and clear audio while gaming or watching videos is surely a surprising delight.
Verdict: For its money, you are getting the best deal for a cheap gaming laptop.
MSI GL72M – Unattractive but Powerful Cheap Laptop For Gaming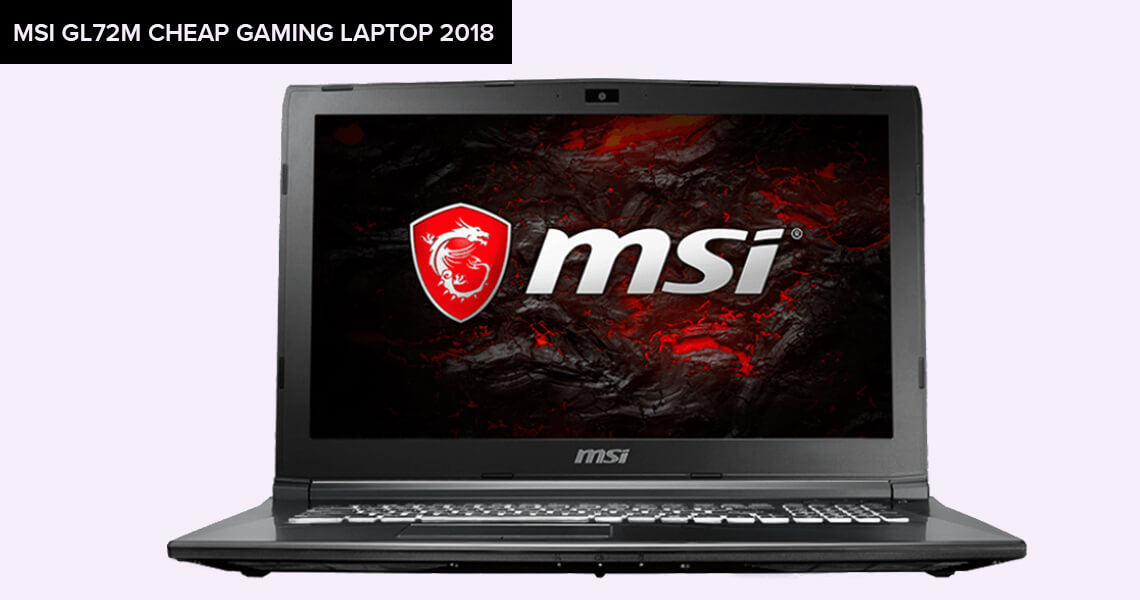 Specifications:
Screen Size: 17.3 inches
Max Screen Resolution: 1920×1080 pixels
Processor: 3.8 GHz Intel Core i7
RAM: 8GB DDR4
Hard Drive: 1000 GB Hybrid Drive
Graphics Coprocessor: GTX 1050
Chipset Brand: NVIDIA
Card Description: Dedicated Graphics Card
Wireless Type: 802.11 A/C
Buy on Amazon: $880
MSI GL72M is physically very unattractive. It is heavy and thick. Let's just say it's not a laptop that will win you envious stares from surrounding people. We can handle the looks because it is a rock-hard gaming machine inside. The above specs will tell you that MSI GL72M has got everything.
The plus point of this machine is its giant display of 17+ inches. Also, did we mention the red back-lit keyboard? Yes, gamers have a weird love for colorful keyboards. We didn't like just 8 GB RAM as gaming takes a lot of memory. Overall, it is a great fit for people looking to buy a serious gaming machine.
Verdict: Heavy and thick but knows how to handle heavy gaming.
Dell Inspiron 15 7000 – The Old Fish Affordable Cheap Gaming Laptop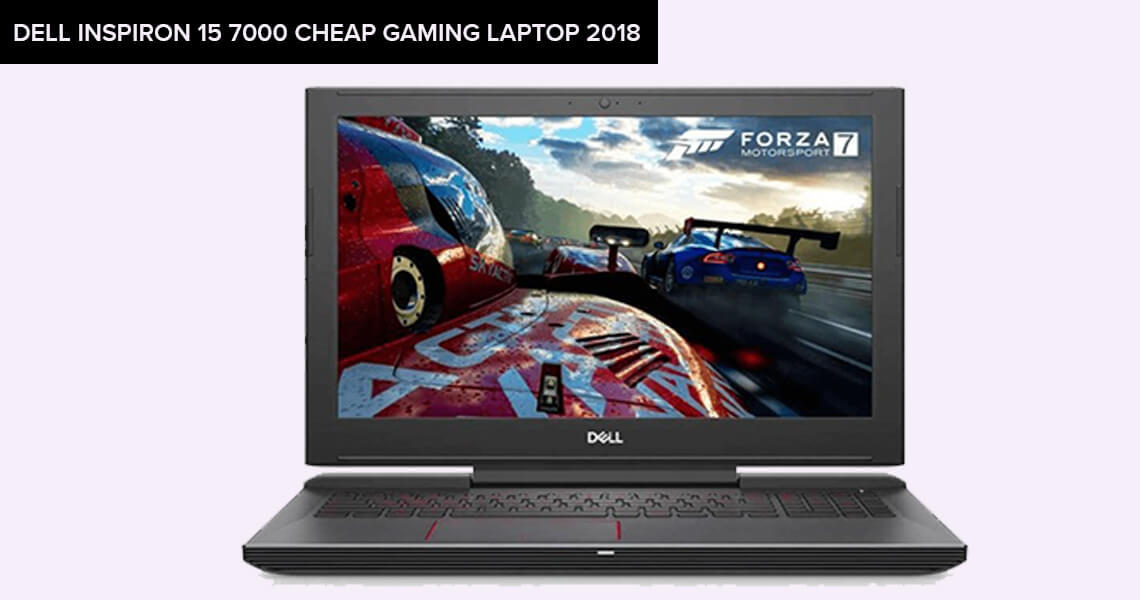 Specifications:
6th Generation Intel Core i5-6300HQ Quad Core (6M Cache, up to 3.2 GHz)
Operating System: Windows 10
Memory: 8GB DDR3L 1600MHz
Video Graphics: NVIDIA GeForce GTX 960M 4GB GDDR5
Hard Drive: 256GB Solid State Drive
Display    15.6-inch FHD (1920 x 1080) Anti-Glare LED-Backlit Display
Wireless Connectivity: 802.11ac + Bluetooth 4.0, Dual Band 2.4&5 GHz, 1×1
Buy on Amazon: $750
A simple glance at the specifications of Dell Inspiron 15 7000 has told you that it is an old machine. In fact, this one is behind all the other cheap gaming laptops mentioned on our list. However, the specs are still good for light gaming. Also, the battery life of 10 plus hours won't hurt.
We are not sold on the 256 SSD as gamers need more. Other than that, we are sure Dell Inspiron 15 7000 is a good fit for mild gaming and regular work. You must remember the price tag of Inspiron 7000 is the least here. In this perspective, presence of older specs is justified.
Verdict: old but still useful
Cheap Gaming Laptops Under $500
Now that we have already covered the best cheap gaming laptop under $1000, we thought of extending the post and try to find more budgeted gaming laptops for you. In case you are tight on budget and looking for a cheap gaming laptop under 500, then this section would certainly be of your interest. Buying a good gaming laptop under 500 dollars can be a little tricky, as at this budget you might not get the expected configuration that runs most graphic-intensive games like The Witcher 3 or GTA V. However, you can still play games like CS GO, LOL, Minecraft, etc.
By this, we are not underreckoning the gaming laptops under 500, but the fact is that these laptops come with a set of specs, and you'd rather miss the support of power-packed graphics card that is required for a smooth gaming experience. Nevertheless, with the $500 budget in mind, our team of experts have digged deeper to find the best and inexpensive gaming laptops perfect to fit your pocket size. All the gaming laptops that we are mentioning here vindicates every penny you are going to spend. Without further ado, let's reveal the best cheap laptops for gaming under $500.
ASUS VivoBook F510UA Budget Gaming Laptop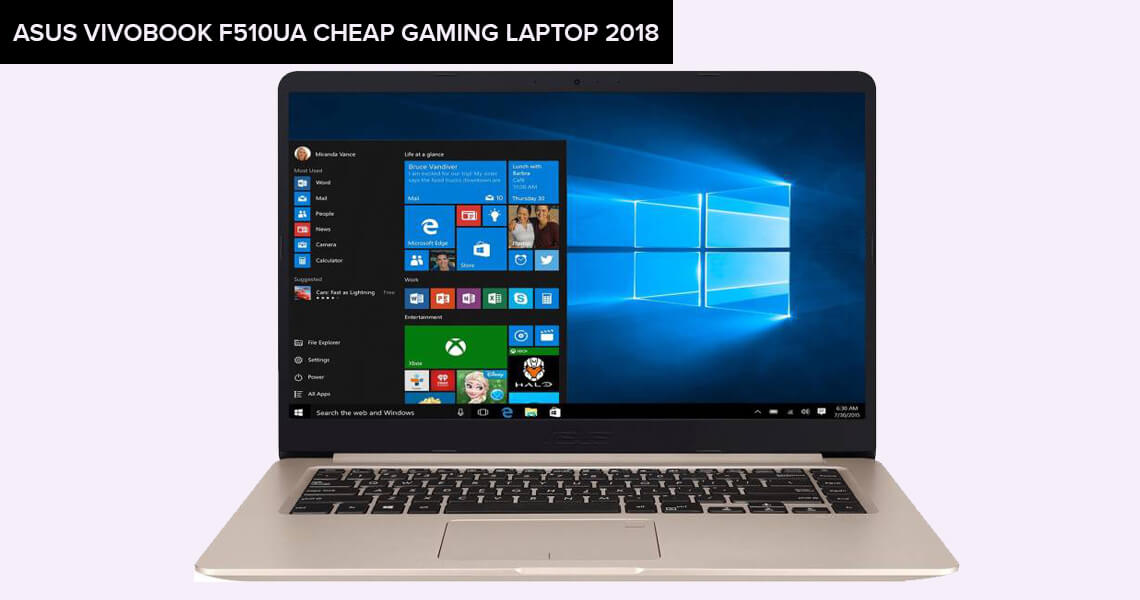 The HP 15-ay103dx laptop is a another perfect choice for gamers who don't want to spend fortune to buy a gaming laptop. This cheap gaming laptop under $500 comes with a set of features which are both power-packed and rich with performance. Although the design of the laptop is not slim, but still it is perfectly immingled with cool and powerful specs. It has a 15.6-inch HD display with a touchscreen option making it fun to watch movies and play games. HP 15-ay103dx is engineered with a 7th Generation Intel Core i5 processor, and comes with a 8GB of RAM. The good thing is that you can upgrade the RAM up to 16GB, which will add more power to this amazing cheap laptop for gaming.
Looking at the storage capacity of this laptop – it comes with 1TB of hard drive which is enough storage space to install variety of games. Battery life of HP 15-ay103dx is up to 5 hours which is fair enough. Overall, it is a good choice for anyone looking for a budgeted laptop for gaming at a price of $500. The price is a bit steeper, and you will have to pay $524.10 to buy this laptop. But considering the features and performance you will get, we believe it is worth spending on this laptop to run games smoothly and to perform other jobs.
Specification:
Intel Core i5-7200U with 2.5GHz Dual-Core Kaby Lake Processor (Turbo boost up to 3.1 GHz)
1TB Storage
8GB RAM
Intel HD Integrated Graphics 620 (up to 4GB)
15.6-Inch HD Widescreen LED display
Windows 10
Up to 5 hours battery time
4.7 lbs weight
Lenovo Ideapad 320 – Cheap Gaming Notebook Under 500 dollars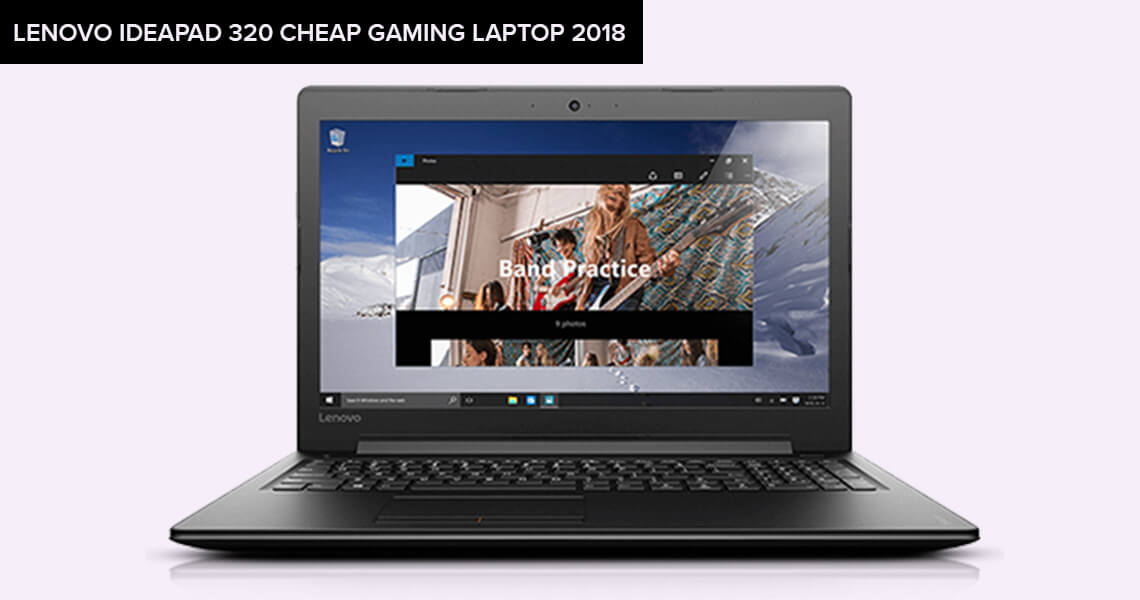 Next on our list of budgeted gaming laptops is Lenovo Ideapad 320 which is an interesting edition from the Ideapad series of laptops by Lenovo. This laptop is a good choice for everyday gamers as it comes with a blended features that is designed to fulfil the needs of gamers. It sports a 15.6-inch large HD display which is ideal for gaming, the anti-glare coating of Lenovo Ideapad 320 makes prolonged gaming experience no stressful to your eyes. This machine from Lenovo weighs only 4.8 pounds which is light in weight keeping in mind the output you get with the laptop.
Lenovo Ideapad 320 laptop is powered by an AMD A12-9720O processor logged at 2.7 GHz with a 12GB of RAM. It has 1TB of HDD storage enough to add collection of games on the laptop. Although, this cheap gaming laptop doesn't have a keyboard with backlit enabled, but it does come with munificently-spaced keys and a dedicated number pad, providing a comfortable typing experience.
Overall, it is one the premium best cheap laptop for gaming that you can buy under 500 dollars. Last but not least, it has a AMD Radeon R7 GPU installed making it go-to laptop to run graphic-intensive games. We were a bit concerned about the battery life of this laptop, as it stays alive for 4.55 hours only.
Here is the full specification of the Lenovo Ideapad 320 laptop:
Specification:
AMD A12-9729P with 2.7 GHz Quad-Core Processor
1TB HDD storage
12GB DDR4 RAM
AMD Radeon R7 Graphic card
15.6-Inch HD Anti-Glare Display
Windows 10
Up to 4.55 hours battery power
4.85 lbs light weight
Lenovo Ideapad 330 17" – Performance-Focused Cheap Gaming Laptop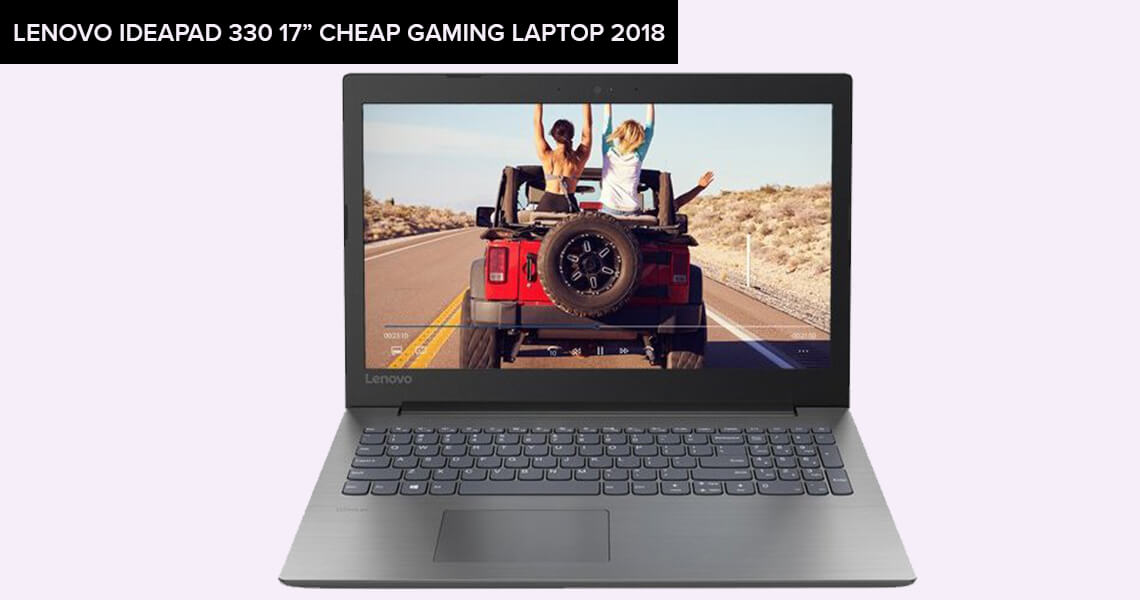 Last on our list of cheap gaming laptop under 500 is the new Lenovo Ideapad 330 series which is the best combination for both entertainment and gaming fanatics. Like the other Ideapad ranges, this laptop is designed with great bioengineering that offers incredible performance overall.
Lenovo Ideapad 330 is powered by an 8th Generation Core i5 processor with a 8GB of RAM. It has an extra slot for RAM, so you can increase the RAM up to 16GB to add more power to it. It comes with a 17.3-inch HD LED display (1600 x 900 pixels) which will sure be a bonus for gamers and binge watchers. Intel UHD 620 graphics card is installed in this laptop giving an edge to gamers to play high-resolution games. Overall, it is a fair deal to crack with a budget of $500, the specs are powerful and it can give you a good experience with majority of the games.
Specifications:
Intel Core i5-8250U with 1.6GHz Processor (Turbo up to 3.4GHz)
1TB Storage
RAM Capacity – 8GB, upgradable up to 16GB
Intel UHD Integrated Graphics 620
17.3-inch HD LED Display
Windows 10
5 Hours Battery time
6.1 lbs weight
So yeah! These are the cheapest gaming laptops you can consider buying if you have a $500 budget to spend. We had a few more options in mind, but we'd like to keep the list confined so to give you only the best of the best options to look at. Now as we'd received tons of request from our readers, we would be extending this article further to discuss some cheap gaming laptops under 300 and 200. So if you are looking for to buy a cheap laptop for gaming with a $300 or $200 budget at hand, then scroll down and look for more inexpensive gaming laptops that you can buy in 2018.
Cheap Gaming Laptops Under $300 & $200
The gaming industry has exponentially grown to a massive size already, and the fact is, you need to spend a fortune to build a high-end gaming laptop to run games with full graphical settings. Of course, not everyone can spend $100 to $2500 for a gaming laptop. Earlier in this article, we have covered a guide to inexpensive gaming laptops that fit a budget of 500-1000 dollars. Now as we know that a lot of the gamers have a budget of 300 or less to spend on a gaming machine, we thought up coming up with a comprehensive guide to cheap gaming laptop under 300 and 200 dollars.
But we need to understand the fact that these budgeted gaming laptops won't have the high specs required to play a graphic-intensive game. They will be good options to play older games on medium settings and newer games on very low graphical settings. 60fps at 1080p resolution is out of the equation at this budget, but to run day-to-day jobs and to use it for some light gaming, these laptops would provide sufficient performance overall. So let's go directly to our recommendation for best cheap gaming laptop under $300.
HP 15-BA009DX 15.6-inch
Lenovo IdeaPad 320 80XR00AGUS 15.6-inch
Lenovo IdeaPad 110-15 15.6-inch
ASUS VivoBook X540SA BPD0602V 15.6-inch
Acer Aspire ES1-572-31KW 15.6-inch
And in case, you want to further go down on budget and want to buy a best cheap laptop for gaming under 200 dollars, then here are a couple of options that you may consider checking:
Samsung Chromebook 3 XE500C13-K04US
ASUS Chromebook C202SA-YS02
Acer Aspire 1 A114-31-C4HH
Budgeted Gaming Laptops Are A Viable Option
One complaint we often get about affordable gaming laptops is that they cannot perform. Gamers feel they are compromising their game by going for the cheapest gaming laptop. However, we can say from our own experience, it is far from the truth. We have tested and played gazillions of games on each machine mentioned above and found them to be flawless in performance. It is just a myth created by marketing masterminds to make you believe that quality comes at an obnoxious price tag so you spend more on gaming gadgets. They are simply cashing your emotions.
Do you think any other gaming laptop deserves a slot in our list? Please mention in the comments section below.
Want to couple your gaming laptop with more powerful specs? Check our other guides to customize your gaming machine with mightily addons: