A Nutshell Story Of CyberGhost Review
Here is the summary of our CyberGhost VPN review in case you would like to quickly walk-through the service:
Client software platforms: Windows, Mac, Android, iOS
Natively supported platforms: Windows, Mac, Android, iOS, Linux, Chrome OS, DD-WRT, TomatoUSB
No. of servers: 2400+
No. of countries: 62+
Supported protocols: PPTP, L2TP/IPSec, OpenVPN
Country of registration: Romania
Real name necessary? No, and no email needed either
Payment options: Credit card, PayPal, Bitcoin
Data usage: Unlimited
Bandwidth usage: Unlimited
Encryption protocol: AES-256
Simultaneously connected devices: 7
Customer support: Emails & Live Chat
Privacy policy: No logs, no real names needed
CyberGhost VPN – An Overview
CyberGhost is a Romanian-based VPN that is currently undergoing some major transitions. Having been acquired by an Israeli- UK registered – company, Crossrider PLC, a company headquartered in Tel Aviv and based in the Isle of Man. Overall, the VPN service provider is a mid-range, easy-to-use and reliable service offering comprehensive yet impressive VPN services to more than 10 million reported users globally. There's a stripped-back free plan, 24/7 live support to resolve any tricky bits and a 30-day money-back guarantee for everything else. CyberGhost originally launched back in 2011 and was acquired in March 2017.
The provider boasts 2400+ servers across over 62 countries via a range of almost all the devices currently available in the market. The company headquartered in Romania means outside the "14-eyes" group of sharing signal-intelligence countries – UK-USA agreement. Situated outside the 14-eyes is beneficial when it comes to maintaining data logs, CyberGhost claims and follows no-logs policy religiously and being in Romania, further prove the transparency of the claim. Continue reading our CyberGhost review and you'll be amazed with the features they offer.
Why Should You Use CyberGhost – Unique Selling Propositions
The upgraded version of CyberGhost is well-known for its free but with certain restrictions, provides a much-improved of an already exciting yet innovative approach to experience the VPN. If you are looking for privacy as well as good speeds, then CyberGhost is a robust solution with zero-logging policy and the whole raft of privacy extras.
To acquire a notable position in the market, CyberGhost VPN started offering unlimited bandwidth, unlimited servers in most popular countries and 256-AES bit technology, so that nobody can sneak a peek into your cyber world. CyberGhost provides top-class, Germany-based software on your five devices simultaneously,  to protect your online privacy.
Other than mainstream features like; automatic Kill Switch, DNS and IP Leak Protection, and OpenVPN, L2TP-IPsec and PPTP protocols, that almost every other top-notch VPN provider is offering, CyberGhost offers something extra ghost effects.
This feature blocks all the unwanted ads by removing a part of the code which tries to pull an ad from a respective server. While it sounds similar to a browser extension, but it is different, because the processing happens on servers, means there is no processing on the client-side and the data transmitted to you would be less.It's something worth considering while using a PDA and/or connection.
Every other website on the Internet has built-in tracking mechanisms that help site owners to understand your behavior as a user, and then they adopt online content according to your attitude and thus boost their sales. Other than this, there are exclusive companies who are specialized in tracking and work for larger organizations. CyberGhost is engineered keeping this into consideration, this feature block online tracking and stops website's feature that contains tracking codes.
Say Goodbye to Malicious Content
While browsing, you come across so many threads containing viruses and imitate something you're familiar with; there aim just to get your personal information including credit card details. CyberGhost acts as a gatekeeper that verifies the URL of the website you request, to make sure it's safe for you and your system. The server checks against the public database to control your anonymity.
CyberGhost VPN for Netflix
Streaming US Netflix is one of the reasons why people use VPN services in the first place. CyberGhost managed to be the top VPN protection choice, and the company is investing extraordinary efforts to make it possible for users to stream US Netflix, Hulu, BBC and other streaming media centers. The company also developed a unique user profile for this purpose, known as Unblock Streaming. However, it's not easy for a VPN to bypass Netflix detection and blocking, for this we continuously conduct tests to check whether the popular service – CyberGhost VPN, still manages to unblock Netflix as promised, or not. Let's test it one more time:
In our last testing circuit of CyberGhost review, we were unable to connect, constantly receiving the proxy error – "You seem to be using an unblocker or proxy. Please turn off any of these services and try again"  we monitored the company a few weeks back, and we find CyberGhost VPN overrides Netflix proxy identification service but, with a steady connection. We can say that the team is working on their product and still trying to keep it up-to-speed all times.
Keep in mind that not all the servers are Netflix-friendly so, you need to be careful while unblocking US Netflix. To get it unblock go to "Unblock Streaming > Netflix," to make sure the use of right servers for the VPN connection. We hope that quite soon, we will inform you that CyberGhost is victorious and is working with Netflix.
This is not only with CyberGhost, it is an ongoing issue with many mainstream VPN providers, as streaming sites are getting better at detecting the IP addresses VPNs are using, and blocking them. So, this is the gray area when it comes to evaluation; it's not a huge back mark or a deal-breaking point for CyberGhost.
CyberGhost In China
China once again started banning VPNs, to prevent its citizens to gain unlimited access to censored content. CyberGhost VPN is very adamant as far as following the regional laws related to VPN censorship. For example; CyberGhost is not available in Saudi Arabia and UAE, it doesn't offer P2P file sharing in specific regions including China.
You can use CyberGhost in China, but at your own risk – the service provider is not responsible for your actions. Being a popular VPN with distinctive traffic, CyberGhost cannot forgo the Chinese anti-VPN systems' detection mechanism. Furthermore, the company does not guarantee 100% stable connection within China.
It's quite strange, but the most recommended encryption protocol – OpenVPN- is not suitable to use in China, you need to configure the VPN via the L2TP protocol manually. Although this is not the ideal scenario but, the best option to practice in the given circumstances. You can access sites like Google, Facebook, and Youtube. China is not a desirable yet unforgiving place to use a VPN and CyberGhost is trying hard to provide its Chinese users to fight censorship. If you're in China or planning to travel, keep in mind that you need to setup Cyberghost manually and above all at your OWN risk.
CyberGhost Special Features To Cater Your Online Needs
CyberGhost has all the features you need and expects from a VPN service- essential functions are simple and straightforward, in case you are new to VPN, and advanced features are for you if you are an expert VPN user. This VPN service makes your online presence more safe and secure while bypassing the geo-restriction that may be available for you. CyberGhost uses OpenVPN, L2TP-IPsec and PPTP protocols to ensure that third parties cannot wiretap your browsing to fiddle around with. With this VPN, not a single company can stalk you with ads and not even your network providers can invade your privacy.
Let's dive into the features, that you can use when connected to the CyberGhost.
CyberGhost VPN Geographically Diversified Servers
The number of servers with their geographical dispersion is one of the critical factors to consider while buying a VPN service. There are multiple reasons to prefer a VPN – bypassing geo-restrictions is one of them. A VPN with widespread of geographically scattered servers, lets you forgo the regional restrictions that you are exposed to while traveling in the cyber world.
The Europe-centric VPN has been extending the geographical reach to its server list over the past few months and now operates 1,315 connection points (servers) in 61 countries, with city-specific choice in more than 5 of the locations, including France, Switzerland, Germany, Canada, US, and the UK. That's a decent number with plenty of choice of selections. The US is covered coast-to-coast with a whopping of 217 servers to select from while Europe and Asia covered pretty well – a good range of locations across a large number of countries.
It's great to see more locations in Africa, but hopefully, these will go as their server network expands further. You can also suggest additional locations through a form on their site – this would be highly encouraged. However, it's nice to see more servers in Central and South America, including regions like Costa Rica, Argentina, and Brazil.
CyberGhost No-Spy Servers
CyberGhost started off a Crowdfunding campaign that resulted in no-spy servers. These servers are located in Romania on premises owned and managed by CyberGhost – no third-party involved in these servers. CyberGhost claims to be out of NSA reach, let's take it with a pinch of salt. If the NASA wants your data poorly, it's inevitable that it get it one way or another. However, having own server center means the data stored more securely. Since NASA has no legal purchase in Romania, sadly these No-spy servers seem original backers of the campaign.
CyberGhost VPN Encryption Protocols
Whenever the word VPN comes to mind, the first thing that swaps is the security, as the fundamental purpose of a VPN is online secrecy and privacy. Different VPN follows different methods to ensures your security and keep your data confidential. The most significant way is encryption, it's a sort of backup plan that secures your confidentiality.
CyberGhost provides AES-BIT encryption with a 2048-BIT RSA key and MD5 for HMAC authentication. Although this encryption is not the best, satisfactory, company has plans to upgrade to SHA-2 authentication shortly. The protocols supported by CyberGhost VPN are PPTP, L2TP, and OpenVPN. This VPN service primarily uses the OpenVPN to secure connection using the following settings;
Data channel: an AES-256-CBC cipher with SHA256 hash authentication.
Control channel: an AES-256 cipher, RSA-4096 key encryption, and SHA384 hash authentication.
Secrecy: ECDH-4096 key exchange.
Unlike other providers, CyberGhost does not use publicly available pre-shared key – PSKs – for L2TP connections. This is pretty cool. CyberGhost utilizes perfect forward secrecy – an additional security measure. CyberGhost review enlightens that this tool randomly develops a new private key with every login, this way your online history gets dissolved if your internet connection somehow compromised.
This VPN does not support SSTP, SSL or SSH protocols – these protocols are for those who have fastest internet connection – as these create a significant impact on your internet speed but, highly secured. These protocols can be barely decrypted by an unauthorized person. CyberGhost might not be the best option for you are a security-freak. However, it is an excellent alternative if you want security without compromising your internet speed. CyberGhost willingness, transparency and their engagement with the public about security and privacy issues are uncommon and highly appreciated among the users.
Caveat – Not a single VPN is 100% secure. Your web traffic is still somehow routing through a company and that company can go out of business or go rogue. If you are avoiding your American ISP – means you are merely replacing distrust of Charter or Comcast with the trust of a VPN. If you are a political activist and for trust is a life or death, you must be using something like Tor. This highlights Unique features of CyberGhost VPN, but the point is still the same – using a VPN does not instantly create security/privacy.
CyberGhost Zero-logging Policy Review
Many VPN service providers offer excellent package plans at an affordable price;  yet, they cannot be considered as feasible options in ensuring your privacy. Almost all the VPN providers advertise their no logging policy prominently on the front page, but sadly, just for the sake of marketing. To understand what's going on, we highly recommend you to spend some time browsing the company's small print.
The privacy policy of CyberGhost is better represented than most. It's long enough to detail useful information, but not so long that you will bother to give it a read. There are a handful of small sections, each described for your understanding. CyberGhost claims;
"Log data: CyberGhost keeps no logs which enable interference with your IP address, the moment or content of your data traffic. We make express reference to the fact that we do not record in logs communication contents or data regarding the accessed websites or the IP addresses.

CyberGhost VPN records exclusively for statistical purposes non-personal data (such as for example, data regarding the utilization degree of the servers), which do not represent in any moment a danger for your anonymity. Such serve exclusively for the improvement of the service quality."
The above key logging clauses suggest that CyberGhost logs no information to identify users. Is it 100% no logs? We believe it's close enough not be worth quibbling over. CyberGhost also publishes a transparency report – a platform to report all your cyber-security related incidents,  but it's nevertheless a reassuring show of dedication to openness. It further features a great insight into the issues, a large VPN company like CyberGhost must routinely deal with.
One more good news; you will also find how CyberGhost manages its accounts. It keeps payment details separate by using resellers, stored email addresses but aren't linked to user IDs and doesn't save any personal data. This doesn't only justify their no-logging claims, but also explaining how the system works and does the system does not require logging. Last year the VPN provider caused concern by issuing a root certificate -which is now removed from the software- and logging users' hardware ID. However, CyberGhost directly addressed these issues. They fixed them in following versions of their software. Although these incidents are nevertheless but worrying from a privacy perspective.
CyberGhost VPN Speed Tests Review
CyberGhost has invested in its server network: In our most recent test results we found huge improvement in download speeds, especially in the UK and Germany. Server results have shown an encouraging signs that means you can download multiple files, stream HD content and even level up your favorite multiplayer game, all without breaking a sweat.
| | |
| --- | --- |
| Feature | CyberGhost VPN |
| Average global DL Speed | 50.65 |
| Average global UL Speed | 29.13 |
| Ping Time | 2ms |
| Unlimited bandwidth | Yes |
| Average time to Connect | 9s |
Other than this we also tested CyberGhost in offices, homes and public places. It reliably connected on the first try and performed really well with an average latency of 54.4 milliseconds and connected in an average of 9.5 seconds, a pretty long wait. Whereas, the download speed of 65.8Mbps represented a drop of 23 percent from the 85.3-Mbps speed without any VPN service turned on, while the upload speed was 35.8 Mbps. (Only the browser-based Opera VPN did better, with a 14 percent slowdown; most others were between 30 and 35 percent.)
CyberGhost worked really well for everything we used it for, from checking unread email to watching the latest videos of Sean Spicer in the White. In our informal saturation test, CyberGhost simultaneously quickly played another video — BBC footage of a surfer — on an iPad Pro, delivered rich, skip-free music flawlessly.
CyberGhost Premium Package Plans
While toggling on the CyberGhost pricing page, you'll observe that there is only one package, affordable and simple to opt. There are, as usual with VPN providers, you will get a steep discounts if you opt for a longer term. The monthly plan is at $11.99 (GBP £8.61). Then there's a one-year plan that is at $5.99 (GBP £4.30) per month and a two-year plan at $3.50 (GBP £2.51) per month.
When it comes to VPN packages, CyberGhost VPN offers pretty average pricing plans, perhaps a little on the higher side.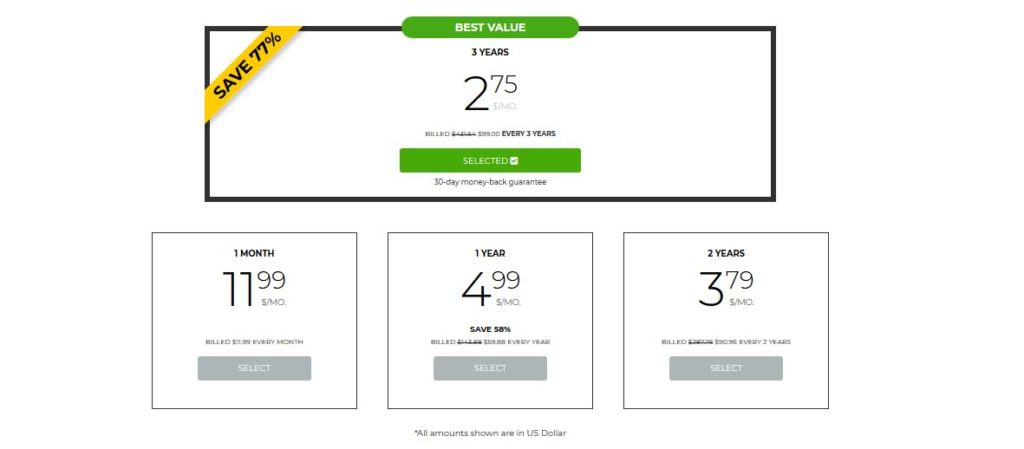 So, what else you can expect from these packages? CyberGhost plan enables you to cover up to five devices, and downloads are available for Windows, Mac, iOS, and Android.
Each plan, including the free plan, features with unlimited traffic and unlimited bandwidth. With all plans, you can utilize OpenVPN protocol with AES 256-BIT Encryption for the absolute anonymity and utmost security.
Note: You Can Take A 7 Day Test Drive Of CyberGhost Before Purchase
It's quite rare to find a free VPN that actually works. Of course, the free plan isn't nearly as reliable or feature-rich as a paid subscription, but it's a great for newcomers to test out a VPN service. CyberGhost allows you to secure your digital footprints, on all your favorite devices with no bucks at all for 7 days, but only available on a single Mac, Windows, or Android device. Speed is the only difference between the free and the premium paid plans – it's about five times faster with the paid subscription, although free speeds aren't that bad.

If you don't end up paying in the long run, you can continue under the protection of CyberGhost encrypted servers with unlimited data. But be aware that upgrades to premium services via mobile apps don't allow account management; for that, you'll have to purchase the subscription. There are two caveats to the free service, though: With CyberGhost your stream is sent to the least-used server of the moment and you are only allowed a set number of free riders at any particular time. This could mean that you'll have to wait for your turn, and your data might take a roundabout trip through the Ukraine.
CyberGhost VPN Payment Methods
Diversity in payment methods offered is the key security concern to explore while reviewing a VPN service provider. It is like providing convenient transaction options  to the users.
CyberGhost VPN has improved its payment options; now offers a wide range of payment methods. New users can subscribe to the service through credit/debit card, PayPal, or direct debit. Additional payment options are also available depending on your geographical presence. You can also pay via Bitcoin – a highly anonymous way. But keep in mind that no matter how anonymously you pay, CyberGhost will always know your real IP address.
Let's take a closer look;
"Please note that CyberGhost itself does not process any orders or payments. We work exclusively with resellers, namely Cleverbridge (cleverbridge AG, 2-4 Brabanter Str., 50674 Cologne, Germany) and/or Stripe and/or Paypal. Once you chose your selected way of payment and click "continue to payment", you will be directed to our third-party payment gateways domain."
Keep in mind that these services have their respective privacy policies. So, if you are concerned about being logged, carefully examine them. Note that Stripe and PayPal are both US companies, even the Bitpay – Bitcoin payments processing- is also US company. But if you have already anonymized your Bitcoin and pay via a VPN or Tor, this should not be a matter of concern.
CyberGhost 24/7 Customer Support
Other than an extended help section and how-to guides, CyberGhost VPN offers 24/7/365 live customer and tech support with native support for French and German. However, every VPN service provider brags about it; hence, we tried to contact customer service representatives. The query responded shortly yet with courtesy and resolved instantly. During our conversation, the representative calmly responded to every question asked rather than bragging about "why I should buy their service" like most VPN providers do.
CyberGhost Website Review
The company's distinctive Ghost logo is something that offers a friendly feel to its website. We always look for accessibilities, thanks to CyberGhost, for being in eight languages; access in your language and operate in your own terms. The website is loaded with information and related graphics, concise and comprehensive enough to understand each and everything, you might be looking for regarding your VPN needs. Have a look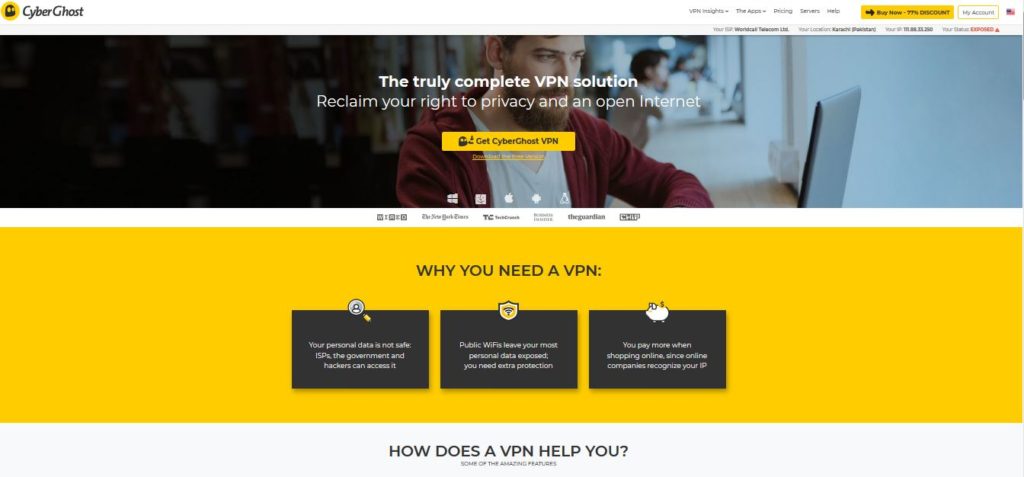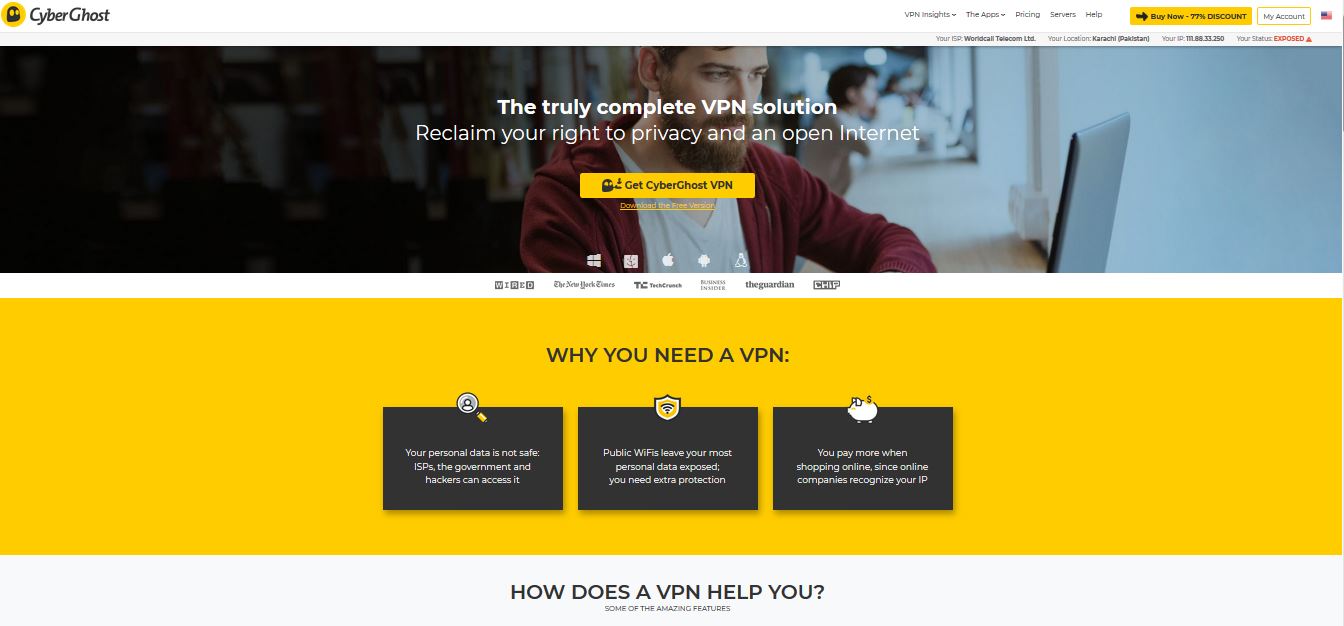 CyberGhost VPN Apps and Compatibility
Device compatibility the prime features that you consider before buying a VPN service. In a life where we are always one-the-go, we always look for things that are compatible with all the our favorite screens, so does about a VPN. Thanks to the CyberGhost,for being compatible with different devices such as PCs, Laptops, Smartphones and Tablets etc.
This allows you to use your VPN on different OS and platforms including Windows (2000, XP, 2007 and 2008 etc.), MacOS, Linux, Android and iOS and many other.
CyberGhost Review – The Process of Sign-Up
To sign-up for a CyberGhost account you just need to provide a valid email address and payment details. Once payment is done, you will receive a confirmation email with links to download software etc.
The best highlight of CyberGhost VPN is its intuitive user interface. It's beautifully laid out and very easy to navigate. Right from installing the client to connecting an IP address is easy yet simple. CyberGhost also asks you to select why you're using the VPN after logging in. Including options are;
Surf anonymously
Unblock streaming websites
Torrent anonymously
Protect my Internet/Wi-Fi connection
Unblock basic websites
This will helps CyberGhost to connect you to the IP address in the region best suited for your desired needs. Don't want to share your specific needs? You can also manually select the region and IP address you want to connect to.
CyberGhost for Windows
CyberGhost desktop interface is dark, ominous with a prominent white-and-yellow ghost logo that takes up about one-eighth of the screen and can be enlarged to the whole screen; while the size of the program's active elements will stay the same.
CyberGhost operates its Windows client around typical tasks you want to perform using the VPN. This is a clear and intuitive layout with six brightly colored rectangles presenting various options. You can select Surf Anonymously, Protect Wi-Fi and Unblock Basic Websites (Facebook, most-frequent censored sites and other major news website major news /s) in the free plan, while rest would be accessible in the paid plans.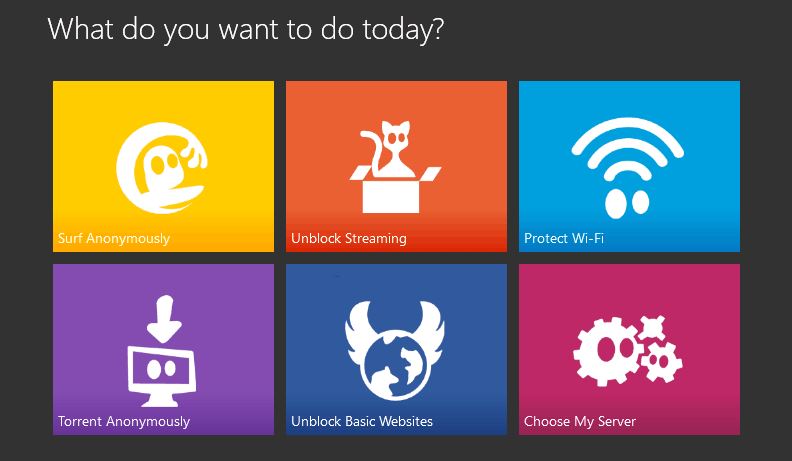 Selecting Surf Anonymously will let you to choose your server's location from a dropdown list of countries. In case, you don't make a choice, it will choose a server for you. Before hitting that though, you can also enable or disable (mostly are enabled by default) a list of features including Block Online Tracking and Extra Speed.
Whereas, clicking the Ghost Downloads tab, brings up various features that you might want while torrenting.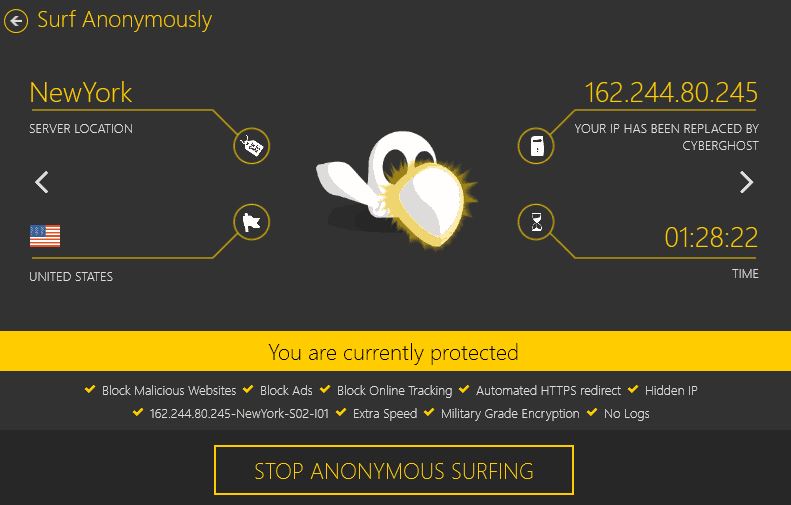 As you start surfing, the dashboard will show you your server location, your replacement IP, and connected time.
Want more choice to server location? CyberGhost let's you choose your precise server location by clicking Choose My Server in the main dashboard. Find user load, torrent capability, and ping latency (indicates speed – lower being faster) under that mode. You can also choose to view list of servers as per the given criteria, including most empty and fastest. Apply the additional features, such as ad blocking and data compression, within the same mode. Find additional options in the Extra Features.
In the Unblock Streaming tab, you will find the lists various streaming services that CyberGhost claims to work with. Some need subscription while others are free, we tested some of them and indeed work as advertised. Beneath each one, you can find the default server that is used to access it. Like Amazon Prime and YouTube have multiple server options in the dropdown for you to choose from. Additional modes include Unblock Basic Websites (such as Google, Facebook, and Wikileaks), Torrent Anonymously, and Protect Wi-Fi. Visit the Settings tab in the top right corner of the dashboard, to configure more advanced features, like; startup behavior, connections, and WiFi protection,.
Don't worry! Closing the dashboard won't disconnect the CyberGhost – it will continue to run in the system tray. Right click and access, the mini display, showing your server location, IP and session duration. Click to disconnect or switch to a recently selected service, within the same mini dashboard. The Ghost Pro tab is simply a more traditional list of servers with User Load and Ping rates. This information is helpful for having a fast VPN server.
A kill switch is not mentioned within the client, but was informed by staff that an automatic one is there.  It means the window client detects if a VPN connection dropped before disconnecting the VPN, or uses its own firewall rules rather than Windows'. The second option is ideal, means that when you closed the CyberGhost VPN client in Task manager, your internet still worked. Overall, the windows client looks good, feature-rich, easy to use, and works really well.
Cyberghost for Mac
The Mac client looks slightly different to the Windows client, and is not organized around "typical tasks." It instead uses the traditional format of just pick a country and/or server and hit "Start" button. This means there is a less hand-holding than with the Windows client.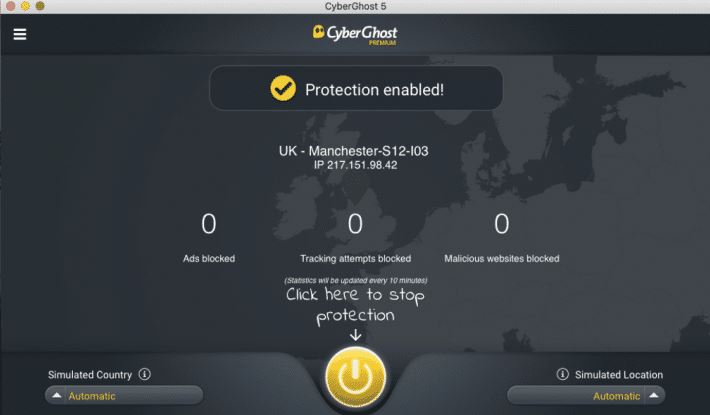 WiFi protection and split tunneling options are missing from the Mac client. But you can exempt websites.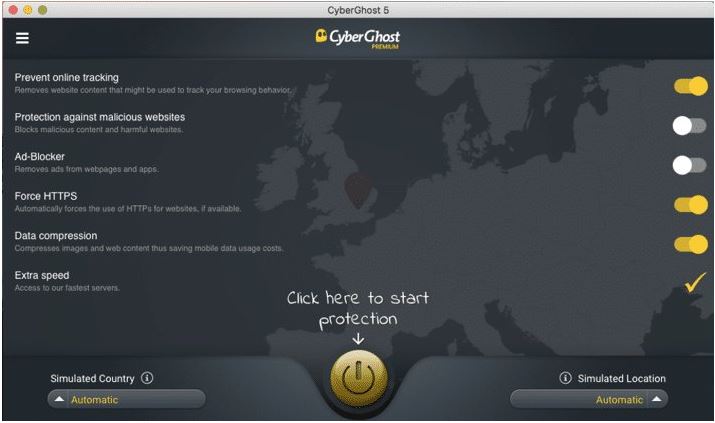 CyberGhost client for Mac is sleek shares similar aesthetics and functionality as the Windows client. You will find the server list located at the bottom left corner of the interface. Select the server and hit the Power button to connect CyberGhost with the desired location. Noticeably Mac is comparatively lighter and offers smooth functionality.
Although, it's a bit of a shame that the macOS client is not as features-loaded as the Windows client, but it is still has all those features that custom client from other providers.
CyberGhost for Mobile
As mentioned is CyberGhost is available for both iOS and Android. The mobile app, looks quite a bit different from the desktop version at first glance. It opens with a slideshow of options, from Secure Wi-Fi, moving onto Surf Anonymously, Secure Streaming, and finally Choose My Server. Click the menu button at the top left corner for further navigation and support.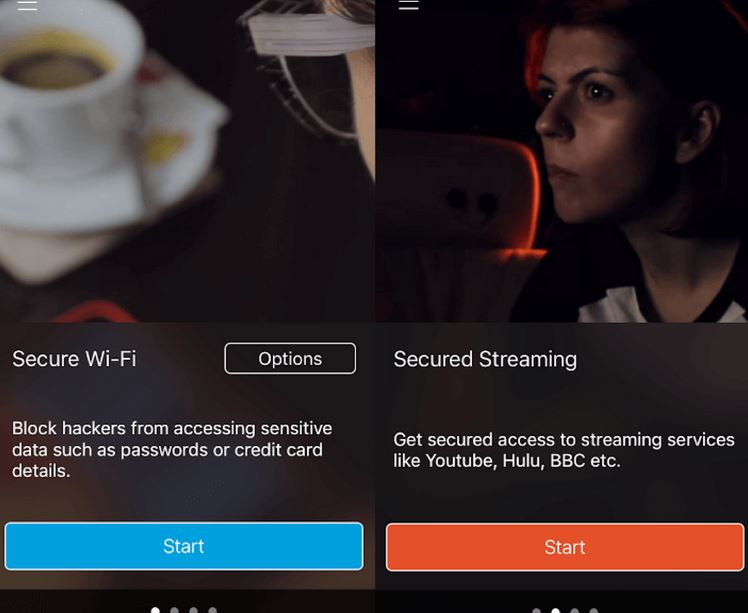 However, your options are much the same as they appear in the desktop version. The only real difference between the desktop and mobile apps (within Surf Anonymously and Choose My Server) is that you get to choose the exact server to use. Both offer additional features such as ad blocking, servers selection or you're allocated by default (if you decide not to choose).
Overall, CyberGhost VPN apps are intuitive, well-designed, responsive, sleek, and yes, easy to navigate. You will not be bogged down with a ton of options. When you first install the app in your respective PDA, you are offered a 7-day free trial, after it reverts to the Free plan unless you upgrade. The app does not requires any special permissions while installation, which is quite welcome. We detected no IP leaks while using both the apps. Let's test both the apps:
CyberGhost for Android
We reviewed and tested CyberGhost's Android client and its different functions. From the initial interface, you feel that it is a premium VPN service that offers highest quality services. You will find the layout, color, design, scheme, and overall user interface, quite refreshing.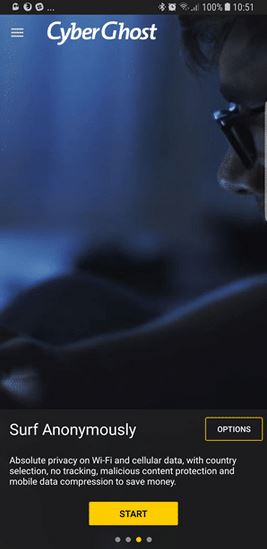 As far as the performance is concerned, the VPN app delivered reliable speeds topped with good security measures. Similarly, CyberGhost for Android TV Box offers the same exceptional performance as well. Use its app or configure manually to unblock your favorite website on your Android TV box.
CyberGhost For iOS
CyberGhost apps for iPhone and iPad are sleek, light, well designed, and smooth in action. The layout of the app is similar to that of Android. We were pleased with its phenomenal performance on iOS devices. CyberGhost did not slash compromise our internet speeds when we connected to their UK based server.
CyberGhost Other Platforms Review
CyberGhost offers customized apps for Windows, MacOS, iPhone, and Android, provided with guides for manually setting up OpenVPN and L2TP/IPsec connections. Furthermore, Cyberghost VPN is also compatible with Linux, various routers, and Chrome OS, and currently offers free proxy browser add-ons for Firefox and Chrome.
CyberGhost For Browser Add-ons
The free browser proxy add-ons is identical for both Chrome and Firefox, allowing you to connect to servers in  Netherlands, Germany, Romania, and the United States.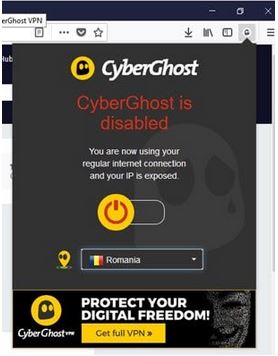 Proxy connections are encrypted using HTTPS. Cyberghost claims that these add-ons do not provide protection from WebRTC leaks, but we didn't detect any such leaks, anyway.
CyberGhost Review for Ubuntu
Amongst the long list of device compatibility, CyberGhost for Ubuntu offers a step-by-step guide. Simply sign up, download the configuration files for Linux and follow the setup guide and install CyberGhost in an instant. The VPN service performed quite well on Ubuntu, but with variable speed performances on certain servers. For instance, the UK server dropped down internet speeds up to forty percent.
CyberGhost Review for Kodi
Kodi is all about unlimited streaming content. You can watch latest movies, shows, anime, cartoons, documentaries, and even live television. It powers such content through add-ons. Kodi has everything for everyone. However, the worst part of Kodi is that certain add-ons are geo-restricted – like, NBC and ABC are only accessible in the United States. Therefore, to evade these restrictions, you need a Kodi VPN and CyberGhost is one of the best VPN to work with Kodi. Similarly, you can also bypass internet censorship placed on Kodi.
CyberGhost VPN offers tutorials or virtual guides for all the compatible platforms, just like other VPN service providers. To interact and share your concerns CyberGhost VPN also operates an official forum – Isn't an innovative approach to engage consumers on board. As you post your queries on such forums, the concerned personnel eventually comes to rescue. In fact, if you looking for tutorials to configure VPN manually, CyberGhost will furnish them as well via their official forum.
Does CyberGhost VPN Offer Dedicated P2P Servers?
Torrents have always been a source of controversy, but this doesn't  deserve a fully bad reputation. Although this is the best means of distributing illegal content such as copyright-protected music or movies, peer-to-peer file sharing.
Using torrents – or better to say, downloading files through torrents – is illegal in some countries. If not, their use is logged. At worst: ISPs throttle Internet speed when heavy torrent use is detected. Furthermore, they may choose to block certain torrent platforms. To avoid such unjustified warnings, it is highly recommended to use a good VPN for torrenting.
However, not all VPNs allows torrenting; many blocks VPN traffic, while others close user accounts in case they suspect of P2P file sharing. This also nullifies their fake promise of not monitoring the users' traffic, such VPN providers actually do, otherwise how would they know the websites, users are accessing?
If you're a Torrent lover, look for the following before investing into a right VPN, luckily CyberGhost wins this battle.
The VPN should have servers in countries where torrent file sharing is legal
It should have special servers that support P2P protocols
It should hold a no-log policy strictly
It should offer unlimited bandwidth
It should have larger servers base, to switch servers easily when some become too crowded.
Does Cyberghost Offer Gaming VPN?
There are many ways in which a VPN can improve passion for online gaming; CyberGhost can boost your gameplay more than you probably imagined. How? Have a look.
CyberGhost VPN offers;
DDoS-protected Servers – to forgo DDoS attacks while playing online games
High Internet Speed – lower your ping rate and play DOTA, LOL, CS or any other game to enhance gaming experience.
Anonymous Payment option –  by a new game or a token without the fear of any cyber fraud.
Hides Real IP – kick -off identity thefts scams and create accounts on gaming platforms such as Battle.net, Origin, Steam, etc. Get in touch with other aficionados without being trapped by trolls.
WiFi Encryption – now play your favorite game while on the go, forget the vulnerability of public Wifi.
CyberGhost Review – A Failed Attempt…
We didn't expect front-line support member to be technological whizz-kids, so did not mind when he referred a technical questions to be answered later via email. We received a response after a day and that was utterly failed to address the detailed question about the use of OpenVPN encryption. CyberGhost support page is there to help you in the form of guides, troubleshooting pages, and FAQs.
Conclusion of CyberGhost Review
After a detailed analysis of CyberGhost and its package plans, Conclusively, CyberGhost serves as an excellent alternative for those who are in a hurry to get started. Unlike other VPN providers, it offers free VPN to its users without any limitations on usage, although the performance may be the best, but reliable enough to safely work the web from your home, office or on the go. We'd recommend opting for one of the three paid subscriptions. The premium plans are not only much faster, but they also offer a more extensive range of features and customizations
CyberGhost is a good option with easy-to-use yet feature-rich software. It uses strong encryption and offers five simultaneous connections – which is pretty generous. Being based in Romania and keeping (almost) no logs is also a big draw. It has geo-diversified servers to provide you with anonymous surfing, unblocked streaming, and anonymous torrenting. This provider also boasts strong security, DNS and IPv6 leak protection, and an automatic kill switch.
Take the Cyberghost free version for a spin and experience for yourself.