Our worst nightmare has now become a reality. It aches our heart to tell you this, but as of now, as of today…EXTRATORRENT IS NO MORE! ExtraTorrent has been permanently shut down. If you are still in a state of disbelief try to visit ExtraTorrent's website and see for yourself. You will be welcomed with this message:

It's hard to believe but ExtraTorrent has joined the names of the fallen martyrs in the torrenting world. It has met the same fate as Torrentz.eu and Kickass Torrents. We bid farewell to the second biggest player in the torrent world: ExtraTorrent.
All the alternate mirrors for ExtraTorrent have gone down and have been permanently set to offline mode. The message clearly communicates that all the data that ExtraTorrent hosted on its servers is now erased and warning its users to stay away from any clone that'll emerge online as it'll not be from the original group.
The suspicion and rumours already started circulating when 2 days ago, ExtraTorrent went down and gave a Cloudflare notification error: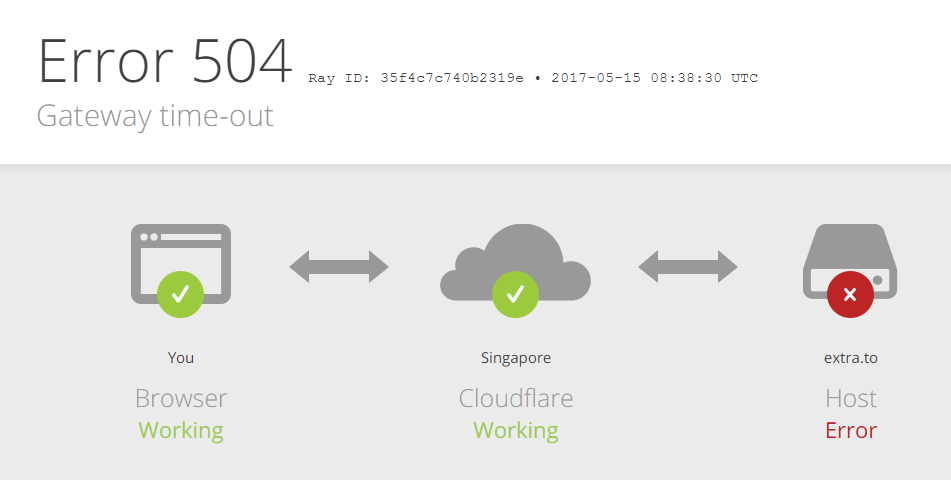 Which we later confirmed from Is It Down Right Now that the outage was just a server issue and ExtraTorrent was up after some hours.

*This snapshot is taken at the time this news is published. The status might differ if you try to check the same in future.
But from then, there were speculations that 'something's definitely not right' and today the worst nightmares of every torrenteer came true as ExtraTorrent permanently shuts down its operations.
A Brief History Of ExtraTorrent
ExtraTorrent was launched in 2006 when there were few torrenting websites out there. ExtraTorrent quickly gained a good reputation because of its distinct user interface and user friendliness.
As of 2016, it was the second largest torrent website in the world, just preceding The Pirate Bay. But due to its reputation and millions of downloads every day, it became a big and prominent target for anti-piracy institutions and huge media groups.
It's still ambiguous as to what was the actual reason that the website went down, but it's not very difficult to guess that the legal concerns surrounding the matter could be that last nail in the coffin.
Representatives from TorrentFreak got in touch with the official moderator of Extratorrent and here's what he communicated with them:
"ExtraTorrent's release group ETRG is gone now. Ettv and Ethd could remain operational if they get enough donations to sustain the expenses and if they people handling it ready to keep going,"
But, Stay Strong Torrenteers, There's Still Hope – Extra Torrent Alternatives Are Here
We are sure that as the time passes and news regarding ExtraTorrent will spread, you'll see hundreds of ExtraTorrent Alternatives or clones appearing on the web. But, beware as these alternatives would mostly be a farce and could infect your system with malware or frustrate you by showing unwanted pop-ups and advertisements.
Also Read: DropBox Alternatives
So, here are some famous, legitimate and trustworthy ExtraTorrent Alternatives from where you can download torrents easily:
1- RARBG – A Much Organized Torrent Website
RARBG is a pretty popular torrent website and famous for the organized content it hosts on its platform. You can instantly download torrents from here in the meantime. But beware that RARBG is blocked in countries like Saudia Arabia, UK, Denmark, Portugal, Ireland and many other countries. Although it has limited access, but, nonetheless a great Extra Torrent alternative.
2 – YTS.AG – A Decent Torrent Website
YTS which is mostly mistaken as the original YIFY or YTS torrent website (famous for hosting HD video content) is not actually linked with the original website in anyway but a reasonable clone to the original one and would suffice the needs of an average torrent downloader. It has quickly gained a good reputation among the torrent users mostly because of the brand association of YIFY that goes into the color scheme, logo and website look. It's also a good Extratorrent alternative to consider.
3- ThePirateBay – The Best ExtraTorrent Alternative
Hands Down, ThePirateBay is the biggest name when the name of "Torrent" comes in our mind. It is the most popular torrent website in the world right now, with millions of downloads taking place in a day. It is by far the best Extratorrent.cc alternative in our opinion.
4- EZTV.AG – A Basic ExtraTorrent Alternative
EZTV, is another good ExtraTorrent alternative that shows you a huge list of torrents that are available for downloads and a pretty basic interface that informs you at a glance about the health and file size of a torrent. It's one of the oldest torrent websites on the web with a very dodgy history. But nonetheless a good ExtraTorrent alternative.
So, What's Next? Any Chances ExtraTorrent.cc Coming Back Online Again?
Well, as of now, no. And it's been clearly communicated that if now any ExtraTorrent lookalike website surfaces the web, it'll not be from the official ExtraTorrent group. Till then, you have the Extratorrent alternatives that'll serve as a good alternate for your torrenting needs.
Moreover, if you want to anonymize your torrent downloads or would like to access torrent websites blocked in your region, you can always go with a decent torrent VPN services to aid you through the process.