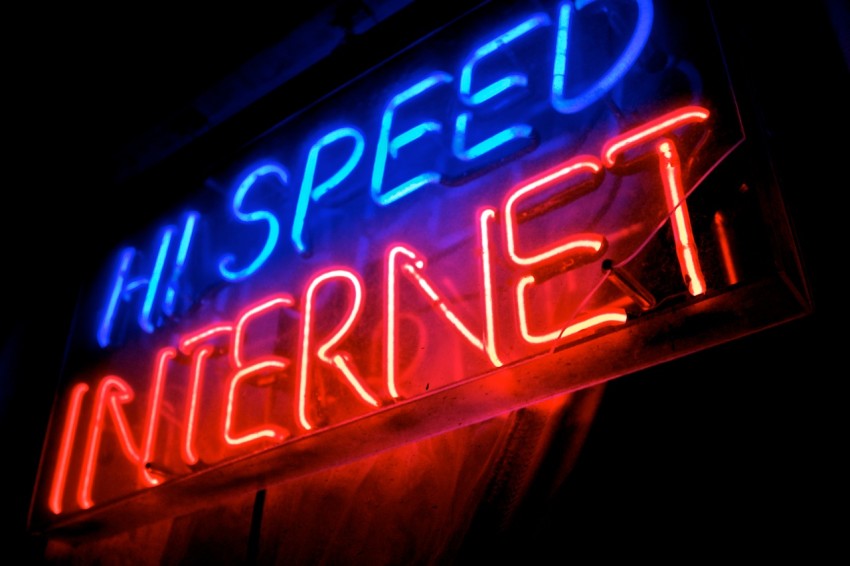 Everyone wants to keep their browsing activity safe and secure, but not at the expense of compromising on speed, right? This is where a fastest VPN service comes in. But why there's a need for a fast VPN, don't you trust your Internet provider? This WHY has multiple answers, but the best to quote here is that VPN slows down the internet, seriously? Yes, depends on the VPN you're using. People all around the world use VPN services not only for their security but for various other entertainment purposes like streaming and downloading torrents. They look for the fastest VPN which not only keeps their browsing activity safe but also let them be the fastest on the radar.
VPNs' contribution to reclaiming Internet freedom and privacy is beyond skies, but the speed concerns that come with the VPN usage, cannot be ignored. So, what you want, online protection or fastest browsing that may end up ransomware payments for the rest of your life? Or both the things in one go? We have a list of fastest VPN services that won't disturb your anonymity, but before that let's enlighten why VPN technology ends up slow down the internet connection.
VPN uses robust protocols to safeguard netizens' activity from snoopers and hackers with the help of military-grade encryption packets which causes a slight, or sometimes a visible reduction in your Internet speed. But does that mean using a VPN will compromise your connection speed? Not necessary! Though the speed of a VPN always depends on individuals' usage, it can be an essential element to help you decide which one to buy. That is where your search for the fastest VPN service or high-speed VPNs starts. However, you need to be selective while choosing a fast VPN as it involves various factors that influence the speed of the connection.
Our Top Picks For Fastest VPN in 2018 – Speed Comes First
When it comes to speed, keep one thing in mind that a VPN puts merely a different license plate on your data carload in the flow of traffic. The best VPNs doesn't slow you down by much. However, sometimes you have to weigh security against speed, and all the VPN providers rely on the underlying upload and download speeds that your ISP allows.
All that being said, some VPNs are still faster than others. During the process, we've tested over 45 VPN service providers to share our findings with you. Below you will find the top five fastest VPNs that offer feature-rich experience packed with the high speed. For sure, speed is one of the crucial things we look for before purchasing a VPN, especially when every other provider claims to be the fastest, so consider these providers who managed to cut our speed tests; you can thank us later!
Rank
Provider
Price
Details

1

ExpressVPN

Recommended

Exclusive 48% Discount

2

NordVPN

You Save 72%

3

CyberGhost VPN

Save 79% on 3 Years Plan

4

IPVanish

You Will Save 46% On Yearly Plan

5

HideMyAss

You Save 43%
What Causes Slow VPN Speed And How A Fast VPN Can Help?
Since we all know the great benefits attached to VPN technology, it is also imperative to understand why our internet speed throttles when we connect to a VPN. A VPN is designed with consideration to protect our identity from hackers and allow us to access the geo-restricted content on the web. To do this, it adds highly encrypted protocols and other security mechanisms to make the technology efficient, and a right fit for netizens.
However, VPN speed is significantly influenced by a variety of factors including your Internet connection, VPN protocol you choose, and the device you are connected to. All these major factors result in speed undulation and interruptions while you connect a VPN on your PC or mobile device. However, with a few optimization techniques, you can turn your VPN into a fast VPN connection in less than 60 seconds. We will discuss this later how you can optimize your VPN connection for optimum speed. But first let see how we have analyzed VPN services to picked the fastest VPN.
What Is The Fastest VPN?
We always advise our readers to take speed tests with a grain of salt; too many factors are at play but believe me there's no such thing as the "fastest VPN," no matter how many companies claim. While reviewing VPNs, we test the internet speed using different tools that measure three essential elements; latency, download speeds, and upload speeds. We compare VPNs, keeping these three areas into mind.
In short, latency is a time between a request sends and the response receives; it's often called ping time. Factor that affects latency includes; the distance your request travels. It's important when playing video games with a VPN, lower the latency, more responsive the experience will, with less lag. Download and upload speeds measure the amount of data is moved over your internet connection. These are measured in Megabits per second (Mbps); it shows the data runs through a network in a given frame of time. The more, the better. Simple.
We can go into the greater explanation about these three metrics but what matters to you, is important. We assume that most of you are content consumers and are more inclined towards reading the news, using BitTorrent, streaming movies, or listening to music to pull down the data more or less continuously. With that in mind, we're anchoring on download speeds as the dominant benchmark. So, when we say "fastest VPN,", we mean, those that have the least impact on download speeds. In case it doesn't apply to you, we've also the top performers in the other two categories.
The Process Of Choosing Fast VPN Service
To perform our fastest VPN speed test, experts at ReviewsDir have carefully taken a lot of essential factors into account. This includes setting up uniform criteria where each VPN service fighting for the spot in the fastest VPN service list will go through rigorous tests. Since VPN speed issues have a lot to contribute with the location, we have tested our fast VPN performance test from all the seven continents; America, Europe, Asia, and Africa.
Criteria For Our Fast VPN Test
We have split our fastest VPN speed test into two parts; without a VPN connection and with a VPN. We will be testing VPN speeds from a US connection with a stable Internet connection. With VPN, we have chosen to connect to a location that is far from the United States, let's pick the UK. It is important to understand that VPN speed is directly related to the distance of the connection. As the distance increases, chances are there that you might report slower VPN connection speed.
We have also taken into consideration the use of VPN protocols in our fastest VPN trial. All the testing are on PPTP and L2TP connection as they are designed to yield fast VPN performance to the end users. All the high-speed VPN tests are carried out using Speedtest.net, a service that is used by almost everyone to test their internet connection. Below are the baseline speed of our Internet connection without a VPN:
Download speed: 45.45 Mbps
Upload speed: 14.76 Mbps
Ping: 30ms
Test Results Of High Speed VPNs
We have tested dozens of VPN providers in our quest to find the most reliable and fast secure VPNs. During our test, we found that a lot of VPN services falls short on the minimum speed benchmark requirements we have set. Hence we excluded them from our fastest VPN list. This doesn't mean that those VPNs are not good, but we aim to rank the ones that give top-notch VPN speed on the grounds of many factors. Below are the top 5 fast VPN providers that secured the position in our list of high-speed VPNs to use in 2018.
1. ExpressVPN – Undoubtedly The Fastest VPN Service Out There
ExpressVPN outranks quite a many VPN providers as it is well known for its overall remarkable performance. ExpressVPN speed is its unique selling proposition and it has one of the fastest VPN networks in the world. It comes handy both in delivering top speed and military-grade security. Having a wide range of servers located in 87 countries, ExpressVPN has this added advantage over its competitors. Although they don't offer VPN free trial, their 30-day money back guarantee is superlative to all. It gives you enough time to use ExpressVPN for varied uses, hence to get satisfied with the performance. It also offers attractive features like the Zero-logging policy, unmetered bandwidth, multi logins, and unlimited switches that are considered as bliss for any VPN user. Below is the VPN speed test result for ExpressVPN, with and without a VPN connection.
| Without a VPN Connection | With a VPN Connection |
| --- | --- |
| Location we tested from: United States | ExpressVPN server location: United Kingdom |
| Download speed: 45.45 Mbps | Protocol selected: PPTP |
| Upload speed: 14.76 Mbps | Download speed: 41.05 Mbps |
| Ping: 30ms | Upload speed: 11.16 Mbps |
| | Ping: 25ms |
Our Findings: During our VPN speed test, we have switched in between different ExpressVPN servers to determine the latency; however, UK was the one we tested several times. We noticed that despite choosing a distant location, ExpressVPN servers manage to deliver fast VPN speed, and the drop was not more than 15%, which is normal. Also, we didn't experience any connection interruption throughout the test phase. It clearly states that ExpressVPN's server are smartly optimized to give best streaming experience for Netflix, Hulu, HBO, BBC iPlayer and other media websites.
Note: These tests are conducted during different hours of the day and tested the VPN speed on multiple servers. The final results are based on the server far from the original location to get the best result.
Pros:
Speediest VPN of the industry
Smooth app interface
Proactive 24/7 Customer Care
Offers 30-day money back guarantee
Cons:
A bit pricier than the competition
GET FASTEST VPN SERVICE FROM EXPRESSVPN TODAY
2. NordVPN – A Fast VPN Service That Doesn't Bog Down Speed
NordVPN is one of those service providers that not only focus on security but super-fast VPN experience also. Within a short span of time, it has managed to come in the limelight and have been praised by many experts and got featured on highly-reputable websites like PCMag, Forbes, and The Huffington Post. With over 550 servers plotted in 49 counties, NordVPN easily made its way to our fastest VPN service list. Their servers are capable of bypassing intense geo-restriction with high-speed VPN experience. We had the chance to get help from their support team, and they set a new benchmark of proactive customer services experience. And yes, 30-day money back guarantee is another thing that is much of a consideration when you are in search for a fast VPN service, and they have it!
| Without a VPN Connection | With a VPN Connection |
| --- | --- |
| Location we tested from: United States | NordVPN server location: United Kingdom |
| Download speed: 45.45 Mbps | Protocol selected: L2TP |
| Upload speed: 14.76 Mbps | Download speed: 35.55 Mbps |
| Ping: 30ms | Upload speed: 8.06 Mbps |
| | Ping: 20ms |
Our Findings: NordVPN connection is pretty stable, and we didn't experience any VPN lag during the test. Their speed is quite impressive, and we recorded very less drop when we connect to their fastest VPN servers.
Pros:
Offers Double VPN Feature
Fast VPN Connection speed
Offers 30-day money back guarantee
Fastest VPN servers, but light on pocket
Cons:
Experienced some performance fluctuations
Kill Switch didn't performed well in initial tests
GET NORD VPN TODAY AND CONNECT TO HIGH-SPEED VPN CONNECTION
3. CyberGhost VPN – Browse Anonymously With This Speedy VPN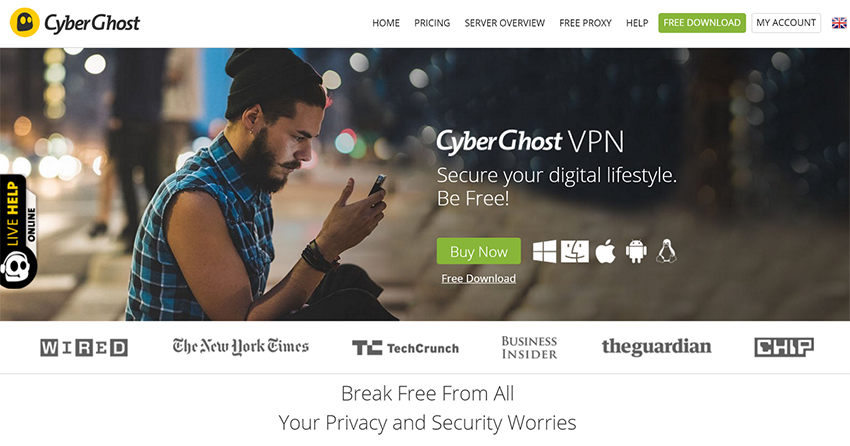 CyberGhost, Romanian-based VPN that stands out as a free service without any restrictions. While reviewing Cyberghost VPN, we found that the service is transparent with no hidden agendas of keeping logs or information. The company offers 1319+ servers across 61 countries; isn't the network is larger enough to fulfill all our streaming needs. The company has secured its position in the VPN industry recently, with its feature-rich yet easy-to-use software, AES 256-BIT Encryption protocols and offers seven simultaneous connection.
Pricing plans start from a reasonable $2.75/month topped up with a 30-day "no questions asked" money back guarantee; isn't the best service meeting all the VPN benchmarks.
CyberGhost's popular free tier might not be amazing at speeds, but the paid Pro tier is phenomenal. It proved to be quick and consistent in our speed tests, scroll down. Want more? You can boost your speed with its "extra speed" feature; toggled before you connect. Use and setup are novice-friendly, and live chat is also available if you need a hand.
| Without a VPN Connection | With a VPN Connection |
| --- | --- |
| Location: United States | Server Location: United States |
| Download Speed: 28.98Mbps | Download Speed: 26.27 Mbps |
| Upload Speed: 4.80 Mbps | Upload Speed: 4.40 Mbps |
| Ping: 30ms | Ping: 44ms |
Pros:
1300+ Fast VPN servers
Offer anonymous payment options
Simultaneous Connection
Unlimited Bandwidth and Traffic
Cons:
Some performance concerns
A bit expensive – monthly plan
GET CYBERGHOST FASTEST VPN AND BROWSE ANONYMOUSLY WITH TOP SPEED
4. IPVanish VPN – The Fastest VPN For Your Torrenting & Streaming Needs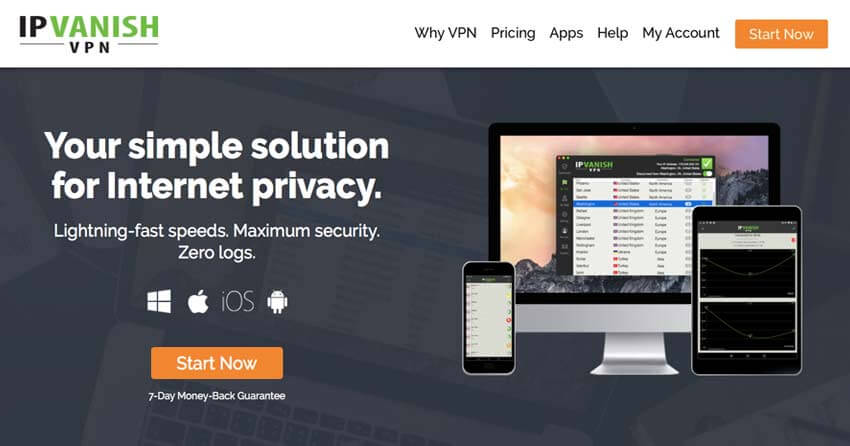 IPVanish is one of the very best and reliable VPN service providers with an extensive range of VPN servers in more than 60 countries. The wide range of server availability (more than 500 servers) makes their credibility stronger to be in the fastest VPN service provider list. IPVanish is also known as a Tier-1 VPN provider with all the required and advanced VPN features to offer. As a fast VPN option, it offers unlimited bandwidth that is best for all streaming lovers and other netizens. Not only this, but IPVanish has some remarkable features like KillSwitch, unlimited server switching and automatic IP-scrambler that makes a fast VPN connection. With IPVanish you can get your money back within 7 days in case you are not fully satisfied with their fast VPN connection. Here is the VPN speed test result for IPVanish:
| Without a VPN Connection | With a VPN Connection |
| --- | --- |
| Location we tested from: United States | IPVanish server location: United Kingdom |
| Download speed: 45.45 Mbps | Protocol selected: PPTP |
| Upload speed: 14.76 Mbps | Download speed: 39.55 Mbps |
| Ping: 30ms | Upload speed: 10.00 Mbps |
| | Ping: 23ms |
Our Findings: During our VPN speed test, we found IPVanish connection a pretty stable one. With the fastest VPN connection tested on UK server, we have experienced uninterrupted sessions on Netflix and Hulu. There was a slight drop of 18-20% in the overall speed which is normal. The best part which we noticed in our high-speed VPN test is that their servers not only deliver speed but are fully encrypted too, which is great for anyone looking for a combo of speed + security.
Pros:
Fastest VPN For seamless torrenting
A firm no log policy
Speediest VPN for Kodi
Cons:
Doesn't offer Live chat support
Had a hard time streaming Netflix
CONNECT TO IPVANISH FAST VPN SERVER AND ENJOY UNINTERRUPTED STREAMING
5. HideMyAss – A VPN With Fast Speeds & Great Reputation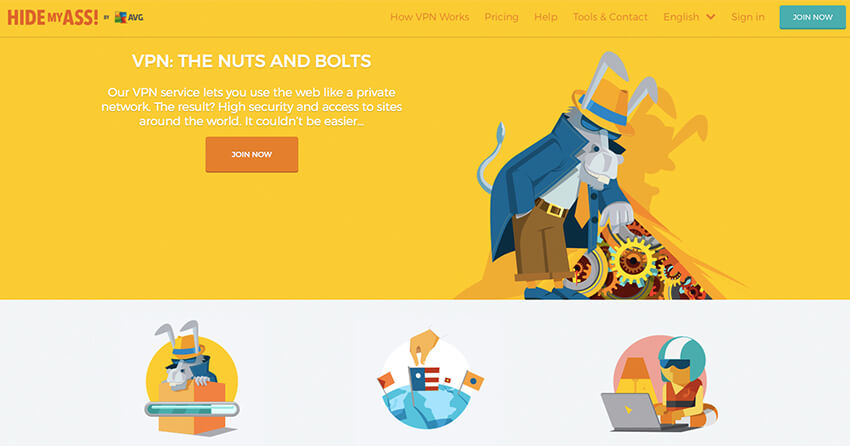 Being in the industry for long, HideMyAss needs no introduction. It is unfair not to include them in our fastest VPN speed test, and with no surprise, they made it to the list! HideMyAss offers a wide range of servers in over 190 countries (I'm sure they will have all 196 soon) with over 930 VPN servers. Their fast VPN servers are optimized in a way to deliver top speed to cater all type of VPN needs. HIdeMyAss works on all the internet-connected devices and also offer simultaneous connectivity packed with high-speed VPN connection.
HideMyAss VPN is easy to use and you don't need any technical knowledge to operate their VPN connection. 30-day money back guarantee is also an advantage as they promise to give you money back if you are satisfied with their service. Here are the VPN speed results we gathered during the test:
| Without a VPN Connection | With a VPN Connection |
| --- | --- |
| Location we tested from: United States | HideMyAss server location: United Kingdom |
| Download speed: 45.45 Mbps | Protocol selected: L2TP |
| Upload speed: 14.76 Mbps | Download speed: 42.05 Mbps |
| Ping: 30ms | Upload speed: 12.16 Mbps |
| | Ping: 27ms |
Our Findings: During the test we found HMA delivering a pretty decent volume of speed. However, we noticed a bit of throttling and interruptions in the connection. Overall, the fast VPN test was fine, and we didn't experience much downstream. We discovered that due to highly encrypted protocols tied up with HideMyAss network, its connection is slow compare to ExpressVPN and IPVanish.
Pros:
One of the largest pool of VPN servers
Speedy VPN connection
App interface is really good
Optimized Fastest VPN connection for streamers and torrenters
Cons:
Do keep session logs
Some technical queries were not answered by the support staff
GET HMA VPN NOW & SURF THE WEB FREELY
What Major Purposes Need A High Speed VPN Connection?
VPN is used for a variety of purposes; from protecting your internet activity to giving you free and unmetered access to the Internet, it covers all! The fastest VPN is indeed a need for everyone using the Internet, as it is not only privacy and security that we seek but entertainment also. With a fastest VPN connection installed on your PCs and mobile devices, you can enjoy the greater goods of the Internet and seamlessly benefit from the fun with any restrictions. We have listed down some of the main advantages attached to a fastest VPN service.
1. Privacy & Anonymity comes all-in-one
As discussed earlier, the principal use of VPNs is to protect your online identity from authorities and data snoopers. Having a fast secure VPN installed in your devices give you complete relief that no one can stalk you anymore! With strong encryption protocols, it enables you to surf internet with complete anonymity and privacy. It is important to understand that every country has different censorship norms, so selecting a right VPN protocol is highly advisable.
2. Fast and anonymous torrenting experience with High Speed VPNs
If you are a torrent lover, you know speed matters. Torrent lovers usually get foiled with slow internet connection and end up finding alternatives. With fastest VPN service, you can enjoy the top-notch downloading experience without any restrictions. High-speed VPNs not only give you the best torrenting experience but also anonymize all your activities. To be in a win-win situation, use fast VPN service today and not only increase your torrent speeds but encrypt all your data and get rid of ISP throttling. We have also covered a detailed post on how to download a torrent file safely on your  PC and mobile devices, have a read!
3. Streaming Experience with no buffering & geo-locking
No one likes to wait for a video to load. We hate buffering! And no one wants to be restricted while a favorite show or movie is aired on streaming services like Netflix, HBO, Hulu and Pandora etc. A VPN is a solution, but frequent internet throttling kills the entertainment experience. With fastest VPN service you can enjoy and watch all your favorite content on notable channels and say goodbye to geo restrictions and lag. A fast VPN connection comes with added layers of security and anonymity that not only secure your internet journey but providing you unlimited bandwidth. Undoubtedly, this blend of great features makes a fastest VPN service worth a place in your PCs and mobile devices.
4. Experience lag-free Online gaming with Fast VPN Services
Games are another type of VPN users that don't compromise on speed (like others). They play multiplayer games that demand a faster Internet connection. When playing a game hosted on a server deployed in a distant location, server latency issue occurs. This is one thing that makes gamers go berserk. For example, you are playing CS Go and you're about to headshot your opponent, and DAMN you missed it because of high ping rates. That can seriously make you furious and cost you a game. Be aware gamers! Using a fastest VPN service will certainly make you free from all the worries and focus on the game. A fast VPN connection will minimize the lag you experience and give you best gaming experience at a minimal fee. All the major players in the fast VPN category have optimized servers best designed to cater gamer needs. Learn how a gaming VPN can improve your multiplayer experience.
5. Your travel companion to 196 countries
People love to travel because they want to experience the beauty of life. If you're one of them, then your backpack should always be loaded. A high-speed VPN should be on your checklist as it gives you the free hand to access to all your local apps and websites when you are offshore. A fastest VPN connection not only offers global access to websites, but this travel companion safeguards you from online identity theft. So don't forget to install a fast secure VPN app in your mobile when you plan your vacations.
Slow VPN Connection? Some tips to turn your connection into a High Speed VPN
When you connect to a VPN connection, a small drop in speed is bound to happen. Since the VPNs encrypt all the traffic, the drop in speed may be around 10 to 20% only. However, if you experience more than 20%, then you ought to look for a high-speed VPN connection. It is to understand that all vendors that claim to have a fastest VPN service sometimes fail to validate their service. There are many factors involved in VPN speed issues, which can be fine-tuned with small tweaks in the connection.
1. Choose a closest and underload VPN Server
Latency normally results in a poor VPN connection. If you are connected to a VPN server that is far from your location, the chances are that your VPN speed will lag. An ideal way to turn your VPN account to a fast VPN connection is to choose your VPN location smartly. Your connections will become a high-speed VPN if you select a server that is near close to your original location, and it not overfilled.
2. Choose a fastest VPN protocol
VPN protocols play a significant role in connection speed. A VPN offers PPTP, L2TP, SSTP and OpenVPN protocol, all of them are dedicated to bypassing geo restrictions. PPTP and L2TP protocols are undoubtedly the fastest VPN protocols among all, but it depends on the location you are connected from. If you are experiencing slow VPN speed, then try switching between different protocols to ameliorate your VPN connection and turn it into a high-speed VPN.
3. Wired connection works better
Wi-Fi is apparently more expedient than wired connections, but when it comes to speed, Wifi connections are little shady. Wired connection serves better speed (with VPN also), lower latency and stable internet connection. So if you are on Wifi, then switch to a wired Ethernet to turn your VPN into a fast VPN connection.
4. Turn off your Firewall
Some antiviruses and firewalls also cause VPN speed issues. A small tweak to make your connection a fastest VPN is to disable the firewalls and security 3rd party software that slow down your VPN performance.
5. Switch devices, or, restarting
Sometimes switching between different devices also help in giving a boost to your VPN speed. Many devices fail to deliver high-speed connection due to heavy encryption of a VPN. You can also restart your device to improve the performance of your VPN connection.
Which VPN Protocol Is The Fastest?
Not all the VPN protocols work fast. It is not that VPN doesn't work fast, but all the protocols are designed to fulfill specific needs of the users. We have already discussed the fastest VPN protocols used in our VPN speed test. We are now detailing more features about each protocol to give you more reasons to choose the best one that fits your specific needs.
PPTP is undoubtedly one of the fastest VPN protocols that are pre-installed in major operating systems and consoles. The only downside of PPTP protocol is its low encryption method that is a prime concern of VPN users who take serious notes on privacy. It supports 128-bit encryption that is somewhat less secure than other VPN protocols. However, if your goal is to use VPN for streaming then using PPTP is a way to go. PPTP protocol is also considered as the fastest VPN protocol because it is very easy to setup, and you can get high-speed VPN connection in just a few clicks and taps.
Second on our list of fast VPN protocol is L2TP. It is more similar to PPTP protocol but with added layer of encryption that makes is more powerful in terms of security. L2TP/IPSec is easy to setup and considerably delivers high-speed VPN experience from any internet-connected devices. It comes built-in to Microsoft Windows, Android, and Apple devices. However, its offering is not extended to open-source routers and consoles. L2TP/IPSec is also considered as fast secure VPN protocol as it supports 256-bit encryption packets. The use of L2TP/IPSec protocol is more in practice for commercial uses to secure all the outgoing and incoming communication. It also acts as an alternative fast VPN protocol where PPTP fail to perform due to firewalls.
SSTP, Secure Socket Tunneling Protocol is designed to work on Windows only. It is considered as a fast secure VPN protocol as it supports up to 256-bit encryption to route the traffic. SSTP uses SSL channels to pass all PPTP and L2TP protocol that makes the browsing journey secure and fast. It is also designed in a way to bypass intense geo-restriction and break the firewalls. The only demerit we see in SSTP fast VPN protocol is its limited support on OS and devices. Although, if you compare PPTP and L2TP parallel to SSTP, you will not experience a high-speed VPN connection, it is to understand that SSTP is more focused on delivery privacy coupled with adequate speed.
Last on our fastest VPN list is OpenVPN, which is a blend of highly secured encryption keys, up to 256-bit session, and fast VPN nodes. It is an open source application that utilizes OpenSSL library SSLv3/TLSv1 protocols. OpenVPN uses both UDP and TCP protocols where UDP is faster while TCP is best known for breaking the firewalls. The downside of OpenVPN is that it doesn't support any platform, but with the help of third-party softwares, you can install a fast VPN connection on your desired OS/Device.
Confused which protocol to use? We have compared all the working VPN protocols to help you choose the suitable one.
5 Myths Surrounding Fast VPN Services
Does VPN Make Your Internet Fast?
The biggest question that boggles every netizens mind when they're going about on choosing a VPN service for themselves is "Can a VPN make my internet faster than it actually is?" Well, the answer for this query is pretty simple, and that is…No, it doesn't. Logically speaking, it's like squeezing more juice out of a lemon that it already has. If your internet speed is 10MB, 20MB or 100MB, it can't be increased until or unless you get it upgraded from your internet service provider (ISP).
Can A Fast & Reliable VPN Make Your Device Hack Proof?
VPN is used to hide/change your IP and encrypt your online data packets. That is the core purpose of using a VPN. But can it protect you from the online viruses that enter your system through a downloaded file, a click on a wrong link or an infected USB? It doesn't matter if you using a slow VPN or a Fast VPN, saving your device from latest viruses is not a VPN is built for. However, antivirus software is advisable if you want to protect your device from viruses.
Is a Single High-Speed VPN Service A Solution For All Your Online Surfing Needs?
Yes and no. Why would we say that? Well, there are very few VPNs out there that ticks all the boxes of a VPN users' requirements. Some users want a Fast VPN for streaming, some want a VPN that's best suited for high encryption and some just want a VPN that doesn't keep logs. But as far as all the above requirements are concerned, ExpressVPN is a clear winner and have been praised by every VPN user who ever had an experience of using it. It is one of the Fastest VPNs out there and totally recommended.
Can You Increase VPN Speed? Here's A Twist!
Many of the VPN users out there are always on a quest to search for ways to speed up VPN to experience a much more smoother internet surfing experience and to minimize load time. The easiest way to increase VPN speed and make it fast is to switch to a different VPN protocol with less encryption. See, different VPN protocols have different encryption levels. The fastest VPN protocol is PPTP, which is considered best for streaming purpose. But bear in mind that it's the most less secure VPN protocol too. But if you want a VPN with fast speeds + security, then go for L2TP VPN protocol.
Does VPN Affect Speed?
Well, yes, it does. How? Because of the data encryption and server proximity. It's always advisable to connect to a VPN server through the automatic server selection option that your VPN software has. Normally, it chooses the fastest VPN server near to you to give you better speed and a fast VPN connection. So, suppose if you have a 50 MB internet package when connected to a VPN server, you might face a little speed reduction of about 5-10 MB depending on the VPN server location and your own geographical location.
Is Faster Always Better? Is It Really About Speed?
Well, the pace of life is getting faster, the internet is getting faster, our smartphones are getting smarter and of course, FASTER! But when it comes to VPNs, the science doesn't really work the same way. VPN is used primarily for security reasons, and it's a fact that when you add or increase encryption to your internet connection, you would face speed reduction. No matter you choose the speediest VPN service out there that claims they have "Super-Fast VPN servers" if there is encryption implied to your online data packets, your internet connection speed would get a little slow because of the encryption and decryption taking place. But it usually gets unnoticed or you won't feel much difference in browsing as most of the reputable and fast VPN services make the whole experience look effortless.
So, having stated that, there are VPN protocols that are fast (implies no, or minimum encryption) and some are slow (implies stronger encryption). PPTP is a protocol which is one of the less secure but fastest protocols out there. Similarly, other protocols such as OpenVPN or L2TP/IPSec are way more secure. So, it all comes down to your own priorities. Do you want more speed or more protection? And if you want best of both worlds, we have already suggested Fast VPN providers that have all the options and protocols to get accustomed to your priorities.
What Are The Fastest Free VPN Providers?
Before moving on to the fastest free VPN, which are quite a few; we would like to inform you that numerous vulnerabilities are attached with a free VPN. We are not recommending you to use freebies for privacy and security concerns, as free providers use weaker protocols and encryption levels, and sometimes they sell your data to the third party and even keep logs as well. However, if unblocking websites is the only benefit you want to gain out of a free VPN then check out these three fastest free VPN providers that perform better than others;
Betternet VPN
TunnelBear
CyberGhost VPN
What Are The Fastest VPN Services For Android?
Google's Android is the largest installed base with over 73% market share and more than a billion daily active users – so it's no surprise that there are a large number of VPN apps that support the OS. Surprisingly the Android is one of the most vulnerable OS with 343 new malware samples used to found every hour last year; the number could have progressed. Hold your breath guys! There are 700,000 malicious apps on your Google Play Store and there's a possibility that you're using one of them.
Therefore, protect your Android device is a must from all kinds of cyber threats and the best solution lies in using the fastest VPN for Android. All the above-mentioned VPNs are best Android VPNs and offer dedicated yet tested app, with a proven track record for providing ironclad protection and faster performance, and yes all are free to download.
Do you want us to anchor our final call as the fastest VPN for Android? We believe NordVPN is not only one of the VPN with fastest speeds but also offers the most extensive network and one of the best user interface on its Android client.
What Are The Fastest VPN Services For iPhone And iPad?
iOS, once considered a strong, impregnable operating system, is becoming vulnerable to numerous cyber threats since last few years. Apple has recently confirmed that almost all of its products are affected by the Intel major bug; means any of your most sensitive information could potentially be read. The exact nature of the problem is still unclear, and so does the danger, there are some things we all can do.
To protect your Apple device against spammers, hackers, phishers, snoopers, and other cyber-goons; there are two key things you can do: make sure your phone is up to date, and you've got the best iPhone VPN. Each of the VPN that we have listed above offer apps for iOS devices performs unbelievably fast.
What Are The Fastest VPN Services For Torrenting?
Torrenters use VPNs to hide their downloads and uploads, but are all VPNs suitable for BitTorrent? No, some don't provide sufficient leak protection to protect you from copyright trolls, some are bad actors, and some don't provide at all. If you want to enjoy private and protected torrenting, make sure your Torrent VPN is the best at its job. To figure out the fastest VPN for torrenting, let's decide the criteria to judge them. Being a Torrent and P2P file sharer, what you want the most? Privacy, fast download speed, and no data caps, isn't it?
Want to know the factors to look for when selecting the fastest VPN for torrenting; keep the following pointers on your fingertips;
A VPN Killswitch
DNS leak protection
Torrent-friendly VPN servers
Zero logging policy
Unlimited bandwidth
Above average speed
Shared IPs
Without further ado, in our analysis fastest VPN for torrenting is NordVPN, which offers the largest network of torrent-friendly servers. So get it and enjoy anonymous torrenting.
What Are The Fastest VPN Services For Online Gaming?
We (millennials) have been exposed to the magical world of "gaming", and wherever we have nothing to do, we start playing games. If you're an online gamer, you will relate the fact that speed is vital for online gaming. You must have experienced unexpected delays and ping spikes while playing online games; I can sense your pain, there is nothing worse than experiencing delay, lag, and high ping while playing the favorite game online. There are reasons for lag and packet loss; If you try to connect to a long-distance gaming server, then there are chances of being lagged and delayed, highly congested internet service also plays the similar role.
How to overcome? Choose one of the best gaming VPN and boost your gaming skills in two ways; route your web traffic through uncongested pathways to allow data packets to flow freely and connect to a closest VPN server and shorten the distance between you and the gaming server. Choose none-other than ExpressVPN and connect to its fastest server near you and reduced ping time.
What Are The Fastest VPN For Kodi?
Kodi is becoming the next biggest platform for streaming world's content, and it's not possible that binge-watchers are unaware of this gigantic media center. Kodi community would relate the only reality that Kodi addons are geo-restricted; you need to be in the specific region to stream your desired or better to say all the best Kodi addons. Kodi is all about streaming content using addons, means if you're planning to use a Kodi VPN to stream addons, make sure the VPN should be uber-fast.
We have mentioned the list of fastest VPN, but still, when it comes to Kodi, we recommend you to go with our darling service; IPVanish. You have a range of 40,000 IPs across 1000 servers to connect to all your favorite addons including Hulu, BBC iPlayer, IceFilms and NBC Sports.
What Are The Fastest VPN For Mac?
Mac users often told that they don't need antivirus software because Mac is not prone to viruses; get a life man! This is not true at all, even the first well-known virus; Elk Cloner, affected Apple computers, not MS-DOS computers. Currently, the state of Mac malware is evolving, with more and more threats targeting the so-called impervious machines. We have already witnessed Mac threats appearance recently; on malwarebytes.com a mac user from Miami who had his DNS settings changed and were unable to change them back.
If you're a Mac user, don't trust the software developer so blindly and take your cybersecurity in your control, the best way to control your digital life is using the best Mac VPN. All the above-mentioned VPNs have dedicated Mac apps and are potential enough to bypass geographical restrictions, access blocked content, and keep your Mac protected without compromising your connection speed. We suggest you go with ExpressVPN rather than others.
What Are The Fastest VPN For Windows?
Windows being the widely used and the 82% market sharing OS, is one of the oldest and unluckily one of the highly vulnerable to cyber threats. Windows users! Get alert, Windows 10 security won't protect you from tech-support scammers' trickery and lies. The FBI reported that it received 11000 tech-support fraud complaints last year with losses totaling more than $15m from 80 countries. It's high time to protect your cyber world with the best Windows VPN and protect yourself from scammers' pop-up messages, phishing emails, bogus warnings about fraudulent bank charges or fake refunds, browser lockers, and other malpractices.
Windows users are in dire need to use a VPN service, not just for protecting anonymity but also for geo-restricted content; get the fastest VPN to ensure that your online presence remains secure at the fastest speed, no matter you're connected from home or public wifi.
What Are The Fastest VPN For Streaming?
The concept of online streaming has taken the digital world to the seventh sky; now you don't need to travel to the stadium to support your favorite team, it's all possible within reach of few clicks. Even streaming content in other countries also become a lot easier using one of the best VPN services; streaming Netflix US is just a click away, no matter where you're. The next thought might come which VPN is useful for streaming? Apparently one of the fastest VPN services would do wonders.
That's the theory anyway, but it's true that not every VPN is equal, so here comes the serious picking; all the mentioned VPNs are the fastest, but if you want outstanding performance and your purpose of a VPN is streaming alone, then go with ExpressVPN; a high-speed VPN with the most trust.
Fastest VPN For Chrome – Speedy VPN Access
Chrome browser is one the most used browser in the world and is hugely famous for the chrome extensions that makes everything hassle free in a myriad of ways. Most of the VPN users look for chrome extensions to secure their browsing activities by directly accessing the VPN from within the browser.
But most of those VPN users fall prey to the free VPN chrome extensions that are slow and infamous for bombarding you with advertisements or keeping logs of your online activities. So, here are some of the VPN providers that offer fast VPN chrome extensions alongside their standalone apps for different platforms:
NordVPN
ExpressVPN
PureVPN
Private Internet Access
HMA VPN
Fastest VPN Services vs Security. Is there a balance?
When security and speed go hand in hand, a definite argument will take place. It is to understand that everything has a price, and sometimes we need to adjust according to the conditions. When you connect to a VPN, you can't expect a high-speed connection (more than your ISP), as it passes different encryption layers for security. First, we need to understand that the use of VPN varies, and so as the speed and security. If you are primary reason of using VPN is to get access to foreign websites like Netflix, HBO, BBC iPLayer, Hulu, and others, then VPN speed will be your main concern. While if you are a torrent lover, and you want to keep your identity anonymous from NSA and copyright authorities, then privacy and security are your top concern.
Now the question is, are Fast VPN Services secured also?
As we already discussed in our guide of high-speed VPNs, VPN vendors use all essential privacy and security protocols to give everyone a safe-house access. However, it is subject to the protocol you use. As mentioned earlier, you need to select a right fast secure VPN protocol depending on your need. Use SSTP and OpenVPN protocols always if you are using torrent or bypassing firewalls like GFW, and NSA protocol. However, if only streaming is your concern, then switch to PPTP and L2TP protocols and get blazing fast VPN speed, with a little compromise on security. PPTP and L2TP are not unsafe, but they have low-security standards layers, that on the other hand, give you top speed for streaming.
Our Conclusion on World's Fastest VPN Services
We hope that our take on fastest VPN service providers paid off well, and we were able to share all the important details on the subject. A little recap; VPN is undoubtedly a great invention, but when it comes to delivering high speed, a lot of VPNs fails. We have discussed many essential factors above that will help you with your search of high-speed VPNs. Remember, bandwidth is your biggest enemy in VPN speed also, and to give it a headshot requires a fast secure VPN installed on your PC and device. Throughout our fast VPN speed test, we have tested a dozen of VPNs, but if we have to recommend a single VPN only, then we would suggest you go with ExpressVPN – the all-rounder VPN!
Share your experience in the comment box below and let the team at ReviewsDir get more details for you.