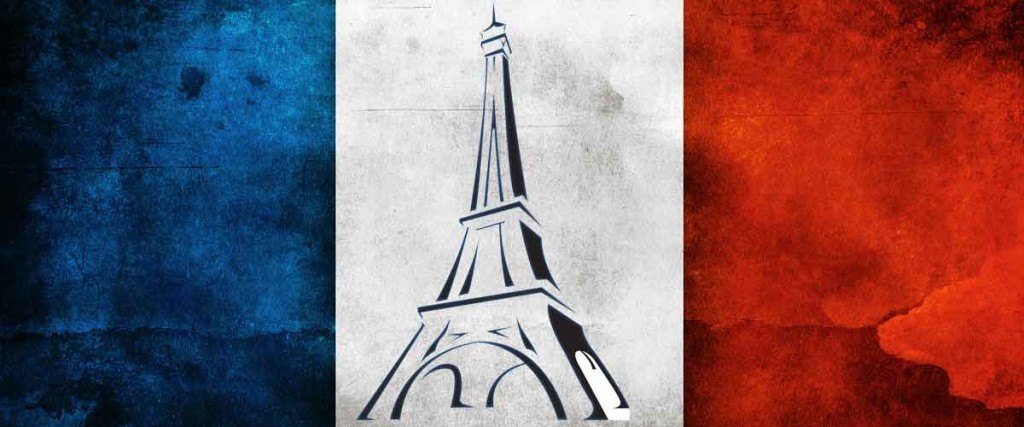 If Paris is a city of love then definitely France is a country of free souls. France has such a strong association with freedom of expression, free will, and independence that it is apparently hard to believe anyone would need a France VPN to protect their online privacy and to access global content within our outside France.
So why would people need a VPN France service if the country promotes freedom?
Unfortunately, when our team started digging to figure out the best France VPN, we were blown away by the number of restrictions and cyber laws imposed in the country that interferes with the online privacy of a common French citizen. Indeed, there are a lot of restrictions in the country that halts netizens from accessing foreign and local French websites.
5 Best VPN for France – The Most Reliable Options
We at ReviewsDir tested a couple of service providers that seem a reliable French VPN option, and following are the best picks from our editors.
So What laws make the use of VPN France an absolute necessary?
It is time to shock you too by revealing laws working against you in France. Here we go;
HADOPI: A government agency HADOPI (Haute Autorité pour la Diffusion des Oeuvres et la Protection des droits sur Internet) was assigned to conduct online surveillance to catch copyright infringers in 2009.
LOPPSI 2: This law was aimed at eliminating child pornography by filtering the internet.
LCEN: Trust in the Digital Economy law required hosting providers to cooperate with a court order regarding content related to "insult, defamation, or denigration" of an individual or a company.
Surveillance Bill (2016): In response to Charlie Hebdo attacks in January 2015, the French government passed a new surveillance bill in May 2016 that allowed French intelligence agencies to monitor phone calls and internet activity of any suspected terrorist without authorization.
EU Data Retention Directive (DRD): The DRD requires all European Internet Service Providers (ISPs) and telecommunication companies to keep traffic record of its users for last 12 months.
DG SE Surveillance Incident: NSA's exposure by Edward Snowden also revealed that the General Directorate for External Security was collecting metadata of French citizens, as reported by French newspaper Le Monde.
Wow! That was quite something, right? We can understand how you are feeling right now as it was also hard for us to digest. But don't worry, we already know the solution, no?
Anyway, the ultimate lesson is that you are in dire need of French VPN. But you cannot trust any random VPN because there are too many laws and regulations to dodge. Only a pro and veteran France VPN can survive so many layers of government and regional commandments and protect your online privacy.
Not-So-Scary Reasons to Have a France VPN
We know our revelations were hefty and outright scary, but those aren't only reasons to have a French VPN. Besides online privacy and security, you must avail a France VPN because;
i. France VPN for French living outside the country
For all those millions of French expatriates living outside the country, an authentic France VPN will allow easy and uninterrupted access to French television and movies. And that's one very major reason why people look for a VPN Service.
ii. VPN for French residents in the country
As for all those French binge watchers who couldn't get enough of Netflix or HBO Go, a France VPN will ensure smooth entry to world's popular streaming channels like Netflix US, Hulu, HBO Go, WWE Network, BBC iPlayer and Pandora. You might want to connect to a US IP address in order to get in Netflix US as its content library is way huge than any other region. In addition, a lot of foreign websites might not be accessible in France; a VPN also helps to get access to all the global content online.
iii. French VPN Battles Cybercrimes
Cyber crimes are increasing in the country as the reliance on different technological devices have increased dramatically. The users often provide loopholes themselves by using unprotected public Wi-Fi and leaving their devices vulnerable to a security breach. A French VPN can protect you from all such incidents by encrypting your data and masking your IP address. Remember, your data is precious and protecting it from cyber criminals is your duty, so better connect to a VPN!
A Closer Look – Which is actually the Best French VPN?
Following are a few bits of information about the aforementioned French VPN service providers that may help you to define the best France VPN for yourself;
1. Express VPN
Express VPN is undoubtedly the best VPN for France. French users can subscribe to its services blindly. The reason we recommended you ExpressVPN first is mainly because of the server locations. Not only Express VPN has servers in France but also in the neighboring regions like Canada, Belgium, Switzerland, and Netherlands. So French users can easily disguise their IP address with Express VPN and enjoy ultra-fast internet speed. Alongside the wide range of servers, ExpressVPN is a notable VPN provider due to its other offerings. With ExpressVPN, you can connect to 3 devices simultaneously and switch between multiple servers all at the same time. They also promote ZERO-logging policy that combats the privacy laws and protect netizens online identity while they browse online. Also, their customer support is extremely professional, and they are always up to help you with the VPN queries. And if you are not satisfied with their service, they happily offer a 30-day money back guarantee.
GET EXPRESSVPN TODAY AND CONNECT TO FRANCE VPN SERVER
2. Nord VPN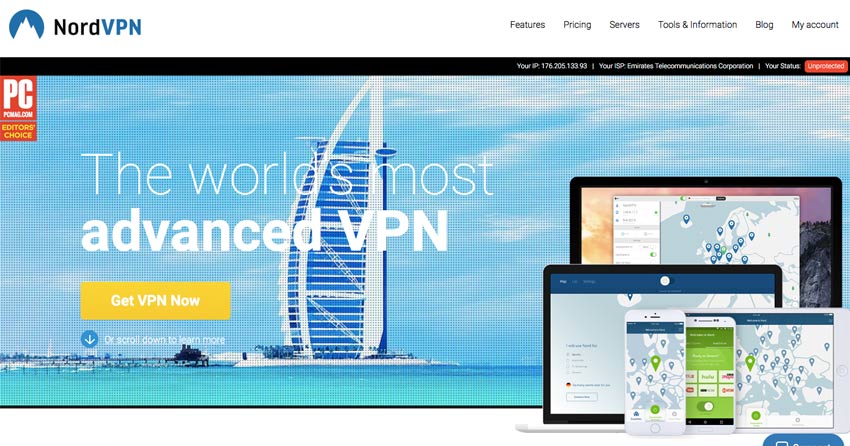 Nord VPN for France promises to protect the data, encrypt the internet traffic and secure personal information from all surveillance and censorship rules and regulations active in the country. This VPN functions on the motto that "privacy online is a privilege you should not take for granted". It is a decent VPN option for native French netizens and tourists visiting the country as it keeps you secure when you use public Wi-Fi, shop online or even simply browse the Internet. NordVPN offers VPN servers across 49 countries (including French VPN) with robust protocols to secure your browsing activity. They also follow a very strict no logs policy with several other strong features that makes NordVPN an ideal choice for netizens.
3. IPVanish VPN

IPVanish VPN has an impressive number of 12 servers in France and more than 80 servers in overall Europe alone. For French users looking for uninterrupted video streaming, IPVanish VPN is the perfect choice as it has recently collaborated with HBO NOW to stream its services throughout the world. IPVanish VPN's plus point is definitely its easy setup. IPVanish surely feels like a tailor-made VPN for France. IPVanish is also one notable advocate to digital privacy due to their zero traffic logs policy. Their network is highly secure and reliable and encrypted with strong VPN protocols. Like the others, IPVanish also connects you (securely) on 5 different devices at the same time and allow unlimited server switching with a single account. For any help that you may need, their 24/7customer support team is always on the toes to respond promptly and efficiently.
GET IPVANISH TODAY AND ACCESS LOCAL WEBSITES WITH FRENCH VPN SERVER
4. Buffered VPN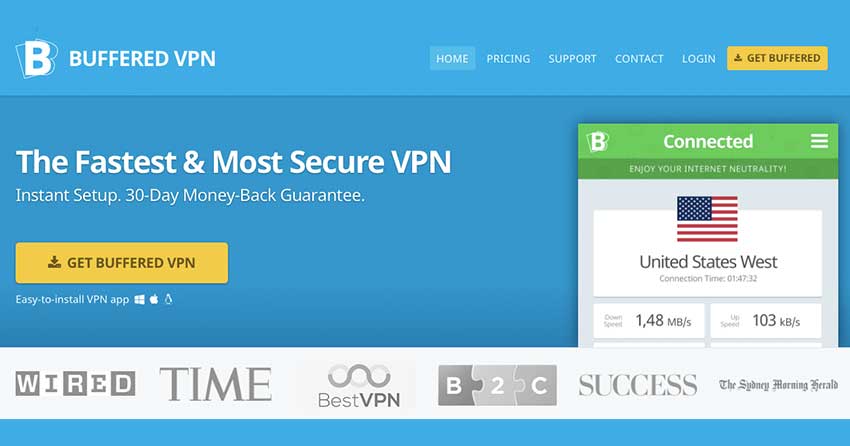 Buffered VPN is based in Hungary and has servers in the France as well as other European countries. It is quite able VPN France option that can protect you by hiding your location, securing your data while keeping absolutely zero logs. Buffered VPN is new on radar but so far has shown promising services. We ranked Buffered VPN in our top list of French VPN due to its simplicity and robust network/features. They offer everything that is required to protect your digital privacy and give access to foreign content. Buffered VPN works on almost all the internet-connected devices, and you can quickly switch from France VPN server to others just in mere clicks and taps.
4. Pure VPN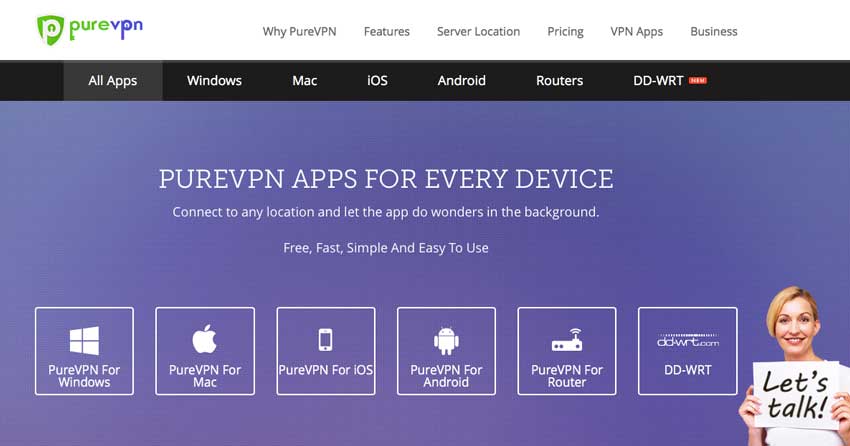 PureVPN is another great option for French netizens. Their VPN has a colossal setup and provides unmatchable services throughout the world. PureVPN has plenty of servers in France, Belgium, Canada and Switzerland to enable a smooth and protected internet connection. In total, they have servers in over 141 countries with a strict no logging policy, which makes it an ideal French VPN. PureVPN is also very famous for its compatibility with almost every internet-connected device. You get to enjoy unlimited server switching also if you opt for PureVPN. It also provides 5 simultaneous connections with a single subscription where you can connect VPN on as many devices you own (but not more than 5). They also offer advanced and customized features like Internet Kill Switch, Automatic Protocol Selection, and NAT firewall. All that combines make them one of the most reliable VPN France option
A Detailed Summary of every French Law affecting French Netizens
We have touched upon different French laws and regulations in the start, but it is time to give individual attention to each one and tell you about its impact on a common French internet user.
HADOPI law is also known as three strikes legislation that came into action in 2009, focusing on copyright infringers. A government agency HADOPI was given permission for online surveillance to narrow down the culprits and ban their access to the internet after the third warning.The three strikes of the law were as follow – the first action against the infringer was an official email, then a certified letter and finally, a court order with a maximum fine of 1500 Euros. The HADOPI was a huge failure and revoked in 2013. Now the government follows a much lenient law that fines copyright infringers.
LOPPSI 2 was focused on reducing child pornography in France and it was adopted in 2011. However, it received criticism from a free speech group called La Quadrature du Net. The group's stance was that the government authorities are over-filtering the internet, often blocking stories that have nothing to do with the law. Also, it messes up the bandwidth speed.
The LCEN was introduced in 2004 and it required hosting providers to help in any content related to the "insult, defamation or denigration". Its biggest criticism was that it failed to acknowledge emails as private correspondence.
Surveillance Bill (2016):
The newly passed surveillance bill allows the government to snoop anyone's mobile phone communication and Internet activity without so much as an authorization from a judge. The French Parliament passed this bill in May 2015 and it was moved forward after Charlie Hebdo incident in January 2015. Considering the fact that there have been six terrorist attacks, that killed 129 and injured 352, so far in the country, the surveillance bill is likely to stay effective for a long time.
EU Data Retention Directive (DRD):
European Union's Data Retention Directive was introduced in 2006. All European states adopted it. The DRD requires the ISPs and telecoms to keep a record of its users for last 12 months. The police or security agencies can request access to the information of any individual like IP address, time of any call, message or email (received or sent). Thankfully, the Court of Justice of the EU declared the DRD invalid in 2014.
DG SE is a French external intelligence agency and it was conducting a similar surveillance act like US Prism program. The French daily Le Monde further revealed the purpose of the data collection was to identify terrorist cells, but the surveillance was on such a huge level that "anyone can be spied on, anytime".
Verdict – Time to Take Action
If anything we can offer you after researching and compiling this detailed list of 5 best France VPNs, it is that the internet in France is full of antagonists. There are so many odds working against a French netizen that it is hard to survive on your own. It is you versus the government laws, international spying programs, cybercrimes, geo-restriction and so much more.
So my friend, you need a genuine France VPN that can take care of your online security, hide your IP address, encrypt your data and provide you eternal peace of mind. Believe it or not, we are not exaggerating when we urge you sign up for a French VPN ASAP.'Joie de vivre' Your Digital Life! ???