Goose VPN Overview
Goose VPN is a reliable and handy service because of its enriched-features. It is a secure VPN service spread across more than 28 countries covering regions of Asia, Europe and North America. It offers good variety of protocols that establish a fast and secure connection between the server, making users online identity completely anonymous.
Goose VPN has specially designed servers that works well with Netflix. Through Goose VPN you can enjoy unlimited Netflix via its special servers without any additional charges.
The Background of Goose VPN Company
Jeori, Rob and Ed are the three Dutch tech expert who founded the company that runs Goose VPN. Being a small VPN Provider coming from a land with roots of multiple cultures and ethnicities, the VPN provider stands out and have received fame over time providing strong, secure connections essential in the Netherlands. ReviewsDIR has spent a good deal of time reviewing Goose VPN and discussed its security policy and compared it with other VPN services to give you what you need to know to make the final call.
Now, let's move on to the analysis of Goose VPN features.
Goose VPN Features
After reviewing the services and features we have reached to the following conclusion.
1. Goose VPN Encryption Protocols
Do not underestimate Goose VPN because it supports majority of the standard and exclusive protocols including L2TP/IPSec, IKEv2, PPTP and OpenVPN.
L2TP is a mediocre security protocol that works efficiently on normal speeds and on multiple devices. It is mostly utilized by modems and routers for iOS applications.
This is a high-speed VPN protocol which performs at 100% capacity on new devices as compared to old but chances are it can be blocked anytime without any prior notice or glitches. IKEv2 is a standard Goose VPN protocol; highly appreciated by the customers for providing fast speeds.
PPTP is the oldest VPN protocol that works on majority of the devices making it similar to L2TP. PPTP is most demanded when speed is needed. PPTP provides the least security when it comes to the comparison with other VPN protocols.
This protocol is hard to block making it a vital asset to Goose VPN which makes it safe to use due to the secure certification. Having a Windows 10 would be a plus for this protocol.
2. Diverse No-Log Policy
Goose VPN states in its Privacy Policy that it does not keep any logs of users' activities. To our knowledge and based on our analysis we found this claim 99% true. Goose VPN comply their policies religiously.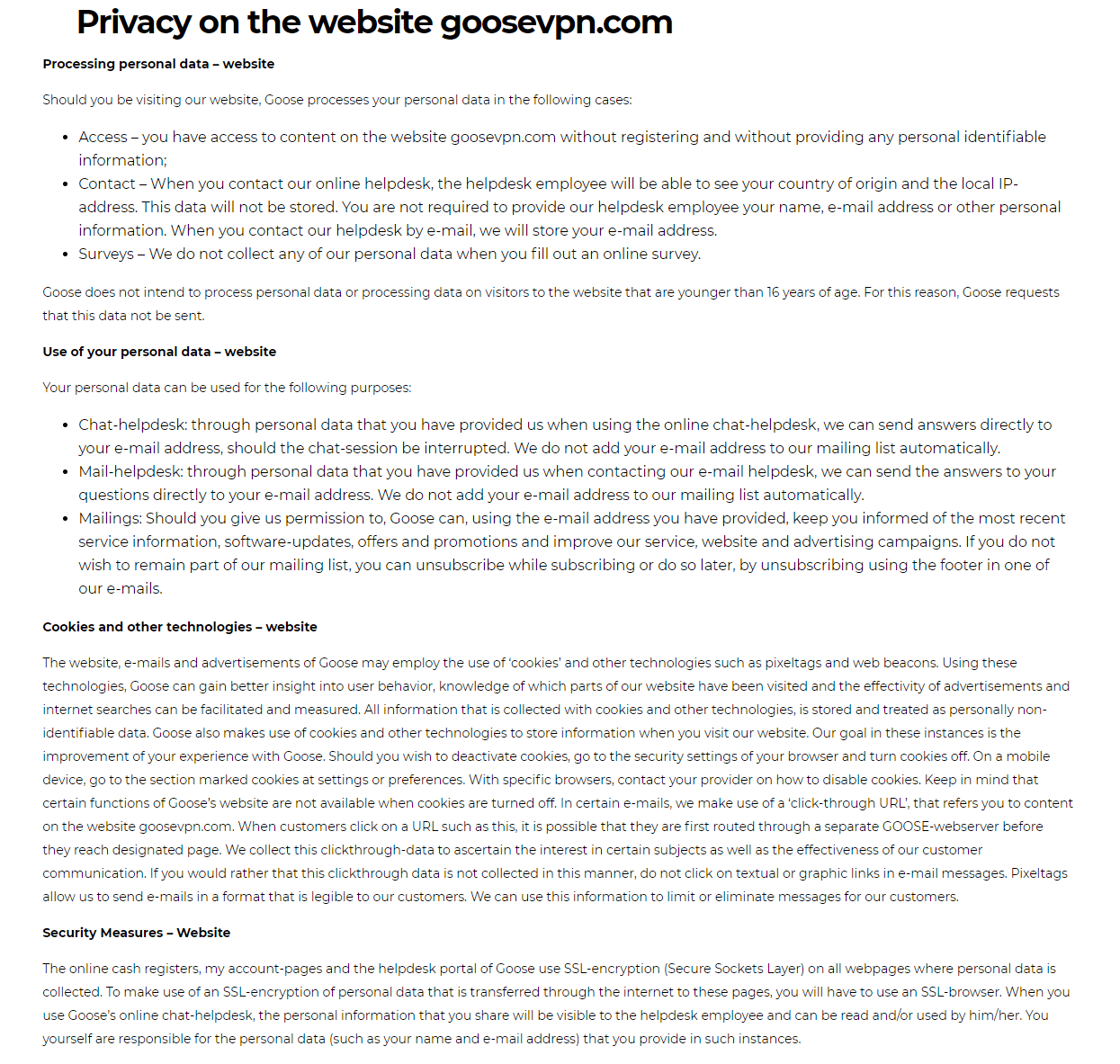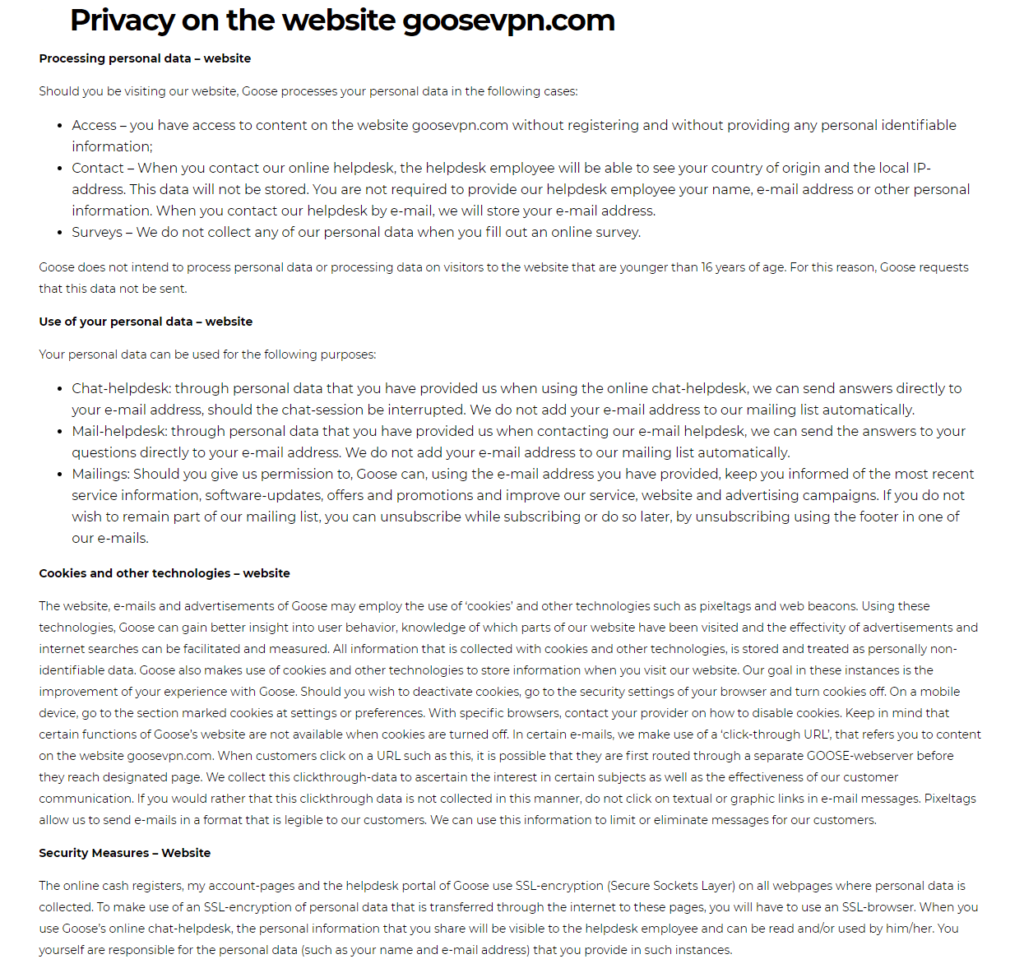 3. Compatible on Multiple Devices
Goose VPN ensure that its VPN services can be used on as many devices as possible without any glitch. Goose VPN works on standard MacOS, Windows, iOS, Android and Linux. That's just on the surface level. Goose VPN also works on NAS Firewalls, Raspberry Pi, Android TV, etc. If you are using Google Chrome, then you can get a bonus by downloading Goose VPN Chrome extension.
Also Read: 5 Best VPNs for Android Phones and Tablets
That's not it; Goose VPN gives customers the feasibility to connect gaming consoles as well through the native apps it provides on the Google Play Store or Windows App Store. Further, if you are a keen Android user, then you can install the APK file directly from the Goose VPN website.
4. Kill Switch Included
Kill Switch is one of the best features of Goose VPN service as it lacks mostly for the advanced features offered by other VPN providers. A Kill Switch feature is like your extra protection even when you are not connected to the VPN. If for any reason your VPN connection drops or disconnects, Kill Switch feature will instantly disconnect your internet connection keeping you safe.
Unfortunately, there's no button on the apps to switch on this feature. You need to manually setup Kill Switch function with Goose VPN.
5. Supports Tor Browser
Goose VPN optimizes online security to the next level because the company wants their customer's data and identity hidden at all times. That's the reason Goose VPN offers Tor Browser that acts as an additional security shield for your online presence. It anonymizes web traffic through routing your signals from multiple points making your traffic secure.
6. Access Netflix with Exclusive Servers
Netflix from being a streaming service became a brand name that created a Benchmark for other streaming services. It is fast, streamlined, and provides access to the best movies and TV shows available on the internet. Netflix also creates its own original series which are far better than any other network.
Also Read: 5 Best Netflix VPN Providers
Recently Netflix started a crack-down on multiple VPNs and restricted the access. The good news is, things are fine with Goose VPN. It offers exclusive streaming servers to help users access Netflix from anywhere in the world. Goose VPN offers dedicated servers that help users to access Netflix from anywhere in the world.
Currently, these servers can be used to access Netflix with ease.
Netherlands works (special streaming server)
US works (special streaming server)
UK works (special streaming server)
Canada works
7. Goose VPN Customer Support
Goose VPN support is diversified and spread over multiple FAQ section where every possible and mainstream question is answered with a section filled with articles related with multiple solutions. The FAQs are streamlined in a fashionable manner where 8 categories cover almost all the issues.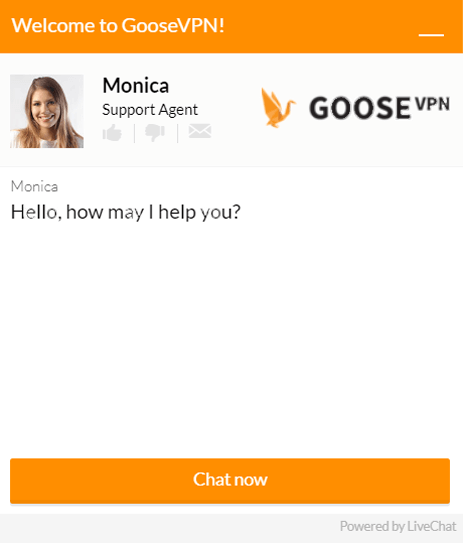 The contact support is available 24/7 and, you can always contact the desired representative via email, chat or website form. There's no timelines define as such for the response.
How to use Goose VPN?
Setting up Goose VPN takes not more than 3 minutes. All you need to have is a Goose VPN account through which you can log on. Don't have an account? Get the free trial from the website right away.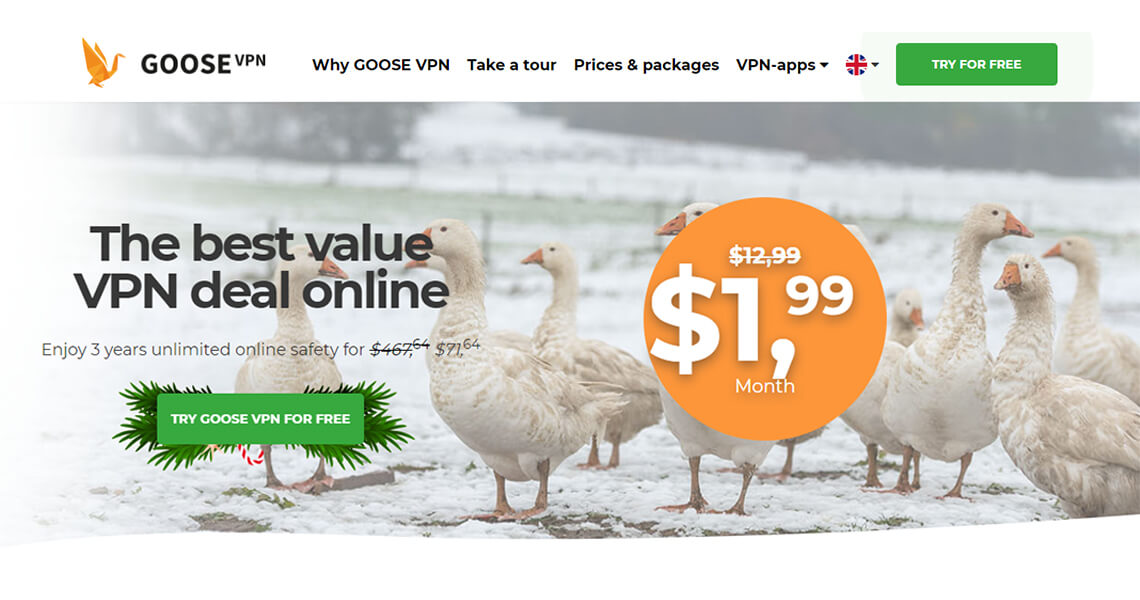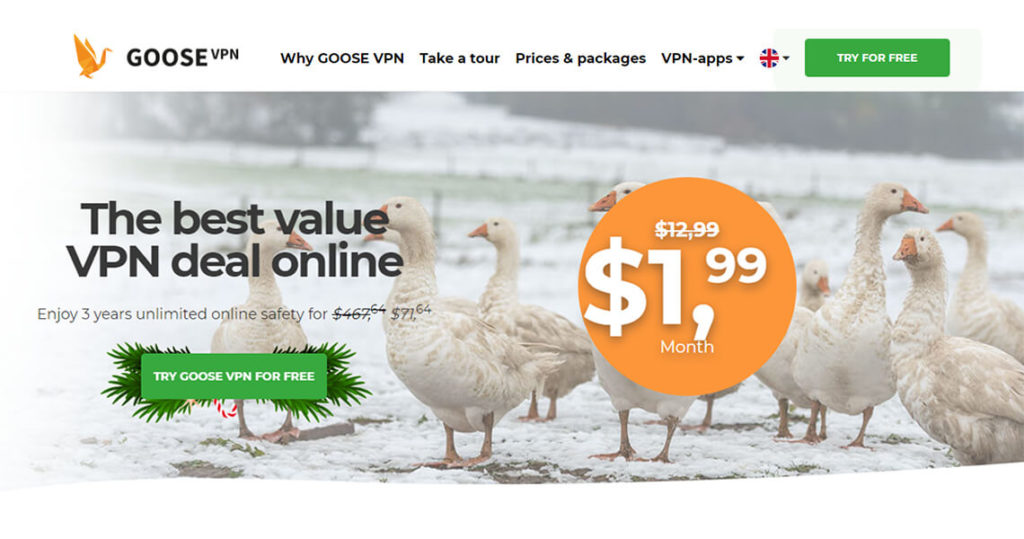 Goose VPN App – Setup and Usability
Goose VPN plus point is the website accessibility itself. Why? People with special needs could also use the application because of the font size, large screen and the wire-frame of the website. Whether it's on your smartphone, tablet, Laptop or PC it works fine on all. If you are a new user in the VPN industry, then don't panic. The installation of Goose VPN App and sign-up process is very simple.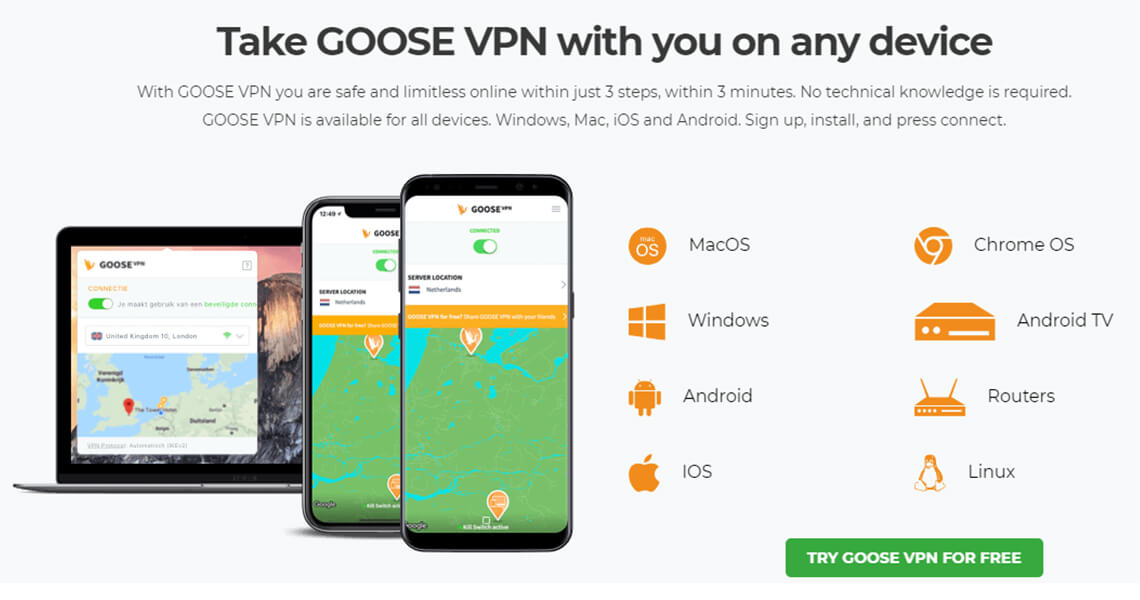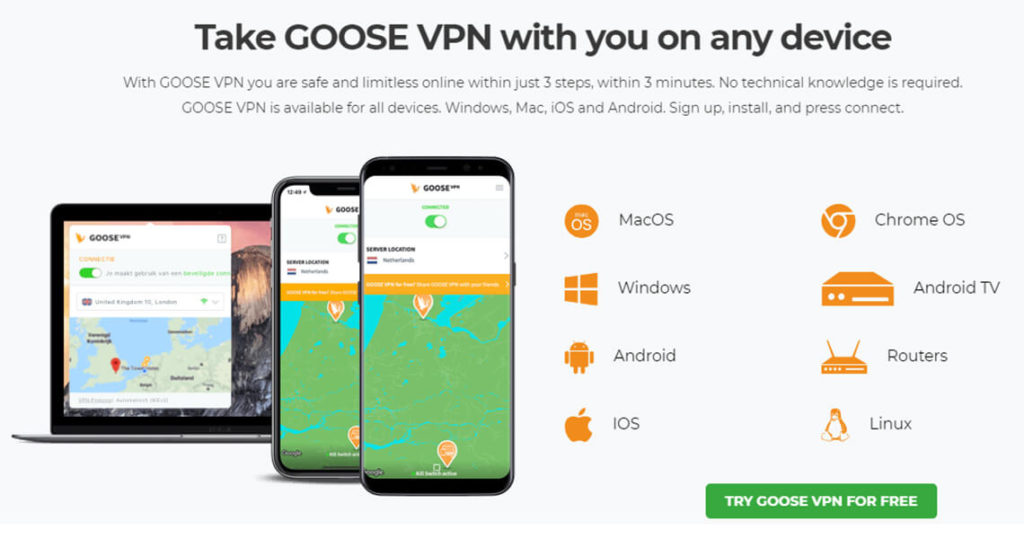 Goose VPN for Windows
Goose VPN has a soft spot for Windows because it has made security top-notch on all Windows devices including laptops and tablets. Do you use your laptop on public WIFI? If yes, then Goose VPN have you covered. Switch on Goose VPN on your Windows laptop with AES 256 encryption that will secure your online activities.
Goose VPN for Android
Android is the most used OS in the world when it comes to Smartphones. Goose VPN Android app is identical to the desktop app which doesn't lag or freeze on Smartphones. Usually, VPN apps are heavy which leads to slow browsing and maneuvering of the app becomes a hassle. This is not the case with Goose VPN because the app works smoothly on all Android based Smartphones.
Go to your Android Play Store and download the free Goose VPN app and login with your credentials.
Goose VPN for iOS
The iOS app is no different than the Android app which reduces IP leaks. The configuration is simple with a few clicks where your online activities will be 100% safe. iOS is known for its unbreakable encryption; combine that with Goose VPN encryption and you will have a security as solid as iron.
Also Read: 5 Best VPN Apps For iPhone
Goose VPN For Chrome Extension
The Chrome extension is a useful addition because it makes accessibility easier for most users. It's a hassle to minimize your browser tabs and wait for the connection to be secure. Through the chrome extension, you can continue your important tasks while the connection builds at the back end without hindering your other deities.
What About the Pricing Plans?
Goose has a simple pricing plan which is suitable for all the users. You can opt for annual payment plans where you can get a discount of up to 60% which is so far one the biggest and most promising discount offer in the VPN industry. You can get a 50GB monthly plan for just $2.99.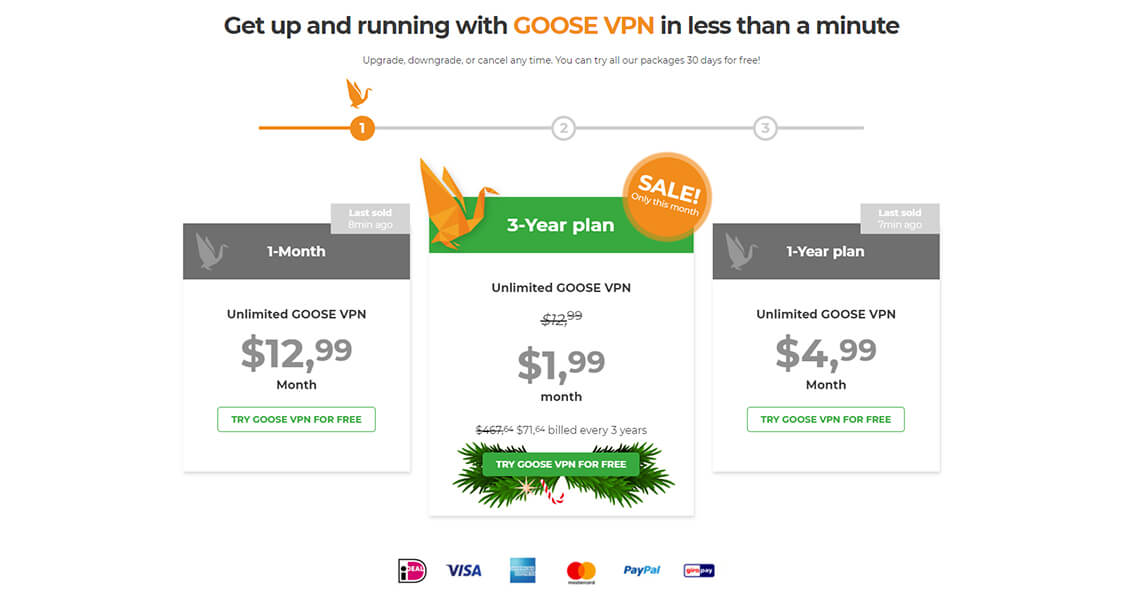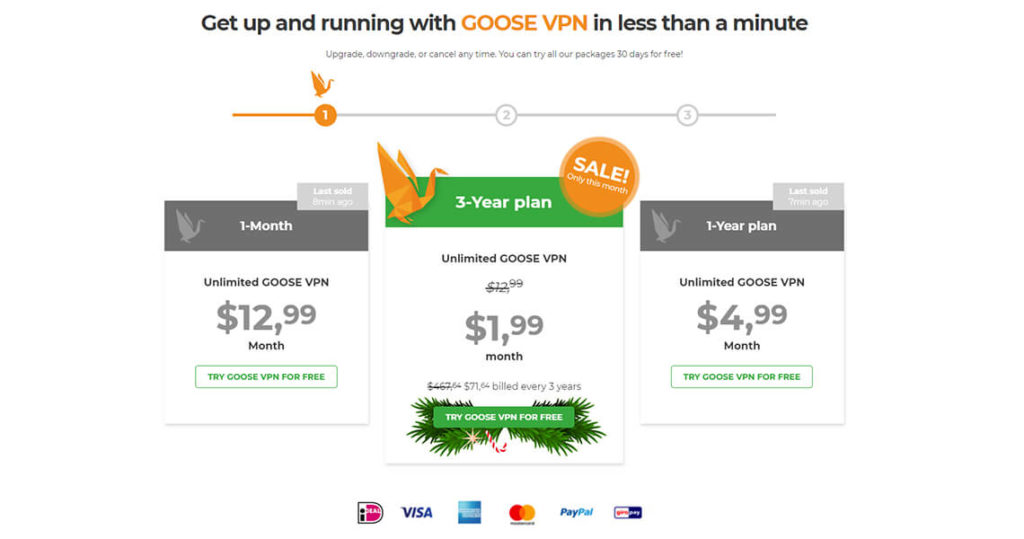 Payment method includes PayPal, credit cards or through a Dutch-based bank via a Debit Card (Ideal). Unfortunately, the option of Cryptocurrency is not present currently, but we hope to see this option in the near future. As a solid VPN Provider, Goose VPN gives you a 30 day free trial with an unlimited data bundle. So make sure you test Goose VPN lifetime possibility and go for it.
Final Verdict
Goose VPN came across to be a simple and unique VPN provider which is inexpensive. The speed of the VPN is above average where users will rarely find any lags. Payment method needs to be more profound, but the primary transaction method present is standard. Get Goose VPN 30-days trial and tell us what you think about its services.
Goose VPN Review
Goose VPN is a good choice for beginners who just started using VPN for the first time as it is very simple to use. Freemium users can also choose goose VPN for 30 days free trial.
PROS
Simple and Easy to use VPN connection
Support OpenVPN, IKEv2, L2TP/IPSec and PPTP protocols
Supports Multiple Platforms
30-Day Free Trial
Free Chrome Extension
30-day Money-Back Guarantee
CONS
Goose VPN miss most advance features which are offered by many other VPN providers
Some of its servers are slow in speed and the automatic options are not available in VPN apps.