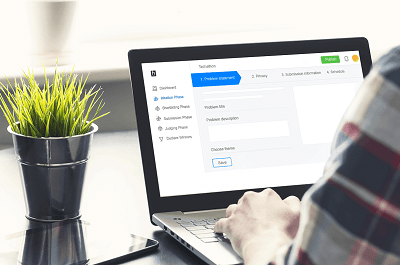 A hackathon can be defined as a competitive event where teams of developers, designers as well as subject matter experts combine under a single roof. They all work and find solutions for particular issues within a stipulated time frame. The main aim of a hackathon is the development of websites, working prototype, robot or an app to find solutions for any issues. The event is also called by other names such as "hack day" or "hack fest" and the main advantage is that all participants gain an opportunity to productize, collaborate as well as network their thoughts and ideas. 
Categories of hackathon
Depending upon the aim of the mission, hackathon can be internal or an open event with the public. There is offline and online hackathon available too. They can also be focused on any particular group for code expertise or programming language or can be demography based too. The event can be out focused or participant focused and depending on that there are many conducted for product feedback, recruitment, solving issues, branding, altruism etc. 
About hackathon software
There was about 400 hackathon that took place the previous year. Almost all companies invested in millions for various goals in the hackathon. Many companies employed hackathon management software and the result was crowd sourced prototypes and ideas by means of the hackathon. The best Hackathon management software proves beneficial to the organizers. An outstanding hackathon can be conducted by utilizing hackathon management software. 
Features in hackathon software
Any hackathon software should possess the following features. 
User restriction and single sign in
Single sign-on SSO is a very important feature for internal hackathon users. With this feature, the participant faces domain based restriction. For example, if an organization X conducts an hackathon, then the employees of X organization can only participate in the event. Also on the "invite only" basis, the users can be restricted. In this case registration by means of forwarding links can be avoided. Geography-specific campaigns, as well as business, can be conducted. 
The significant concern of any top company is data security. The organization very specific about data security should make sure to run every aspect on their servers. Hence the hackathon management software is to offer such facility to host hackathon on organization software and on the private cloud. Thus the best Hackathon management software proves beneficial to the organizers. 
It is to be noticed that almost all organizations employ the usage of the flock, slack, teams, Yammer and other forms of communication tools. When hackathon software is employed, the employees find it easy to engage, participate and offer ideas. 
Good features that can be added
Here are a few more features that can be great if incorporated in hackathon management software. 
Event page that's customized:

This feature can be beneficial as complete control over the hackathon can be taken and also all major aspects are displayed on a single page. 

Instant scheduling:

when there is a need to schedule multiple events the process can be done easily with few clicks. 

Collaboration:

this feature would gather assessors, participants as well as organizers in a hassle-free manner. 

Managing submissions:

All submissions with respect to status, action, scores should be managed and monitored. 

Leadership board:

This feature helps in obtaining live updates and scores of all teams that participate in the hackathon. 

Customizing facility:

The software should possess the flexibility to customize. The users should be able to customize the events based on their requirements. 

More campaigns:

the software should be capable enough to run the number of campaigns across various other locations. 

Campaign cloning:

The feature of replicating more number of campaigns is very beneficial and can gather a lot of time. 
Ideation phase
There are individuals desiring to run ideation or to implement an ideation phase. When ideation is considered, the main aspect is bringing together the various ideas, and also it is important to make sure that every single aspect is evaluated in an effective manner. By this way, the best idea is grabbed to the top. When hackathon management software is employed, it makes the chore simple and easy. The software is capable of assigning many judges, helps in appointing evaluation parameters; there is an option for feedback etc. When an automatic evaluation is considered an advanced algorithm is required. Hackathon management software can 
  Help in peer voting

  Appoint many judges

  Enable public voting

  Real-time leader-board can be created

  Ratings and scores are assigned

  Feed-back and real-time suggestions are enhanced
Advantages of hackathon software
The hackathon management software gathers solutions, products and processes. The software assists organizations in crowdsourcing for solutions from external as well as internal audiences where capital, effort and time are minimized.  The hackathon software offers everyone the opportunity to share their ideas and makes sure their voice is heard. 
Every individual in the organization has the chance to submit ideas on various topics such as organization process, product and overall goals. They also possess cross-functional in-built, diverse teams to work in a cooperative manner. With this, they are able to share feedbacks and also gain the best ideas. New ideas can be executed by organizations so that they can stand ahead in the competition. 
Conclusion
Hackathon can gain multiple benefits and can be more efficient by using hackathon software for conducting the event. For the purpose of innovation, product marketing, employee engagement etc. hackathon is conducted. With hackathon, the organizations are able to gain feedback about the business or the product. By this way, the organization stands out to be the best. Apart from innovation, the other reason for hackathon employment is for API adoption. 
Hence hackathon is beneficial and navigating it with hackathon management software is more successful. The features and other aspects of the software offer a detailed report of the requirement of the organizations. Also, customizations options make it more worthy. There is hackathon software available and organizations can be benefitted by taking a glimpse at their features and uses. Organizers, assessors as well as participants can participate in hackathon without hassles with the help of software. Few steps are required for setting up hackathon and hassle-free submissions are achieved with hackathon management software.