HideMyAss Review – Let's Begin The Introduction
"Hide My Ass" the name itself define the motto of the company and since after its launched, the service has secured one of the highest positions among the VPN users. Created as a free proxy by 16-year old Jack Cator – to surf the web in school without content restrictions, Hidemyass has eventually evolved as an expert VPN service after almost a decade. Despite play on the US vernacular and how it charges in US dollars, HideMyAss headquartered in London.
The brainchild of Jack Cator, which hatched out in 2005 as a free Hidemyass proxy creator in its maiden avatar slowly transformed into world's most popular VPN provider with the most massive international server network at present. In May 2016, it joined forces with AVG Technologies, the popular company in the field of Anti Virus. HMA assists the people in bypassing the online censorship at a blazing fast speed, without compromising on their identity. By 2014, the ambitious company had already raked in over £11m (above $15m).
Why one would buy HideMyAss over other VPN providers?
Different VPN providers offer more or less same competitive features, yet HMA has distinguishable features that stands out from the crowd. HMA is an excellent service that offers the broadest geographical diversities with unlimited servers located in more than 320 locations; switch the server in case your internet slows on existing server. The compelling selling proposition is the network scale, this VPN is useful for those who like to access the geo-restricted content globally. Be it desktop, mobiles, smart TVs, and gaming consoles, HMA works well with all your favorite devices. Undoubtedly, HMA is decidedly feature-light.
HideMyAss Striking Features
HMA employs around 80 nerds that altogether serve the anonymous browsing requirement of more than 10 million people across 190+ countries worldwide through around 720+ servers with more than 93000 IP addresses. Additionally, HMA offers unlimited bandwidth usage and support for multiple devices. Currently, it is the foremost choice for internet geeks who give online censorship, thumbs down. It's an excellent service with a straightforward and mobile-friendly interface available for all your favorite screens. Below are the listed features which we have analyzed and tested to provide a clear and brief judgement about the HideMyAss service.
HideMyAss – Pricing & Plans
HideMyAss slightly increased pricing plans, Hidemyass VPN offers three distinct plans for its customers. The details are as follows: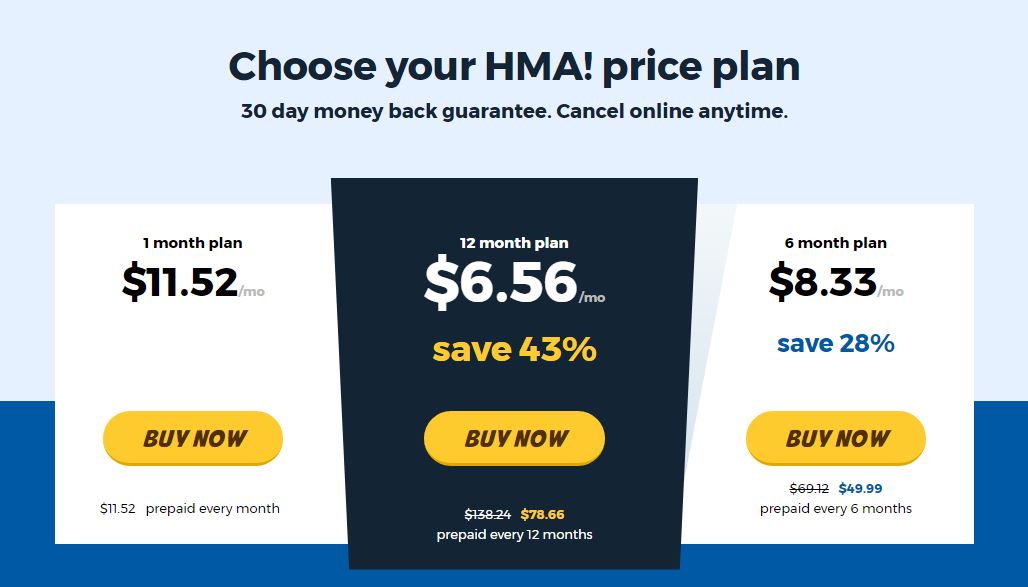 Kick-ass: 1 month package for $11.52 per month
Smart-ass: 12 months package for $6.55 per month
Half-ass: 6 Months package for $8.33 per month
HMA Money Back Guarantee
HMA VPN gives you a 30-day money back guarantee with some important restrictions. Most notably, you may not exceed 10GB of bandwidth and cannot exceed more than 100 connections. Within 30-days of time, you can cancel your order online at any time, and your entire amount will be refunded. Be-aware of the auto-renewal subscriptions, which is enabled by default, and must be manually adjust in the online account control panel.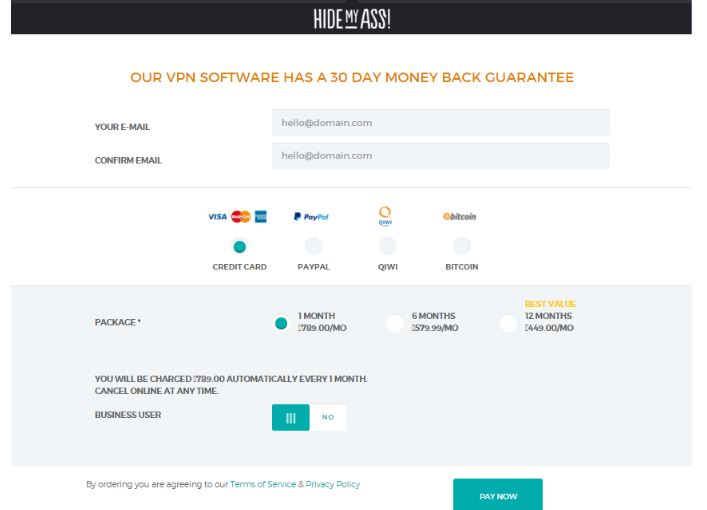 HideMyAss Payment Methods
You can subscribe to HMA using multiple payment options including:
Credit Cards
Paypal
Wire Transfer
UnionPay
e-check
Cash at 7-11
Diner's Club
You can use your Starbuck or Gamestop store gift cards. You cannot pay with absolute anonymity – Bitcoins, for HMA like other mainstream VPN providers.
Comparative Analysis of Pricing Plans
Considering the prices offered by other VPN providers, HMA stands somewhere in the mid to costly range, but its services are worth it. The pricing plans of HMA are devised according to the continuous advancements introduced in its services and features. Owing to the range of features it offers, a thick of small and big businesses, as well as individuals, prefer it to others. HMA does not allow Bitcoin payment methods like other in-line VPNs like NordVPN and others.
HideMyAss Silent Features
This HideMyAss review focuses primarily on its features and the manner in which they compete with the others in the industry. Here is a detailed inspection on the same:
HideMyAss Pro VPN allows you to change your IP address with a new IP from a pool consisting of more than 121,000 IP addresses. To activate the feature, you simply need to set an interval and the VPN software will do the rest. It keeps you anonymous throughout your browsing session except for the ephemeral time when your IP address changes. Hence, it is quite effective in protecting your identity from censoring authorities and cyber criminals.
This feature allows you to bind certain applications with the VPN. This means that they will work only when you connect to internet through VPN. As you get disconnected, these apps will also become inactive hence making up for high degree of anonymity. As a downside, this feature is only available with Windows OS. However, you can configure your firewall to use this feature on Mac as well.
You might have noticed only the status of VPN connection on the dashboard of various providers. The case however differs with HMA since it provides you with the connection log. With this, it becomes easier for you to keep a check on the ongoing connection processes and progresses.


Multiple server locations
HideMyAss boasts of its excessive server locations that are easily much more than any other competitor. As per the current statistics given on the HMA website, it currently provides the assistance of its VPN services through 934 servers and 126,231 IP addresses, located in 354 locations across more than 190 countries. None of its rivals are even distant close to these stats hence giving it a settle edge in the VPN industry. Moreover, selecting server is also the easiest and quickest through HMA.
With HidemyAss, you get two simultaneous connections immaterial of the plan you purchase. This lets you to access VPN on two different devices at the same time, at a fast speed.
HMA Pro plan switches your connection to server with lesser load if you are observing a retarded speed due to a heavily loaded server. This load balancing feature is a welcome introduction and lets you access the internet through the fastest connection available in that particular region.
The VPN client provides you with a speed guide, which lets you to search for the fastest VPN servers available for you. For this, the client tracks your geolocations, and finds the server that is in closest proximity to your location.
With HMA, you can enjoy high speed and unlimited bandwidth to enable you access internet in anonymity from any location irrespective of time.
You can connect with HMA through email and chat support. The email support is the most secure way to send error logs, and responds within 1-3 hours to 12 hours, depending on the severity of the problem. In weekends, it may extend up to 14 hours. IRC Chat is another mode to talk to HMA staff and is active for 9 hours a day (11 AM – 7 PM). You can also post your queries in the HMA web forum.
Supported Protocols
VPN HideMyAss holds the distinction of providing absolute security in the industry till date. It secures your browsing sessions through a 256-bit encryption. In addition, it also offers the support for OpenVPN, L2TP and PPTP protocols, along with the facility to switch between them beyond limitations.
PPTP: The Point-to-Point Tunneling Protocol leverages MPPE 128-bit cipher for encryption, along with MS-CHAPv2 authentication and compression. It uses a control channel over a GRE and TCP tunnel for PPP packet encapsulation.
L2TP: The Layer 2 Tunneling Protocol supports VPN HMA and depends on an encryption protocol to provide privacy. It leverages 3DES/AES algorithm, and IPSec for encryption along with 256-bit key encryption.
OpenVPN: HMA VPN offers OpenVPN encryption protocol for both UDP and TCP.
OpenVPN-TCP: For encryption, the cipher acquires the CBC mode of Blowfish with, 160-bit SHA1 hash algorithm is, 128-bit encryption strength and TLSv1/SSLv3 DHE-RSA-AES256-SHA, 1024 bit RSA control channel.
OpenVPN-UDP: This protocol also uses the same security and encryption as in OpenVPN-TCP, with the difference that it works via UDP protocol. In terms of speed and bypassing restrictions, it scores better its TCP counterpart.
For added security, HMA leverages OpenSSL encryption library and SSLv3/TLSv1 protocol along with several other control and security features.
HideMyAss No Logs Policy
HMA is always the talk of the town within the security community, for handing over its customers' data to the police. Let me remind you the two predominant cases that have witnessed in the history of HMA privacy decade.
Back in 2011, HMA handed over personal data and browsing records of one of its customers, Cody Kretsinger, to the police. Kretsinger accused of hacking the Sony Pictures website and received a prison sentence due to his involvement.
Last year, similar incident took place in Galveston County, Texas, when HMA handed over an evidence of a disgraced judge to Texas Police. the culprit were arrested and forced out of office in attempt to harassing an ex-girlfriend.
HideMyAss is a UK-based VPN, a country that follows mandatory data-retention laws – means the possibility of data-logging is certainly there. The company keeps data-logs including user activity, IP address, session durations, and IP address of the VPN server they connect to. This data stored for two-three months; for some, this is not a big dea,l but for some, it's a deal-breaker.
VPN Software & Client
Be it a desktop or smartphone, VPN HMA offers VPN clients for multiple Operating systems. You can use on Windows and Mac platforms. However, it is still to develop a client for Linux. Those wishing to configure it on Linux platform can request for the interface based HMA client for Linux OS. As for smartphones, HideMyAss allows you to bypass online censorships on your Apple and Android devices through iOS and Android apps, respectively. In addition, you can also configure HMA on a router, although the configuration process is a bit complicated. The official website of the VPN provider gives a roaster of recommended routers that you can use.
HMA VPN Client for Windows
Installing and configuring the VPN HMA software on windows is easy for your preferred operating system. After completing the payment formalities for the selected plan, you would hardly require five minutes to setup the VPN on Windows 7, Windows 8, Windows 10, and Windows Vista. You will be given the link to download the client after registering with the service.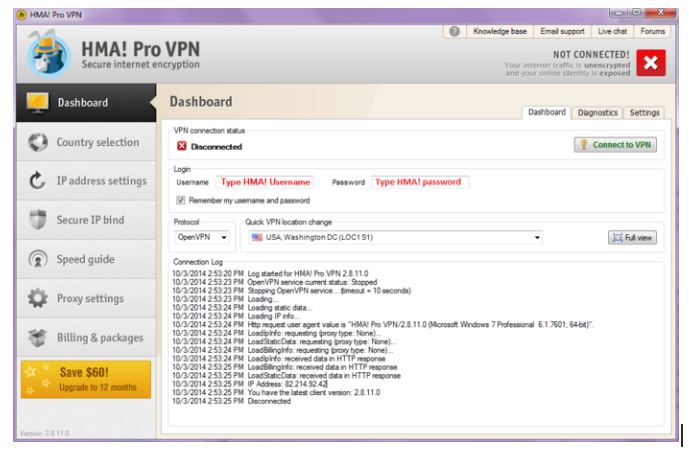 Installing and configuring the VPN HMA software on windows is easy for your preferred operating system. After completing the payment formalities for the selected plan, you would hardly require five minutes to setup the VPN on Windows 7, Windows 8, Windows 10, and Windows Vista. You will be given the link to download the client after registering with the service.
Hidemyass offers for its Mac users, the latest HMA! Pro VPN Mac OSX client version 2.2.7.0 that combines feature of Secure IP binding. To install it, you require at least Mac OS X 10.9 ("Mavericks") or newer versions. The installer accompanies the TunTap package; you don't need to install it separately. Moreover, the new Mac client has similar functionalities to that of Windows client and uses a 1-click installer for quick installation. Compared to its earlier versions is has got a complete overhaul. It is now more stable and runs smoothly.
HMA VPN Client for Android
HideMyAss! Pro VPN for Android helps you remain anonymous while browsing internet through your android smartphone. The app is compatible with all your android devices having Android 4.0 and above versions. It is free to download but to use it; you need to have an active HideMyAss! Subscription. It is a multi-language VPN app with multi-language help section. It works fine on any device of your choice in including internet enabled TV and gaming consoles. The best thing – you can use it on your five favorite devices simultaneously.
HideMyAss! Pro VPN for iPhone and iPad offers you complete wifi security & private browsing. The app helps you to configure PPTP, L2TP and OpenVPN setups on your iOS devices in few simple and quick steps. Like its Windows and other versions, the VPN for iOS also allows you gain access to the biggest VPN server network in the world, along with the fastest VPN connection. It is Multi-device compatible and offers a built-in help function.
The list of software and client that you can download include:
HMA! Pro VPN Windows client (WINDOWS VISTA, 7, 8.1, 10)
PPTP and L2TP Dialer for Windows
OpenVPN GUI Setup Windows
Mac OSX client 2.2.7.0
Mac 10.5 & 10.6 version 1.1.7
Linux CLI OpenVPN Client
VPN HMA!: Hide My Ass! Pro VPN for iPhone
HideMyAss! Pro VPN for Android
Besides, you can also download respective HMA! Web Proxy Browser Extension like:
HMA! Web Proxy Browser Extension – for Google Chrome
HMA! Web Proxy Browser Extension – for Mozilla Firefox
HMA also gives you a list of VPN routers along with their features and price as below that you can use to configure VPN.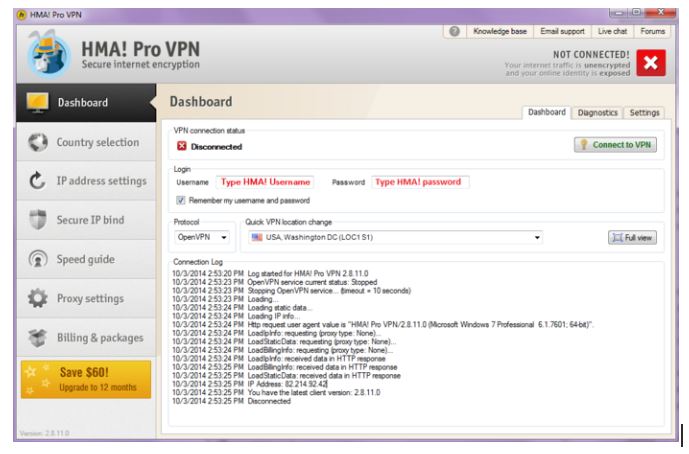 HMA Website – An Overview
HMA has recently revamped its website and changed the theme color from yellow to blue. The cartoony brnading icon "The Ass" got upgraded and turned SOBER with a SWAG. We defenitly like what HMA did with its website design and lay out. Have a look!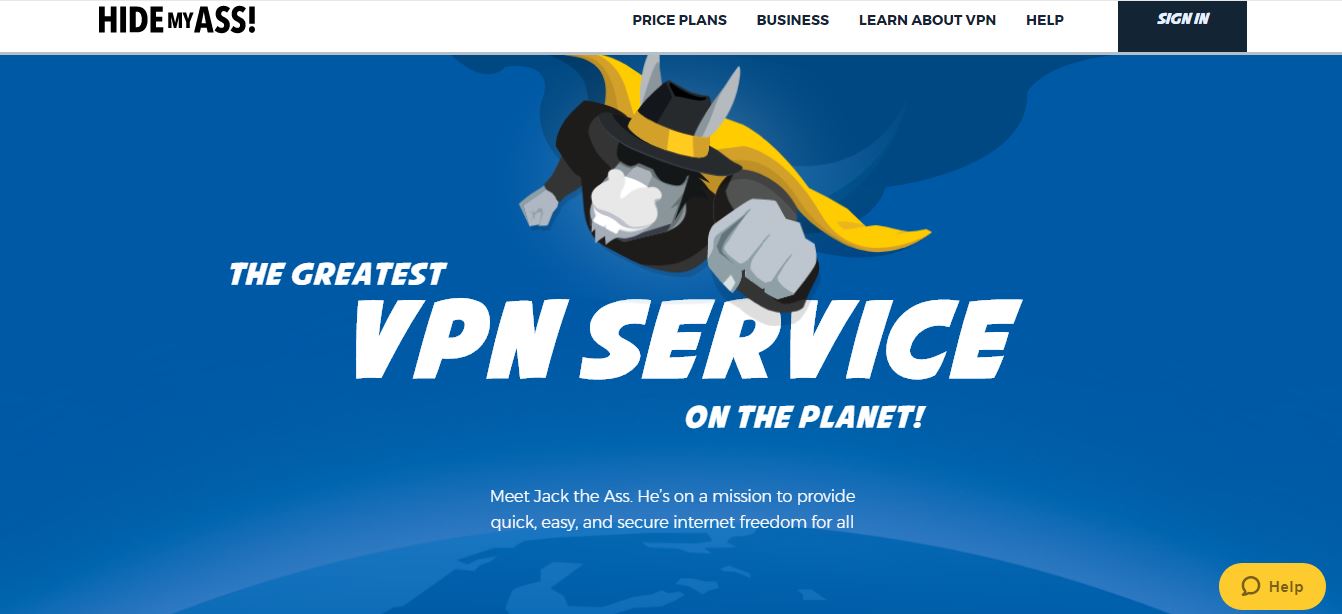 HMA website is user-friendly with quick sign-up process, other than tech-savvy, the interface is more favorable to novice VPN users. You will find the all the useful information while navigating the home page/interface, right from signup process to the reviews to the payment plans to key feature of HMA. HideMyAss team is always ready to help you, simply click the help button that you will see constantly on their every navigating page. We recommend you to use HMA search bar which you find at the top right corner all the time, for initial queries.
China VPN By HideMyAss
Does HideMyAss bypass Great Wall of China?
This is a very basic question that people ask when buying a VPN service. So, for HMA, does the VPN service works in China?
Due to slow connection and relaxed logging-policy making Chinese subscribers into trouble. We don't recommend our worthy readers to go with HMA in China. Look at the user's query on HMA official website.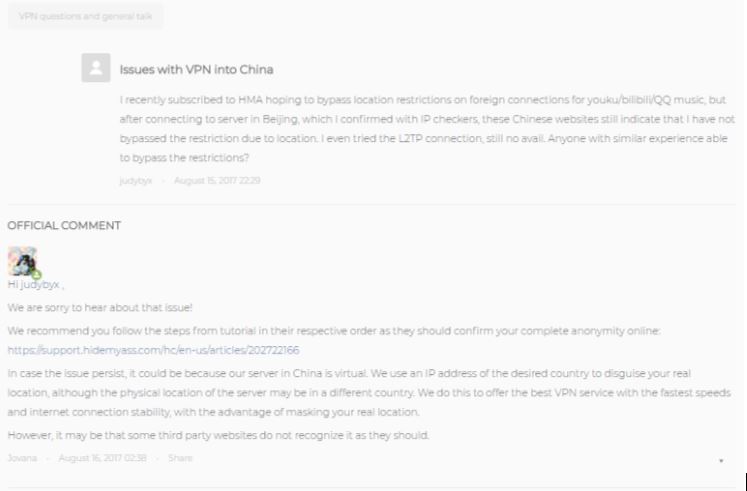 ✎ Read Also: 5 Best VPNs for China to Access Your Favorite Websites in 2018
HideMyAss Proxy List
HMA started its service as a proxy to help people unblock restricted content. Since its venture with Avengate, the service is upgrading its every feature and so is the HMA proxy list. If you tried to access HMA proxies' address you will see the following message.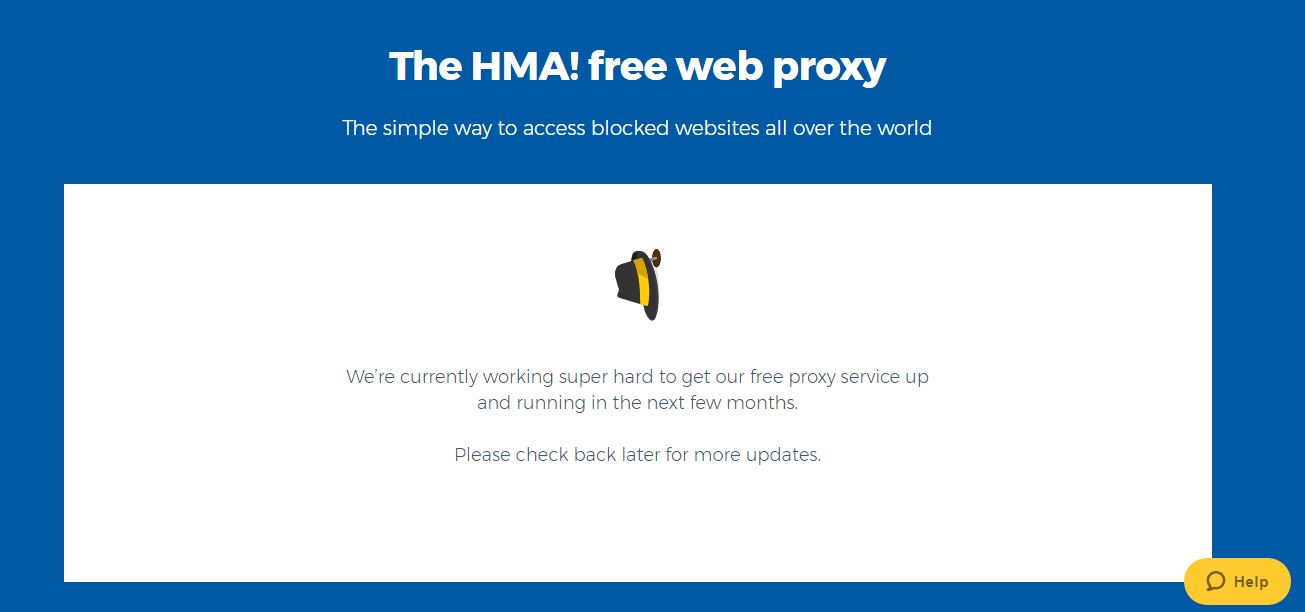 There's no time span mentioned anywhere that when HMA will revive its proxy services again. For proxy seekers, we will recommened to contact the 'Help' support.
Reviewsdir Recommendations
HideMyAss has the ardent following in the field of Virtual Private Network. It has been helping millions of users globally in bypassing the censored websites since almost a decade. Initiated as an HMA Proxy, it has now come a long way to provide quality VPN services to the masses. Considering its impressive introduction, its services ought to be flawless, and it indeed lives up to our expectations.
The VPN comprises a whole lot of lucrative features that are good enough to entice the users, immaterial of whether they are net savvy or have little technical know-how.
If they aspire to remain hidden while web browsing, HideMyAss is a befitting reply to their requirement. It has great speed, is available for multiple OS and devices, provides the facility to schedule IP changes, secure IP bind, simultaneous connections, etc. You can connect to almost any of its 860+ VPN servers and go anonymous at your will. It provides quality 256-bit encryption and secures your identity online like none.
Besides so many advantages, it does accompany several drawbacks as well. It does not provide any free trial offer. However, Hidemyass does provide a 30-day money back guarantee to suffice this demerit. It also has the policy to log the user connection data. Though it is for internal processes but those not willing to compromise on their details may repel from this VPN due to this policy. The VPN client for Linux is yet to come, and its Secure IP bind is currently available for Windows OS only. Next, to PureVPN, HMA is the second VPN that received the most complaints and poorly regarded by most users in the know due to the history of betraying users to authorities.
Despite these demerits, HMA still scores way better than its competitors regarding pricing plan, facilities, geographical coverage, etc. Hence, you can confide in this service provider and go anonymous without hassles. All you need is to browse through its website, register, and choose and pay for the plan and get started, but cautiously.
Conclusion
Having spent almost a decade in the industry, Hidemyass VPN is quite popular among the masses across the globe with its great design and remarkably easy-to-use paradigms. The best thing about this VPN is the servers geographical diversity; so if you need VPN servers in Cook Islands, Equatorial Guinea, or host any other unusual location, then HMA is the only option available. However, the company logging policy is not ideal.  No wonder, it is considered as the undisputed King of the VPN world, but still trusting a British VPN to ensure privacy is yet uncertain; anything can happen to you anytime, your data would use to threaten you.