Hey guys! Can you recall a Kodi addon that is similar to Covenant / Exodus but offers more streaming feature and gaining good popularity? No! Well, it's ok, we have got you covered. Go to your Kodi device and install Cerebro ShowBox Kodi addon to fetch as many streaming links as you can. Cerebro Showbox is a new addon from Cerebro TV Repository, loaded with movies, TV Shows, and Sky Cinema on demand.
Note:  This is no longer a free addon; pay for a premium account that also includes IPTV service.
If you are tired with Exodus and Covenant, or their growing issues, then you should try out Cerebro Showbox Kodi addon to stream your favorite content without any hassles. The Addon is working smoothly.
Cerebro TV addon is gaining popularity since its release and comes with the same layout of Covenant / Exodus but includes TMDB, Alluc, Trakt, and Real debrid.
In this tutorial, we will share you how to install Cerebro Showbox on Kodi 17.6 Krypton within a few minutes. The installation process is similar to other Kodi addons. If you follow the steps, you will be running the addon shortly.
How to Install Cerebro Showbox Kodi addon on Krypton?
UPDATE: Cerebro Repo has changed and now requiring a PIN number
Launch Kodi
Go to SYSTEM > File Manager
Now Add Source and click None
Type http://repo.cerebrotv.co.uk/ and Done (An alternative if one is not working: http://megatvbox.eu/repo/)
Give it a name, type Cerebro & OK
Go back to Main Screen and go to SYSTEM
Now click Addons > Install from zip file
Select Cerebro and install Cerebro repo.zip
Wait! You'll shortly receive Addon enabled notification
Now Install from Repository
Select CerebroTVRepo  and go to Video add-ons
Press Cerebro ShowBox to install
Wait one more time; you see Cerebro ShowBox Addon installed popup
Cerebro ShowBox is installed and ready to use.
Don't have the Cerebro Repository, worry not! Here you go;
How to Install The Cerebro Repository
Go to the Kodi home screen and click Add-ons
Next, go to the Add-on browser; looks like an open box at the top left corner of the screen.
Click Addon Browser Icon
Now, Install from zip file.
Click the Cerebro source that we added previously and then click install Cerebro repo.zip.
This will start the repository installation. After a short while, a popup will confirm its successful installation.
Cerebro Showbox Not Working – Use a Kodi VPN
If Cerebro Showbox Kodi Addon is not working, we would suggest you reinstall the Addon rather than going in the depth of the error. In case, you see "No Streams available" again and again; then it is something from ISP; your ISP might be blocking your streaming from this addon. Let's fool the ISP with a Kodi VPN and bypass the ISP control over your network.
Check out our 3 most recommended Kodi VPNs.
Want More Links? Click PAIR Now!
This section is more than anything, and this is something that sets the Cerebro Showbox addon apart from the crowd. It's not unheard but indeed not a common feature of its counterparts.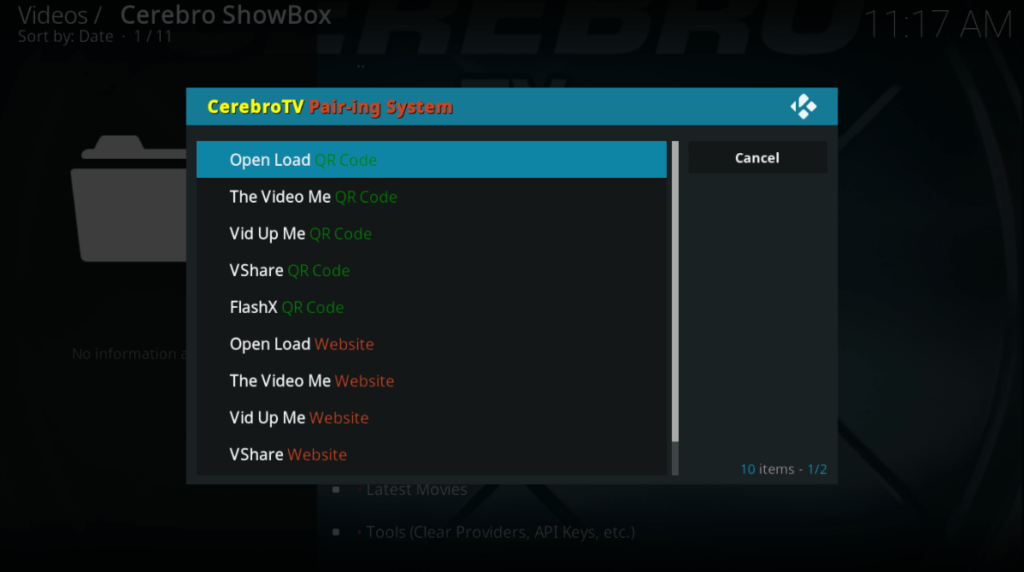 It's all about those sources that require pairing like openload. How many addons you can think of needing you to open a web page to pair your device with the streaming source. It's a system that used to allow streaming suppliers to get some revenue by showing ads when clicking their pairing page.
Thanks to Cerebro Showbox Kodi addon to end this annoying phenomenon. It doesn't rid you of the need to pair but makes it considerably easier. Here's how it works.
When you select the option, a list or services is displayed.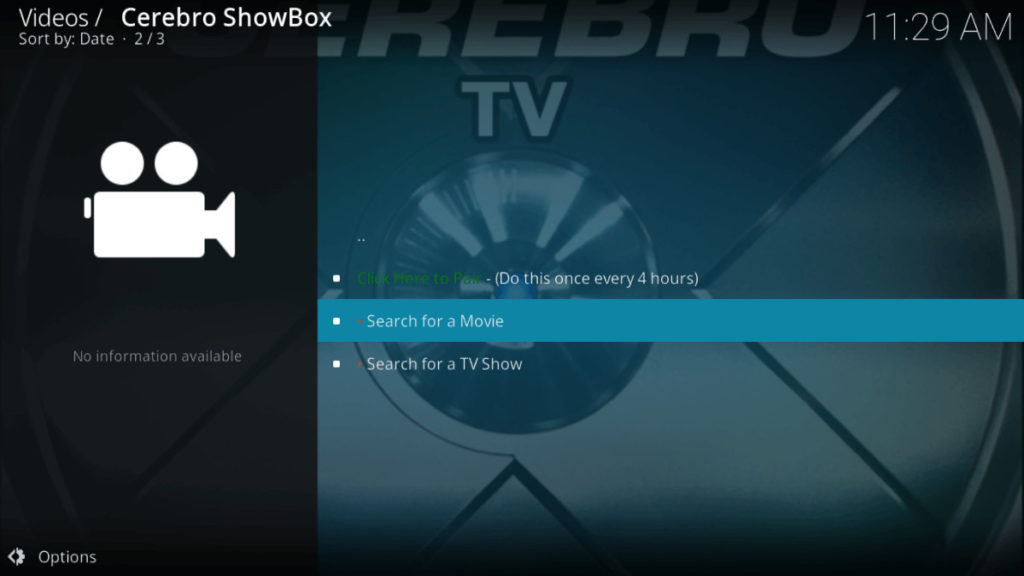 The easiest option is to go with the QR Code feature. Click any of the first links to get a QR code. Scan the code and open the proposed site. Click I'm not a robot and then click the Pair button at the bottom. You should do that for all the five services or, only for the services you're planning to use.
Or, you can also click the website link. It works the same except launching a browser and open the pairing page. The plus point is that you don't need an extra device but to have a browser on your Kodi box, some don't. To make the feature even more accessible, it is present at the top throughout the addon.
Sky Cinema On Demand – A Feature Not To Be Missed!
This feature is as exciting as it is rare. Opening the section exposes a list of 11 Sky channels including Sky Action or Sky drama, Sky Comedy, Film4, and Film4 + 1 channels, have a look!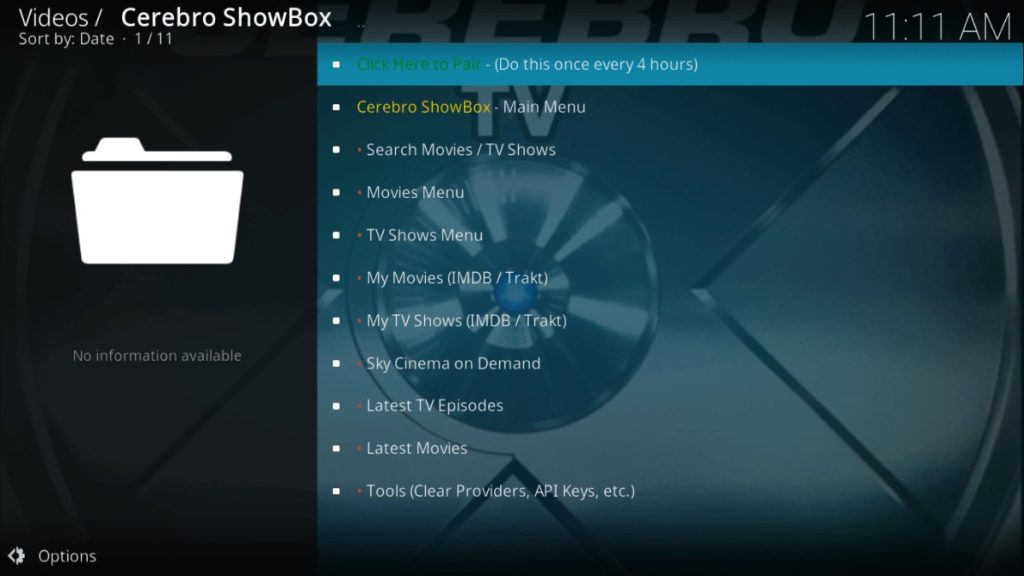 It is the currently playing title on the respective channel, but hold on! Clicking any section won't start a live IPTV stream; instead, you get the list of sources that the movie is available. Click any source to start. The significant advantage of this is that you can watch movies from the start, even if the actual broadcast is over.
Wanna Know More About Cerebro ShowBox For Kodi? Scroll Down
The Cerebro Showbox addon is relatively similar to Exodus and Covenant. But j don't judge a book by its cover, don't let that similarity fool you. There are improvements in Cerebro Showbox, let's have a short look at the most important features.
Search Movies / TV Shows – The search function is basic but works well. A nice feature is it shows movies and TV shows separately; looking for A Star is Born, "star born" would be sufficient to find it.
Movies Menu – this section has movies by Genres – 22 in total, including horror, documentary, or thriller.  Want a chronological view? Movies by Year will be helpful for you. You can also view Popular Movies, Oscar Winners, Most Voted Movies, In-Theatre Movies, and Box Office Hits. You can also search By person Name rather than titles; search your favorite actor or director to catch all the claims. Same goes for TV Shows head.
My Movies & My TV Shows – Sections where you'll find your customized content. The content of these sections are links to your Trakt or IMDB accounts (or both) to pull personal lists and display them within Kodi.
Latest TV Episodes – This is a shorter section including Holidays break, and many series are on pause. The article contains links to the latest episodes of most recently airing TV shows. The list will update as new episodes are added.
Latest Movies – It isn't exactly clear what this section holds; you'll find recent movies but how recent is based on those that considered latest. The list has more than 500 entries one of them dates back to 2016; the first few entries seem to be amongst the latest movies.
Tools – This last section is for you to adjust the addon's settings.
The Settings – Here you need to enter your IMDB credential or can authorize you Trakt account. Doing either will activate the My Movies and My TV Shows section. This is also where you can enter credentials for several other providers to benefit from faster speeds or bigger quotas.
Providers – It's a section where you can enable or disable any content provider. The list has hundreds; if you're aware of providers with dead links or don't work, you can switch them off to save time when searching providers.
Cerebro ShowBox Kodi Addon Is More Than The Addon
The Cerebro Showbox addon is one of the best for streaming movies and TV shows. You'll love the secure pairing facility which makes it somewhat less annoying.
What is your take on Cerebro Showbox addon? Have you tried it? Did you face any issues regarding installation or use? Please, use the comments box to share.