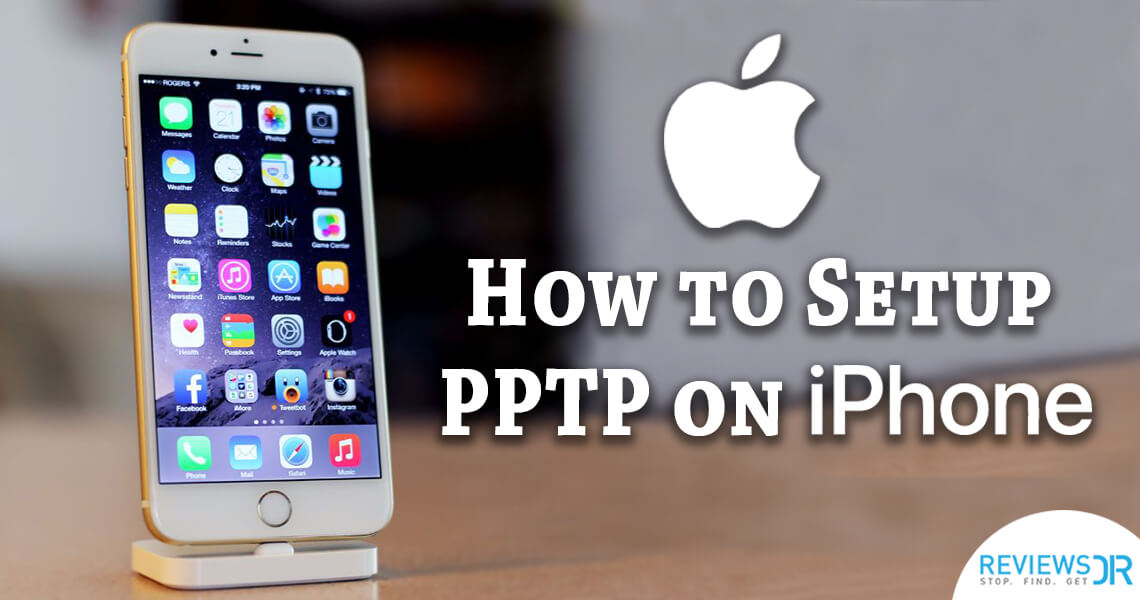 Have you heard the famous phrase "You can't kill what you can't see"? This perfectly applies in today's Cyber World. One way to protect yourself against online demons is by making yourself anonymous. And, what better way is there to make you invisible on the internet than a VPN. Yes, VPN provides you privacy, invisibility, and security at the same time. If you wish to get online protection and speed on your iPhone, then setup PPTP on your iPhone.
There are many other reasons that you might want to use a PPTP VPN on your iPhone. For example, a VPN hides your location online, which helps you to access blocked content and blocked streaming websites such as US Netflix when you are in the UK or BBC iPlayer when you are in the USA.
iPhone has built-in protocol support for PPTP and L2TP. PPTP is recommended when privacy is not the priority, but you need a faster connection with complete anonymity. However, as of iOS 10, Apple did limit your options a tad and removed PPTP support from iOS 10. Before iOS 10, you might have also noticed the message prompt "VPN Using PPTP May Not Be Secure" during the PPTP VPN setup.
✎ Read Also: 5 Best VPN Apps For iPhone – Indestructible Kevlar For Your iOS!
Users who have not updated their iPhone to iOS 10 and still using iOS 9 can still use PPTP protocol. We only recommend PPTP setup when privacy is not a priority. These steps can only be applied on iOS 9 and lower versions. So, let's get started:
Step-By-Step Guide To Setup PPTP on iPhone
Step # 1: Go to Settings and select 'General'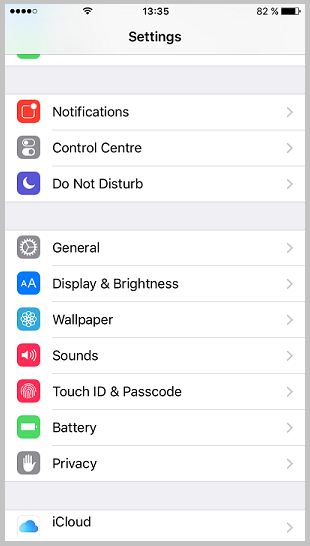 Step # 2: Next, go to VPN and tap on 'Add VPN Configuration'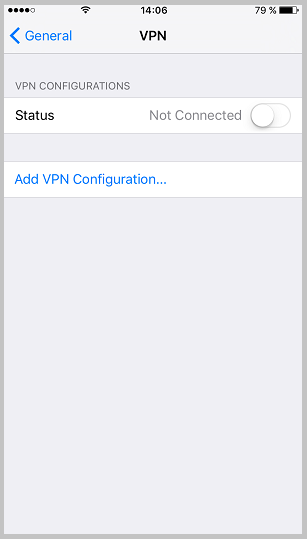 Step # 3: Now, select 'PPTP'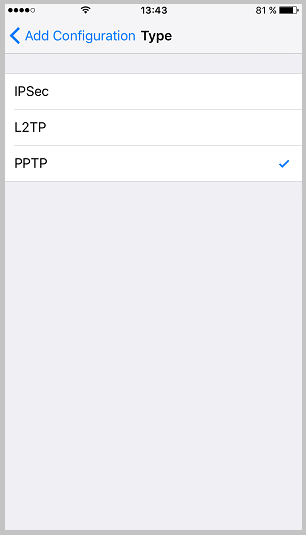 Step # 4: In the next screen, fill up the required information, including: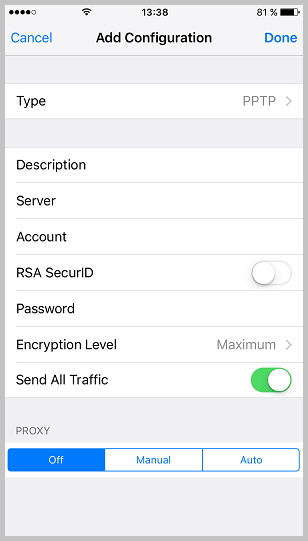 Server Field – Name or IP address of the VPN server
Account Name – Username provided to you by your VPN provider
Password – Password provided to you by your VPN provider
Encryption Level – Select Maximum
Send All Traffic – Tap and activate the option
Proxy – Keep the option 'OFF'
Once you have entered the details, tap on 'Done' at the Top-Left of the screen.
Step # 5: Tap on the VPN and connect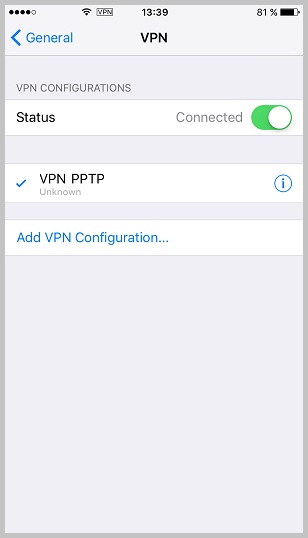 Step # 6: To disconnect the VPN, just slide the bar on the other side
This is all you need to do to setup PPTP on iPhone. Isn't it as easy as a piece of cake?
With the new updates in iOS 10, VPN providers have removed PPTP protocol support from VPN apps. So, if you wish to use the PPTP protocol on your iPhone, you will need to configure it manually.
Top 5 VPNs for iPhone – ReviewsDir Recommended
Choosing to use a VPN is a wise decision these days, but finding the right service can be a bit challenging. There are two kind of iPhone VPNs available in the market, Free iPhone VPN and Paid iPhone VPN. Free VPN Apps are way to go, but it holds greater risk of online threats. To help you make a better decision, we have analyzed and tested industry's best VPN providers and picked 5 of them that works like a charm on iPhone and offer PPTP support. Check out the list of top 5 VPNs for iPhone below,
Stay Invisible Friends For Better Online Privacy & Security
One-layer security is not enough in today's digital world to protect your online identity. If you wish to stay safe online, you should consider more than one layer of security. Antivirus software, for instance, protects you from malware, but it doesn't hide your digital footprints. So, as long as your original IP is tied up to your internet connect, anyone from outside can track you and spy on your online activities. This is why we highly recommend VPN. A VPN is a one-stop solution for improving your Internet security. It is something of a Swiss-knife for protecting your online identity by allowing you to geo-spoof your real IP.
Bottom Line: Use a VPN on your iPhone to stay ANONYMOUS & INVISIBLE.