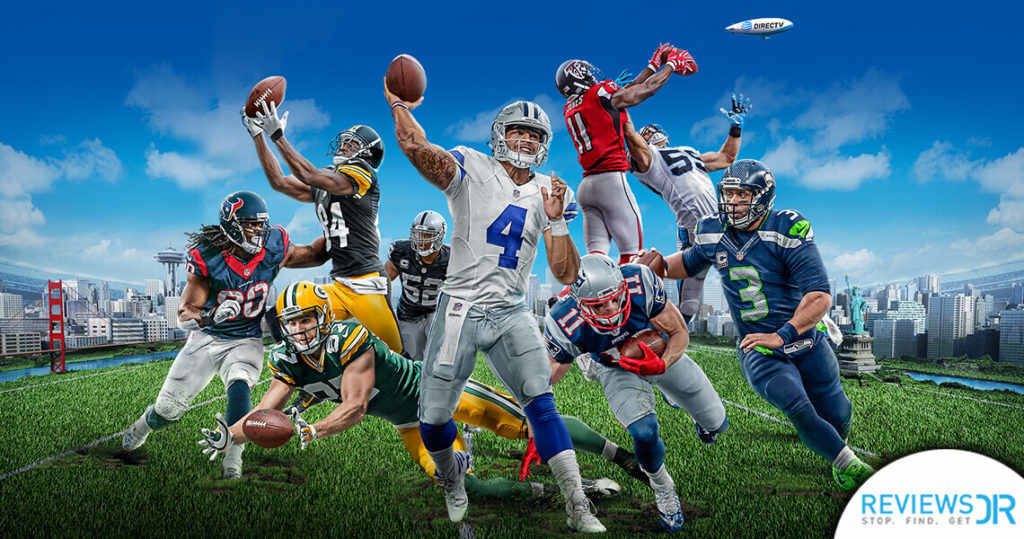 NFL training camps, Hard Knocks, and pre-season are already on our screens, while the regular season kicks off on September 6, 2018, when the defending Super Bowl champion Philadelphia Eagles host the Atlanta Falcons. The NFL schedule 2018/19 is already out, means we have few months to ponder the match ups that indeed will hold the same amount of weight they carry now. Before predicting the best game of each week, let's plan how to watch NFL 2018/19 Games live online; are you ready to exercise in futility. Fortunately, we've got a gym loaded with options, so let's hit the treadmill.
From live coverage to the thrill-a-minute Redzone with Scott Hanson, the host of new programming with Jay Ajayi, the Super Bowl LII story, NFL Europe and more; the NFL is not just to watch on Game Day but every day of the year. So, it doesn't matter if you live in Philippines, Canada, UK or any other place on earth where NFL live stream is restricted, we have the ultimate NFL online fix for you that'll guide you all the way to stream NFL 2018/19 games and playoffs easily without any hassle.
Where To Watch NFL 2018/19 Games Live Online?
Luckily, there are various ways to stream NFL games online. The options may vary from the location you want to watch the games live. Below, we will be discussing some of the best options to watch NFL live.
Watch NFL Live via Cable TV Footies
This is the fifth year continuing the current broadcast contracts with ESPN, Fox, CBS, and NBC, including "cross-flexing" (switching) Sunday afternoon games between Fox and CBS before or during the season. NBC will continue to air the annual Kickoff game, Sunday Night Football, and the prime time Thanksgiving game. ESPN will continue to air the Pro Bowl and Monday Night Football and CBS will broadcast Super Bowl LIII.
On January 31, the NFL announced that Fox had acquired the broadcast television rights to the Thursday Night Football package. So, Fox will air 11 games, including the 2018/19 NFL Draft, in simulcast with NFL Network, while the remaining games will be air with the package on NFL Network.
Watch NFL Online – For Live Streaming Netizens
The NFL extended its digital rights agreement with Verizon Communications. Unlike the previous deal, it no longer includes exclusivity and NFL games on mobile devices with screens 7 inches (18 cm) or less, to account for changes in viewing habits, but still provides access to highlights and other digital content for Verizon-owned properties.
All of the NFL's current television partners have mobile streaming rights (which were previously to Verizon) for the 2018/19 season. On April 26, 2018, the NFL reached a two-year extension of its agreement with Amazon for sharing digital rights to the Thursday Night Football games simulcast with Fox.
In short:
Sunday Day Football: FOX and CBS
Sunday Night Football: NBC
Monday Night Football: ESPN
Thursday Night Football: NBC and CBS
Don't worry cord-cutters! We have you covered shortly after the trick that always works, have a look.
How To Watch NFL 2018/19 Games Live Online? Here's That One Trick That Always Works!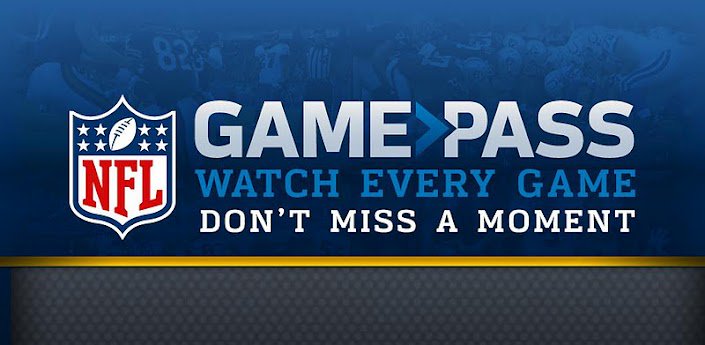 The most legit and easiest way to stream NFL games is to subscribe to NFL Game Pass. Whether you want to watch NFL football online inside or outside the US, the Game Pass subscription works everywhere. Once you subscribe to NFL Game Pass, you'll get complete access to NFL RedZone, NFL Network and Featured Videos and replays.
The cost of NFL Game Pass depends on the package plan, mode of payment and your geographical region; if you're in the US, you can pay around $79.99 to $124.99/year depending on the suitable plan. Every plan allows 24/7 live NFL Network streams, you can pay in installments and you will get a 7-day free trial as well; test the service before making the final purchase.
But keep in mind that if you try to opt for the NFL subscription outside of US, you'll get this message notifying you that "You're out of the league: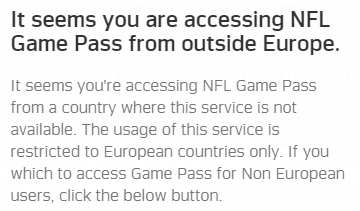 Moreover, once your favorite NFL playoff game goes online, you might receive this blackout error even if you're a paid subscriber: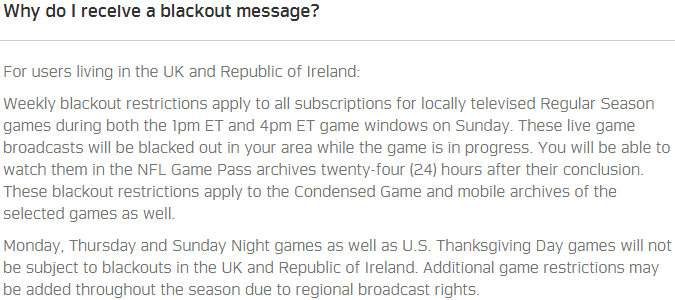 But, don't worry, you're in luck because this error can easily be eradicated by using a one of the fastest VPN to access US or any other region from anywhere in the world and stream NFL games online from anywhere in the world like a local citizen.
Try ExpressVPN Now
30-day money-back guarantee
Simple Steps To Watch NFL 2018/19 Games Online From Outside United States Using A VPN:
Download ExpressVPN and Install it
Open the VPN app and connect to US server
Tadaa! Now you can access live streaming of NFL playoffs on NFL Game Pass from outside of US like a local citizen from anywhere in the world
*A list of best VPNs to access NFL 2018/19 outside the US has already attached here.
Ways To Watch NFL 2018/19 Live Online For Cord Cutters
Now let's discuss some very convenient options that our cord-cutters audience would love to have.
Sling TV – The Best & Cheapest Option To Stream NFL Games Online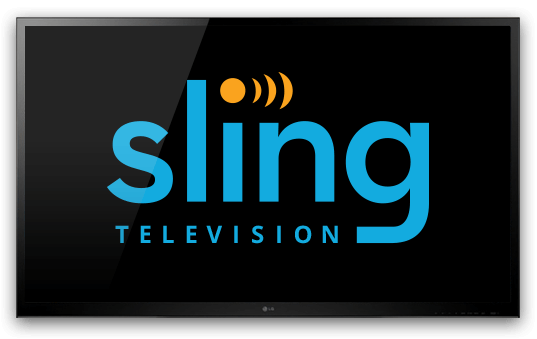 Sling TV splits its live NFL options between its $25/month Blue and $25/month Orange plan; isn't a tricky decision to encourage us to get them both at $40/month ( get a $10 discount and buy both).
Sling Orange includes Monday night games on ESPN. Sling Blue includes Thursday and Sunday games on NBC, Fox, and the NFL Network. Want to add the NFL RedZone to Sling Blue? Just pay the additional $10/month Sports Extra package, which includes NFL RedZone. Sling TV does not offer CBS.
YouTube TV – Another Cheap Option To Watch NFL Playoffs Online
YouTube TV is a recently launched online streaming service by Google through which you can easily access channels like CBS, NBC, and FOX for as low as $40 per month subscription. Here is the complete list of locations where YouTube TV is currently available.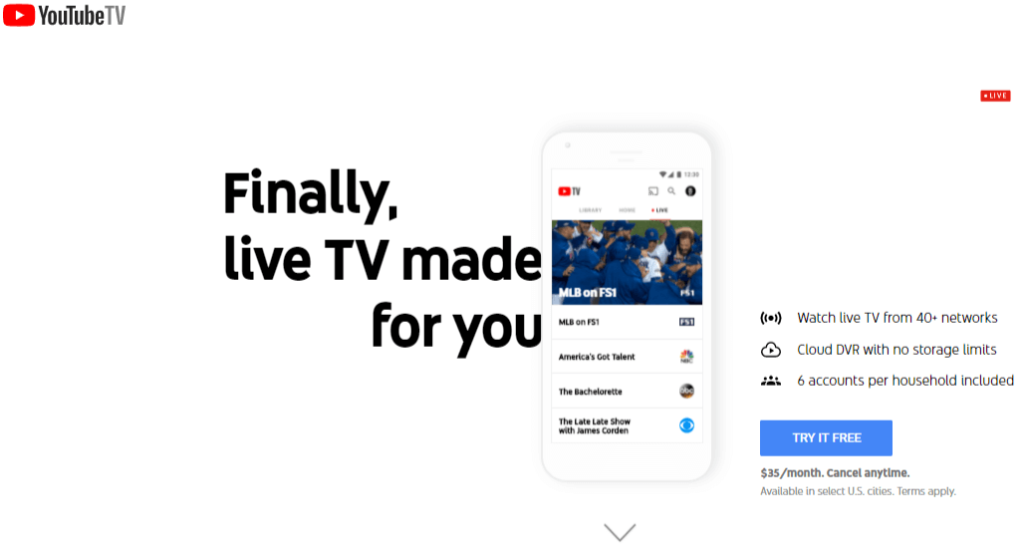 PlayStation Vue – The Premium Service For Streaming NFL 2018/19
PlayStation Vue -Sony live TV streaming- offers all the networks broadcasting NFL games, add the NFL RedZone channel for an additional $10/month extra. The $50 Core plan is the cheapest option including all the five networks you need – Fox, NBC, CBS, ESPN and NFL Network.
Channel lineups vary regionally, so check out the live, local networks you get on the PlayStation Vue on their Plans page. In many regions, you can watch on-demand but not live content from Fox, NBC, CBS, and other local networks.
DirecTV Now – For Your Love Of NFL 2018/19 Games
DirectTV Now offers Fox, NBC, CBS, ESPN and NFL Network. Its basic package costs $40/month, that will let you watch Sunday afternoons games on CBS and Fox, Monday Night Football on ESPN, Sunday Night Football on NBC, and Thursday Night Football on Fox. Jump up to their $55/month -Just Right- package to get the NFL Network.
FuboTV – Say Goodbye To Cords, Not Your NFL 2018/19 Craze
The sports-centric FuboTV charges you $35 for the first month and then $45/month, it includes Fox, NBC, CBS, and NFL Network but not ESPN. You'll miss out Monday Night Football on ESPN but get the games on Sunday nights (NBC), Sunday afternoons (CBS and Fox), and all 13 Thursday night games (NFL Network). Add $9/month to subscribe their Sports Plus package for NFL RedZone.
Sadly, be it SlingTV, YouTube TV, FuboTV, or any other; all are currently available in US, you can still access and watch NFL 2018/19 games live online on  all the mentioned channels using any VPNs listed  above. Simply, configure a VPN on your Smart TV or install  on any of your favorite screen. Stream NFL online and connect to a US server and get ready to enjoy your favorite team knocking heads.
Watch NFL Games Online Free Streaming – Beware Of The Shining Gold!
For all those NFL fans who are hunting free options to stream NFL 2018/19 games, there is an option; you've to be in an area with good reception. You can get football games for free via over-the-air broadcast channels just by attaching an indoor antenna to your TV. Addition to the games on Fox, CBS, and NBC, if local team is playing on NFL Network or ESPN, then that game will be simulcast on a local station, too. It means, you can watch your local team every week for free along with other games on Sunday broadcast on Fox and CBS with the 11 Thursday night games that air on Fox.
Please bear in mind that some NFL free live streams are nearly illegal and you might be subjected to relevant penalties and legal issues for watching those streams.
That is why it is advisable to run one of the most anonymous VPNs at all times to protect your online activities and ensuring your digital privacy. We strictly do not encourage you to access any pirated links but just in case to avoid a situation where you stumble upon one and later fear the repercussions, using a VPN service is advisable at all times.
Get Ready To Watch NFL 2018/19 Games Online From Around The World?
There are several ways to watch the NFL 2018/19 online, but for most folks, it will end up with either NFL Game Pass, or a live streaming service like Sling TV for live viewing. NFL Game Pass is the straightforward option, that broadcast every game of the season. While services like YouTube TV offers a fantastic cable replacement experience using the wide variety of channels, whereas Game Pass is only for NFL coverage; DECIDE WISELY!
Watch NFL 2018/19 live online from anywhere, using a VPN service and support your favorite team this NFL season without paying hefty subscriptions prices that usually cost you an arm and a leg.