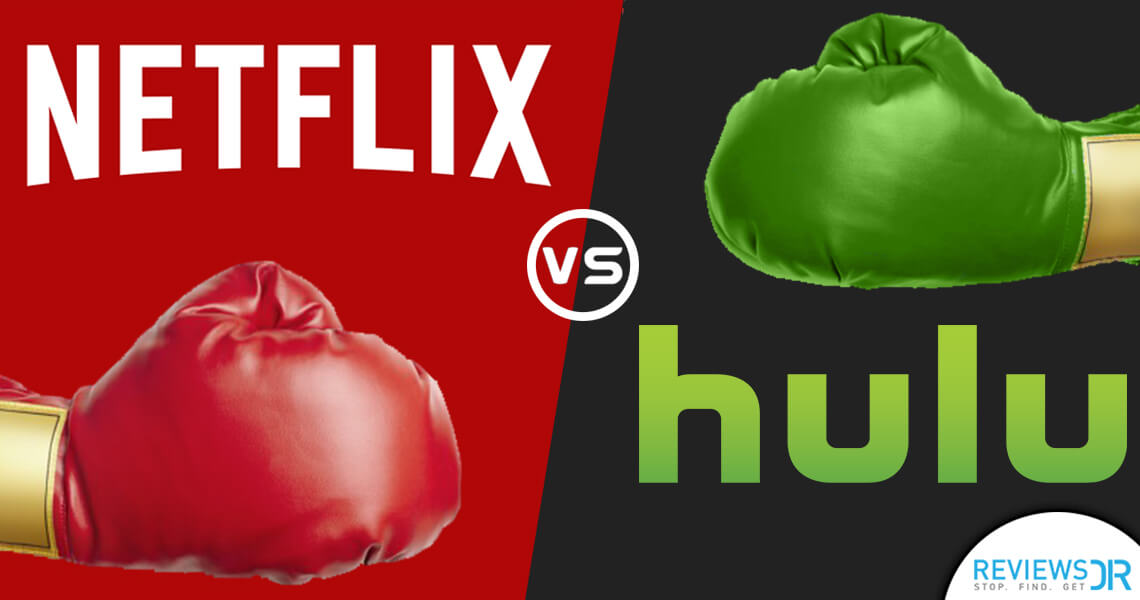 Do you remember the time before streaming services were everywhere? It seems like forever and to be more precise, how dull the day was when you have nothing to watch on your TV. Thanks to online on-demand streaming services which makes it easier to watch movies and TV shows anytime of the day. It's hard to pick any device with a screen that does not support these streaming services, especially the industry giants Netflix and Hulu. Today, we will witness an epic battle between Hulu and Netflix. Just take it this way; Hulu vs Netflix – if you can only afford subscription of one streaming service, which one is worth your cash? So, let's begin:
Introduction of Participants – Hulu vs Netflix
Introduction of Hulu
Titles Available: 10,2500+ titles
Monthly subscription: Start from $7.99/ month
Concurrent Streams Supported: 1 to unlimited
Live TV: Yes
Ads: Yes
Original Programming: Yes
Hulu was launched in 2008. It was first introduced as syndication engine for the owners like NBC Universal, but it quickly turns into an on-demand streaming service to find programs from most major TV networks, except for CBS and the CW, shortly after they aired.
Hulu reported to have a clientele of 12 million subscribers by the end of 2016. According to a recently published report by comScore, Hulu is now the second most watched streaming service in the US with 47 million total unique viewers.
Previously, Hulu had a limited free tier of services, but that changed last year. Hulu brought a lot of changes in its services, and mostly it's for better. However, Hulu still supports ads.
✎ Read Also: How To Watch Hulu Outside US – A Complete And Easy Guide
Introduction of Netflix
Titles Available: 100,000+ titles
Monthly subscription: Start from $7.99/ month
Concurrent Streams Supported: 1-4
Live TV: No
Ads: No
Original Programming: Yes
Netflix is like the grand-daddy of streaming services. It started 20 years ago as a DVD-by-mail service with no late fees. Netflix pretty much puts movie rental places out of business. Back in 2007, Netflix experimentally entered into first-ever online on-demand streaming content, which quickly becomes its core business and significant source of internet traffic.
As reported by Netflix's PR officials, it has 104 million members worldwide. Around 51 million of the total subscribers are in the USA.
Netflix has not stopped its DVD services. If you want new releases, you can order them on DVD via mail. But Netflix has long said that streaming is its primary focus. With Netflix, you can now download content for offline viewing.
Netflix is available on numerous devices, from your PC and tablet to the Chromecast and game consoles.
✎ Read Also: 5 Best Netflix VPN Providers In 2017 – 100% Working & Stream-Ready!
Now, let's talk about the comparison of both services based on their silent features.
Hulu vs Netflix: Which Service Is Best For You
Free Subscription
Hulu free subscription is for 30 days. On the main website, you can see a clear Call-to-Action of "Start Your Free Trial." Upon clicking on the button, it will take you to the pricing plan and ask for your details. You will have to provide your Credit Card details to subscribe to Hulu free trial. You will not be charged for the first month. Free trial comes with certain limitations.
Netflix free subscription is precisely same as Hulu. To subscribe to Netflix free trial, you will need to provide your financial details. There are no limitations on Netflix free trial. You can watch all the movies and TV shows as if you are using a paid subscription.
Winner: Netflix is clearly the winner for Free Trial Subscription feature.
Pricing Plans
Hulu plus account starts from $7.99 per month which comes with ads. To get an ad-free service, you will need to pay $11.99 per month, but there are still some 15-second pre-roll and 30-second post-roll ads through some popular shows.
Hulu also offers add-ons to customize your services. You can also add HBO or Showtime to your Hulu account for $14.99 and $9.99 per month, respectively, but that won't save you any money; it's just convenient not to have to switch apps.
Hulu recently released a live TV option, named simply Hulu With Live TV that starts at $39.99 per month and is currently in beta phase. Hulu is supported on some gadgets, but you can only stream to one device at a time. You can get Hulu services on two screens simultaneously or upgrade to unlimited streams for another $14.99.
Netflix account start from $7.99 per month. In $7.99 per month, you can use Netflix on only one device. To add more devices you need to pay extra amount. To use Netflix on two devices monthly subscription will cost you $10.99. If you pay $13.99, you can get up to four concurrent streams and support for 4K content.
Netflix does not support advertisement. You can add Blu-Ray DVD catalog for additional $2. Netflix does not offer special add-ons.
Winner: Again, Netflix is the clear winner for pricing plan. Netflix doesn't blackmail its users with ads to pay more for annoying-free services.
Library Content
Hulu plus library is primarily populated with TV shows rather than movies. Thanks to its media channel supporters, Hulu gets latest episodes of different TV shows immediately, often within a day of the original airing. It featured TV shows from networks including NBC, ABC, Fox, ION Television, USA Network, Brave, Syfy, E!, A&E, and Oxygen. Hulu never declared the number of titles available in its library, but it is estimated that it has more than 43,000 TV episodes from 1,650 shows and over 2,500 films.
Netflix was once famous for its vast library of movies, but these days it's known for original programs that are the craze of today's youth. You can find a solid selection of all times films and TV shows which get exchanged with new titles every month. And, there's Netflix original programming to take into ccount, too. Netflix is the only place where you can watch Orange is the New Black, Luke Cage and ouse of Cards. Netflix has over 100,000 titles in its library, but it is all estimated and never officially declared by the service itself due to adding and removing titles on a monthly basis. Plus, Netflix libraries differ from one and another.
Winner: With a 3 times larger library, Netflix is clearly the winner.
Navigation 
No one wants to get lost in a poorly designed website to search for movies and TV shows. Hulu's Interface is straightforward, as it lists the different categories of films and TV series as you scroll through the home page. Hulu takes the matter to one step further. On Hulu library, at 'My List' users can also see when the new episode of their favorite show will be available which Netflix fails to do.
Netflix interface is relatively simple and easy-to-navigate. You can create a list of your favorite shows and movies by clicking on the 'Add' button. The browser option is distributed into specific categories from where you can choose movies and TV shows. Netflix suggests movies and TV shows based on an algorithm that finds a suitable title for you keeping your viewing history in account.
Winner: Hulu is a winner for this category based on additional features it added in its interface.
Compatibility
Here's the comparison of device compatibility for Hulu and Netflix.
Hulu:
Hulu on Windows – YES
Hulu on Android – YES
Hulu on iPhone – YES
Hulu on iPad – NO
Hulu on PS3 & PS4 – YES
Hulu on Xbox – YES
Hulu on Roku – YES
Hulu on Apple TV – NO
Hulu on Kodi – YES
Netflix:
Netflix on Windows – YES
Netflix on Android – YES
Netflix on iPhone – YES
Netflix on iPad – YES
Netflix on PS3 & PS4 – YES
Netflix on Xbox – YES
Netflix on Roku – YES
Netflix on Apple TV – YES
Netflix on Kodi – YES
Winner: Netflix supports more devices then Hulu. That's why we have our winner with us and its Netflix.
Regional Availability
Hulu is available in very limited regions including USA and Canada. You can get its knocked-off service in Japan as well.
Netflix is available in around 94 regions with a different selection of movies and TV shows, which include regional programs and originals.  Netflix is available in countries including, USA, Canada, Brazil, UK, Italy, Pakistan, Australia, India, France, etc.
Winner: More region means, more libraries and more libraries mean more titles. That is why we declared Netflix as a winner.
Add-Ons
Hulu offers three add-ons for channels including, HBO, Cinemax, and Showtime. You can add Showtime on your Hulu interface by paying extra $8.99 per month; for Cinemax, you will need to pay $9.99 per month, and for HBO you will need to pay $14.99 per month.
Netflix does not offer any particular add-ons in its service. It's one-price fir for all the content on Netflix.
Winner: Hulu is clearly a winner here for offering something that Netflix has failed to offer.
Original And Exclusive Content
Hulu has a lot of exclusive content to offer including originals like Seinfeld, South Park; You're the Worst, Mindy Project, Chance, The Path, Difficult People, Casual, The Handmaid's Tale and Fargo.
Netflix's originals are on another level. As per official statement of Netflix, they have invested over $16 billion in original content from movies like Beast of no Nation to TV program like Orange is the new Black. The list of Netflix original programming is too large including, GLOW, Love, The Keepers, 13 Reasons Why, The Crown, House of Cards, One Day at a Time, Orange is the New Black, The Defenders, Luke Cage, Jessica Jones, Stranger Things, Unbreakable Kimmy Schmidt, Master of None, Dear White People, and BoJack Horseman.
Winner: Netflix wins this category with 4 times more original programs compare to Hulu.
Audio and Video Quality
To stream HD or 4K Ultra HD resolution at Hulu, user will need compatible display which can play these formats along with a steady internet connection. The quality of Hulu's streaming ultimately depends on your device, and users can stream 4K Ultra HD on a Playstation 4 Pro or XBox One S.
Here is a breakdown of Hulu streaming quality.
Standard Definition: 1.5 Mbps
720p HD: 3 Mbps
1080p HD: 6 Mbps
4K Ultra HD: 13 Mbps
In addition to 1080p, Netflix also offer 4K Ultra HD resolution and HDR streaming support. Netflix charges extra for 4K Ultra HD resolution and it subscription cost $12 a month. As for audio quality, Netflix offers Dolby Digital Plus 5.1 surround sound encoding on the majority of content in addition to 7.1 encoding on select content.
Here's a breakdown of Netflix's streaming quality:
Low: Basic video quality uses up to 0.3 GB of data per hour
Medium: Standard video quality uses up to 0.7 GB of data per hour
High: Best video quality uses up to 3 GB of data per hour for HD and 7 GB of data per hour for Ultra HD
Automatic: Quality determined by your connection
Unlimited: The highest quality possible for your device and the show or movie you're watching, peaks at the same rate as High.
Winner: Do I have announced the winner for this category? Isn't it obvious? Netflix wins again.
Hulu vs Netflix – Pros And Cons
Hulu Pros:
Larger catalog of currently-airing TV shows
Full seasons of older and current popular TV shows
Episodes of some current TV shows are available the day after they air
Hulu Cons:
Less breadth and depth of programming than Netflix
Some programming is not yet closed captioned
No audio descriptions on any shows
Website is not screen reader-compatible
Cannot stream content when traveling outside the U.S.
Netflix Pros:
Many TV programs and movies are available for downloading and viewing offline
Tons of original programming
All English-language programming is closed captioned
Audio descriptions available for many shows
Website is compatible with most OS X and Windows built-in screen readers
Netflix Cons:
No Live TV
Available seasons of currently-airing TV shows are usually at least a year old, so prepare to avoid spoilers for a very long time.
So, which is better: Hulu or Netflix?
In the end, it's your call. First, you need to see what you are using these services for. If you have to choose only one service and you want a substantial library of movies and TV shows, then Netflix is a better choice. But if you are more into the Live TV and want to add channels like Showtime and HBO in one interface then Hulu is the best option to fulfill your needs.