Let's Start – An Overview
ibVPN is a noteworthy invisible VPN solution when it comes to penetrating through geo-blocked content and browse the internet in complete anonymity. ibVPN acts an invisible browsing VPN for more than 500,000 users across 47 countries, connecting through close to 200 servers. It ensures 15-day money back guarantee along with the 24-hour free trial. Its customer support is above par, and regarding security, it stands tall amid topnotch VPN providers. Its compatibility with multiple OS and devices further gives it high-end credibility in the market. Baring few demerits like privacy issues in ibDNS and slightly complicated pricing structure, it is still the best buy for the admirers of online privacy.


Where is ibVPN based and when was it started?|=|

The Romania based company started their operations back in 2003 by offering their first proxy services and continued their services till 2010 when they finally launched their VPN services. ibVPN is a company with a team composed of 15 internet security enthusiasts with an aim to provide extended anonymity and internet privacy.They are proudly serving a customer base of one million clients with 45,000+ active users from across the globe.


ibVPN Features Savviness – Let's Highlight Some Key Features
| Features | Values |
| --- | --- |
| Does this service implement a no-log policy? | Yes: You can remain anonymous |
| Is it good for torrenting? | Yes, it's great for P2P |
| What Netflix catalog can this provider unblock? | US, UK, FR, DE, AU, CA |
| How many multi-login does this provider offer? | This provider allows up to 5 simultaneous connections |
| Server Locations | 60+ |
| Operating Systems (Apps and Devices) | Android, iOS, Windows, MacOs, Linux, Chrome, Router |
| Refund policy (money-back guarantee) | 15 days |
| VPN protocols | OpenVPN, PPTP, L2PT, SSTP |
| Bandwidth | Unlimited |
| VPN encryption | Most secure VPN encryption: AES 256 bits |
| IP Addresses | 170+ |
| VPN Servers | 170+ |
Here is a list of features that are likely to compel you to do ibVPN sign up without giving it a second thought.
ibVPN Global Servers
In the past few years, ibVPN has progressed extensively regarding its server management. As of January 2018, it has developed its server infrastructure appreciably accommodating 200 servers in more than 63 locations in 47 countries across the globe. Depending on your respective country or region, you can choose your preferred server location from among the below list: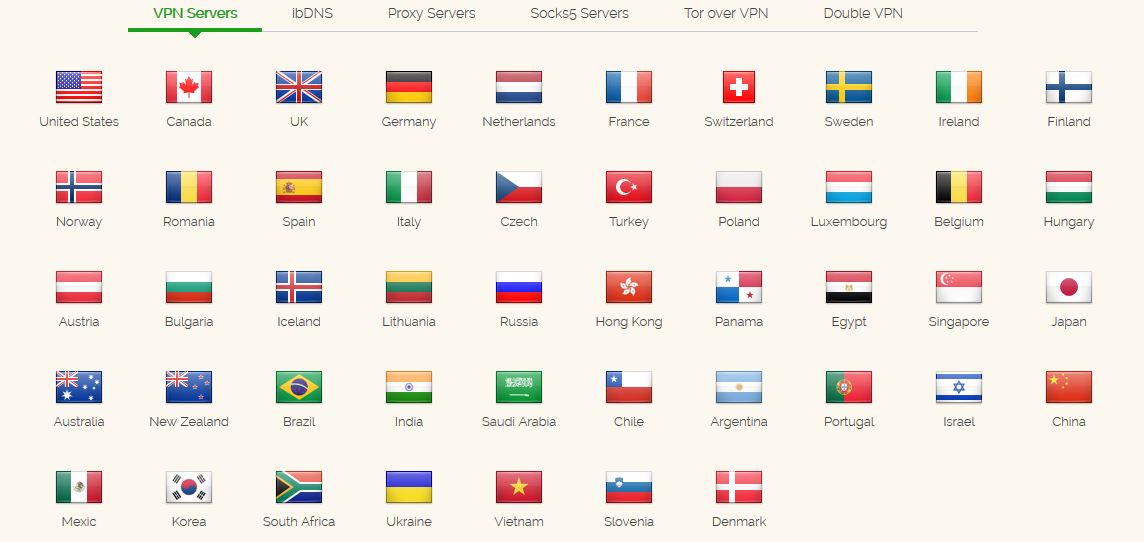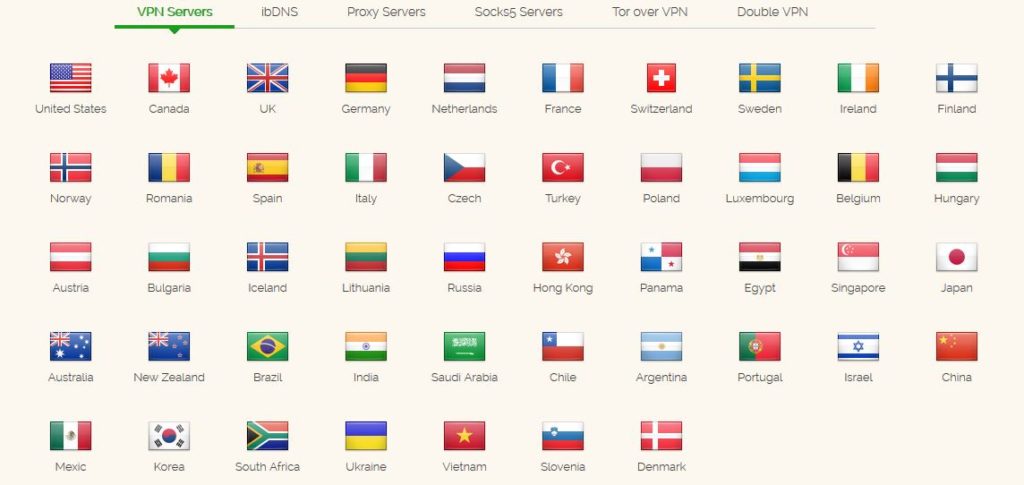 Having less than 100 servers in the VPN industry would be tough to attract customers as top tier VPNs have more than 200 servers. It's a n arguable fact that a server is good as the load of IPs that it can offer, ibVPN currently offering more than 2500 IPs. We believe that segregating the customers based on the VPN needs will determine consumers to their server' sharing ratio.


Does ibVPN works with Netflix? – ibVPN Netflix Check?|=|

While our circuit testing, we were unable to connect to Netflix US with ibVPN, we tried with other servers, but still couldn't get through the regional restrictions. Earlier, ibVPN used to slip under the radar but we assume Netflix finally caught up to it. Although ibVPN is a good service, but not very good solution is you are looking for streaming Netflix US. Netflix keep blocking every other VPN at some point, so we are unable to rule out the future possibility of ibVPN out-streaming the popular streaming platforms.

Besides, ibVPN also offers 1 gaming server for ardent gamers, 1 ibDNS server, for live streaming lovers and 6 DoubleVPN servers for those who are most concerned for their online anonymity.
Invisible Browsing VPN Protocols
The invisible VPN provides capable support of OpenVPN – VPN Client, PPTP – a manual setup, L2TP – manual setup, and SSTP – only for Windows and Linux OS. Currently, ibVPn does not support SSL protocol; each protocol is 256-bit for OpenVPN and L2TP and 128-bit for PPTP.
 – Open VPN
 – PPTP
Automatic installation via All-In-One Client for Windows OS
Manual setup might take 2 or 3 minutes.
PPTP is not as secure as the other three.
 – L2TP
Automatic installation via All-In-One Client for Windows OS
More secure than PPTP but requires some extra steps when installed manually.
 – SSTP
Automatic installation via All-In-One Client for Windows OS
Accessible from: Middle East, Arab countries and China! The hardest one to block of all protocols.
Only for Windows and Linux OS.
ibVPN Kill Switch
The hidden VPN saves you from getting exposed in case of an abrupt network disconnection. Yes, the Kill Switch feature by ibVPN allows you to add applications that require internet to work. In case your VPN connection drops, it closes all the applications included in the Kill Switch application list automatically. This will save your applications to restart on their own when the VPN connects again and hence saves your activity from getting exposed over the web. Currently, you can use feature on your PC and Mac, with the help of All-In-One VPN clients.
ibVPN SmartDNS
Does your browsing work require heavy streaming? If yes, then ibDNS or the SmartDNS by ibVPN will be helpful for your cause. The service provider uses advanced technologies and scripting to make the geo-restricted websites believe that you are browsing their content from an uncensored location. Once you are able to bypass the restriction, you get automatically switched to your regular internet connection instead of a third party server such as in the case of VPN. Hence, it does consist of certain privacy related concerns. For example, ibDNS does NOT mask your IP address or encrypt your online traffic. It is in fact a complementary service to ibVPN, meant for the users who want high speed streaming and are least concerned about their privacy over the web. It supports PC/Mac/Android iPhone/iPad/iPod – under certain conditions.
ibVPN Encryption
Encryption for ibVPN relies on the protocol that you use. For instance:
PPTP: The protocol sessions for PPTP use Microsoft Point-to-Point Encryption (MPPE), RSA-RC4 for encryption. PPTP runs at 128-bit encryption.
L2TP: It undergoes encryption with the help of standardized IPSec protocol and runs at 256-bit protocol. The selection of 3DES or AES encryption algorithm depends on the specification of RFC 4835.
OpenVPN:  It leverages OpenSSL library to encrypt data and control channels, and uses HMAC authentication for enhances security. It uses AES 256/1024-bit encryption and is extremely secure.
SSTP: The VPN tunnel offers a mechanism to transport PPP or L2TP traffic through an SSL 3.0 channel. Used for Windows based SSL VPN, it comes with 256-bit encryption.
ibVPN does provide information on the encryption standards of all the VPN types that it offers. However, the invisible VPN is still not clear if the encryption provided by ibVPN also relies on the same standards.
ibVPN Auto-Reconnect
The Auto reconnect feature guards the ibVPN connection from unexpected data leaks. Once selected, this option connects you back to ibVPN after you have got disconnected all of a sudden. If you have not checked it, then the software will disable the entire network on your current machine in case of an unwanted disconnection. It complements the VPN perfectly together with Kill Switch and is available for use on PC & Mac via All-In-One VPN Clients.
Invisible Browsing VPN Speed Check Test
While doing ibVPN review, we tested it for speed performance. We selected a US based server with OpenVPN protocol and used all-in-one client on Windows 10. We tested the speed using www.speedtest.net. Here is the result:
– Network Connection
Download speed (Mbps) – 32.15
Upload Speed (Mbps) – 5.6
Server Location – Dubai
– Network Connection with ibVPN

Download speed (Mbps) – 30.12
Upload Speed (Mbps) – 5.1
Server Location – USA
ibVPN Pricing Plans
Depending on your budget and browsing requirements, you can choose from among various ibVPN plans.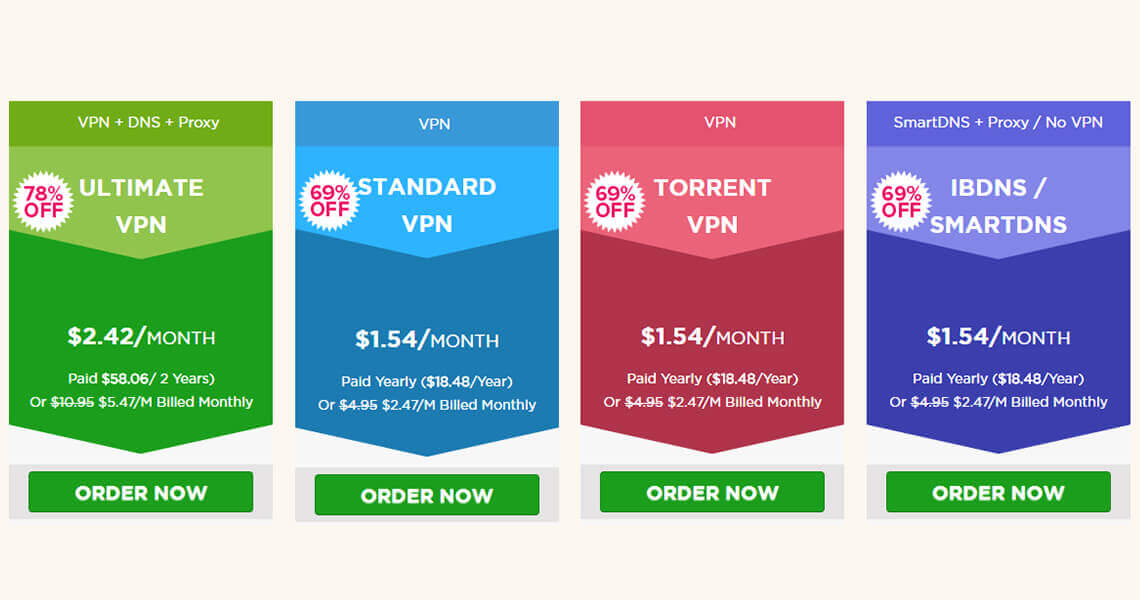 Ultimate VPN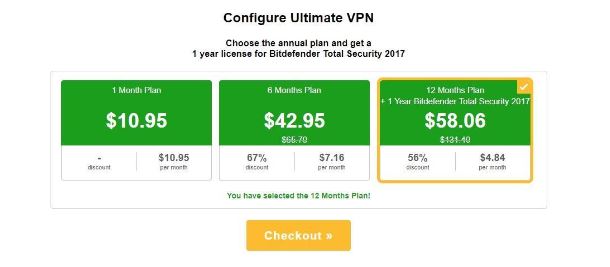 1 Month plan: $10.95 per month
6 Months plan: $42.95 ($7.16 per month)
12 Months plan: $58.06 ($4.84 per month)
Added Benefit: 1 year license for Bitdefender Total Security 2017 with annual plan subscription
Standard VPN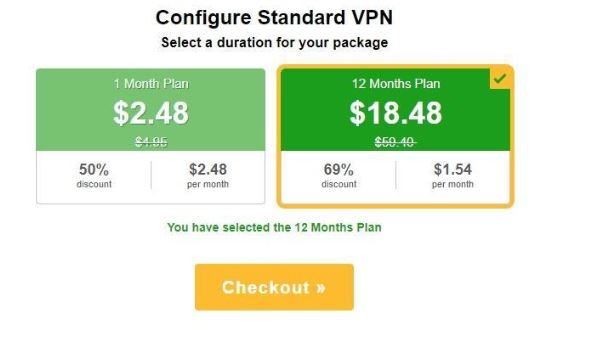 1 Month plan: $2.48 per month
12 Months plan: $18.48 ($1.54 per month)
Torrent VPN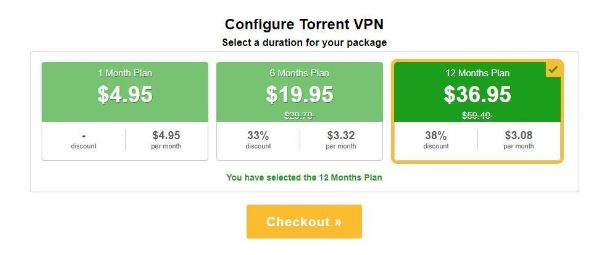 1 Month plan: $4.95 per month
6 Months plan: $19.95 ($3.32 per month)
12 Months plan: $36.95 ($3.08 per month)
ibDNS

1 Month plan: $4.95 per month
6 Months plan: $19.95 ($3.32 per month)
12 Months plan: $36.95 ($3.08 per month)

Is there any ibVPN free trial available? |=|

Yes, besides its paid plans, the invisible VPN also allows you an exclusive 24-hour free trial, which helps to:
Protect your online privacy
Watch your favorite TV channels
Unlock regional content
As a downside, we believe, 24-hour free trial is too less to enable the users make up their mind to buy this VPM. At least 7-day or 15-day free trial could have been lot better. Still, it scores higher as compared to other invisible VPN providers that do not provide free trials at all.
How To Use ibVPN on different Platforms
Using ibVPN is simple and is available for a range of devices, OS, add-ons, extensions, etc. All you need is to download its app depending on your device and operating system.
VPN Apps: You can download ibVPN apps for Windows, MacOS, Android, iOS, Google Chrome Extension, Firefox Add-on, Opera Add-On
Manual VPN Setup: For advanced users, ibVPN offers manual VPN setup tutorials with the help of various protocols – PPTP, L2TP, OpenVPN, SSTP, IPSec/IKEv2, SoftEther. To run the VPN on Windows, MacOs, iOS, Android, Linux, DD-WRT, Sabai Routers, Tomato USB Routers, FreeBox Revolution, NAS Synology, Raspberry PI, Boxee Box and SSTP VPN
ProxySetup: ibVPN allows Manual Proxy Setup for multiple browsers including Internet Explorer, Google Chrome, Firefox, Opera and Safari. Likewise, the invisible VPN also Manual Socks5 Setup for Bittorrent as well as for ibvpn torrenting
ibDNS / SmartDNS:  For people wishing high streaming speed can set up ibDNS/SmartDNS on Windows, Android, MacOS, Linux, iOS, Android, Kindle Fire, DD-WRT / Other routers, Boxee Box, Cromecast, Apple TV / Apple TV 4, LG Smart TV, Sony Smart TV, Samsung Smart TV, LG WebOS Smart TV, PS4, Playstation , PS Vita and Xbox 360
Download ibVPN Apps and Software
ibVPN OS Compatibility: The Invisible Browsing VPN is compatible with the regular devices like desktop, laptop, android mobile devices, PS3, XBOX 360 and more. Here is how you can download and install it on your device in simple steps:
Setup ibVPN for Windows (All versions)
Download All-In-One VPN Client for Windows.
Open the OpenVPN setup wizard and click "Next".
Continue with the wizard till you reach install button
Choose install location and click Install
Click Next  and then click Finish to complete the Setup
Right Click to Open the OpenVPN application on OpenVPN tray icon
Choose your preferred Server location and click Connect
Login into your account
Note: You can find your Username (email address) and VPN password in the Client Area under "My Details" menu ("Account Information" menu button) in your ibVPN account.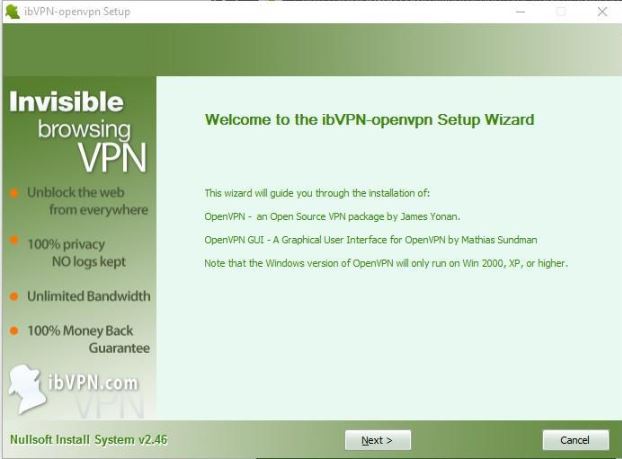 After correct login, you will get connected to the chosen VPN Server automatically
Right click OpenVPN GUI and click "Run as administrator".
You are all set to invisible browsing on your Windows OS, via ibVPN.
Windows 10 will ask to input your VPN Password and Username (email address) after selecting connect.
Setup ibVPN for Mac
Download ibVPN-.dmg, the OpenVPN user interface for Mac OS. Double click the ibVPN-TunnelBlick.dmg file to open the disk image.
DoubleClick the Tunnelblick icon to start the install.
Enter your MacOS Username and Password, press OK.
Press Only Me button when asked your choice to install the configuration files for each server.
Click OK to install the configurations and then to finish the installation.
Click Launch to Start Tunnelblick after the completion of installation.
Click Tunnelblick icon on the status bar at the top of your screen to choose from the available server list.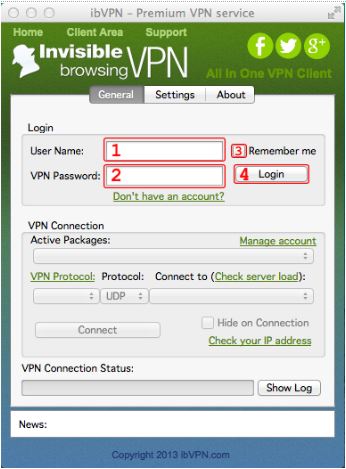 Provide your user name and password. You can find your login credentials in the client area under My Details". Press OK.
ibVPN Mobile Compatibility
The ibVPN download is available for mobile devices, and in fact, the ibVPN review writers have given a big thumps up to the mobile apps of the VPN for different devices and OS. Here is a detailed info on how you could use it on your preferred platform.
Setup ibVPN for Android
This tutorial will help you set up the OpenVPN app on your Android device. Please follow our three Steps tutorial below:
Follow these simple steps to setup OpenVPN app on your Android device.
Download VPN connection certificate required to use ibVPN connection using your PC or Mac.
Connect your Android device and place this in the root folder File System Root /mnt/sdcard.
Open Google Play Store and Install OpenVPN app for android.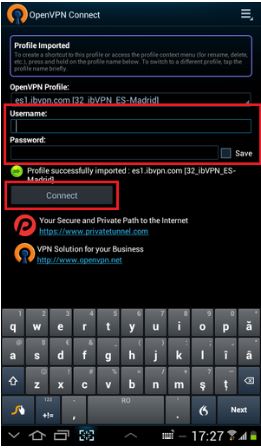 After successful installation, Tap Open and then Settings icon.
Tap Import and then Import Profile from SD card.
Choose the preferred ibVPN server, tap Select.
Provide your User ID (ibVPN VPN username) and Password (ibVPN VPN password), which you can check in the Client Area under Account Details
Tap connect and then tap Allow to permit the connection certificate. Type "ibvpn" when asked for password.
You are now free to connect to your VPN Server and become invisible online.
To make sure that you are connected to  the chosen VPN Server, you can check your IP address.
Setup ibVPN for iOS
To start with, it is good to download the ibVPN Client for iOS.
Make sure that your Mac or PC has iTunes installed in it, before proceeding.
Also, make sure that you open this tutorial from your iPhone or iPad.
Download the requisite VPN connection certificate through Safari browser as it enables you to connect ibVPN through OpenVPN app.
Tap Install and in the next screen, tap Install again.
When prompted for password, type ibvpn, and ignore the Not Trusted message.
Tap Next and then tap Done.
Open Apple iTunes and install  OpenVPN app
Download OpenVPN config files to your PC or MAC.
Extract the iOS OpenVPN config archive, with possibly a name other than the default one
Connect your iOS device to your Mac or PC.
Start iTunes on your mobile device and navigate to Apps → file sharing →OpenVPN
Press Add button on the right, and select as many servers as you want to import.
On your mobile device, start OpenVPN app, downloaded earlier at step 5.
Select a server
Go back to certificate and select imported certificate "server"
Provide your log in details, i.e.User ID (ibVPN VPN username) and Password (ibVPN VPN password) as mentioned in in the Client Area under Account Details.
Make sure to slide the Save credentials to ON.
Slide the Connection status to ON.
This will start the connecting procedure.
Consequently, you will get connected to VPN Server.
You can check your IP address  to make sure that you are properly connected to ibVPN server.
ibVPN Browser Extension & Compatibility
Besides PC and mobile device, ibVPN is also available for browser extensions and add-ons from chrome, Mozilla Firefox and so on. It is compatible with any device and keeps you protected from any 3rd party tracking cookies. However, an important point to note here is that the chrome extensions use proxy and not VPN. It also saves you from being tracked from prying sites about which you have no idea. In short, any such extension or add-on enables you to open blocked websites without worrying about censorship, keep you secured from hackers and enable you to browse safely on public Wi-Fi and other networks.

ibVPN Chrome Extension
Extensions are for automatic HTTP proxy setup and the same holds for Chrome. This is simple and easy to use proxy extension & IP changer. It allows you to enjoy Wi-Fi security in public hotspots, play online games and much more. To install it:
Navigate down the page to find Add To Chrome, click it.
Alternatively, open ibVPN – Best VPN & Proxy page from Google Chrome store and click Add to Chrome.
ibVPN Firefox Add-on
Installing Firefox add-on for ibVPN is equally easy. Here are the simple steps:
ibVPN Firefox Opera Add-on
To install ibVPN Firefox Opera Add-on:

Here it is again important to note that the ibVPN extension for Chrome/opera or the Firefox Add-on are only encrypted proxy servers, and not complete VPN. To avail full feature of VPN, the recommended move is to download the requisite apps for Windows, Android, Mac, iOS and more, as already mentioned earlier.


What is ibVPN log policy?|=|

As per its website, IbVPN does not collect or log any traffic or use of its Virtual Private Network service. The VPN provider can however hand over the requisite information, subject to any legal notice.

Otherwise, ibVPN does not share, rent or sell the personal information of the user related to service registration in any situation. This holds for the information collection at ibVPN website as well as for the merchant provider (WHMCS Inc.). In addition, ibVPN uses the facilities of third-party payment providers and does not store the billing information of the clients in its database. It uses AES-256-bit encryption system to secure user information, making it impossible to decrypt.
ibVPN Customer Support
While doing ibVPN review, we also take cognizance of its customer support and found it to be very prompt and helpful. We used the Live Chat support to connect with its team and asked several questions related to the VPN.
The concerned person was quick to provide all the answers satisfyingly, which helped us to know in depth about various aspects of the VPN provider. To initiate the chat, you will require providing your name and emailing id, which is a normal practice.
ibVPN Review – Conclusion
For those willing to bypass censorship in order to enjoy their favorite entertainment shows or for people concerned for their privacy, ibVPN is one of the VPN providers. Available at competitive price and accompanying a range of privacy and security features, it boasts of more than 100 servers located across 6 continents, 47 countries and 63 locations, which in itself is quite appreciable. Baring few slight drawbacks like limited free trial, complex pricing structure and insecure ibDNS feature, this multiple device and OS compatible VPN continues to enthrall the ardent security admirers.
ibVPN Review
ibVPN scores better in terms of speed, customer support and protocol support. It offers a range of exciting features like high speed, killswitch, support for multiple OS, devices and browsers. However, its ibDNS does consist of privacy issues and probably at least 7-day trial could have been better.
PROS
High-Speed Connections with Unlimited Bandwidth
OpenVPN, L2TP, PPTP, SSTP, SoftEther Protocols support
Support for Windows, Mac OS, iOS & Android Apps
Killswitch and Autoreconnect
Appreciable customer Support
Integrated ibDNS
CONS
ibVPN only offers only 1-day free trial
There are privacy related concerns attached with its one of the unique features ibDNS
The pricing plans are too complicated and lack the clear understanding for a layman customer.