The Cyber and Security Division under Ministry of Home Affairs of the Narendra Modi government authorized 10 agencies for the purpose of interception, decryption and monitoring any information produced, received and restored on a computer system under the sub-section (1) of section 69 of the IT Act, 2000 (21 of 2000) on Thursday 20th December 2018.
These agencies include the Intelligence Bureau, Narcotics Control Bureau, Enforcement Directorate, the Central Board of Direct Taxes, Directorate of Revenue Intelligence, Central Bureau of Investigation, National Investigation Agency, the Research and Analysis Wing, Directorate of Signal Intelligence (located in service areas of J-K, North East and Assam) and Commissioner of Delhi Police.
These ruling has been sanctioned under Rajiv Gauba, Union Home Secretary. The secretary as stated in an earlier order has authority to approve and allow the intelligence agencies for tapping and supervision of phone calls under the Indian Telegraph Act.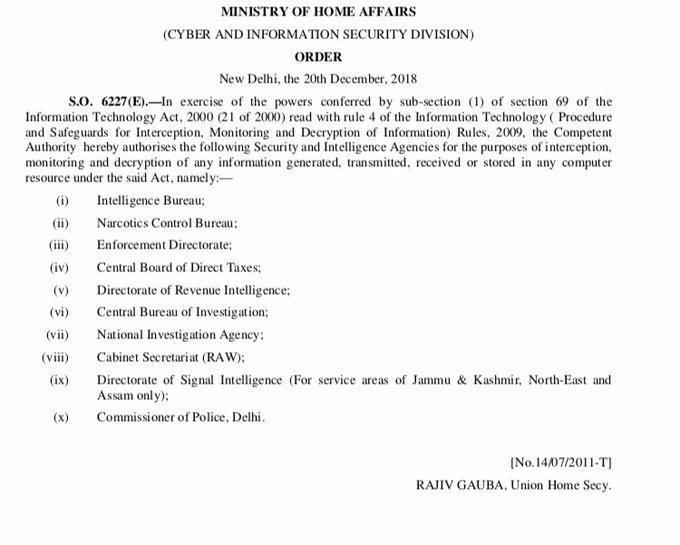 Under this Act, any individual, company, service provider, Telecommunication Company will be bound to submit and assist in providing technical data to agencies. Anyone failing to comply will be served under seven-year imprisonment inclusive of a heavy fine.
The Act is opposed by the opposition parties and called it "undemocratic" as it violates fundamental rights. The Samajwadi Party, the Rashtriya Janata Dal, and the Trinamool Congress said they will oppose the order. They mentioned on their official twitter page,
"From Modi Sarkar to stalker sarkar, clearly the string of losses has left the BJP government desperate for information,"
The news was highlighted when the Internet Freedom Foundation tweeted on their official twitter page and stated; it is against the privacy judgment of the Supreme Court. The Indian Freedom Foundation is a group that fights for online freedom.
**RED ALERT**

1. The Home Ministry has issued a notification authorising 10 agencies to tap, intercept and decrypt all personal data on computers and networks in India. #SaveOurPrivacy pic.twitter.com/z1Ca5FGvXu

— Internet Freedom Foundation (IFF) (@internetfreedom) December 21, 2018
This ruling has created an uproar in the Indian ministry and the social media where multiple NGOs are raising their voice for a petition to stop this act as it serves as a violation of privacy under many regulations. Intercepting such information may create havoc in the society and will give unnecessary rights to harvest data. Such sensitive data to be access needs consent of the applicant and under this ruling, it is being violated.