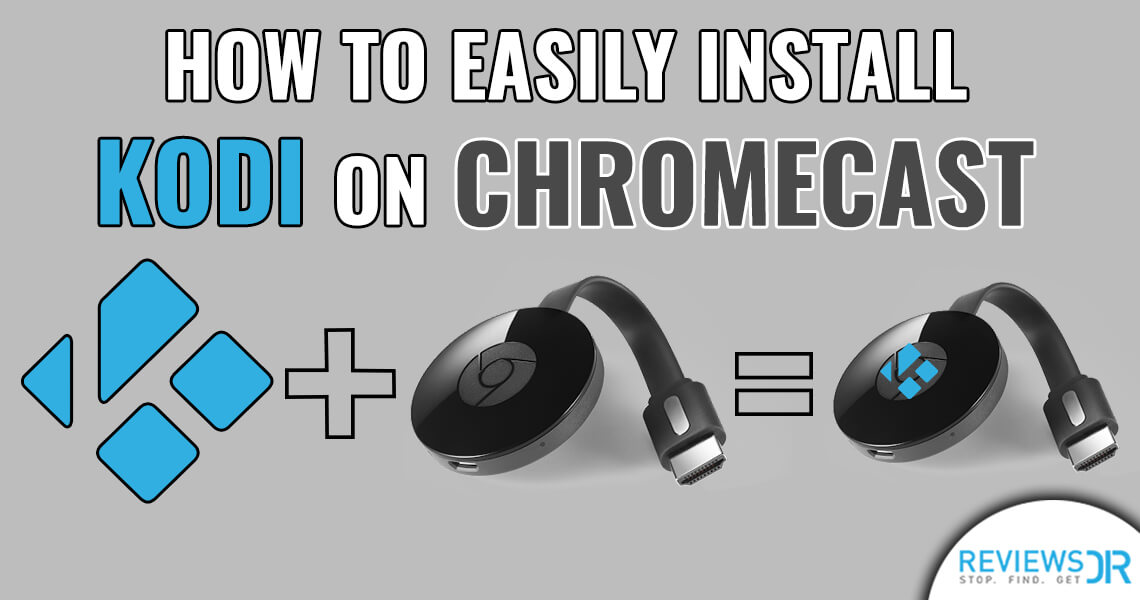 Kodi and Chromecast is an incredible combination that we can label them as 'match made in heaven.' When we say heaven here, we strictly want to keep ourselves associated digitally only. Kodi, on the one hand, is one of the most powerful streaming media player, while on the other hand, Chromecast is a popular streaming device that seamlessly streams all media content on a bigger screen without the need of connecting back and forth. Chromecast and Kodi seem like a great option. You should own it as one has all the entertainment in the world while other is very reasonably priced.
This post aims to cover everything related to Kodi Chromecast (their relation) and how to stream Kodi to Chromecast. Stay with us as we'll be covering every detail; so be patient as you're going to uncover the great gems of using Chromecast with Kodi. In case, you are wondering how to install Kodi on Chromecast. We got an extensive installation guide ready for you (continue reading). We know that you want to be aware of all the methods available for smartphones and desktops alike. That's why we have collected various methods to cast Kodi to Chromecast for you here.
But Why do I need Kodi on Chromecast?
So why do you need to use Chromecast with Kodi? Well, the obvious answer to this question is you've to, if you live by entertainment rules. Nothing could be better than having all your digital library at one place (in a Google Chromecast) and then stream everything on your big flat TV screen. Goosebumps! That's only possible if you make a match of Chromecast and Kodi. Though there are other devices similar to Chromecast, such as Roku (learn how to install Kodi on Roku)and Apple TV, but nothing is close to Chromecast when it comes to scalability and price of course. Google Chromecast is cheap as chips but immensely capable of delivering a great experience to the entertainment lovers. So Chromecast Kodi is something you'd definitely if you want to enjoy the home-theatre experience. When you use Chromecast with Kodi, your smartphone or personal computer can turn into a working Kodi box. It also improves your experience with Kodi media player as it connects all your media players. And on top, saves you money!
What is Chromecast?
For all our readers who are new or don't know about Chromecast – it is a streaming device developed and manufactured by Google. Chromecast is one of the most utilized streaming devices in the world. The first generation of Chromecast was launched in 2013, followed by the second generation that launched in 2015.
The best thing about Chromecast is its extreme affordability as compared to other streaming devices. It helps users to wirelessly connect and stream media to your Televisions with the need of any other device. It only requires and Internet connection; and you can connect your phone, tablets, and other devices directly to your TV without the need to plug-in to anything.
Chromecast is the ultimate accumulator of your favorite sources to stream your favorite content like Netflix, Hulu, Amazon Prime Video, Vevo, YouTube, Pandora Radio, Songza, Google Play Music, and even torrents, etc.
Before we set about Kodi on Chromecast Installation process
We don't want things to just go out of context, or to bombard you with a sales pitch. However, we consider it as our duty to save your digital life (at least) and to share enough information to be cautious with possible risks all the time. While Kodi is geographically restricted, we recommend our readers to always connect to good and reliable VPN for Kodi. We like ExpressVPN for many reasons. You can stream Kodi to Chromecast via ExpressVPN. Read our detailed ExpressVPN review to learn more about the service.
Ways to Install Kodi on Chromecast – Complete Guide to Cast Kodi to Chromecast
Now we are done with the prefatory session of Kodi and Chromecast. Let's quickly drive our wheels to the actual subject, i.e., how to install Kodi on Chromecast. Since the streaming device can connect to desktops and smartphones, we'll be sharing each method individually to give you provide all the required steps involved in the installation process.
How To Install Kodi On Chromecast Using Android Phone or Tablet
Installing Kodi on Chromecast can be done by following two different methods. Before we begin, there is bad news; iOS devices cannot stream Kodi content via Chromecast. So it is understood that the mobile devices, be it smartphones or tablets, will be running Android or any other operating system.
As told earlier, we have two methods for you. The first method is lengthy, but it will not drain your battery. The second method is quick, but it will take a toll on your battery power. So depending on the availability or your preference, you can pick any method you like. We have done too much prep talk now it is time to start the real talk;
The Battery-Friendly Method To Install Kodi On Chromecast:
You need to download ES File Explorer (here), Kodi (here), LocalCast (here) and .xml file PlayerFactoryCore (here).
Start ES File Explorer, then go to Settings then Display Settings. The Show Hidden Files box should be ticked.
The Kodi or XBMC should be connected to the Kodi app.
Open the ES File Explorer again and enter the Downloads folder.
The PlayerFactoryCore.xml file (downloaded in the first step) will be here.
Copy the PlayerFactoryCore.xml file and go to Android > Data and check for org.xbmc.kodi or org.xbmc.xbmc. The Kodi will be org.xbmc.Kodi, click on it.
After it is open, go to Files > .kodi > userdata and then paste the PlayerFactoryCore.xml file.
Now open Kodi and select the video file you wish to watch.
Kodi will open the LocalCast automatically (you may also get suggestions from Android but choose LocalCast)
When LocalCast is opened, you will be asked to press "Play" and select the device to you would want to stream.
Now click "Play" and the video will play on the Chromecast-connected TV.
The Not So Battery-Friendly Method To Install Kodi On Chromecast Stick:
Open Chromecast app on your android smartphone.
Click on menu and tap the Cast screen/audio option and follow the directions to connect to Chromecast.
Start Kodi.
Click on the video and hit play.
The video will start on both devices. The downside is you cannot turn off your screen or receive calls while the video is playing.
Install Kodi On Chromecast – The Desktop Version
Getting Kodi Chromecast from Windows or PC is way easier than the smartphones. We found the steps to be super easy and simple to follow. Without further ado, we will spill the beans;
You must have Chrome, Chromecast app, Kodi or XBMC client on your PC.
Install Chrome and Chromecast casting extension.
Open Chrome, then Chromecast extension and choose the Cast option.
Click "Cast this tab to …" and pick "Cast entire screen (experimental)".
The full desktop screen will be streaming on the TV.
Now start Kodi or XBMC client and pick a video to stream.
How Do I Jailbreak My Chromecast?
Jailbreaking any device enables it to become compatible with a wide range of apps and programs thus enhancing its capability. Chromecast is also limited in many ways. Jailbreaking Chromecast lets you customize the device and perform functions such as changing the DNS address to unlock the region-locked content.
We will tell you the process of jailbreaking a Chromecast for unlimited benefits. It is a bit complicated, but you will be able to achieve the purpose. You can watch the video here;
Chromecast Kodi Combined With VPN Is Equal To Safe Video Streaming
We have a friendly suggestion for you here. It would be extremely beneficial for you if you followed our advice. Chromecast, especially if jailbroken, is not the right way to watch video content because you may be accessing geo-restricted or pirated videos. These are the things you don't want anyone to know. Such internet activity should be kept a secret.
The best thing to do so is by opting for a Kodi VPN. A VPN for Kodi will keep your internet activity safe from anyone trying to monitor you, be it the ISPs, government agencies, advertising agencies or any other body.
We have shortlisted a list of the best Kodi VPNs here for you;
How Was The Process of Casting Kodi To Chromecast?
See we told you in the beginning that Kodi Chromecast combo was a piece of cake. We are sure after reading the different installation guides you agree with us. The Kodi Chromecast can be installed on Android smartphones and desktops. The iOS is missing the awesomeness known as the Chromecast. Also, your Chromecast should be jailbroken for Kodi to be installed. We have told you the shortcut for jailbreaking Chromecast as well. Lastly, don't underestimate the power of a Kodi VPN. We always recommend using Kodi with a VPN whether it is a Kodi box, Kodi app or Kodi Chromecast.
Were you able to install Kodi on Chromecast via any of the above-mentioned methods? In case of any trouble, let us know in the comments, and we will get to you ASAP.