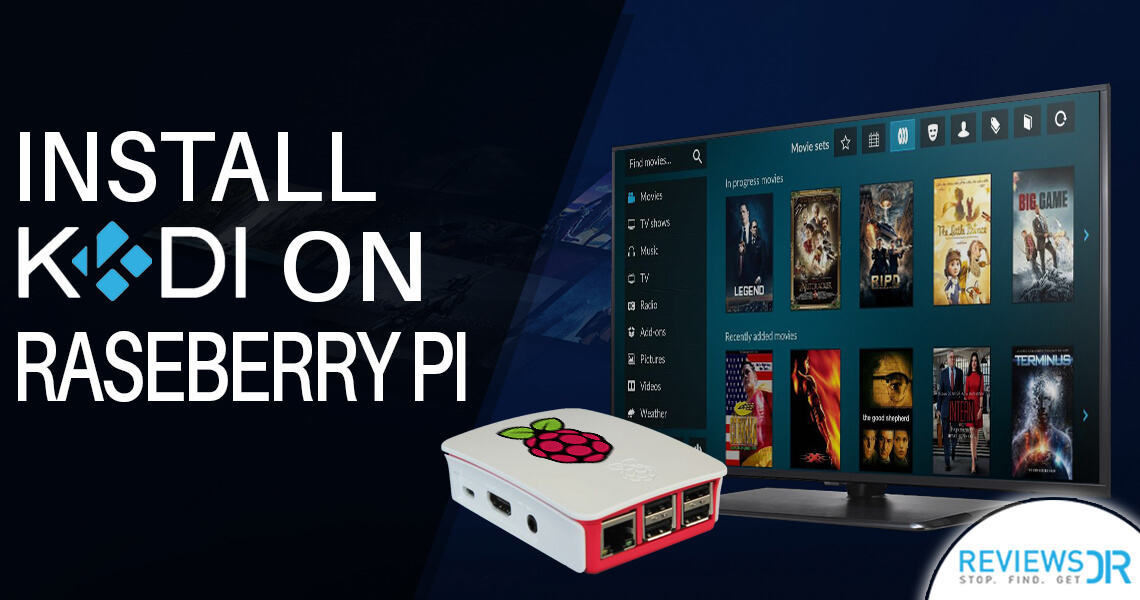 Kodi is an open source software which is in limelight due to its vast possibilities. Thanks to its compatibility with majority of the trending platforms including windows and Android. However, Kodi goes beyond the traditional compatibility and has landed on Linux and Apple products including iOS. Things are slightly difficult with iOS but its running.
The only thing that needs to be covered is Kodi on Raspberry Pi. The name isn't new if you are a pro online streamer or wired into digital media than this name must have crossed your browsing searches. But first, let's see what Raspberry Pi is all about.
What Is Raspberry Pi?
Let us break the ice; Raspberry Pi is structured to be a small computer board that can be bought and assembled into a fully automated and functioning computer. It can further be attached or plugged in to a Television set and controlled using the Raspberry remote control. Now the question is; How to install Kodi on Raspberry Pi? Raspberry Pi is not made to be a streaming TV device but with our guide, it will surely turn into a set top box streamer.
Before we move ahead with the installation procedure. Keep in mind its advised and make it a law to download a VPN for Kodi to make sure all your browsing and streaming is 100% safe. Kodi has been banned in multiple regions, and you never know you are the next unfortunate person to fall into this. A Kodi VPN will make sure your identity is safe while you stream and install Kodi on Raspberry Pi by switching your IP address to a one which is being shared and used by many users making it known as a "shared IP."
How To Install Kodi On Raspberry Pi 1
This is no regular installation guide because of the nature of Raspberry Pi. We will be dealing with the software of the installation because it can be available as a whole as well. Raspberry Pi is available on a few upgrades where you can choose which upgrade to use. This guide is for Raspberry Pi 1, and everyone who uses this upgrade can follow the steps further.
Launch your browser and visit OpenELEC on the World Wide Web and chose Downloads option. Scroll down to Raspberry builds. Separate builds for Raspberry Pi 1, 2, 3 will be mentioned. Click on Raspberry Pi First Generation and download the zip file
After it's downloaded, copy the zip file on your device.
Now carefully copy paste the file on a micro SD card. It's not that easy before copying you need a software called "Rufus" that creates bootable USB drives. Download the file from the link.
After downloading open Rufus where a box will appear to fill in information require. Chose the place and select your SD card from the device option. Double click on Disk image.
Search the file that was extracted and chose it. Hit the Start button on the box. The file will be written on the SD card.
Now remove the SD card and insert it back on your Raspberry Pi device. Power on the Raspberry Pi device and the boot will start on Kodi. That's it.
How To Install Kodi On Raspberry Pi 2
This is where the perception creates a clash of users. Users believe the guide for Raspberry Pi 1 differs from the Raspberry Pi 2, which is why they don't further proceed with the installation. Instead, users start looking for multiple forums to seek guidance.
However, to install Raspberry Pi 2, the first step mentioned in the above guideline remains same but further you need to open your browser and search OpenELEC.
Once the website opens, select the download tab situated on the top of the screen and on Raspberry Pi Builds select Raspberry Pi 2 and download it on your device as a Zip file.
Next carry on with step 2 from the previous guide and further install it.
How To Install Kodi On Raspbian
Users need to understand the basic terminologies of a Raspberry device as many confuse important aspects. Raspberry just as Kodi is a free operating system based on "Debian optimized" specially built for the Raspberry Pi Hardware. Without the Raspbian, the Raspberry Pi won't run as it's the basic operating system of the basic utilities required to run the program.
Install Raspbian Jesse from Raspberry Pi site and launch Raspbian after its installed.
From Menu select Preferences and click Raspberry Pi Configuration.
Chose Expand File System.
Next select Performance tab. If you own a Raspberry Pi 1, then click on GPU Memory of 128, but you can select 256 GPU Memory for Raspberry Pi 2 and 3.
Click YES to Reboot.
How to install Kodi on Raspbian? Connect to a ethernet or Wi-Fi
Chose the Terminal icon located at the top and copy 'sudo apt-get update' exactly as it is to paste it on Terminal and Press Enter. Kodi installation will initiate.
After installation completes copy 'sudo apt-get install kodi' and press Enter
Enter Y if you wish to continue with installation on Terminal and Press Enter.
Last, from Menu click on Sound and Video to come on Kodi Media Center
That's it!
Further, for users to download Kodi on their Raspberry Pi device, downloading OpenELEC for Raspberry Pi device is critical and needs to be installed beforehand, in addition to acquiring Rufus as well.
OpenELEC Raspberry Pi device 1, 2, or 3 Here.
Rufus software available Here.
Raspbian OS download Here.
Wrap Up
Now you know how to install Kodi on Raspberry Pi, BAM! This guide is slightly different than ReviewsDir's previous Kodi installation guides, but we tried our best to make it as smooth and straightforward as possible for users to carry forward and install it. We did not cover the hardware aspect of the installation as Raspberry Pi sets can be purchased with fully functioning utilities.
Description: Kodi is available on Operating Systems. Is it on Raspberry Pi? That's the tricky part which can be solved if you see how to install Kodi on Raspberry Pi