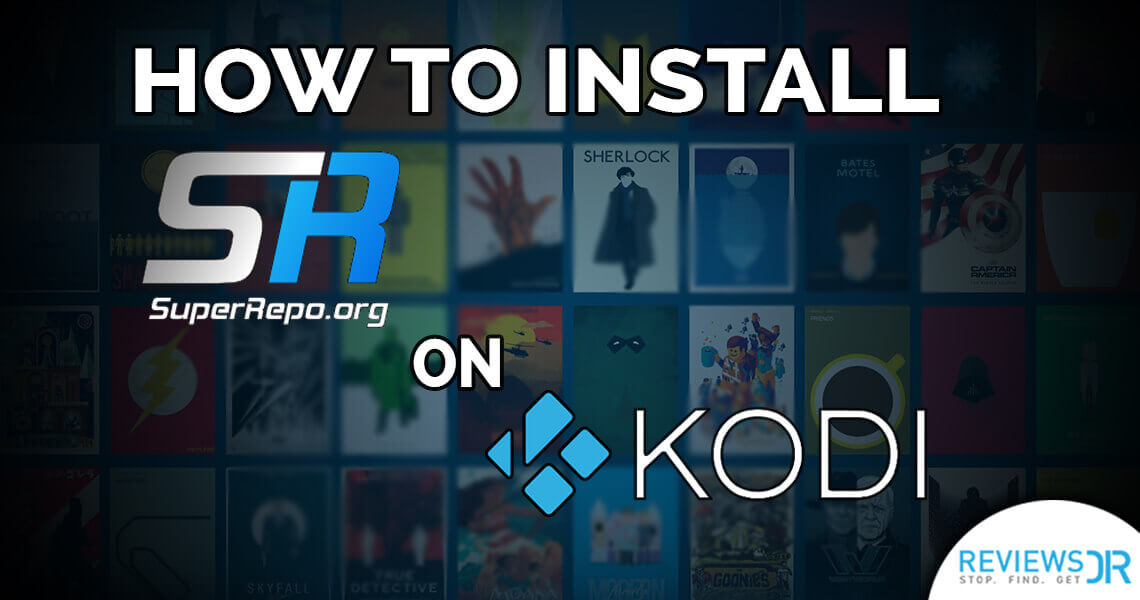 The juice of Kodi resides in Kodi add-ons which reside in the Kodi repositories. There are so many Kodi repositories that you will go crazy if you tried to install all of them. The right approach to enjoying the best of Kodi is by selecting a few Kodi repositories with a maximum number of Kodi add-ons. We're going to tell you about one such repository, i.e., SuperRepo Kodi repository. It is the largest Kodi repository and comes with a good reputation for being useful to many Kodi users.
We will tell you more about SuperRepo Kodi throughout the piece with information on Kodi VPN as well. Mainly, our focus will be on how to install SuperRepo on Kodi the easy way without any hassle. So read on below and master the art of installing Superrepo on Kodi and 17.6 Krypton. Before we jump to the successful installation process, let's dive in deep and learn more about SuperRepo for Kodi.
What Is SuperRepo Kodi?
SuperRepo is a repository of Kodi. It has a number of Kodi add-ons. The quality of SuperRepo is that it caters to different niche markets like sports, martial arts movies, TV programs, anime, etc. SuperRepo has something for people having different taste and preferences. SuperRepo has so many add-ons that developers were kind of forced to divide them into many categories. If you install the entire SuperRepo repository, the mere sight of options and add-ons will intimidate you for a second. However, the effect will fade after some time, and you will be able to find the add-ons of your choice.
Not everything is good about SuperRepo Kodi; there are certain annoying flaws too. Due to an immense number of Kodi add-ons on SuperRepo, many links and streams are broken and won't work. Since the developers have an extensive library of add-ons to fix, it usually takes a lot of time before those broken or not working components of SuperRepo can be repaired. However, SuperRepo is one Kodi repository that has it all.
That was a little intro to SuperRepo Kodi repository. Now let's answer the concern of how to add SuperRepo on Kodi 17.
Step-By-Step Guide To Install SuperRepo On Kodi
For installing any Kodi repository, there is a number of different methods. You can choose the manual options or automatic ones depending on your preference. We find the Kodi interface to be the easiest method to install SuperRepo. A lot of folks won't agree with us. The process seems difficult at first only, but once you get used to it, you won't ever complain again.
Preparation:
Before we start the installation of SuperRepo on Kodi, we need to adjust certain settings on Kodi;
Start Kodi, click the gear icon, now you are on "System" menu.
Now, go to "System Settings" and then "Add-ons."
Move the slider to "Unknown Sources."
A warning message will pop up, and you have to accept it.
Now Let's Install SuperRepo On Kodi:
Now we will begin the process of installing SuperRepo on Kodi;
Start Kodi.
Click the gear icon and get to "System Menu."
Now, move to "File Manager" and then "Add Source."
Type this URL: http://srp.nu
You can name the new repository "SuperRepo."
Press "OK."
Comeback to Kodi menu (main).
Click "Add-ons."
On the top menu bar, click "Open Box Icon."
Select "Install from Zip File."
Choose "SuperRepo" along with your Kodi version.
Click "All" to get all the SuperRepo add-ons.
Select "Install from Repository."
Find "SuperRepo All" and click it.
Now scroll down to "video add-ons."
Simply choose the add-ons you want and install them.
Note: We would like to bring your attention to the fact that this method doesn't require any installation of files from different websites or sources. It simply used the Kodi interface to fetch the SuperRepo repository. The simplicity of this procedure makes it our top favorite.
Video Tutorial To Install SuperRepo Kodi
In case, you found it hard to follow the steps as mentioned above, we have a video tutorial to install SuperRepo on Kodi as well. You can check it below;
The Most Awesome Add-ons Of SuperRepo Kodi
Our job wouldn't be done unless we tell you about the awesome add-ons of SuperRepo Kodi. There are so many of them that we were literally pulling out our hairs to make this short list. However, we have accumulated a concise list of SuperRepo Kodi add-ons that are most popular and loved by the users so far.
Without further ado, following are the most impressive add-ons of SuperRepo Kodi;
LazyTV
LazyTV has a unique concept. After knowing about it, you will be confused whether people use such add-ons or they simply hate them. LazyTV basically plays random TV episodes for you. It makes an automated playlists comprising of different TV episodes. As if this wasn't enough, LazyTV predicts which TV episodes you would like to continue, as in watch the next one. The LazyTV is very different and stands out because of its uniqueness. You will be surprised to know that many people actively use LazyTV on a regular basis.
DramaGo
DramaGo is the right choice for people addicted to Asian TV dramas. Unfortunately, it doesn't have a huge library. There are very limited titles present on DramaGo, but if you found the ones you like, then DramaGo is worth the installation trouble. The best thing about DramaGo is that it has updated and functioning links and streams so you won't find anything on DramaGo that doesn't work. You can find different categories on DramaGo like action, romance, time travel, etc. It is definitely a niche add-on for Asian content lovers.
Encyclopaedia Metallum
Encyclopaedia Metallum just has a link to the actual website. Users can search the Encyclopaedia to find information about different kind of bands and music genres in the heavy metal category only. So you want to find something about heavy metal music, Encyclopaedia Metallum is just the right SuperRepo Kodi add-on for you. Again, this add-on is serving a very niche audience, but that's what you get on SuperRepo – an add-on for everything, small or big.
How To Install SuperRepo On Kodi 17 Krypton
So far, we have told you how to install SuperRepo on Kodi. However, if you are a user of Kodi 17 Krypton, then the procedure will be a tad different for you. We will explain it here; please take a look;
Don't Forget To Tag Along A Kodi VPN To Use Superrepo In Peace
Whenever we talk about Kodi, we consider it our duty to explain the dire need of Kodi VPN. There are two concepts you need to understand. The first thing is that Kodi itself is legal and there is nothing wrong with it. However, the second issue is that some Kodi add-ons are involved in obtaining the content illegally and streaming it for users. Now, even if you didn't know about the origins of the content, you committed a crime by watching it illegally, and you can potentially land in legal trouble, depending on your location or country.
Unfortunately, Kodi has become synonyms with the pirated and illegal content. So the copyrights mafia is always trying to find loopholes in Kodi to target innocent, oblivious people, who aren't even aware of watching pirated or illegal video streaming. That's why we strongly urge people to always use Kodi with a VPN. Kodi VPN makes it difficult for anyone to locate you or know about your online activity, thus keeping you safe from the online copyrights mafia or any other mafia as a matter of fact.
Installing SuperRepo On Kodi Wasn't That Hard, Huh!
We are at the end now and just realizing that installing SuperRepo on Kodi wasn't that hard at all. We don't understand why there was such a hype regarding the installation process. We do agree that Kodi is generally a difficult media player. It takes a lot of concentration and effort to customize it. However, installing a repository on Kodi is not one of the tough things thankfully. We have given you a few choices to install SuperRepo on Kodi. It is up to you to choose a method of installation. However, we just want one promise from you – don't ever use a Kodi without a VPN. It is crucial that you are connected to a Kodi VPN each time you are using Kodi.
Were you able to install SuperRepo repository following the steps present here? In case of any trouble, let us know in the comments below, and our expert will guide you personally.