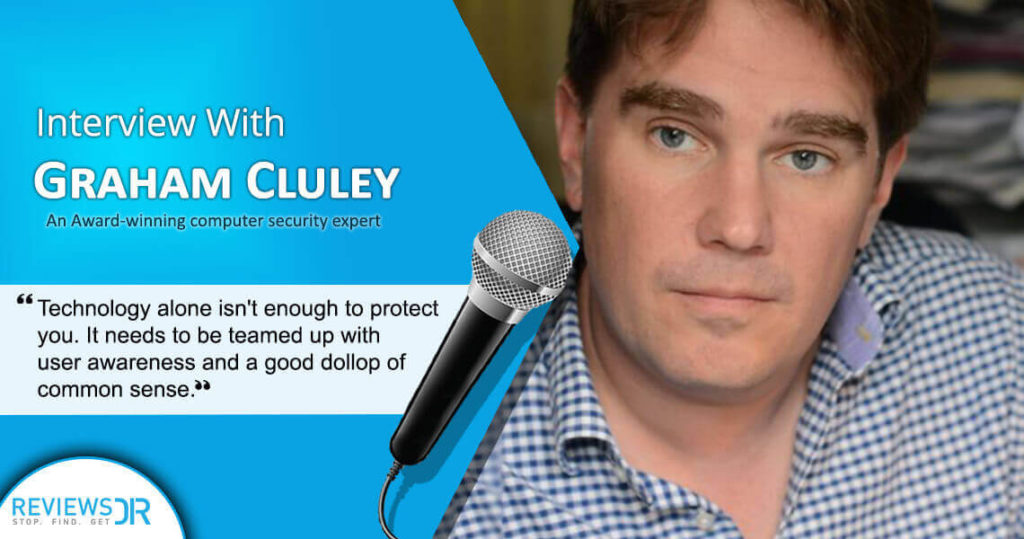 Every day more businesses, individuals, organizations and even Governments are having an excruciatingly difficult time securing their critical data from being hacked or kept hostage. So, to discuss the current state of cybersecurity and its possible preemptive measures, we interviewed the Award-winning Cyber Security blogger, researcher, and speaker, Graham Cluley, who has been a Cyber-Security veteran for 25+ years and have worked with big names like Dr Solomon's, Sophos and McAfee.
Currently, Graham shares his knowledge, experience, and wisdom on his own personal blog which is Graham Cluley.com and does Podcasts on Smashing Security with the Co-Host, Carole Theriault from Sophos.
It's the fastest growing cybersecurity podcast co-hosted by a Brit and a potty-mouthed French Canadian. How can you resist? Check out the latest episode of Smashing Security. Flight sims stealing passwords, Facebook's postcard plot, and much much more https://t.co/EBKBw37Lmg pic.twitter.com/UlGx0aAL4n

— Graham Cluley (@gcluley) February 22, 2018
So, let's get to know the interesting insights that Graham has to share with us:
Ali: What was the pivotal point in your career that made you transition from a programmer to an infosec professional?
[testimonials id=7401]
Ali: Graham, you are one of those individuals in the industry who has closely analyzed internet from its early days to fast forward today; what are the biggest moments in Internet's history that you vividly remember in terms of information security?
[testimonials id=7397]
*Graham Cluley Discusses The Cyber Security Threats That Should Be Keeping You Awake At Night
Ali: You officially started your career working as the first Windows programmer for Dr Solomon's Anti-Virus Toolkit. So, being associated with the Antivirus industry, what do you think are still the biggest areas where Antivirus companies of today are lacking?
[testimonials id=7402]
*Graham Cluley Keynote Speech At Navigate '16, Berlin, October 12, 2016
Ali: Leaving a big security company like Sophos and then working your way up to the ranks of an award-winning independent security blogger, were there times earlier that you regret your decision of going solo or felt attracted towards a lucrative job offer?
[testimonials id=7403]
*Here are some prestigious awards and recognitions that Graham Cluley has earned up till now as an independent Cyber Security Blogger: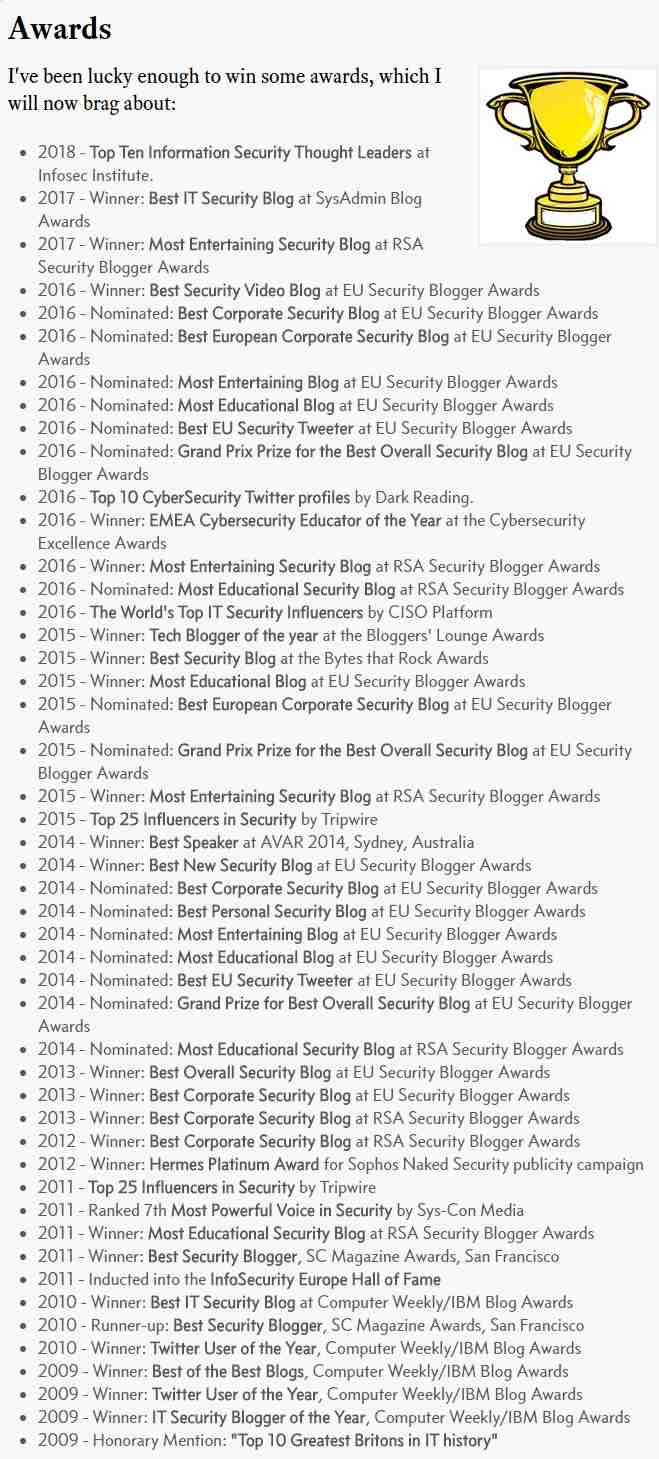 Ali: What do you think is the biggest threat computer users or mobile users are facing today? And how can they protect themselves online? Any suggestions or recommendations?
[testimonials id=7404]
*Graham Cluley's Advice On Staying Truly Private Online
Ali: What do you think is the future of VPN technology? In your opinion, where do you see this industry going in the coming 5 years?
[testimonials id=7405]
*Graham Cluley Discusses On Why You Should Be Using A VPN
Ali: In your experience, are there any tools, software, apps or browser extensions you'd like to recommend everyone that can ensure maximum protection of their online data and privacy?
[testimonials id=7406]
Ali: This year 2018 would be the year of Blockchain and cryptocurrencies. Are you predicting any big hacks or data theft relating to Bitcoin that can possibly happen this year? Is there any way possible that people can protect their cryptocurrencies from any sort of hack or online theft?
[testimonials id=7407]
Ali: Lastly, what advice would you like to give to those who are starting out their career in Information Security? Are there any legit and globally recognized online certifications relating to Information Security that you'd like to recommend?
[testimonials id=7408]