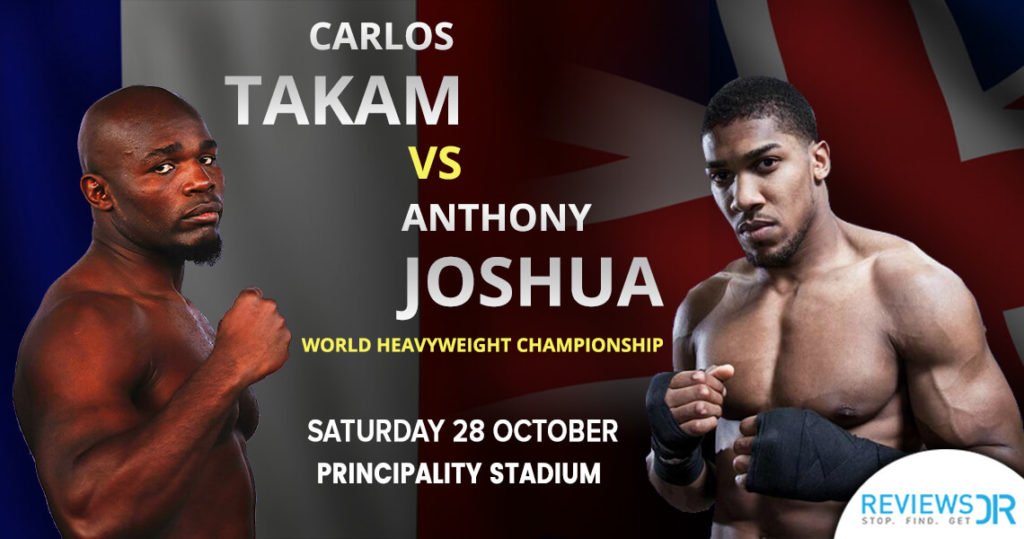 Anthony Joshua VS Carlos Takam fight is scheduled to take place in Cardiff at Principality Stadium on 28th October, where Joshua will be defending his IBF and WBO Heavyweight titles. It will be Anthony Joshua's 20th Professional fight and first fight after his historic victory against the Legendary Wladimir Klitschko.
Joshua currently stands undefeated with a record of 19-0 and up against the biggest underdog of his career, Carlos Takam who parachuted in replacement of Kubrat Pulev.
Will the 36-year-old Carlos Takam be able to snatch Joshua's IBF & WBO Heavyweight titles from him? Well, you've got to tune in to watch the fight this Saturday to witness it as this is truly going to be a historic fight and shouldn't be missed.
Update: Anthony Joshua Defeats Carlos Takam With 10th Round TKO
#AndStill pic.twitter.com/BwMTmvl52H

— Matchroom Boxing (@MatchroomBoxing) October 28, 2017
Here's the complete information you need to know about where to watch Joshua VS Takam fight online and what channels would be streaming the fight online.
Both Free/Paid online sports channels & resources have been mentioned:
https://www.youtube.com/watch?v=qGL_ThOaXOk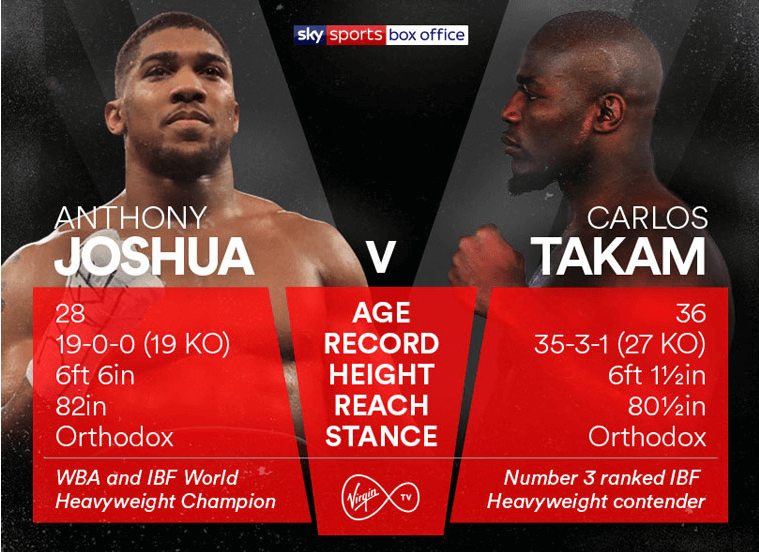 Image Reference: Virgin Media
Online Sports Channels Where You Can Watch Joshua VS Takam Fight
Sky Box Office – The Perfect Way For UK Viewers To Live Stream The Fight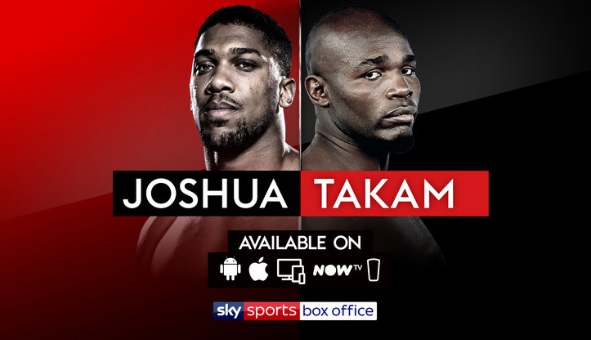 Sky Box Office would be officially streaming the fight in UK on channels 491(SD) and 492(HD). The fight pay-per-view (PPV) cost you around £19.95 which is around $26.40.
Order Joshua VS Takam Fight Online From Sky Box Office
But if you are living outside of UK, you would not be able to access Sky Box Office and would be shunned by this message: (But no need to worry)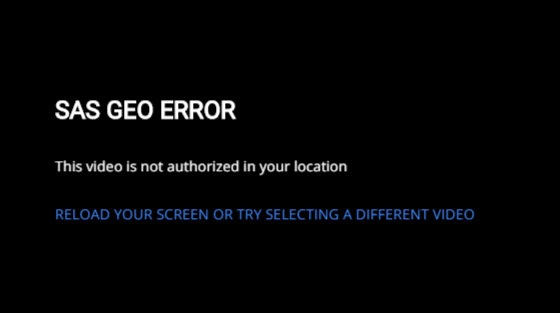 You would require a VPN which offers UK IP Address so that you can access Sky Box Office from anywhere in the world and watch Joshua VS Takam fight online.
You can choose any of the UK VPN providers listed below:
Showtime – Watch Joshua VS Takam Fight For Free By Opting For The 7 Days Free Trial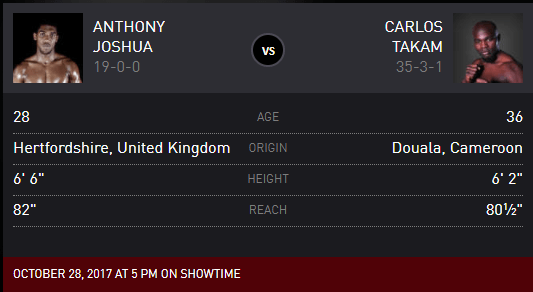 Showtime has the official broadcasting rights for the fight and watching Joshua VS Takam on it would be the best option for anyone trying to look for ways to stream the fight for free because Showtime is currently offering 7-Day Free Trial that'll save you money.
Watch Joshua VS Takam On Showtime
But, bear in mind that the offered free trial is for Android & Apple apps only. Few other devices and consoles are also offered the free trial but the best way would be to tweak your Desktop or laptop to run Android or Apple apps.
Moreover, you'll be saving a monthly cost of $10 by going for the free trial, but if you're living outside US, you'll be shown this message: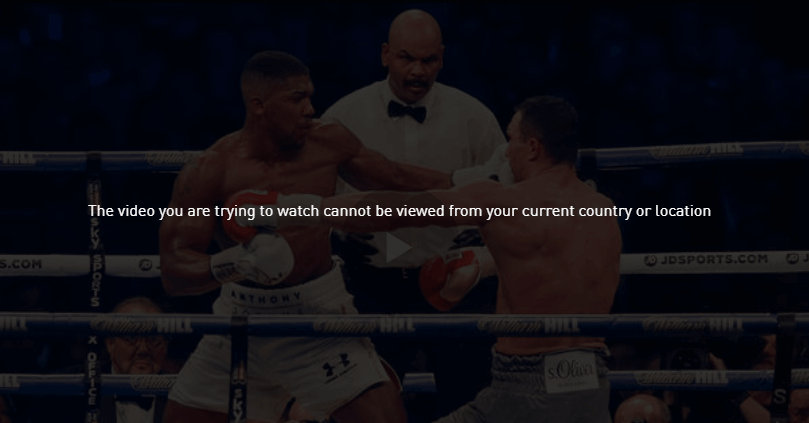 Opt for a US VPN service to stream the Joshua VS Takam fight online from anywhere in the world by simply connecting to a US IP server:
TalkTalk – Stream Anthony Joshua VS Carlos Takam Fight For £19.95

Similar to Sky Box Office, UK Viewers can opt for TalkTalk or the same price of £19.95 via Box Office, but it's essential to have a VPN by your side if you're living outside of UK.
Order Joshua VS Takam Fight On TalkTalk
DAZN TV – Live Stream Joshua VS Takam From 5 Countries

DAZN TV is a relatively new name in the online sports streaming services and it'll be broadcasting Joshua VS Takam fight for the online viewers. It also offers a 7-Days Free Trial but it's a bit strict when it comes to billing details because you got to have a valid billing address in the countries where it's available.

DAZN is currently only available in Germany, Canada, Switzerland, Austria, and Japan. So, if you're someone who doesn't reside in any of the countries but is eager to watch the fight on DAZN, we'd suggest you pick a VPN from the table mentioned above and access to any of the mentioned countries server where DAZN is available to stream the fight easily from anywhere on the globe.
Interested In Listening To The Live Coverage Of Anthony Joshua VS Carlos Takam?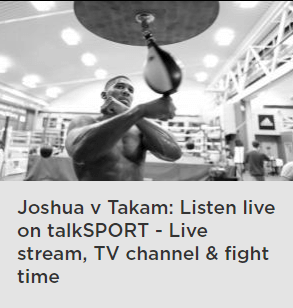 If you're commuting during the fight hours and viewing Joshua VS Takam fight isn't an option, then your best bet is to hop on to talkSport Radio to listen to the live coverage of the fight.
Watch Joshua VS Takam Fight Live Online Outside Australia On Foxtel Now For Free
If you're living outside of Australia and wish to watch Joshua VS Takam fight live online, then there's no better option than Foxtel Now because you can live stream the fight for free by opting for the 2-week free trial subscription. Just add the 'Sports Pack' in the cart and enjoy watching Foxtel Now outside of Australia from anywhere in the world.
Just be advised that it would require you to have VPN to access Foxtel Outside Australia because Foxtel limits its programming within Australian region.
What Happened To Kubrat Pulev? Why He Pulled Out Of The Fight Against Anthony Joshua?
Kubrat Pulev Pulled out of the fight with Anthony Joshua because of a pectoral muscle injury, upon which Anthony Joshua was really pissed and said that "I'd never pull out of a fight." He further added that the kind of injuries he had in the training camps were of the similar or worse nature, but he never made them an excuse to drop out of the fight.
Joshua VS Takam Undercard Fights
Main Event
Anthony Joshua VS Carlos Takam For IBF, WBO Heavyweight Championship
Undercard
Kal Yafai vs Sho Ishida For WBA World Super-Flyweight Championship
Dillyan Whyte vs Robert Helenius For WBC Silver Heavyweight Championship
Lenroy Thomas vs Dave Allen For Commonwealth Heavyweight Championship
Anahi Sanchez vs Katie Taylor For WBA World Lightweight Championship
Frank Buglioni vs Callum Johnson For Commonwealth Light-Heavyweight Championship
Anthony Joshua VS Carlos Takam Fight Prediction – It's A No-Brainer!
First and foremost, Carlos Takam wasn't really expecting a fight against Anthony Joshua, in fact, if it wasn't for Pulev pulling out of the fight, Takam wouldn't even be fighting with Joshua in the first place. Moreover, this would be Takam's biggest fight of his career and can be the most significant and crucial fight he has ever been in.
Takam's speed is commendable, but he hasn't knocked out any of his opponent with the sheer power that Joshua possesses. We're predicting that fight wouldn't go much of a distance and Joshua would win this fight too with a TKO and would advance his record to 20-0.
What Are your predictions? Who do you think would win the fight? Share your predictions in the comments section below: