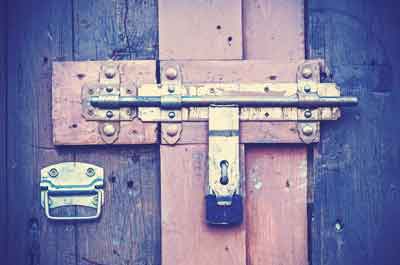 VPNs are all the rage these days; even Netflix's policies to disavow customers using a VPN to access region-locked content is not affecting the VPN's rising usage. More and more people are turning to VPN services to enjoy (genuinely) anonymous Internet browsing; thanks to the age where every online activity is tracked and logged, having a VPN seems a logical decision.
A logless VPN not only secures the internet connection from internet providers, hackers, websites, governments, advertisers, and more by encrypting our internet traffic and routing it through a remote server before it reaches its destination. But it also provides a peace of mind that no online activity of user will be monitored or logged by the VPN provider itself.
Sounds relaxing, right?
VPN providers have the power to record users' browsing data and metadata; only reputable yet logless VPNs tout an important policy: no logging.
There is a list of best vpn services that does not keep logs – they do keep a record of their users' activity, but not any personally identifiable information.
There's a catch…
Anyways, have you ever wondered,
What happens when you don't pay attention to VPN logging policies?
Any guesses?
Your VPN provider will secretly log everything you do online; you never know when and with whom your data will be handed over to – be it law enforcement agencies, advertisers, data-mining third-parties.
Keeping that in mind, we are going to tell you a few of the best logless VPNs in the market.
First, let's look at a brief overview…
ExpressVPN: Retains no logs containing personally identifiable information, all 3000+ servers are great for streaming and downloading, anonymous payment method, and located in the British Virgin Islands (no mandatory data retention laws).
NordVPN: Budgeted choice with a stringent no-logs policy, good speeds, easy to use clients, offers more than 5,000 servers in 59 countries, unblocks popular geo-locked streamers, and located in Panama.
Private Internet Access: Keeps no-logs, kill switch, DNS leak protection, Policy survived a court challenge as they had no identifying information, and based in the US.
VyprVPN: A Switzerland VPN with the no-logs approach and faster connectivity. This VPN also owns every server in their network (70+ servers); connect five devices at once and stream anything, everything, if don't like the service, avails its 30-days money-back guarantee.
Buffered: Strictly follows no-log policy, 40+ servers in 37 different countries, located in privacy-friendly Gibraltar, offer faster connectivity, robust security with 256-bit AES encryption, DNS leak, and an automatic kill switch.
I will share with you our experts' short reviews on all of these in a while.
Let's begin the journey of finding the best VPN service that does not keep logs, with defining what exactly is a no-log VPN.
A Best no-log VPN is…..
Before trusting any VPN blindly, find out if the service provider logs your data or not.
There are so many free and cheap VPNs that are notorious for tracking user data even when they claim to be logless; believe me! Such fake and untrustworthy VPNs are very hard to detect. In rare cases, cybercriminals operate a (fake) VPN to collect your private information and put them into unethical practices.
This is a huge concern if you're using the VPN that logs user data.
Logless VPNs never come free – rarely cheap; some of the most reputed VPNs have achieved their popularity by being logless.
If anybody tries to demand information from such a service, they will be in for a disappointment because there would be nothing to share!
Being logless and a DNS Leak Protection goes hand in hand; a DNS Leak Protection includes WebRTC communication, IPv4  and IPv6 address to stay within the private yet encrypted primus.
To provide our readers with the top Logless VPN services for 2019, experts at ReviewsDir have carefully examined the companies that excelling the VPN business and have outlined their pros and cons in the realm of providing a secure yet stable service, without logging personally -identifiable information.
Best VPN Services that does not keep LOGS
As mentioned, bear repeating, there are many service providers that claim not to keep logs of user activity; we need to see, whether these are marketing jargon only, or is there any seriousness exist.
Below are details on the solution providers (we've recommended) that value privacy more, and deliver services with zero or basic logs.
ExpressVPN – Knows everything about you except your usage LOGS
Pros:
Strong zero logs policy and military-grade security built into all supported clients.
Superfast connections with no bandwidth or data limits.
Five simultaneous connections
All the 3000 servers in 94 countries can unblock just any popular streaming service
24/7 live chat support
Although this top-tier VPN keeps some minimal anonymous usage statistics; don't worry! A timestamp or IP address is not included; in all practical intents and purposes, ExpressVPN is a no-logs VPN.


Headlining ridiculously fast performance, fantastic 24/7 customer support, a generous 30-day, no-quibble, money-back guarantee certainly fueling the deal!
If you're concerned with privacy, its Robust encryption keeps hackers at bay, no matter where you're connected to any of their servers (all run on RAM-disk) network which has spread over in a whopping 94 countries around the world.
ExpressVPN is also a big draw if you're seeking privacy, speed, and access to geographically restricted content; Chinese will appreciate its special "stealth" servers (in Hong Kong), and rests will appreciate its free Smart Domain Name System (DNS) service (included with all accounts) that makes streaming (Netflix) smoothly.
Top it all off with its easy-to-use desktop software for Windows, Mac OS X, and Linux (command line), simple apps for Android and iOS and custom router firmware.
Has ExpressVPN's no-logs policies tested and verified?
Here are some latest happenings;
In April 2019, ExpressVPN upgraded its server infrastructure so that all VPN servers will run in RAM-disk mode, ensuring nothing can be stored on any VPN server as it does with traditional hard drives. As they explained here:
"With our industry-first TrustedServer technology, our VPN servers run only on volatile memory (RAM), not on hard drives. Since RAM requires power to store data, this

guarantees that all information on a server is wiped every time it is powered off and on again

.

In contrast, the traditional and most common way of running servers relies very much on hard drives, which retain all data until they are erased and written over, a painstaking and error-prone process. This increases the risk that servers could inadvertently contain sensitive user information. If someone were to hack or seize the server, they could gain access to this data. Even worse, hackers who do find their way in might be able to install a backdoor that remains indefinitely."



This is indeed the safest yet most secure way to run servers.
In July 2019, ExpressVPN went through a third-party audit from one of the "Big 4" auditing firms – PricewaterhouseCoopers. This security audit verified its no-logs policy, TrustedServer feature, and all privacy protections – all adhered correctly.
ExpressVPN decided to open-source their browser extensions and performed a cross-checked audit by Cure53. This again raised the bar high and showed that ExpressVPN is committed to transparency, security, and safeguarding user data.
In 2017, Turkish news reported that Turkish authorities forced ExpressVPN to provide customer data for an investigation into a case of political assassination. According to the reports, Turkish authorities alleged ExpressVPN for deleting evidence on social media related to the investigation. After further failed attempts Turkish police physically seized ExpressVPN's server, but even then this did not reveal any information because ExpressVPN does not keep any logs.
Have you seen how ExpressVPN has gone above and beyond most services in terms of securing customer data and validating their servers, policies, and applications.
NordVPN – An Economical way to be Logless
Pros:
Utmost anonymity with no-logs and Bitcoin payments.
Operates a network of 5718 servers across 60 countries
Unblocks popular geo-locked streaming services – Netflix.
Top-notch security protocols.
24/7 live chat
Cons:
The desktop app has some getting used to
NordVPN is a giant in the VPN industry, in terms of servers park; this Panama-based VPN has 5718 servers all over the world; being in Panama means no mandatory data retention laws.
You don't have to worry about five eyes, nine eyes or fourteen eyes alliance peeking in your private life; not only this but NordVPN is also compliant with GDPR regulations.
NordVPN follows a true zero-logs policy; have a look, the first thing that crosses your mind will be clarity!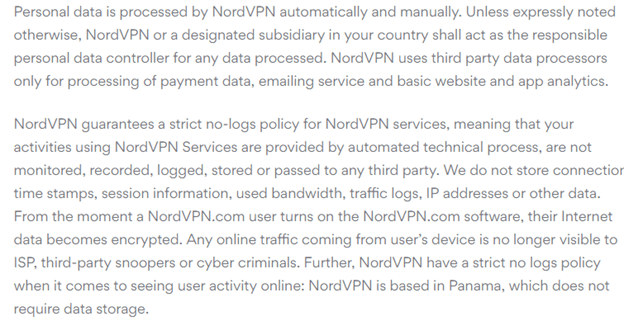 It means neither traffic nor metadata logs are stored; if you don't want to leave a paper trail, pay with Bitcoin. For the extra-cautiousness, users can connect to privacy-optimized servers called Tor over VPN and double VPNs. Torrenting is allowed on all the servers and this streaming VPN can also unblock a wide range of geo-locked services like Netflix, Hulu, and more. Apps are available for all the most-used OS and devices – Windows, macOS, iOS, and Android.
Still, they store the username and the timestamp of the last session for not more than 15 minutes.
NordVPN is also audited by PWC
In November 2018 NordVPN announced a full audit – to verify their no-logs claims- conducted by PricewaterhouseCoopers; if you're a subscriber of NordVPN, you can get access to the full audit in the members' area. The audit officially verified NordVPN a "no-log service" and is compliant with their no-logs claims.
No-logs policies, favorable jurisdiction, complimenting with solid performance make it a great VPN for torrenting; it is currently the cheapest VPNs available with the discounted pricing.
Private Internet Access – A Logless VPN in an unfriendly (the US) vicinity
Pros:
Keep zero logs, DNS leak protection and kill switch are also activated.
Connect up to 10 devices simultaneously.
3394 + Servers in 32 Countries.
Offers PPTP, L2TP/IPSec & OpenVPN Protocols.
Unlimited bandwidth & server switches.
Torrent-friendly.
Cons:
No free trial
Inconsistent speed
Can't unblock many streaming sites
Private Internet Access (PIA) gives users different options; unlike the past, you no longer have to set up for each VPN server, you can connect to any of their server located in 33 countries. You will find the fast speed most of the time.
PIA has a Windows client and apps that are simple and easy to use; adjust the levels of privacy protection based on your needs. You can also control encryption levels to help you find the right balance between speed and privacy.
Their Windows client has included an Internet kill switch; this United States-based provider offers a cheap, simple, and user-friendly VPN service; if you don't mind the US jurisdiction and some minor glitches, this is the best logless VPN for you.
Verified PIA logging Claims
Private Internet Access is unique, its no-logs claims have been verified in two US court cases; providing false information in a court is a serious offense, we can consider both of the cases to verify the "no-logs" policy.
The first court case was in 2016, involved a man who allegedly made bomb threats while using PIA VPN. The FBI officially subpoenaed PIA demanding logs of the respective user, but they simply could not provide anything, with an official statement:
"A subpoena was sent to London Trust Media [Private Internet Access] and the only information they could provide is that the cluster of IP addresses being used was from the east coast of the United States."
In a second case, Private Internet Access was again subpoenaed in court for user logs related to a hacking case. As with the previous case, Private Internet Access was unable to provide any data.
Based on these two cases, Private Internet Access now considered a verified best no-logs VPN provider.
VyprVPN – A VPN with publicly Audited Logging claims
Pros:
Audited no-logging policy
Live chat support
Unblock US Netflix
Zero-knowledge DNS
30-day money guarantee
Cons:
Small Windows client issues
Limited support website articles
Problems connecting from China
The service offers a decent-sized network of 700+ servers in more than 70 locations; all are owned and managed by the company, means VyprVPN is 100% free from third parties.VyprVPN is a popular VPN based in privacy-friendly Switzerland, and a brainchild of the same stable of companies US ISP Texas.net, Data Foundry, and Usenet provider Giganews.
Welcoming gestures include unlimited data usage, a customized Chameleon protocol to bypass VPN blocking, a zero-knowledge DNS service, and 24/7/365 support to keep the service running.
Wide platform support includes apps for Mac, Windows, iOS, Android, some routers, Smart TVs, QNAP, Anonabox, and Blackphone.
If that's not enough, the website has 50+ tutorials to help you manually set up the VPN on Linux, Chromebooks, Blackberry, OpenELEC, Synology NAS, Apple TV, Android TV, and via DD-WRT, OpenWRT, AsusWRT, and more.
No-logs proven: VyprVPN audited by a cybersecurity firm
In September 2018, VyprVPN started working with Leviathan Security Group to make their service into a full "no-logs" VPN service. The auditors examined all the aspects of VyprVPN's network to identify any loopholes in the logs being maintained by the provider. After fixing some issues, they re-tested everything and found VyprVPN to be in compliance with their stated "logless" claims.
VyprVPN's audit is available to the public and can be referenced.
Before, VyprVPN used to log connection data (including IP addresses) for 30 days but now VyprVPN is a zero-log VPN service.
Buffered VPN – Only partial connection logs will be stored for 30 days
Pros:
Above-average performance
Works with all OpenVPN-compatible devices
Unblocks Netflix
Live chat support available
Cons:
Small network
Below-average desktop client
Some dubious information on support website.
Other than dedicated apps for major platforms, Buffered VPN also offers router compatibility. There are 41+ servers available in different countries, including three servers within the US; this VPN is more focused on quality over quantity of features, it's also a good VPN for torrenting.Buffered VPN is a simple VPN without a list of advanced features, but still has a lot to offer; thanks to its user-friendly interface, faster connection speeds, and reliable security.
You will be disappointed by the lack of a kill switch on apps and incompetent for bypassing Netflix's VPN detectors.
Assessing Buffered VPN's Logging policy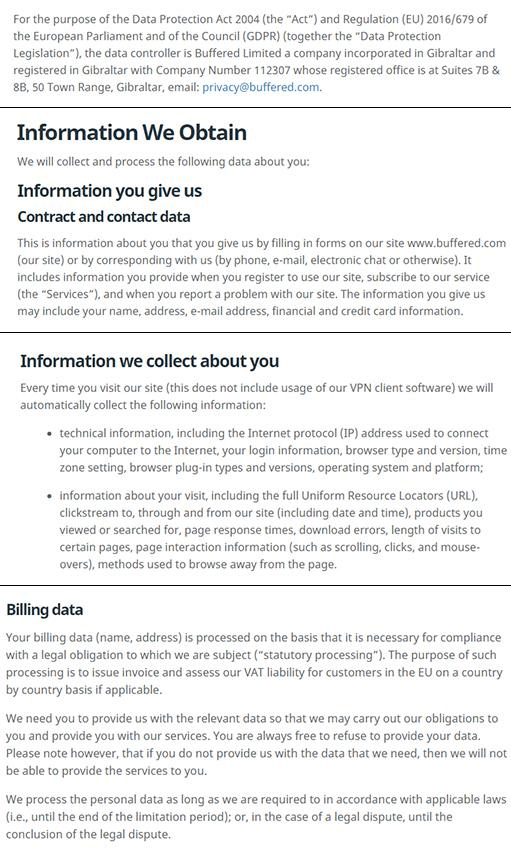 According to their privacy claims, Buffered VPN does not keep any records, however, keep partial connection logs for up to 30 days.
These logs include – Your IP address, the duration of the connection, the amount of data transferred during the respective session.
The privacy policy also stating that some information about your device would also be collected for troubleshooting purposes, but still, you have the option to opt out of this data collection in the settings.
Your data will only be shared – only in trade or acquisition of all assets – among a few third-parties like; Accountant, Payment providers (find on their website), Third party fraud detection service (SEON), and  Email sending services.
Furthermore, Buffered VPN recently moved its headquarters from Hungary to Gibraltar, where there are no mandatory data retention laws exist; though being a British Overseas Territory, it is fully autonomous, privacy-friendly, and away from the 5/9/14-Eyes Alliance.
We have talked much about logging policies, does anyone know what exactly a log and are all types of logs are dangerous?
Have a look!
What types of Logs VPN providers keep?
Unfortunately, the term "log" isn't clear cut.
There are log types – traffic logs, server logs, and metadata logs; many VPNs claim to have a "no-logs" while (actually) adhering to only one.
Traffic logs, also called usage logs, are the ones that you should be most concerned about, containing the contents of your internet traffic, which includes;
What websites you visit,
Your emails,
Search queries, etc.
Theoretically, ISPs and VPNs can see and store all unencrypted data; neither of them is a matter of routine, but it can (and will) be done if a valid court order demand will be received.
In the UK, ISPs (and VPN providers, which is a good reason to avoid UK based VPNs) are required by law to log information and store it for 12 months in a way that is accessible to a range of government departments.
While in the US, ISPs have lobbied Congress to sell or share customers' detailed web browsing history to advertisers and partner alliances.
If a VPN provider records this information, then that provides worth to be in the cesspool, not in your cybersecurity suit.
Server Logs: Almost all VPN providers rent servers from third-parties. So even if the VPN is logless, it is likely that the server centers, do. Unlike VPN providers, server centers are in no obligation to protect users' privacy.
Good VPN companies,- those genuinely care about their users' privacy – do a great deal of effort to mitigate this problem; servers ownership is the most feasible option so far.
No matter how fanatical about online privacy a VPN service sounds, it can always be forced to keep real-time logs instead of discarding them; under any pressure, no VPN staff are going to risk jail themselves to protect your criminal activities!
Then, why all the fuss about a no-logs VPN?
A no-logs VPN is more about professionalism than a guarantee that won't get you into trouble, no matter what. This does not mean the exercise is useless.
Any service promises to improve users' privacy should be designed from the ground up to do just that; it is one of the most basic building blocks of any VPN of such design.
Logs are the antithesis of privacy, and no VPN (especially those who keep logs) has the right to claim that it ensures your privacy.
Metadata logs, sometimes called session logs, connection logs, or diagnostic logs, don't contain the contents of your internet, but instead, record the details of your VPN usage. Sometimes, metadata logs are harmless and contain non-personally identifiable information like;
Bandwidth or data usage,
timestamps of the service,
and which servers you are connected to.
The type of metadata log we are most concerned with is those having users' source IP addresses; if a VPN is recording your source IP, then there's a chance your activity is being tracked.
It is important to understand that all VPNs generate logs in real-time as a byproduct of their operation; even if these are instantly deleted or sent directly to a /dev/null file, for a few milliseconds they do exist.
This means they can as they are created (i.e. in real-time). Even the strictest no-logs VPN monitors logs in real-time especially when network issues need to be fixed or -if any-  abuse identified.
In our view, this is acceptable within reason, though keeping real-time logs for a few minutes or deleting them instantly, poses a negligible threat to our privacy.
So, can a VPN call itself no-logs if deletes logs a few minutes after the session ends?
If some logs are kept, but for a short period of time, then we can see whether the logged timestamps and bandwidth can be associated with users' IP addresses or account details. If no such signs present, then we also happily describe a VPN as "no-logs."
Will a no-logs VPNs offer anonymity?
VPNs can provide privacy, not anonymity.
Yes, sadly, no matter what logging policy a VPN follows; all the VPNs always start logging to match users with their internet activity. Even historically, VPN services are not entirely honest with those no-logs claims.
Though VPNs provide privacy against all the blanket surveillance on the internet, minimally impacting your internet experience; you will out of trouble when pirating Game of Thrones, but you should not rely on them if commit a serious crime.
Political dissidents, journalists, whistleblowers, and other anonymity-seekers should use Tor instead.
How to make sure your VPN is no-logs?
At the present, either we have to take providers at their words or pay attention to their independent audits.
We, ReviewsDir hope such audits become common throughout the industry.
To remain on the safe side,
Always read the VPNs Privacy Policies and Terms of Service: Many providers are happy to make bold and generalized "no-logs" claims on their welcoming-page but are quick to qualify those claims in the small print of their Terms of Service and/or Privacy Policies.
You can always take a look at our VPN reviews, in which our experts review and critically analyze the VPN provider' ToS and Privacy Policies.
Warrant Canaries: Court orders and warrants require companies to hand over customer data, are usually accompanied by gag orders that prevent the company from alerting customers that something is amiss. To reassure customers that nothing has happened to them, some VPNs operate warrant canaries.
Being logless is not a matter of choice
With high-profile logging cases eroding our trust, such as PureVPN and IPVanish, it is now more important to verify that a VPN's claims are actually true.
Maintaining some connection logs is not a deal-breaker, only if it is done in a transparent manner; however,many VPNs simply use "no-logs" as a marketing slogan, while the reality disclose in their privacy policy.
Interestingly, there's no widely accepted definition of what "no-logs" exactly means.
In light of all these, it's great to see that there are some VPNs taking proactive steps, verifying and auditing their own policies; this will build trust and maintain a higher level of honesty.
Nothing can be guaranteed, it's safe that a no-logs VPN cares a hell of a lot more about privacy, and will do a lot to protect it, than your ISP.
Stay safe!