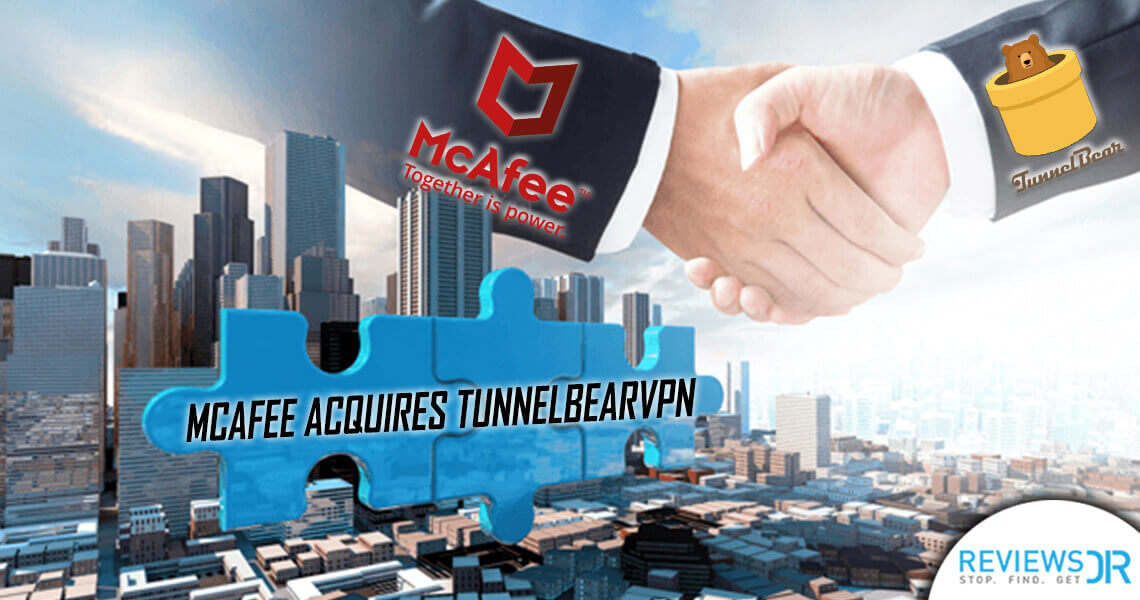 A trend of acquisition of VPN services by Antivirus companies has been making rounds in the cyber security market from the last couple of years. In connection with this chain, recently the Toronto-based VPN provider TunnelBear has been acquired by McAfee Antivirus Company. Various resources including VentureBeat have confirmed the news, but unfortunately, the "Terms of the Deal" are not yet disclosed.
TunnelBear – Introduction of the VPN Company
Back in 2011, a VPN service emerged with a quirky-brown-bear avatar with fun-filled and easy-to-use cross-platform apps that earned a solid reputation among millions of the internet users within years.
According to the claims of TunnelBear, they have a user base of around 20 million including desktop and mobile users from around the world. A few months ago, TunnelBear launched password management software by the name of RememBear App. The most peculiar feature of TunnelBear services is its VPN applications that deliver high performance. The VPN company has loads of other remarkable features also that you can use. To learn more about the service, check our TunnelBear VPN review that highlights all the amazing and robust features that come with the premium service.
Short Introduction of McAfee
McAfee was founded in 1987, and it is one of the most established brands in the cybersecurity realm. The company is well-known for its desktop antivirus solution. Because of the strong reputation in the market, the company was acquired by Intel for a mammoth amount of $7.7 billion. Later McAfee was named as Intel Security Group until 2016 when it becomes an independent entity with 49% holdings of Intel group in the company.
McAfee's offering is widespread to all types of Internet users. From personal use to corporates, McAfee antivirus has everything under one umbrella. Our McAfee antivirus review covers everything you need to know about the company. So have a read!
About The Acquisition of McAfee and TunnelBear
Since TunnelBear has never taken any outside funding to operate its services which mean to acquire the company McAfee must have broken the banks over this acquisition. With a vast customer base TunnelBear likely to make a good profit which also indicated that they have waited until a perfect offer has put on the table. McAfee already owns a VPN service called SafeConnect, and it is most likely that TunnelBear will be merged with it.
McAfee CEO Christopher Young stated in a Press Release:
[testimonials id=7449]
He further said:
[testimonials id=7451]
The Reason for The VPN Acquisitions:
Trump era has fueled the need of VPN after so many bills has been passed where metadata retention has become the need of the day; where ISPs are allowed to legally sale users out without taking their concern; where ISP can throttle your speed and charge you additional money. Indeed, there is no shortage of VPN services with a new VPN service emerge every day.
TunnelBear cofounder Ryan Dochuk said:
[testimonials id=7454]
However TunnelBear's existing customers are not happy with the acquisition and showed concern over their data privacy, but TunnelBear is definitely in a good position to absorb any losses, if occurs, in the result from the transfer of ownership.
We will keep you updated if there are more updates on this news. Till then do subscribe to our newsletter and continue reading on ReviewDir.