McAfee Antivirus Review: An Overview
McAfee Antivirus is one of the most promising "vital" Antivirus software solutions for your PC that incorporates an inbuilt firewall. Having its firm base in the USA, it emerges as a leading cyber-security company of the world. Today, McAfee Antivirus offers holistic security solutions for businesses and consumers across 120 countries. Whether you are business owners or home users, McAfee offers a wide gamut of products for you namely McAfee Antivirus, McAfee Antivirus plus, McAfee Internet security, McAfee Total Protection, and McAfee LiveSafe.
Who started McAfee?
The year 1987 marks the foundation of McAfee as a global security company inspired by the visionary guidance of John McAfee, its founder. It offers endless support to all its customers in terms of product education and consulting. If you are seeking for the most economical security solution for your PC, McAfee Antivirus is certainly the right choice for you, which is capable of covering every PC including iOS, Android, Windows, and Mac.
You can obtain remarkable features in the Windows version of its Antivirus such as file shredder and protective firewall. This, McAfee review will help you in choosing the right alternative for your computer, mobile or tablet.
Test Criteria and Use Cases for our McAfee Antivirus Review
This McAfee Antivirus review has come out as a result of its testing over three important criterions namely, performance, protection, and usability. We, at ReviewsDir here under define what McAfee Antivirus scored on all our tests –
Protection test of McAfee Antivirus:
When it comes to the level of protection offered by McAfee Antivirus solutions, it scores 58 percent that makes it a better option as compared to Microsoft Windows defender. It is capable of correctly identifying clean data and allows it to pass through your system.
Performance test of McAfee:
While testing the performance of McAfee, it turned up as an average alternative for the users. If you run McAfee Antivirus solution for your computer, it may slightly slow down the performance of your system. However, it is good at identifying and letting pass good data through your system, that makes it a suitable alternative for end users.
Usability test of McAfee Antivirus Software
McAfee, not only offers ideal Antivirus protection but also prevents your system from various harmful ransomware. It scans all your incoming emails along with their attachments to make sure that nothing dangerous or infectious comes along with it in your computer. It is also capable of automatically scanning any USB device attached to your computer. McAfee's exciting gaming mode also suspends some useful functions for you by removing interruptions like pop-up reminders and slowed system. Thus, in terms of usability, McAfee Antivirus protection scores a perfect 100 score.
McAfee Review – Type of Plans
McAfee Antivirus protection is the ultimate solution for both individuals and businesses. Here in our McAfee review, we'll discuss both home and business plan of McAfee in detail to give you a clear idea how the product works.

McAfee Family Protection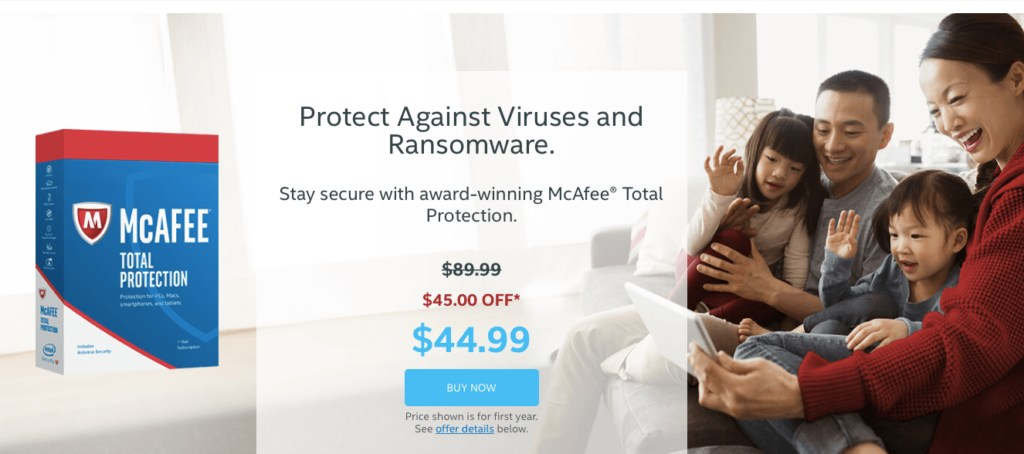 Protect your entire family's online activities with McAfee family protection. Build especially to empower the parents of young children; it is an easy-to-use platform. Usage of social networking sites further opens a gateway to stranger communication, cyber bullying and posting of confidential information. With McAfee family protection, you can easily mitigate such risks by allowing every parent understand their online behavior and activities. Some of the exciting features and benefits of McAfee family production include –
Email blocking
Website blocking
Program blocking
Social networking
Instant messaging
Instant alerts
Usage reporting
Filtration of YouTube videos
Keeping your confidential data private
McAfee Business Protection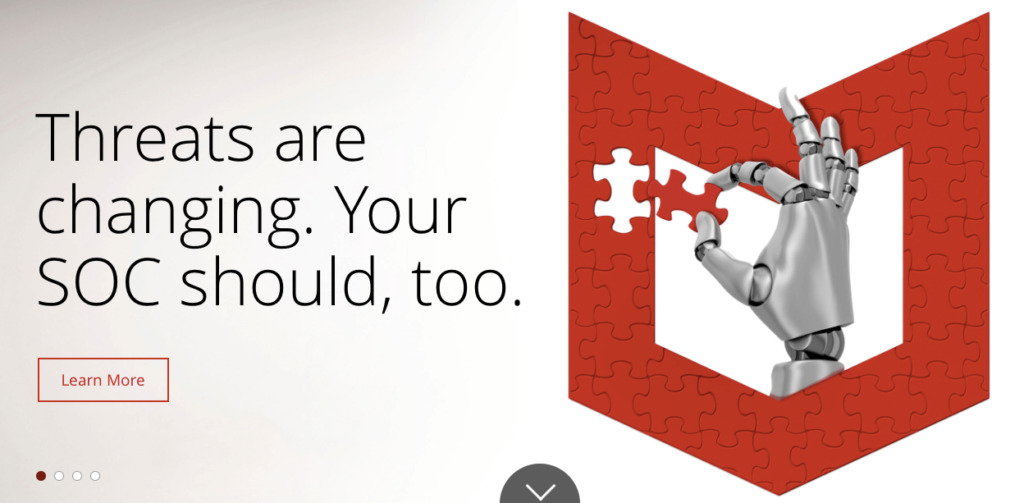 Whether you own a small or medium sized business, McAfee endpoint business protection is available for both. It is a simple, smart and flexible alternative for you offering affordable yet high-performing security. Considering your multifarious business needs relating to data protection and compliance with government regulations, McAfee business protection integrates high-end technologies of the industry. Some of its captivating features include –
Advanced level of data protection
Unlimited deployment for Apple Mac and Microsoft Windows endpoints
Security of data over cloud storage
Drive encryption
Endpoint assistant application
Protection of removable media and file
BitLocker and FileVault management
Hardening against the attacks of cold boot
Protection from network, data, system and web threats
McAfee Review – Products of Ultimate Security
Expect a more collaborative and intelligent threat protection for your PC with a broad gamut of McAfee Products. Built and designed to provide a robust platform for cyber security to both businesses and home users. Its vast portfolio comprises products for database security, data encryption and protection, advanced analysis of the threat, network security, endpoint protection, web security, server security and security management.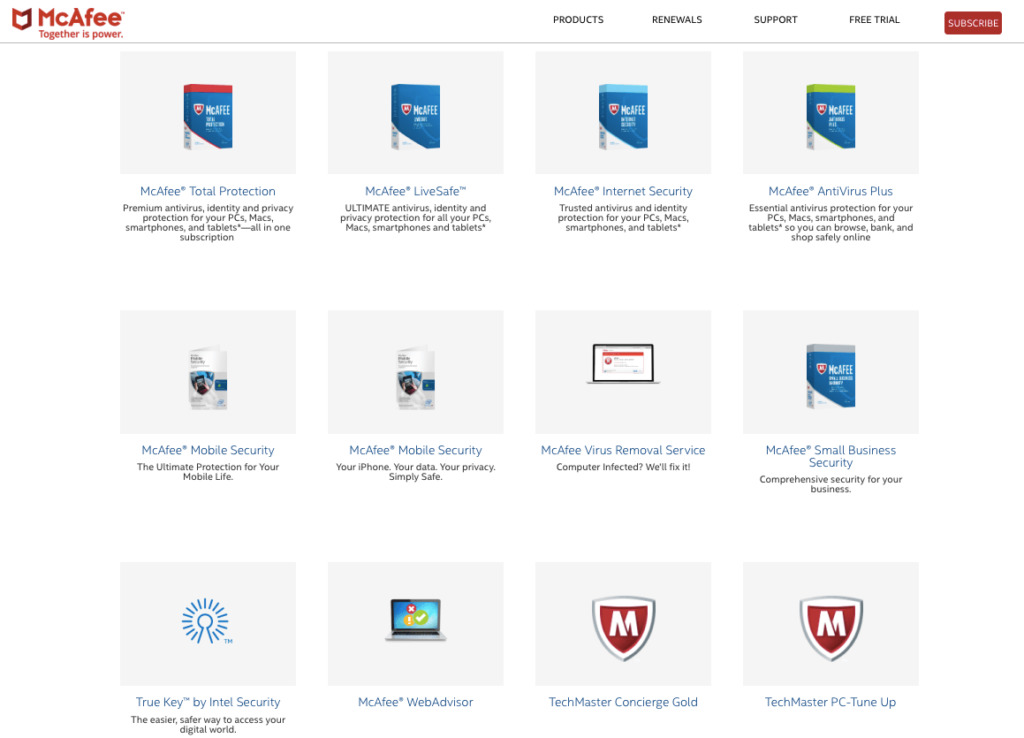 In our McAfee review, we will discuss some of its top-rated products which include McAfee total protection, McAfee AntiVirus Plus, McAfee Internet Security and McAfee LiveSafe. In this McAfee Antivirus review, we're going to analyze every McAfee product to make you aware of their respective advantages as well as disadvantages.
1. McAfee LiveSafe Review
Web surfing opens your device to a number of malicious threats that essentially require your attention. In order to keep your system protected from such threats, McAfee LiveSafe offers effective security to all your PCs. Instead of limiting you to the protection of finite devices, McAfee LiveSafe is capable of covering all your devices including Android, Mac, iOS, and Windows. Its unique feature of personal locker encrypts your cloud storage, thereby making it a winner amongst its other competitors. This feature of personal locker also offers 1 GB of thoroughly encrypted online storage for you protected by a multi-layered biometric authentication.
PROS:
Ideal for household protection
Minimal drainage of resources
Anti-theft protection
Biometric authentication of cloud storage
Password manager
CONS:
No protection for windows phone and Chromebook
Less robust coverage of Mac devices
Restricted parental control
2. McAfee Security Scan Plus Review
McAfee Security Scan Plus is one of the most promising free diagnostic tools available for home users. It ensures your complete protection from threats by dynamically checking your device for updated firewall, anti-virus as well as web security software. Not only this, but it also performs complete scanning of the programs opened in your device. McAfee Antivirus automatically performs the scan and provides you the alert regarding any risk to your computer along with appropriate measures to prevent it. You can remain assured of your system as McAfee security scan plus works secretly in the background.
PROS:
User-friendly and easy-to-use interface
Provides parental control by blocking websites
Anti-spam filter
Automatic updates feature
Anti-spam filters
CONS:
Limited channels of support via email and FAQ only
Average installation time
Supports only windows platform
3. McAfee Total Protection Review
Having multiple numbers of internet operating require respective security suite to ensure protection from all types of threats. If you keep on counting the number of Android, iOS, Mac and Windows devices within your household, you will get the exact count of devices that require protection. Instead of looking for separate security suite for all devices, subscribing only to McAfee Total protection will prevent all your devices. Offering well-handled parental control, hack detection, shredding and encryption features, the McAfee Total Security 2017 version is comparatively better than its previous versions.
PROS:
Protects all devices with one subscription
Multi-factor authenticated password manager
Featured file lock encryption
Well-updated user interface
Reasonable price
CONS:
Ineffective malware blocking
Limited parental control
File lock system applicable only for Windows devices
4. McAfee Internet Security Review
A renowned name in computer security industry, McAfee Internet Security is a feature rich protection system for all your devices. Incorporated with the major features like anti-phishing, anti malware, file shredder, parental control and password manager, it has other specific tools too for detecting malicious websites, spam emails and malware. It also provides you the flexibility of choosing the drives and folders that you want to scan and scheduling it as per your convenience. Its password protected parental control is a boon for all the parents whose children are using the internet frequently. You can easily limit your child's time of being online.
PROS:
Safeguards online transactions and identity
Unlimited license for protecting all your devices
Useful additional features
Spam filter manages exchange, webmail, & POP3
Multi-factor authentication for password manager
CONS:
Heavy impact on system
Ineffective malware detection
Low score in terms of protection
5. McAfee Mobile Security Review
Considering the widespread usage of mobile devices by the users, McAfee mobile security is dedicated protection software offering excellent tools of privacy protection and anti-theft to you. It is capable of blocking phishing sites thereby preventing your browser from exploitation. It continuously monitors your mobile devices for threats while you are connecting with any unsecured Wi-Fi internet network. If anyone tries to snoop into your web activity, McAfee immediately disconnects your device from that network and updates you.
PROS:
Intuitive interface
Tutorials and help buttons for all features
Excellent tools for privacy and anti-theft
Live support available
Extensive parental control
CONS:
Complicated setup
Incompetent malware detection
Comparatively expensive
Is McAfee Antivirus free?
Yes, McAfee security scan plus is a distinctive diagnostic tool that is available for free to check your device for core prevention. It actively works in the background to check for the threats, web security, firewall protection and anti-virus software. It silently updates and installs your device without interrupting its productivity. If in case, it finds your computer on risk, it immediately updates you regarding it thereby providing an appropriate recommendation to resolve the risk within seconds. It not only scans your cookies and browser history but also detects Trojans, malware and other unwanted programs. It also provides you the flexibility of customizing your scan frequency as per your convenience.
Also Read: What are Antivirus Softwares
How to Install McAfee Antivirus software?
Not every individual is friendly with the installation of antivirus software. Keeping this factor in mind, McAfee keeps everything simple and easy. If you want to install any of the McAfee Antivirus solutions, you just need to download the respective version you want for your device. Once your download is complete, you will come across the dialogue box of McAfee Installer check asking for the software to run on your machine.
The moment everything gets installed, the software will ask for your permission to "Run a scan" of your system to conduct initial scanning of the device. You need to click on the link. Next, you can further explore other options available for you.
McAfee Pricing and Packages Review

McAfee Antivirus review offers different packages for different software. Whatever be your requirements, you can make a selection of any of the software. In fact, you can also opt for free trials of the software to ensure its efficiency in terms of performance, security, and usability. The basic McAfee antivirus program costs about $40 annually for single PC thereby stopping phishing scams, spyware, and malware. It also incorporates features like two-way firewall, file shredder and system optimizer that you can rarely find in any other basic software of antivirus protection. Furthermore, here is a detailed description of the pricing and packages of different McAfee Antivirus software prevailing in the market –
McAfee AntiVirus Plus: It is just similar to its basic program. However, its license is available for not only Mac devices, but also for iOS and Android devices including the smart watches of both platforms. Costing just $60 per year, it offers ultimate protection to unlimited devices. If you are looking for basic protection for numerous devices, this is surely a bargain offer for you.
McAfee Internet Security: Add more features to your device's security along with obtaining complete peace of mind with the subscription of McAfee internet security. You can enjoy effective parental control and anti-spam protection by just paying an annual price of $60 for a single device and $80 for unlimited devices. It also offers a license to the True Key feature of Intel with the password manager.
McAfee total protection: McAfee also offers some top-shelf programs for users to remain completely secured whether online or offline. McAfee total protection is one such program that hardly costs $90 per year for unlimited devices. It also includes the licenses of 5 Intel's True Key with enhanced feature of file encryption.
McAfee LiveSafe: Another top-ranked program of McAfee is its McAfee LiveSafe that offers well-encrypted online storage of 1 GB for its users along with license of 5 true key. The minimum cost for this software that you need to pay is $90 per year for unlimited devices.
Can I get McAfee free trial?
If you are unable to decide which McAfee software to choose for your PC or mobile device, you can take up the free trials of such software for 30 days to explore its features and advantages in reality. This will surely lead you in making the right decision. The provision for a free trial is available for every McAfee program including McAfee Antivirus Plus, McAfee mobile security, McAfee Internet security, McAfee web protection, McAfee total protection and more. We, at Reviewsdir also recommend you to take a free trial of McAfee antivirus programs to avoid any inconvenience in the long run. However, the free trials will just provide you a gist of its features and performance.
McAfee Promo Code
If you are considering McAfee AntiVirus Plus software for the protection of your new computer, McAfee offers you a distinctive opportunity of grabbing the free extension for 12-months by simply using McAfee promo code. You can obtain the subscription of McAfee Antivirus Plus software for free with this promo code. It requires you to fulfill following three steps –
Check out the promo code on its online shopping cart.
Log in to your account of McAfee.
Fill in your credit card details along with billing information.
McAfee Software and Mobile Apps
McAfee antivirus software is available for both PCs and mobile devices that allow you to install over platforms like iOS, Android, Mac, and windows. Irrespective of the kind of device you are using, you can feel protected with McAfee antivirus solutions. In this McAfee Antivirus review, you will get to know its compatibility status with different platforms.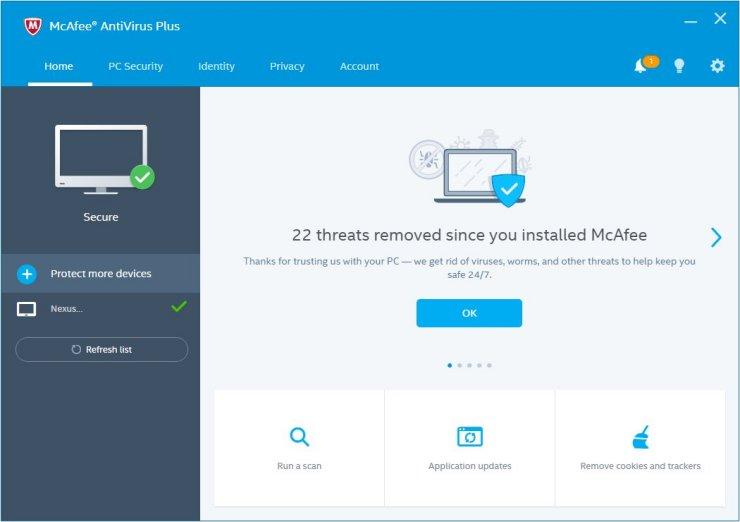 Whether you use windows seven platform or windows 10, McAfee antivirus software will surely work well for you. You can use any of the top-rated McAfee solutions to prevent your PC from unwanted threats and malware. If you are looking for a feature rich protection solution, you can ideally opt for McAfee LiveSafe. Loaded with features like password managers, virus and threat protection, secured cloud storage and one subscription for all devices, it can keep your identity and data safe.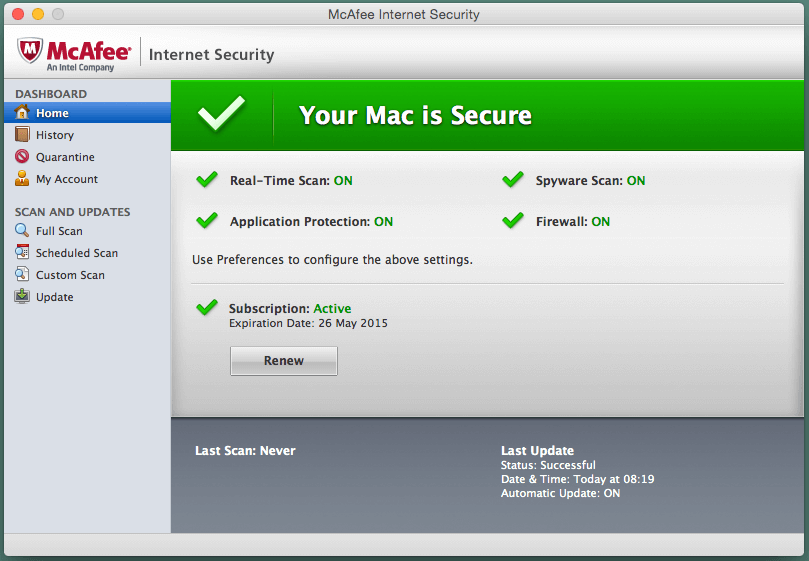 If you are a user of Mac operating system, you need to install the Mac version of McAfee antivirus software. As compared to the windows version, it is less robust. The essential features that it offers include malware detection and quarantine, warnings about such apps that lack suitable certifications and download scanning. Its firewall component is also capable of enhancing your existing firewall security built in OS X.
The Mac version of the software also ensures blocking access to several harmful links including phishing sites and flags that can turn out a potential danger for your search engines such as Chrome and Firefox.
For all android users, making a preference for McAfee antivirus plus is surely the right alternative for ensuring full protection of your device. This software incorporates features like automatic scanning of new applications and malware scanning. It also allows you to lock your important apps with the help of PIN that can turn out useful for you if your device gets into the hands of many people.
The unique feature of anti-theft protection combines lock, remote locates, alarm management and wipe via online McAfee portal. Its other additional benefits include Intel security battery optimizer, web protection, contacts back-up and handy tab for checking your security status.
Though there are very few iOS malware available, you may not require any iOS antivirus solution. However, with McAfee iOS version, you also get additional benefits like back up of your contacts, location, device wiping, alarm triggering during theft, store, and copy of pictures within the McAfee secured vault.
Irrespective of McAfee software you choose, all its antivirus solutions offer round the clock customer support all through your subscription duration via phone, email, and chat. Its online customer support services combine –
Answers to all frequently asked questions (FAQs)
Community forums moderated by employees
Step-by-step instructions to ensure the best usage of McAfee antivirus solutions and their respective specified elements.
Virtual support from McAfee TechMaster for diagnosing virus in your device, set-up software, PC tune up and device troubleshooting.
Automatically checking and troubleshooting of common issues arising in any of the McAfee products.
Aiming at delivering total satisfaction to all its users, it also looks back to your feedback on their support experience.
Is McAfee good to use?
When it comes to judging the usability of McAfee antivirus solutions, it is very reliable. As per the recent test conducted on the usability of the software, it perfectly matches the industry standards. It offers a great user experience with a simple yet easy-to-use and navigates interface. It does not detect any legitimate software in the form of malware.
Furthermore, talking about its overall performance, its scanning engines lay a moderate level of impact over the performance of your system. However, while testing its scanning performance, McAfee offered some fastest rounds of full-disk scanning when the program achieves a bead on the content of your hard drive. On an average, McAfee takes about two mins and 3 sec to scan your system quickly, looking around 3,387 files, which is not at all a bad performance.
Is McAfee Antivirus safe to use?
If you are seeking for ideal antivirus program for your system, its safety and security features remain your priority concern every time. McAfee understands you pre-requisites very well and thus offers some security features in its antivirus programs including the provision of password manager. Some of the most captivating safety features that you can find in McAfee antivirus protection software include –
Spyware and virus protection: This feature allows you to quickly scan your complete system for detecting the virus profile by just clicking on the link. In-built with the feature of real-time scanning, it will constantly scan your device the moment you start it.
Email and web protection: Almost all its antivirus software come with this in-built feature of email and web protection. Its firewall protects from hijackers who keep an eye on stealing your personal information. It also keeps a keen eye on the information sent as well as received by your device. Furthermore, it also incorporates the feature of anti-spam that works efficiently in stopping junk and spam mail from entering into your email's inbox.
True Key by Intel Security: This innovative feature offers a password manager that imports your passwords thereby storing them in a secured vault. It also allows you to apply multiple-party authentications.
Parental control: If you are apprehensions about your children's online activities, you can remain assured of their protection online with McAfee Total protection and Internet Security versions. Yes, both the software has the feature of parental control allowing you to limit the usage of internet for your children.
Data protection through shredder: This is an effective tool in keeping all your sensitive information intact and safe too. You can find this feature in all McAfee Antivirus versions.
How to uninstall McAfee?
When your trial version is about to finish, you may want to subscribe to one of its yearly package. However, in order to purchase new paid software, you need to uninstall the pre-installed trial version. In order to uninstall it, McAfee offers a distinctive MCPR (McAfee Consumer Product Removal) tool. It can clean up all consumer products of McAfee in the case when the standard process of windows un-installation fails. Here are the steps that you need to follow –
Download MCPR tool on your system and click "Run as administrator."
You may come across a security warning to which you have to click on "yes, Continue" button.
Once the McAfee software removal screen appears, you just have to click on the 'Next' button thereby accepting 'EULA.'
Then, the screen of security validation will appear that requires you to type characters visible on the screen and then click 'next.'
When the message of "removal complete" displays on your screen, you need to restart your system for completion of the process.
McAfee Security Scan
In order to keep the security of your system's valuable data intact, McAfee security scan is surely a decent alternative for you. You need not to confuse it with an antivirus. It is slightly different from the antivirus. The key purpose of McAfee Security scan is analyzing your defenses along with telling you about the vulnerability of your computer. It not only checks the status of your antivirus and firewall but also examines the objects running in your malware's memory and web history. It is usually regarded as junkware, bloatware or crapware. It only works as a prominent tool to provide an alert of risks on your system. It is, in fact, a kind of advertising that too effective.
Is McAfee real time scanning won't stay on?
One of the most commonly registered problems that McAfee antivirus users usually come across is the display of a message that McAfee real-time scanning won't stay on. This malware problem occurs majorly on systems with Windows 7 operating system. If you are also the victim of such error with your real-time scanning, you need to follow the below-given rules –
Initially turn on the safe mode of your PC either with the help of F8 button or by just going to system configuration section of administrative tools.
This will also turn off the McAfee real time scanner.
Then, again you need to turn off the safe mode so as to bring back McAfee real time scanner working in proper condition.
McAfee Antivirus – Editor's Review
If you are anxious about the protection of your PC and mobile devices of your household, then ReviewsDir recommends you to opt for McAfee Antivirus software. It has something unique to offer for all end-users. Keeping your data security and privacy issues in mind, McAfee Antivirus is a one-stop solution for all your devices. It is a well-known brand offering extensive support to all types of devices. Its wide gamut of products altogether, ranging from basic solutions to fully featured, can protect your PC against the most malevolent malware. Hence, depending on your respective security and data protection requirements, you can choose from among McAfee total protection, McAfee internet security, McAfee mobile safety and more.
It has been a widely used antivirus software for desktops, laptops and other devices and it indeed provides excellent protection. However, it may often slow down the performance of your system if it is an old one or has an obsolete configuration. Overall, most of the tech savvy users who are concerned with the security of your confidential data prefer using it to others. While the free versions are good to use for home systems, it is better to go for paid versions if your system is a part of a workgroup or you have a bulk of sensitive data that you would not like to get compromised at any cost.
To conclude, the key factor that adds tremendous value to this malware protection software is its innovative structuring and multi-device pricing. Its True Key feature of keeping your password safe makes it the most prominent choice of users. In order to check out its efficiency and performance, you can yourself give this software a free trial and experience its features.
McAfee Review
McAfee Antivirus products are surely one of the best protection alternatives for household users. Irrespective of the number of devices you are using, its single subscription will look after everything. To put McAfee Antivirus review in few words, it is the most reasonably priced software to keep your computer clean.
PROS
True Key by Intel Security for keeping your passwords safe
Infinite protection for all devices
Hand-on efficiency in malware blocking
Real protect feature to ensure behavior-based detection
24/7 technical support through McAfee WebAdvisor
In-built firewall for extended protection
30-day money-back guarantee
CONS
Mediocre lab results of McAfee Antivirus
A poor score of anti-phishing in our McAfee review
Limited and ineffective parental control