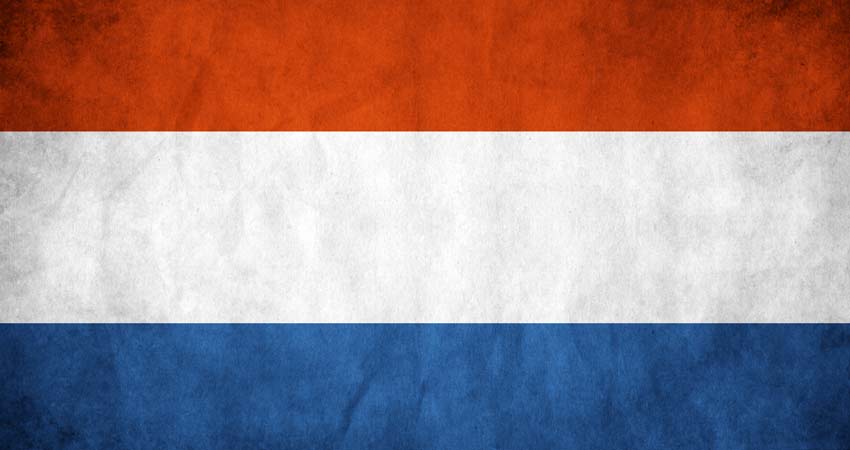 You might already know that Netherlands is a country where little importance is given to censorship or enforcing proper copyrights law in the country. And that is why Dutch netizens are least bothered when it comes to downloading pirated movies or music online. It is quite mind-boggling, considering the fact that Netherlands is part of European Union.
Now, you may ask, "Why Dutch netizens need a VPN then?" Or more specifically, "What's the use of a Netherlands VPN service?" Well, we have answered the question already. Netherlands is part of EU and it has to follow the EU Data Retention Directive (DRD). The directive is as invasive as you expect it to be and makes online privacy a far-fetched dream in Netherlands. So using a Dutch VPN service is indeed not a choice, but a must for internet users.
Another concern for Dutch netizens is the NSA's international spying projects. If the world has learned anything from Edward Snowden vs. NSA dilemma, it is that the internet is the most vulnerable space, and your privacy is at risk 24/7. The truth is Dutch people need a good Netherlands VPN service, to avoid being spied on and getting the logs of their online activities on someone's storage device. In fact, the need of a good Netherlands VPN service couldn't be direr as the country has over 92 percent internet users.
We would like to delve a bit more on privacy concerns of a common internet user in Netherlands but for now, let's get straight to the 5 best Netherlands VPN services.
Top 5 Netherlands VPNs – The Right Options for You
Netherlands Privacy concerns and VPN – Summing up all
Getting back to the privacy concerns in Netherlands we touched upon earlier, DRD (Data Retention Directive) is undoubtedly a significant threat.Along with other EU members, Netherlands has included the 2006 DRD in the national law. DRD requires all Internet Service Providers (ISPs) and telecoms to keep logs of all EU netizen for last 12 months. However, Netherlands government has reduced this time to 6 months.It is important to keep in mind that the DRD requires logging of traffic data only, no record of communication is stored, but even traffic data is enough to reveal usage patterns. And that's the biggest reason to use a trustworthy Netherlands VPN service.
It is a vague law which has gathered many confusions and controversies over the years. One of the biggest confusions of DRD is the inclusion of VPNs. Most countries have declared VPNs part of DRD and implemented the law accordingly.However, after an in-depth analysis of Articles 1(2), 3(2) and 5, some countries have exempted VPN from DRD. Fortunately, Netherlands is one of those countries which make it an ideal place for VPN companies to deploy their servers. In fact, many VPN providers, who are sick of anti-piracy policies elsewhere, have set up their VPN servers in Holland. So, there you go! You can opt for a good Netherlands VPN service or use a fast Holland VPN service if you are living in Holland.
A Brief Overview Of Netherlands VPN Services
Earlier we just mentioned a few features of the top 5 VPNs, here we are going to give a brief overview of each VPN service provider:
1. ExpressVPN
ExpressVPN is for sure one of the most recommended choices of VPN users all around the world. You can tackle all privacy issues in Netherlands with ExpressVPN. It is a Netherlands VPN that masks IP address, encrypts data, enables anonymous browsing. ExpressVPN has servers in Rotterdam and Amsterdam which makes it a perfect Netherlands VPN for Dutch users. It works almost on all of the popular devices and supports various operating systems. ExpressVPN also offers unlimited bandwidth along with unlimited server switches, which just adds more stars to its credibility.
ExpressVPN is notable as an all-rounder in the VPN market, and its comprehensive offerings rank it as one of the suitable Dutch VPN choices also. The best part of ExpressVPN is that it also offers a 30-day money back guarantee. So if in case you opt for VPN Netherlands, and the service didn't satisfy your need – they are very much happy to refund your money. In addition, if you connect to their Holland VPN Server or any other, you get an option to use ExpressVPN on three devices at a time.
GET EXPRESS VPN FOR NETHERLANDS
2. NordVPN

Mentioning a blatant truth on their homepage: You can't be safe with a VPN. It's a fact", NordVPN is comparatively a less popular VPN provider in this list, but it is an impressive Netherlands VPN service as it has more or less 21VPN servers in different locations of Netherlands. It ensures better connectivity, accessibility and ample options for Dutch netizens to connect to the NordVPN servers close to their own physical location. Also, one convenient option for Dutch VPN users is that it allows payment in Euros. So, more reasons for you to opt for NordVPN which also claims to be "the world's most advanced VPN service in the world". Well, we were quite satisfied with the speed and connectivity of its Netherlands servers, and that was the prime factor it's in our list of best Netherlands VPN service.
3. IPVanish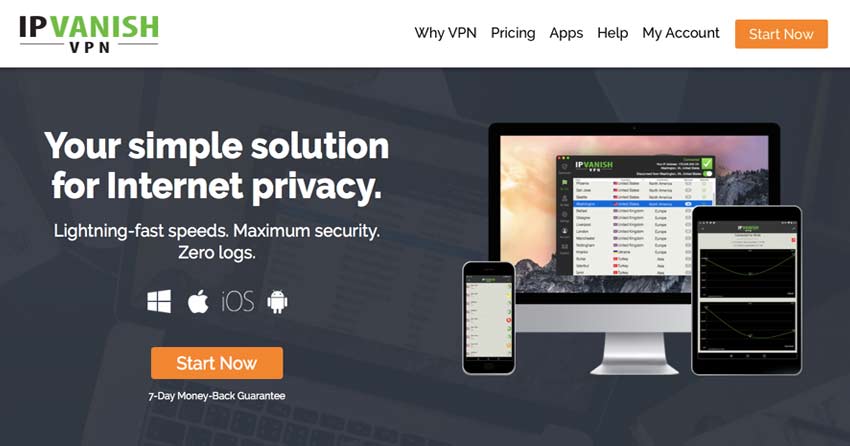 IPVanish is a good Netherlands VPN option. In terms of speed, connection, and pricing, IPVanish offers competitive packages. Even if you just look at the magnitude of their setup that includes 40000+ IPs, 500+ servers in 60+ countries, it is enough to give you an idea of this Netherlands VPN. Moreover, IPVanish have specially deployed over 41 VPN servers in different locations of Netherlands. What gives IPVanish a genuine edge over other VPN services is that its servers are purpose-built for speed, anonymity, and ultimate security.
Similar to ExpressVPN, IPVanish also offers a 7-day money back guarantee that allows you to get a full refund if the service didn't cater your VPN needs. IPVanish also offers a friendly 24/7 customer support option that is always available to help you with your queries. While you connect to IPVanish's Dutch VPN server, you can also enjoy unlimited server switching to other 500 servers. And all that you can enjoy with 5 multi logins and with zero-logging policy, that makes IPVanish a friendly and reliable VPN option.
GET IPVANISH VPN FOR NETHERLANDS
4. Buffered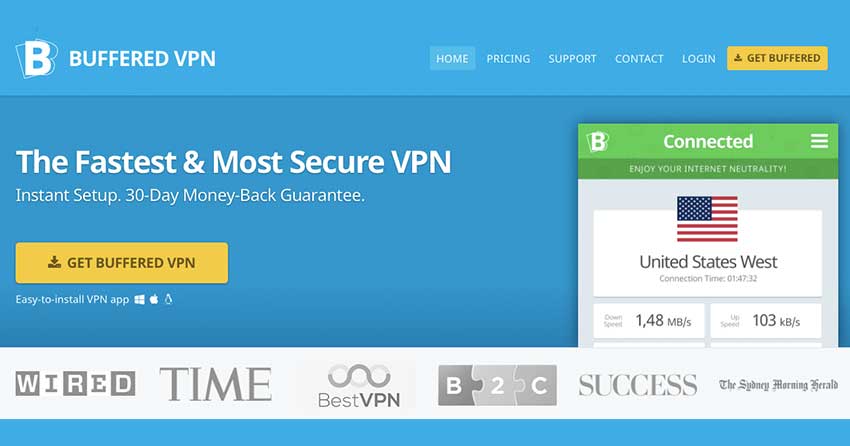 Buffered VPN has a zero logging policy, ensures full anonymity, hide the location and encrypts traffic and emails. Buffered has got all to offer to any VPN seeker in Netherlands/Holland. For Dutch citizens, it offers a great deal with 30 days money back guarantee. Buffered is relatively a new player in the VPN market, but it's quickly rising up and making great efforts to stand tall among the already established names in the VPN industry. It currently has its servers in over 33 countries which also include Netherlands and as per our tests, we found it to be a suitable Netherlands VPN service. Buffered VPN is rapidly growing and adding more and more servers keeping in mind the growing demands and requests of the VPN users.
5. PureVPN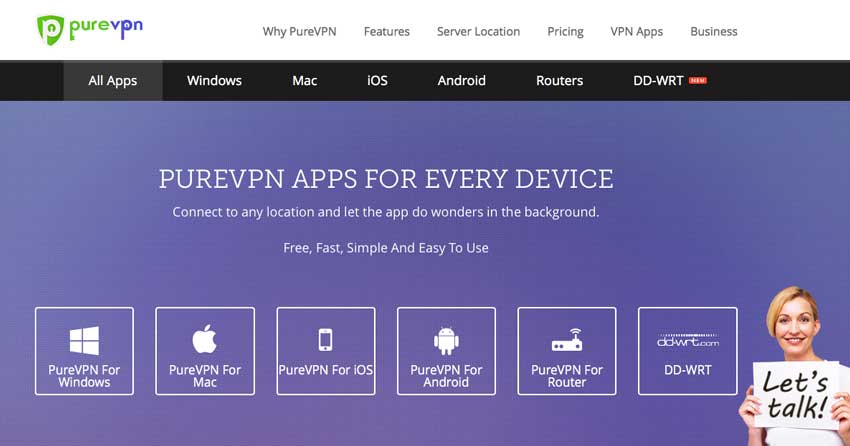 PureVPN is the best option for Netherlands. It is a self-managed network that is spread in 141 countries with more than 500 servers. Since it is self-managed, there are no third parties involved hence no chance of activity logging. PureVPN has over 15 servers in Netherlands and this number is expected to grow as Dutch users' increases. All in all, PureVPN is also a great bet for any Dutch privacy enthusiast as it offers 24/7 live chat assistance (which very few VPN providers actually offer) and a 7 days money back guarantee. So, it was a no-brainer to add PureVPN in our list of VPN Netherlands.PureVPN is one of the top leaders of the VPN market that is always up to raise their voice against the censorship laws. With so many advancements in their product, they undoubtedly stand out as of the best VPN available in the market and a reliable option.
Free VPN Service Providers in Netherlands – Worth Trying?
All above mentioned are exceptional Netherlands VPN choices, but there is one little problem (we don't see it as a problem though) – they are all paid. Of course, there are many free VPN Netherlands options too, but we are ourselves a little hesitant in recommending you any free VPN Netherlands. Because we tested over 7 to 8 different free VPN providers and most of them don't offer any Netherlands VPN servers and those who do offer, are not providing a good enough performance and quality that is a prime need of any Dutch Netizen. NL Free VPNs will not provide you as much security as required. The logic is simple; Holland is a country with an active DRD law, and you can't simply trust a free Holland VPN service or a free VPN Netherlands with your personal information.
The recent Hola VPN exploit has inevitably raised some real concerns and added a big question mark on the credibility of free VPN service providers. Well, if you still wish to check out some of the free VPN services available online, you can click here. They may not necessarily have free VPN Netherlands servers, but they are still a good bet for you to get to test the service first for free and then to purchase it when you are satisfied with what the VPN has to offer in their paid package.
Conclusion
Finally, there are limitless VPN service providers active in Netherlands. Before making a decision, remember, your goal is to protect your online privacy and security. We strongly suggest against any free VPN Netherlands. You must invest in a service provider that offers you maximum protection at competitive prices. Good news is all VPNs mentioned here fit the criteria – go ahead, pick the best VPN for Netherlands.Long live Netherlands! ??