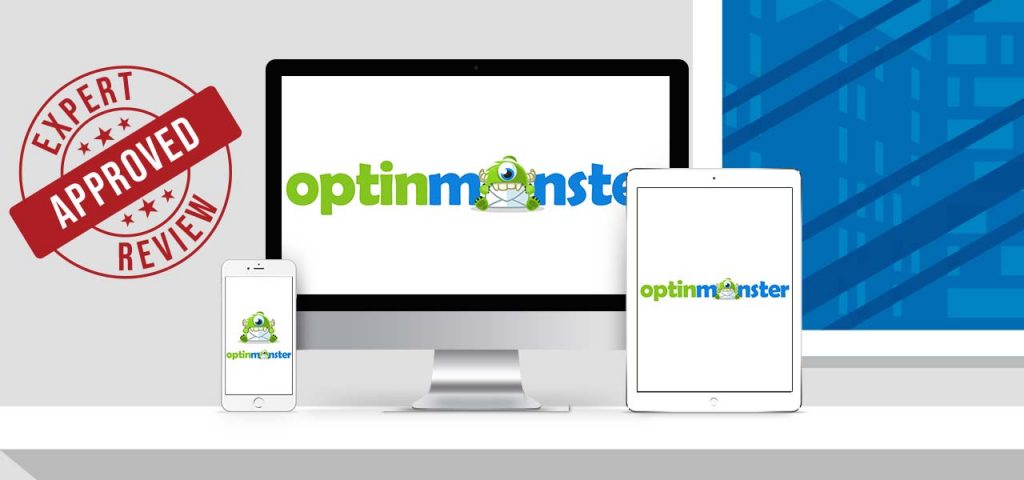 Before the advent of Facebook pages, tweets, and LinkedIn profiles, email marketing was the best way to build and launch your email campaigns. And some say it still is. However, adding people to your email list is not something that can be easily done. You can't simply pitch in an invitation whenever you like. Because while you think that your invitation is unique, to the visitors, it all looks the same. In this OptinMonster review, we'll discuss how this tool is being used by our agency.
In order to successfully grow your email list, you will need a beautiful lead form, advanced targeting rules, and campaign analytics. The OptinMonster WordPress plugin will help you craft all of this.
What is OptinMonster?
OptinMonster is a lead generation software that is very easy to use. It helps businesses grow their customer base by creating a technology that effectively captures emails and increases web conversions. You won't need a developer to write codes for your lead capture forms because OptinMonster features a drag and drop builder. It's quick, easy, and very doable.
Aside from this, OptinMonster also helps you do the following:
Create multiple types of forms
Conduct A/B testing
Get insightful stats and analytics
Create optins on specific pages based on rules to target WordPress
And that's not even half of what OptinMonster can do. Here are more features in this OptinMonster review that you'll surely love about this tool.
OptinMonster Pricing and Plans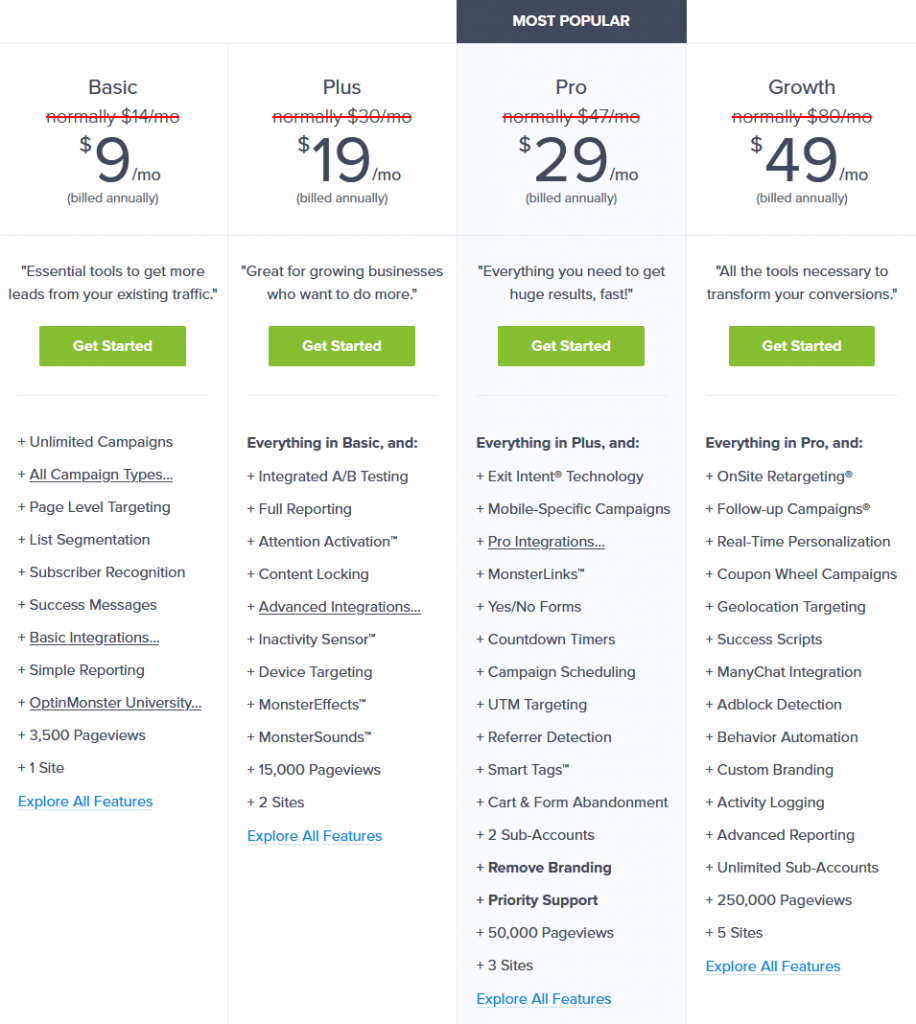 For a powerful lead generation tool that's extremely easy to use, the OptinMonster pricing range is inexpensive and flexible. The Basic plan starts now at $9 per month, which is perfect for start-ups and small businesses. If you want more services at a slightly higher OptinMonster pricing, the Plus and Pro plan contains more features for growing businesses. And for large businesses, the Growth plan includes the full package of services at a higher OptinMonster pricing.
OptinMonster Features
Don't dismiss the OptinMonster WordPress plugin as an ordinary opt-in plugin, because it's so much more than that. These simple but robust features are what make it one of the best lead generation solutions.
Drag and drop form builder
You don't need to worry if you're not technically-inclined to create lead capture forms. OptinMonster has a simple, clean interface with a streamlined dashboard.
There are over 75+ pre-built templates to choose from with sleek and modern designs. From here, you can add and remove elements, customize the colors, place your own images, and add content. Everything you'll need to build a form is located on the dashboard for easy viewing.
If you want to deviate from the traditional lightbox popups, OptinMonster also features other types of forms that you can use. You can go for floating bars, slide-ins, fullscreen overlays, sidebars, or inlines — the variations are countless.
Page level targeting
One of the factors that make a website popular among customers is their ability to provide what they are looking for. We're all shoppers and we know the frustration of jumping from store to store just to find what we need to purchase. To solve that problem, OptinMonster has a page level targeting feature that uses behavior personalization to create page specific campaigns.
Simply put, OptinMonster lets you send emails that are tailored to each user's interests and preferences. This gives your subscribers more relevant content from you, resulting in higher clickthrough rates and increased sales.
The advanced display rules will also help you steer clear of Google's penalty for mobile popups too.
A/B Testing
A/B testing, otherwise known as split testing, helps you compare which version of your website is performing well. Split testing can be difficult and tedious to set up, and you can't skip it because it's an important part of email marketing. Fortunately, OptinMonster has a feature for easy A/B testing with easy-to-read analytics.
The split testing option is located on the dashboard too. Simply click the campaign that you want to split test and select the option to create an A/B test. After the test, the results will appear on the dashboard and give you an overview of the opt-in that performs the best.
OptinMonster also offers various campaign triggers and rules. You can mix and match to see which combination can perform better for different segments and locations.
Easy-to-use WordPress plugin

OptinMonster originally started as a WordPress plugin but is now a hosted service, or a cloud SaaS tool. There's no need to feel overwhelmed, though, because it has a dedicated OptinMonster WordPress plugin. Integrating the plugin is not difficult to do.
Your OptinMonster account is linked to your website through the OptinMonster WordPress plugin. However, the plugin is lighter so you'll be able to manage all lead capture forms in one location.
Exit-Intent Technology
A large percentage of visitors who leave a website never return. Reduce this statistics with OptinMonster's Exit-Intent technology. It detects user behavior and shows them targeted campaigns when they are about to leave. If they're not going to leave as paying customers, then at least they will become subscribers to your email list.
If OptinMonster detects that the visitor is about to leave, it displays targeted campaigns that will counteract this. It could be a discount offer, an invitation to join your email list, or an invitation to chat with customer support.
The goal is to turn visitors into high-value customers by making sure they all proceed to the checkout page. Using exit-intent popups will reduce cart abandonment and increase sales.
Conversion analytics
It's important that you never miss out on leads and sales because of unreliable data. OptinMonster provides conversion analytics so you can see how your conversion rates are doing. You can now analyze views, clicks, and overall conversion in all your marketing campaigns.
Additionally, OptinMonster integrates with Google Analytics. You won't be able to see your stats if you don't connect to Google Analytics, so perhaps that is a downside. But the analytics are comprehensive and intuitive, so it shouldn't be too much of a problem.
Conclusion
No marketing campaign is complete without the proper lead generation tool. To conclude this OptinMonster review, we highly recommend this tool to marketers and businesses, both small and large-sized. OptinMonster is a robust software and plugin that is proven to capture leads and increase conversions.
Some features that make it stand out from its competitors are the exit-intent, the triggering and targeting options, easy A/B testing, and the streamlined dashboard.
The only downside is that you're unable to see your stats without Google Analytics. Also, the price might be steeper than most lead generation tools but considering its efficiency, it's worth the price.
If you're searching for a company specializing in digital marketing in Thailand, you may contact us and we'll discuss how we can turn your project into a success.