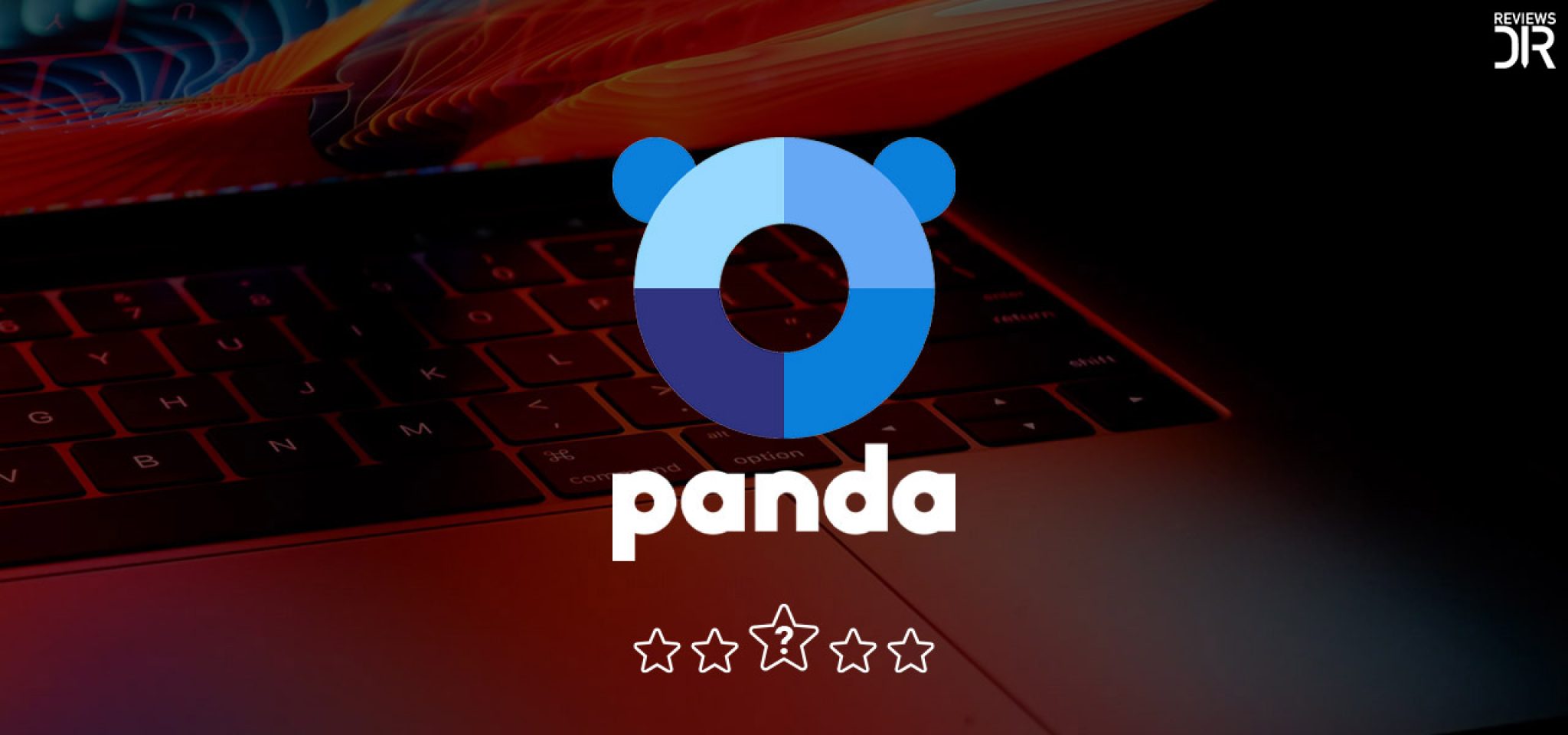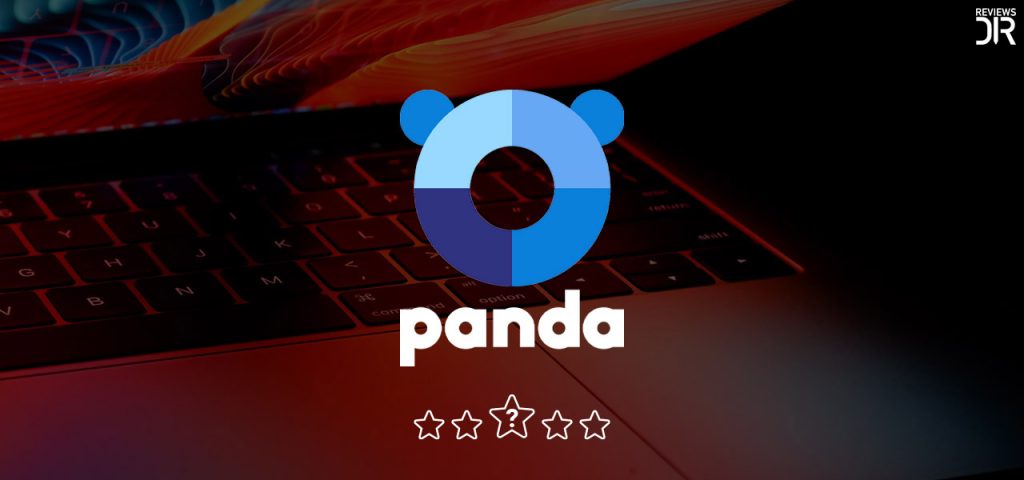 If you're serious about the protection of your privacy, you don't need only a VPN. Indeed, a good antivirus is a must to protect your device from malware. And that's why I decided to write this Panda Antivirus review. So let's see how good Panda AV (previously Panda Internet Security and Panda Cloud Security) really is.
Last Updated On: 2 December 2022
Panda Anti Virus, good malware detection
Panda Security is a Spanish company founded in 1998 and a renowned name in the AV industry, thanks to their flagship product: Panda Antivirus. They've always been on the cutting-edge of malware protection. And they've regularly implemented disruptive innovations into their products along all these years. As a result, they received several awards and recognitions, which you can find listed on their website. The latest version of their solution brought a brand new cyber-security model involving artificial intelligence (AI). And this is what I'll introduce in this Panda Antivirus review.
While Panda Antivirus doesn't need to prove its worth, I'll focus on the latest features of the software. And it will help you determine if this is the best antivirus for your needs. But with over 30 million users worldwide, you can't be wrong if you select this efficient and lightweight antivirus! Also, you should take into consideration that Panda Free Antivirus is already better than Windows built-in antivirus protection.
Panda plans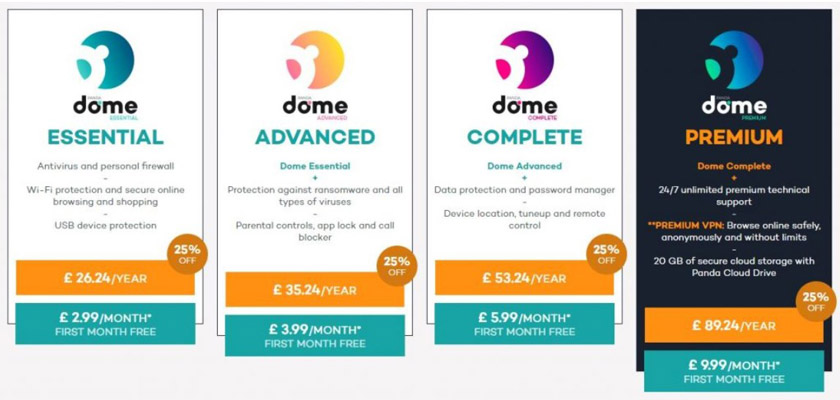 In addition to Panda Free Antivirus (for Windows only), Panda Security offers 4 different plans for their antivirus. And for each plan, you can subscribe for a month or a year. While I can understand the interest in a monthly subscription for a VPN, even if I don't approve it, I don't get it for an antivirus… Because you need non-stop protection on your device. And it doesn't depend on your online activity at all.
The yearly subscription is the clever move here: You can save 25% off the monthly price. And you can get a 30-day money-back guarantee, no matter the subscription period. Also, if you click on this link, you can get 50% off Panda Dome Advanced. And it's a special deal for this Panda Dome review!
The price displayed above is their starting price for 1 device. But you can protect as many devices as you need. The more licenses you need, the better the deal per license you can get. And you can select 3, 5, 10 or even unlimited devices for each plan.
Finally, you can pay either by credit card or PayPal in Pounds, which is nice. Because, most of the time, you need green dollars and it always cost bank fees…
Panda Antivirus Review: Summary sheet
| FEATURE | VALUE |
| --- | --- |
| Supported systems | Windows, Mac |
| Mobile protection | Android |
| Licences | 1, 3, 5, 10, unlimited |
| Process monitor | Yes |
| Ransomware protection | Yes |
| Anti-phishing | No |
| USB auto-scan | Yes |
| Email auto-scan | Yes |
| Rescue disk | Yes |
| Software vulnerability detection | No |
| Gaming mode | Yes |
| Money back guarantee? | 30 Days |
| Support | FAQ, forum, email, telephone |
Setting up Panda Dome
First of all, you need to register an account here. And then you need to activate it by clicking on the link in the email. Then you can get the link to download the software from your user account. For this Panda Free Antivirus review, I've created a new account which is independent of my previous subscription.
So from the dashboard, you have the list of products (free and paid). And you can find the download link once you've clicked on the product name. As you can see in the screenshot below, Panda Free Antivirus is only available for Windows. And for Android. But you can't see that here… While Panda Antivirus is available for Mac, it's not free. But I know you guys are used to be paying for all your stuff anyway. "insert evil laugh here"
Click on the download link and your browser will download the executable setup file. It's just a couple of MB. So it should be instantaneous. And then you just need to run the setup. There are only a few steps in the installation process. But you need to pay attention. Or you'll end up with two new browser extensions: Panda Safe Web and Panda Smart Shopping. And a new search provider and a new homepage in your browser…
After a couple of minutes, the setup is complete. And you need to activate Panda Dome: Fill in your email address and your password. After a couple seconds, the antivirus runs a quick check and protects your PC.
Panda Antivirus: Interface
I have mixed feelings about the interface. While it displays beautiful background pictures at random, it forces you to scroll down to see all the features. And I'm reviewing the features in this Panda Security review, not the background image. Also, there's the possibility to display the names of each feature, which is weird. Because they could keep the background and display all the features and their names without the scrolling. That would be more logical. And still beautiful, IMO. Finally, you can't resize the window at all. And you can't put it in full screen either. But I guess this is related to the background picture.
What I liked is the fact that you can do everything from the software itself. Indeed, you can check your account and upgrade your protection without using your web browser. But if you want to read the news (notifications are displayed at the bottom of the window), it opens your web browser… Why? No idea, it doesn't make sense.
So what about the settings? Because a Panda Security review wouldn't be complete without a word on the settings. Maybe I can start with the Gaming/multimedia mode in the general settings, which is interesting for gamers. And then there's a tab for all antivirus settings, where you can tweak your protection. And manage exclusions. What would be nice is a quick description of each setting. While some settings are self-explanatory, others would require a guide for beginners. And it would be useful to know what happens if this or that option is enabled/disabled.
Features of Panda Dome
And now is the part of Panda Antivirus review where I focus on the features. While some competitors offer a multitude of extra features for free, there aren't that many on this software. But you can upgrade to get additional protections. Here are all the features for each plan at a glimpse: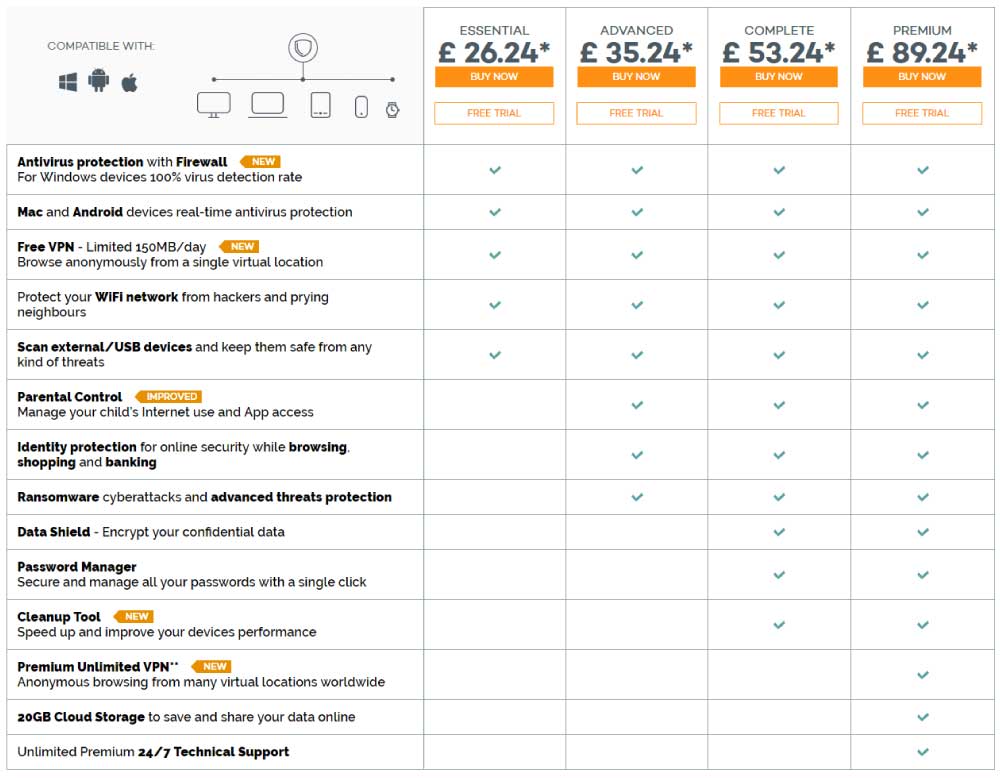 Virus Scan
There are three different scan types: Critical areas, full scan, and custom scan. While the critical area scan takes only minutes, a full scan may take hours to complete. But if you believe your device is infected, you should go for the in-depth scan… And the custom scan will allow you to select a folder to scan – nothing fancy.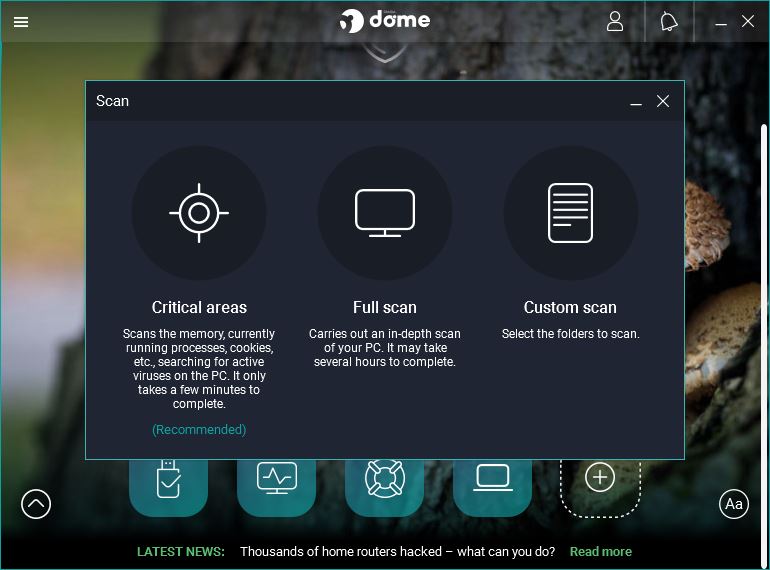 If you want to schedule scans, you need to go to another section, called antivirus. And that's where you can also run scans (same as with the previous section), view files in quarantine and view the event report.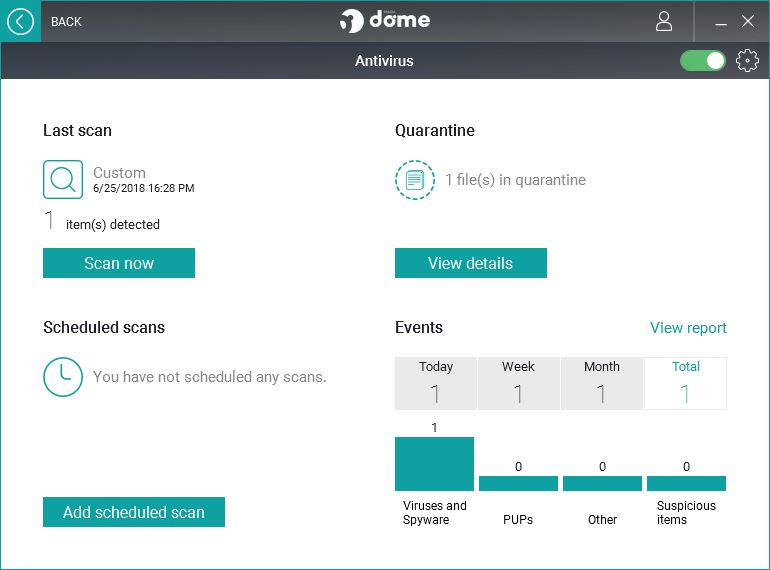 Real-time antivirus protection
The software automatically scans each file you download, open, copy and paste. If it has a doubt about the potential danger of a file, it blocks it from running. And it sends a copy to the company's servers for verification. On your side, you get a notification. And you can wait for the result from the cloud server, or you can run it anyway. Furthermore, if their servers find out new malware, they distribute a fix to all users.
USB protection
First of all, we know that USB drives are a popular vector of contamination for viruses. And only the fact of plugging a drive into the USB port of your computer may represent a risk. Because the virus could launch an AutoRun file. And the virus would spread, no matter what you do after that.
But Panda Antivirus came up with a feature to vaccinate USB drives. And once a drive is vaccinated, you're protected against all the AutoRun malware. By default, the software only suggests you scan every USB drive. But you can decide to automatically vaccinate every USB.
Process monitor
This is not just another task manager for processes. But it's a really nice tool to review all the processes that have run on your system since the installation of Panda Antivirus. And it tells you if a process is secure or dangerous if it's signed and if it has connected to the web. Furthermore, it even gives you the URLs of each HTTP connection.
Rescue Kit
This section of Panda Antivirus allows you to create a rescue USB drive. And it's useful to boot on an infected PC that's locked by a virus, for example. Also, you can download Panda Cloud Cleaner from here: It detects advanced viruses and removes them.
Free VPN
OK, a sentence or two on this feature, just to make sure my Panda Antivirus review is complete. Because I've already covered that in another article. So you can get a free VPN with the software. But it's limited to 150MB per day.
Panda protection and performances
In this paragraph of my Panda Antivirus review, I'll focus on the protection scheme of their solution. Like most of their competitors, they've implemented the standard layered security in their software: Prevention, detection, and response. And it seems to work pretty well according to the couple of tests I ran (using the famous EICAR antimalware test file).
However, I think it's important to use the assessments from the major testing labs as well. Because they have much more experience than I do regarding the test of antiviruses. Therefore, I've read the latest reports from AV-Comparatives, AV-Test, SE Labs and MR Effitas, when available. The results were mixed… Some labs showed impressive results from Panda Antivirus and ranked it at the top. But other lab showed results that were not so good and Panda Software ranked in the mid-range of their sample.
The defense of Panda Free AV against malware is effective. But the software also tends to register a higher rate of false positives. Meaning it notifies you that a file may harm your device, while it's harmless… But to be sure, you'd have to read each notification and verify whether the file is harmful.
While the protection against malware is above average, the impact on the device's performance is high. And you want the best protection. But without slowing down your PC… And this is highlighted in each Panda Free Antivirus review I read from the major labs. So if you have an older computer, or if your computer is low on memory, I wouldn't recommend it. Even if I can tell you how to speed up your old laptop. Because it would affect your speed and your experience on a daily basis. However, if you have enough resources, you won't see any difference after installing the antivirus. And Panda Security Free is a great solution for the price (it's free…).
Support
Maybe I'm used to a different industry, where you need to get quick support. Because if I want to unblock US Netflix, I want to do it now. Not in 1 hour or not tomorrow. And I love the live chats for that.
But there's no live chat on Panda's website. They only provide support through the FAQ, forum, email and telephone (on working days). And there's a premium support number as well, for Panda Dome Premium users, available 24/7.
But I never feel like calling anyone, especially for IT issues. If their technicians are available 24/7 on the phone, they should also give them a computer with a chat feature! But that's only my opinion.
Conclusion
From this Panda Antivirus review, it seems Panda Dome offers serious protection against malware. And the Spanish company still deserves to rank among the best antivirus providers. Furthermore, there are several plans which offer advanced protection features. And you can try any plan risk-free for 30 days with their money-back guarantee.
Getting started with Panda is pretty easy. And the setup lasts less than five minutes: Download, installation, and activation included. Maybe you'll need to get used to the interface which is not very intuitive. But you'll enjoy interesting features like real-time protection, USB protection, and process monitoring.
According to major test labs, Panda Antivirus is a top-tier malware protection software. But their team could improve two points to make it the best antivirus. First, they should reduce the high rate of false positives. Second, they should reduce the impact it has on system performance. And I hope they'll be working on that. So I can update this Panda Security review with better results.
Panda Antivirus review: Very good
PROS
Malware detection
Malware protection
Interesting features
CONS
Impact on system performance
Non-intuitive user interface
Crapware during installation
Notification ads