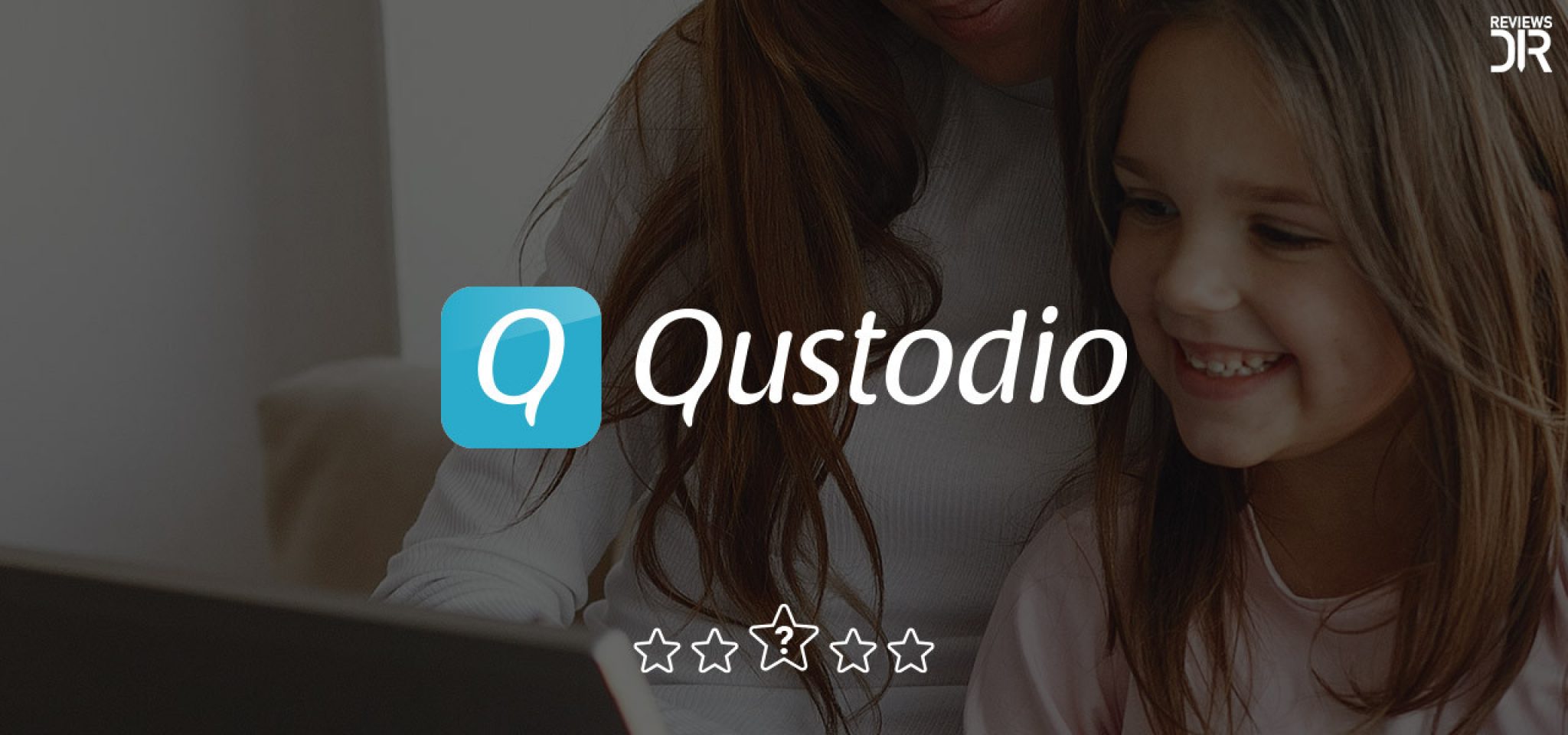 Without a doubt, we can tell that this generation's set of kids are raised completely different to how we were. However, that's not necessarily a bad thing. They now have access to a wider variety of information right at the tip of their fingertips. But they also have access to more forms of entertainment like games, movies, etc. And if you've noticed, this takes the time and attention of most kids away from the important things in life such as family and homework. So, a good way to watch over your children and the activities on their devices is with Qustodio Free. Find out how it works below.
FREE NOW
Be in control of your child's content - worry less!
Qustodio can help you gain overview of your child's online activities and keep them safe. Track location, browsing history or even block inappropriate content.
All About Qustodio VPN
When you get a Qustodio download, you'll definitely be pleased since it has all the features you could possibly need. When I first tried it out myself, it literally had a feature or setting for anything that I could ever even think of using. It has everything from time limitations, app blocking, content filtering, and so much more.


Almost everything in this app is customizable. You can set the rules for your child with all the features I mentioned earlier. And you can even check in on your kid's activity in real-time through the online dashboard. The reason why it's so easy to customize is that Qustodio Free uses dedicated and VPN servers. It's the servers that receive raw internet traffic and send the curated traffic to your children's devices.
However, Qustodio parental control isn't the only service they have to offer. There is also a Qustodio for school. This helps students focus on schoolwork and educational purposes only when using school computers. Qustodio for business is also big in the corporate industry. This app keeps the employees from slacking off and wandering to other sites when at work.
How much is a Qustodio Download?
Before we go on, it's probably best to let you know that the Qustodio VPN may seem a bit expensive. But don't worry, there are different payment plans that you can choose from – each offered at different prices. And it's truly worth every penny.
And no, just because they come at different annual prices, doesn't mean they have different features. They all offer the same premium features but the price difference lies in the number of device connections.
The first and cheapest plan is the Small Family Size. From the name itself, you can already tell that this is good for small families. It offers maximum device connectivity of 5 only. Next is the Medium Family size which allows you to connect up to 10 devices. Lastly, you have the Large Family Size that can monitor up to 15 different devices. This is great for big families or for those that just have a massive amount of gadgets.
Is there a Qustodio Free?
Great news for parents on a budget: there is Qustodio free! You don't have to pay for the yearly family plans if you don't want to.
But the thing about the free version is that you can only monitor one device. Another notable difference is between the activity reports. In the premium Qustodio download, you get up to 30 days of activity history. But in the free version, you can only have up to 7 days at the most.
Don't worry, you'll still have all the necessary features like time limitations and content filtering. But, you won't have access to location tracking, individual time limits per application, or the panic button.
Details of a Qustodio Download
Below is a short which summarizes a few of the key details of this provider.
| FEATURE | VALUE |
| --- | --- |
| Logs | All of your kid's activities |
| P2P | n/a |
| Netflix | n/a |
| Multi-login | From 5 to 15 depending on subscription |
| Covered countries | UK and USA |
| Supported devices | Windows, Mac, Linux, iOS, Android, Kindle |
| Money-back guarantee? | 30 Days |
| Protocols | n/a |
| Traffic data | Unlimited |
| Encryption | n/a |
| IP Addresses | n/a |
| Servers | n/a |
How to Set Up Your Qustodio VPN
If you're a parent that isn't so good with these things, don't fret, I've got you covered. This is a short tutorial on how to install and set up your Qustodio Free.
1. Starting Point
To get started, you first need to pay a visit to the Qustodio VPN website. From there, pick out a payment plan which you think best suits you and subscribe.
2. Validation
Now it's time for you to validate your license and create your account. Make sure you do this using a web browser.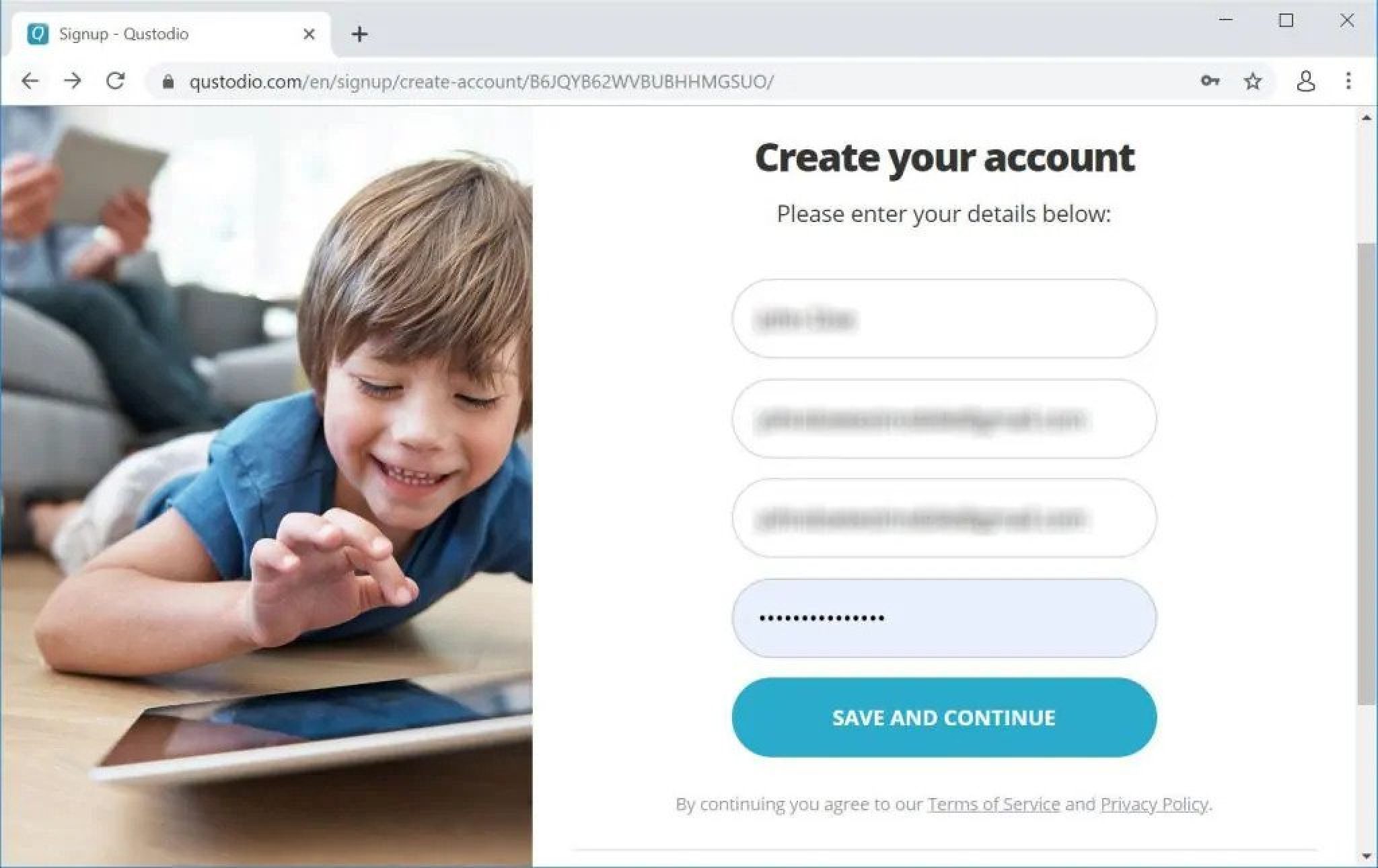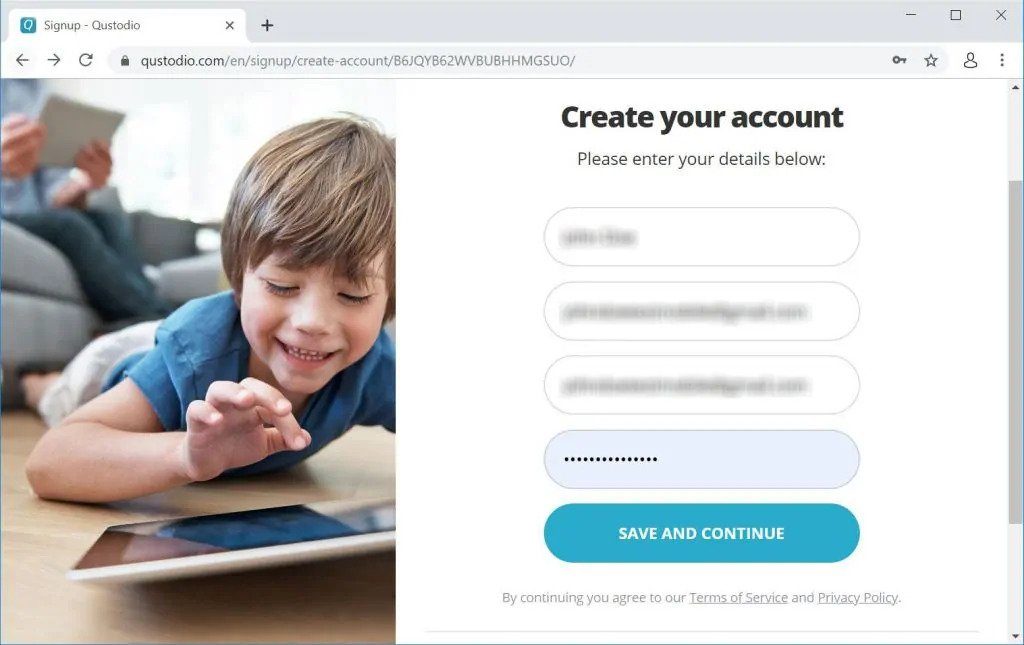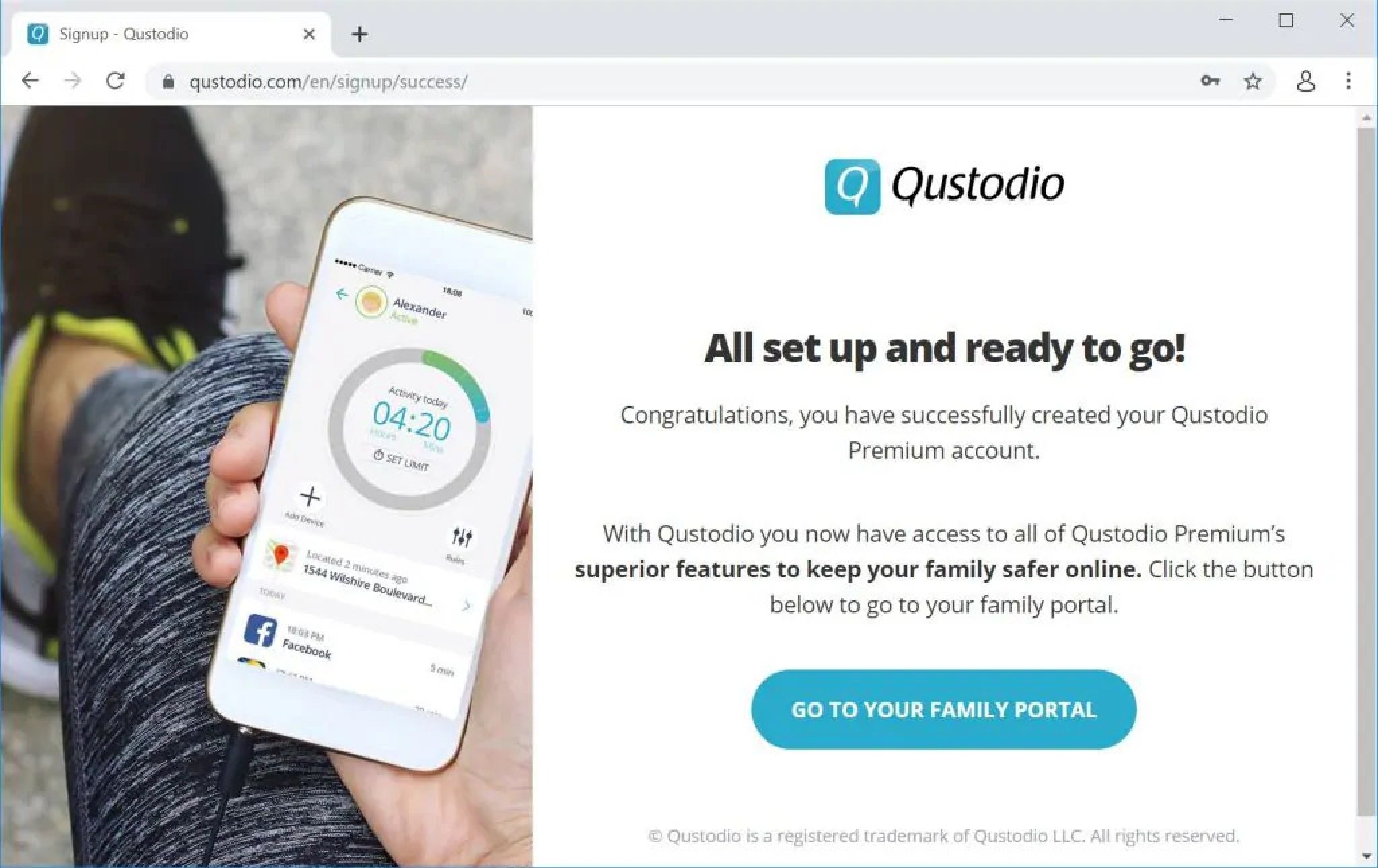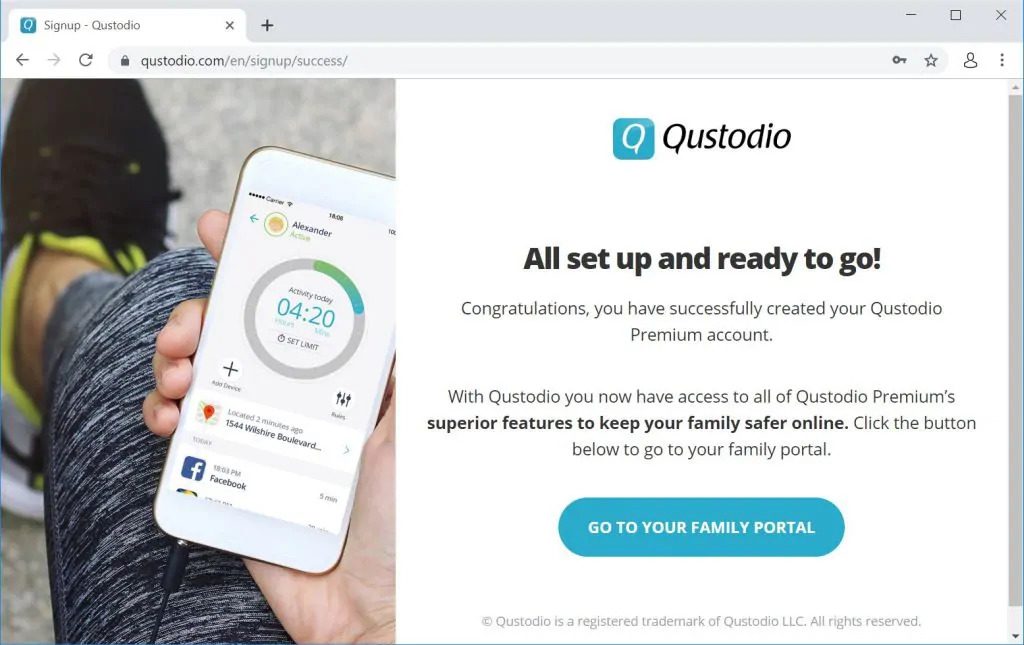 3. Adding Your Children
Here is where you start creating your children's profiles. Don't worry, it's actually quite simple to do. All you have to do is type in their names, gender, year of birth, and select an avatar for them.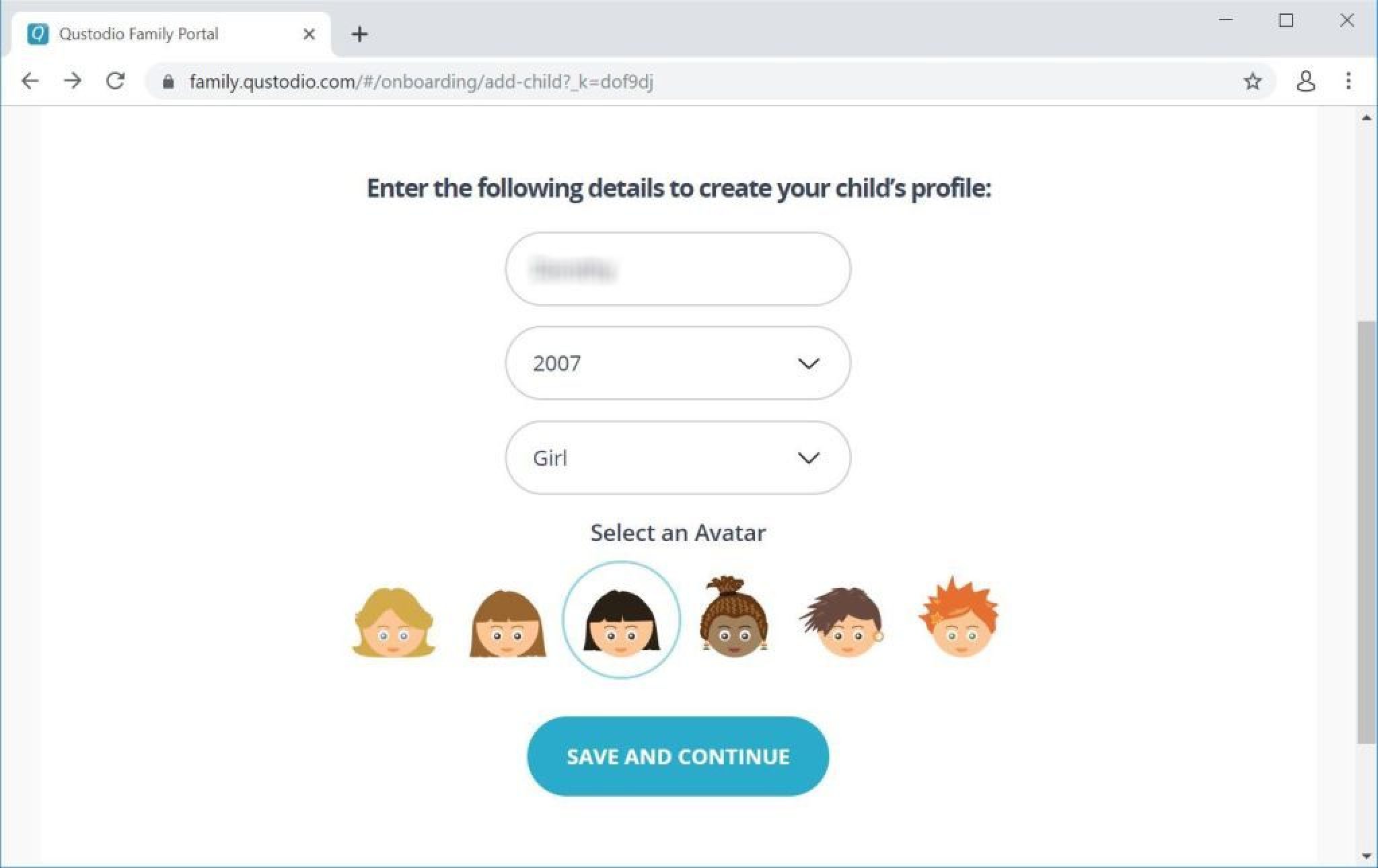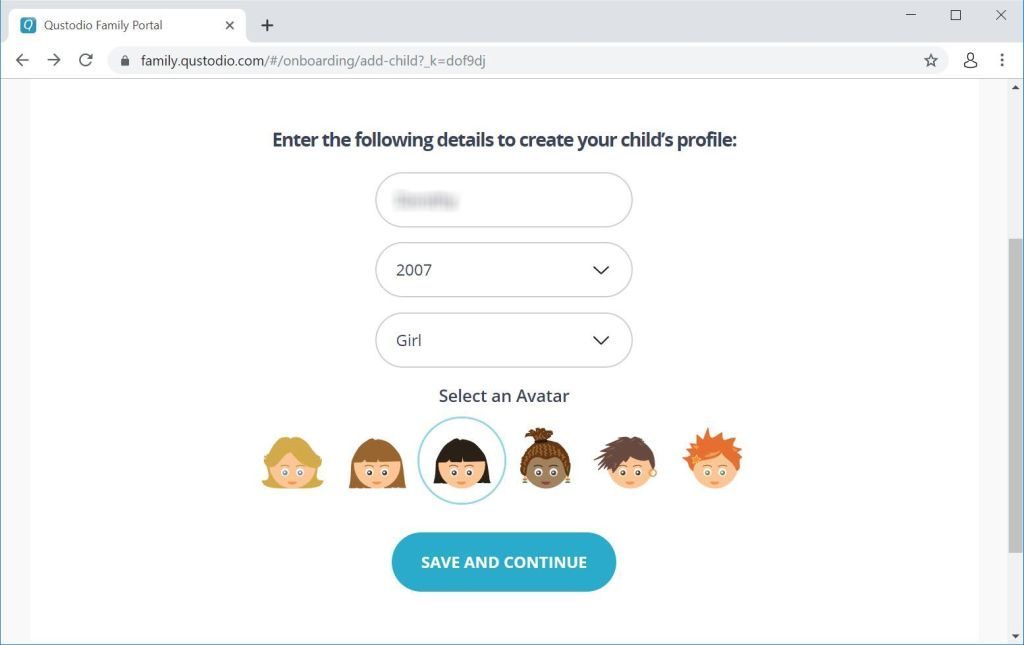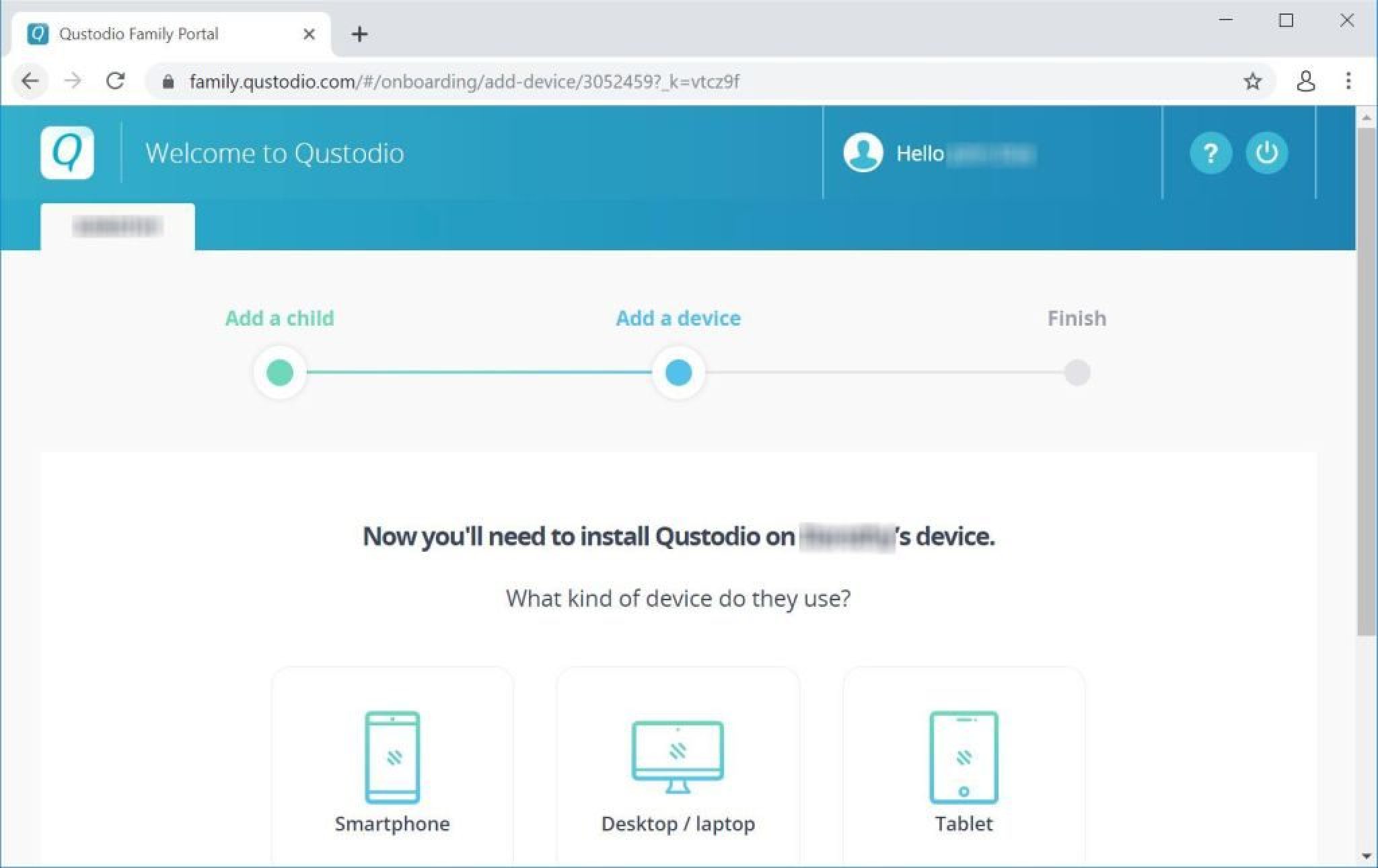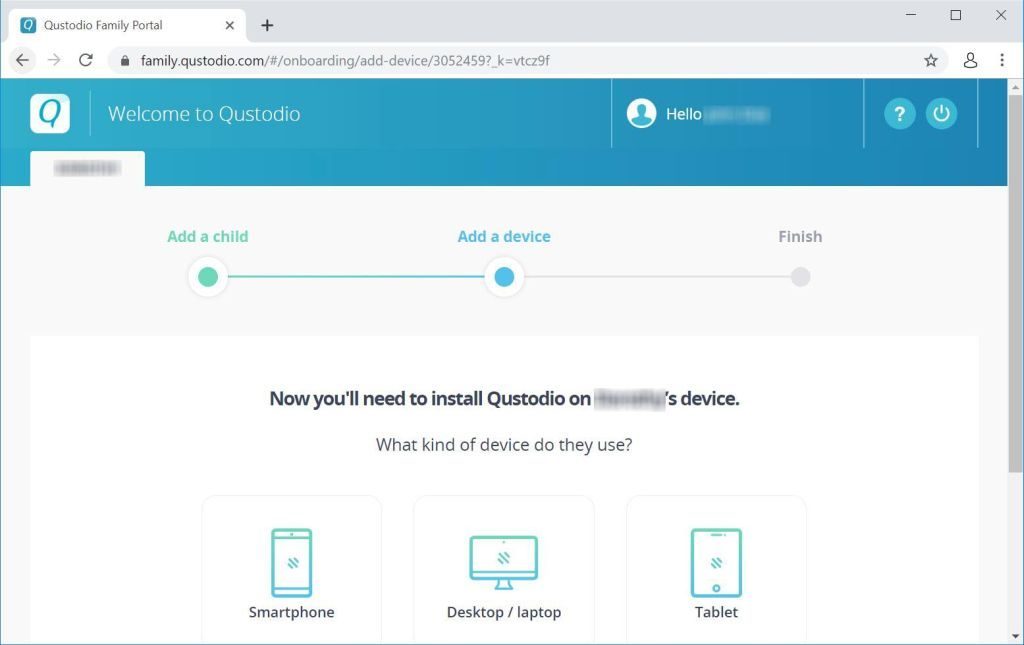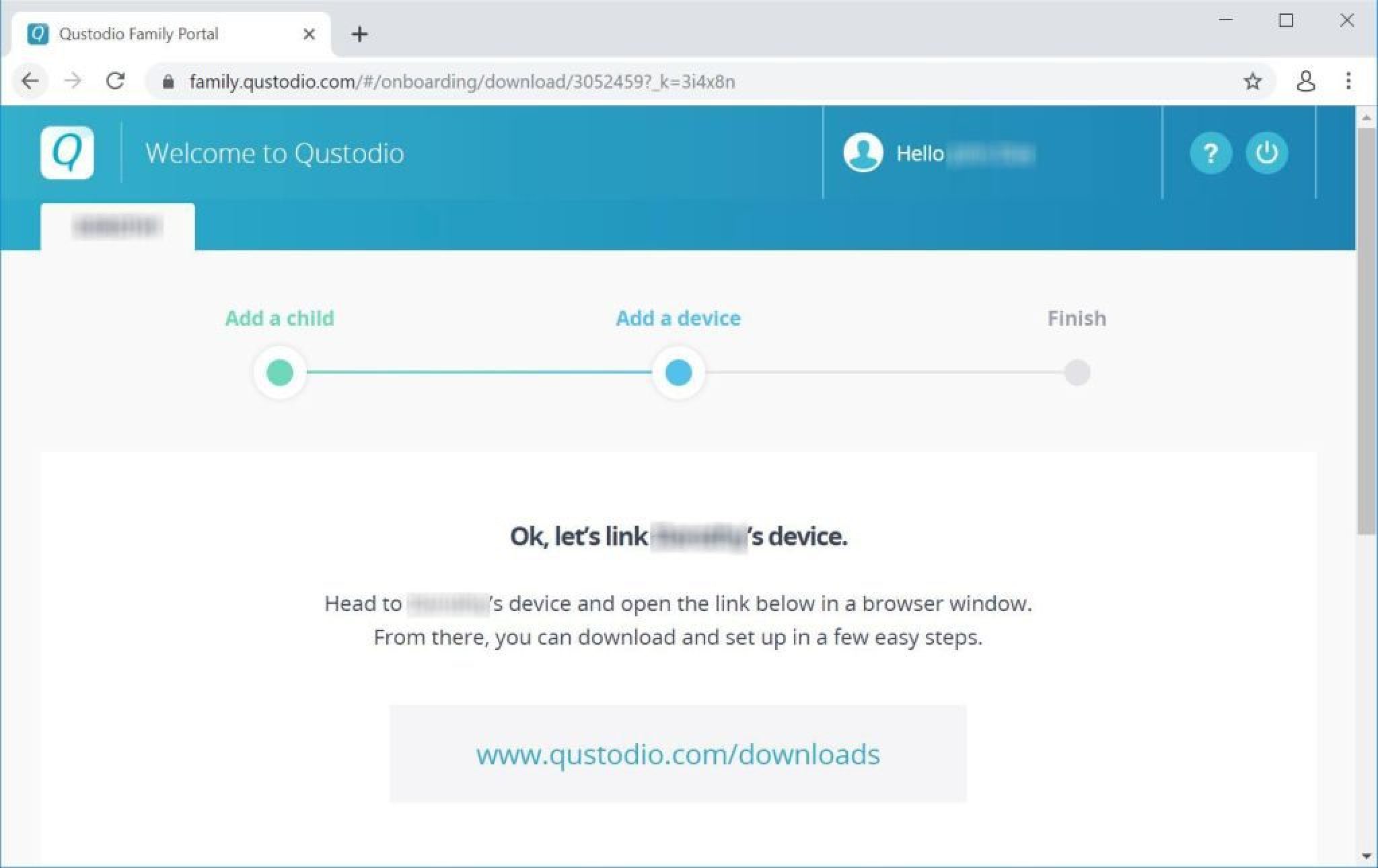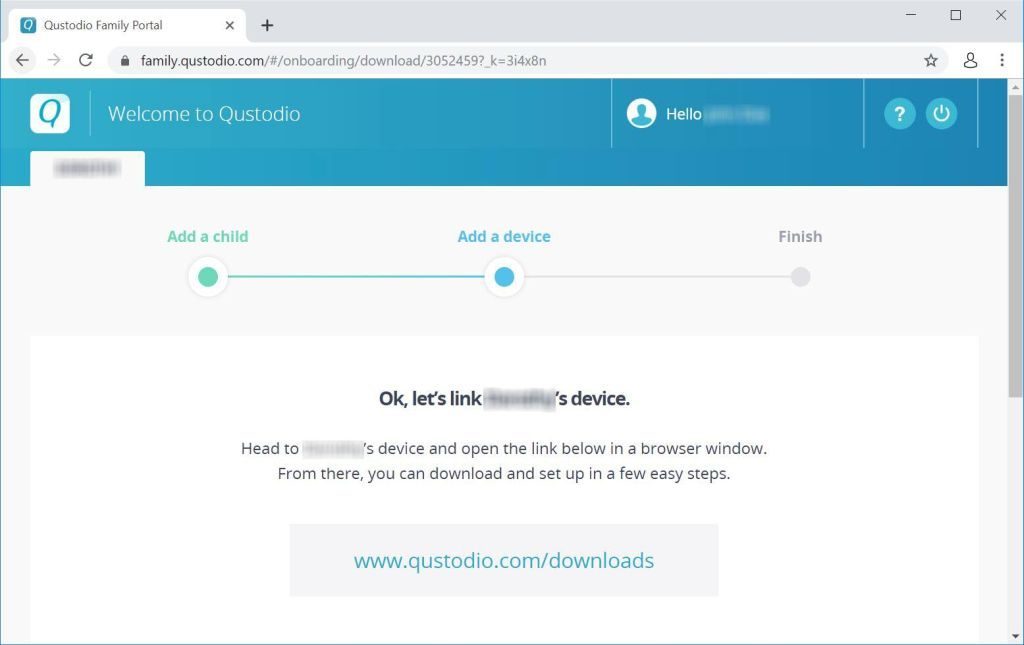 4. Adding Devices
Now comes the part for monitoring the individual devices. First, you need to get the Qustodio download on each of the devices you want to keep track of. Now, you need to assign the profiles of your kids to the individual apps. For both Mac and Windows users, you can choose to apply configuration settings to all the user accounts or you can also configure each account separately.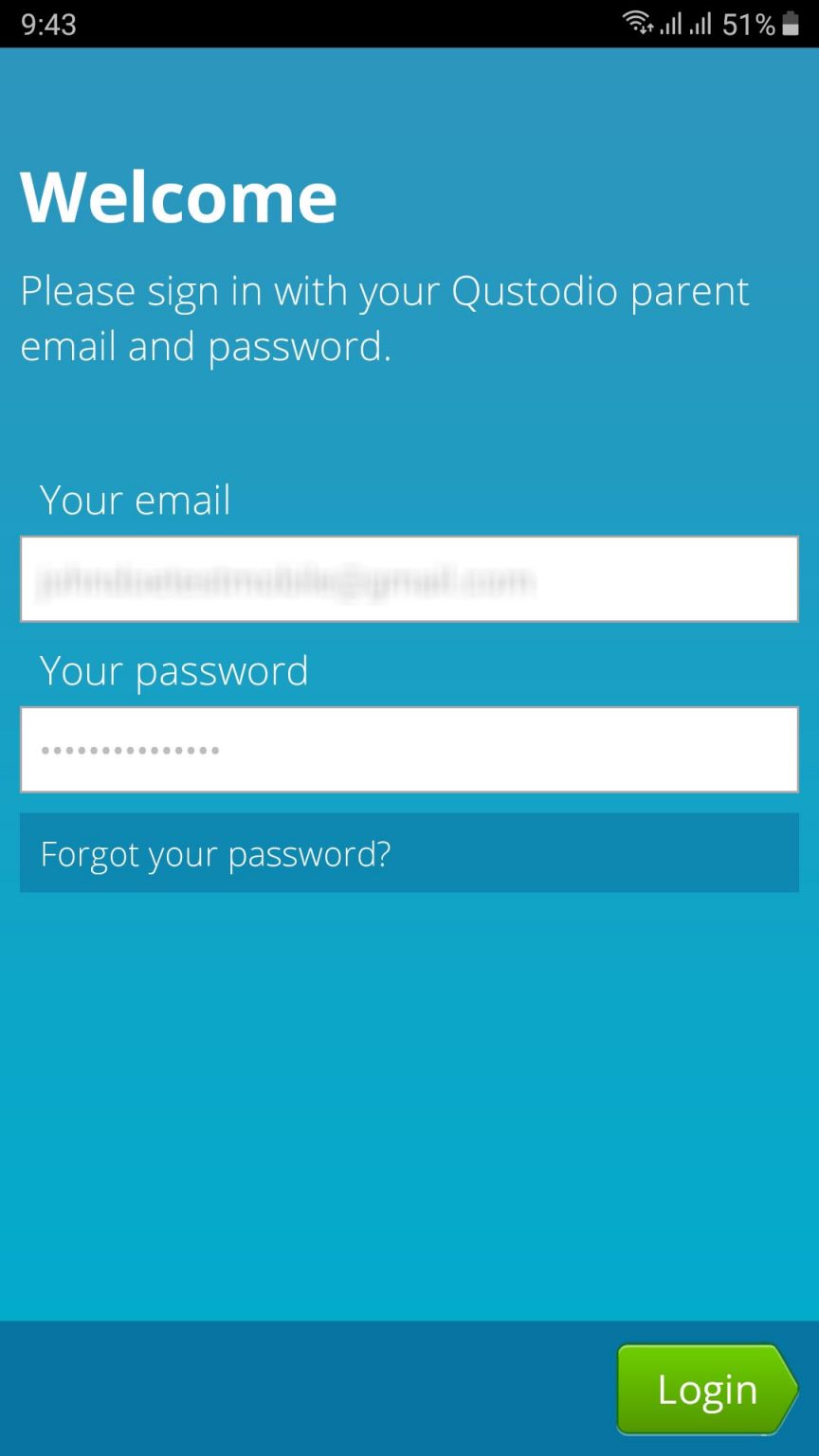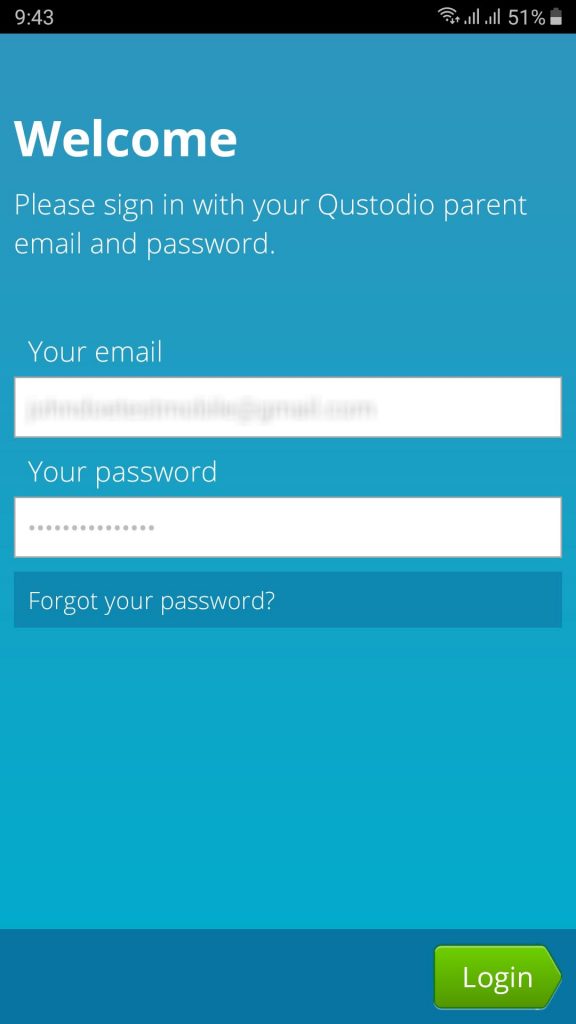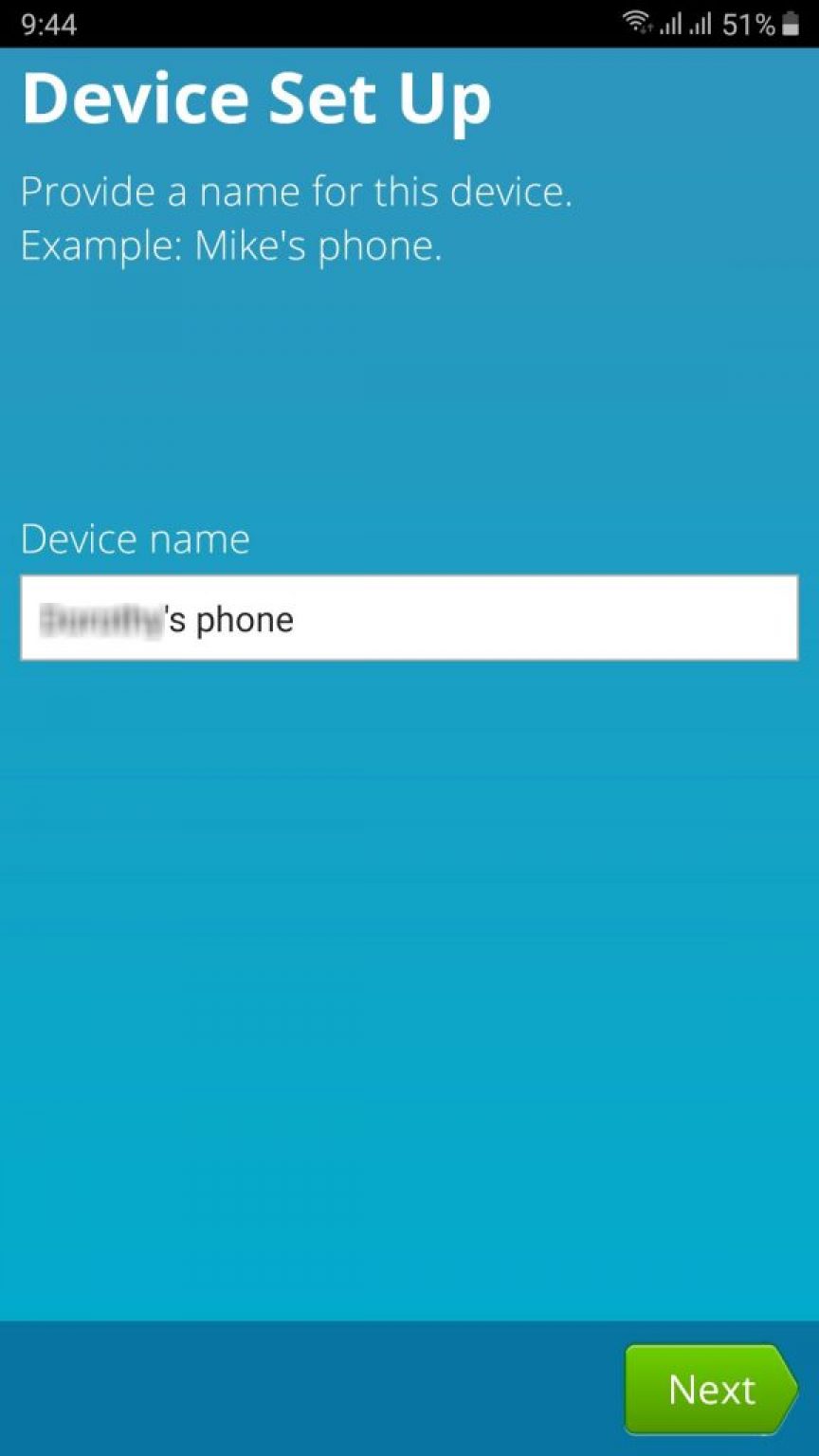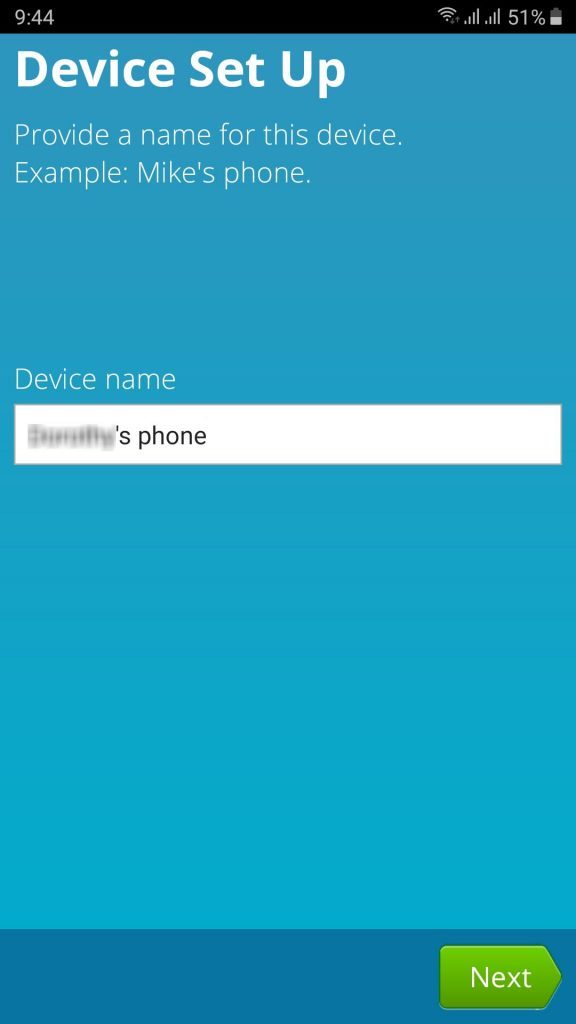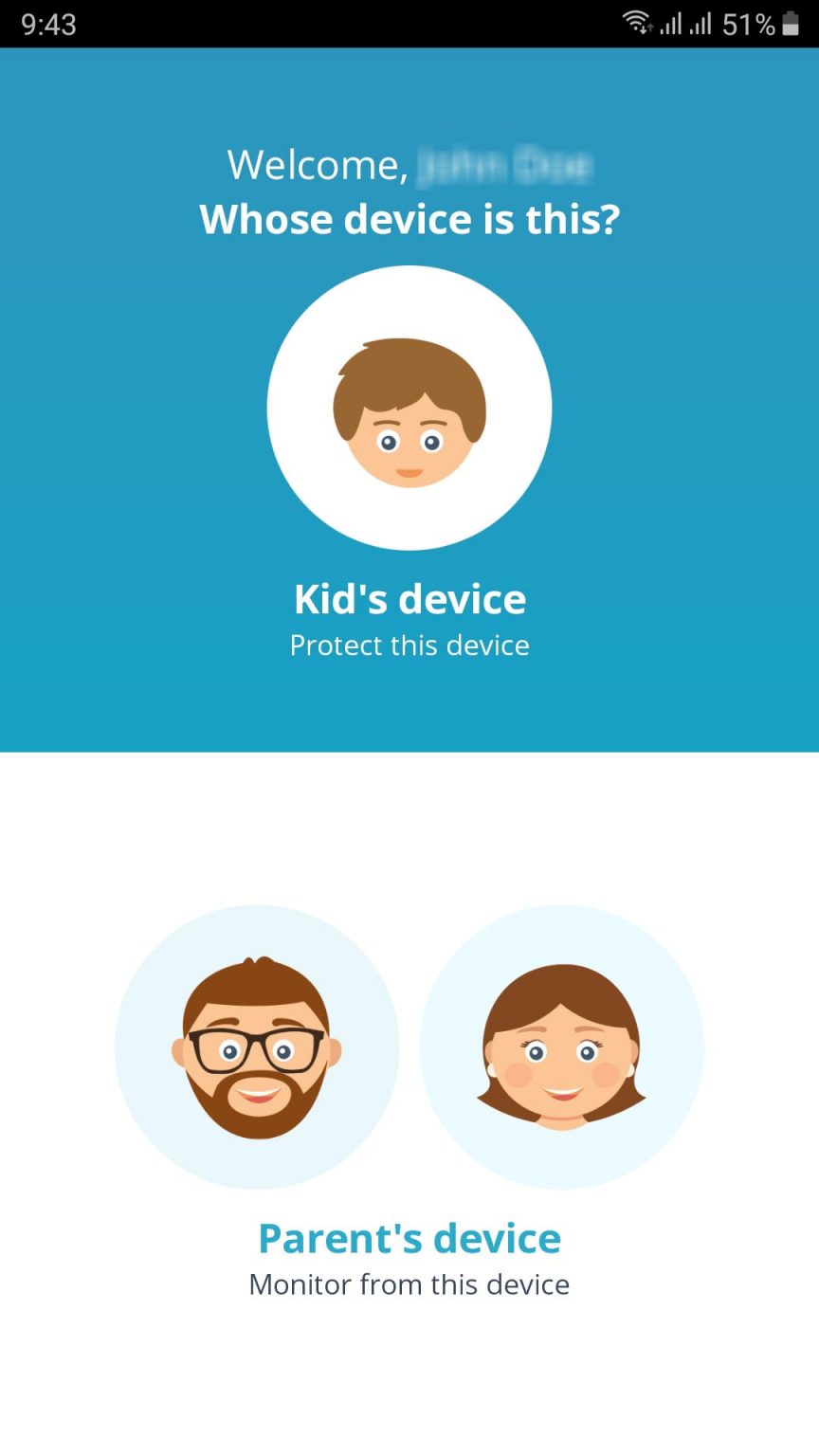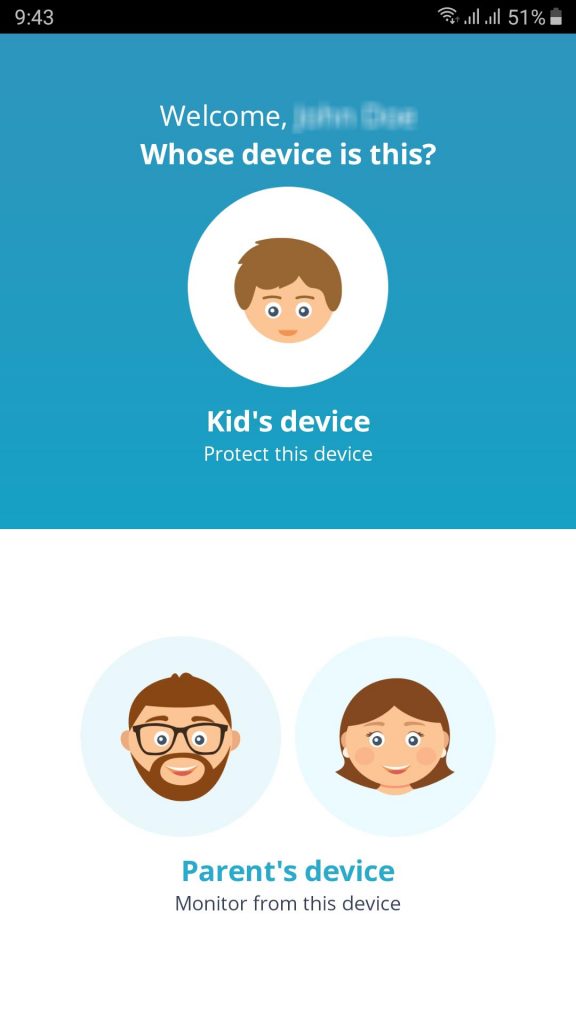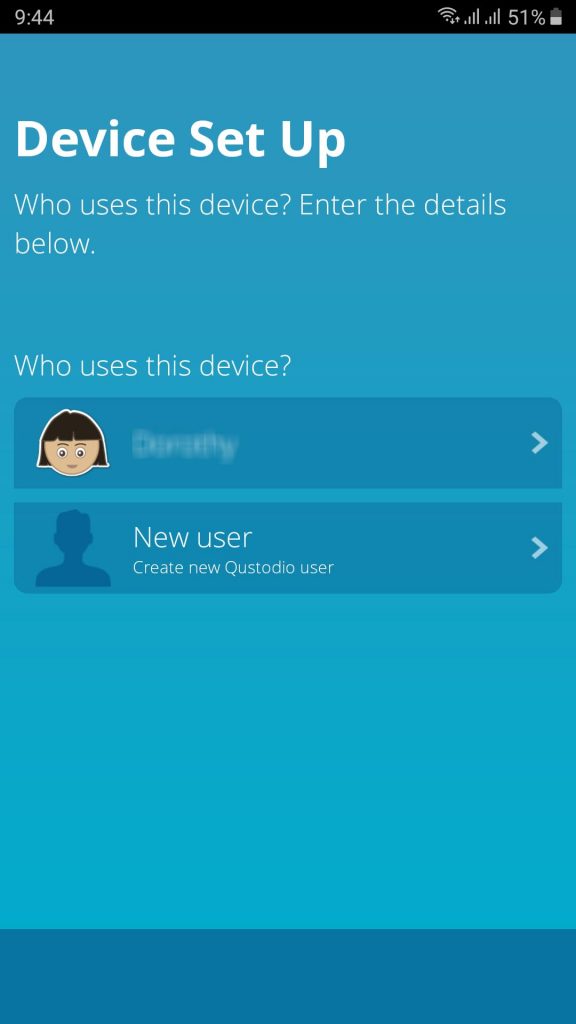 Don't worry, you won't run into anything confusing since there is only one app on both the App Store and the Play Store. You just need to make sure that after you download it, you indicate whether it is the parent or the child's device.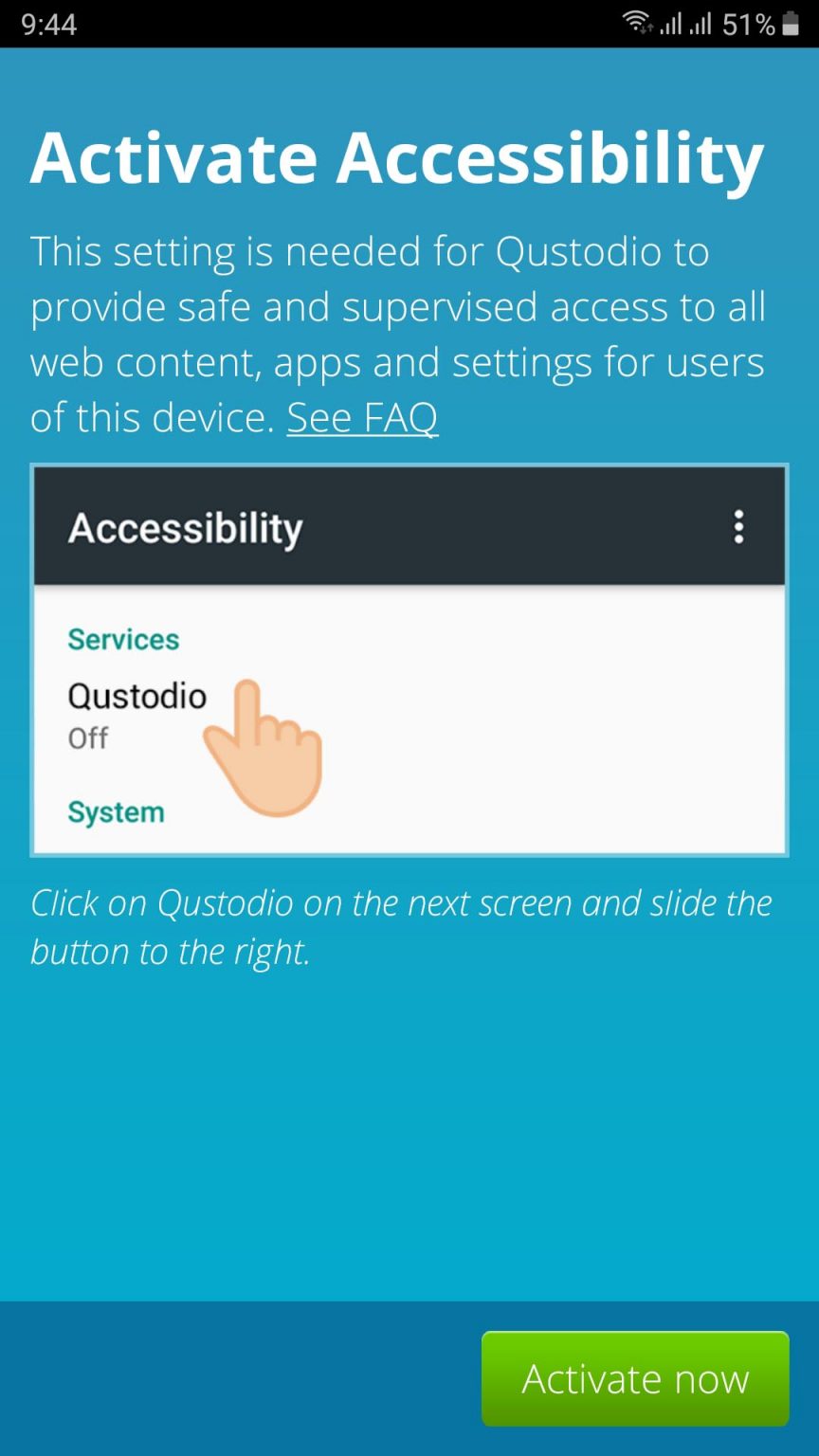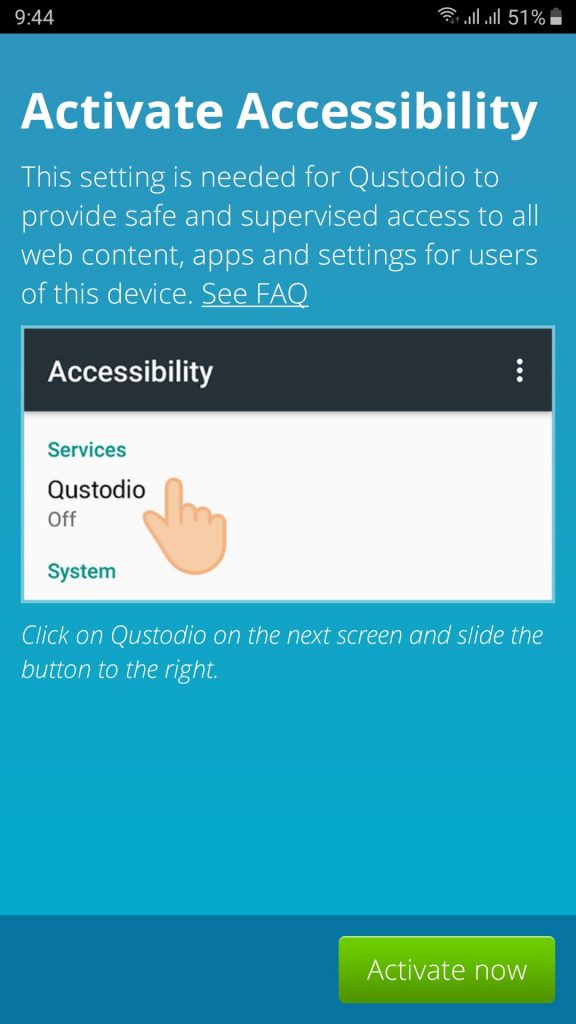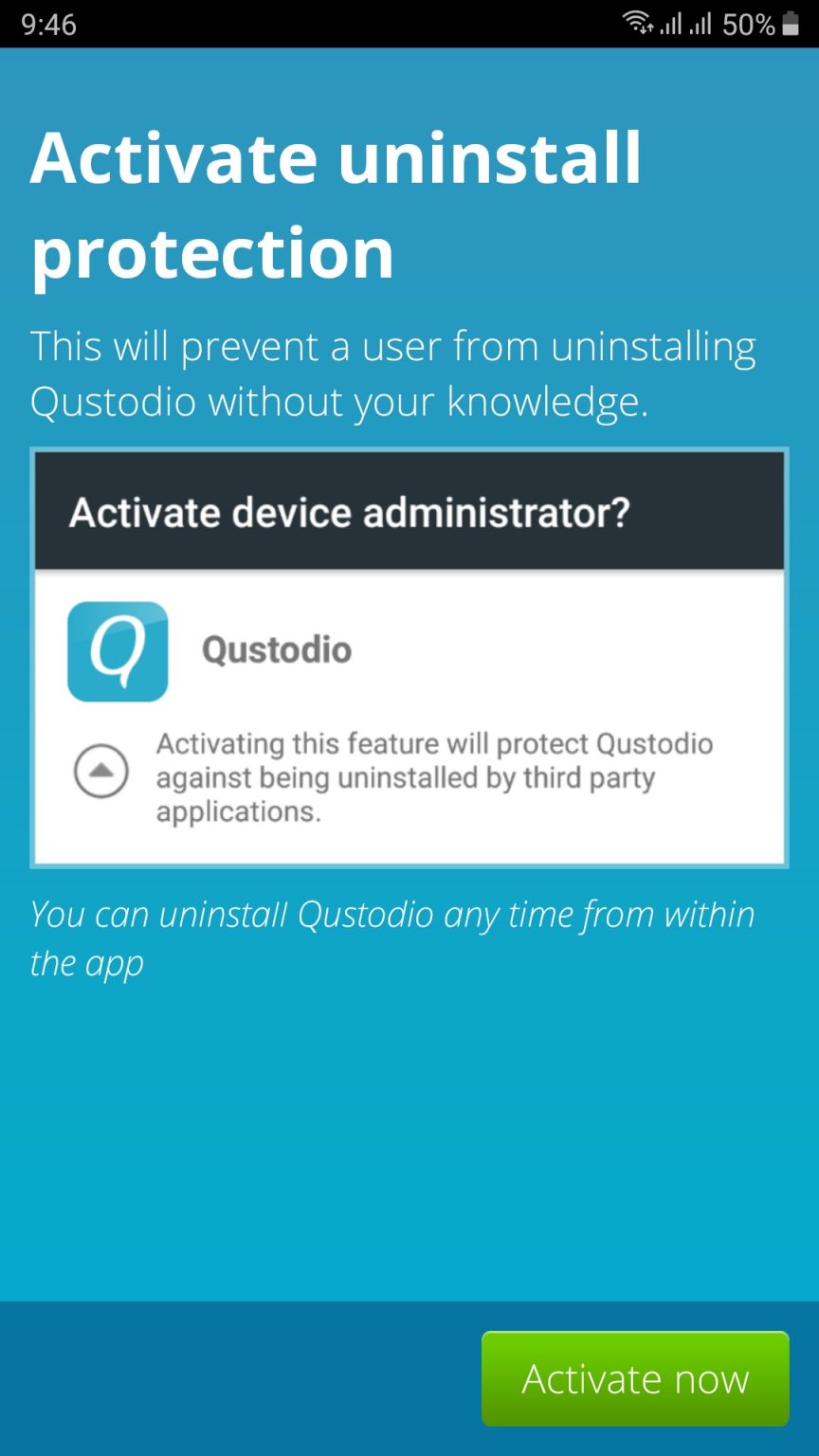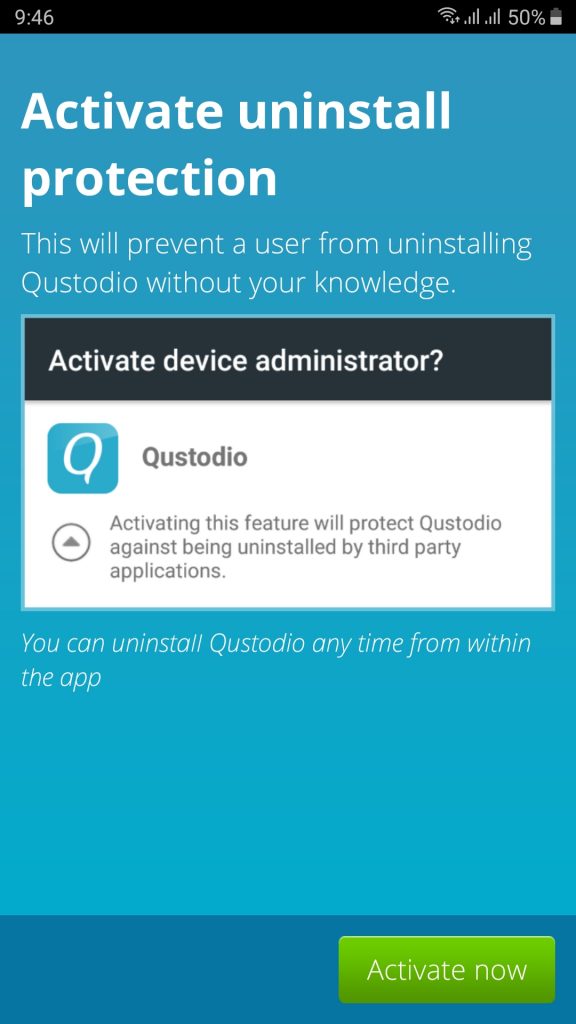 For Android users, if you want to make sure your child can't use third-party software in uninstalling the app, you need to enable the features: Accessibility access, device-level access, and Apps with usage access. And don't forget to set your device as the parent admin.
As for iOS users, you'll have to separately install the device profiles if you want to get the features working properly.
How does Qustodio work on Android vs iOS?
Before we get to the features, there are some notable differences between the Qustodio VPN clients of Android and iOS. Apple has access to fewer features in comparison with Android.
The iOS version still has the same exact interface and some of the key features like time limitations, content filtering, and device locking. But, it can't monitor or block texts and calls of your children's devices. You also can't enable the panic button which could be a concern for parents who aren't always with their kids.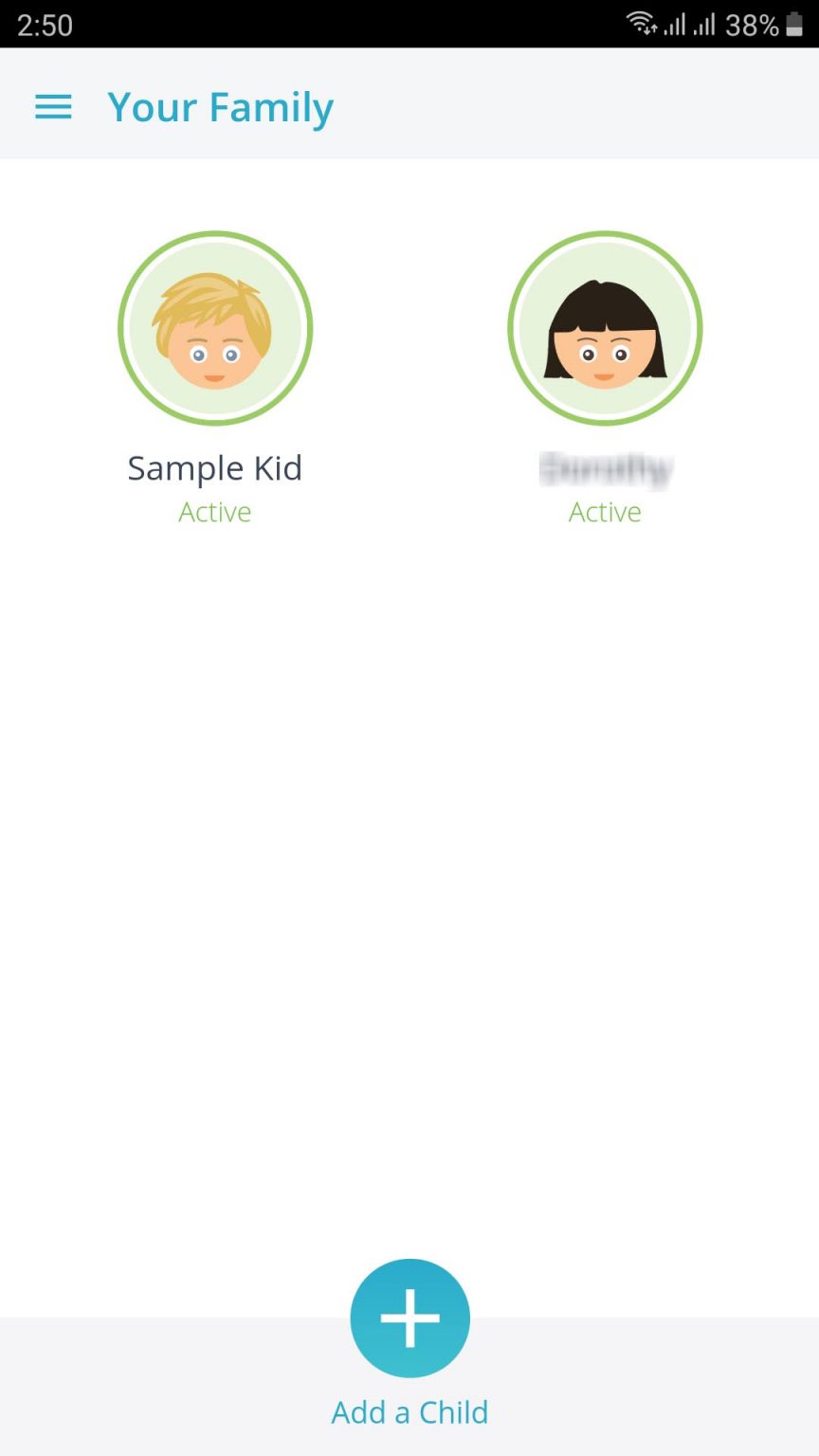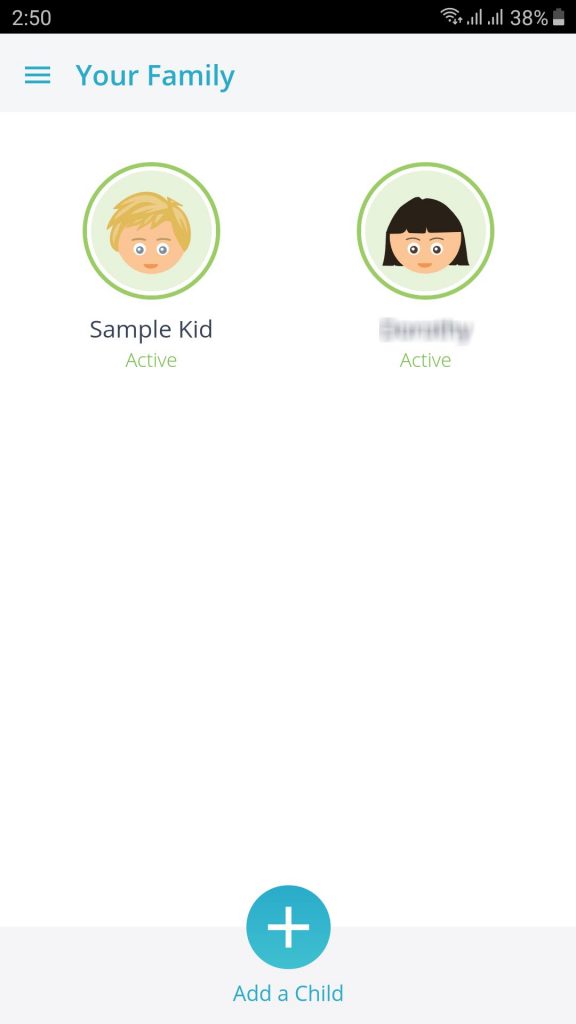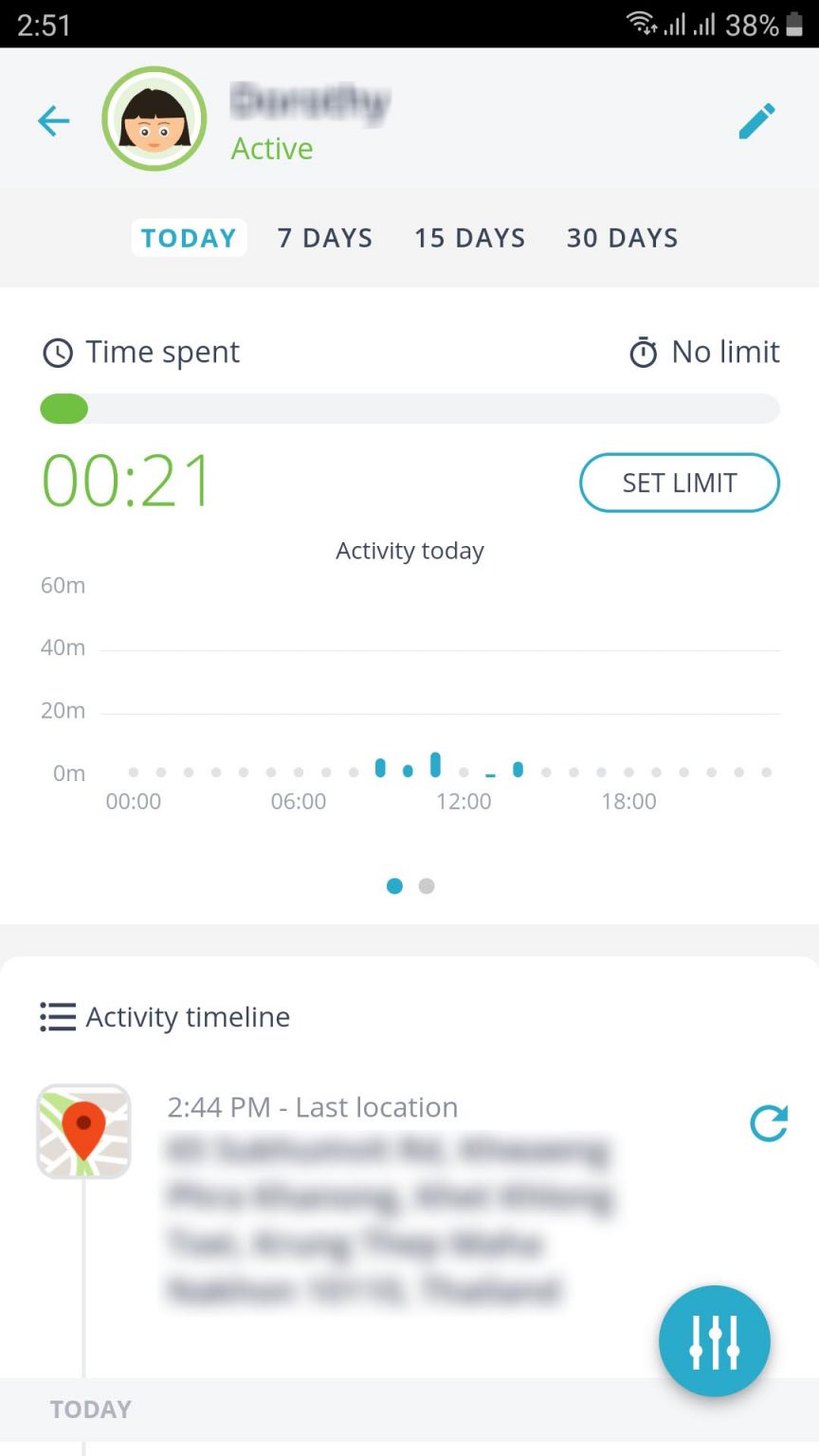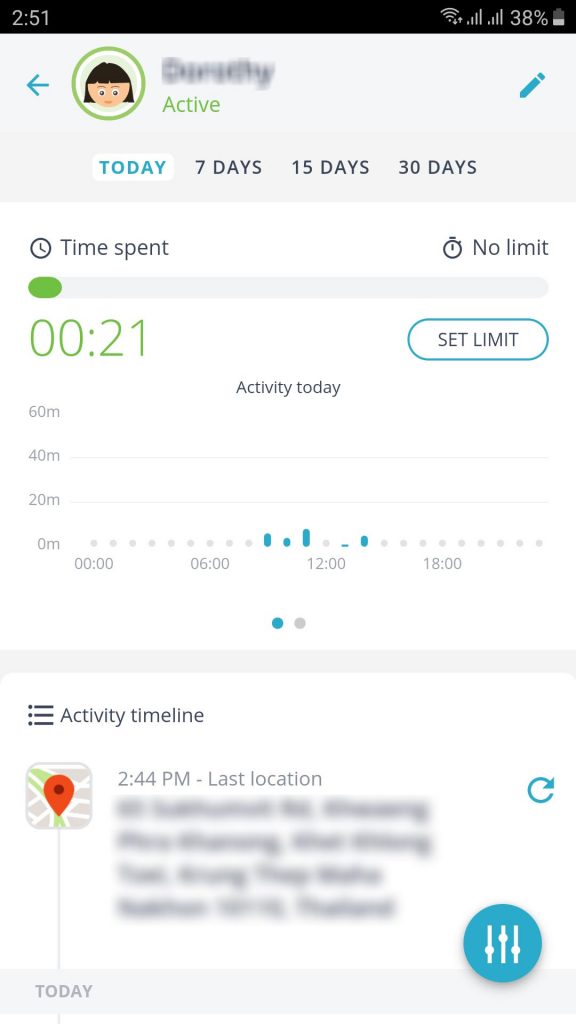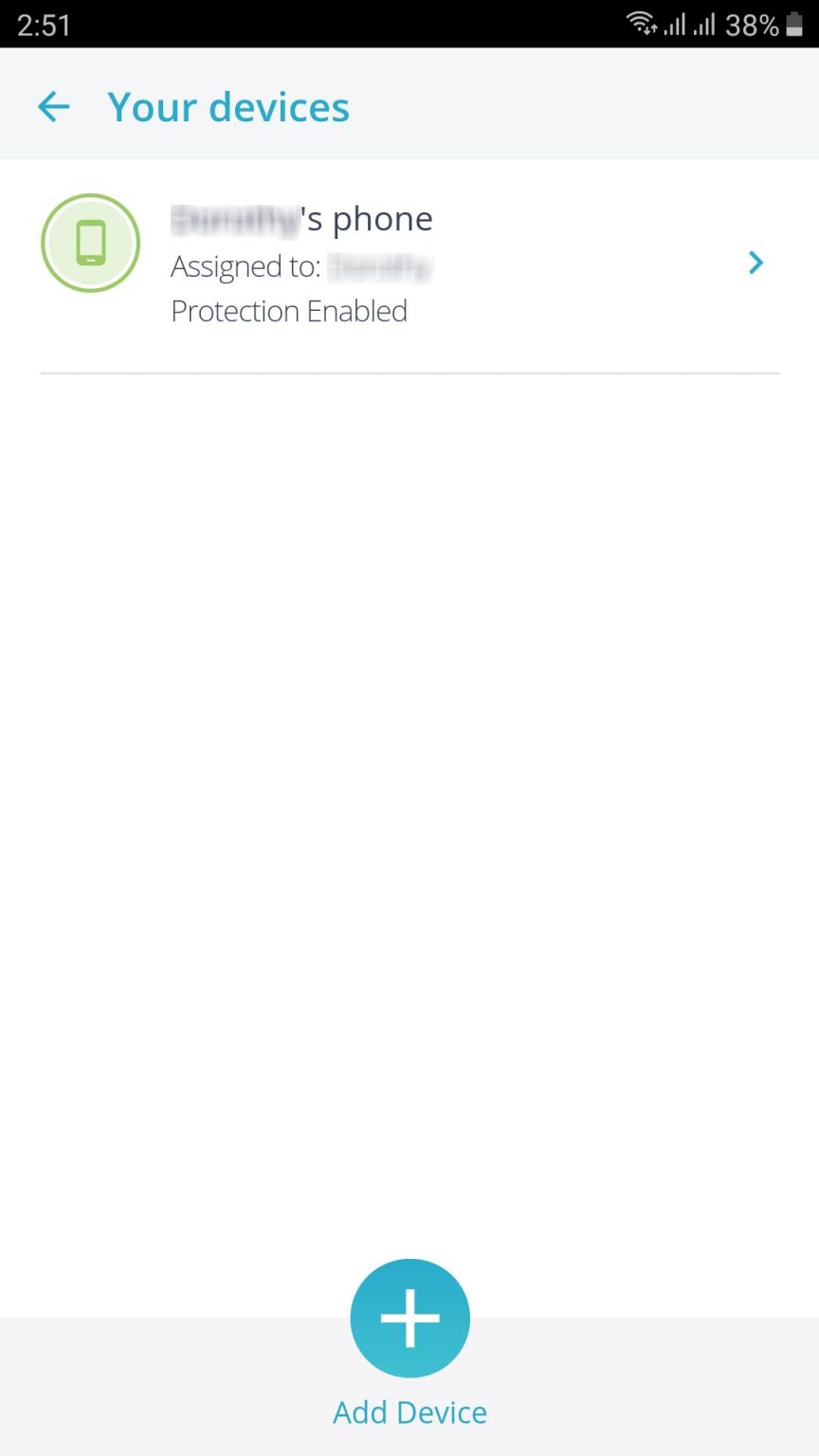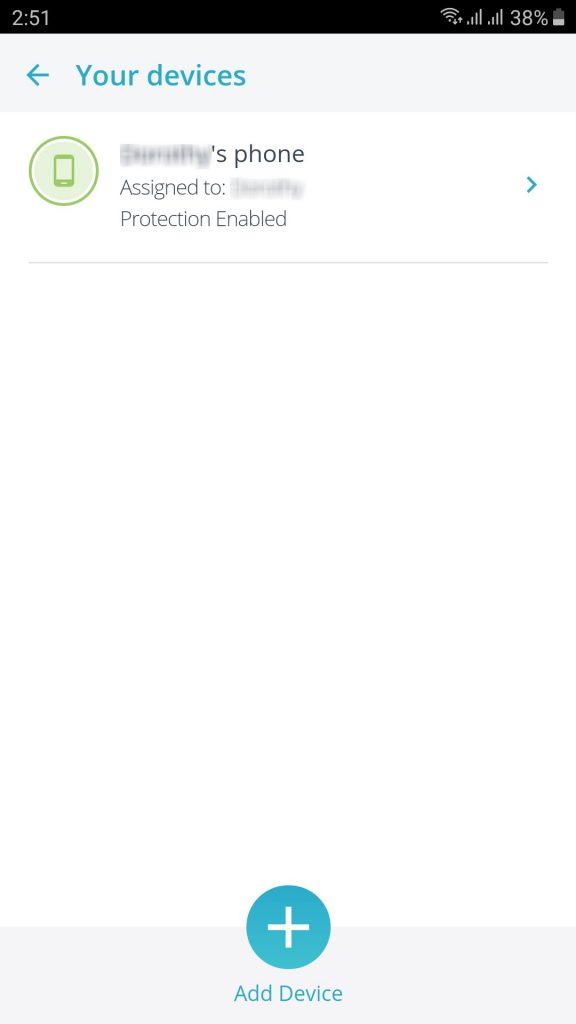 Another thing to take note of is location tracking. On the Android Qustodio download, you can ask to be updated as often ask you want. But on iOS, you can only get updated whenever your child enters or exits a location.
But getting into Apple devices is a whole feat in itself. You see, Apple is known to be very strict when it comes to interactions between apps. In fact, they actually block most of the apps that do this. So for Qustodio free to make themselves still available for iOS users, it's pretty impressive.
Features of a Qustodio VPN
Now we've finally arrived at the main portion of the review. Here, I can probably answer your question of "How does Qustodio work?" through its different features.
1. Monitor and Block Apps
As I've mentioned a bunch of times earlier, Qustodio free allows you to monitor and block apps at will. When you get your child's activity report, you can easily monitor it through the pie chart that the app generates. Here, it is divided into details like social networking, entertainment, search porta, and etc. If you want to block something and prevent your child from accessing it, all you have to do is hover over it and click it. Easy as pie! However, the specifics won't be available to you. This means you won't get to see usage data or the search words themselves.
2. Filter Out Content
When you first launch the app, it will already have some categories blocked by default. Qustodio free blocks anything related to violence, drugs, gambling, and pornography. Of course, you can also add to this list by blocking other categories like social networking, games, etc.
If a site being accessed is uncategorized, you can choose to automatically block them and force safe search. If you'd like, you can also tell the app to update you whenever your child is trying to access a blocked site.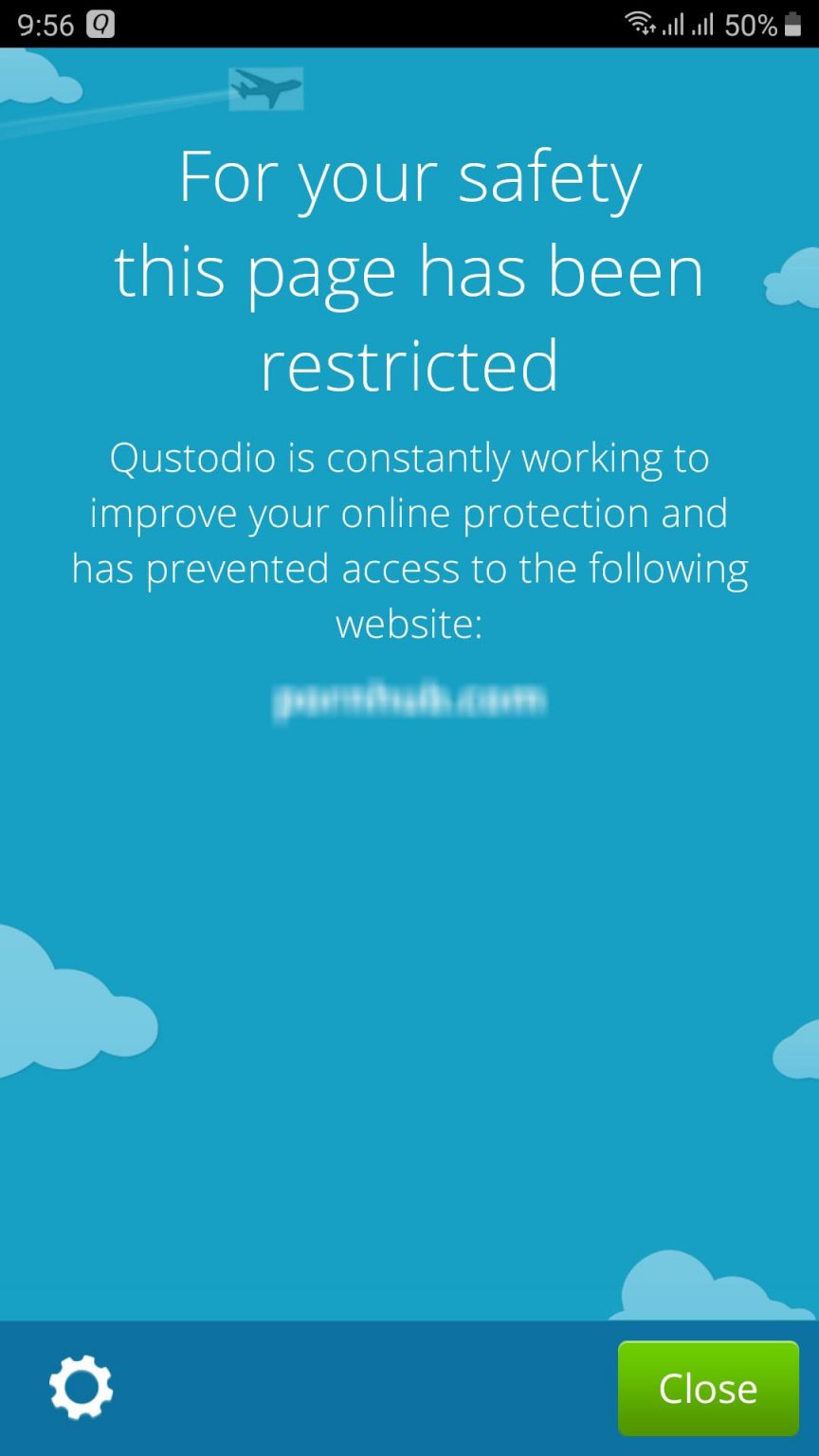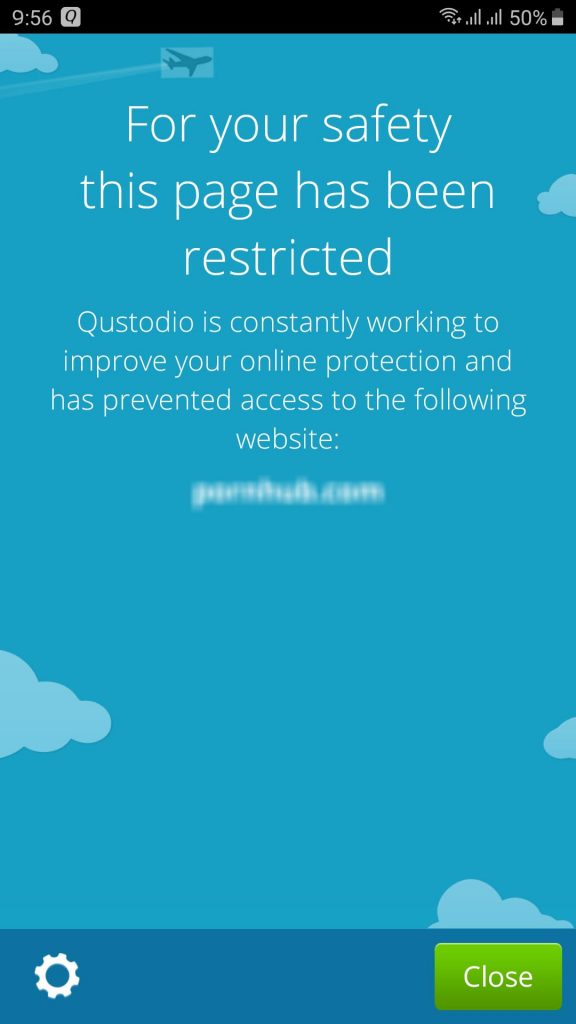 Qustodio free is also browser-independent. This basically means that you don't have to worry if your child tries to use another browser to get around the monitoring. It doesn't just monitor the browser, it monitors the entire device itself. Even if you turn off the Loopholes category (where you find proxies and VPNs), it will still block any site that fits the categories you chose to filter out.
3. How does Qustodio work when it comes to time limitations?
Of course, you can set a specific time for when you allow your child to go online. You can also set a maximum daily limit for this. Qustodio free follows a one-hour incrementation per device.
If you want to limit your child's screen time, you need to first turn off the "per device" setting. After this, your child can't try to outsmart you by simply using another device once their time has run out. In fact, there is even an option that automatically blocks your child's device once the time limit is up. You can even choose to get alerts whenever this happens.
And I also mentioned earlier that you can also set up separate time limits per app. You can set it daily or choose to block it completely for certain days. I find this feature quite helpful when I'm trying to get my little one to focus on examination week.
4. Location Reporting
This is a great feature for parents who work abroad or aren't always with their kids. This way, you can keep track of them for as often as every 5 minutes. Now, you don't have to worry if they're sneaking off to some party or if they're really doing homework.
5. Social Media Reporting
That's right, Qustodio download also allows you to keep track of your kids' social media. However, it can really only monitor the Facebook account. This does not include other social media platforms like Instagram, Twitter, or Snapchat.
The tasking thing about this is that you have to get your child to enter their log-in credentials on your computer first. This could be a problem for kids that don't want their parents snooping on their activity.
But this feature allows you to see everything from posts, pictures, friend profiles, and even chat conversations. But Qustodio VPN does not disclose the contents of the chats. Only who it was with and for how often it happens.
6. SMS Monitoring
Qustodio Free also allows parents to monitor and block calls or texts that their children receive. You can also get reports of the content for each text message. This is great to use whenever you notice that someone is bothering your kid unnecessarily.
7. Panic Button
The panic button can be triggered by the child whenever he/she feels like their in trouble. After it is activated, it sends the location of the child to the parent or trusted contact.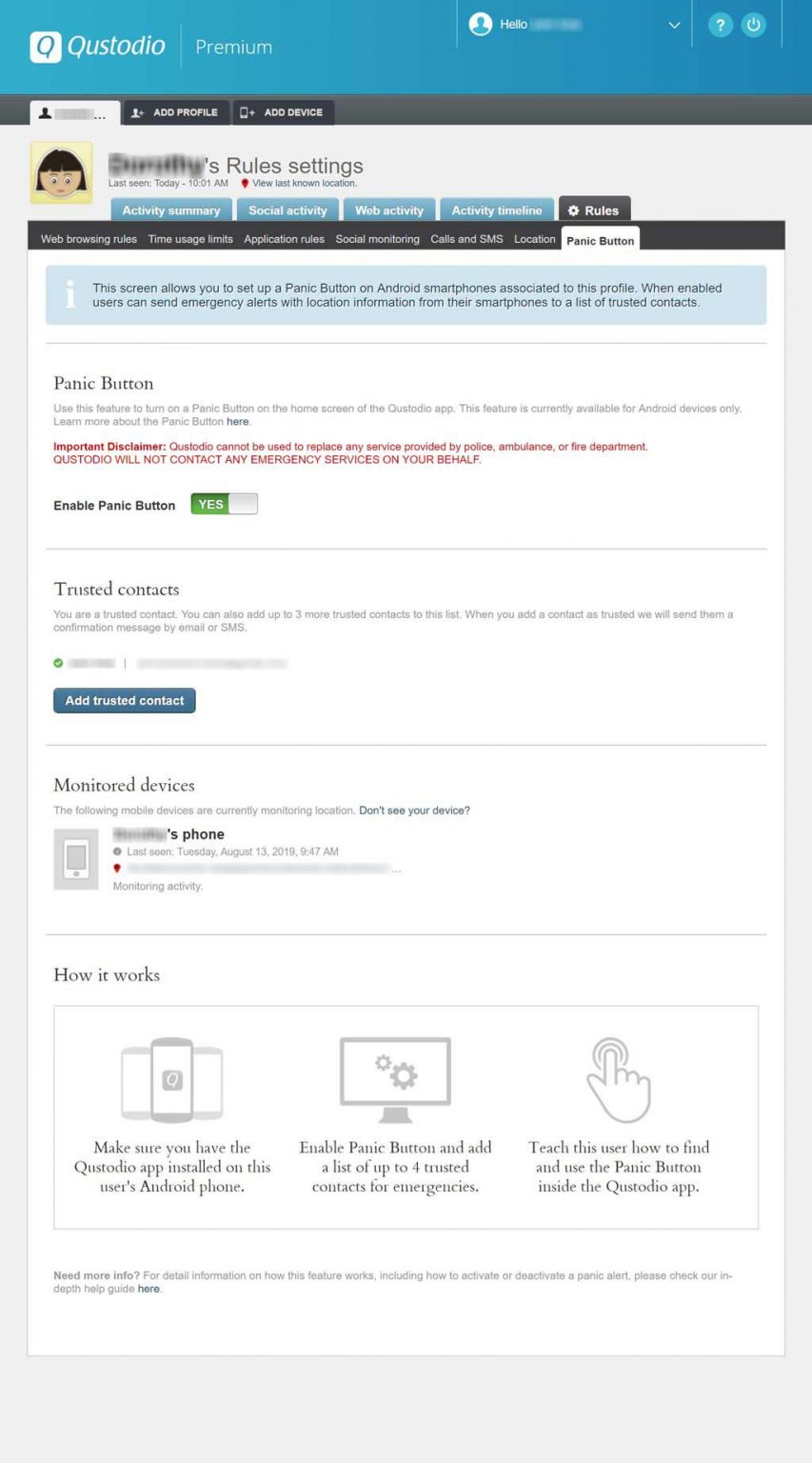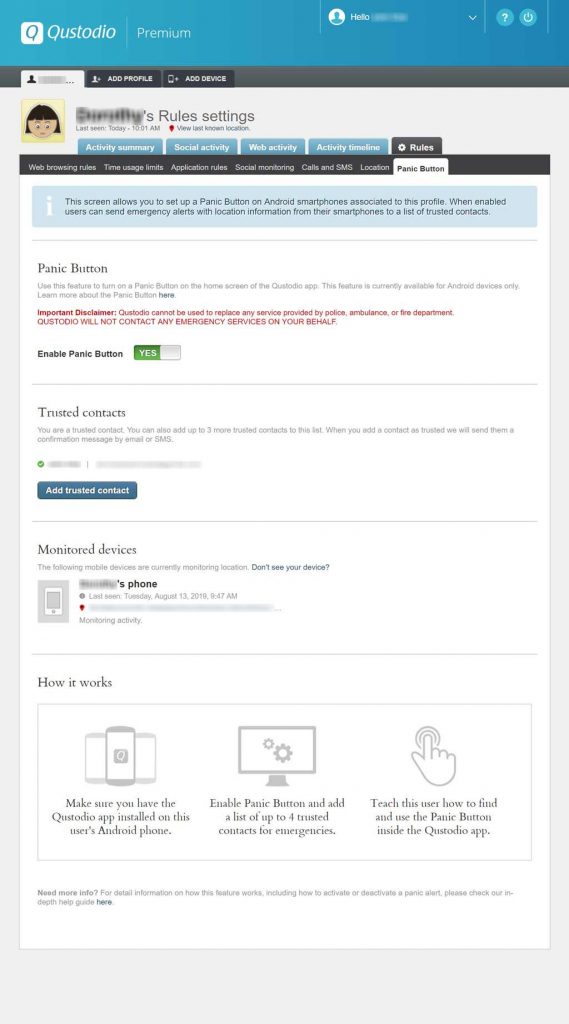 Take note that it will only notify the parent or the trusted contact. It will not automatically call the police or any of the authorities. It will keep transmitting the location until it is turned off.
Customer Support
The Qustodio download actually has only one way parents can contact customer service. This is through a ticket submission page that you can find on their website. This is probably not the best thing to face especially during times when you need a solution to your problem right away.
Another thing to take note of is that they prioritize their premium subscribers when it comes to the customer support service. I think it's actually quite fair since they are paying an expensive fee for the app.
Conclusion
And so we've finally reached the end of this Qustodio VPN review. Overall, I can say that this is definitely a great app for parents who want to be more involved in their kids' lives. This is perfect for this generation since their lives basically revolve around technology now.
Before you install this app on your children's devices, always make sure to tell them first and see how they feel about it. After all, they also have a right to privacy.
You can always stick to the free version if you don't want to pay for the yearly fee. But there are features that you just can't get for free compared to the premium one. At the end of the day, it is all up to you to decide whether you think your child needs it or not. It's an investment in their development as a person and their instant security.
Qustodio Review 2022: Worth it!
PROS
Monitor kid's every activity
Protect kid's devices
CONS
No Netflix streaming
Logs everything your child does