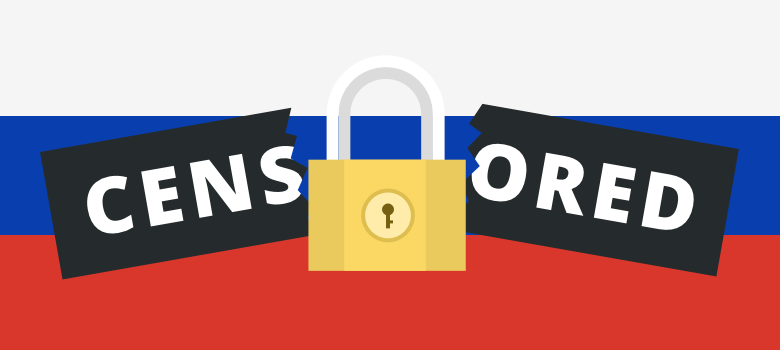 Russian Government is all set to prohibit the use of VPNs on its territory by passing a law that would make the use of VPNs illegal as it aids the internet users in accessing blocked websites and banned domains in Russia as reported by Vedomosti.
Russia's Telecom Authority, Roskomnadzor has also been pressuring VPN service providers and instructing them to restrict their users from accessing hundreds of the forbidden websites which are mentioned in the watchdog's blacklist in which majority of the website belong to notorious online gambling websites.
According to the proposed law, VPNs and services similar to VPNs are required to prevent access to websites which are blocked by Russian Government, and if any VPN service fails to comply with this will be blocked in Russia. It's not just VPNs that are targeted in this bill; Search Engines are also at the crosshair and would face the music if they found linking to banned domains in their search results.
Broadly speaking, the bill effectively communicates to ban any anonymity tool or DNS bypassing software which allows internet users in Russia to get complete unrestricted internet access and that doesn't comply with the content blocking policies laid down by the Russian Government. This actually kills the purpose of using a VPN in the first place.
Officials from the Media Communication Union are reported to be actively involved in planning out the policies for this bill, but they undermined the fact that most of the VPN providers operating in Russia follows a no-log policy and doesn't imply any specific content restrictions on its users or their products.
Search Engines that fail to comply with the removal of the blocked sites from their search results can face a fine of up to RUB 700K which amounts to US $12,500 per incident. The number 1 search engine in Russian, Yandex stated this rule as "superfluous" and a burden on search engines.
If this bill comes into effect and becomes an official law, Russian internet users can bid farewell to their dream of experiencing true internet freedom, and of course, these strict and atrocious measures only shows the failure of Russian authorities to facilitate their citizens by much more convenient and hassle-free means. But as for now, Russian internet users can enjoy using their VPN services while they can.