WordPress is, by far, the world's popular content management system, powering 26% of the web and its users are making 41.7 Million posts and 60.5 Million comments every month, but that doesn't mean it's the only one. In recent years, there's the rise of a friendly website like Squarespace; means more players are entering in the market. In this write-up, we are comparing the former, Squarespace, with WordPress. We'll try our best take detailed look at Squarespace vs WordPress to show you how the two stack up. By the end, you'll have all the knowledge that you need to choose the right platform for your site.
Squarespace and WordPress is a tough confrontation. Why? Because both are reputable and have millions of users and have the potential to create beautiful and functional websites. The former is a website builder, and the latter is an open-source platform. It's more like comparing the boxers belonging to different weight categories.
Keep a note that we're comparing Squarespace vs. self-hosted WordPress (not WordPress.com).
Before jumping into Squarespace vs WordPress, let's quickly overview each tool's approach to building a website.
Squarespace vs WordPress – An Overview
This overview will help you frame the discussion for specific features. This idea is oversimplified – but in general, both platforms tries to balance the two opposing forces:
Ease of use and accessibility to beginners
The flexibility to customize and add additional functionality
What Is Squarespace?
Squarespace is known as a 'software as a service' ('SaaS') website builder – you pay something to use it, but offers everything you need to build and maintain your site including; a content management system, templates, e-commerce, hosting, support, and a domain.
There are two versions of Squarespace- standard, for people without web development skills, and developer's version, that allows access to manipulate the source code. The developer option permits the greater functionality to Squarespace sites along with the creation of bespoke templates; suitable for experienced developers.
Unlike WordPress, Squarespace has limited choices, lacking options to make it simple and easy to use; absolute beginners can write content and publish it.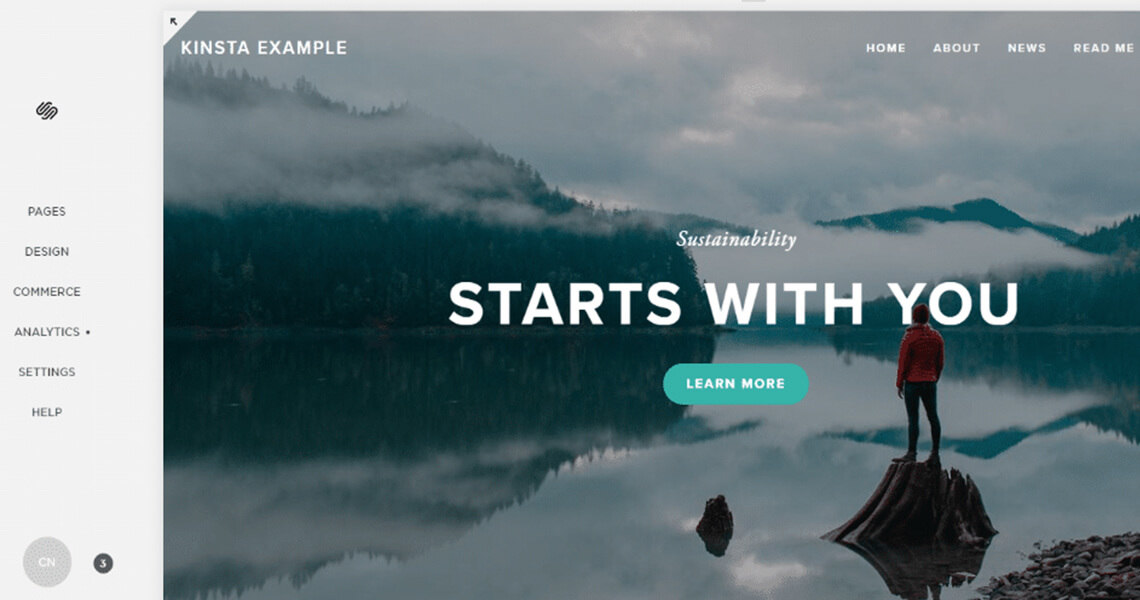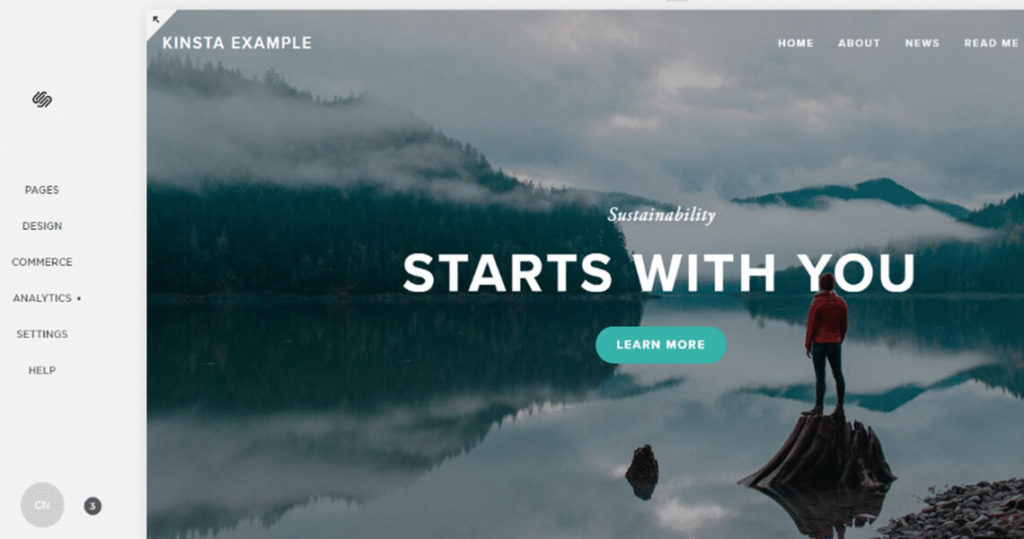 Adding content like images, videos, and audio files, is simpler than WordPress; use its drag and drop content editor, create new pages and posts without an prior know-how.
Squarespace allows customization of templates and pages using a visual editor, but with a limited approach. With Squarespace, you don't need to sign up for hosting or purchase a domain name. Instead, just sign up to Squarespace and within seconds, you're already choosing a template.
What Is WordPress?
There are two versions of WordPress:
Hosted WordPress
Self-hosted WordPress
Let's talk about Self-hosted WordPress.
Self-hosted WordPress
WordPress is a robust platform loaded with choices; both beginner level and advanced users can start a blog or a highly professional website.
Self-hosted WordPress is a software (downloadable from WordPress.org) to install on the web server. WordPress is open-source, meaning that the code behind is freely available and can be modified. In practice, sites built with WordPress can easily be customized to the nth degree; it's a flexible tool for the right developer, the ability to meet the requirements of any website design project.
Install WordPress on your server for free, but hosting costs will apply that include domain registration charges and occasionally plugin costs. Don't worry! Everything is here, later on in this comparative analysis.
WordPress is intuitive and easy to use, with a slight learning curve. Beginners need to familiarize with WordPress terminology and concepts like the difference between categories vs tags, posts vs pages, understanding themes, and plugins.
The default WordPress editor is best for a beginner; with a visual and plain text editor for advanced users. Adding interactive content – images, videos, and audio is way easier.
Despite the learning curve, the increasing number shows that users quickly adapt to it. However, there is still room for the platform to look simpler and easier for everyone.
Unlike Squarespace, you'll need to sign up for your web hosting and purchase a domain to start. Then, you'll need to install the actual WordPress software to continue. There is an added step – it's something that beginners can handle, and it takes 5-10 mins to extends the creation process. Once you install WordPress, you have a working website. Like Squarespace, you can change the site looks by installing a WordPress theme.
Depending on the source of your theme, this process is a bit more involved than a Squarespace template. But again, most beginners find no problem with it.
Let's compare both;
Squarespace vs WordPress – A Real-time Comparison
We will be comparing both the products on the basis of features they offer:
1. Features And Offerings
Squarespace
Squarespace is not an open source, so their in-house developers are responsible for creating tools.
This means that all of their tools are the creations of the same team, ensuring that not a single tool will conflict with each other and are of premium quality.
All the tools by Squarespace are controlled, monitored and tested within their operating environment so don't expect non-functionalities, conflicts with, or even crashing your website.
But this does mean that you can't integrate non-Squarespace tools (though it's possible to an extent).
If any issues arise, Squarespace offers a dedicated, 24/7 support to fix your queries (more details below).
Squarespace is a feature-rich platform, with a decent selection of in-house apps and widgets, leaves enough room for customization. It provides enough tools to build a qualitative website.
This is where Squarespace seriously fall behind, with a very limited number of templates to choose from. You can change only limited features using their customize options.
WordPress
WordPress is an open source platform, allowing website customization in your own manner, provided with a capable coder.
The free developers may or may not entertain or help you when issues arise. Buying premium plugins will allow you to support, but no guarantee that they will troubleshoot all the issues for you as the conflict could be caused by other plugins (which is not in the control of premium plugin developers).
There are many good WordPress plugins, but be careful and test them thoroughly before using them, or they may negatively affect the performance of your website.
The real power of WordPress is its extensibility, with thousands of free and paid plugins. Ranging from social sharing to membership site plugins, you can any kind of website you can imagine.
WordPress has thousands of paid and free themes for your website. Themes control the visual appearance of your website. WordPress themes are for almost every industry, and business.
Flexibility is where WordPress kicks Squarespace's ass! Although Squarespace has a lot of useful features and a very 'locked-down' walled-garden system. By contrast, WordPress lets you create any sort of site you like; either by commissioning a developer to code something or installing plugins.
With regard to plugins, you've thousands of plugins to add functionality to your WordPress site. Be it e-commerce, display a photo gallery, capture data or share customer reviews, you'll find an enormous range of plugins, easily installed and updated.
Can't find a plugin meeting your requirements, or want to create a truly bespoke website? WordPress will do that magic to you; commission a WordPress developer to assist you. A WordPress developer can craft a truly unique site based on your own template and functionality rather than those of third parties. Plugins don't exist in Squarespace, but there are built-in integration you can use including Xero, MailChimp, Dropbox and G Suite. You can use these if you are not on the cheapest Squarespace plan. Alternatively, you can extend Squarespace functionality by adding code blocks – doing so allows adding 'widgets' which will do more stuff, but it is a bit of a faff.
Of course, you can always commission a Squarespace developer of your site, and there is a number of websites offering custom code to be purchased and added to Squarespace sites to enhance functionality or site appearance.
To be fair to Squarespace, the visual aspects of the sites are more flexible than the WordPress. You can tweak site visuals in Squarespace in most templates, and also edit the layout of the pages.
2. Interface / Ease Of Use And The Learning Curve
Squarespace
Squarespace is an easier website builder compared to WordPress.
It is a drag & drop builder, so place content anywhere you want to, without touching a code line.
Squarespace is for non-tech-savvy users, for those who have no interests in learning codes, or those with limited resources (time & money) to deal with codes or build customized sites.
It also provides a comprehensive library of guides (video & text), so building websites with Squarespace won't be challenging.
But don't be fooled that only beginners can use Squarespace, as this platform is for all the levels of website owners (advanced users, or large corporations).
The learning curve of WordPress is steeper than learning how to use Squarespace.
WordPress
WordPress is not a drag & drop builder, so to reformat your page layout, modify your template codes to do so (or hire a capable developer).
Although WordPress is a powerful platform, but to use it effectively, it's inevitable to modify some codes to achieve the desired results.
Are you proficient with code, or working with a good coder? Then WordPress can be a much more customized site than Squarespace.
WordPress is fairly intuitive and easy to use, with a slight learning curve. Beginners need to familiarize themselves WordPress terminology and concepts to understand themes and plugins.
Despite the slight learning curve, we have seen that most users quickly adapt to it. However, there is still room for the platform to be simpler and easier for new users.
The Squarespace drag and drop interface is intuitive; and its style editor further makes it straightforward to change basic template elements – font colors, heading sizes and so on. Just point at the design you want to change, and click some controls to get it done. (Frustratingly, you can tweak a template's design depending on the template you pick).
Once a WordPress site is up, it's by no means difficult to maintain, depending on what hosting provider you joined, you might find setup and configuration a bit fiddly, but once you're done, you'll find that the WordPress is the easiest-to-use and responsive.
The critical difference between the Squarespace and WordPress is, on-page editing. With Squarespace, you can go to the page you'd like to tweak and click the content to edit: you'll then see your edits on the page, as you make them.
In WordPress however — the best thing — you edit the page in the back end and preview prior publishing. If you put a little bit of time and research into the configuration, it's possible for you to suit your workflow: there are a lot of front end 'visual editor' plugins/tools that you can use to add a more 'Squarespacey' approach to your content management.
3. User Support
Squarespace
Squarespace provides you a dedicated, 24/7 support team to answer your questions.
They respond to their live chat within 1 hour (Monday – Friday, between 3 am – 8 pm EST), and they also have user guides and as well as forum support.
As mentioned above, all the tools are built by Squarespace, taking the ownership of issues and resolve them.
Since they have a dedicated support, all your questions would be answered, as the same question as many times as you want.
WordPress
When it comes to support, WordPress has a vast community with millions of posts and "endless" resources and tutorials to help you.  However, in our experiences, it's quite hard to find good and relevant help – because of information overload.
A lot of questions have already answered, and few of them left unanswered. Answered questions does not mean that they are solved correctly, or at all and getting answer to take days.
The challenge is the volume of questions and limitless discussion. So if you post a question, don't mind if it ignored as it has been answered in the past. So first dig through volumes of the forum to find some sort of answer to your question, then ask.
As mentioned, no one "owes" you an answer unless you pay. And since WordPress.org has a lot of free plugins, getting someone response can be difficult (unless you hire a good WordPress developer).
Support is where Squarespace arguably beats WordPress when you are building your site yourself and not involving any third party developer or agency. Buying a Squarespace account, you get their dedicated support, means if something goes wrong, there is somebody to turn to.
It's a different scenario with WordPress: if you're building a website with the platform and run into difficulties, there's no one to turn to. You find yourself sourcing help from different locations: the WordPress forums, a plugin provider, a hosting company, a geek with WordPress knowledge.
To get around with this problem properly, you'll ideally need a developer or agency specializing in WordPress and have a  support contract with them.
This can give a personal level of support, unlikely to ever receive from Squarespace (personal meetings, phone calls etc). The flip side of this is that it can be costly. On balance, if you are building a site, then there is an advantage in using Squarespace (from a costs perspective).
4. Ongoing Maintenance
Squarespace
Squarespace is a "closed" system that manages the performance and security updates for you.
You don't have to click the update button or worry about potential conflicts. All updates are tested and deployed to your website automatically.
Having all this managed frees up your time to manage things that are more important.
WordPress
WordPress is continually updating to fix bugs and improve security. Updates alert your WordPress dashboard, and you have to click the update button to update the WordPress version.
That is easy. The challenging part is when WordPress updates, your theme, and plugins also need to be updated.
A lot of theme and plugin creators update to ensure they adopt WordPress' latest updates, others won't (especially free themes & plugins). So this possibly exposes your website to the user, create performance or security issues.
So the ongoing maintenance work, if you don't have a person/team dedicated, it can be an additional burden to you.
One thing Squarespace users don't have to worry about is the site maintenance. All the technical aspects of a website (software updates, hosting, server configuration and so on.) are company's headache.
With WordPress, it's a different fish: you are in charge ensuring that you're using the up-to-date version of WordPress, the server's been configured correctly, and your plugins and themes are all also updated. If you end up with an outdated version of WordPress, your site is more vulnerable to hacks.
5. SEO Optimization
Squarespace
Squarespace deal with 'captions', 'descriptions' and 'extracts', depending on the given template, this may end up visible on the page (a scenario that encourages people to use alt tags and metadata with visual impact rather than SEO).
you can't add rich snippets in Squarespace. Rich snippets are bits of data used to enhance your search results by (1) displaying contextual information like ratings, pricing and search results and (2) by letting search engines to get a detailed know how of your page or post.
If you're on Squarespace, you're stuck with shared hosting and there is less to do from a code tweaking point of view.
Squarespace sites do few things that Google likes: generate a sitemap.xml file, use clean HTML markup, and are mobile friendly. You can optimize a Squarespace site for search, but with limited tools.
WordPress
WordPress is the winner in the search engine optimization, blowing Squarespace out of the SEO water. In WordPress, alt tags and metadata are their proper names.
WordPress lets you use a wide range of sophisticated SEO plugins – Yoast, to assess the quality of the on-page SEO efforts and then automatically suggest further improvements. There's no such functionality in Squarespace.
Adding rich snippets in WordPress is a straightforward affair — there are plugins available that allow you to add the relevant data to your web pages with a minimum fuss.
Finally, there's page speed: Google looks how quickly your page loads when deciding to put it in the search. Using WordPress gives you control over this because here you can choose your hosting (the faster the better!) and tweak the code to meets the recommendations of Google via their 'PageSpeed' tools.
6. E-Commerce
Squarespace
Squarespace comes with a nifty e-commerce system. It's great for a many applications, but with limitations: the payment gateways are limited to Stripe and Paypal, and it doesn't come with advanced online e-commerce reporting functionality with dedicated solutions like Bigcommerce.
A key thing to be aware of Squarespace's e-commerce is that it doesn't allow you to export digital products.
So if you're planning to build an online store in Squarespace so so make sure you've had to migrate hundreds of digital products over to a range of platform.
The good news is that you can use code blocks in Squarespace to integrate e-commerce services. Ecwid or Shopify Buy Button are often added by Squarespace to avail of certain types of e-commerce functionality not provided the built-in option.
WordPress
WordPress doesn't have an e-commerce tool, but thanks to the range of plugins, it's really straightforward to add online retailing functionality to a WordPress. Popular choices are Woo-commerce, Ecwid and Shopp; and a well-known platform is Big-commerce.
With WordPress, you can integrate third-party e-commerce apps seamlessly. This will take a bit of effort – so Squarespace's out-of-the-box approach will suit a lot of users to store off the ground quickly.
7. Content Management And Blogging
Squarespace
Squarespace is in a bid to save hosting costs/resources and does not permit you to do this. It doesn't facilitate an auto-save feature, which is another serious drawback.
You can add 'code blocks' in Squarespace, without the direct access to the main HTML behind your posts.
Squarespace's offering is extremely basic – for example, if you want to add an uploaded image to another page somewhere else, you have to re-upload it!
The drag and drop approach to this content management, helps users to move content and images around the page in Squarespace.
You can also do a lot with any content in Squarespace that you add in 'summary blocks.'
WordPress
WordPress comes with content versioning — every version of a page or post stored on the system and rollback at any point.
you can toggle between HTML and WYSIWYG while editing in WordPress.
WordPress gives you a media library to store, access and edit your images and documents.
WordPress allows you to flexibly use categories and tags than Squarespace. This allows you to present your content in relevant ways, and users can also filter it more to meet their requirements.
The 'summary block' approach is possible in WordPress but requires some configuration.
8. Safety And Security
Squarespace
Since Squarespace is a hosted solution, the responsibility for security lies with the company: it's their responsibility to ensure their system that doesn't compromise, doesn't get hacked and keep the backups of your content.
Squarespace now hosts over one million websites, and become a high-profile target for distributed denial of service (DoS) attacks – bringing down a very large number of sites.
Resultant, there have been outages and downtime for users in the past. You might find WordPress site less vulnerable, depending on who you host it with.
WordPress
With WordPress, if you're not commissioning an agency or developer for your site maintenance, then the ultimate responsibility belongs to you; it's your responsibility to update the version of WordPress, along with any plugins or themes. Failure to keep can make a WordPress site very vulnerable to being hacked.
Be aware that some WordPress themes contain malicious code that compromise the security of the site, so be very careful about which ones you install.
In short, it's fair to say that Squarespace is less vulnerable than WordPress, because there's less scope to neglect security on their site or add dodgy code. And if something goes wrong, then Squarespace's team is responsible to resolve the problem (they are highly experienced in that).
Finally, something about SSL: a free SSL certificate is provided with Squarespace sites, meaning visitors are browsing on a secure connection; simply checkbox in your Squarespace settings. You can also install SSL certificates on WordPress too – but again, it's your responsibility and it's going to be more fiddly.
Our comparison of Squarespace vs WordPress does not end here, there are some minute details that can't be missed, have a look and clear your thoughts before giving either of the content management software, a spin.
9. Mobile Compatibility and Available Apps
Squarespace
If you use smartphone apps to manage your website, then you'll appreciate the fact that Squarespace offers a few options.
There are five apps available to manage your Squarespace site:
Blog
Analytics
Portfolio
Commerce
Note
All the above five apps are available for both iOS and Android.
WordPress
It's more of using one app rather than 5 — install the suitably titled 'WordPress' app on your smartphone (both iOS and Android versions are available) and perform key site management tasks, including;
Creating and editing pages/posts
Uploading media
Moderating comments
View stats
Which approach is the best — several dedicated apps or just one — this probably boil down to personal preference.
10. Pricing and Affordability
Squarespace
Squarespace has four monthly plans:
Websites Personal – $16 per month
Websites Business – $26 per month
Commerce Basic – $30 per month
Commerce Advanced – $46 per month
These plans will be a bit cheaper if you pay on an annual basis ($12, $18, $26 and $40/month respectively).
The main differences between the Squarespace plans are the number of pages you can create, the addition of custom CSS and scripts, transaction fees, e-commerce features, and integration with Xero. If you pay annually, you'll get a free custom domain too – but note that not all domain extensions are catered for.
WordPress
"Hey, WordPress is free." Well, not exactly, because to get it working properly you have to pay.
There are five things that affect your costs:
Hosting (server space to install WordPress and store your site)
Themes (the design for the site)
E-commerce integration
Plugins (apps that can be added to add more functionality)
Whether or not a developer is involved.
One thing is for sure, you'll always have to pay for hosting to install WordPress. First decide, whether you'd like to use a 'shared hosting' company or a provider such as WP Engine that's faster and secure, but more expensive.
Below you'll find some figures that demonstrate some costs you might expect while building your site yourself:
Annual hosting – $348 (recurring cost)
Premium theme – $175
Annual cost for e-commerce integration  – $180 (recurring cost)
4 paid-for plugins – $100
Pricing, however, is not the only thing to consider in the WordPress vs Squarespace debate; rather go through their respective features.
Concluding Squarespace vs WordPress Debate
Most developers and webmasters are comfortable in saying that WordPress is more powerful and flexible than Squarespace, and we do agree with them.
But it's not right to say that WordPress is the best choice!
In many ways, Squarespace is perfect for individuals and small businesses than WordPress, and a great solution for photographers, bands and small business owners, who just want a simple website at a cost of minimum fuss. A Squarespace site is for a business that's about to operate in a single location and in one language – and if your plan is the diversified growth, then WordPress is best.
However, if you have e-commerce or blogging requirements, or a scenario where you are operating a business in multiple locations, to go with WordPress – for the simple reason that you can build anything using a vast number of plugins and themes. Thanks to the multilingual and multisite options of WordPress.
Going down the WordPress route, we would suggest that rather than try it on the cheap – by doing everything yourself – use an experienced developer or agency, to maintain your site on an ongoing basis. This will this not only give you a more polished, bespoke website, but a peace of mind, from security or maintenance.
One way of deciding between Squarespace and WordPress, keep these 3 questions in mind;
(1) "How large the budget is?"
(2) "How much time is available?"
(3) "Do I have complex requirements for my site?"
In case your budget is tight, consider building a Squarespace site yourself, availing of one of the Squarespace Setup packages. By contrast, if you are not limited by budget, to go with WordPress, but do hire a developer to properly build and support your site.
If you are short on time and technicalities, plump for Squarespace over WordPress. And if you have complex requirements, use WordPress, as it's a more flexible platform that offers a functionality point of view.