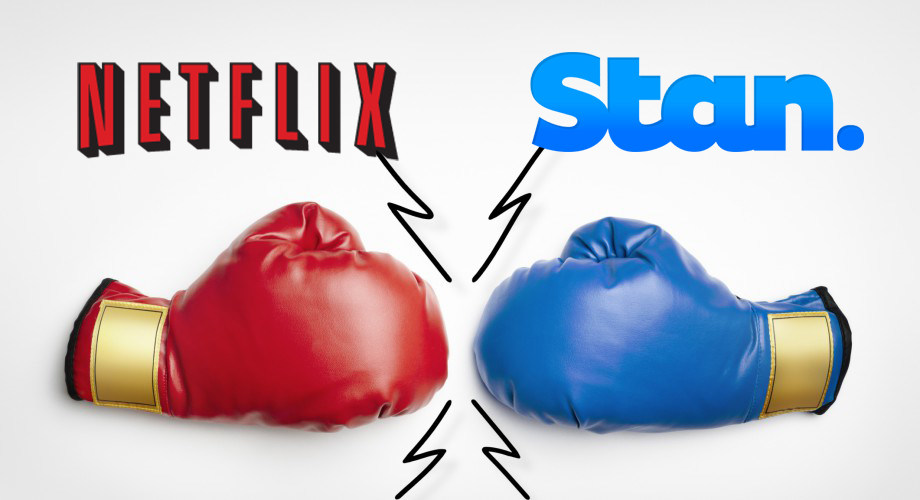 The Australian market has many players in the streaming world. However, the two beasts leading the pack neck to neck are Stan and Netflix AU. We have given it a shot to dissect the different elements of both platforms and find out which one you should choose. Since the competition is very tough in Australia, we are expecting Stan Vs Netflix to be a difficult comparison.
Stan is a pretty new player in the Australian market but has quickly garnered a behemoth viewership and members. On the other hand, when it comes to streaming video on demand (SVoD) services, Netflix is the undisputed giant. But bear in mind that we are more pivoted to comparing Stan VS Netflix's stance keeping in view the Australian market.
But why Australia? Why only Stan VS Netflix? The reason is simple – Australia streaming industry has some solid competition. It is not monopolized by a single service provider. All of it translates into better deals and services for the end users. We always appreciate more competition as it helps in raising the quality. The service providers feel threatened and work hard to win customers' trust and loyalty.
The Dilemma Of Getting Addicted To Stan Or Netflix Australia – Stan VS Netflix
Before we start discussing the real issue here, we would like to touch upon a very important crisis situation. No matter which streaming platform you choose in the end, you are entering a world of brand loyalty. You won't be able to like any other streaming channel other than your chosen one. It is usually a good thing except for when you have to travel abroad. Because Stan is geo-restricted and Netflix has different versions in different countries.
One wise solution is to have a subscription to a VPN with plenty of servers in Australia. That way when you are outside Australia, you can connect to an Australian VPN server, pass the geo-restriction and enjoy your favorite Australian streaming channel (Stan or Netflix Australia) overseas.
5 Best VPNs To Watch Stan Shows/Netflix Australia
Stan VS Netflix: In A Glance
First of all, check out the straight up comparison of the most important features. It will not give you the exact answer of which service provider is better than the other but surely clear the air.
Features
Netflix
Stan
Price
$8.99 to $14.99 a month
$10 a month
Platform Support
iOS, Android, Smart TVs, FetchTV, Apple TV, Chromecast, PS3, PS4, Wii U, Wii, Xbox One, Xbox 360, PC/MAC
iOS, Android, Chromecast, Apple TV, PC/MAC
Simultaneous Streaming
4 devices
3 devices
Australia
Fox Sports
Free Trial
30 days
30 days
Stan Vs Netflix: In-depth Analysis, of course, a closer look into the features provided by both streaming services will give you solid evidence to choose one over the other. Without further ado, let us delve straight into it;
Content Library – Stan VS Netflix
Your foremost reason to get a streaming service is to enjoy a maximum number of TV shows and movies. Of course, you are not going to watch each and everything that's present in the content library. However, it is good to have many many options. There is another factor that comes into play i.e. Australian content. Since our audience is very specific, we want a content library that can particularly serve the Australian viewers. Let's see how Netflix Australia and Stan won their viewers in terms of content library.Stan started its business in the Australian market in January 2015. To be very specific, Stan has 343 TV shows and 1060 movies in its content library.
Stan is the collaboration of Nine Entertainment Co. and Fairfax media, which simply means it has access to some known native titles. Stan offers shows like Roadies, Better Call Saul, Transparent and popular titles from Showtime's original programs. Favorite Australian shows like Round The Twist, Fat Pizza, Underbelly, and others are part of Stan's library. It has also delved into the original programming with shows like No Activity and Wolf Creek.
Netflix content library is filled with 1115 TV shows and 2800 movies. The difference in size is pretty obvious. Netflix Australia is more than double the size of Stan. Well, what do you expect from someone as experienced as Netflix?In addition to all the programs and movies, Netflix has original shows like Orange Is The New Black and Stranger Things. And if you are a fan of Marvel universe, then Netflix has co-produced entire seasons of Jessica Jones, Luke Cage, Daredevil, and Iron Fist. Also, it continues to do so in collaboration with Marvel. Utopia, Paper Giants: The Birth of Cleo and Sea change are some of the Australian shows present on Netflix Australia.
We don't think we need to say more. The above arguments present two major observations. Netflix Australia has a way bigger content library than Stan. Stan has more Australian content than Netflix Australia. Now it up to you – do you want more options or more Australian entertainment?
Pricing Details – Stan VS Netflix
Pricing definitely plays a huge role. However, we hate to break it to you, there isn't much difference between the two. Following are the pricing packages of Stan and Netflix Australia.
Stan: $10 per month.
Netflix Australia: $ 8.99/month for Basic, $11.99/month for Standard, $14.99/month for Premium
Both the streaming providers have 30 days free trial. Stan offers 3 simultaneous devices for its only packages. For Netflix Australia, the number of simultaneous devices changes as per the pricing plan. Basic package allows only one device, Standard package permits 2 simultaneous devices, and Premium package guarantees 4 simultaneous viewers.
Again, the final observation is deadset clear. If you are a solo viewer then Netflix Australia is more cost appropriate for you. And people who are going to share their account should go for Stan as it allows 3 devices for $10 a month.
Again, the final observation is deadset clear. If you are a solo viewer then Netflix Australia is more cost appropriate for you. And people who are going to share their account should go for Stan as it allows 3 devices for $10 a month.
Compatibility & Usability – Stan VS Netflix
The streaming service you are choosing should be compatible with all the devices you own. Also, the software or app should be easy to use and navigate otherwise the whole point of subscribing to a streaming service will be useless. Let's see how Stan and Netflix Australia stand here;
Stan is compatible with iOS, Android, Chromecast, PC, Mac, and Apple TV. That's not all the devices. It can add more devices and platforms in the list. As far as the software and app are concerned, we have no complaints with Stan.
Netflix Australia supports every device imaginable. You can enjoy Netflix on iOS, Android, Smart TVs, Wii U, Wii, Xbox One, Xbox 360, PC, Mac, Apple TV, Fetch TV, and Chromecast. In the usability department, Netflix Australia is damn fine. We loved its software and apps for different devices.
The software/app are equally amazing of both the contenders here. However, Netflix Australia wins the race for compatibility. Stan really needs to work on enhancing its compatibility features.
Stan Vs Netflix: The Ultimate Showdown
To be honest, there is no clear winner. We loved both the platforms for various reasons. In other words, we find it hard to tell you to choose one and ignore the other. However, it would be unfair to not say our favorite. Well, Stan gets some extra points and the reasons are listed below;
Stan has more Australian TV shows and movies
Stan is cheaper than Netflix Australia (at least the Standard and Premium package)
It offers more simultaneous viewing (3 devices at a time)
Stan is our pick in this case but that doesn't mean Netflix AU is the worst. However, don't forget to get a VPN regardless of the streaming provider you finalize.