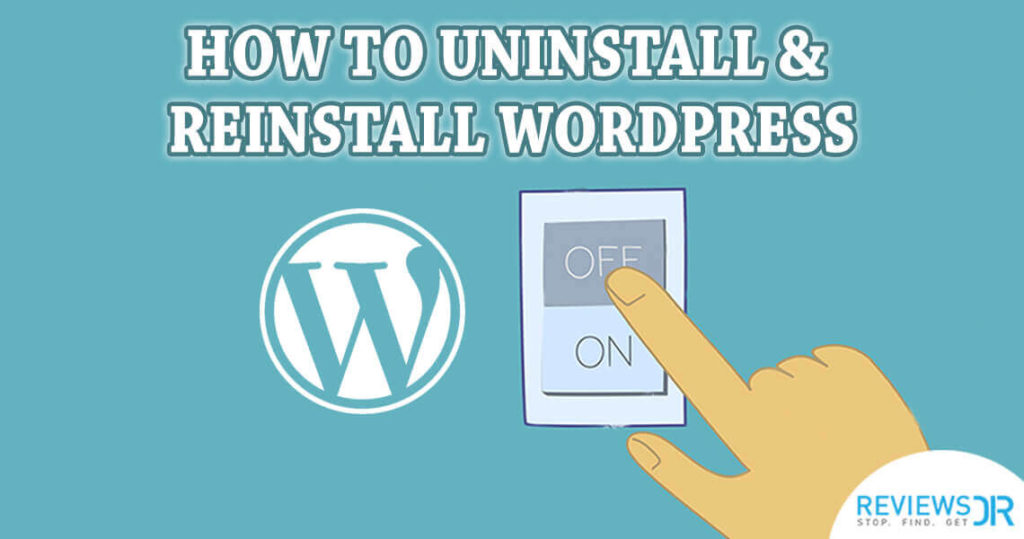 Keeping your website or blog in search engine's top ranking is a herculean task. With ever-changing Google updates, you always need to reconsider your website's on-and-off page strategies. As Google is getting smarter and so its algorithm is maturing, on-page strategies have become more important than ever. You can achieve great results with WordPress hosted website, all you need to do is to smartly place the right elements. With so much you can accomplish with WordPress, the table can turn the other way, with technical issues that are hard to tackle. Such issues may result is shutting down your website, or at a point, you'd need to uninstall your WordPress website and to reinstall it again. As since we discussed the value of Google algorithm, no one would want to lose SEO value while uninstalling WordPress website.
There can be many reasons where a user may be required to uninstall and reinstall WordPress, as the change of heart, possible hack attack, technical issues with the current WordPress installation, or just want to start from scratch. Whatever may be the reason, in this article, we will show you, "How to Uninstall and Reinstall WordPress." Do remember, hiring someone to do this job can cost you serious money. Doing it yourself, not only save you time and money, but it will also help you understand the internal functionality of WordPress. So, let's begin!
Before Uninstalling WordPress, Create (ALWAYS) An Emergency Backup.
This is critical! Before you uninstall your WordPress, you need to create a backup of your existing WordPress files. Make sure you store the backup files on your computer or cloud storage services, like Dropbox or Google Drive.
How to Uninstall WordPress Completely
Once you are done with the backup, all you need is to follow these three simple steps to uninstall WordPress website. So let's begin!
Step # 1: Export Your WordPress Content Files
First, you have to export your WordPress content file. This file will contain all your materials, images, tags, categories, and comments.
Here's how you can export the content file.
Login to your WordPress admin panel and go to 'Tools' and then click on 'Export.' Select 'All Content' and then click on 'Download Export File' button.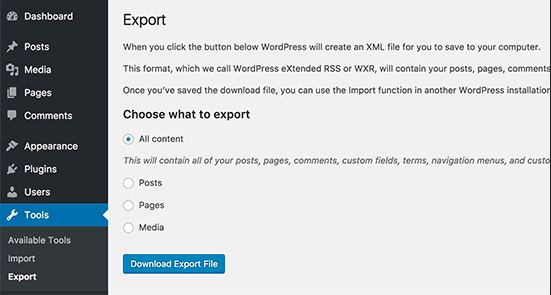 If you have too many registered users on your WordPress, you may want to export them too.
Step # 2: Store A Backup of WP-Content Folder On Your Computer
Now, download the exported file on your computer or cloud storage service.
Connect to your WordPress either by using FTP client or File Manager in cPanel. Once connected, look into the list given below and select 'WP-Content.' Click on this file and Download the Wp-Content folder on your computer.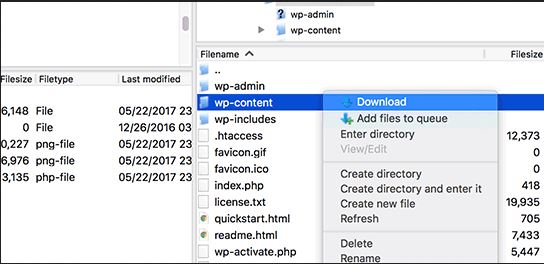 Now, you are all set to start uninstalling your current WordPress Installation.
Step # 3: Properly Uninstall WordPress
Here you have two options, either remove everything from WordPress database and leave no trace of your old WordPress or create a new WordPress database. Many hosting services provide you the opportunity to create as many databases as you want.
Delete Everything from old Database
Find your WordPress Directory where all your WordPress files reside. If there's no WordPress directory, it probably residing in the public_html core of the file system.
Click on public_html file; it will show you all your WordPress files. Select all files and press 'DELETE.' Next, you will see a confirmation window, asking you to confirm this activity. At the left bottom, you can see an option, asking you to either, select it and delete all the files permanently, or ignore it and let the files saved in the Trash. Check the box and click on 'Confirm' button.
You will see that your entire folder is now empty. It is the time when you will need to reinstall a fresh WordPress.
Create a New WordPress Database
Instead of deleting old database, you can create a new one with new credentials. To create a new database, you need to login to your cPanel account and click on MySQL Databases icon.

A new window will appear where you have to assign a name to your new database. Once assigned, click on 'Create database' button.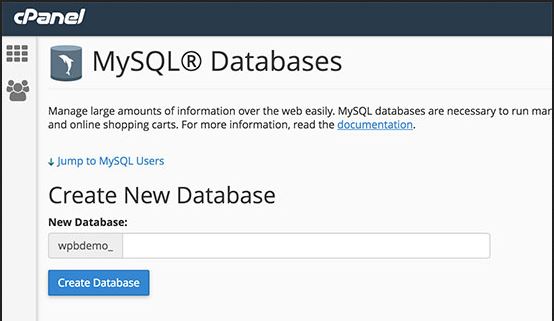 Now, scroll down and add a new 'MySQL Section.' Here, you will need to provide a username and password, and then click on 'Create User' button.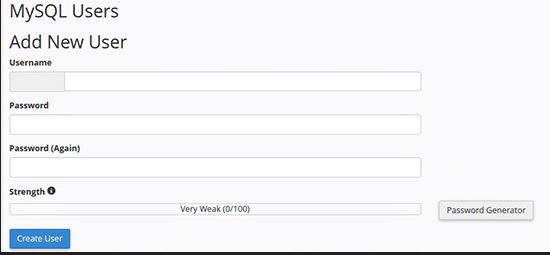 Next, you will need to add the new user to the database. Scroll down to 'Add User to Database' section and enter the username and database you created earlier.

Click on the 'Add' button.
The new database is now ready to use after you reinstall the WordPress.
How to Reinstall WordPress
We hope that you have successfully uninstalled WordPress website by following the above-mentioned steps. Now, it is time to take you through easy steps on how to reinstall WordPress.
Step # 1: Download Fresh WordPress
Go to WordPress.org and download the latest version of WordPress.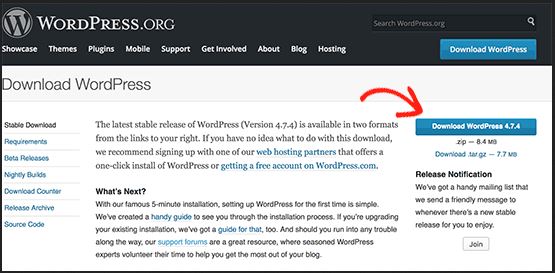 Once the setup is installed, unzip the downloaded file. There you will see a WordPress folder. Open the WordPress folder. You will see all WordPress files in this folder; you will need to upload all these files on your website using FTP Client.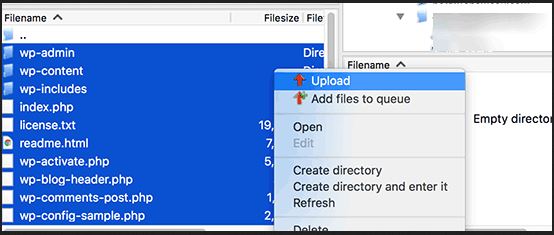 After uploading the files, go and visit your website. WordPress will ask you to enter your database information to proceed.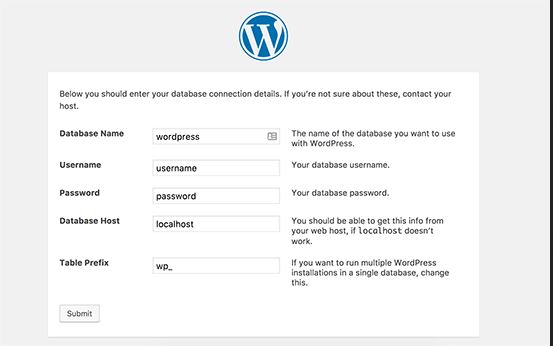 You will need to provide the following information:
Database name
Username and password
Host details
Once you are done filling the information, click on the submit button and move ahead.
WordPress now will try to establish a connection with the host. Upon successful attempt, it will show a message. On the same pop-up, you will see a 'Run the Install' button. Click on the button.

In the next step, a Windows will appear asking you to provide your website details like site title, admin email address, password, and description.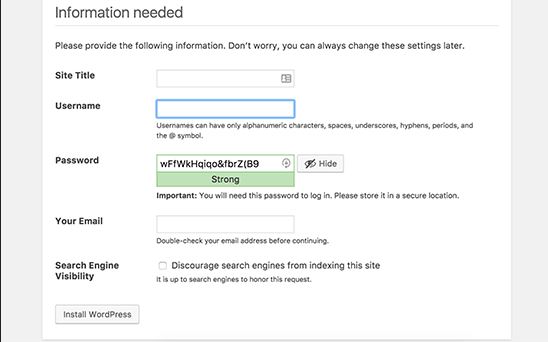 After providing the information, click on 'Install WordPress' button to continue.
Once the installation is complete, go and log in to your WordPress admin area using the credentials you created earlier.
Once you are logged in, you need to delete the default content. Go to posts and remove the 'Hello content,' then go to comments and delete default comments and lastly go to pages and delete the default pages.
At this point, you have successfully reinstalled WordPress. If you wish to restore your old content, follow the instructions:
How to Restore Old Content, Images, Tags, and Comments on WordPress
Step # 1:
Login to your website using FTP client and go to /wp-content/folder.
Next, you need to select the /wp-content/upload/ folder from your computer and upload it to the website.
If there are any changes in your site theme or child-theme, it's time to download them now. Your theme folder are located in the /wp-content/themes/folder.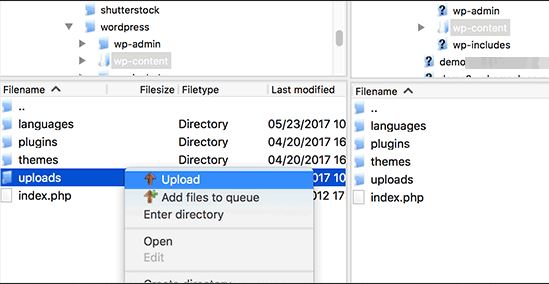 Step # 2:
To install your posts, tags, comments, and categories, go to Tools and click on 'Import.'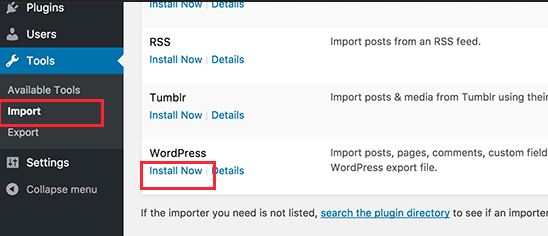 On Import page, click on 'Install Now,' and WordPress will download WordPress importer. After that, you will need to click on the 'Run Importer' link.
In the next step, you will see WordPress Importer Page where you need to click on the 'Choose File' button. Now, select the backup database file you created before uninstalling the WordPress.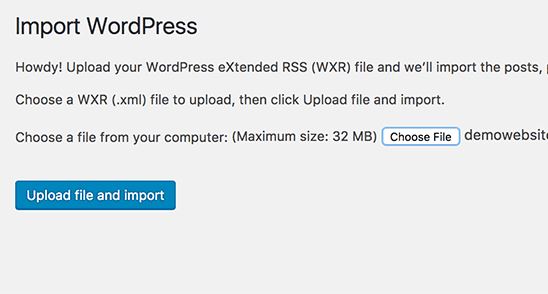 Click on 'Upload file and import' button.
Next, WordPress will ask you to create new authors and assign the posts to them or if you would like to assign all posts to your current user account.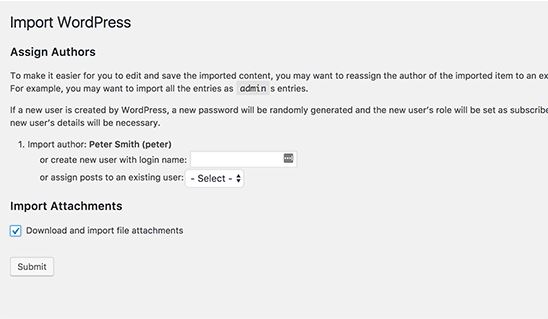 Click on the check box under 'Import Attachments' for 'Download and Import file attachments.'
Now, go ahead and click on 'Submit' button.
WordPress will import your content from XML file to your fresh WordPress. Once the installation is complete, you can see your content by visiting your website.
Tadaa! You have successfully uninstalled and reinstalled WordPress. Now, go to your site and setup things like Navigation, Sidebar, Widgets and Contact Form as the way you want it to be.
We hope, we have provided you a simple solution through this article to uninstall and reinstall WordPress in a few simple steps. We will keep educating you regarding the general issues one might face in operating WordPress. If you have any suggestion or query, don't hesitate to write to us at contact@reviewsdir.com