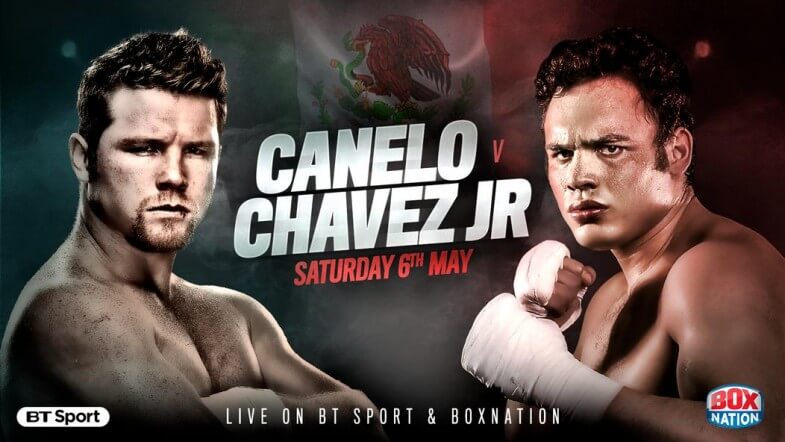 Boxing fans brace yourselves as you are about to witness the biggest boxing event in Mexico's history which is Canelo Alvarez VS Julio Chavez Jr fight that will take place this Saturday, 6th May at T-Mobile Arena in Las Vegas. This bout is being labeled as 'the biggest boxing event in the history of Mexico' because of the massive interest of Mexicans in this fight.
Both Canelo and Chavez are the natives of Mexico and boasts a huge reputation for themselves in international boxing. What makes this fight far more interesting is that it's an all-Mexican clash which will decide the fate of both the fighters as to who'd be victorious and will be known as the Mexico's biggest boxing star!
Canelo VS Chavez Jr Fight Details At A Glance
Date: Canelo VS Chavez Jr fight date is 6th May 2017
Time: For the viewers in Las Vegas, the Canelo VS Chavez fight would start at 10-11 PM local time, but viewers in the UK would have to stay up a little late as it'll be around 3-4 AM in the UK when the Canelo VS Chavez Jr fight goes live.
Venue: T-Mobile Arena in Las Vegas
Title On The Line: Surprisingly, there are no titles on the line for this fight as it's a 'Catchweight' fight and it's more about who's going to be the Mexican's real Boxing champ.
Canelo VS. Chavez Jr. Fighter Stats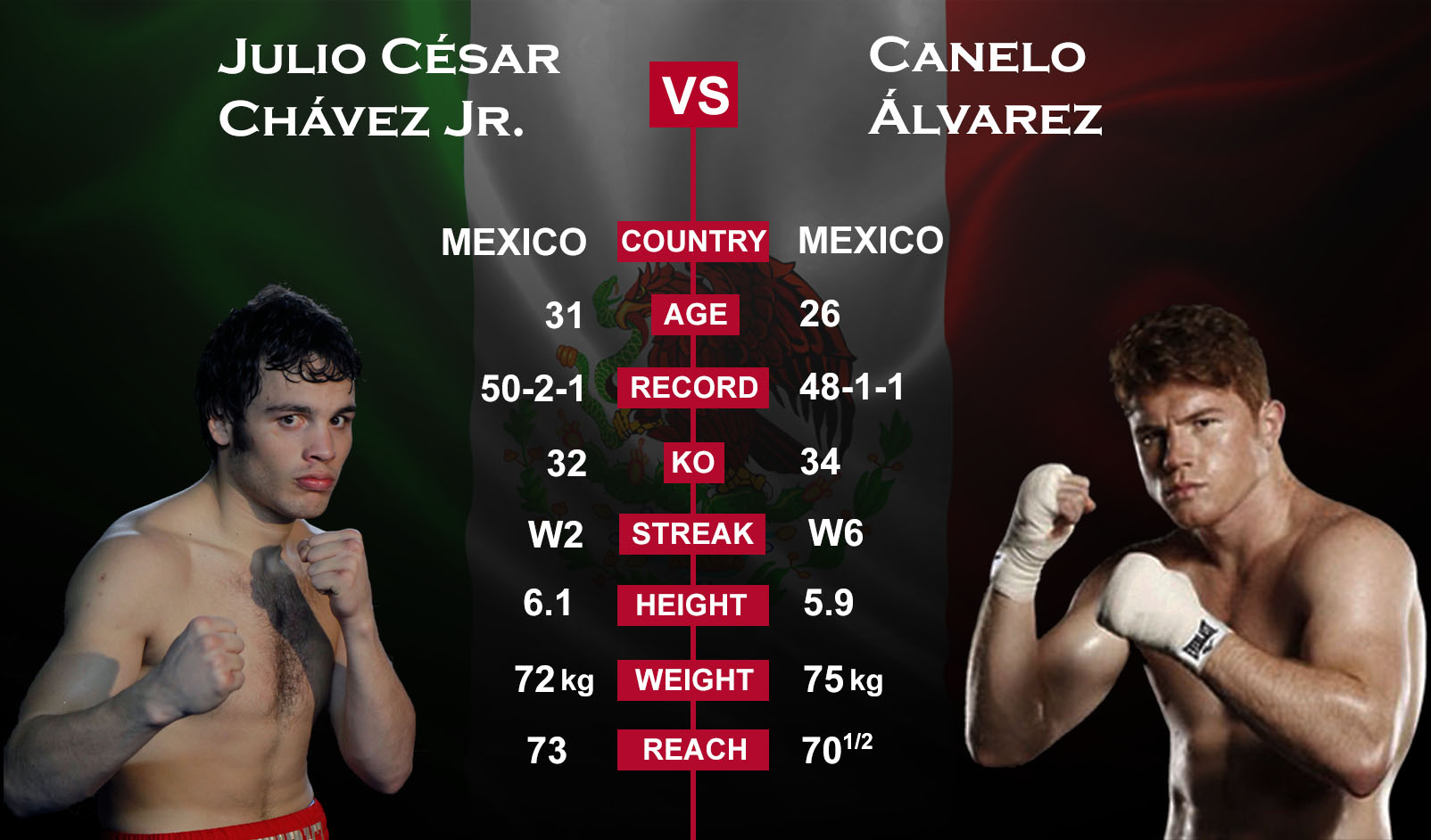 Where To Watch Canelo VS Chavez Jr Fight Live Online?
Canelo Alvarez VS Julio Chavez Jr fight will be officially broadcasted by HBO through PPV which is priced at $45.95. You can simply buy HBO PPV by visiting HBO's official website or by directly contacting your local cable provider if you are residing in USA. But, don't worry if you can't watch it on HBO as there are other streaming channels too on which you can watch Canelo vs Chavez Jr fight online. The channels mentioned in this guide are mostly geoblocked and can only be accessible by viewers residing in US, UK, Mexico, Canada, Germany, Ireland, etc.
Official Channels Broadcasting Canelo VS Chavez Fight Live Online
How To Watch Canelo VS Chavez Jr fight From Anywhere In The World?
We don't want you to miss a single punch of this fight as this is history in the making, but, as discussed before that all the channels mentioned are georestricted and can not be accessed outside of their defined territories, so, what if you are located outside of the countries and states where this fight will be broadcasted?
Don't sweat! You can watch Canelo VS Chavez Jr fight live online from anywhere in the world by following these simple steps:
Choose any of the VPN provider mentioned below
Download and install it on any of your device on which you wish to watch the fight (Windows, Mac, Android, iOS, etc.)
Connect to a US, Mexico or UK server
Easily access any of the channels mentioned above
Watch and enjoy the Canelo VS Chavez Jr fight live as it happens
Watch Canelo VS Chavez Jr Fight Live Online on HBO

The official broadcasting rights for the Chavez Jr and Canelo fight are acquired by HBO and will be presented by Golden Boy Promotions. Online users or TV cable subscribers can only watch it after paying the Canelo vs Chavez Jr PPV price that is $45.95 as discussed above, but the real catch is that HBO is actually limited to US audiences only and if someone outside the US tries to access HBO online, they'll be welcomed by the message that "To access HBO, you must reside within the 50 states of United States Of America.
But you know how you can access HBO and watch the fight, right? Yup, you've guessed it right! With a VPN of course.
Watch Canelo VS Chavez Jr Fight On BoxNation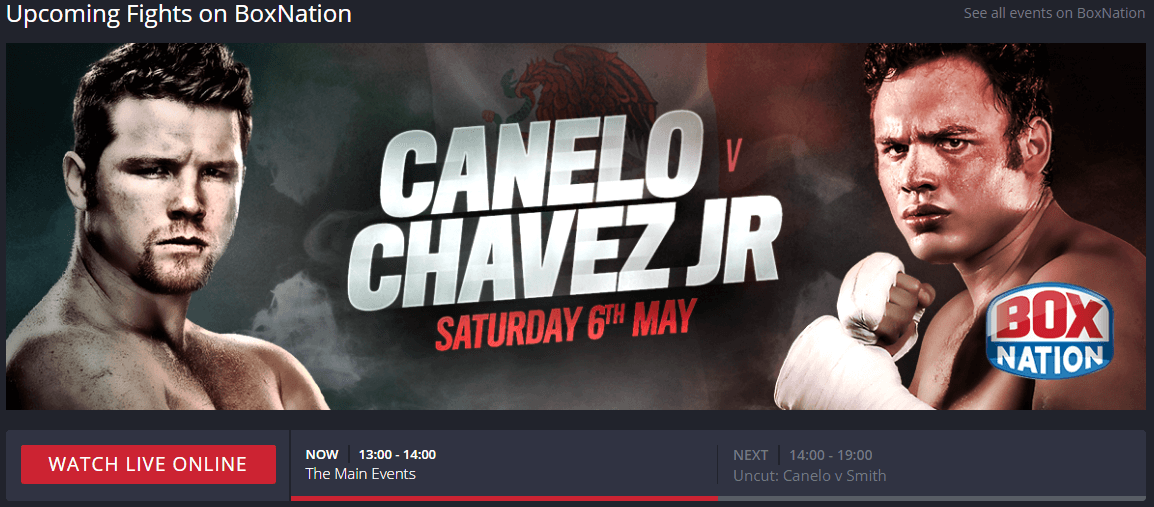 If you are watching the Canelo and Chavez Jr fight from UK, then BoxNation is the perfect channel for you. You can simply get started by subscribing to the service for only £12 a month and enjoy watching your favorite bout between the Mexican arch rivals. Bear in mind that BoxNation can only be accessed from within UK and Ireland and if you try to access it outside of these designated territories, you'll be shown this message:

But don't worry. Get a VPN and connect to any UK or Ireland server to instantly access BoxNation and enjoy watching Canelo VS Chavez Jr fight.
Canelo VS Julio Chavez Jr Odds

Can You Watch Canelo VS Chavez Jr Fight Live Online For Free?
Soon before the fight, a lot of streaming channels will appear that would be promising you the live streaming of Canelo VS Chavez Fight, but bear in mind that these streaming channels are mostly click-baits and you should only be surfing in circles of unwanted advertisements and popups or maybe malware too, which is a true bummer.
We have already discussed the legit ways of how to stream Canelo Alvarez VS Julio Chavez fight online and it's advisable that you should opt for the legal ways to watch the fight, but in case we get to know about any legit free resource, we will update this section for you. So, check out this section before the fight and if there's a free streaming channel for the fight, we will mention it here.
Canelo VS Chavez Jr 24/7 – Preview Show (HBO Boxing)
https://www.youtube.com/watch?v=jMzQMWQkp6Y
Canelo Alvarez is the biggest boxing star in Mexico right now. He has surely fought his way to the top. He is the two-time world champion. The King of Mexican boxing. On the other hand, we have Julio Chavez which had a more privileged background that his opponent. So, who do you think would come out as a victor in this bout? Canelo or Chavez Jr?
Canelo VS Chavez Faceoff Before The Fight
Canelo already looks calm, composed and confident, and Canelo is of the impression that he has already won the fight and real confident that Chavez won't stand a chance in front of him. But Chavez does have a real advantage when it comes to Height and reach. But, will those physical attributes matter? We'll have to see the fight to decide that.
Canelo VS Chavez Fight Predictions Straight From The Mayweather Boxing Club
Fight Predictions in a nutshell: Canelo would be the winner.
Canelo VS Chavez Jr Complete Fight Night Schedule
| Fights | Estimated Time Of The Fight |
| --- | --- |
| Joseph Diaz Jr. vs. Manuel Avila | 9:00 PM ET |
| Lucas Matthysse vs. Emmanuel Taylor | 9:50 PM ET |
| David Lemieux vs. Marco Reyes | 10:50 PM ET |
| Canelo Alvarez vs. Julio Cesar Chavez Jr. | 11:15 PM ET |
Canelo VS Chavez JR Official Weigh-In
This is the official HBO Youtube Weigh-In live stream and will be streamable on Friday, May 5 at 5:30 pm ET/2:30 pm PT. So, bookmark this article to access the stream instantly.
Some Tweets Regarding Canelo VS Chavez Jr. Fight
De La Hoya unleashes his inner Don King, calls #CaneloChavezJr "the biggest fight in the history of Mexico."

— Dylan Hernandez (@dylanohernandez) May 3, 2017
Tickets sold out in 9 days and there's nearly 10,000 closed circuit seats sold for bout…#CaneloVsChavezJr

— Lance Pugmire (@latimespugmire) May 3, 2017
So, are you ready to watch Canelo VS Julio Chavez Jr. Fight Live Online?
On this Saturday, May 6th, the true boxing champion of Mexico would be decided. It's Nobility Versus Royalty. Julio Chavez had the support of his Father and he reaped the fruits of his stardom, but it was no easy path for Canelo as he has earned this spot by sheer hard work, determination and enduring some real life pain and miseries.
In your opinion, who will win? Canelo or Chavez Jr? The one who came from nothing (Canelo) and became the number one boxing sensation of Mexico, or the one who had everything and made his own legacy to come out of his father's shadow. Leave your comments and fight predictions in the comments section below.