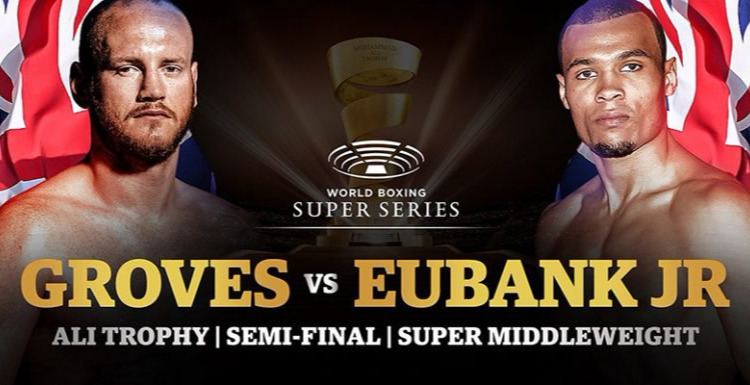 Are you ready to witness the much-anticipated yet biggest British boxing matches where George Groves takes on Chris Eubank Junior first time for a super-middleweight final spot where the Muhammad Ali Trophy is up to grab? How can you even think to miss this golden opportunity for the greatest fight in British history. Don't forget to Groves vs. Eubank Jr live stream all set to start at 7 PM – UK time, at the sold-out Manchester Arena.
The eye-gazing bout will go to be the semi-final of the World Boxing Super Series, with roaring success in both super-middleweight and cruiserweight division. Winner of this fight will be facing either fellow Brit Callum Smith or Brehmer in May.
Since the Manchester Arena is already sold-out, the only way you are left with is live streaming – don't rush for the tickets, watch online. This is our easy yet quick guide to watch the much-anticipated fight online, no matter where you are in the world with no disturbance at all. Be in the US, Canada, India, Australia or anywhere else with an internet connection; we will assist you to get your favorite bout on your ideal screen.
So, shall we begin?
How To Watch Groves vs Eubank Jr in the UK
If you are residing in the UK, the fight will be available on a pay-per-view offering via ITV Box Office Service – starting at 7 PM. Like all the WBS series, you can catch the actions live on ITV Box on Virgin V6 & TiVo, Sky channel 493 and TVPlayer. If you are new to ITV Box Office, you need to register online first to watch the fight via your remote control. In case you are not a Sky or Virgin user, then give TYPlayer, a try.
Don't know About TVPlayer?
It's a free and legal media streaming service for UK citizens, offers hundreds of channels. You don't need to sign in to watch the event. You can get the TVPlayer bundle deal at £19.95 to get both Groves vs. Eubank Jr and the following week's semi-final of Smith vs. Brahmer – saves £6 if you buy separately.
To order, you need to pay £16.95 and can be accessed through TVPlayer.  
To access Groves vs. Eubank Jr event for TVPlayer, you need to purchase from TVPlayer website – you can access live broadcast and as well as on-demand catch up following the bout. Other than TVPlayer website, the event can also be watched via the TVPlayer apps on your desirable screens includes; Surface devices, Windows 10, Apple TV, iPhone & iPad, Android mobile and tablets, Xbox One, Amazon Fire, EE TV, Samsung Tizen 2016 & Roku. The number of streams per account is two.
What? You are not in the UK. Don't worry! there's still a way out.
Watch Groves vs Eubank Jr Outside the UK
Here is an alternative solution to stream your favorite fight from anywhere – using a VPN.
Watch Groves vs. Eubank for free in your PDAs with the best VPN; this is the easiest way to stream anything you like including WBSS, UFC, or any other internationally geo-restricted sporting events.
A VPN hides your real IP address and offer you an untraceable IP; the assigned IP is of your choice can be from any country – in case of Groves vs. Eubank Jr, you need UK IP as the fight is only accessible within the UK.
Different VPN services are operating in the market, trying to create the similar impression among the users. We have drafted a list of best yet tested VPNs, that secure your privacy, keeping your real IP invisible to the virtual world and giving you the access to the unlimited world of entertainment.Here're the top three picks:
Want to download the most-suited VPN in your respective screens, follow the process given below.
Download and install a VPN from the list
Connect to the UK server – or any other depending upon your content accessibility
Here you go! Stream the regional contents without physically being there.
Groves vs Eubank Jr – Boxing details
What about the Undercard?
Norwich's Ryan Walsh will going to his British Featherweight title against unbeaten Isaac Lowe.
Promising Zach Parker, who was the reserve for the main event – is also on the bill.
British featherweight title: Ryan Walsh vs. Isaac Lowe
British middleweight title: Tommy Langford vs. Jack Arnfield
English cruiserweight title:

Arfan Iqbal vs. Simon Vallily
Zach Parker vs. Adasat Rodriguez
Media Talk of the Two Opponents
Eubank Jr:
"This is the fight for fight fans not to be missed. I've had many big fights but this is the biggest in terms of profile and the tournament and the hype. But at the end of the day I always rise to the occasion. The bigger the fight the better I perform.

"I'm a man of my word and I can promise George will not see the end of the twelfth round."
Groves:
"I think the form, the history, the experience, the ability all lie in my favour and I'm looking forward to a big night in Manchester. It's a semi-final in a tournament I expect to win so Eubank Jr. is just a stepping stone, another step for me on the way to the Muhammad Ali Trophy."
Any expectations? Who's going to Win £20million? Eubank Jr or Grove?
Since January, when WBSS first confirmed the first super-middleweight pair, all the casuals and pursuits were hoping to see the thrilling encounter of Groves vs.Eubank Jr.
Eubank Jr enters with his mega hype while Groves has the veteran confidence – it matters less when there are three fights and a year between the contenders. Eubank is coming dynamic knockout and with bravado associations with a prospect while Groves will begin with an aim to slice through the Eubank Jr's fantasy reputation with old-fashioned stunts.
We can't say that Eubank Jr is the real deal, we already know that Groves is not the cream of the crop – both will have the chance to stake their claim between the ropes surrounded by 20,000 spectators, this makes this affair potentially cracking.
Fans, pundits, and fighters seem entirely split now, Eubank Jr is desperate to knock down his opponent to legitimize his progress, while Groves has more experiences to school his rival.