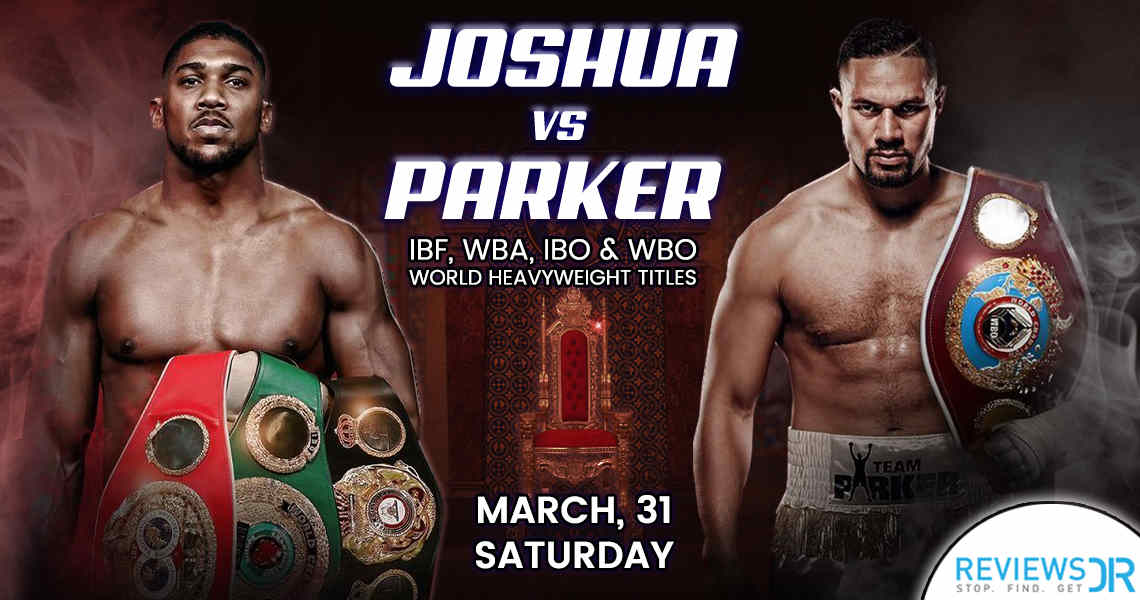 Make no plans for March 31st, as the mega fight is going to take place at the Cardiff's Principality Stadium, Cardiff. The undefeated Champions going to bout for the unification of the three heavyweight boxing titles – Yes, it's going to be the greatest fights of the year when Joseph Parker and Anthony Joshua will face each other. So, don't miss out the opportunity to catch the moments from  Joseph Parker vs. Anthony Joshua live online from anywhere in the world.
The fight is speculated to be the biggest boxing match of the year as both the fighters are undefeated so far. If you are a cord-hater and survive on live streaming, then we have something great for you. Let the curtains unfold!
Where To Watch Joseph Parker vs. Anthony Joshua Live Online?
Since the fight is taking place in Wales, SkySports will be the official carrier of the event. And, considering the Hype of the event and popularity of the fighters, many other regional providers will also showcase the live stream of Joshua vs. Parker. The list of the official broadcasters along with the region is given below:
Sky Sports Box Office (UK)
Showtime PPV (USA)
DAZN (Austria/Germany)
Main Event (Australia)
1TV.Ru (Russia)
StarHub (Singapore)
SuperSport (South Africa)
OSN Play (Middle East)
As if you reside in a region not listed above, you will not be able to catch the punches and knockouts live from Cardiff Stadium. Geo-restriction being the reason, all the channels listed above only offer live streaming within specific boundaries.
Don't worry, this isn't the end of the day! We have a perfect solution for you.
A Solution To Avoid Geo-restrictions On The Internet
VPN –  the only solution to save the day when it comes to watching your favorite sports and TV shows from regions where the access is denied or blocked.
It's a three steps solution
Step # 1: Subscribe to a VPN
Step # 2: Download or Setup the VPN
Step # 3: Connect to the server of your desired country and stream the sports live.
Isn't it simple and easy. On 31st march all you need is to follow the above given instructions!
Now, let's move on to the tricky part.
How To Watch Joshua vs. Parker Live Online On Sky Sports
To book your virtual seats with Sky Sports Box Office channel, subscribe and pay, first, visit skysports.com/boxofficelive.
The channel will start coverage from 6 PM BST with expert analysis on the upcoming bouts. If you are interested in opting this option for live streaming, you should have £19.95 in your pockets for a subscription. Mobile users can choose Sky Go App  subscription which will raise the subscription cost to £24.95 on the day of the fight if the booking is made over the phone.
Is it expensive? Let's check some other options.
How to Watch Joshua vs. Parker Live Stream On Showtime
The fight will start at 5PM ET and (9PM UK Time) with a subscription cost of $11 for a month. You have more choices to get the live coverage on numerous devices Apple TV, iPhone, iPad, iPod, on a Roku, via Hulu, or through Sony's PlayStation Vue.
Still seems expensive, then you should read further?
In Australia the average cost to watch the fight on official channels varies from $45 to $50.
In Germany you are approximately looking at $99.99 to $129.99 to stream the fight.
And, the story continues……
If you want to save money, the best way is to watch the fight on Sky Sports. And, for non-british-residents, you could get a secure and fastest VPN for as low as $4/month. We have a suggested list of top 3 VPN providers to get you started on your streaming needs.
Are you leaving? So soon, this is not the end folks!
We still have something stored for you. You haven't yet heard the best part. How about if we can provide you a simple guide to stream all the action on your Kodi device.
Sounds fantastic, right? So, shall we begin?
Watch Joseph Parker vs. Anthony Joshua Live On Kodi
On Kodi all you need is the right and working addon to watch the favorite sports. For Joshua vs. Parker fight, the kodi expert recommend Milhani TV addon.
Milhano tv Kodi addon is the best to stream Sky network and other global sports channels. Currently, Milhano Tv has a good list live IPTV channels of some regions, including the UK, US, Portugal or French & many other live tv channels of many more countries. Let's have the process to download.
Important Note: Milhano Tv Addon requires the F4mtester proxy to work
Step 1 – Open your kodi, head to the System
Step 2 – Now click File manager
Step 3 – Click Add source , then None
Step 4 –  Type the following link on media source box and click ok to continue;
http://www.j2mf4.com/plugin.video.milhano/
Remember: If you install this addons, using the given repo url and seen error. Just scroll down and get newest repository address update in there
Step 5 – Give it a name in media source box as: team.milhano, and click OK
Step 6 – Go back Kodi home screen, click Add-ons and then on Addons Browser ( Boxed icon )
Step 7 – Hit Install from zip file , scroll down and select team.milhano
Step 8 – Continue select plugin.video.Milhano.0.x.zip from list
Wait to get it installed on your kodi. You will see a notification shortly.
Step 9 – Now, this addons installed on your kodi, Now open to use, or open the Milhano tv addons via;
Kodi > Addons > Videos addons > Milhano Tv
Fight Details
Parker and Joshua, both are undefeated and can't wait to heads into the unification showdown.
The 26-year-old Parker has fought most of his pro career in New Zealand but also competed on British soil. He successfully defended his belt against Hughie Fury last year in Manchester confidently in the enemy territory. His appearance on the Graham Norton Show caused a stir where he received the title of  'The King of Pies,' and the Kiwi is once again ready to prove his doubters wrong on March 31.
The underdog with AJ having home advantage at the Principality Stadium. In March 2018, he is ranked as the world's third-best active heavyweight by The Ring magazine, the Transnational Boxing Rankings Board, and sixth by BoxRec. While in  November 2017, Parker has the 21st longest combined title streak in the history of modern boxing.
Joshua will be putting his WBA  and IBF titles on the line against Parker, and the New Zealander is dying to grant a traveling champion – AJ, a rematch. As an amateur, he competes in the super-heavyweight division, and also represented England at the 2011 World Championships, won a silver medal; and a gold medal while representing Great Britain at the 2012 Olympics.
In 2014, The Ring magazine called him the Prospect of the Year, and in 2017, his victorious fight against Wladimir Klitschko gave him, The Ring's Fight of the Year. In 2018, Joshua is ranked as the world's best active heavyweight by Transnational Boxing Rankings Board, The Ring, and by the BoxRec; due to his exceptional punching power. So far, he has finished all his fights by knockout.
Who's Winning and Who's losing
Joshua has already fought in the packed arenas on the big stage and this time fighting on home soil, – Parker hasn't, yet; but don't forget that, he can move and knows some great punches.
We back Anthony Joshua but, anything can happen in the heavyweight division. We don't know what's (Parker's) chin is like – if he will take Joshua's punishment prior the second half of the fight, then the fight would be more interesting.
It's gonna be a long and drawn-out fight. Parker will try his best to stay out of Joshua, and Joshua will do anything to make a statement, redeem for the last bout and get him out.
Anthony Joshua before six rounds – and after six shots we would be in for a very entertaining fight.