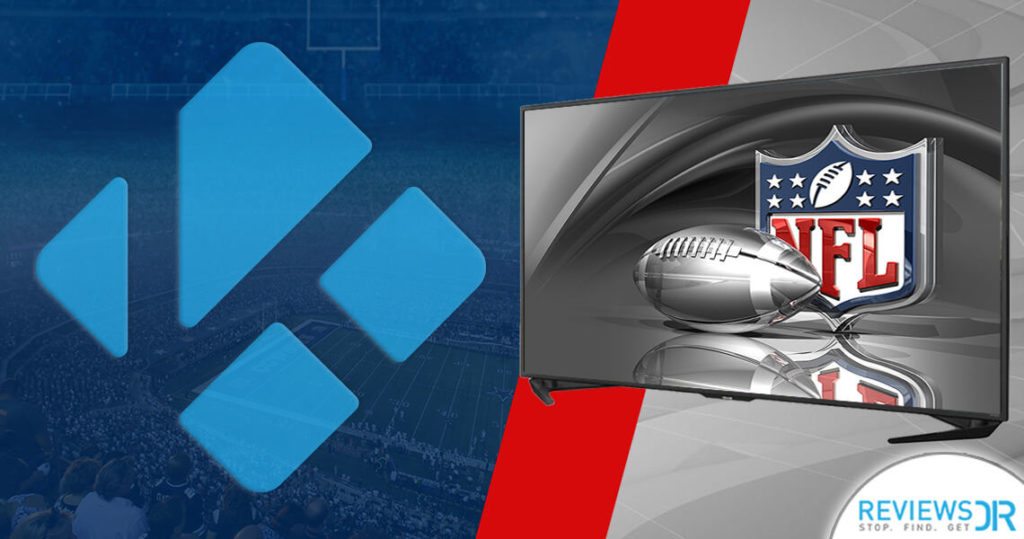 NFL! The name brings on memories where fans sit on edges, chanted and applauded for their favorite teams. National Football League has finally come to a start and the preseason kicked off while the matches starting from September 7th for the entire 2018/2019 season. This time 32 teams will be fighting for the trophy and wear the crown of fame, while fans are finding ways to watch the upcoming NFL season.
Majority of the fans are blessed to get first class tickets for the VIP box and enjoy lurking their veins out shouting for their favorite teams. Then again there are some for whom it's not that easy. That is where they start seeking online solutions and when online streaming leads to dead end, then we hold our infamous Kodi as a last resort. There are multiple ways to watch NFL games online, but we'll be focusing here on how to get NFL on Kodi.
Now we probably don't have to give you a tour of Kodi as ReviewsDir has given a proper introduction and history on what is Kodi. But some newbies have no clue regarding it. All you need to know is Kodi is an open source media player which require addons to work. Now let's jump to our Kodi NFL streaming guide.
How To Watch NFL On Kodi Live Online
Mark our words, by the end of this blog you will be a Kodi ninja and get to know all of its its whereabouts and how to access it. We will be talking about official Kodi addons. Let us give you a summary.
That's not the entire truth. Kodi is based on official addons and unofficial addons. Official addons are those which are pre-installed in the Kodi system being 100% safe, but unofficial addons are those which are created by third parties. Those addons are the reason users tend to use them to stream illegal content making Kodi illegal in many countries. Want to add special powers to your Kodi player, check our updated list of Kodi addons and enjoy more!
NFL will be seen and accessed, don't worry! Addons being discussed further are official Kodi addons which come with a simple instructions already built in the Kodi boxes.
Before You Install NFL Kodi Addon – Get a VPN Also
Streaming content on Kodi is a fun thing to do; however, there are various risks that come with using third-party addons. Your privacy can be at risk, or, you might get fined for violating copyrights law. To prevent all the possible risks and to stream Kodi freely, it is advisable to subscribe to a Kodi VPN. What does that do? Now, a Virtual Private Network (VPN) is a key in opening those doors which are not in a users reach due to geo restrictions. By having a VPN for Kodi, users will be able to switch their IP addresses without tweaking any advanced settings in their devices and still be able to watch NFL on Kodi or on any one of your devices.
The VPN will let give you an IP address based in the US, making you a US citizen in the US ISPs realm. It's simple and easy to get. Follow the instructions below after you check out these best VPNs that we have analysed.
Click download to install a VPN from the table above on your devices
Sign up and log in
Open the VPN app and connect to the US server
Hurrah! You're a US citizen now, virtually.
Streaming NFL on Kodi with Official Addons
As we promised, there are bunch of official Kodi addons that will let you stream NFL network on Kodi without any interruptions. Below are some of the best NFL Kodi addons that work swimmingly.
Videos from NFL.com
NFL Team Videos
NBC Sports Live Extra
NFL Game Pass
Here's how you can install Kodi NFL addon:
Launch Kodi on your device
Select addons located in the left side of the screen
Click on the download button located at the left hand side of the screen
Look for Video Addons and click on it to access the repository of different addons
After click on Addons you will come across an overview screen.
Select 'Install' button
Installation will start and after it completes in a few minutes.
A notification will show on the top right corner
Browse back to Addons Section and open your installed addons.
How To Watch NFL On Kodi Live Online (Third Party Addons)
All you require is an Electra Vault Kodi Addons and you're all set to watch NFL on Kodi player. Check these steps to install Electra Vault on your device to run it as a third party addon:
Launch Kodi and go on Settings and select File Manager.
Double click on Add Source
A box will pop up, click on NONE and copy paste http://supremacy.org.uk/zip/repo/ and type the name Supremacy.
Browse back to Home screen select Addons where you will find Package Installer
Click on Install from Zip File and scroll down to select Supremacy.
Click on repository.supremacy-1.2 and wait for the installation to end.
After installation you will click on Install from Repository, after which select
Supremacy repository and chose Video Addons
Chose Electra Vault and click on Install
From Home screen initiate Electra Vault and you are good to go.
Now from your Home screen go on Addons section and scroll down to find the Live Sports Event option. Click on it and you will see the NFL Network provided on your menu bar.
Best Repositories To Watch NFL On Kodi Live Online
After getting to know the secret steps to watch NFL on Kodi, check these repositories as these will give you a good kick start of NFL with no pause and lags.
Blamo Repository
BludhavenGrayson Repository
Maverick Repo
UKodi1
Jesusbox Repository
KodiBae
TVAddons
Every year the NFL brings people closer together as it creates a bond between a father and a son. That's what the American people think so. But many across the Globe are NFL fans yet have to wait for days or months just to get a glimpse of the matches due to geo restrictions. But we have paved the way for all the NFL fans outside the US. Check our list of working Kodi repositories to add more fun to Kodi streaming player.
Go through our blog and check out the simple guides which will take you to the US to watch NFL games on Kodi live online as it happens. Zero buffer. Zero Lags. What more do you want?