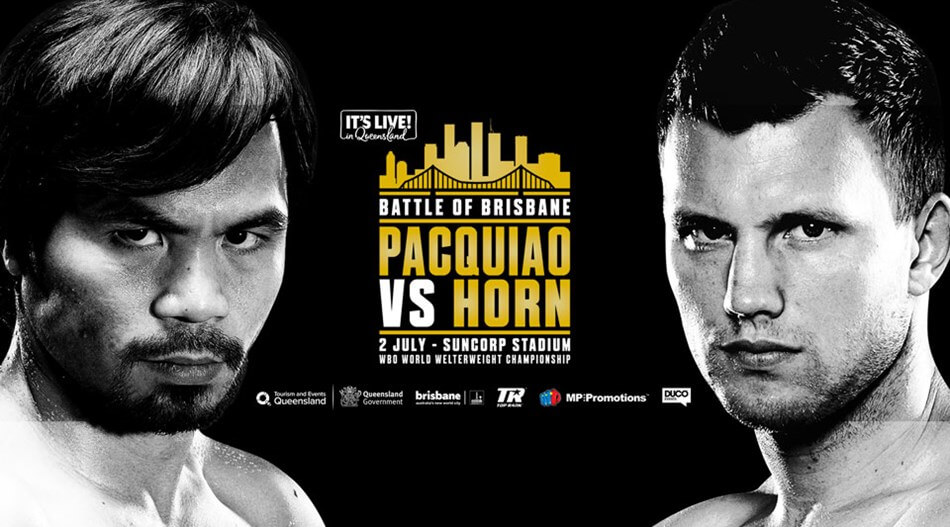 This Sunday, 2nd July 2017, the biggest Filipino boxer, Manny Pacquiao would travel all the way to Brisbane, Australia to fight the underdog, Jeff Horn- a school teacher turned boxer, who is boasting a stellar record of 16-0-1, 11 KOs and currently the undisputed Aussie who's aiming to end the reign of Pacquiao as a champion. Jeff Horn is freakishly confident of his skills and has full faith that he'll snatch the WBO Welterweight Championship title away from the Pac Man at Suncorp Stadium, Brisbane.
Update: Jeff Horn Won. Manny Pacquiao Lost.
Shocking:@MannyPacquiao loses #battleofbrisbane and WBO title to ex-school teacher @jeffhornboxer #PacHorn https://t.co/zavrO7a7bM pic.twitter.com/wj8B9mQOuk

— AP Sports (@AP_Sports) July 2, 2017
Pacquiao VS Horn Fight Highlights
https://www.youtube.com/watch?v=-dj9esk2kfY
If you'll be watching Pacquiao VS Horn fight from US then you can tune into ESPN as it'll be broadcasting the fight live online. If you're a UK viewer then you can watch the bout on BoxNation. Moreover, Australian viewers can tune into Foxtel or Main Event to watch the fight and viewers in the Philippines can watch the live streaming of Manny Pacquiao VS Jeff Horn on ABS-CBN.
*Bear in mind that these channels are geo-restricted and are only accessible from their own countries, so you have to use a VPN in order to access the channels mentioned. VPN recommendations are mentioned later on in this article.
Pacquiao VS Horn Fight Details
Date And Time: Sunday, July 2, 2017, at 13:30 pm (Australia), 4:30 am (Britain)
Venue: Suncorp Stadium, Brisbane
Title On The Line: Welterweight World Title
Current Title Holder: Manny Pacquiao
Manny Pacquiao VS Jeff Horn Fight Stats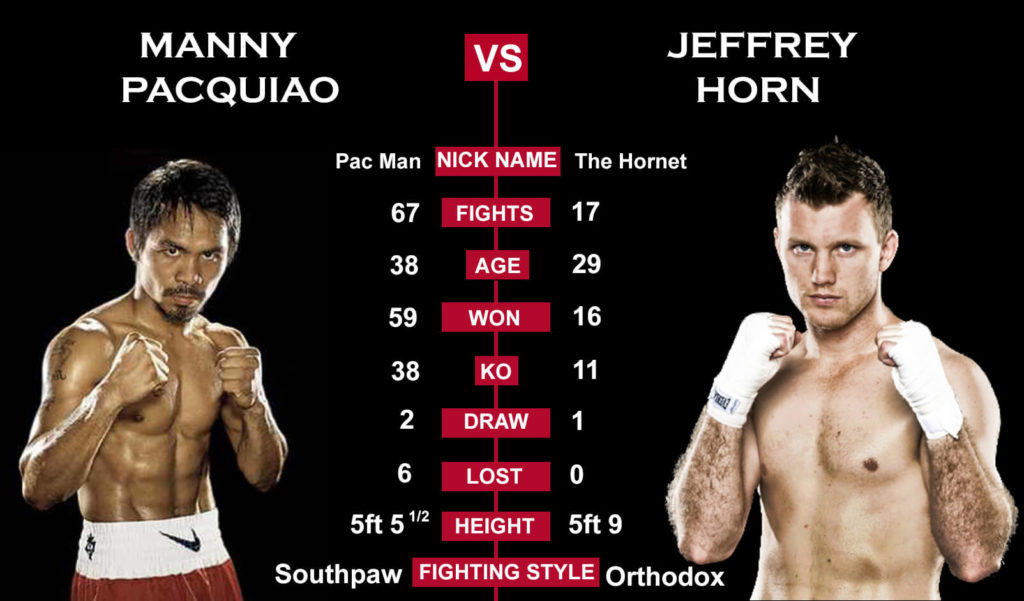 Manny Pacquiao VS Jeff Horn Fight Preview
https://www.youtube.com/watch?v=JNjBGAHT0to
Official Channels Live Streaming Manny Pacquiao vs Jeff Horn Fight Live Online (Free & Paid)
So, these are the official streaming channels to watch the fight but you have to opt for a VPN in order to access these channels from outside of their defined Territories. Some of the best streaming VPNs are mentioned below to watch Pacquiao VS Horn fight online buffer-free from anywhere:
Watch Live Streaming Of Pacquiao VS Horn On ESPN For Free (US Audiences Only)

ESPN has officially announced that they'll be broadcasting Pacquiao VS Horn fight live online for free at 9 pm ET on Saturday. It will the first time that Pacquiao fight would be broadcasted on basic cable and is not a pay-per-view fight. But keep in mind that this live stream of the fight is only available for viewers in the US and if you are residing in Australia then you have to buy the pay-per-view and watch Manny Pacquiao VS Jeff Horn fight live streaming online on Foxtel.
But not to worry! Whether it's US or Australia, you can access any channel broadcasting the fight from anywhere in the world using a VPN.
Instantly Watch Pacquiao VS Horn On Foxtel (Australian Audiences Only)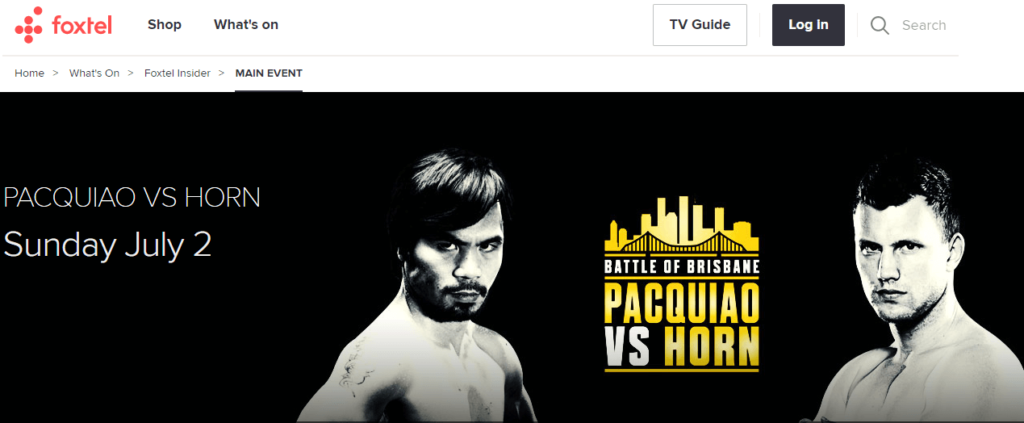 Foxtel is another great streaming platform to watch Pacquiao VS Horn fight live online from Australia on Sunday, July 2 at 11 am AEST. This fight would have great historic moments as Jeff Horn has nothing to lose as he has just started off his career in boxing but already has been performing flawlessly as he hasn't been defeated up till now. Pacquiao, on the other hand, is the reigning champion and would fight to his utmost potential to defend his title.
Foxtel is only available for Australian viewers and in order to watch the fight you need to order the the PPV first which would cost you around $59.95. If you're outside of Australia, you would see this message when trying to purchase Pacquiao VS Horn PPV:

So, to solve this issue simply opt for a VPN and connect to Australia's server to watch the fight just like an Australian local citizen.
Pacquiao VS Horn Pre-Fight Press Conference
Manny Pacquiao VS Jeff Horn FaceOff Video
Pacquiao VS Horn Complete Fight Card
Main Event
Manny Pacquiao VS Jeff Horn
Undercard
Shane Mosely Jr. vs. David Toussaint
Michael Conlan vs. Jarrett Owen
Jerwin Ancajas vs. Teiru Kinoshita
Manny Pacquiao VS Jeff Horn + Undercards Public Workout
Are You All Set To Witness One Of The Biggest Boxing Fight In Australia's History? Pacquiao VS Horn Live Stream Online
Thousands of boxing fans would head over to the Suncorp Stadium to witness the 'Battle Of Brisbane' between Manny Pacquiao and Jeffrey Horn. A legendary Filipino Athlete VS a Teacher turned Boxer. Not only the whole back plot of the story is unique but this fight is going to break the traditional strongholds in the boxing tradition by not doing the fight in the United States or Europe but in Australia. So, don't forget to watch Pacquiao VS Horn fight live stream online from anywhere in the world.
Who do you think would win this fight? What are your fight predictions? Will Pacquiao defend his title and would remain the champion, or the Australian Hornet would create history by defeating the legend and ending his reign as the champion? Share your thoughts with us in the comments section below: